You can get started with NordVPN on Android in 3 different ways. The easiest way is to install its native app from the Google Play Store, giving you access to all 5,000+ servers and multiple VPN protocols. If you don't have access to the Play Store, you can install NordVPN manually (we're talking about sideloading, in that case).
Then, you can also configure NordVPN on Android manually using the OpenVPN protocol. In this case, you'll need to configure each VPN connection manually, so you'll have access to a single VPN protocol and a limited number of servers.
Also, know that NordVPN requires Android 6.0 or newer. That means you can download, install, or set up NordVPN even on some dated smartphones and tablets.
How to Set Up and Use NordVPN on Android
Just above, we introduced you to the 3 available options for getting NordVPN to run on your Android device. To remind you, those options are:
Method #1: Install NordVPN's Native Android App
The easiest but also the best way to get NordVPN on Android is to use its native app. This is a one-minute procedure done using the following steps.
1. Sign up for NordVPN using your Android device and any Web browser.
2. Launch the Play Store, then use its search bar to look up 'NordVPN.' Tap on the app's icon to open its Play Store overview.
3. Tap 'Install' and provide your Google password if needed. The app will now download and install on its own. Once done, tap 'Open.'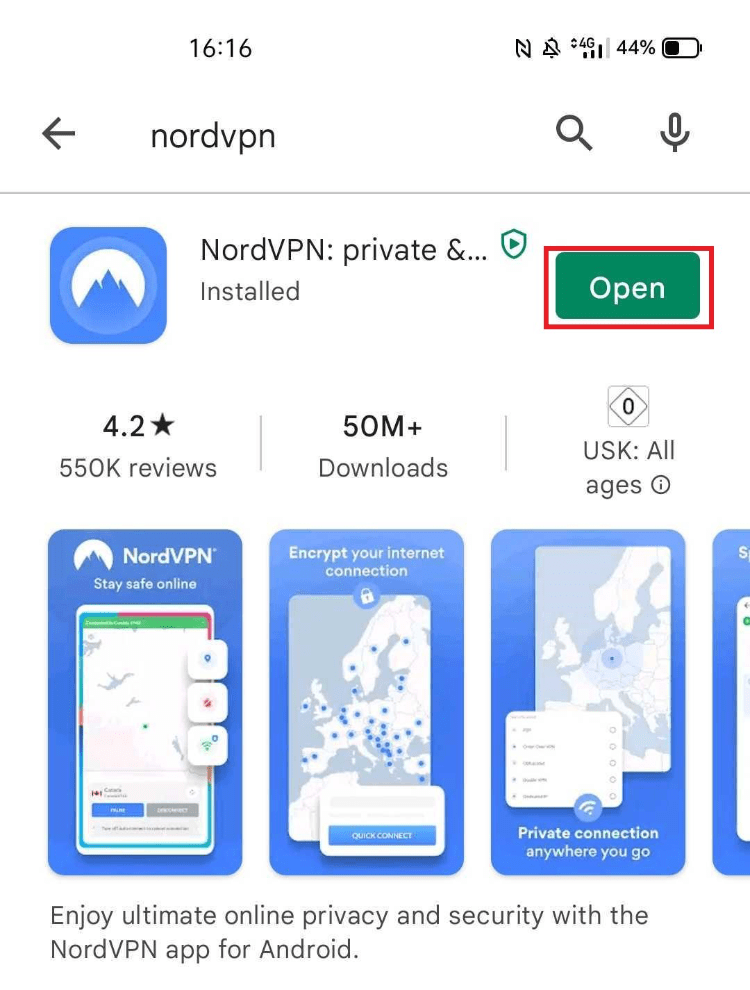 4. Select 'Log In,' and a new page will open in your Web browser. Enter your Nord Account credentials, which is when you'll return to the app.
5. That's it! You can now connect to a VPN server and close the app, which will remain active in the background, encrypting your data and hiding your location.
Method #2: Sideload NordVPN's Android App
You can still install NordVPN on Android even if your device doesn't have access to the Play Store. Here's how to sideload NordVPN on your Android device:
Before you can sideload apps on Android, you need to change your device's security settings. On most devices, it's enough to navigate to Settings > Security & Privacy > More Settings > Install Unknown Apps. If that path isn't available for you, please do a Google search based on the exact model of your Android phone or tablet.
1. Get your NordVPN subscription using your Android device and any Web browser.
2. Go back to NordVPN's site and tap 'Log In' using the main menu. Provide your credentials to access your Nord Account dashboard.
3. Tap 'Downloads,' and the site should recognize your operating system. However, make sure to tap on the three dots on the right and pick 'NordVPN for Android (Side-loaded APK).'
4. Find the APK file you just downloaded and open it. You'll need to install NordVPN manually by following the prompts you'll see on your screen.
5. Open NordVPN and you'll be greeted by its home screen. Tap 'Log In' to access your Nord account and gain full access to the app. That's it!
Lastly, there's one more thing to keep in mind. Since you've installed NordVPN manually, that means you'll need to update it manually as well. That's done by simply re-installing the app, without having to remove it first.
Method #3: Set Up NordVPN Manually via OpenVPN
If you can't or don't want to use the NordVPN Android app, you can also set up an OpenVPN connection manually. Let's show you how that's done:
1. Subscribe to NordVPN using your Android device and a Web browser.
2. Return to NordVPN's site and select 'Servers.' Tap 'Recommended Server' and pick a server by choosing a country. Tap 'Show Available Protocols' and download the server's OVPN file.
3. Launch the Play Store and search for 'OpenVPN Connect.' Download and open the app.
4. Pick the 'File' tab and allow the app to have access to your device's data.
5. Navigate to the recently downloaded OVPN file. Tap 'Import' to add the file to the app.
6. You'll now need to add your credentials. To find those, return to NordVPN's site and tap 'Log In' using its main menu. Then, go to NordVPN > Set Up NordVPN Manually. Verify your email address and then copy and paste your username and password into OpenVPN Connect.
7. To initiate your new connection, toggle the switch next to the newly added OpenVPN profile. You'll be asked for a connection request, so tap 'OK.'
8. If asked to select a certificate, tap 'Continue.'
9. Your VPN session will now initialize, and you should see a graph on your screen showing how much data you've sent and received. That's it!
Final Thoughts
As you know now, you have multiple options when it comes to running NordVPN on Android. Still, we recommend going with NordVPN's native app, as that's the best way to get every feature that comes with your subscription. Sideloading NordVPN and setting it up manually is a good option as well, but only if you're a more advanced user.
Of course, Android is just one of the many platforms NordVPN supports. To learn how to extend this VPN's protection to all your devices, visit our central guide on how to set up NordVPN. We made sure to cover computers, streaming devices, game consoles, and even routers.
FAQ
Does NordVPN Work on Android?
Yes, NordVPN works on Android. This VPN is available as a Play Store app, which means you can install it on your Android device in under one minute.
Is It Safe to Use NordVPN on Android?
Yes, it's safe to use NordVPN on Android. In fact, it's preferable to use NordVPN as that's how you'll encrypt your Web data on Android and secure your digital privacy.
Is NordVPN for Android Free?
Yes, NordVPN comes as a free app for Android. However, even though you can download it for free, you'll need a premium subscription to start using the app.
That's all! Now you know how to set up and use NordVPN on Android. If you have further queries, drop us a comment through the button below. Thanks for reading!