A VPN kill switch helps prevent data leaks if your VPN abruptly disconnects. You can find it in almost any VPN app nowadays. But why is it so important? Well, that's because a VPN kill switch protects your online privacy and keeps your Internet activity from getting exposed to your ISP. 
For example, countries like the US and many EU countries block access to torrents. Of course, you can get around those blocks by using a VPN. But what if your VPN disconnects while you're downloading a torrent file, due to a technical issue? Chances are that it will take a good couple of seconds for it to reconnect.
Without a kill switch, your torrenting activities will get exposed to your Internet provider in this short time frame. This means the government can take action against you if it wants to.
This is just one of the many situations in which a good VPN kill switch comes in handy. But how does this feature work, and how can you activate it? Also, which kill switch VPN should you choose? In this article, we will answer all these questions.
What Is a VPN Kill Switch?
A VPN kill switch is a security feature that shuts down your Internet automatically when your VPN connection drops. It's a highly useful method to safeguard your privacy. 
This feature is analogous to a firewall. It will monitor your VPN connection 24/7. If your VPN disconnects, the kill switch will block the Internet on your device (or specific apps) until the VPN connection is up and running again. 
Normally, capable VPNs have very stable and reliable servers. However, even the best VPNs can sometimes undergo technical issues resulting in disconnections. 
If you are not using a kill switch, your identity can accidentally get exposed by bad luck at any moment. Hence, we recommend turning on the kill switch at all times.
How Does a VPN Kill Switch Work?
A VPN kill switch works in the background, monitoring your VPN connection. If any issues are detected, it blocks your access to the Internet and later restores your connection once it's safe again.
We can generally divide its functionality into four stages; These are: 
Monitoring: A VPN kill switch continuously keeps an eye on your VPN connection to make sure that it's active. 
Detecting: It detects changes affecting your VPN's performance, such as disconnections.
Blocking: Depending on your settings and VPN provider, a kill switch will block your device or specific applications from accessing the Web.
Restoring: The VPN kill switch will automatically restore your Internet connection once the problem is fixed, and you won't have to take any other action.
When Does a VPN Kill Switch Activate? 
A kill switch will activate when an anomaly is detected in your VPN connection. Without this feature, your IP address and identity can become exposed. Let's take a look at some common scenarios in which a kill switch gets activated.  
When your Internet disconnects and reconnects: If your Internet disconnects, the kill switch will kick in and disconnect you from all online activities instantly. This ensures your data and privacy remain secure until the VPN reconnects.
When you switch VPN servers: Switching between servers might cause temporary disruptions in your connection. During these moments, the kill switch provides an extra layer of security by severing your Internet connection until the connection to the new server is established.
When your computer updates overnight: In the scenario when your computer undergoes an overnight update, your VPN connection might be interrupted. Your VPN kill switch automatically activates in such cases. When the update is complete, and the VPN connection is re-established, the kill switch deactivates, allowing you to resume your online activities securely.
When your VPN connection becomes unstable: The primary goal of a kill switch VPN is to protect your privacy when the VPN connection becomes unstable. If your VPN experiences any issues, the kill switch immediately cuts off your Internet connection, preventing any data from being transmitted or received without the protection of the VPN.
When you use a new firewall: When you install or update a firewall, it may initially cause conflicts with your VPN connection, potentially causing it to shut down. The VPN kill switch responds to such disruptions by cutting off your Internet connection. 
Types of Kill Switches
We can categorize kill switches into two types based on their scope: a system-level kill switch and an application-level kill switch. Let's look at the differences between these two types. 
1. System-Level VPN Kill Switch
A system-level VPN kill switch completely blocks your computer's Internet connection until the VPN connection is re-established or the network adapter is reset. This is a highly effective way to prevent IP leaks.
Enabling a VPN kill switch is a simple process. Most of the capable VPN providers have a system-level kill switch enabled by default. But you can turn it off/on in the client's settings easily.
2. Application-Level VPN Kill Switch
An application-level kill switch lets you choose the specific apps you want to safeguard using the kill switch. Whichever apps you have selected will then stop working in the event of a VPN connection failure, to protect your data. This is very handy if you want to hide your IP address while using certain apps.
Even though this type of kill switch may not sound as safe as a system-level kill switch, it is arguably the better option of the two. That is because it is limited to your specified applications.
Some frequently used apps for an application-level VPN kill switch are browsers like Chrome or Firefox, email apps like Gmail and Outlook, video calling apps like Skype and WhatsApp, and torrent clients such as uTorrent.
Why Should You Use a Kill Switch?
Generally, you should always use a kill switch because it reduces the risk of data leaks and keeps your Internet activities hidden. It is more like a precautionary measure against random disconnections.
Let's look at some specific reasons why using a kill switch is a wise move on your part.
1. Stay Safe When Torrenting
If torrenting is a sensitive legal issue in your country, you may be using a torrenting VPN for P2P downloads. But if your VPN connection suddenly drops, your actual IP address will get exposed to seeders/leechers. Your data will also no longer be encrypted. 
So, your ISP might be able to catch you in the act if they inspect your traffic. A kill switch keeps you safe in such scenarios by blocking your Web access or access to your torrent client.
2. Protect Yourself From Traffic Leaks
A traffic leak happens when the VPN connection goes down and your information leaks out of the VPN tunnel. When that happens, your ISP can start monitoring your traffic, websites can see your real IP address, and advertisers can track your digital footprint.
With a kill switch, VPN leaks are no longer a problem since you will not stay connected to the Internet during your VPN's downtime.
3. Don't Blow Your Cover
Let's say you are a political dissident planning on escaping a totalitarian regime or sharing sensitive information about it with other countries. Or perhaps, a journalist who is about to blow the lid on a huge scandal.
In such a situation, a VPN disconnecting for even a few seconds can expose your identity and get you in trouble with the government. You can lose your job or your freedom. What's more, you might put your sources at risk of being discovered too.

A kill switch will offer you the extra security layer you need to keep anyone from finding out what you're up to.
4. Keep Your Competitor Analysis a Secret
Checking out your competitors' websites when you launch or revamp your own is a standard practice in market research. And you normally want to use a VPN to make sure they can't catch on to what you're doing by seeing your real IP address.
But if the connection goes down while you're on their website, they'll see it. And they can track it to your website, and start stealing your ideas (keywords, product features, website copy, and design, etc.).
Well, a VPN kill switch keeps all your digital research tactics safe by taking you offline when the VPN disconnects.
How to Choose a Good Kill Switch VPN? 
You can find and choose a good kill switch VPN by checking factors like reliability, security, no-logs policy, and device compatibility. Here's more information on what makes a reliable and capable kill switch VPN: 
Reliability and customization options: A good kill switch VPN should be dependable and protect against data leaks, even if your connection drops. Moreover, it also helps to have customization options for the kill switch, such as choosing which apps to block if the VPN connection fails.
High-end security features: A kill switch alone will not be sufficient, especially if the underlying security is weak. Hence, capable VPNs with kill switches use AES-256-bit encryption and secure protocols like OpenVPN or WireGuard. It's also essential to have DNS and IP leak protection to prevent your ISP from tracking your activity.
True no-logs policy: If a VPN keeps logs of your activities, it defeats the purpose of using it for privacy. To ensure maximum privacy, choose a VPN that follows a strict no-logs policy. In this regard, you can look for VPNs that have independent audits to prove their privacy claims.
Device Compatibility: A quality kill switch VPN should support all major devices and operating systems. This includes Windows, Mac, Linux, iOS, Android, routers, and more. This way, you can protect all your devices at the same time.
Best VPNs with Kill Switch 
Based on our extensive testing, ExpressVPN is the best VPN with a kill switch. While many capable VPNs offer this feature, it's crucial to remember that a kill switch alone may not be sufficient if the VPN service itself lacks quality. 
Let's take a look at the top VPNs with a kill switch.
How to Enable the Kill Switch?
You can enable the kill switch by toggling a single button in your VPN client's settings. In most cases, this feature comes built into most VPN apps, and there's no need for complex configuration. 
In this section, we will demonstrate how you can enable the kill switch using ExpressVPN on Windows/macOS and Android.
Enabling the kill switch is very straightforward on Windows and macOS. Just follow these steps:
Open the ExpressVPN app and click on the three bars in the upper left corner.
Now click on "Options" (Windows) or "Preferences" (macOS).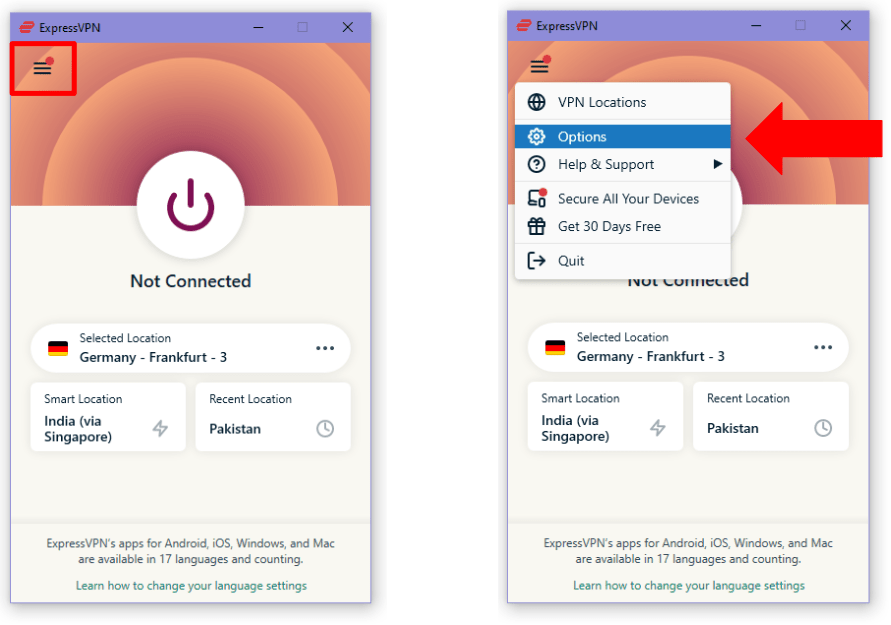 Under the "General" tab, you will find the option titled "Network Lock." 
Check the box that says "Stop all Internet traffic if the VPN disconnects."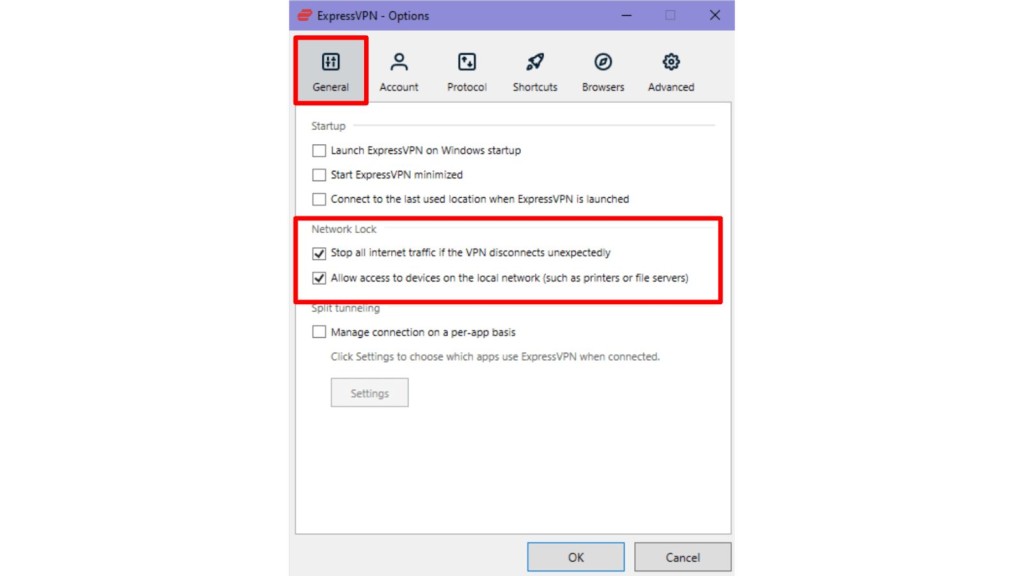 Now, let's enable the kill switch on Android. 
Launch the ExpressVPN app on your Android phone. 
Tap "Options" in the lower right corner of the interface. 
Choose "VPN Settings" and tap "Network Protection."
Here, you can find the kill switch under the "Internet Access" option.
Toggle the button that says "Block Internet when unable to connect or reconnect."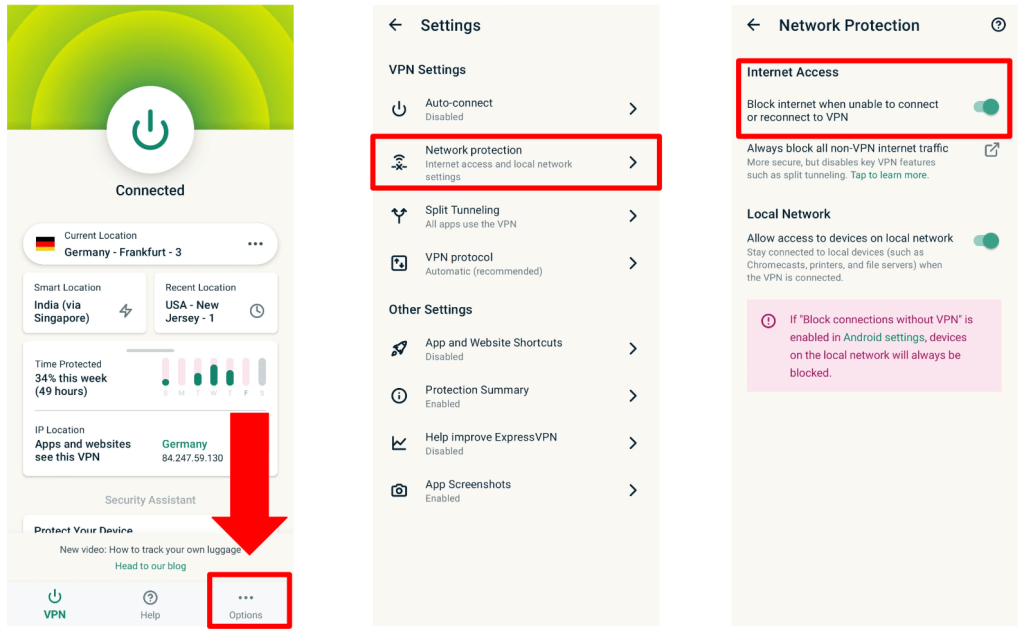 How to Check if the Kill Switch Is Working?
To check if the kill switch is working, observe the Internet connection on your browser when the VPN disconnects. If browsing stops when your VPN connection drops, it means that the kill switch is working.
In our test, we used ExpressVPN. However, you can use our method to test other VPN apps as well. With that being said, here are the steps that you can follow:
Open this page refresher website.
Insert the link "http://ip-api.com/csv" into the address box, and set the refresh timer to 1 second, as shown in the screenshot below.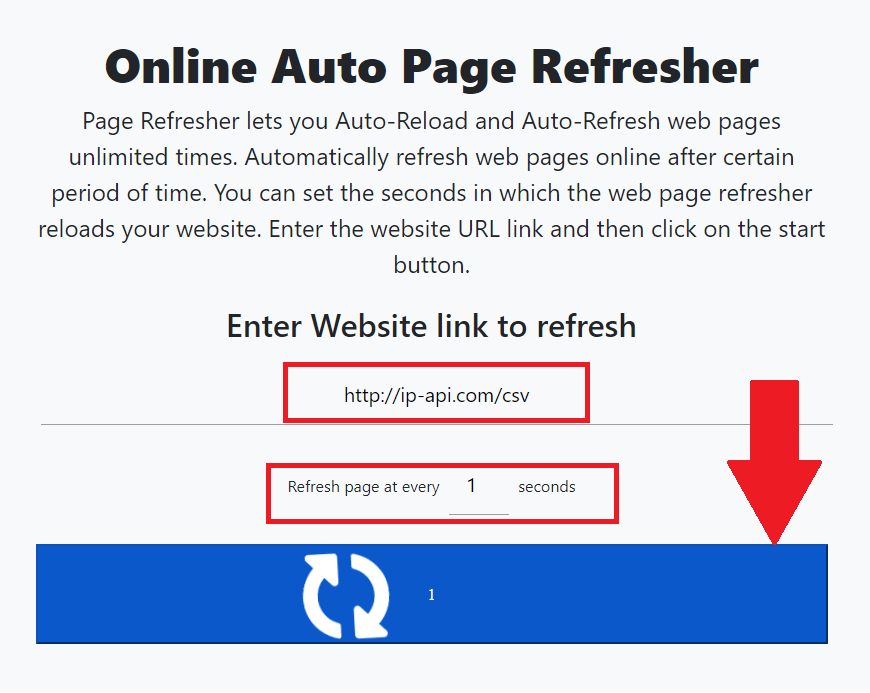 Click on the blue refresh bar. This will open a new window that automatically refreshes after every second and displays your connection details. 
Make sure that the window shows your actual Internet connection details, including your real IP address and location.
Now turn on your VPN's kill switch. In the case of ExpressVPN, the kill switch is called Network Lock, and you can find it in the options under the "General" tab on Windows/macOS.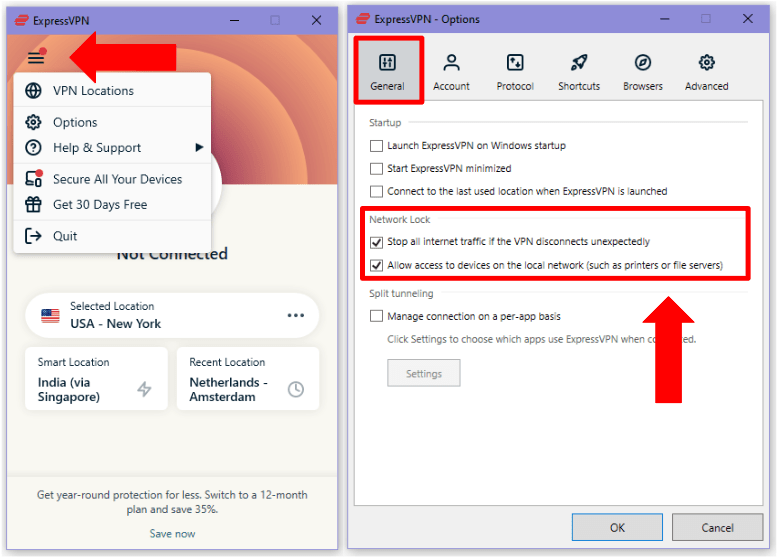 Connect to a VPN server that is in a country different from your home country.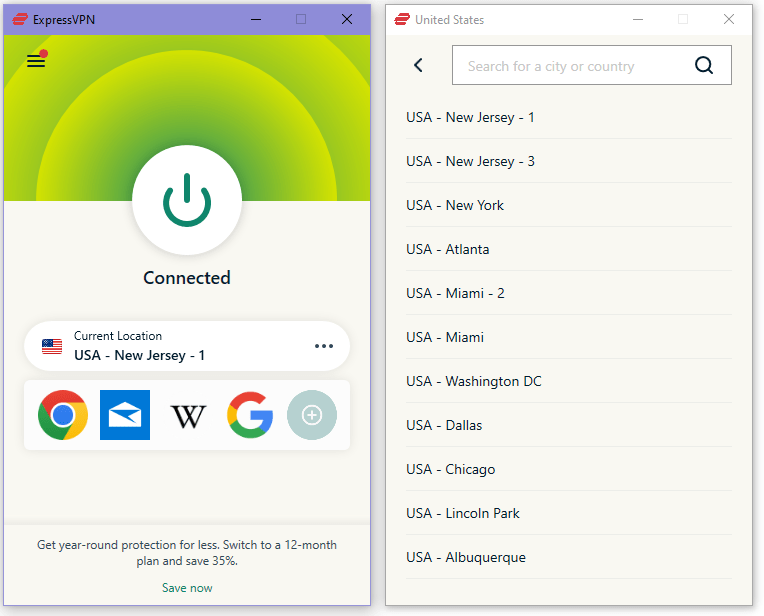 7. Check the page refresher window. It will now show you details of the VPN's server instead of your actual connection details. 
8.  Open your VPN client and the auto-refreshing window side-by-side, and connect to a different server without closing the client (for example, we switched the server to Germany).
9. If you see a loading error message while the VPN is reconnecting, it means that the kill switch is working. That's it!
Final Thoughts
If your VPN disconnects due to any reason, a kill switch will keep your privacy intact by blocking your Web connection. It is a very beneficial security feature, especially for people like Internet activists and journalists who want to avoid getting spied on. 
Practically every capable VPN out there comes with a kill switch. But remember that this feature alone is not sufficient. If the VPN has shady practices or weak security, then even a kill switch cannot prevent your data from getting leaked.
ExpressVPN is our top recommendation if you want a highly-capable VPN kill switch paired with military-grade security. On top of that, ExpressVPN offers a whole slate of other features to help you browse the Web privately, stream media, download torrents, and more. 
FAQ
Can You Disable a VPN Kill Switch?
Yes, you can disable a kill switch by toggling it off from your VPN client's settings. 
Can You Leave a Kill Switch on All the Time? 
Yes, you can leave a kill switch on all the time. However, this can be troublesome if your VPN frequently disconnects, as it will temporarily shut down your Internet connection.
Does ExpressVPN Have a Kill Switch?
Yes, ExpressVPN has a kill switch called "Network Lock." You can find it in its client's settings on both Windows and macOS under the General tab. On Android, it is located in the "Network protection" tab in the app's settings.
Does NordVPN Have a Kill Switch?
Yes, NordVPN has a customizable kill switch. To turn it on, click on the "settings" button in the bottom left corner of the Windows client. Then, open the "kill switch" tab and toggle it on.
Does Proton VPN Have a Kill Switch?
Yes, Proton VPN comes with a kill switch that will block your Internet connection if the VPN disconnects. To activate it, click on the "countries" tab and then choose the "kill switch" button. Then, click on "Permanent kill switch" to keep it enabled. 
Does Surfshark Have a Kill Switch?
Yes, Surfshark has a kill switch. To enable it, click on the "Settings" button, and then choose "VPN settings". There, you can toggle the kill switch button.
We hope that this guide answered all your questions about VPN kill switches and helped you understand their significance. If you have any questions, feel free to comment below.