ExpressVPN is an excellent service, but it's not for everyone. If you used their 30-day trial, it's time to ask for your money back.
If you don't know how to get a refund from ExpressVPN, we'll show you everything you need to do in this quick guide.
8 Easy Steps to Cancel and Get a Refund from ExpressVPN in 2020
Step 2 - Enter your login credentials.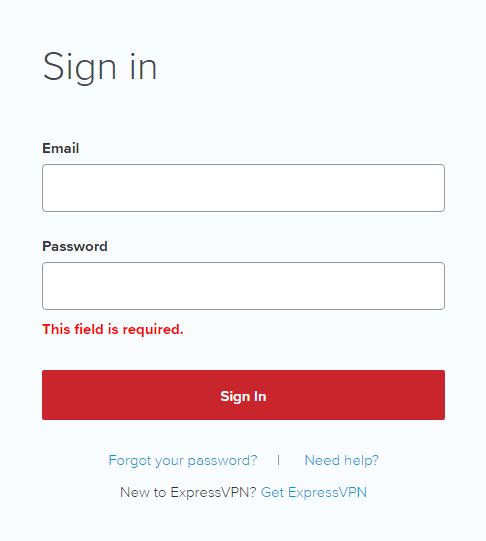 Step 3 - On the account's dashboard, click 'Manage subscription settings.'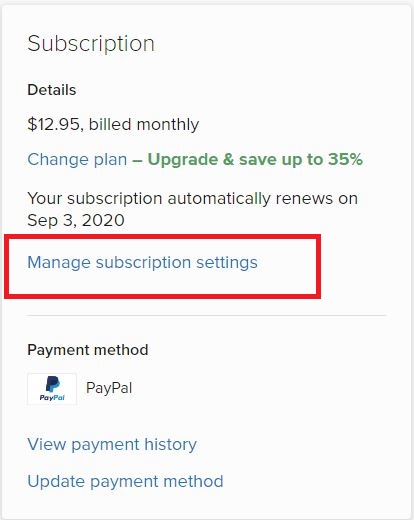 Step 4 - Now, click the 'Turn off automatic renewal' button.
Step 5 - Next, on the right, click the 'I have an issue and don't want to keep using ExpressVPN' drop-down menu.
Step 6 - Click 'Other,' and hit 'Talk to a human' to automatically open a live chat window.
Still, we recommend checking the other options first if you're experiencing those specific problems (slow connections, can't unblock content, disconnects, etc.). ExpressVPN will offer you quick troubleshooting tips that might solve your issue.
Step 7 - Just type in your request and hit enter. Even saying something as simple as "I want a refund" is enough.
You'll also be asked to offer the email linked to your account, so go ahead and do that. The support rep will then take a few seconds to review your account. Also, they'll probably ask you why you're canceling your subscription. State your reason or just say you want your money back, and it should be enough.
Step 8 - Wait until the support rep confirms they took care of your refund request.
Congrats - you're just successfully asked for an ExpressVPV refund! All that's left is to wait for the money to show up in your account. In our case, it took three business days.
What Requirements Do You Need to Meet to Get an ExpressVPN Refund?
ExpressVPN basically offers a no-questions-asked money-back guarantee. What that normally means is that you don't need to worry about whether or not you're eligible for a refund.
So no need to constantly check your bandwidth usage to make sure you don't go over the limit.
That said, ExpressVPN's ToS page does mention two things that could result in your not getting a refund. Here's the first one:
Any change to the original purchase, such as upgrading to an extended billing term or purchasing of additional licenses under the same account, shall constitute a waiver of the Money Back Guarantee option.
It sounds a bit vague, but it just means that if you change your plan during the 30 days, the first sum of money you paid can't be refunded anymore. So let's say you bought a 6-month plan and upgraded to a 12-month plan within those 30 days. In that case:
What you paid for the 6-month subscription ($59.95) is no longer covered by the refund policy.
What you paid for the 12-month subscription ($99.95) is now covered by the refund policy.
And the second bit is a list of things you aren't allowed to use ExpressVPN for. If you do any of them, they can terminate your account without issuing a refund.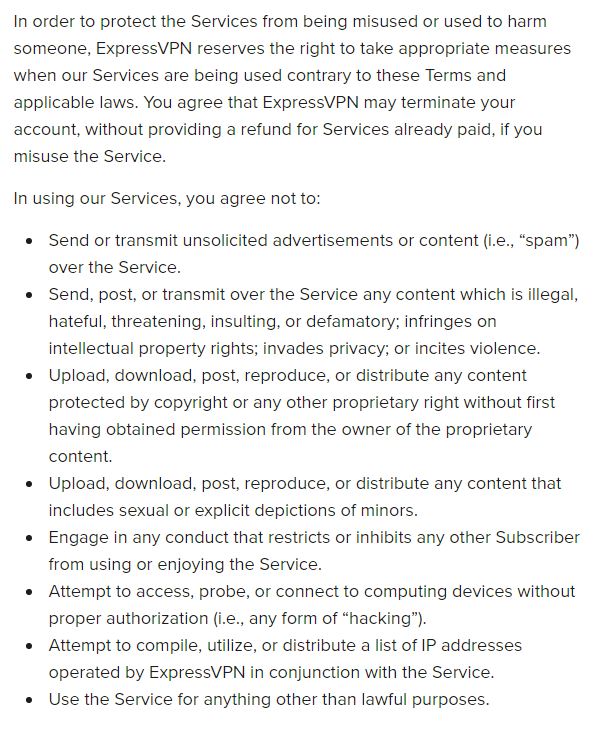 So basically illegal stuff. We're not saying you'd do something like that, but we had to mention this part cause we didn't see anyone else talking about it.
Can I Get a Refund from ExpressVPN After More Than 30 Days?
You actually can, but only if you can prove that ExpressVPN's service didn't work for you and that you tried to contact their support teams to solve the problem.
The last sentence (about the "pro-rata refund") is a bit tricky to understand, but it just means that ExpressVPN will refund you for the months you weren't able to use the service.
Based on the example we used above, ExpressVPN would refund you $49.96 instead of $59.95 since the service worked for the first month (so minus $9.99).
Do I Need to Turn Off Automatic Renewal on ExpressVPN?
Many guides say you need to do that before getting in touch with ExpressVPN over live chat or email, but it's not really mandatory. We asked the support rep if we need to turn it off after they confirmed the refund request went through, and they said that's not necessary since they already processed the refund.
We went back into our account immediately after and saw that auto-renewal wasn't on anymore. We actually tried enabling it but couldn't do it. Also, when ExpressVPN sent us our refund, we got a notification from PayPal telling us they cancelled our automatic payment (so the Automatic Renewal option).
If you really want to do this before asking for a refund, though, go back to Step 3. You'll see there's a 'Turn Off Automatic Renewal' on the left. Just click that button, and confirm your choice if asked. When the site returns you to your account's dashboard, open a live chat tab to ask for a refund.
Can I Get an ExpressVPN Refund on Android and iOS?
Yes (for Android) and no (for iOS).
Yes, you can get the ExpressVPN refund on Android. We recommend using this handy step-by-step guide to do that. It doesn't cover ExpressVPN specifically, but the steps should be the same.
No, you can't get the ExpressVPN refund on iOS if you bought your subscription through the iTunes store. Only Apple has access to your billing information that way, so you'll need to request refunds through them.
However, you can get a refund on iOS if you buy a subscription through ExpressVPN's site instead of iTunes.
An ExpressVPN support rep also explained how it all works: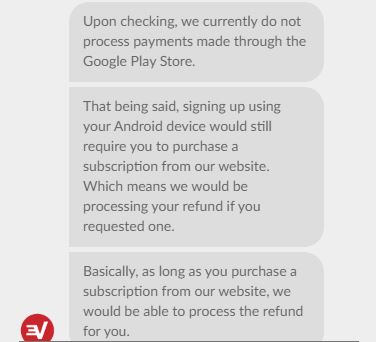 Got Your ExpressVPN Refund? Time to Check Out the Alternatives!
If ExpressVPN didn't meet your requirements, maybe these providers will:
NordVPN - People often recommend ExpressVPN as an alternative to NordVPN, so it only makes sense it'd be the other way around too. With NordVPN, you get 5,000+ servers, support for up to six simultaneous connections, and smooth speeds (just to name some highlights).
CyberGhost VPN - If ExpressVPN and NordVPN aren't good enough, CyberGhost should be able to get the job done. They have 6,200+ servers, support for up to seven simultaneous connections, and a very generous 45-day money-back guarantee for six-month (or more) subscriptions. They also have a free one-day trial.
Surfshark - This is another decent and very popular provider on the market. Surfshark offers 1,700+ servers, support for unlimited simultaneous connections, affordable pricing, and 30-day refund policy.
FAQ
Here are some common questions we heard from our readers about ExpressVPN's refund policy.
How Long Does It Take to Get an ExpressVPN Refund?
According to ExpressVPN's ToS page, processing a refund takes up to seven days. The support rep we spoke to also mentioned a period of five to seven business days.
Just keep in mind "business days" doesn't include the weekend. It's just Monday to Friday.
When we requested the refund, we got our money back in three business days.
How Do You Have to Contact ExpressVPN to Get a Refund?
You have to contact them either through live chat or email. We personally recommend live chat since it's faster and more convenient.
Does the ExpressVPN Refund Cover 30 Days or One Month?
It's 30 days.
So if you buy your subscription at 11 AM on July 15th, that doesn't mean you won't be eligible for the 30-day refund at 11 AM on August 1st. You'll still be covered by the refund for 30 days since your purchase.
Why Was I Refunded a Different Amount from ExpressVPN?
It's because ExpressVPN sends all refunds in USD. If you paid in your local currency or Bitcoin, price fluctuations would affect the conversion rate (especially with Bitcoin).
But don't worry. The difference you'll see will be barely noticeable.

Will I Still Have Access to My ExpressVPN Account After Requesting a Refund?
Yes, you will be able to continue using your ExpressVPN account until your refund is fully processed. When it is, you'll receive an email letting you know your subscription expired. At that point, you will no longer have access to your account.
We asked a support rep about this, and they confirmed that it was true. After requesting the refund, we also still had access to our account.
And that about sums up all there is to know about getting a refund from ExpressVPN. If you have any other questions or tips, or if you experienced any problems with getting a refund, please let us know in the comments.