Without any doubt, your QNAP network-attached storage requires you to secure its file transfer protocols (for maximum privacy). And yes – there's no better tool for that than a VPN service. So, let's talk about how to set up and use ExpressVPN on your QNAP NAS. 
Note
ExpressVPN doesn't provide a list of supported QNAP NAS devices. That's because this VPN should work with most QNAP devices – as long as they support the QVPN client. In other words, if you can install QVPN on your QNAP device (which we'll show you how to do), you can run ExpressVPN without any problems. 
Important
This VPN recommends going with an L2TP/IPsec connection for QNAP devices. Even though that kind of a VPN connection doesn't provide the highest possible encryption (like OpenVPN offers, for example), it's more than enough for securing NAS solutions. 
1. First and foremost, make sure to subscribe to ExpressVPN. 
2. Once you land on ExpressVPN's site, click on any of the buttons labeled 'Get ExpressVPN.'
3. Then, pick a subscription (long-term plans usually bring hefty savings). 
4. Input your email address and then proceed to finalize the sign-up procedure. 
5. Once done, ExpressVPN's team will send you a confirmation email, so check for one.
6. This is when you can return to ExpressVPN's site. Make sure you're on its home page.
7. Pick 'My Account' using the website's main menu (in the top-right corner). 

8. Then, input your ExpressVPN credentials and click on the 'Sign In' button. 
9. Once asked for a verification code, copy it from your email inbox. 
10. At this moment, you should be looking at your ExpressVPN account dashboard. 
11. Click on the 'Set Up Other Devices' button, and a new page will open.
12. Then, pick 'Manual Configuration' on the left-hand side. 

13. On the right, make sure to click on the 'PPTP & L2TP/IPsec' button. 
14. Make a note of your credentials just below (you can leave this page open).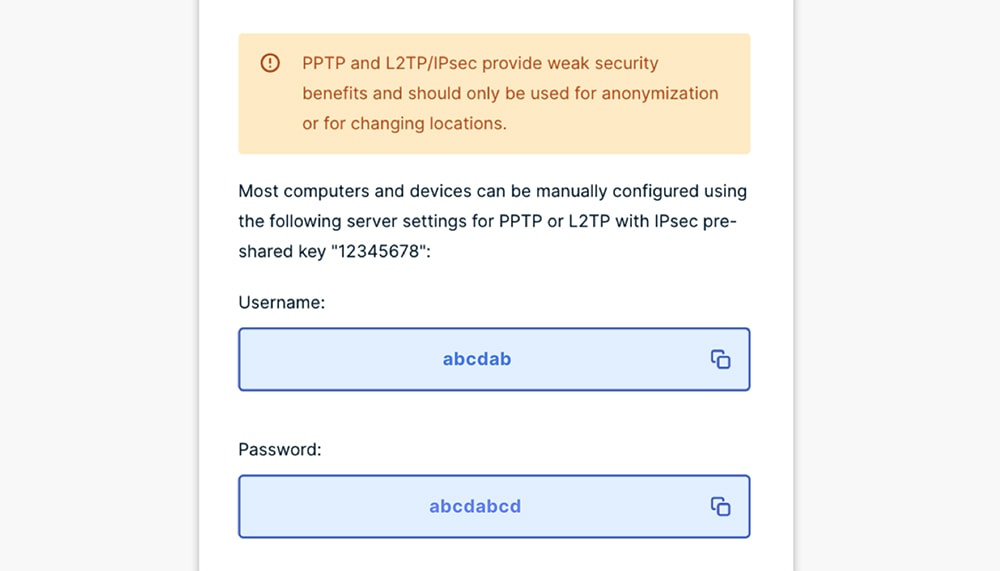 15. Also, pick any server while there – and make sure to reveal its server address. 
16. Now, proceed to access your QNAP NAS device (using any Web browser). 
Tip
If you don't know your QNAP NAS device's IP address, we highly recommend using a handy utility called QFinder Pro. It's available for Windows, macOS, and Ubuntu, letting you find your NAS device easily and perform all kinds of actions and optimizations. 
17. Once you launch QFinder Pro, double-click on your NAS device's name to access it. 

18. You will be taken to the login page. Enter your credentials and click on 'Login.'
19. Now, access your QNAP's App Center and use its built-in search functionality. 
20. Look up 'QVPN Service' and open the app's overview.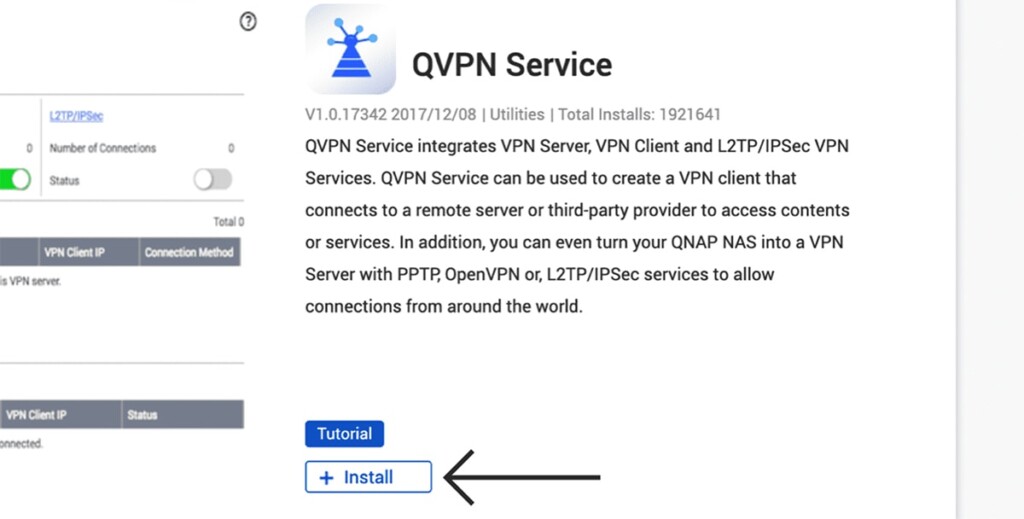 21. Then, click on the 'Install' button to add QVPN to your QNAP NAS device. 
22. Return to your QNAP dashboard and launch the QVPN app from there. 

23. Using the left-placed sidebar, select 'VPN Client.'

24. On the right, click on 'Add' and then make sure to select 'L2TP/IPsec.'
25. Then, input the information from below in the 'Create VPN Connection' fields. 
Profile Name: Add a name for your VPN connection (any name will do). 
Server Address: Copy this information from your ExpressVPN dashboard. 
Username: Copy your L2TP username from ExpressVPN's dashboard. 
Password: Copy your L2TP password from ExpressVPN's dashboard. 
Authentication: Pick 'MS-CHAPv2' from this drop-down menu.
Preshared Key: Enter '12345678.'
Specify the Subnet Mask: Leave these fields as they already are. 
Check the box next to 'Use default gateway on remote network.'
Check the box next to 'Reconnect when the VPN connection is lost.'
26. Then, click on 'Create' to create a new VPN profile on your QNAP device.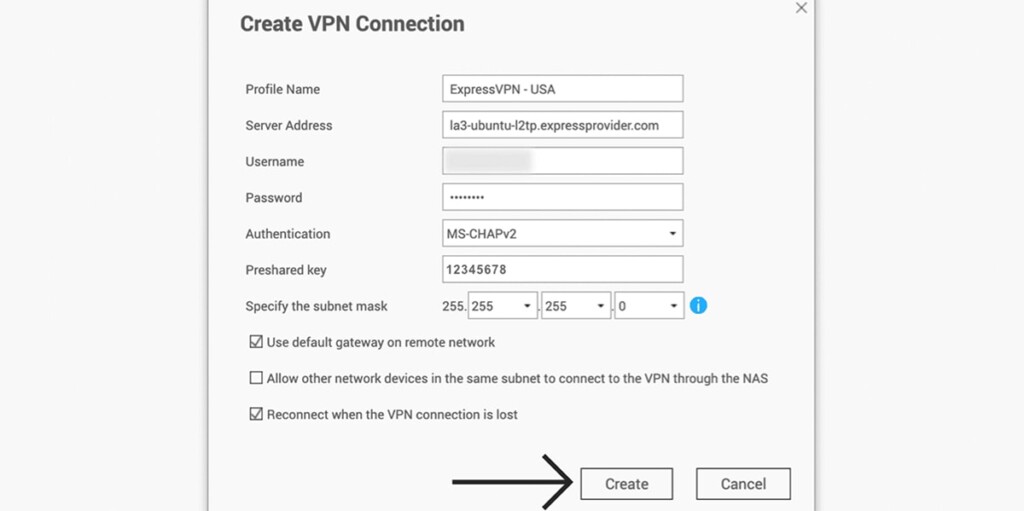 27. To test your new VPN connection, click on 'Connect' on the right side. 
28. After a few seconds, you should see real-time data about your VPN connection. 

29 To disconnect at any point, click on 'Disconnect' on the right side. 

Tip
You can add more than a single VPN connection to your QNAP. So, if you want to have access to multiple ExpressVPN servers, just repeat the above-explained steps. The only difference is that you need to add different server addresses in the 'Server Address' field. Your username and password (and other information) always remain the same. 
That's it! You know now how to set up and use ExpressVPN on your QNAP NAS. In case you have any questions, know that you can count on us. Just make sure to post your comment below. Thanks for reading!