Every time you're torrenting without a VPN, you leave yourself exposed and vulnerable. All your data, including your personal information, is up for grabs by any online snooper and your Internet Service Provider (ISP). That said, using ExpressVPN for torrenting is the best decision you can make - as that's the most effective way to torrent anonymously.
Without using a VPN for torrenting, any Internet user on the P2P network can track your activity and view your IP address (which reveals your physical location as well). ExpressVPN provides you with all the privacy and security you need on the increasingly dangerous Web. The VPN will hide your IP address and encrypt your connection keeping you safe from malicious Internet users, Orwellian governments, and intrusive sites.
In this guide on how to torrent with ExpressVPN, you'll learn what to expect from the VPN, how to setup ExpressVPN for torrenting, how to prevent data leaks, and more.
So, let's jump right in!
Is ExpressVPN Good For Torrenting? 
Yes, ExpressVPN is good for torrenting. Based on our hands-on tests, it's among the best torrenting VPN, as it brings practically everything you need to ensure a smooth P2P session.
ExpressVPN boasts strong encryption, unrestricted P2P traffic, and incredible speeds. The best part is that you can torrent using any ExpressVPN server, as they all support P2P traffic. Some VPNs offer a small selection of optimized P2P servers. However, that's not the case with this VPN - so, you can use any of its 3,000+ servers in 90+ countries.
When it comes to other torrenting-related features, ExpressVPN has built-in IP/DNS data leak protection. You also get to use VPN protocols like OpenVPN and Lightway, paired with AES-256 encryption. All ExpressVPN servers rely on RAM only (they don't use hard drives). And also, there's a capable kill switch that keeps your torrenting protected at all times.
To better understand torrenting with ExpressVPN, we have prepared a list of its pros and cons. So, check them out just below. 
PROS
High-grade encryption (256-bit). 
IP/DNS data leak protection.
Audited no-logs policy.
Ultra-fast connection speeds.
Unlimited bandwidth.
All servers optimized for P2P.
Ultra-strong VPN protocols.
3,000+ servers in 90+ countries.
Easy to set up.
CONS
Limited customization.
No port forwarding.
5 simultaneous connections.
How to Setup ExpressVPN for Torrenting 
To set up and use ExpressVPN for torrenting, you need to install its app on your computer. Then, you'll enable the VPN's kill switch, connect to a VPN server, and start downloading torrents. Here's more detailed information about each of those steps.
Step 1: Sign Up for ExpressVPN
The first step is to subscribe to ExpressVPN and choose the plan that best fits your budget. Use the provided link to get started, pick a subscription, and fill out your payment information. The entire process should not take more than a couple of minutes of your time.
Once you subscribe, the next step is to download and install ExpressVPN on your computer. No matter if you download torrents on Windows, macOS, or Linux, know that ExpressVPN offers a native app. Here's how to set up ExpressVPN - covering all its 60+ devices.
Step 2: Enable ExpressVPN's "Network Lock"
Before using ExpressVPN for torrenting, you need to ensure you're protected against any leaks. When a server is down, it might leave your actual IP address exposed. In other words, you need to enable ExpressVPN "Network Lock," which acts as a kill switch.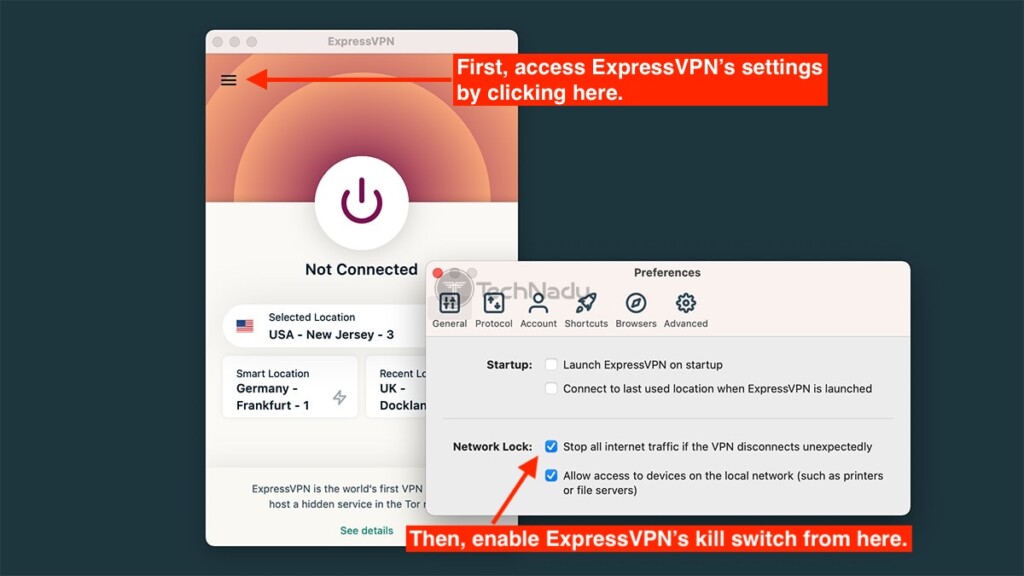 Open ExpressVPN, click the "hamburger" button in the top-left corner, and pick the "General" tab. Then, check the box next to "Stop all Internet traffic if the VPN disconnects unexpectedly."
Step 3: Connect to an ExpressVPN Server 
ExpressVPN has many servers – so it's now time to choose one and connect to it. You can use the "Smart Location" feature to automatically select the closest (which is also typically the fastest) VPN server.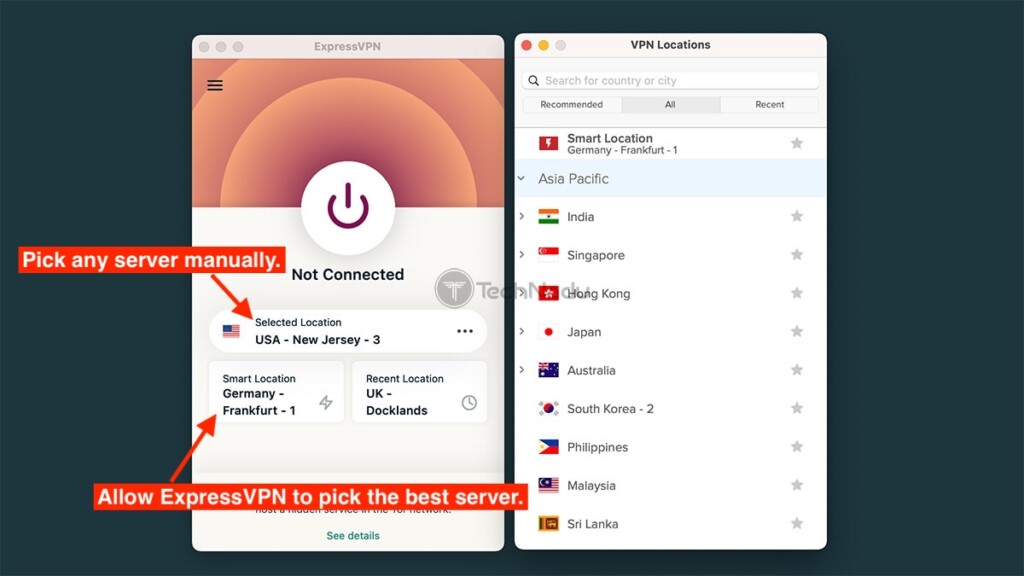 Of course, you're free to pick any server manually. So, if you'd like to have more control, click the button just below the ON/OFF switch. A new screen will appear, listing all of the available VPN servers. Pick one and wait until ExpressVPN's interface turns green.
Step 4: Start Downloading Torrent Files 
You can now start using ExpressVPN for torrenting - but ensure there are no data leaks. You can use different tools to ensure that the VPN has completely masked your IP address and there are no leaks. Some of the top websites you can use include ipleak.net and ipleak.org.
Once you ensure your data doesn't leak, feel free to launch your favorite torrent client and start downloading files via P2P. If you need help with that, here are the best torrent clients. Also, here are the best torrent sites.
If you need more information on how to use a VPN for torrenting, click the provided link. You'll be taken to our in-depth guide that explains every step in greater detail.
What Security Features Does ExpressVPN Provide For Torrenting?  
To ensure you're protected when using ExpressVPN for torrenting, this VPN comes with automatic data leak protection, split-tunneling, and a no-logs policy. Here's more info:
IP/DNS Leak Protection: If your VPN leaks your data, that means you're not protected in any way. Snoopers and third parties can see the sites you are visiting. Torrenting with ExpressVPN is ultra-secure, as you get automated IP/DNS leak protection.
Split Tunneling: ExpressVPN has always wanted you to be in the driver's seat. This feature lets you choose the type of traffic you wish to go through the server and the one you don't. So, you can have a VPN tunnel for your P2P traffic, as well as a tunnel for your regular data.
No-Log Policy: ExpressVPN doesn't log any data. The VPN uses RAM-based servers, which are incapable of collecting, storing, and tracking users' data. No storage of IP addresses, traffic, DNS queries, Internet activity, or browsing history.
Network Lock This feature comes in handy to stop all your traffic when you lose your VPN connection. The primary duty of this security feature is to protect your IP address from leaking whenever the VPN connection becomes unstable. 
Does ExpressVPN Allow P2P? 
Yes, ExpressVPN allows P2P traffic on all its servers. Unlike most other VPNs (and especially free VPNs for torrenting), this one doesn't offer only a small selection of P2P-friendly servers - as all of its servers are ready for torrenting.
Keep in mind that some countries are not so lenient when it comes to torrenting. You might find yourself on the wrong side of the law, especially when torrenting copyrighted content. So, we recommend picking a server located in a country with more relaxed laws regarding torrenting, such as Switzerland, for example.
Lastly, it's worth noting that being protected doesn't give you the right to torrent copyright material. The idea behind VPNs is to ensure a safe Internet space for everyone to enjoy. 
Does ExpressVPN Support Port Forwarding?
No, ExpressVPN does not allow port forwarding via its applications. There are a couple of good reasons why top VPNs don't support port forwarding, the main reason being security.
While port forwarding ensures smooth communication within devices on the Internet (without firewall restrictions), it also comes with security risks. Leaving an open port means you'll be leaving an open way for malicious actors to infiltrate your network.
We'll also note that ExpressVPN's firmware for routers allows you to forward ports - but not for torrenting. The VPN lets you open a port so that you can access network-connected devices without any issues, like your wireless printer, for example.
Which ExpressVPN Protocol Should You Use for Torrenting? 
Lightway by ExpressVPN is the best protocol you can use while torrenting. Aside from that, ExpressVPN also supports OpenVPN, which is another reliable protocol for torrenting.
If you are looking for a combination of reliability, security, and speed, Lightway by ExpressVPN is the best bet. It has a lightweight code base, which means it is easy to maintain and audit, uses less battery, and is ultra-fast.
Other options that you can go for include OpenVPN and IKEv2. OpenVPN uses the 256-bit AES encryption technology that offers top security while giving you incredible cloaking abilities. IKEv2 works best for mobile devices by providing reliability, safety, and fast speeds. 
What's the Best ExpressVPN Server for Torrenting? 
The best ExpressVPN servers to use are the ones in Switzerland because that country has strong laws regarding the protection of private information. Also, it's among the most liberal countries when it comes to torrenting in general.
This doesn't mean you can't use any other servers offered by ExpressVPN for torrenting. This VPN allows torrenting on all its servers. You can also make use of the "Smart Location" feature to connect to the nearest and fastest server available to download your torrents. 
How Fast is ExpressVPN When Torrenting? 
ExpressVPN is among the fastest VPNs, and it's also ultra-fast when it comes to torrenting. To show you what to expect, we've done a round of speed tests. So, let's talk about that.
To establish ExpressVPN's speed, we had to collect the baseline data first. We managed to download a 163.5 MB file in around 20 seconds at a speed of 8.16 MB/s. 

Now let's compare the baseline data with the data we obtained by downloading the same file using remote and nearby ExpressVPN servers. 
Using a server in Italy (as recommended by ExpressVPN's "Smart Location"), we downloaded the exact file (163.5 MB) in approximately 21 seconds at a speed of 7.52 MB/s. 

ExpressVPN recorded impressive speeds while using the Italy server, showing a speed reduction of only 7.8% (compared to the baseline speed). 
When we downloaded the same file using a UK VPN server, the download speed reduced slightly compared to the Italy server and the baseline speed. We downloaded the 163.5 MB file in about 26 seconds at a speed of 6.31 MB/s. 

Downloading the same file using a server in the US was quite fast. It took about 29 seconds to download the file at a speed of 5.62 MB/s. The speed reduction was 31.1%.

A server in Singapore was a bit slower than the US one. It took us about 30 seconds to download the same 163.5 MB file. The server recorded a speed reduction of 33.7%.
Finally, we tested ExpressVPN speed using an Australian server. It took around 32 seconds to download the file. The download speed was 5.15 MB/s, showing a speed reduction of 36.8%.
As a rule of thumb, all VPNs will slow you down – the question should be: by how much? From the data we obtained, ExpressVPN recorded an average speed reduction of 22.0%. That said, compared to other VPNs, ExpressVPN is one of the fastest VPNs you can use to download torrents.
| | | |
| --- | --- | --- |
| | Download Speed | Speed Reduction |
| Baseline | 8.16 MB/s | 0% |
| Italy Server | 7.52 MB/s | 7.8% |
| UK Server | 6.31 MB/s | 22.6% |
| US Server | 5.62 MB/s | 31.1% |
| Singapore Server | 5.41 MB/s | 33.7% |
| Australia Server | 5.15 MB/s | 36.8% |
When using ExpressVPN for torrenting, pick the nearest server first. If you are not sure about which server to use, ExpressVPN's Smart Location is there to assist you.
Why Is ExpressVPN Not Working When Torrenting?
If you're having a hard time using ExpressVPN for torrenting, there are several things to try. You can switch to another server or another protocol, reinstall the VPN app, or flush your DNS. Here are the steps we recommend you take:
Try a different server – The server you are using to torrent could be the beginning of your troubles. Switching to another server might be what you need to fix your torrenting issue.
Switch your VPN protocol – Another troubleshooting method you can try is to change your protocol. The best thing is that ExpressVPN offers a wide range of protocols, including Lightway, OpenVPN, and IKEv2.
Update or reinstall the VPN – If you're using an outdated VPN application, chances are that you are going to encounter some problems. Reinstall or update your application to fix your problems (repeat the steps you took when installing ExpressVPN).
Flush the DNS – Your ExpressVPN problem might arise from built-up cached data. Getting rid of it could restore your VPN's normal working conditions. That said, here's a handy guide on how to flush your DNS cache.
You can find more information in our guide that explains the solution for when uTorrent doesn't work with ExpressVPN. That guide focused on uTorrent but offers plenty of general actionable tips as well, so make sure to take a look.
Final Thoughts 
P2P sharing is genius; the only concern is your safety while torrenting. While there are a lot of VPNs on the market that you can use to stay anonymous, not all are well suited for torrenting.
That said, using ExpressVPN for downloading torrents is a bulletproof decision. As you know by now, it's easy to set up, works on any device, and makes sure you're 100% worry-free when downloading torrent files.
If you are still unsure about which P2P VPN to pick, you can check the best VPN for torrenting according to Reddit, a guide we produced based on the world's most popular forum site. You can also learn more about the best VPN services overall.
FAQ
How Safe Is Torrenting With ExpressVPN?
Torrenting with ExpressVPN is very safe. This VPN comes with a whole slate of features that work great for torrenting, including a server network of 3,000+ P2P-friendly servers.
Does ExpressVPN Have P2P-Optimized Servers?
Yes. ExpressVPN has P2P-optimized servers. All of its 3,000+ servers in 90+ countries are optimized for torrenting.
Does ExpressVPN Work with uTorrent?
Yes. ExpressVPN works with uTorrent. You can use them side-by-side, ensuring that your uTorrent traffic never leaves ExpressVPN's encrypted tunnel.
Does ExpressVPN Work with qBitTorrent?
Yes. ExpressVPN works with qBitTorrent. Once you start a VPN session with ExpressVPN, launch qBitTorrent and your torrenting will be anonymized.
That would be all regarding how to use ExpressVPN for torrenting. If you have any questions, let us know via the comments section below. Thank you for reading!