In case you have a Huawei router (a model that supports VPN connections), know that ExpressVPN offers a way to secure your Web data. Therefore, let's talk about how to set up and use ExpressVPN on your Huawei router. 
Note
As per ExpressVPN's documentation, this VPN has been tested on the Huawei B525. Still, the following instructions should apply to any other Huawei router that supports L2TP VPN connections. Make sure to consult your router's manual for additional information. 
1. If you're starting this process from scratch, sign up for ExpressVPN first.
2. Once you land on ExpressVPN's site, make sure to click on 'Get ExpressVPN.'
3. Then, pick a subscription – we recommend going for a long-term one to cut your costs.
4. Input your email address, provide your payment details, and finalize signing up. 
5. You should receive a confirmation email from ExpressVPN's team once done.
6. Then, go back to ExpressVPN's site and make sure you're on its home page. 
7. Select 'My Account' in the top-right corner, and you'll see a log-in form. 

8. Supply your email address and password, and then click on 'Sign In.'
9. If asked for a verification code, copy it from an email you should receive at this point.
10. Then, select 'Set Up Other Devices' once you access your online dashboard. 
12. On the left-hand side, pick 'Manual Configuration.'

13. On the right-side side, make sure to select 'PPTP & L2TP/IPSec.'
14. You should see your username and password on the right, so keep that page open.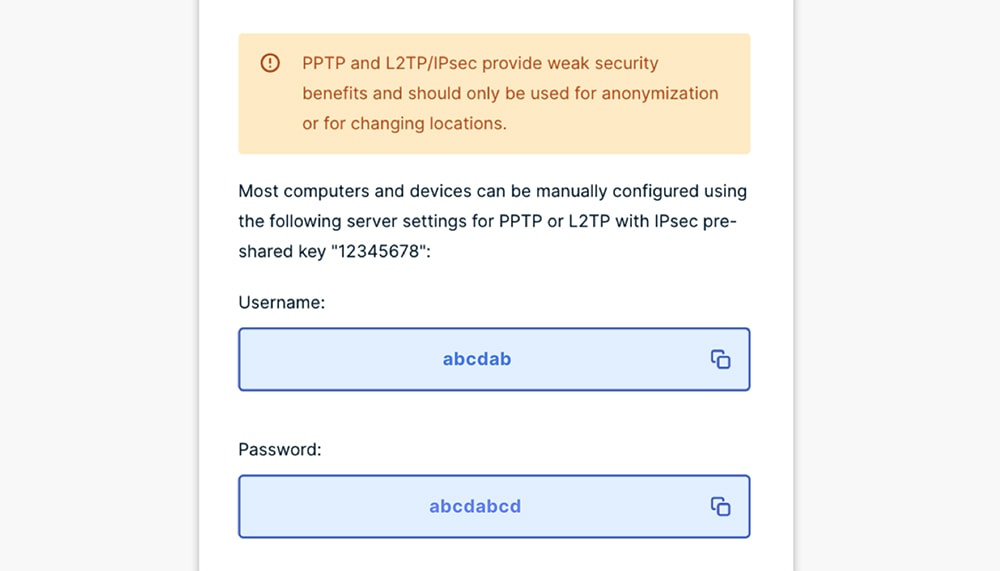 15. You'll also see server addresses, so pick one and make a note of it.
16. Proceed to access your Huawei router by typing in 192.168.1.1 in your Web browser.
17. Input your router's credentials (they should be admin/admin by default). 

18. Now, pick 'Settings' once you get to your router's admin panel.
19. Using the left-placed sidebar, select 'VPN.'

20. You'll be asked for a series of information, so check just below what to use. 
Enable L2TP: Check this box. 
LNS Address: Input your chosen server address name (from your dashboard).
Host Name: This will be the name of your VPN connection. 
Tunnel Password: Type in '12345678.'
Handshake Interval(s): Type in '60.'
PPP Username: Input your username (from your account dashboard).
PPP Password: Input your password (from your account dashboard). 
Authentication: Pick 'Auto' for this field. 
21. Finally, proceed to click on the 'Apply' button and wait a couple of moments. 
22. To check if your VPN connection works, visit ExpressVPN's IP address checker.
23. To connect to a different server, input another server's address (LNS Address).
24. And to disconnect, uncheck the box next to 'Enable L2TP.'
That would be all on how to set up ExpressVPN on a Huawei router. If you have any questions for us, make sure to post them via the comments section below. Thanks for reading!