NordVPN offers two applications for macOS - one that you download from NordVPN's site (with a customizable kill switch, anti-tracking, and ad-blocker) and one that you download from the Mac App Store (easier to set up but comes with limited features). Still, both those apps are easy to download and install, so getting started with NordVPN on macOS is a breeze.
If you're a more advanced user and want a single OpenVPN connection, you can also set up NordVPN on macOS manually. That means you won't be using one of the native NordVPN applications, so this method is suitable if you have an older Mac.
Also, NordVPN requires you to have macOS 10.15 Catalina installed. That means it also runs on macOS 11 Big Sur, macOS 12 Monterey, macOS 13 Ventura, and macOS 14 Sonoma.
How to Download and Install NordVPN on macOS
Before you start setting up NordVPN on your Mac, decide whether you want to use its apps to configure the VPN manually. These are the available options:
Method #1: Download NordVPN's App from its Website
By downloading NordVPN from its website and installing the app manually, you'll end up with a version of NordVPN with a customizable kill switch and Threat Protection (anti-tracking and ad-blocking feature). Here's how to install NordVPN's Mac app manually:
1. Sign up for NordVPN using your Mac and any Web browser.
2. Return to NordVPN's home page and click 'Log In,' using the site's main menu. Provide your credentials and access your Nord Account dashboard.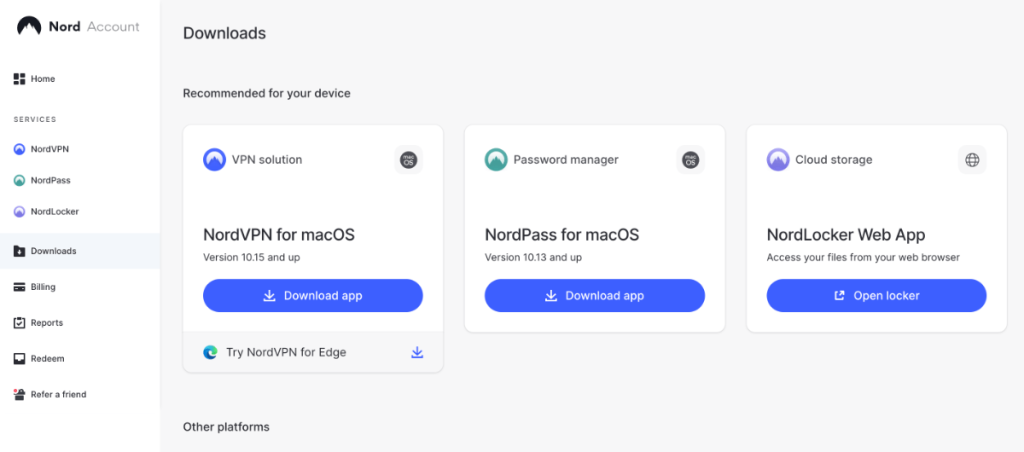 3. Click 'Downloads' in the left-placed sidebar. At the top, you should see a card that says 'VPN Solution - NordVPN for macOS.' Click 'Download app.'
4. Double-click on the installation file you just downloaded. You might be asked to confirm your decision to open the file or to supply your computer's admin password.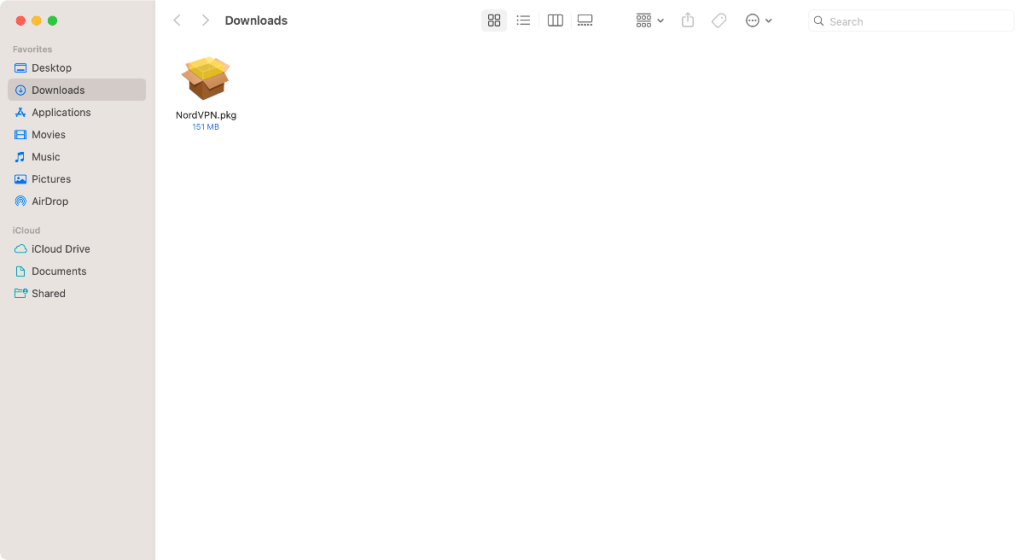 5. Install NordVPN and then launch the VPN app (it'll be added to your Launchpad, which you can find on the right side of the 'Finder' icon in your Dock).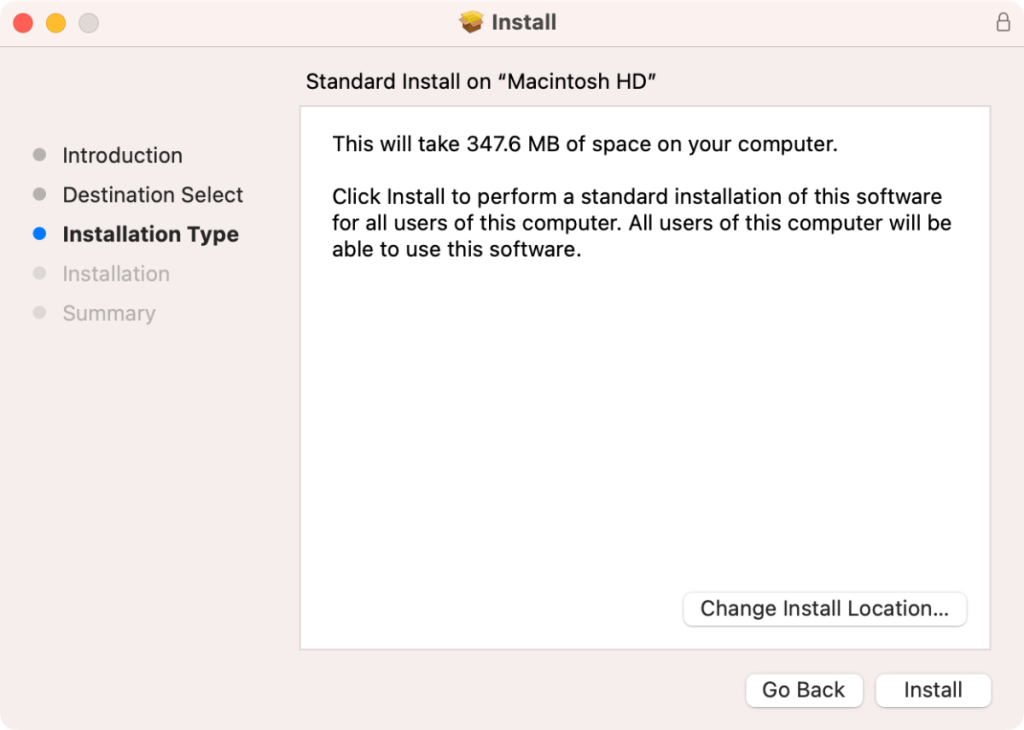 6. Click 'Log In' in the top-right corner. Provide your NordVPN credentials and then accept when prompted by your browser to grant access to the app. You should be logged in now.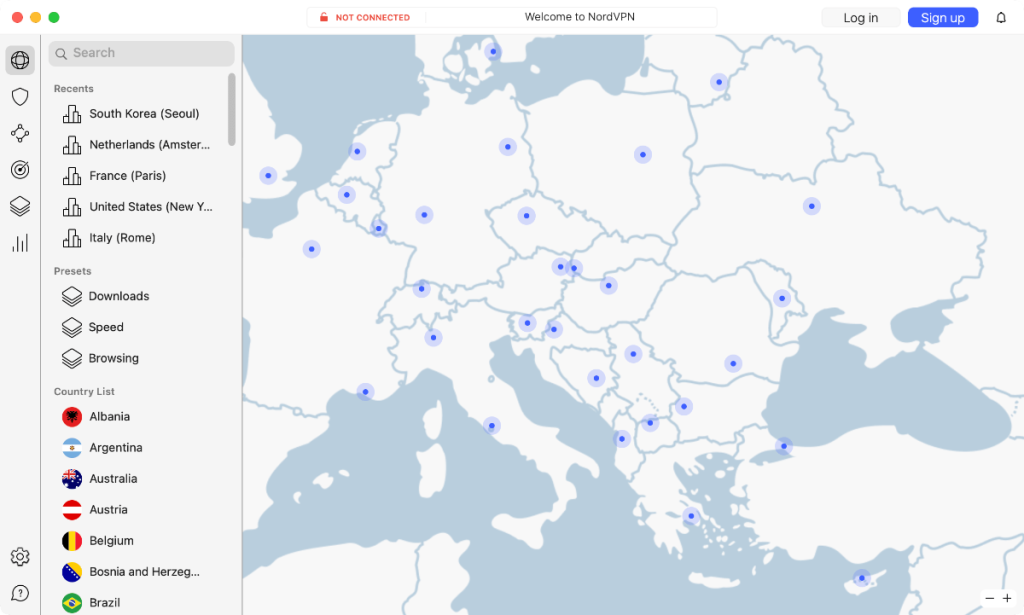 7. Connect to any VPN server via the left-placed sidebar or the interactive map of the world. If asked to install a helper file, confirm your decision and provide your fingerprint/password.
8. To fine-tune NordVPN, switch to another protocol, enable the kill switch, and more, use the cogwheel icon found in the bottom-left corner. That's it!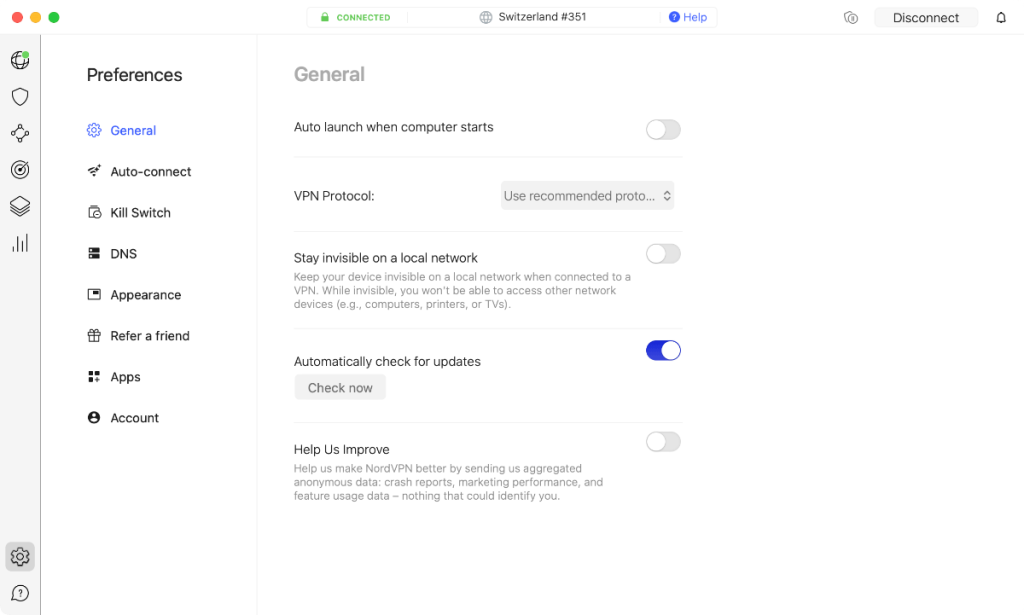 Method #2: Download NordVPN from Mac App Store
By downloading NordVPN from the Mac App Store, you'll allow your Mac to install the app on its own, without any input needed. The app will also get auto-updates that way. However, it'll come without 'Threat Protection' and with a system-level kill switch. Here's what to do:
1. Subscribe to NordVPN using your Mac and Safari or any other Web browser.
2. Visit NordVPN's listing on the Mac App Store. Your browser should ask you to open the App Store, so confirm by clicking 'Open.'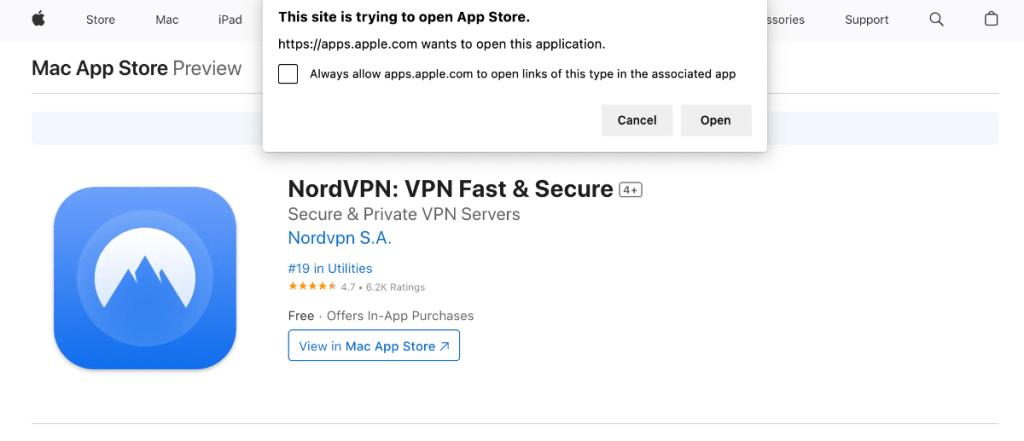 3. The Mac App Store will open now, showing you NordVPN's overview. Click on 'Get' and 'Install,' and then provide your Apple ID's password. The app will now download and install.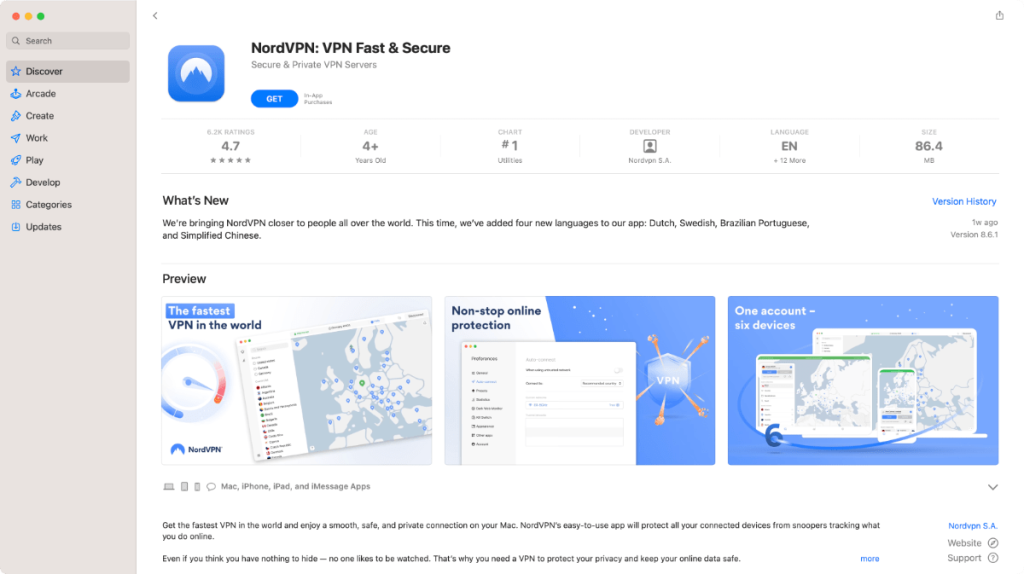 4. Open NordVPN by clicking 'Open.' You can also visit your Launchpad (on the right of the Finder icon in the Dock) and launch NordVPN from there.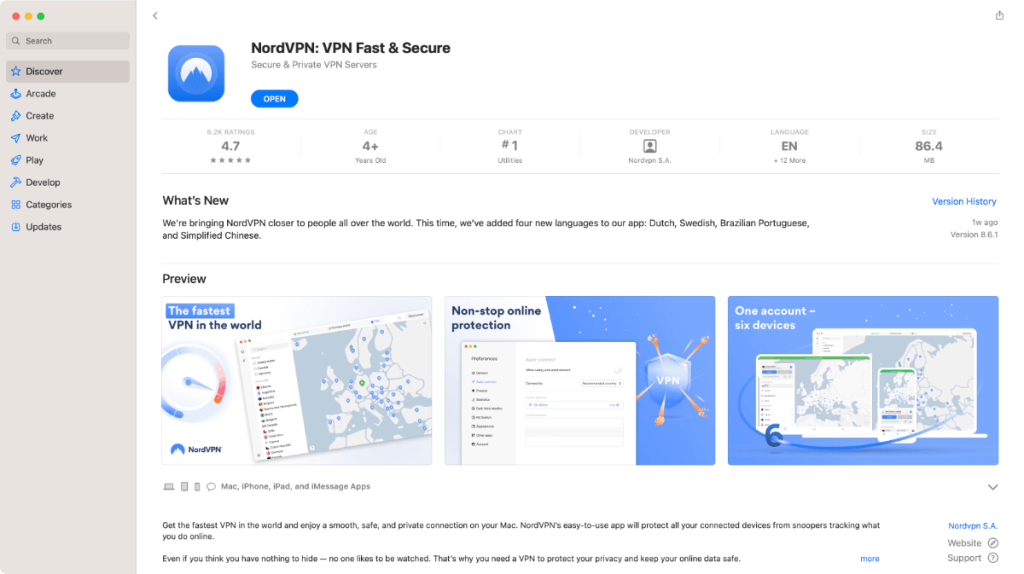 5. NordVPN will display the information about data logging. Select the types of data you're comfortable sending and click 'Agree to Required.'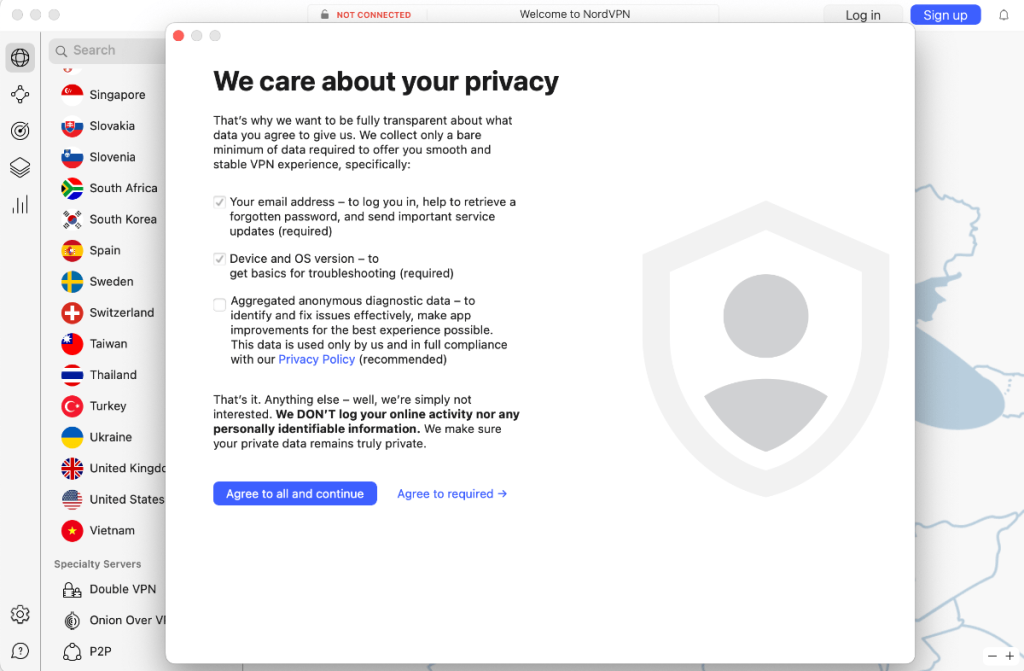 6. Click 'Log In' on in the top-right corner of NordVPN's home page. Provide your credentials using your Web browser and allow the browser to open the app once again.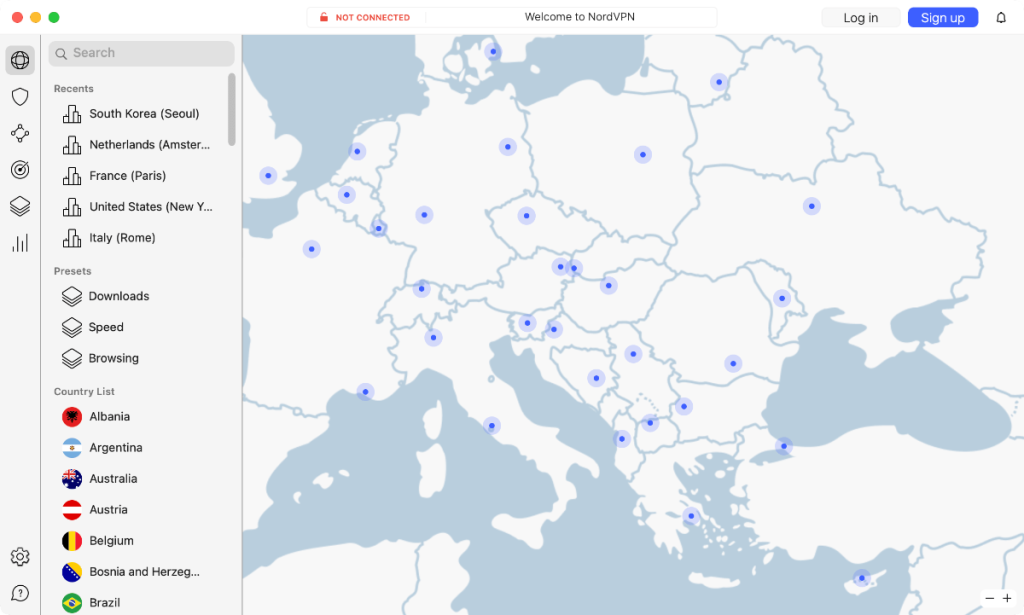 7. Connect to any server by picking a country on the left-hand side. You can also use the map to pan and zoom, and then pick a country whose IP address you want.
8. To see what else NordVPN offers, use the cogwheel icon in the bottom-left corner. That will open the application's settings, where you can pick a different protocol and more. That's it!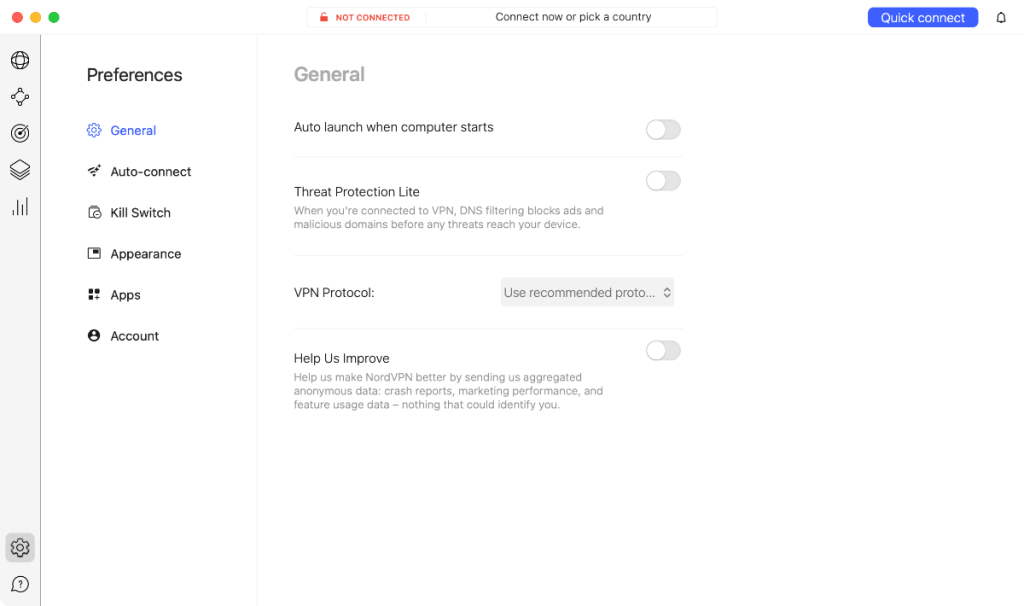 Method #3: Set Up NordVPN Manually via OpenVPN
If you can't or won't use NordVPN on macOS via its native app, you can configure it manually. To make that happen, you'll use an application called Tunnelblick. Do the following:
1. Get your subscription to NordVPN using your Mac and any Web browser.
2. Go back to NordVPN's site and click 'Servers.' Then, pick 'Recommended Server.'
3. Select a server using the 'Select Country' prompt on the right. On the left, pick 'Show Available Protocols.' Click 'Download Config' to download your chosen server's OVPN file.
4. Download Tunnelblick from its official website and install the app. To do so, double-click on its installation file and follow the steps you'll see on your screen.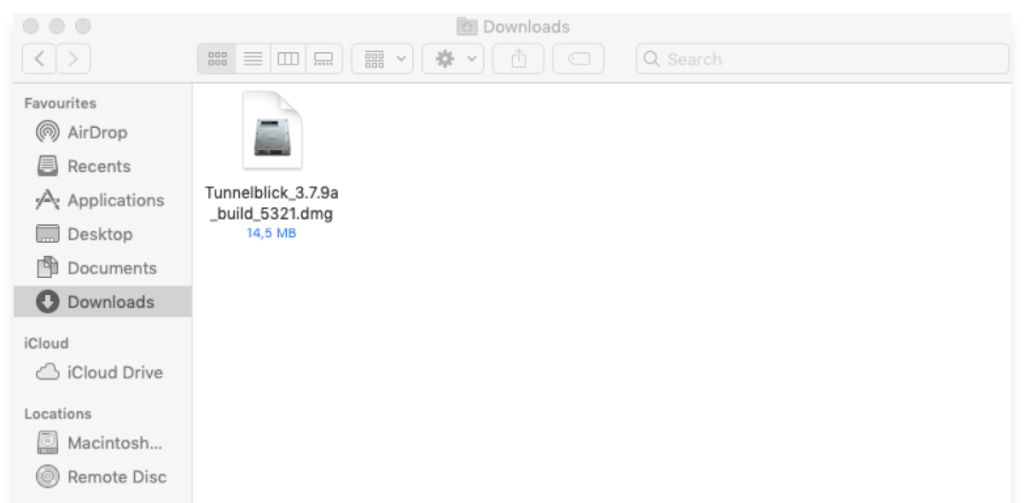 5. Launch Tunnelblick and pick 'I have configuration files.' Drag and drop NordVPN's OVPN file that your previously downloaded, on the left-hand side of Tunnelblick. Select if you'd like to install the configuration for all users or yourself only.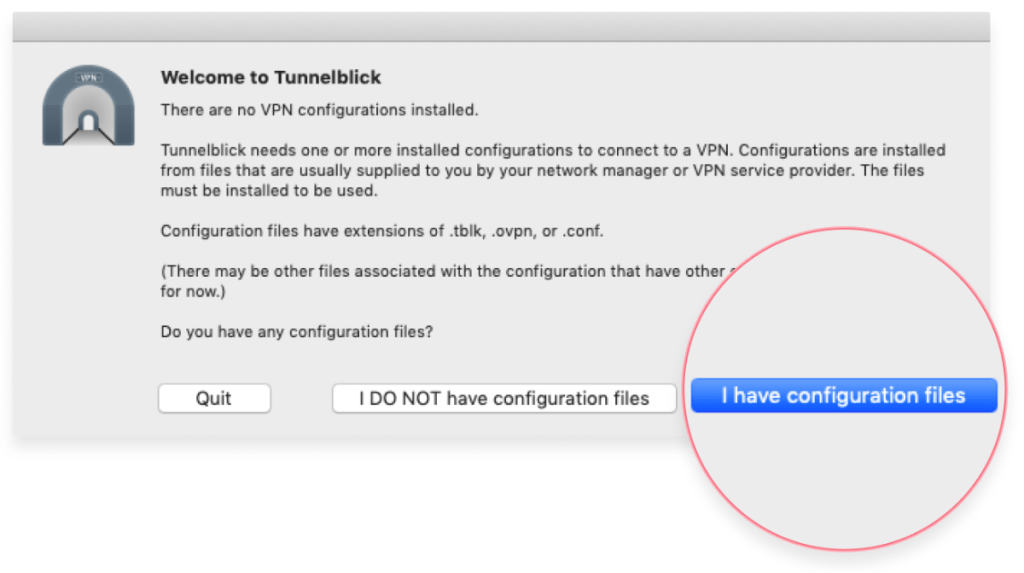 6. Tunnelblick might show you a warning pop-up, indicating that some lines in the NordVPN OVPN files might be deprecated. Go with 'Do not warn about this again' and 'OK.'
7. You will be now asked for your credentials. To find those, return to NordVPN's website and click 'Log In' in the top-right corner. Pick 'NordVPN' on the left and select 'Set Up NordVPN Manually' on the right. Verify your email and then copy-paste your credentials.
8. Tunnelblick will now connect you automatically. You can check your session using your Mac's system bar at the top. That's where you can disconnect from the server as well.
Final Thoughts
If you want everything that your NordVPN subscription brings, go with NordVPN's native app for macOS - the one that you download from its website. That's the easiest way to get started with this VPN without missing out on any of its features. Of course, the Mac App Store app is there as well, a great option if you want your VPN protection to be automated.
Needless to say, NordVPN runs on more than macOS. You can use it on other desktop systems, mobile devices, media streaming devices, and even routers. To learn how to get started, visit our central guide explaining how to set up NordVPN - covering dozens of platforms.
FAQ
Does NordVPN Work on Mac?
Yes, NordVPN works on the Mac. It requires you to have macOS 10.15 Catalina or newer installed, and it supports both Intel and M-based Macs.
What Version of NordVPN is Available for Mac?
There are two versions of NordVPN available for the Mac. You can download its native app from its website, which comes with more features. Or you can download a more limited version from the Mac App Store, which comes with automatic updates.
Does NordVPN Work with Safari?
Yes, NordVPN works with Safari. It doesn't have a dedicated Safari add-on, but you can use NordVPN's native application to protect the Web browser and any other application.
That's all! Now you know how to download, install, and use NordVPN on the Mac. If you have further queries, drop us a comment through the button below. Thanks for reading!