ExpressVPN Aircove is a brand-new product unveiled in September 2022, created by the team of cybersecurity experts behind one of the world's most popular VPN services - ExpressVPN. It's a router that supports the latest networking technologies, built from the ground up to allow easy VPN connectivity.
In this guide, we'll explain what ExpressVPN Aircove is, how it works, what you can expect from it, and more. So, if you're looking for a way to quickly and easily protect your entire household at once, you'll want to read this article carefully.
What Is ExpressVPN Aircove?
ExpressVPN Aircove is a home router, which means that it handles your incoming and outgoing traffic like a typical router. However, it's also designed to connect to ExpressVPN's servers directly, allowing you to unblock websites and protect your privacy.
That means Aircove works best once you subscribe to ExpressVPN. Without a subscription, Aircove will work like any other router – without connecting to VPN servers. Of course, this hardware product is designed for ExpressVPN users, letting you connect to 5 VPN locations simultaneously.
Also, know that Aircove is an ultra-fast router. It's powered by dual-band Wi-Fi 6, delivering up to 1,200 Mbps of fast and stable Wi-Fi. It also provides up to 1,600 square feet of whole-home coverage, supporting all your Web-connected devices at once.
ExpressVPN Aircove is priced at $189.90 (you can buy it via Amazon). Currently, it's available to customers in the United States only.
Aircove Tech Specifications
ExpressVPN Aircove is a powerful VPN-ready router equipped with high-end specifications. It supports up to 600 Mbps on 2.4Ghz Wi-Fi and up to 1,200 Mbps on 5Ghz Wi-Fi. So, even if you have an ultra-fast Web connection, Aircove will be able to support your online activities.
If you'd like to check Aircove's technical specifications in-depth, check out the following table. You'll learn more about its processor, RAM, storage, Wi-Fi speed, and more.
Category
Technical Specifications
Processor
1.2 GHz 64-bit Quad-Core CPU
RAM
512 MB
Storage
128 MB
Wi-Fi Standard
Dual-Band Wi-Fi (2.4GHz/5GHz)
AX1800 MU-MIMO
Wi-Fi 6 (IEEE 802.11 b/g/n/ac/ax)
Wi-Fi Speed
2.4 GHz: Up to 600 Mbps
5 GHz: Up to 1,200 Mbps
Wi-Fi Coverage
Up to 1,200 square feet
Security Features
Built-in ExpressVPN protection
WPA2/3 Wi-Fi security
Automatic updates
Interface
1 x WAN Ethernet port
4 x LAN Ethernet ports
1 x LED
1 x reset button
1 x 12V/1.5A DC input
4 x external antennas
Package Contents
1 x ExpressVPN Aircove router
1 x two-piece power adapter
1 x Ethernet cable
Dimensions
210 mm x 120 mm x 36.8 mm
Weight
445 grams
How Does ExpressVPN Aircove Work?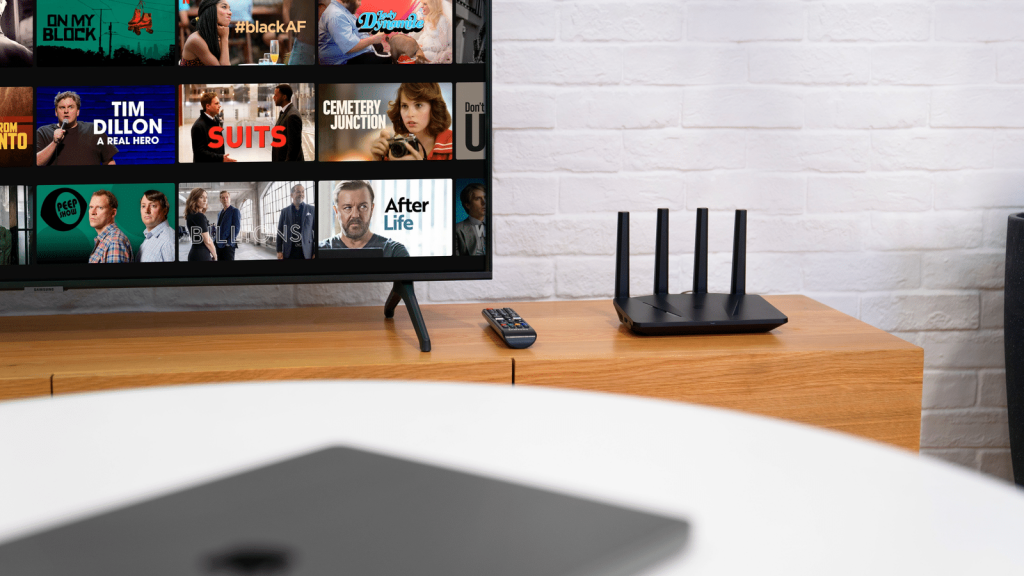 ExpressVPN Aircove works by letting you connect your Web-connected devices to 5 VPN locations at once. That means you can create up to 5 Device Groups (more on that later) and then pick a VPN server location for each of those groups.
So, if you want to route your TV's and gaming console's traffic through a UK server while setting your phone and tablet to route through a US server, you can do that. As said above, the only limitation is that you can connect to 5 VPN locations.
Also, please note that ExpressVPN Aircove doesn't provide you with Internet access on its own. That means you need an ISP (Internet Service Provider) to connect to the Web. Your ISP gives your home access to the Web, while Aircove distributes that access to your connected devices.
What Is Wi-Fi 6?
Wi-Fi 6 is the latest iteration of the Wi-Fi protocol, also known as "IEEE 802.11ax." This tech is used by high-end routers such as ExpressVPN Aircove to bring ultra-fast Internet speeds, more stable connections, and reduced latency. Here's more information:
Wi-Fi 6 Supports Faster Speeds: In theory, routers equipped with Wi-Fi 6 support ultra-fast Internet connections, which makes them future-proof. ExpressVPN Aircove supports up to 1,200 Mbps over its 5Ghz Wi-Fi. So, even if you have a 1Gbps Internet connection from your ISP, which is still a novelty, this router will do the job just fine.  
Wi-Fi 6 Brings More Stable Connections: This latest Wi-Fi standard brings wired and wireless signals closer to parity. It features very stable connections, so you can always choose between using Ethernet or Wi-Fi, without worrying about performance degradation.
Wi-Fi 6 Reduces Latency: It's said that Wi-Fi 6 can result in up to 75% less latency, as this standard is more efficient in handling large amounts of network traffic. So, you get faster downloads, better upload speeds, and more reliable media streaming performance.  
In essence, by being a Wi-Fi 6 router, ExpressVPN Aircove has made sure to support the latest technologies to become a future-proof device. If you decide to purchase it, you can be sure that ExpressVPN Aircove will serve you for years.
What Are Device Groups?
Device Groups is a feature of ExpressVPN Aircove that allows you to connect groups of devices to a single VPN location. This is a central feature of ExpressVPN's router, allowing you to connect individual or groups of devices to VPN locations or pick which devices won't need VPN protection.
For example, ExpressVPN Aircove allows you to connect your TV and your streaming device to a UK-based location to stream the latest football matches. Then, it can connect your game console to a nearby server, giving you lower latency. And, you can set your tablet to connect to a server in a country with a huge Netflix library.
With the "Device Groups" feature set, ExpressVPN Aircove will do all the heavy lifting in the background. That said, let's see how to use it.
How to Use Device Groups?
Getting started with Device Groups on ExpressVPN's VPN router is quite easy. Here are the steps you need to take:
1. Complete the initial setup of your Aircove router.
2. Access your router's dashboard by going to expressvpnrouter.com.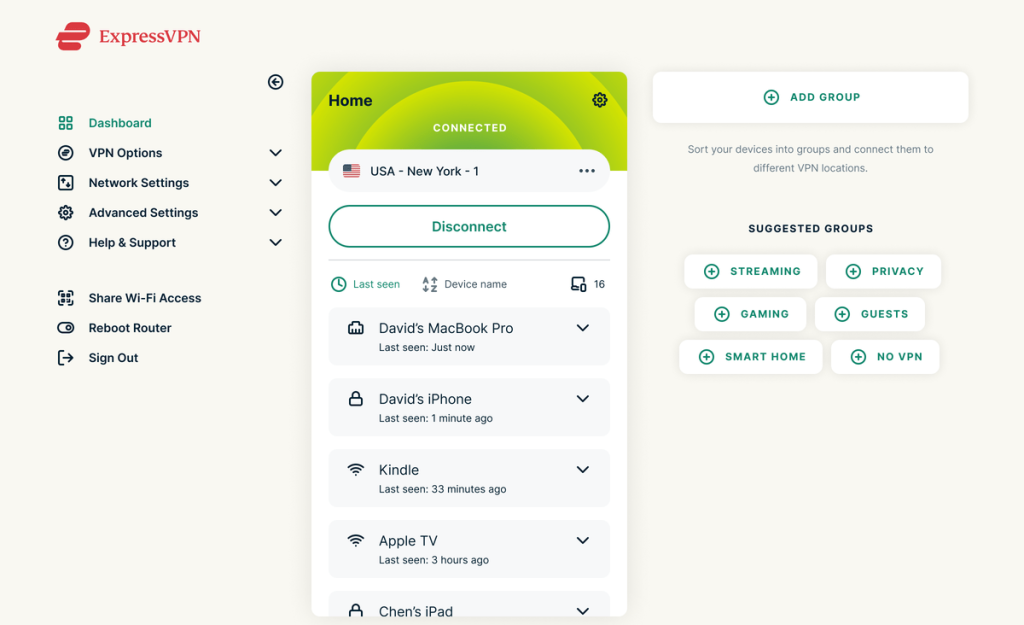 3. You will now see your Device Groups on your home screen. You can also create a new Group on the right (ExpressVPN will recommend some often-used groups).
4. Select a VPN server location for each Device Group (you can browse the available servers at the top, just under the group's name).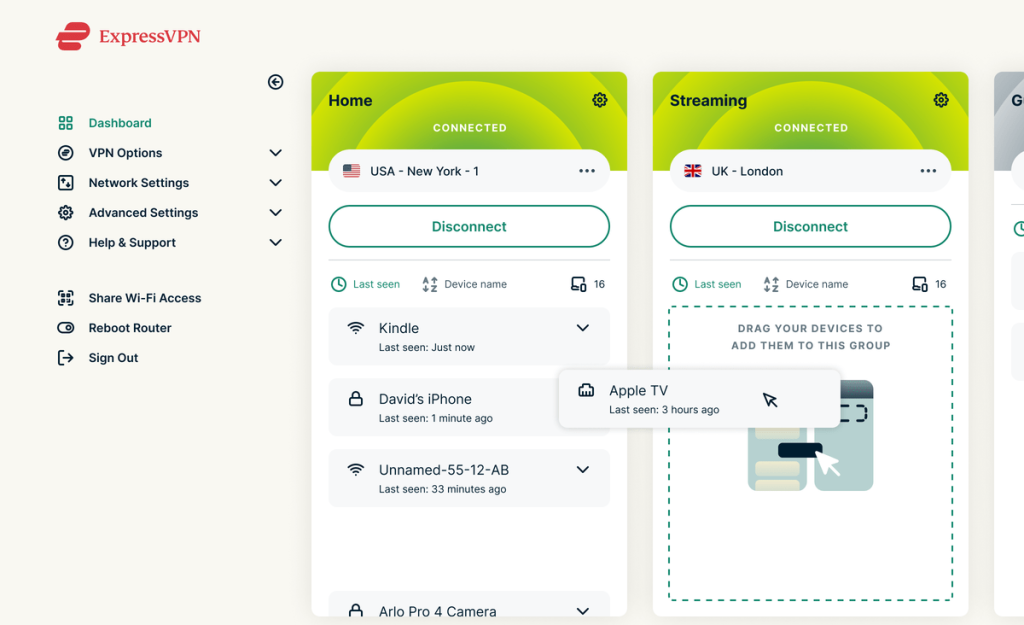 5. Drag and drop your connected devices between groups. That's it!
Is ExpressVPN Aircove Safe?
Yes, ExpressVPN Aircove is safe to use. Just like the VPN service itself, ExpressVPN Aircove has been audited by an independent party to verify its no-logs claims.
More precisely, ExpressVPN's firmware was audited by Cure53 in June and July of 2022. As per the reports of that audit, there were no findings indicating that ExpressVPN Aircove collects or endangers your sensitive information in any way or manner.
We'll also note that the results of Cure53's audit of ExpressVPN Aircove are made public (click the provided link to read them). Unlike most other routers, Aircove employs a slate of technologies and features that prevent digital tracking, ensuring your privacy on the Web.
Final Thoughts
We have to say that ExpressVPN continues to impress by going through a rapid evolution. Based on our preliminary findings, buying ExpressVPN's Aircove router is a decision you won't regret. Of course, subscribe to ExpressVPN first, as you'll need an active subscription.
Of course, you can also pick another route. That said, here are the best VPN routers if you're willing to keep your options wide open. Also, these are the best VPN services, so you can pick any of those and configure them manually (on a non-Aircove router, though).
FAQ
Where Is ExpressVPN Aircove Available?
ExpressVPN Aircove is currently available in the United States only. You can purchase the newly launched router on Amazon.
How Much Is ExpressVPN Aircove?
Is ExpressVPN Subscription Free with Aircove Router?
No, ExpressVPN's subscription doesn't come free when you buy Aircove. You need to purchase your ExpressVPN subscription separately.
At the moment, you can get ExpressVPN for $6.67/month for its yearly plan. Going that route will get your 3 extra months added to your first billing period.
That would be all for your ExpressVPN Aircove guide. If you have any questions, let us know via the comments section below. Thanks for reading!