A range of Linksys routers is supported by ExpressVPN, which is one of the rare VPN services to offer custom firmware. That means you can set up ExpressVPN on a Linksys router by installing its firmware, which will replace your router's stock firmware.
However, not all Linksys routers work with ExpressVPN's firmware. That said, the following Linksys router models have been tested and verified by ExpressVPN's team:
Linksys EA6200
Linksys WRT1200AC
Linksys WRT1900AC 13J1
Linksys WRT1900AC 13J2
Linksys WRT1900ACS
Linksys WRT1900ACS V2
Linksys WRT3200ACM
Linksys WRT32X
There's one more thing to keep in mind. Installing custom firmware (such as ExpressVPN's) will void your Linksys router's warranty. Also, installing ExpressVPN's firmware will reset your router's configuration, including any custom Wi-Fi network names or passwords.
That said, let's start talking about setting up ExpressVPN on your Linksys router.
How to Set Up ExpressVPN on a Linksys Router
If you have a compatible Linksys router, getting started with ExpressVPN is a "piece of cake." These are the exact steps you need to take:
1. Subscribe to ExpressVPN using your computer and your favorite Web browser.
2. After subscribing, click "My Account" using the main menu on ExpressVPN's website (you'll find it at the top). Provide your credentials and access your ExpressVPN dashboard.

3. Navigate to Set Up Other Devices > Router. In the "Firmware Download" section, select the model of your Linksys router and download it to your computer.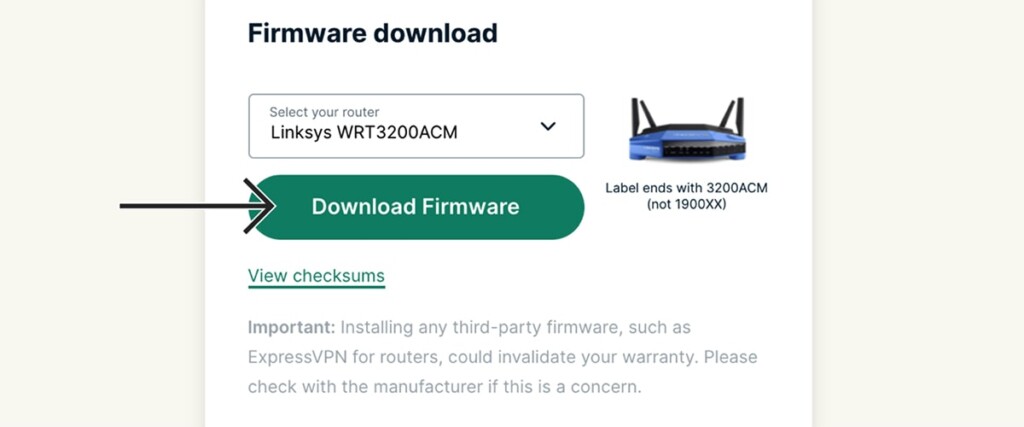 4. Access your Linksys router by entering 192.168.1.1 in your browser's address bar. You'll be asked to sign in. By default, the password should be "password."

5. Using your router's dashboard, go to Connectivity > Choose File. Select the firmware file you downloaded moments ago.

6. Click "Start." You might be asked to confirm your decision, so click "Yes."
7. Once the firmware installs, you'll need to select "OK" to reboot your router.
8. Wait until your router reboots all the way, which might take a couple of minutes. Once done, connect to the router either via cable or Wi-Fi. 
9. Now, you will be redirected to www.expressvpnrouter.com via your Web browser. If you're not redirected, type in the URL mentioned above manually. 
10. Welcome to ExpressVPN's Setup Guide! Click on "Get Started."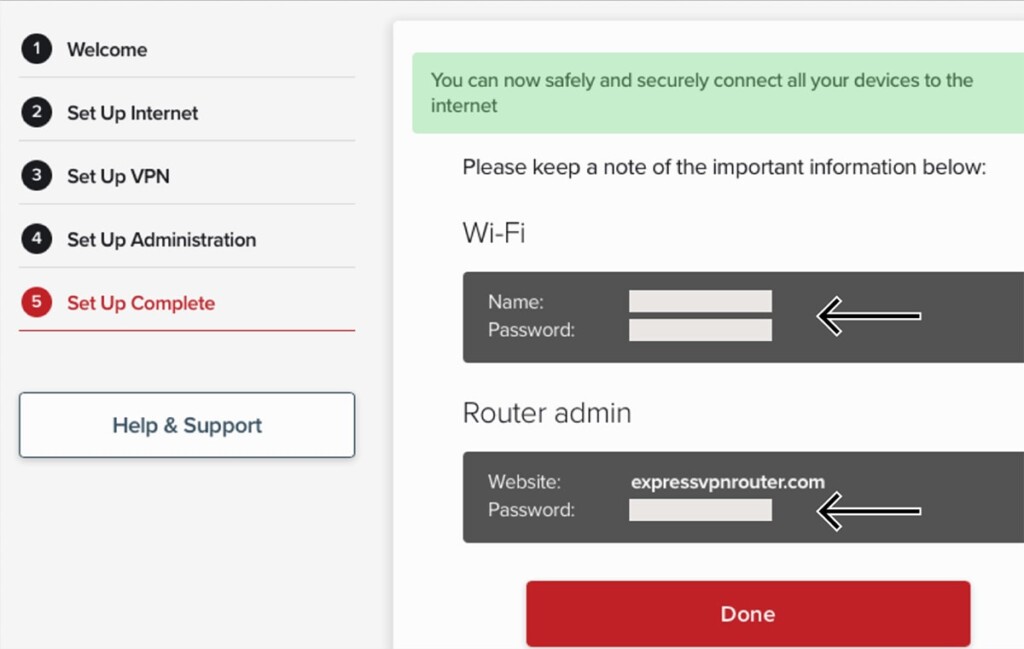 11. Follow the on-screen prompts and finalize the setup procedure. 
12. Lastly, make sure to keep a note of your Wi-Fi name and password and your router's admin password (set while setting up your ExpressVPN firmware). That's it!
Final Thoughts
Due to its extra-wide server network and high-end security features, ExpressVPN is the best pick for Linksys routers. By using its firmware, you can be sure that every Web-connected device in your household is protected in the most secure way possible.
However, don't forget that ExpressVPN offers standalone clients (apps) as well, which means you can use it outside your home as well. To learn more, here's how to install ExpressVPN on all its supported devices.
FAQ
Does ExpressVPN Work With Linksys Routers?
Yes, ExpressVPN works on a range of Linksys routers by providing its own firmware. That means you can use ExpressVPN's own firmware instead of Linksys'.
How Do I Know If My Linksys Router Supports VPN?
To check whether your Linksys router supports VPNs, you need to check its manual. Also, you can access its dashboard and check whether you can set up a VPN manually.
When it comes to ExpressVPN, this VPN works on the following Linksys models: EA6200, WRT1200AC, WRT1900AC 13J1, WRT1900AC 13J2, WRT1900ACS, WRT1900ACS V2, WRT3200ACM, and WRT32X.
How Do I Enable ExpressVPN on a Linksys Router?
To enable ExpressVPN on your Linksys router, you need to install ExpressVPN's firmware. Then, access your router's admin and complete ExpressVPN's installation by following the prompts you'll see on your screen.
Is ExpressVPN Always ON on a Linksys Router?
Yes, ExpressVPN is always ON by default. However, you can also disable ExpressVPN's protection on your Linksys router by visiting its admin panel.
That would be all on how to set up ExpressVPN on a Linksys router. If you have any questions regarding the above-explained procedure, make sure to post your comment below. And of course, thank you for reading!