A split tunneling VPN allows you to exclude a part of your Internet traffic from your VPN connection. This is a useful feature for those who want to stay anonymous on the Web without losing speed in other activities like streaming videos or downloading files. 
For example, you may prefer to use a VPN when torrenting. However, VPNs can cause latency issues in online games. By using a split tunneling VPN instead of full tunneling, you can route your gaming traffic outside the VPN and enjoy good latency - while getting to download torrents safely and anonymously. 
In this article, we'll discuss what split tunneling is, how it works, and how you can enable it on your device. We'll also talk about its different types, pros and cons, and risks, as well as review the best VPNs offering this feature. So, without further ado, let's dive right into it. 
What Is VPN Split Tunneling?
VPN split tunneling is a feature that allows you to route a part of your traffic through an encrypted tunnel while the remaining data goes through an open connection. In other words, it gives you the freedom to secure specific applications and website URLs of your choice. 
Imagine this scenario. You want to sign into a geo-restricted service in the US. But at the same time, you want to get local search results on TikTok in India. Using a regular VPN means that you have to sacrifice one activity for the other. With split tunneling, you can simultaneously access the geo-blocked app with a US IP and use TikTok with your actual Indian IP address. 
Similarly, split tunneling is useful for remote workers who are using an enterprise-grade VPN because it prevents the unnecessary load from additional traffic and keeps their local activities private. 
Generally, a regular VPN connection will reduce your Internet speed because it fully encrypts the traffic. However, a split tunneling VPN secures sensitive data without slowing down other Web activities. 
How Does VPN Split Tunneling Work?
Split tunneling works by splitting your Internet traffic into two parts. The first part is routed through the VPN, while the second part flows through your regular Internet connection. 
It will become easier to visualize a split tunneling VPN if you first learn how VPNs work. Simply put, a VPN secures your connection by acting as an intermediary between you and the Internet. 
When you turn on a regular VPN, this is what happens: 
VPN app receives your data and encrypts it. 
It sends the data to its secure server.
The server decrypts this data and sends it to the target website.
Such an open VPN connection will encrypt every last bit of your data. However, it will slow down the Internet speed because your data will have to travel through an extra hoop. 
On the other hand, this is what happens when you turn on split tunneling: 
Your Internet traffic gets divided into two parts.
A VPN encrypts one part of your Internet traffic and sends it to a secure server.
The secure server decrypts your traffic and sends it to the target website. 
The other part of your traffic goes through the open connection.
The best part is that you can decide which data should go through the open connection and which should pass through the VPN. 

Unfortunately, not all VPNs offer split tunneling. So, it's important to use a capable VPN. We recommend ExpressVPN due to its advanced split tunneling features. 
Types of VPN Split Tunneling
There are 3 types of VPN split tunneling: URL-based, app-based, and inverse split tunneling. Let's take a quick look at each of these. 
URL Split Tunneling: It allows you to encrypt specific URLs via the VPN. Usually, you can find this feature in the browser extensions of VPNs. 
App Split Tunneling: This is similar to URL split tunneling, but it applies to applications instead of URLs. You can encrypt a specific application and let the remaining traffic travel via an open network.
Inverse Split Tunneling: It automatically routes your whole traffic via the VPN except the applications or URLs that you choose to exclude. In a way, inverse split tunneling works the opposite of the first two types.
When to Use Split Tunneling?
You should use split tunneling when you want to secure sensitive data without slowing the overall Internet speed. It is also useful when you're in a country with strict government censorship or working remotely. 
Here's more information about these use cases.
To secure data without slowing down other activities: Imagine torrenting and streaming a 4K video on YouTube. You'll prefer a VPN for torrenting, but for QHD streaming, an open connection is better due to higher speeds. Using split tunneling, you can encrypt the torrenting app and let the video stream continue on the open connection.
You live in a country with strict government censorship: If your country has strict censorship laws, like Saudi Arabia and China, you can use a VPN to access censored websites. But you may also want to enjoy the best speeds while watching movies on local streaming services. In this case, you can exclude the streaming apps from the VPN connection using split tunneling. 
To work remotely: If you're working remotely, you'll want to encrypt some sensitive work information. At the same time, you may also need access to localized search results and regional content on Web platforms. With a split tunneling VPN, you can get these things done simultaneously.
Of course, split tunneling can have endless use cases. After knowing the basics of split tunneling, you can easily figure out if this feature is useful for you. 
How Do I Enable & Use Split Tunneling?
You can enable split tunneling in the settings of your VPN app. However, your VPN must have this feature built in. It's as simple as that! Fortunately, most capable VPNs out there do support split tunneling and let you choose which apps you want to secure. 
In this section, we'll teach you how to enable split tunneling on Windows using ExpressVPN. 
We first launch the ExpressVPN app on Windows. 
Then, head to the menu and click on "Options." 
In the options menu, select "General" and check the box that states "Manage connection on a per-app basis."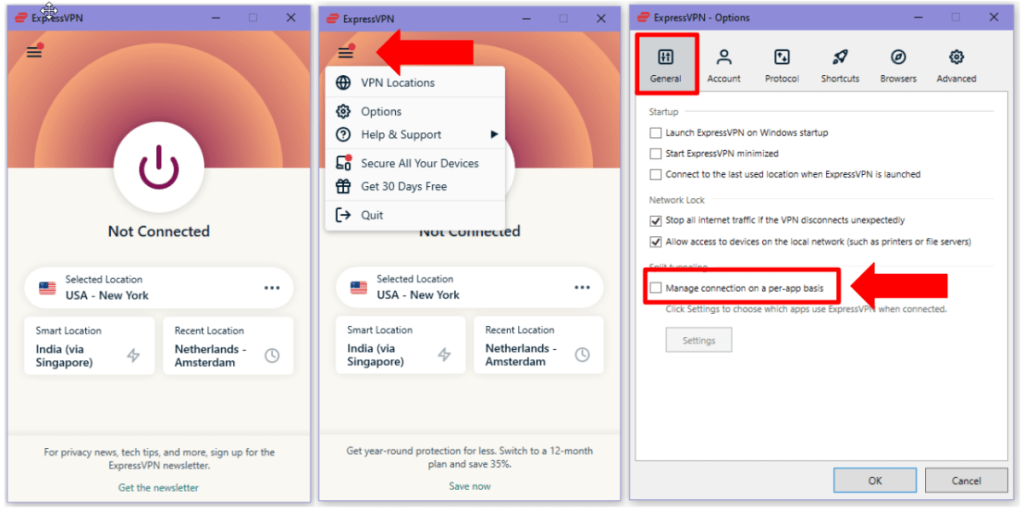 Click on the "Settings" button and then choose an option based on whether you want direct split tunneling or inverse split tunneling. In our case, we pick direct split tunneling by choosing "Only allow selected apps to use the VPN." 
Choose the small "+" button, and a new window will open. Here, you can choose which apps should use ExpressVPN. You can also manually include other apps by clicking on "Add Another App." Then, click the "OK" button. 
Turn on your VPN connection, and split tunneling will be active.
Now, it's time to test if split tunneling is working. First, download a geo-restricted app like HBO Max and whitelist it on ExpressVPN's app. You'll be able to access HBO Max outside of the US. Now, open your Chrome browser and input "What is my IP" on Google. You can see your actual IP address because Chrome isn't included in the VPN connection. 
Remember that you can disable split tunneling whenever you want. The process is quite simple - just head back to the VPN's settings and uncheck the box that states, "Manage connections on a per-app basis." 
Windows VPN apps will control the flow of traffic from that particular device. However, you can also enable split tunneling by setting up a VPN on a router and excluding entire devices from the VPN connection. 
Pros & Cons of VPN Split Tunneling
Of course, like other VPN features, split tunneling comes with its own benefits and drawbacks. It's important to know what these are so you can determine if split tunneling is useful for you. 
Pros of Split Tunneling
Maintains control of your Internet speed: Split tunneling allows you to control which apps or URLs use the VPN. This means your other activities will remain unaffected, and there won't be an overall drop-off in connection speed. 
Allows you to access multiple networks at once: If you want to watch shows on a geo-restricted service, split tunneling can be a useful feature. You can access HBO Max and Hulu while getting localized content on Google and YouTube.
Improves security, such as during remote work: While working remotely, you would want to encrypt sensitive data without reducing overall speed. Split tunneling will help you achieve this. 
Cons of Split Tunneling
Might make excluded Internet activities vulnerable: If you're only protecting a part of your Internet traffic, you may be potentially exposing the rest to cyber threats.
Initial one-time setup can be time-consuming: If your VPN app doesn't have a built-in split tunneling feature, you may have to enable it in Windows. And such a setup can take some of your time.
You need a router-level VPN to exclude entire devices: Split tunneling in the VPN app or Windows is limited to the operating system only. So, if you want to exclude entire devices, you'll need to configure your VPN on a router.
Some VPNs don't have split tunneling features: Often, less capable VPNs don't have split tunneling features. You'll also get varying degrees of control over splitting data.
What Is the Best Split Tunnel VPN? 
ExpressVPN is the best-split tunnel VPN. However, you can also choose from other options, as split tunneling is a feature present in almost all the capable VPNs out there. 
At TechNadu, we have tested 65+ VPNs, and based on this rich experience, here's a list of the best VPNs with split tunneling in 2023.
ExpressVPN is our top recommendation due to its advanced features and top-notch security. It offers split tunneling on Android, macOS, and Windows. If you're using Windows, you can turn on split tunneling by choosing "Manage connection on a per-app basis" under the "General" tab in ExpressVPN's settings. The best part is that it allows both direct and inverse splitting.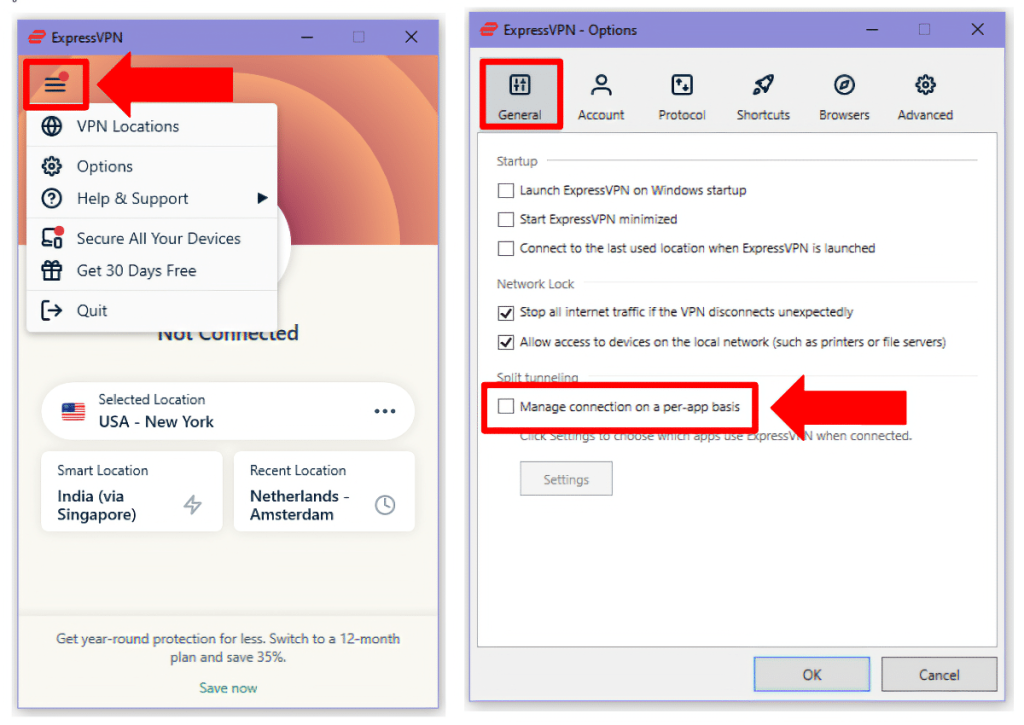 NordVPN offers split tunneling on Android, Windows, and Android TV. All you have to do is toggle the split tunneling option in its settings menu. It will then allow you to choose applications that will use the VPN. In addition to that, you also get secure servers with AES-256 encryption and a very powerful ad blocker.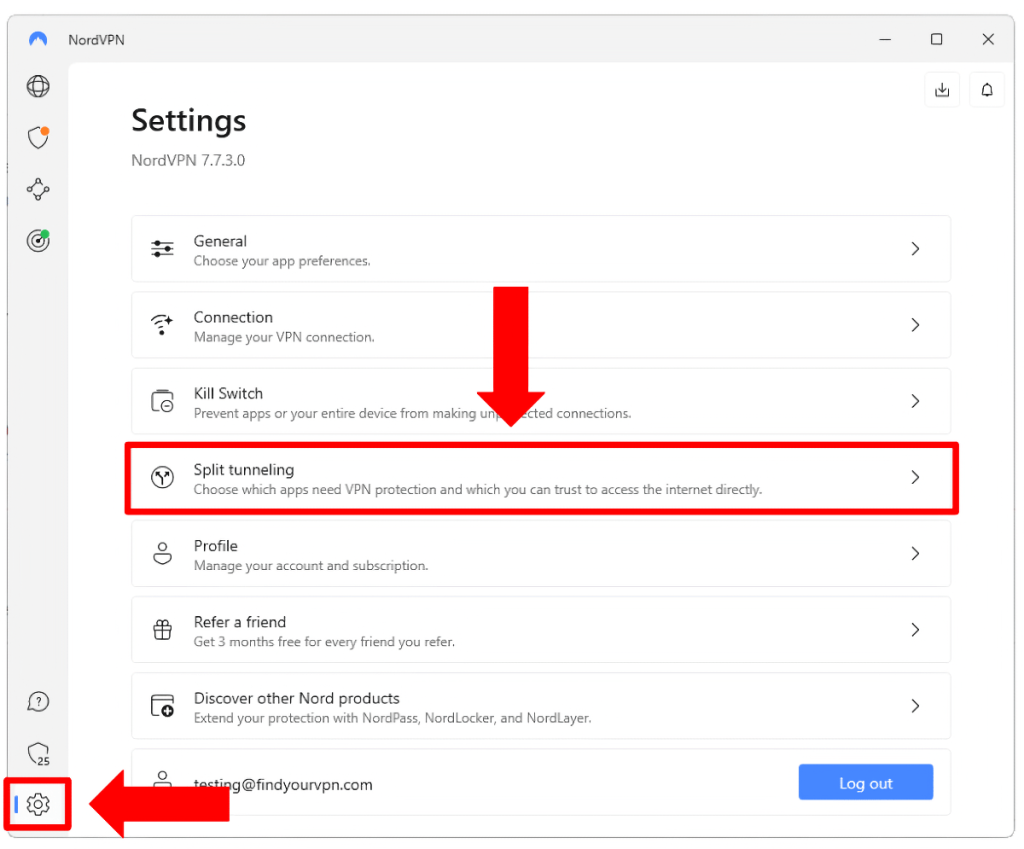 PIA supports split tunneling on macOS, Android, Linux, and Windows. You also get the option to split tunnel your DNS traffic on Linux and Windows. Just like NordVPN, this VPN also comes with an ad blocker called PIA MACE.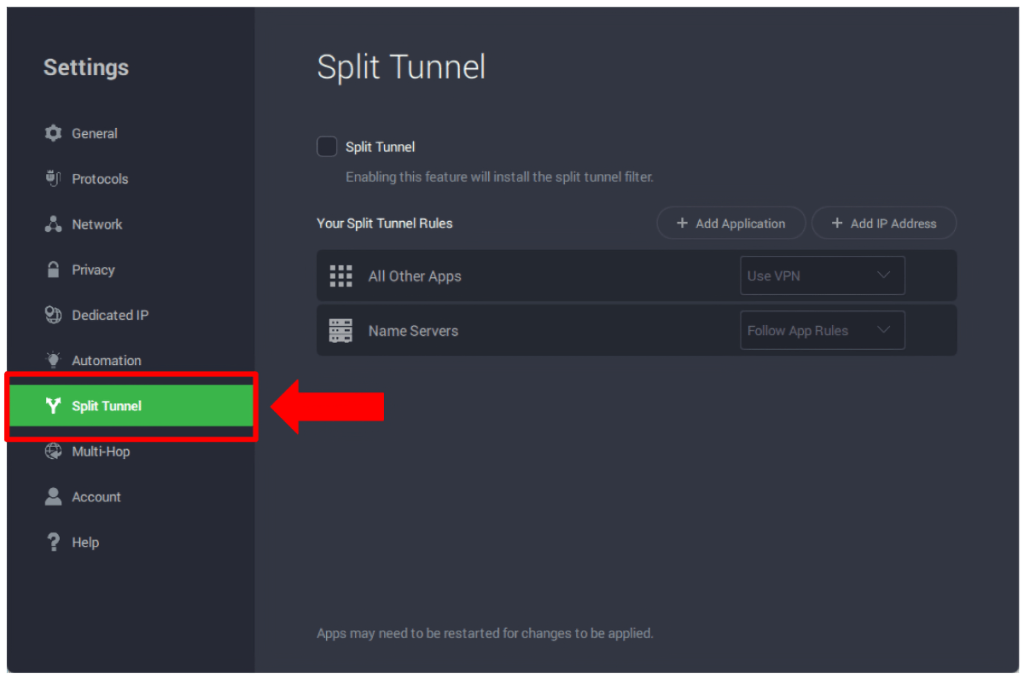 You can only find full split tunneling VPN options in CyberGhost's Android app. However, if you're using the Windows app, you can use "Smart Rules" to split your traffic among different websites. It can be useful when you're accessing secure websites of banks that reject VPN connections.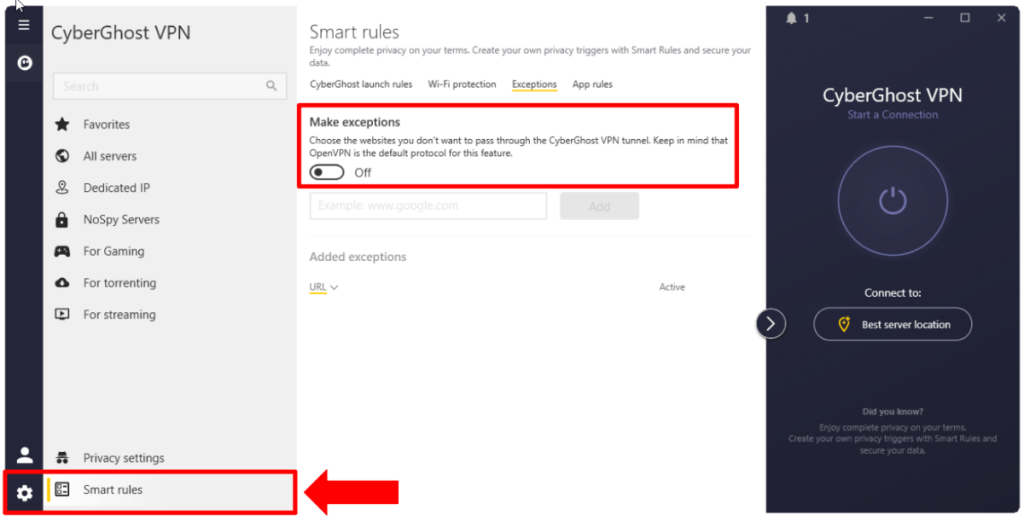 Surfshark has a built-in split tunneling feature known as "Whitelister." However, you can find it in Android and Windows apps only. Using this option, you can split your traffic between applications and individual websites. Its strong ad blocker, called CleanWeb, can also filter malicious traffic, making you safer on the Web.
What Are the Risks of Split Tunneling?
Split tunneling comes with its own set of risks, such as cyber threats, corporate risks, and bypassing security measures. Let's take a quick look at these risks.
Not being secure if you fail to set it up properly: Hackers may find a vulnerability and access your information. An improper setup will also reveal all Internet activity to the ISP. 
Risks in corporate environments: IT branches in corporate sectors can lose visibility of what their employees browse during work time. Furthermore, if the employee is using an unsecured network, the security of your corporate system can be at risk.
Bypass security measures: Split tunneling may sometimes cause you to accidentally ignore proxy servers that keep traffic secure. 
Split Tunneling vs Full Tunneling
Simply put, a full tunnel refers to a regular VPN connection that encrypts all your Internet traffic, while split tunneling results in partial encryption of the traffic. Here's a quick comparison between both types:
Split Tunneling: Divides your Internet traffic into two parts and encrypts it partially. The encrypted traffic is routed through the VPN, and the remaining data passes through the regular Internet connection.
Full Tunneling: Routes your entire traffic through the VPN without splitting it or excluding it from the network.
That being said, full tunneling is better than a split tunneling VPN because it provides maximum security and privacy. 
Final Thoughts
Split tunneling is a feature that lets you selectively secure sensitive data without reducing your overall Internet speed. It can be useful to access geo-restricted services and localized search results at the same time. However, it's not always a good idea to use a split tunneling VPN because the data you're excluding can be vulnerable to spying. 
We have tested many VPNs with split tunneling, but ExpressVPN is our top recommendation because it gives you the option for both direct and inverse tunneling. Furthermore, it offers the latest military-grade AES-256-bit encryption and obfuscated servers.
We hope that this article answers your questions about split tunneling VPN. Feel free to leave a comment below if you have any other questions for us. Thanks for reading!