Routers made by Netgear are among the best routers available right now. Therefore, it's not surprising to know that they offer VPN-friendly features as well. With that said, we're going to show you how to set up and use ExpressVPN on your Netgear router.
Note
As per ExpressVPN's official documentation, this VPN's custom firmware is available on select Netgear routers. Therefore, proceed to install ExpressVPN's firmware only if you have one of the following models.
Netgear R6300v2
Netgear R6700v3
Netgear Nighthawk R7000
Netgear Nighthawk R7000P
Important
Installing any third-party firmware (including those supplied by ExpressVPN) might void your router's warranty. Therefore, make sure to go into the following process well-informed, knowing the risks of installing custom firmware on your device.
1. Start by signing up for ExpressVPN. 
2. You'll land on ExpressVPN's website. Go ahead and click on the 'Get ExpressVPN' button.
3. Pick a subscription plan, input your email, and proceed to pay for the subscription. 
4. Once done, you'll receive a confirmation email from ExpressVPN's team.
5. Then, return to the home page of ExpressVPN's website. Select 'My Account.'

6. Provide your email address and password, and then select 'Sign In.'
7. You'll be asked to enter a verification code, so copy it from your email inbox. 
8. Once you open your online dashboard, select 'Set Up Other Devices' and the top. 
9. On the left-hand side, click on 'Router.' Then, take a look at the right side of that screen.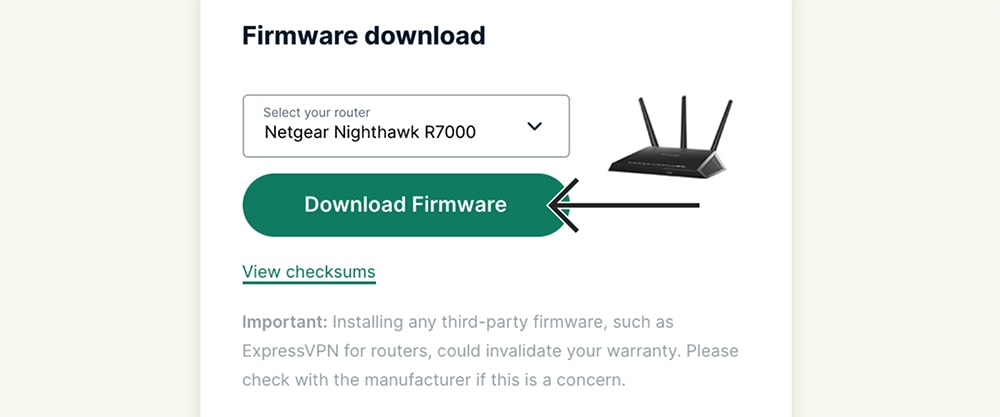 10. In the 'Firmware Download' segment, select the model of your Netgear router.
11. Download the firmware file – and make sure to leave this page open in the background.
12. To proceed, make sure that you're connected to your router (via cable or Wi-Fi). 
13. Then, access its admin panel by entering 192.168.0.1 in your browser's Address Bar. 
14. If the IP mentioned above doesn't work, consult your Netgear router's manual. 
15. Then, input your router's username/password. This should be admin/admin by default.
16. At this moment, you should be looking at your router's admin panel. 
17. Click on the 'Advanced' tab at the top of your router's admin panel interface.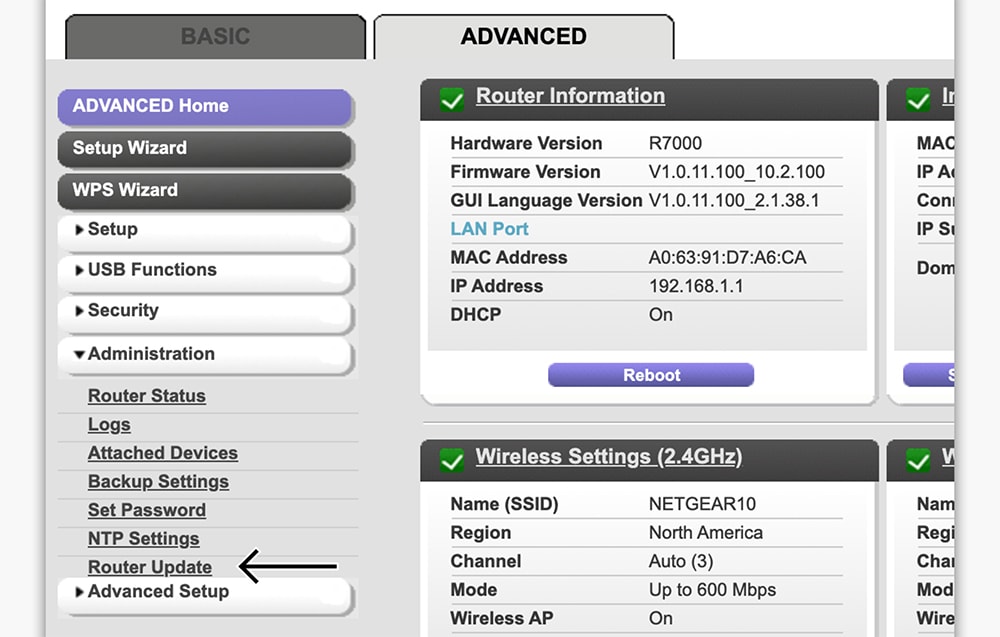 18. Then, select 'Administration' on the left and pick 'Router Update.'
19. On the right-hand side, click on the 'Browse' button.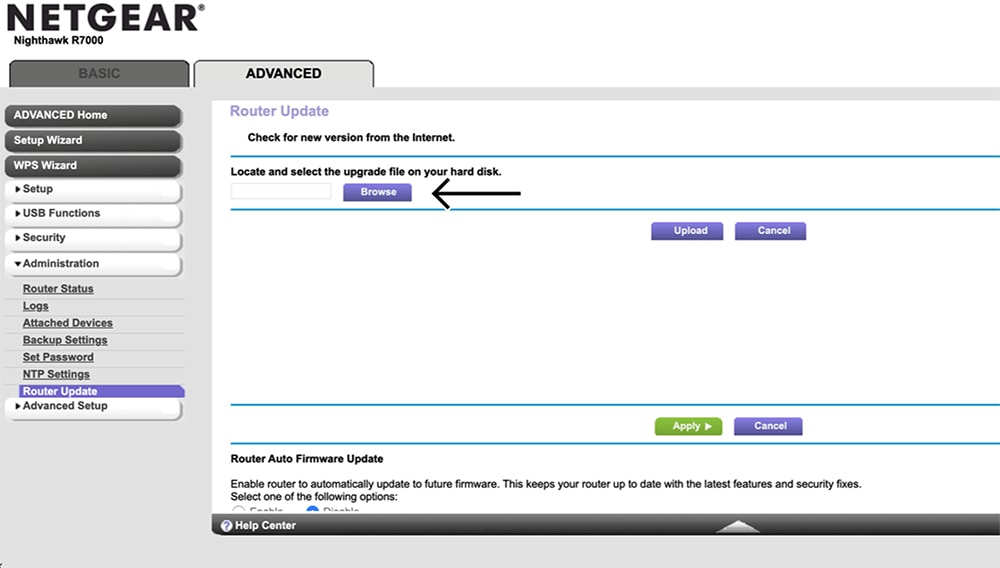 20. Navigate to the ExpressVPN firmware that you downloaded moments ago. 
21. Then, click 'Upload.' Review any warning messages and update your router. 
22. After a couple of minutes, your Netgear router will restart on its own. 
23. Then, connect to your router once again. You can do that via an Ethernet cable or Wi-Fi. 
24. Your router's Wi-Fi network will be reset, and you'll need to use its default password. 
25. Once you connect, you should be taken to www.expressvpnrouter.com.
26. If you're not taken to the website mentioned above, visit it manually.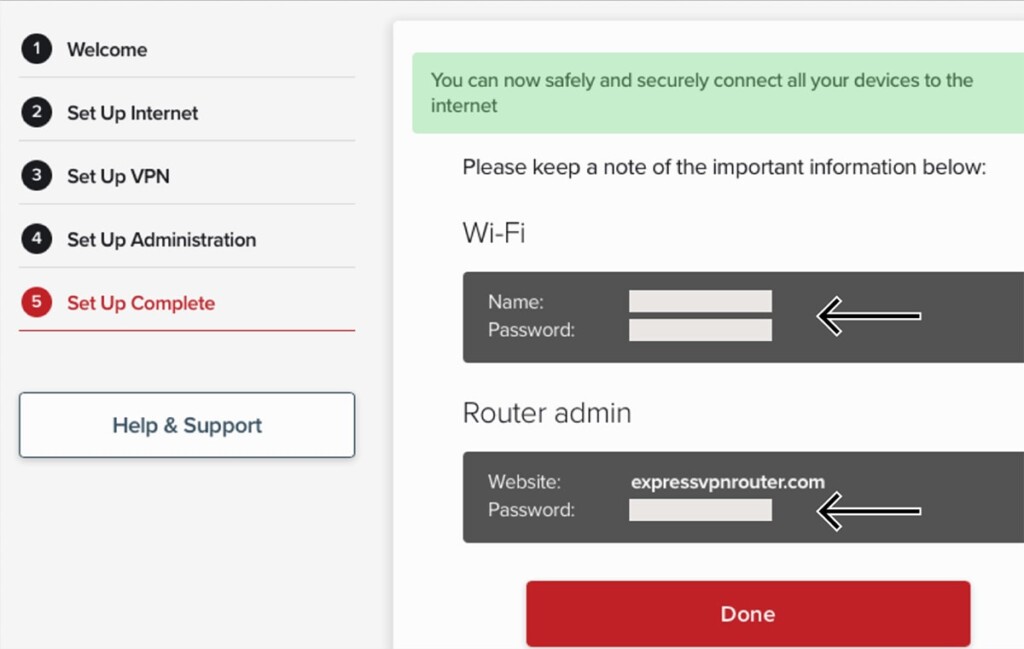 27. You'll now need to go through ExpressVPN's setup. Click on 'Get Started' to begin. 
28. Follow the on-screen prompts to finalize setting up ExpressVPN on your Netgear router. 
29. Once done, your router might restart again. That's it!
Tip
While setting up ExpressVPN on your Netgear router, you will be asked to set your Wi-Fi network's name and password, as well as the password of your router's admin panel. All of those are essential pieces of information, so store them somewhere safe. 
That would be all on how to set up and use ExpressVPN on a Netgear router. In case of any questions, doubts, or difficulties – make sure to post your comment just below. And lastly, thank you for reading!