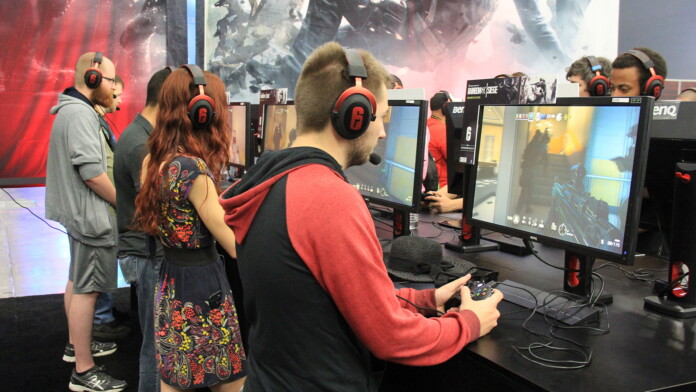 With gamers going the extra mile in achieving new quests, online gaming is now bigger than the moon. But like every other online venture, online gaming is susceptible to threats like speed throttling, geographic confines, and even hacking attempts. For games like Overwatch, Fortnite, and PUBG, a Virtual Private Network could significantly improve your online gaming experience. That is why, in this article, we will be talking about the best VPN for gaming. Keep on reading to learn more.
Best VPN for Online Gaming – 5 High-Performance Picks!
We tried online gaming with tens of VPNs that have a solid reputation for gaming. Here is the creamy layer of the best VPNs for gaming right now.
1. ExpressVPN
ExpressVPN is based out of the British Virgin Islands and has a footprint in over 90 countries. The product itself (and its interface) is pretty simple with cutting-edge encryption. The company also offers top-of-the-line customer support and a 30-day money back guarantee.
While ExpressVPN might not be the most feature-rich VPN there is, it is still one of the best VPNs for gaming. What's even better is that the VPN comes with native apps for Windows, Mac, Android, iOS, and Linux. What's more? You can pay using one of their 23 different payment options – including Bitcoins.
Only a few key points are discussed here and if you need to learn more about this service, then you must deep look into the ExpressVPN review section.
2. IPVanish
IPVanish is a well-known VPN that has been reviewed year after year. Based out of the US, the network spreads over more than 60 countries. If you are looking for a premium gaming experience with top speeds and zero lags, IPVanish has the job cut out for you.
The basic plan on IPVanish allows you to use the VPN service on 5 devices simultaneously. The encryption is top rung and servers are located all around the world. If you are looking for heavy-duty performance without having to dial support every other day, IPVanish is the best VPN for gaming for you.
Don't miss a chance to read our IPVanish review before you decide to sign-up for the service. Having an in-depth knowledge of a VPN network before buying is always a good thing.
3. HideMyAss
HideMyAss is a VPN service with the singular largest network of servers around the world. At the time of writing, they are present in more than 190 countries of the world. That is almost every country that has a high-speed internet connection available. On the downside, you can have just two connections running simultaneously.
You get both robust encryption and fast gaming speeds with HideMyAss. While it is based out of Britain (which is a Five Eyes participant), the privacy policy ensures of zero usage logs and next-to-nothing connection data. The lower price (longer the subscription, lower the price) and money back guarantee auger well for the VPN service.
We don't stop here, the test conducted on HideMyAss help us to know more about their performance, functionality, speed, security, and privacy. You can find all this information in our HideMyAss review article.
4. Buffered
Hungarian VPN service, Buffered is one of the best VPN for gaming for a number of reasons. For one, they are clear from DRD or Five Eyes legislation. So, there is no worry about any usage log being seized by the authorities. Then, you can use the VPN to connect up to five devices at one time.
Besides covering almost your entire gamut of devices with one Buffered VPN account, you also get to feast on lightning-fast gaming speeds. That is a great deal if you really want to engage in P2P activities or even streaming content online. If not anything else, you can bank upon the 30-day money back guarantee to take Buffered VPN for a spin.
The pros and cons of a service are included in the Buffered VPN review article. Take a look to decide if this is the right VPN for you.
5. NordVPN
For people based in the US, NordVPN promises great privacy and security. The service is well-known for encrypting connections flawlessly. The "DoubleVPN" encryption system is one of the best encryptions we have tested on a VPN service for gaming. The system is built in a way that NordVPN can encrypt both outbound and inbound data with AES-256-CBC encryption twice.
NordVPN is based out of Panama. And the recent Panama Papers scandal had no mention of it whatsoever. That settled down any doubts users might have had about its policy of logging. However, the heavy encryption means that you will have to put up with slightly higher prices and slower speeds. Even though we have numerous VPN service in the market, NordVPN deserves their place and holding the happy customer worldwide. Not only this, they are meant to deliver a good service to the customer who wants to be anonymous on the internet.
A lot more core features are provided and all of it's been reviewed and noted in the recently published NordVPN review. Take a look.
What Else to Know About VPNs for Gaming?
Knowing the best options out there is a good start. However, we want you to pick the very VPN provider based on your needs. So, we'll answer some of the commonly asked questions.
Why Do You Need a VPN for Gaming?
Just like it is the case with streaming services like Hulu or Netflix, certain games are blocked in certain countries and regions. Games like L.A. Noire and Red Dead Redemption are banned in Saudi Arabia, while Battlefield 3 and Pokemon Go are not allowed in Iran.
If you live in an area where a particular game is geo-restricted, a VPN can connect you to the game through the server of a country where the game is accessible. And it is really as simple as it sounds. You do not have to move an extra inch. Another annoying issue that gamers face is something called port blocking. A NAT firewall also treads on similar lines of peskiness. These are generally employed in places like school, hotels, and offices. You can easily overcome NAT firewalls and port-blocking with a VPN and enjoy your game from anywhere.
How to Pick the Best VPN Provider?
There are several important factors to keep in mind when choosing a VPN. Let's talk about the most important things to keep in mind.
Speed: The speeds for download and upload should and must be the ultimate priority for online gamers. On several occasions, the speed of the VPN alone can define or ruin a top class gaming experience. Want to find out which is the fastest VPN service under the sun. Read our comprehensive comparison of the fastest VPN services.
Server Locations: When you are looking to play a game earlier than its release in your country, pay attention to where the servers of a VPN service are located. Top quality VPN services have their servers all around the globe.
Encryption and Security: Not many gamers seem to be concerned about this but a VPN provides DDoS protection during online gameplay. Some other security benefits that you should consider include a secure private network for LAN games.
What's The Best VPN Protocol for Online Gaming?
When it comes to gaming VPNs, it's important to pick the right VPN protocol. This is because there are several popular VPN protocols to choose from, and each of them comes with its own set of benefits and downsides.
If you want the fastest possible connection, we recommend using PPTP. The truth is that this protocol isn't the safest out there. So, if you don't want a full anonymity online and if you want a steady performance, go with PPTP. It's also worth knowing that a SOCKS5 proxy is often recommended for online gaming. You won't get features such as a NAT firewall or DDoS protection, but you'll get a very fast Web connection.
Which VPNs Should Gamers Avoid?
Online gamers who use VPNs care about speeds and latency. They don't want slow VPNs that make it hard to play games online. This is precisely why we can't recommend free VPN providers. These come with a limited number of servers, cap data transfers, and they don't protect your privacy at all. The only way to go is by using a commercial VPN.
What Else Should You Know About VPNs?
The best gaming experience is one where you can break a streak of wreck within the game you are playing without worrying about anything else. That is what the best VPN for gaming allows you to do so effortlessly. In case you are looking for some additional bits of information, here are a few pointers for you.
If this is the first time you are buying a VPN, here is TechNadu's comprehensive VPN buying guide for beginners.
Want to know about VPN encryption? You're not sure what kind of encryption you need to use? Here is our guide on VPN encryption.
Final Thoughts
The best VPN for gaming should take out pesky issues related to online gaming for good. Additionally, it will also work well with other activities like streaming and Netflix (if those are also issued you are facing).
If you liked our article, pass it on to others who could make use of the information. Share it with your friends on the social media. Also, don't forget to follow us on Facebook and Twitter. Thanks!