If you regularly play Call of Duty Warzone, you already know the importance of having low ping time and finding the bot lobbies by avoiding SBMM. Well, both of these conditions enable you to secure more kills in this multiplayer combat arena shooter game. But bypassing the matchmaking algorithm in Warzone is not a cakewalk, especially when so many veteran players stay active throughout the day. That's why you need a premium gaming VPN service like ExpressVPN to play Warzone lag-free and access easy lobbies in every match. 
However, not all VPNs work with Warzone. In fact, the best Warzone VPN should include certain features that enhance your gaming experience. Thankfully, ExpressVPN comes with a comprehensive feature list that helps you play seamlessly on any network. Here we've discussed every aspect of using ExpressVPN with CoD: Warzone. Before you go for a subscription, have a look. 
Does ExpressVPN Work with Warzone?
Yes, ExpressVPN works with Warzone. It comes with a huge server network that enables you to access the game from whatever location you're presently in.
Alongside that, it encrypts your traffic data and hides your real IP address to make sure you can easily bypass ISP throttling and any network surveillance. That's why playing Warzone on your office or school Wi-Fi becomes easier, and your network admin never knows what you're doing online. 
Moreover, ExpressVPN works on all famous platforms, including the ones supported by this video game. And, you can even have VPN security on all VPN non-supported devices like PlayStation or Xbox. 
Hence, you can play CoD: Warzone on any device of your preference and get concrete online privacy and security on it once you sign up with ExpressVPN. 
How to Use ExpressVPN to Get Easy Lobbies on Warzone?
ExpressVPN has servers in all the countries where usually few players remain active. So, you can bypass the SBMM algorithm easily and get into the bot lobbies while connecting to any such locations. You might know that Warzone adds bots in all matches when the player count is not met. And countries like Chile, Singapore, South America, etc., have the least number of registered players. Thus you can connect to any of these countries and get into easy lobbies for ensured wins. Check the below step-by-step process and learn to use ExpressVPN for the same. 
First, visit the ExpressVPN official website. 
Next, pick the money-back plan and sign up.
As soon as you get a confirmation on your purchase, log in to your online account dashboard and enter your Username and Password.
From there, download the suitable native VPN app compatible with your device. 
Now, install the VPN app and enter your login details.
Next, access the full server list and connect to a VPN server location where few players are online at that time. 
Finally, log in to your Activision account and start playing Warzone.
However, always remember to turn on the VPN first before you access the game. 
Is ExpressVPN Good for Warzone?
Yes, ExpressVPN is a good choice to play Warzone. It has a plethora of features to enhance your gaming experience. We've mentioned all these key aspects that make ExpressVPN a good choice for Warzone.
High Speed and Unlimited Data Usage on All Servers: ExpressVPN has servers in 160 locations in 91 countries that not only reduce ping in games but also help you get maximum speed and security no matter what region you're connecting to. Alongside that, you get unlimited bandwidth on all these servers to play as long as you want. Since it has more than one server in a single location, you always have options to find and connect to the one with less user load. That's how you can bypass the busy servers and make sure your gaming traffic doesn't wait in the queue while connecting to the nearest game server. 
Military Grade Security for Protection Against Hackers and DDoS Attacks: ExpressVPN encrypts your online traffic with AES-256 bit keys that ensure complete online anonymity. Yes, when your traffic data is turned into ciphertext, no third party, including hackers, can decode it. Hence, you get complete protection against identity theft and other hacking activities like DDoS attacks and Swatting. In addition to that, ExpressVPN uses some of the reliable tunneling protocols, i.e., Lightway, OpenVPN, IKEv2, etc. These protocols connect you securely to the VPN servers and ensure a smooth and continuous connection. In fact, the Lightway protocol helps the VPN connection persist even when you switch between the networks. That's why ExpressVPN is one of the best choices to play Warzone on the go, over a public or home network. 
Zero-logging Policy and Network Kill Switch: It's strict no-log policy under which it doesn't store any data regarding your browsing activity or history. Even its RAM-only servers assign you a dynamic IP each time you reconnect and remove your imprints as soon as you log out. Since none of your traffic data gets recorded, you won't ever face any trouble for bypassing the geo-restrictions and accessing Warzone from a region where it's blocked. Moreover, its network kill switch restricts the traffic flow as soon as your VPN connection drops. The leak protection feature is also there to hide your IP in such events. That's why your ISP can never recognize your online traffic and go for a deep inspection to cap your data. 
Multi-Platform Support and 24X7 Live Chat Service: No matter what device you're using to play Warzone, all the benefits mentioned above will be available on it. Yes, ExpressVPN supports more than 60+ devices and all famous platforms, including routers, to offer you online security for all of your gadgets. It also helps the users with a 24X7 available chat support team. In case you face any issue with the installation process or VPN speed and performance on any device, you can get an instant resolution by connecting with the support team.
Check further details regarding its features and offerings on our ExpressVPN review. 
Best VPN Location to Connect on ExpressVPN for Warzone?
Though Activision hasn't really disclosed CoD: Warzone game server locations, we've tested the performance of this game while connecting to different ExpressVPN servers. Finally, we've listed the best performing ExpressVPN servers here; you can connect to any from the below list depending on your present location.
Europe - London, and Frankfurt servers perform well.
US - Use the Los Angeles or Washington DC server.
South America - The ExpressVPN server in Sao Paulo renders perfect speed for gaming.
Asia Pacific - Tokyo, Sydney, and Singapore, all three servers work best. 
Does ExpressVPN on Warzone Lower Your Ping?
Yes, ExpressVPN lowers your ping when used with Warzone. This VPN has servers in 94 countries, so you can easily bypass the overcrowded game servers in your region and connect to a VPN server in a different country where fewer players are active. That's how you get low ping time while playing Warzone. 
Alongside that, ExpressVPN routes your online traffic through a separate tunnel, which ensures that your traffic doesn't have to wait in the queue before leaving your network. So, even if you're playing during busy hours, you'll get low ping time as your online traffic will bring quick responses while using ExpressVPN. 
Can You Get Banned for Using ExpressVPN on Warzone?
No, you can not get banned for using ExpressVPN on Warzone. This gaming service provider only bans those accounts involved in hacking activity. Hence, even if you're using this VPN to play from multiple accounts, you won't get banned. Alongside that, you can use a VPN to unblock Warzone on a restricted region without worrying about getting banned. 
ExpressVPN Warzone Not Working: How to Fix?
If you're unable to connect to the ExpressVPN app while playing Warzone, there are some workarounds you can try to resolve that issue. However, different versions of ExpressVPN connection errors are there. You may get the 'unable to connect' error message, or your VPN can be stuck at the 'connecting' phase.
No matter what issue you're facing, you can run a few preliminary checks. And if that doesn't work, try some workarounds. We've mentioned both the primary checks and troubleshooting methods here. Try one by one until you get the fix. 
Preliminary Checks
​​1. First, disconnect from ExpressVPN.
2. Then try to access any website of your choice and see if you can connect without any issue. 
If you don't face any problem, that means your internet connection is fine; you only need to try some troubleshooting steps to fix any problem with your VPN app.
But if you're unable to access any website even when the VPN is turned off, that means there is some issue with your network connection. In that case, either you've to wait or talk to your service provider to make sure your internet is back. 
Troubleshooting Steps
Step 1: Install the Latest Version of ExpressVPN
Your device must run the latest version of ExpressVPN to make sure no bug or glitch can restrict you from using the VPN with Warzone. 
Check our complete ExpressVPN installation guide to have the latest version of the app on the device you're using. 
Step 2: Connect to a Different VPN Server
There are chances that the VPN server you're trying to connect to is temporarily unavailable. In that case, you need to connect to a different VPN server in the same or a different location to fix the issue. Here are the steps to do that.
1. Open your ExpressVPN app interface at first. 
2. Then, move to the name of the server location where you're presently connected.
3. Now, click the three horizontal ellipses from the right-hand side of the present server name.
4. Next, choose your preferred server location on the next screen and double-click on it to connect.
Step 3: Change the VPN Protocol
ExpressVPN uses 5 different protocols to help you choose one depending on the type of device you're using. Though ExpressVPN recommends using the Automatic protocol, if you're facing any issue, you must try changing the protocol by following the below steps. 
1. Launch your ExpressVPN app first.
2. Then, click the burger menu button from the top-left corner and choose Options from the menu.
3. On the next screen, move to Protocol and choose any from the below list-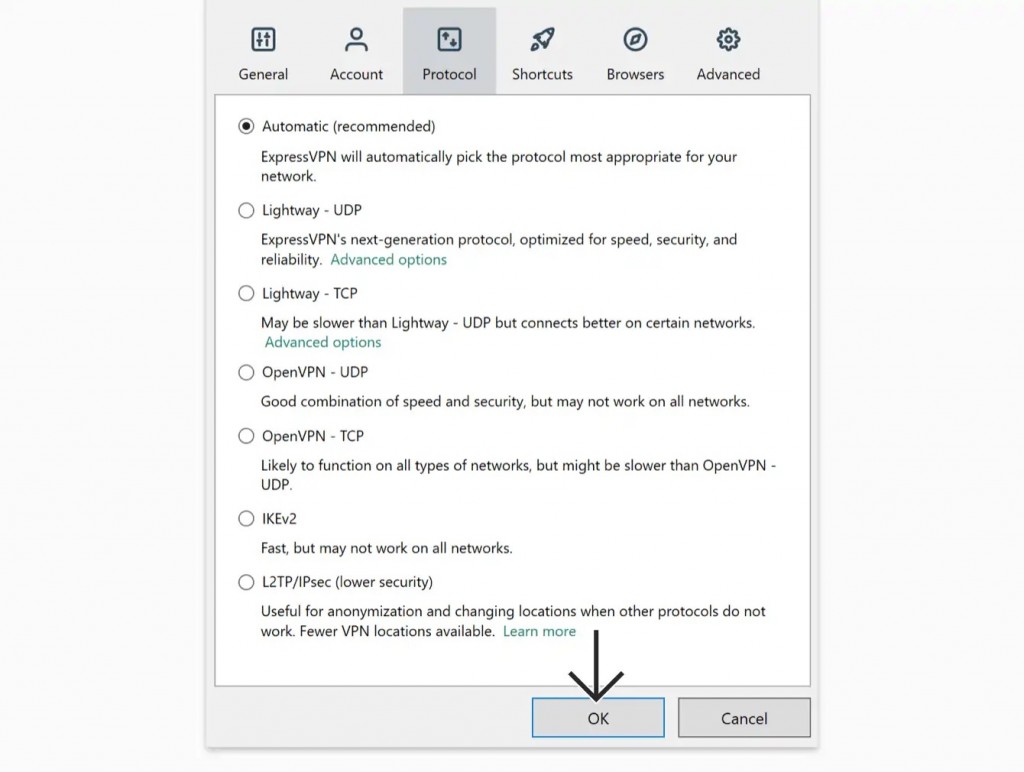 Lightway – TCP
Lightway – UDP
OpenVPN – TCP
OpenVPN – UDP
IKEv2
L2TP/IPsec
L2TP/IPsec offers weak security. If you're playing Warzone on public Wi-Fi, you must opt for other available protocols.
Step 4: Add ExpressVPN to Your Antivirus Exclusion List
Sometimes ExpressVPN stops working because of the conflict with your existing security software or antivirus. To test whether your antivirus is the reason or not, you need to turn it off and check if ExpressVPN is working fine. If it does, add ExpressVPN to the exclusion list of your antivirus. 
You must check the official website of your antivirus provider to know the right steps for adding an app to the exclusion list. 
In case your security software doesn't allow you to do so, you can perform the below steps to discard the compatibility error. 
Change the security level of your application from high to medium.
Set the software to trust ExpressVPN.
Grant an exception to the UDP ports 1194 to 1204.
Once you make changes in your security software, restart ExpressVPN and connect to a server. In case you still can't access the game, you need to contact the ExpressVPN support team as a last resort. 
Step 5: Connect with the 24X7 Support Team
Even after trying all the above steps, if you're still unable to connect to the ExpressVPN servers, you need to contact the support team. You can also send diagnostic data to the ExpressVPN support team to help them find out the issue and reach you with a proper resolution. 
However, we've mentioned how you can contact the support team depending on what platform you're using. Have a look.
Windows & Mac
Launch your ExpressVPN app interface and click the burger menu button.
Next, click the Help & Support option and choose Diagnostic Information.
From there, you'll get the Contact Support option. 
In the text box, you need to explain your issue properly.
Then, check the box next to 'Include details about recent connection errors or Include diagnostic information.'
Finally, click the Send to Support option and wait for a reply from the ExpressVPN support team. 
Android
Launch the ExpressVPN app for Android and tap Help.
Next, tap the Email us option and provide information regarding your issue in the text box.
Now, toggle the bar next to Include diagnostic information.
Tap the send icon after that and wait for a response from the ExpressVPN team.
iOS
First, launch the ExpressVPN app and tap Help.
Then, tap the Email us option and explain your issue in the text box.
Toggle on 'Include diagnostic information' and tap Submit.
Now, wait for a response from the ExpressVPN team. 
Linux
1. First, open a terminal window and run the below command:
2. Now, copy the diagnostic information.
3. You need to visit the official ExpressVPN website now and open the chatbox.
4. Paste the information you've copied in this box.
5. You'll get help from one of ExpressVPN's support executives instantly.
Routers
Visit 192.168.1.1, 192.168.21.1, 192.168.42.1, or 192.168.132.1 to sign in to your router, which is running ExpressVPN. 
Next, click Help & Support and choose Diagnostic Information.
Now, select Download All Logs and visit the ExpressVPN official website. 
Open the Support Chat tab and paste all the data you've just downloaded. You'll get the proper response and resolution in minutes.
Final Thoughts
That's all about ExpressVPN for Warzone and how to use it to get an enhanced gaming experience. If you've further queries, drop us a comment through the below button. And lastly, thanks for reading!
FAQs
What VPN is Best for Warzone?
ExpressVPN is the best choice for Warzone. It comes with a huge server network and performs amazingly on multiple platforms. So, you can unblock it anywhere with concrete online security and play using all supported devices. In addition, this VPN doesn't store your personal details and follows a strict no-log policy.
Does ExpressVPN Give You Bot Lobbies in Warzone?
Yes, ExpressVPN enables you to find bot lobbies in Warzone. These lobbies are available in countries like Chile, Singapore, South America, New Zealand, etc., where fewer players stay active. And, ExpressVPN has servers in all these countries. You can connect to a VPN server in any of these countries to ensure easy wins.