Connecting to ExpressVPN servers on iOS can now take less than a second.
ExpressVPN's 'Parallel Connections' is a backend feature, already active. 
The new feature should be available on other platforms in the near future.
ExpressVPN has always been a speedy VPN service – in terms of its overall performance and the time required to connect to its servers. However, that doesn't stop this highly popular VPN from finding a way to cut down on VPN connection times, letting you (re)establish a connection in under a second.
Thanks to a new backend feature called 'Parallel Connections,' ExpressVPN now tries multiple methods of connecting you to a chosen server, at the same time, picking the one that connects you first. Previously, the VPN tried those methods one by one, which is why it sometimes took more than thirty seconds to establish a connection.
Cutting down the time required to establish a connection might not seem like a big deal. Still, there are many situations where you'll find the newly introduced feature to be a life-saver. For example, if you keep ExpressVPN enabled/active at all times, the VPN will need to re-connect each time you switch between different Wi-Fi networks or when you switch to a mobile data network. 
And now, you won't even notice ExpressVPN (re)connecting to its servers in the background. As per the VPN's tests, the 'Parallel Connections' feature drastically improves the time required to connect to the VPN. More precisely, the number of users who took under 1 second to connect increased by around 25%.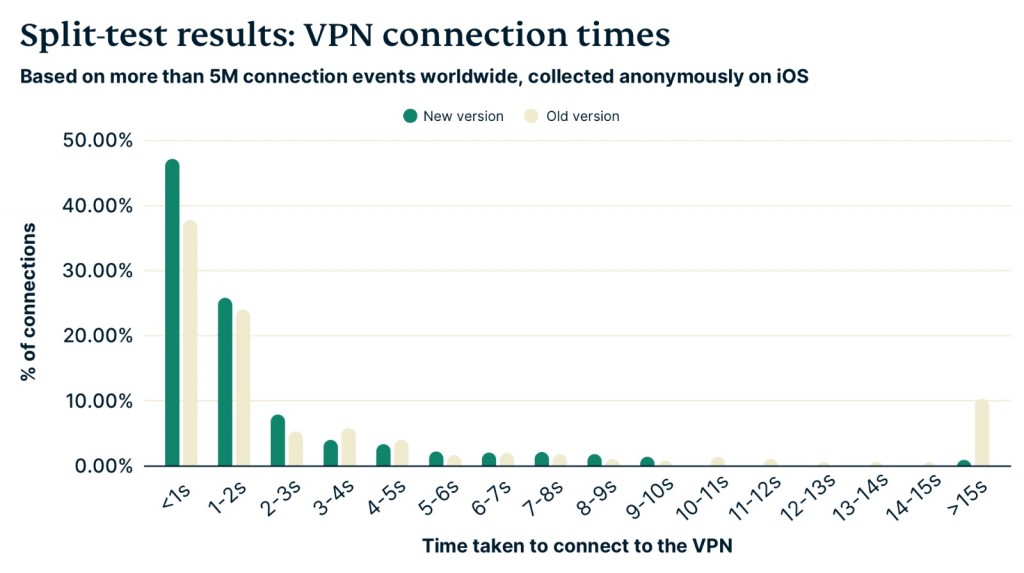 We tested the new feature ourselves, using the latest version of ExpressVPN's iPhone app. No matter which server we tried to connect to, and no matter how remote those servers were, ExpressVPN established new connections in under a second. 
Keep in mind that ExpressVPN's 'Parallel Connections' feature is available on iOS and iPadOS, with plans to bring it to Android, Windows, Mac, and Linux in the near future. You don't have to enable it, as it's built into the backend of ExpressVPN's infrastructure. Just make sure to keep your VPN app updated at all times.
We'd also like to remind you that ExpressVPN introduced another feature on iOS just recently, called 'Threat Manager.' The purpose of that feature is to prevent tracking-related data sharing on iPhones and iPads using a DNS-based blocker.
If you'd like more information about the VPN, check what's new in ExpressVPN. And, of course, you can always turn to our ExpressVPN review if you're considering subscribing.