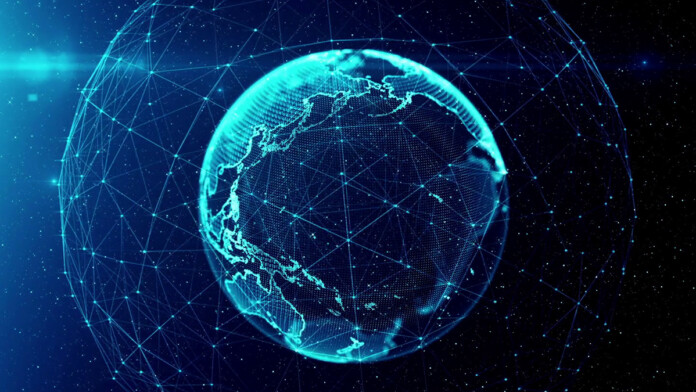 The truth is that the Web isn't as open as you might think. In fact, you are most probably encountering roadblocks every time you go online. For example, you can't access certain geo-restricted websites, or your ISP might be throttling your Web connection. On top of this, we have malware, vulnerable Wi-Fi connections, and different types of online dangers. The only way to overcome all these obstacles is by using a VPN. So, let's take a look at what is VPN exactly.
In this article, we will explain what is VPN and how this type of application can help you. We'll deal with numerous security- and privacy-oriented topics that affect you every single day. So, let's take a deep dive.
What is VPN: The Basics
If you think of the Internet as a massive network of roads that connect all the places you could possibly go, then the information you send from your computer to other places are like the vehicles that use those roads. That traffic has to pass through all sorts of places before it gets to where it's going. Along that journey, we can clearly see what sort of vehicles there are, what their number plates say and any signs they have on them.
Now, crazy as it may seem, imagine that we could set up a temporary tunnel along the winding road our vehicles have to take. While the vehicles are in the tunnel, we can't see any of the stuff we could before. The analogy quickly breaks down if you try to take it further, but the point is that a VPN is a set of network technologies that create a secure connection. In the case of paid VPN providers, that other device is one owned by the VPN service. That's the computer that the world sees as the origin of your data traffic, keeping you anonymous and your information private.
Why Should You Use a VPN?
Even though you might not think so, you offer a lot of information that other people would love to have. Some of it is obvious, such as your credit card numbers, passport details, bank account logins and so on. That's why bank websites and other services which send and receive sensitive information have special technologies to protect that information. Your bank should have an address that starts with 'https' rather than 'http', which shows that it's secure. No one can 'listen in' when you send your username and password to the bank because the information is written in a special code. In other words, it's encrypted.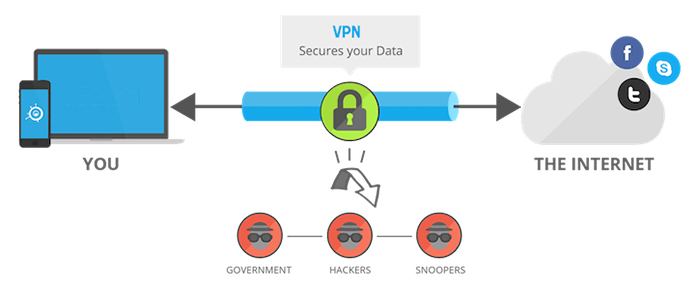 This is great for your bank-specific details, but there's still a lot of information you're broadcasting on the Internet which you may not want other people to know. It's not just criminals either. You also have to think about corporations and governments as well.
You need a VPN because you deserve not to be spied on. You deserve to have control over your privacy and you certainly deserve to feel safe in your own home. A VPN is a key tool to making a safe and private Internet experience a reality.
How Does a VPN Work?
VPN-related technologies come down to three main components: encapsulation, encryption, and authentication. Here's what each of these is capable of doing.
Authentication: The easiest one to understand is authentication because we all deal with it every day. You have to prove to the VPN that you are really who you say you are. One way VPNs do this is through a plain old username and password. They also make use of sophisticated certification technologies that improve the layers of security beyond just a simple login.
Encapsulation: This is the key to how a VPN hides what sort of data you're sending. It wraps your data packets, like video streaming or torrent packets, in its own VPN-specific packets. It literally encapsulates the data so that anyone who inspects a packet will see the same VPN-branded data no matter what's actually in there.
Encryption: Encryption is the last (but not least) piece of the VPN security puzzle. This is the way that the VPN scrambles your information so that even if someone analyzed your data packets, it won't make any sense to them. Without a special key to unscramble the information, it's all just gibberish and only you and the VPN have copies of the keys. The encryption offered by the best VPN services is so good that even the computers available to governments would take billions of years to crack by brute force.
The Numerous Benefits of Using VPNs
Let's face it, the Internet is one of the most complex pieces of technology that humanity has ever created. Even the people who create and maintain these systems aren't exactly sure how it will develop or what sorts of things people will try to do with it. So it's no surprise that average people who just want to use the thing aren't completely aware of the pitfalls that come with Internet citizenship.
So, let's look at some very specific use cases for VPN technology. These are some of the things you can actually do with a VPN.
1. Speed Up Your Connection
There's a big global fight going on right now over the fact that Internet service providers are deciding to slow down some online activities. While that shiny new fiber connection will blast along at full speed on Facebook or other light websites, it slows to a crawl when you try to stream video or download software.
This practice of internet throttling can only work if your service provider can tell what exactly you're doing with your connection. The little packets that make up your sent and received data are all marked with a tag that tells the service provider what they are and where they are going. So it can decide to take all the packets labeled 'Netflix' or 'Steam Video' and make them wait in line while other packets get to zoom by.
Because of the way a VPN works, your service provider suddenly can't see that information anymore, since it's all hidden inside your VPN tunnel. So it has no way to know which information packets are which. This means you get all the speed your Internet connection can provide, minus a little VPN overhead of course. If you ever wondered how to bypass ISP throttling, you've just found your answer.
2. Unblock Content on the Internet
The Internet was meant to tear down the borders of the world and instantly allow us to become one big global village. Unfortunately, there's a whole bunch of red tape inherited from the days when you were lucky to get a letter from the other side of the world in less than six months. This means that the simple fact of your location in the world might prevent you from seeing that great new thing that everyone else is babbling about on the blogosphere.
Due to the way a VPN works, it's not possible for the website that you want to visit to know your true location. If the VPN service has a server in the right part of the world, it will look to that site as if you're in that country. This means that you can access content from all over the world. For example, you can watch American Netflix, Hulu, and HBO GO just about anywhere in the world. Furthermore, you can use country-specific services like PlayStation Vue, Sling TV, DirecTV NOW and more – even if you're not in the USA.
It's not just about getting to see a cool video clip either, VPNs provide a way to see websites and content that certain governments don't want their citizens to see. So if you live in a country that censors the Internet, a good VPN could open your eyes to a world of differing opinions. We recommend reading our articles on the best VPN for China, UAE, and Malaysia– which is where online censorship is at its strongest.
3. Make Public Hotspots Safe
In many parts of the world, free Wi-Fi hotspots are so common that many people don't have to buy mobile data at all. Whether at your local library, a coffee shop or at a mall, there's Wi-Fi for everyone now.
The problem is that public Wi-Fi is, well, public. There's no telling who else is on the network with you and do you really trust the local burger joint to have top-notch Internet security? The good news is that you can set up a VPN on your Windows PC, MacOS, Android or iOS device to ensure that no matter which shady venue's Internet connection you use, it's as safe as your own home connection.
4. Secure Your Mobile Internet
As soon as you leave the comfort of your home Wi-Fi hotspot, you're probably switching to your mobile data provider. If you don't have a VPN on your phone, you'll start leaking private data through your mobile provider the second you're out of your home Wi-Fi range. Just as it does when you use public WiFi.
5. Safe Peer-to-Peer File Sharing (Torrenting)
Peer-to-peer technologies such as BitTorrent are still controversial for a lot of people. Mostly because it's associated with all the illegal uses. BitTorrent technology itself is perfectly legal and there are plenty of legitimate uses for it. Some online video games use it to help improve patch download speeds. Open-source software creators such as Canonical use it to spread things like Ubuntu Linux while keeping their server costs low and even the UK government and NASA have used the technology.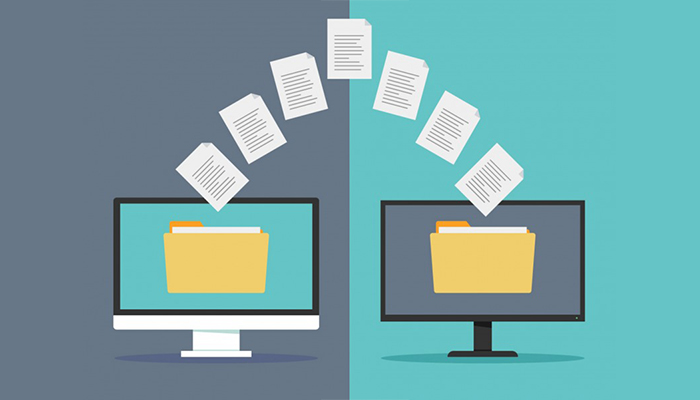 It's not just torrent technology that sits with this stigma either! VPNs themselves are often portrayed as either legally grey or outright illegal. So, is using a VPN legal or illegal? The short answer is – yes, even though there are countries trying to battle VPNs.
So why should Internet users be discriminated against simply for using this amazing technology? You may get added to a watchlist or have your connection compromised simply because you use torrents, even if you're not breaking any laws. If you use a VPN, there's no way for anyone to know and you keep those complications out of your life.
Which VPN Service Should You Choose?
There are a lot of VPN providers who desperately want your time and money, but obviously, they aren't all equally worth it. Even among the very best VPNs, there are differences in the features and technologies each one provides. These are the five VPN services that I think are the best choices on the market today. They are all at least worth a try and if one of them is a good fit for you it means a whole new peace of mind internet experience.
1. ExpressVPN
ExpressVPN sets the standard of what a good all-around VPN should be. There may be VPN services out there that can beat it on individual points, but none of them are as consistently good across the board.
Of all five of these top VPN services, ExpressVPN has the most welcoming startup offer. You can use the service for up to 30 days and get all your money back. ExpressVPN has support for protocols like OpenVPN and supports the strongest encryption and privacy technologies. While their network doesn't have the sheer number of servers that other top VPNs do, they have a very good spread across different regions.
One of the coolest things about ExpressVPN is that you can actually order a router that's preloaded with their software, easily and instantly blanketing your entire home in a cloud of private, anonymous Internet connectivity.
To learn more about this VPN provider, here's our review of ExpressVPN.
2. NordVPN
Despite the name, NordVPN is not, in fact, a VPN service from the Scandinavian part of the world. Instead, the company is based in Panama.
NordVPN is a technical leader in the consumer VPN business and they're one of the few VPN providers whose technology can get around VPN blocking by certain services. One of the best things about NordVPN is that they have specialized servers. The one that's relevant to most of us is the dedicated peer-to-peer file sharing server. NordVPN will automatically shift you over to one of these optimized servers as soon as it detects that you're trying to use the protocol.
If you're an absolute privacy seeker, you'll also want to know that NordVPN provides dedicated Tor network servers. This means that you can combine the privacy features of Tor with VPN technology for a killer solution. NordVPN has a strong, fast network and the company has a no-logging policy, which means that they couldn't give up your info even if they wanted to. It's without a doubt one of the best VPN providers in the world today.
As you can see in our review of NordVPN, this VPN provider has numerous tricks up its sleeve. So, take a deeper look at this option.
3. VyprVPN
VyprVPN is based in Switzerland, which means that it benefits from that country's data privacy laws. The country is very strict on the issue of foreign governments trying to access private user data, which means that in general, you'll have more protection than even the already strict EU privacy laws offer.
You won't have to worry about getting your law degree to make sense of your right in this regard. Golden Frog, who provides VyprVPN, have summarized their privacy policy in clear and concise language. On top of this, it has incredibly wide device support. Unless that is, you're somehow using a Windows Mobile device, but that would be crazy. On top of this, VyperVPN has some of the best performance numbers in the game. Every VyperVPN review talks about their astonishing performance, so it's well worth signing up for a trial.
Want to learn more about this VPN? If that's so, you can take a look at our VyprVPN review.
4. IPVanish
Let us put it right out there from the start, IPVanish doesn't offer a free trial. The good news is that it's very affordable and if you aren't happy, you can get your money back within the first seven days.
If you do take the plunge, you'll be treated to another top VPN with blistering download speeds. Any typical IPVanish review doesn't waste any time in letting you know that it's just fast in general and has a server network nearly on par with NordVPN when it comes to the sheer numbers. True to its name, IPVanish keeps you in the loop when it comes to knowing what IP you are showing the world and taking control of it. The service has a great dashboard system that makes it easy to ensure that you really do hide your IP address.
To learn more about how this VPN protects your privacy, here's our IPVanish review.
5. PureVPN
PureVPN bills themselves as the fastest VPN service and it seems that's supported by speed tests. Not only does it score incredibly well when it comes to network speeds, it also has a light footprint on your computer and other devices too.
Just like IPVanish, PureVPN goes the route of giving a seven-day money-back guarantee, but there's no free trial to be found here. PureVPN is very affordable and we do like that you can bolt-on additional features (for more money) if you need them. Basically, you only pay for things that you use. If all that you want is the core VPN technology without being weighed down, then PureVPN lives up to its name.
Finally, you can turn to our review of PureVPN, where you can get more information.
What is VPN: Additional Considerations
We want to make this article as helpful as possible. This is why we'll provide answers to the most commonly asked questions. Keep on reading to learn more about what is VPN and how this type of application can be used.
Are VPNs Legal?
VPNs are perfectly legal around the world. However, this doesn't mean that you can use the Web for malicious purposes. You can't be punished for using a VPN, however, you can be punished for other activities like copyright infringement. So, make sure to stay within the law while using VPNs.
It's also worth noting that the only country that has criminalized VPNs is the UAE (United Arab Emirates). Still, even here is still unknown whether the law goes against all VPN users or just those who use VPN for criminal purposes.
Do You Need an ISP If You Use a VPN?
Using a VPN means using your existing Web connection and turning it into a highly useful connection. This means that you still need to buy an Internet plan for an ISP (Internet Service Provider).
Are VPNs Hard to Use?
Back in the old days, you'd have to practically be a trained network engineer to get a VPN set up. These days, things are quite different. All the best VPNs have extensive documentation and other helpful material to make sure you get up and running quickly.
It can be as simple as downloading a program to your computer or changing some settings on your Internet router. On mobile devices, you can often just use an app provided by the company to set it all up. Once you're up and running it should be smooth sailing all the way. As long as the VPN company stays in business, you'll be in business too.
Are There Any Reasons Not to Use a VPN?
While we can easily talk about all the reasons you should be using a VPN, you might be wondering if there are any reasons to avoid using a VPN. It can't all be good, right? If you care about privacy, security or anonymity at all, then there's no question about the need for a VPN. However, there are a handful of situations where you may have to think a little about how a VPN will fit in with your needs.
Some specific VPNs may use a VPN protocol that's not compatible with one of the networks or services that you have to use at work. Which means it may have to be tweaked or you'll need to look for a compatible alternative VPN.
There's also a small CPU and network overhead associated with VPN use and if you have a very bad connection in the first place that may be a relevant issue, but these days broadband and network hardware is more than up to the task of dealing with it.
Sometimes, depending on where you are, VPNs might be blocked outright by your workplace or even the government itself. Luckily there are plenty of places on the net where you can find out how to bypass VPN blocks.
It's worth trying a few VPNs out before finding the one that fits you best, the good news is that just about every good VPN offers a free trial or a money-back guarantee, so that you can make sure everything works the way it should without a commitment.
Final Thoughts
Dear readers, this is where we end our guide to VPNs. We hope that now you know what is VPN more clearly and that you're willing to protect your privacy. If there's anything else you'd like to know, leave a comment below.
Finally, we'd like to ask you to share this article online. You can also follow us on Facebook and Twitter, so let's stay in touch. Thanks!