VPN services have become incredibly popular in the last few years, and there are many valid reasons why that has happened. Following the Net Neutrality controversy and Facebook's Cambridge Analytica scandal, we've seen a massive increase in VPN usage across the world. And now, we see a substantial rise in VPN usage due to the Coronavirus outbreak (forcing many of us to stay at home as much as possible).
So, when you set out to find a trustworthy VPN service, you'll see many options. And among those, you'll see CyberGhost VPN being often recommended – for a good reason.
Being present on the global market for many years now, this VPN has managed to expand its reach and adopt new technologies at a rapid pace. We're here to put those technologies to the test, so welcome to our hands-on CyberGhost VPN review!
First, we would like to present some basic information about this VPN. The following table contains a set of crucial specifications and could be a good way to compare CyberGhost VPN to other options on the market.
Next, we'll show you whether CyberGhost VPN can unblock media streaming websites. After all, we're sure that many of you want to watch Hulu abroad or unblock Netflix's American library. So, here are the results of our hands-on tests.
Also, we understand that some of you are in a rush. So, if you don't have the time to read this entire article, let's jump to our conclusions. The following information will let you know about the biggest benefits and possible downsides of using CyberGhost.
Finally, we are ready to dive into the full review of CyberGhost VPN. As you can see from the tables found above, this VPN service shows a lot of promise. So, we need to test its claims and capabilities to see how well it does its job.
What's New in CyberGhost VPN? – Recent Updates
It's always a good idea to invest in a VPN by getting a long-term plan. Therefore, you'll want to know if your chosen VPN is dedicated to improving its service over time. That's the reason why we'll first walk you through some of the latest updates related to CyberGhost VPN.
1. Regular (Quarterly) Transparency Reports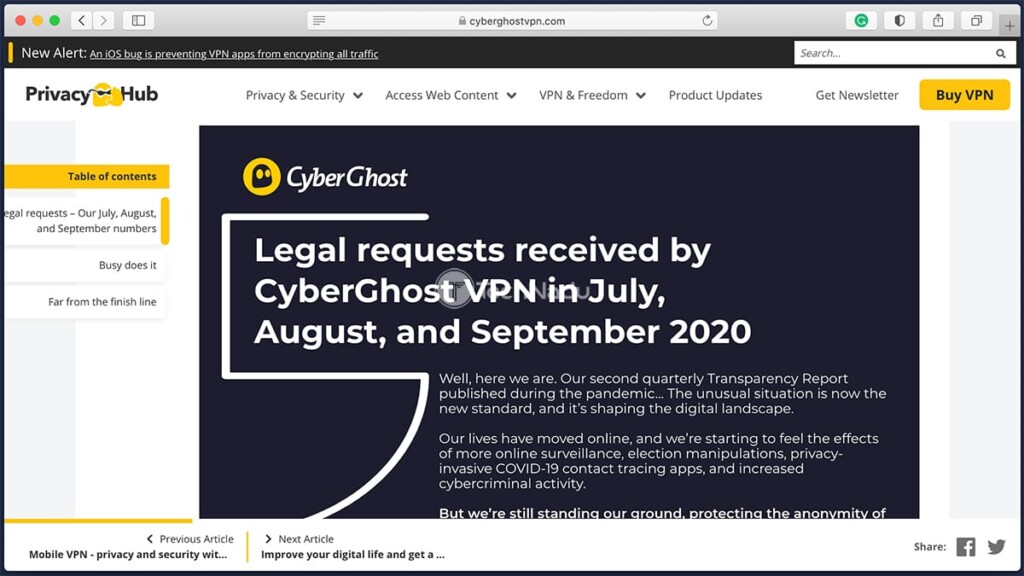 You'll hear us praising CyberGhost's transparency throughout this article. Perhaps the best way to get a glimpse of that is by checking the VPN's quarterly transparency reports. Here's the VPN's Q3 2020 transparency report, and you can also check the Q2 2020 report here.
In those reports, you'll learn about all kinds of data requests (malicious activity warning, DMCA complaints, and police requests). Most importantly, you'll see that CyberGhost VPN has never provided any user data to any third party – as it doesn't collect that kind of information.
2. Truly Anonymous Dedicated IP Addresses Available
In October 2020, CyberGhost VPN introduced truly anonymous dedicated IP addresses. This is something that not many VPNs offer, as using a dedicated IP usually goes against any VPN's efforts to preserve your privacy.
To alleviate this issue, CyberGhost VPN has created an innovative token system. The company behind the VPN doesn't know your dedicated IP, as this process is automated and randomized. To learn more about CyberGhost's dedicated IPs, click on the provided link.
3. CyberGhost Stands Its Ground in Hong Kong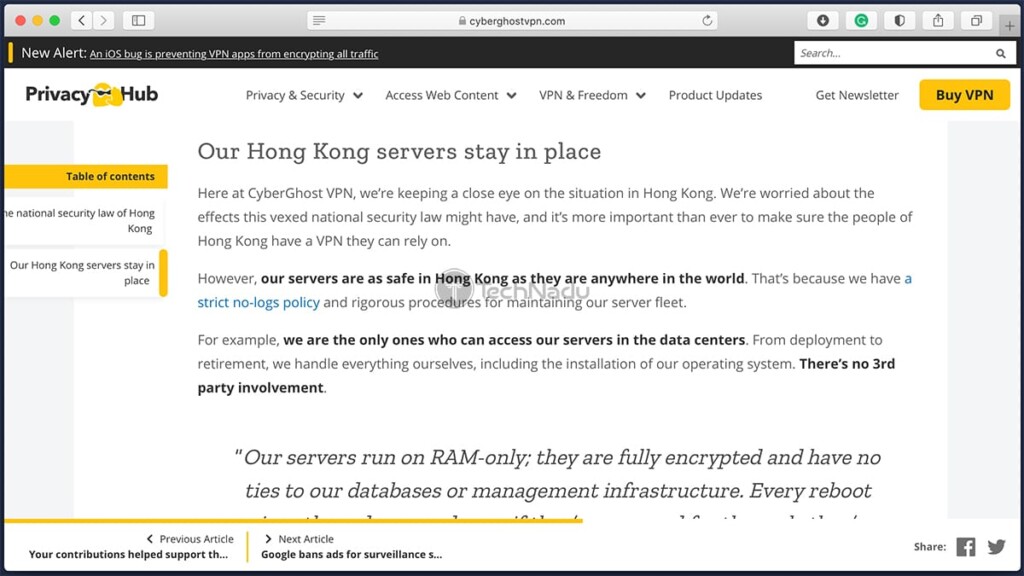 Plenty has happened in Hong Kong this year, mainly as a consequence of China's new 'National Security Law.' Many VPNs have abandoned this territory since. However, CyberGhost VPN is still present in Hong Kong, and it's proud to continue offering its service with servers located in this city.
This tells us that CyberGhost is dedicated to preserving its subscribers' privacy, even in risky situations. Therefore, this is a very positive first sign for those looking to subscribe.
4. PPTP and L2TP/IPsec No Longer Supported
Since July 2020, CyberGhost VPN no longer supports protocols like PPTP and L2TP/IPsec via its native apps. Both of these are quite old services, with plenty of known vulnerabilities. This especially goes for PPTP, which we no longer recommend using.
However, this doesn't mean that CyberGhost now has a limited number of protocols. The truth is that the VPN has been turning to new and innovative protocols, such as WireGuard. However, we'll talk more about those later on in this review.
5. CyberGhost's Private Browser
CyberGhost has recently unveiled its own Web browser. Called 'CyberGhost Private Browser,' this is a Chromium-based Web browser that respects your privacy. It's currently in beta, and you can use it on Windows, macOS, and iOS.
If you'd like to try out this browser, head over to CyberGhost's documentation, where you'll find more information about this software along with download links.
CyberGhost VPN Review (2020) – Everything You'll Want to Know Before You Subscribe!
We've put this VPN through a series of rigorous tests. So, make sure to keep on reading to see how this VPN looks, behaves, and what it offers. Finally, if you'd like to know more about our process of testing VPNs, make sure to also read about how we review VPNs.
Background, Jurisdiction & Reputation
CyberGhost VPN does have a somewhat complex past. However, this VPN has never been connected to any data leak or caught cooperating with any authorities. Our Score: 9/10.
The first question that we're going to answer is – should you trust CyberGhost VPN with your private data? To answer this question, we'll tell you what you need to know about this company, so make sure to keep on reading.
Where Does CyberGhost VPN Come From? Is It Part of the 14-Eyes Alliance?
CyberGhost VPN comes from Romania, one of the EU countries. Even though this country doesn't come with overly protective VPN-related laws, it's not going against VPNs either.
VPNs are legal in Romania, and this country is away from the 5/9/14-Eyes Alliance. Since it's a member of the European Union, it does protect the privacy of its citizens up to some point. The same applies to businesses operating in his country, such as CyberGhost VPN.
CyberGhost was founded by Robert Knapp, who is a tech entrepreneur coming from Germany. The company was headquartered in Romania from the start, and it's still operating from there. However, Knapp sold his company in 2017 to Israeli investors, a company named Crossrider. Then, in 2018, that company changed its name to Kape Technologies.
According to its official website, Kape Technologies is from the Isle of Man. This is a self-governing British Crown dependency that has fully incorporated EU's GDPR legislation (which now comes with a set of complexities as the UK is trying to leave the European Union).
You should also know that ZenMate VPN, a popular VPN coming from Germany, was acquired by Kape Technologies back in October 2018. Then, this company also announced its plans to acquire Private Internet Access in November 2019.
At the moment, CyberGhost VPN, Zenmate VPN, and Private Internet Access continue to exist in their standalone forms – with some technologies being exchanged between these VPNs. Also, there are assurances from Kape Technologies that all three VPNs won't be merged in the future, which means that you shouldn't be worried about investing in any of these in the long term.
Did CyberGhost VPN Leak Personal Data in the Past?
During our research, we found plenty of contradicting information. While some say that CyberGhost VPN leaks your sensitive information and even collects your private data, others say that this is the most secure VPN out there.
For example, there were rumors in the past that CyberGhost used to log hardware IDs. This happened in August of 2016, and everyone was quick to conclude that something suspicious was happening.
However, the company repeatedly rejected any accusations. In the end, it was discovered that CyberGhost indeed checks your hardware ID – but only to check your subscription's device limit. You can use CyberGhost VPN on up to seven devices at the same time, and this is a way for the company to check if you're under that limit.
CyberGhost was also affected by the Typeform data breach since they used their survey software. However, the VPN announced that only 120 email addresses and 14 usernames contained in two surveys were compromised. No passwords or other user data was in danger since they don't log any.
It's important to note that CyberGhost has never been really connected to any data leaks. They are repeatedly reminding us that they don't collect private data. Even if someone comes after online activity, they won't be able to get anything tangible.
Until proven otherwise, there's no reason not to trust CyberGhost VPN.
Is CyberGhost VPN Legal and Safe to Use?
Yes, CyberGhost VPN is both legal and safe to use. However, we have to highlight the fact that you need to be aware of your country's laws.
There is a small group of countries that discourage their citizens from using VPNs. And then, there's a small group of countries that have officially banned VPNs. We're talking about countries such as Russia, China, Oman, Iraq, Belarus, and similar.
In other countries, VPNs protect your right to privacy. Therefore, they're legal for both personal and business use. However, that doesn't mean that you should go against your country's laws. Criminal activities are still punishable by law, even if you "hide" behind a VPN.
Supported Platforms & Devices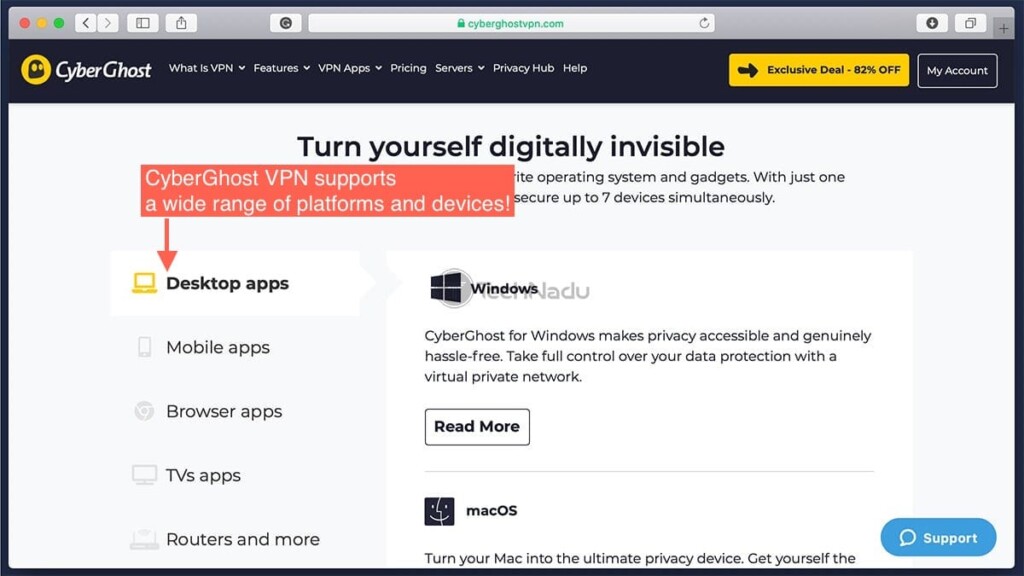 CyberGhost VPN can be used across all popular desktop and mobile platforms, with Internet browser extensions and a router app on board. Our Score: 10/10.
This VPN is present across a wide range of platforms, including desktop and mobile devices. So, here's a helpful table where you'll find all the information you need.
As you can see, CyberGhost VPN has done a wonderful job of creating native apps for different kinds of devices. Therefore, we don't really have anything negative to say about this VPN in terms of its platform compatibility.
CyberGhost VPN has been designed to allow access on seven devices simultaneously. One can easily set up this VPN on their router to connect other devices on the home network (which then takes a single free slot of your subscription).
The tool boasts unlimited bandwidth, so you can browse the Internet without worrying about bandwidth limitations or going over any limits.
Installation & Initial Configuration
This VPN service offers an easy and convenient way to install its software – with no distractions whatsoever. Our Score: 10/10.
To get started with CyberGhost VPN, you first need to visit its official website. This is where you'll be able to choose your subscription and then download the software to your device (either from CyberGhost's website or via your online account dashboard).
Once you download the VPN's installation file, double-click to open it. You'll see a familiar installation wizard, so simply follow the prompts you'll see on your screen.
What's important to note is that we didn't encounter any distractions or promotional offers during the installation. It means that there's no bundled software or any other annoyances. You get what you pay for, and that's CyberGhost itself.
Finally, you should know that the entire installation process should not take more than a few minutes of your time, no matter what kind of device/platform you use.
Prominent Features
CyberGhost VPN offers almost everything you hope to see, and it brings in a few interesting extras as well. Our Score: 9/10.
We've come up with a list of specific features that every capable VPN should bring. So, here's how CyberGhost VPN ranks in this aspect (check the table below).
First, you should know that this VPN service covers the basics quite well. When you connect to a secure server, all your Web connection data becomes encrypted. You get a new IP address, and there's a whole set of underlying technologies that keep you safe on the Internet.
The latest version of CyberGhost brings some welcome granular controls over your connection. Using 'Connection Features,' you can find a set of ON/OFF switches to enhance your Internet connection. For example, you can instruct CyberGhost to block ads and malicious websites, prevent online tracking, redirect you to HTTPS by default, and even compress data.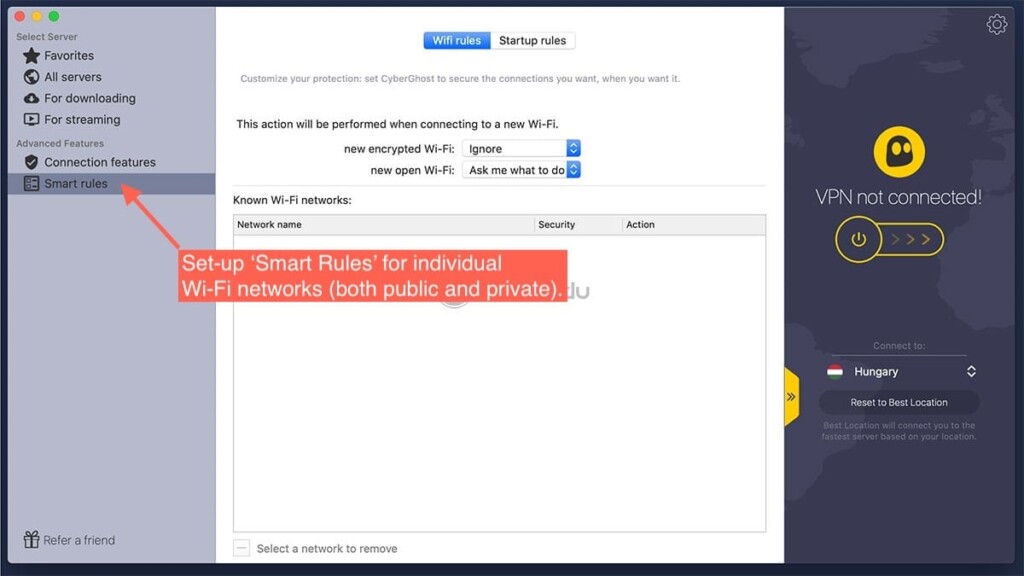 And finally, let's not forget to mention a new feature called 'Smart Rules.' Using this option, you can instruct CyberGhost how to behave in certain situations. For example, you can enable the VPN to launch on system startup and then to connect automatically. You can also instruct CyberGhost to auto-connect when you use an unsecured Wi-Fi network.
How Many Simultaneous Connections Do You Get With CyberGhost VPN?
CyberGhost VPN gives you up to seven simultaneous connections. This applies to all of its subscribers, regardless of how they obtained their subscriptions, as explained below.
Regular Subscriptions: Up to seven devices on any of the supported platforms.
iOS (In-App) Purchase: Up to seven iOS devices linked to your Apple ID.
Android (In-App) Purchase: Up to seven Android devices linked to your Google account.
Does CyberGhost VPN Have a Kill Switch?
Yes, CyberGhost VPN comes with a kill-switch. This feature is available across all of its apps on any of the platforms natively supported by the VPN.
However, it's worth noting that CyberGhost VPN doesn't really have a 'traditional' kill-switch. As a subscriber or user, you don't have access to this feature. Instead, the VPN's kill-switch is enabled by default and cannot be accessed from CyberGhost's interface.
In case a secure VPN connection is dropped, CyberGhost blocks all Internet traffic and attempts to reconnect for 60 seconds. If the connection isn't reestablished, your traffic remains blocked. You'll see a dialog box on your screen, asking you to resume the connection manually.
Does CyberGhost VPN Offer Split-Tunneling?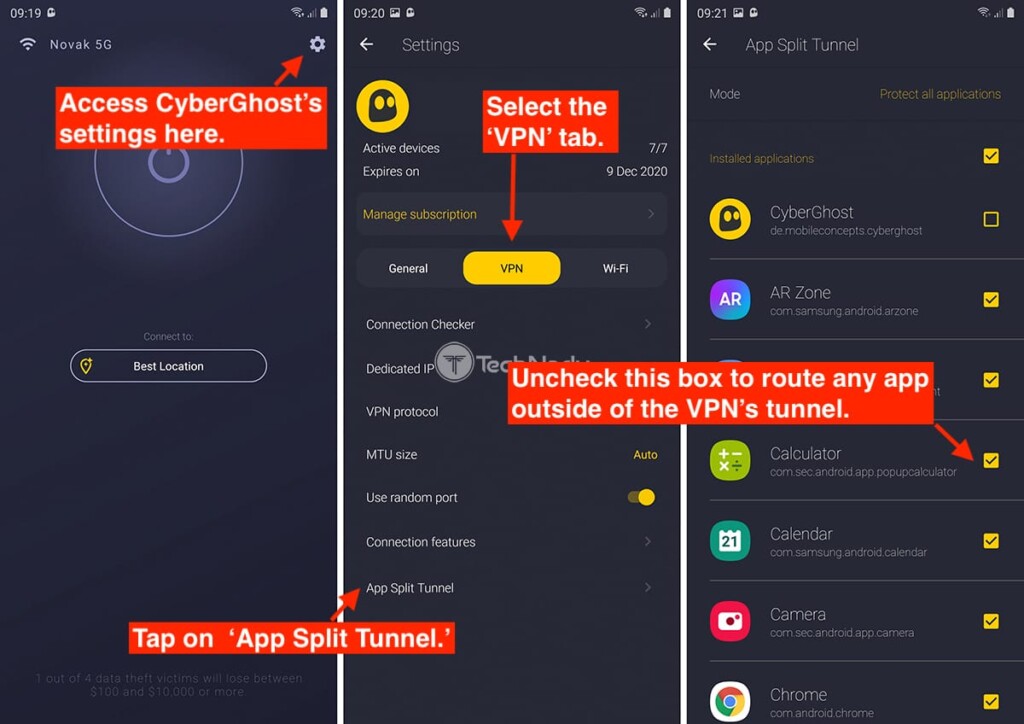 Yes, CyberGhost VPN offers split-tunneling. However, this feature is available on Android and Windows only.
On Windows, you need to click on 'Smart Rules' on the left-hand side of the VPN's interface. And on Android, you need to dive into the app's settings to get to split-tunneling. Unfortunately, this kind of discrepancy is visible in other features as well when comparing CyberGhost's apps (for mobile and desktop).
Also, keep in mind that CyberGhost will ask you which apps NOT to protect (you select a group of apps that will continue to use your regular Internet connection).
Does CyberGhost VPN Offer a Static/Dedicated IP Address?
Yes, CyberGhost VPN offers highly secure static IPs. This comes as an add-on for your subscription (priced at $5.00 per month).
In general, dedicated IPs are seen as a threat to your privacy, especially in the world of VPN services. That's why CyberGhost VPN has come up with an innovative token-based system. That way, the VPN doesn't know your static IP, which is never tied to your VPN account.
Does CyberGhost VPN Have an Ad-Blocker?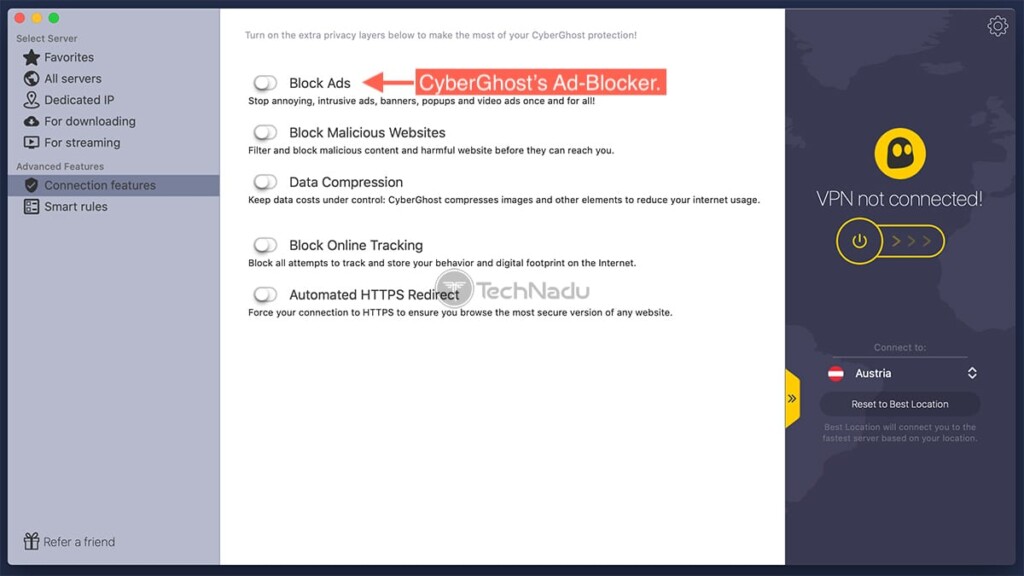 Yes, CyberGhost VPN comes with an ad-blocker. However, this feature is far from usable.
This VPN is trying to prevent malware and ad-related trackers by replacing them with its own (placeholder) data. This means that CyberGhost VPN intercepts malware- and ad-related traffic, trying to prevent it from reaching your computer.
For this method to work properly, connections made to a specific website must not be encrypted. Therefore, we are talking about HTTP traffic here. Since most of today's websites have switched to HTTPS, CyberGhost's ad-blocker is close to useless.
In other words, you're better off using a dedicated ad-blocker. These typically come either as a standalone app or a Web browser extension.
What Features Are Missing on Android & iOS (Compared to Desktop Apps)?
There are big differences between CyberGhost's apps for different platforms. In general, Windows users will reap the largest number of benefits, as this is CyberGhost's most capable application. You'll find split-tunneling here, in addition to the VPN's ad-blocker, HTTPS redirection, and more.
Then, we have the VPN's macOS and Linux app. Apart from their specific protocols, these apps lack split-tunneling. The same could be said for iOS, which doesn't even have an ad-blocker.
Therefore, if you're a mobile VPN user, we hope you're using Android – especially if you need high-end features.
In the end, it's important to say that CyberGhost VPN will keep you protected – no matter which device you use. However, you won't get everything your subscription offers on all your devices. This is clearly a noticeable obstacle – but not a major downside.
Server Count & Infrastructure
CyberGhost VPN brings more than 6,700 servers across 90 countries. Therefore, it ranks quite high on our list. Our Score: 10/10.
Ideally, you want a VPN provider with plenty of servers across the entire planet. And if you want to unblock websites, having the ability to pick specific locations is a huge benefit.
What's interesting about this VPN service is that it gives you a nice overview of which server to use. For example, you can check how many users are connected to a specific server, how far it is, and its current bandwidth usage.
We also need to praise CyberGhost's dedication to expanding its server network. We are more than sure that this trend will continue in the future as well, which could be a good reason to invest in one of its long-term subscription plans.
Does CyberGhost VPN Use Virtual Server Locations?
Yes, CyberGhost VPN comes with a sizeable list of virtual server locations.
That means that once you connect to a virtual server, your traffic won't flow through the country you've selected via CyberGhost's interface. Instead, it will flow through a virtual server with your traffic being assigned an IP from the 'end' country.
Being a transparent VPN, CyberGhost doesn't hide the fact that it's using virtual servers. And the fact is that your personal data remains safe, nonetheless. However, it's always good to know which locations are virtual, so you'll want to check out the following drop-down card.
UI/UX Design & Ease of Use
CyberGhost comes with a modern UI that looks very polished. There are a few quirks, but it's easy to use and gives you complete control over your data. Our Score: 9/10.
In this segment, we'll talk about CyberGhost's interface on both desktop and mobile platforms. And also, we'll visit this VPN's Web browser extension. So, make sure to keep on reading our CyberGhost VPN review.
How Well Does CyberGhost VPN Work on Desktop Platforms?
CyberGhost VPN can be as simple or as complex as you need it to be. It starts with a simple UI that resembles something you expect to see on a smartphone. However, if you click on a small yellow-colored button on the left side, the VPN transforms into a fully-featured application.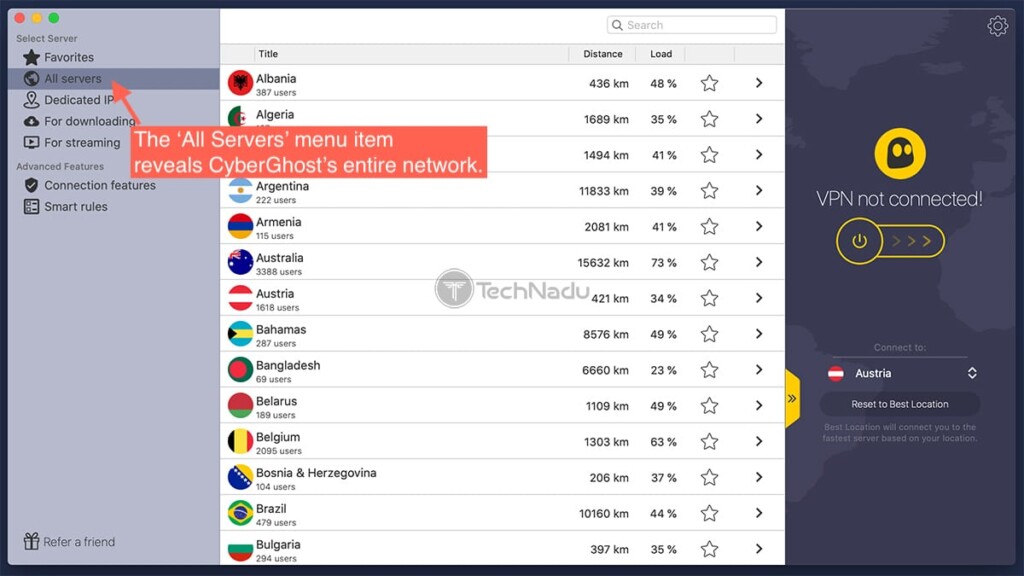 On the left side of the interface, you'll see different sets of servers. You can check out favorites, review all of the available servers, or check those that are specialized for downloading and streaming. Finally, we have two new options that we discussed in one of the previous segments – 'Connection Features' and 'Smart Rules.'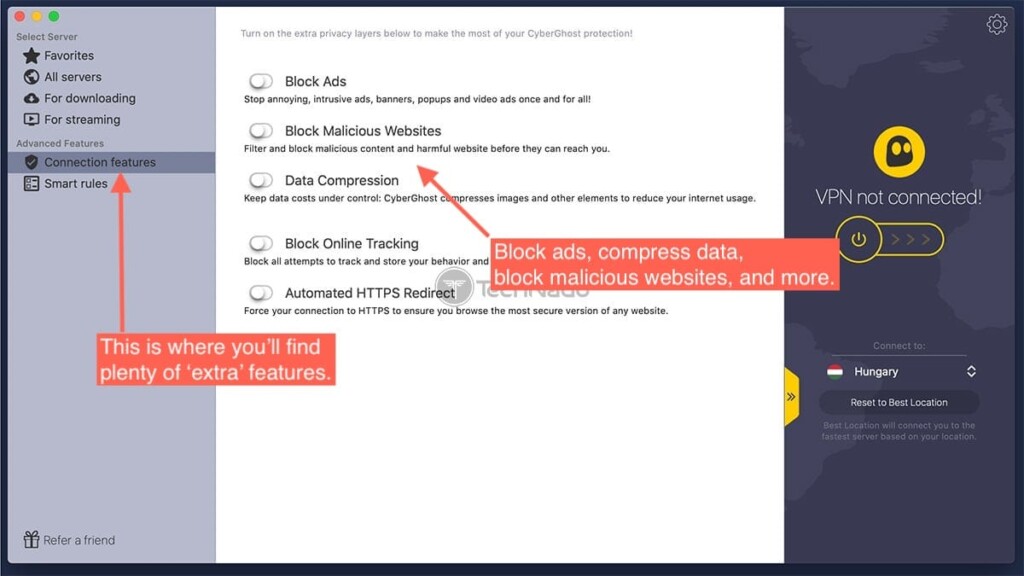 In the top-right corner, you'll find a cogwheel icon that takes you to the application's settings. It is also where you'll find customer support resources, which are links leading you to the VPN's website.
The Settings panel is comprised of three tabs: General, Account, and Connection. The 'General' tab lets you enable CyberGhost to automatically start on system startup. You can also check for updates and open the application's support resources.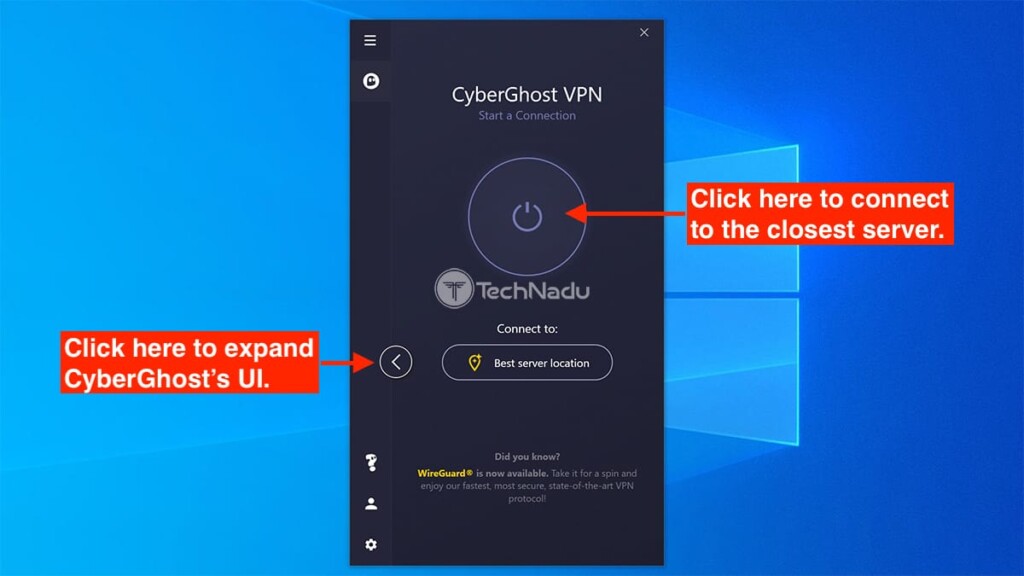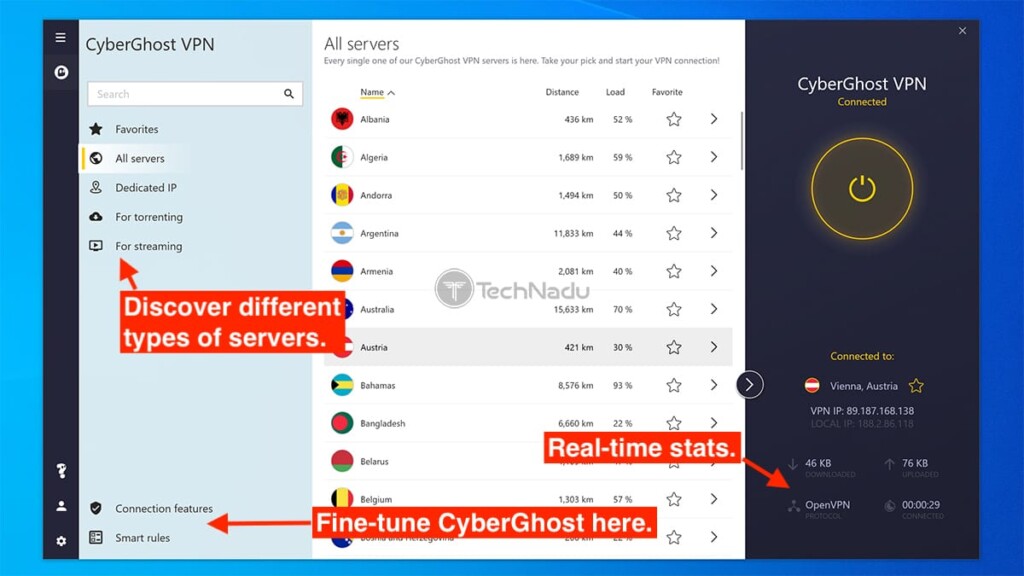 How Well Does CyberGhost VPN Work on Mobile Platforms?
As mentioned throughout this CyberGhost VPN review, there are certain differences between the apps offered by this VPN. And even though all of those apps feel the same, there are many details that make each of those apps a unique piece of software.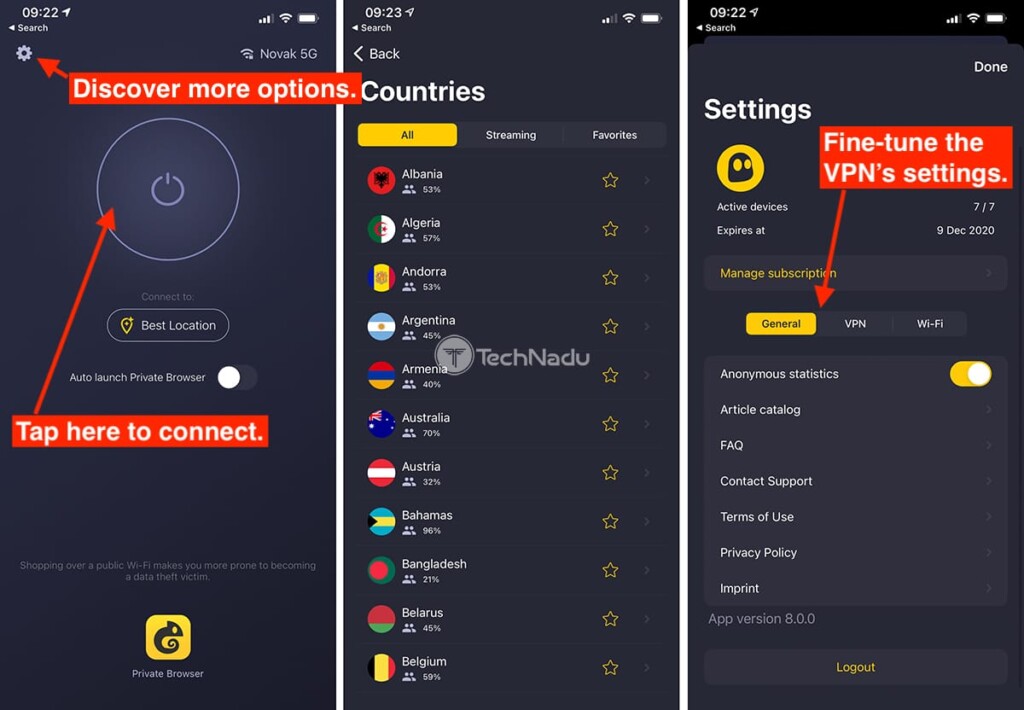 There are similarities also in the way you connect to servers. Tap on a button labeled 'Best Location' and CyberGhost VPN will show all of its servers. This is where you can review the VPN's servers, filter them by their roles, favorite individual servers, and more. This interface is practically the same on iOS and Android.
To dive deeper on iOS, you can tap on the cogwheel icon in the top-left corner. This will reveal a rather limited list of options. You get to enable CyberGhost's 'Wi-Fi Auto-Protect' feature, switch to a different protocol, and choose how CyberGhost behaves on new and known Wi-Fi networks. There's also an option to use a dedicated IP by using your token.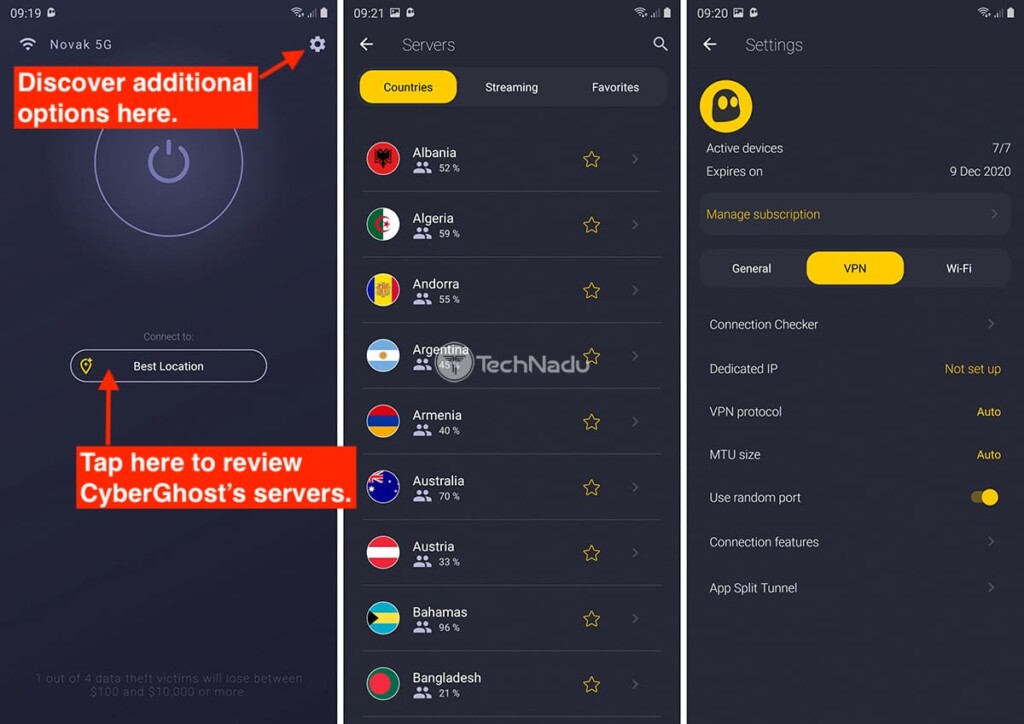 On Android, CyberGhost VPN comes with a whole host of settings and tweaks. Tap on the cogwheel button in the top-left corner, and you'll get to set up split-tunneling, use the VPN's 'Wi-Fi Protection' feature, switch to a different protocol, as well as enable additional options.
Speaking of those additional options on Android, you can enable domain fronting and data compression. This is where you can enable CyberGhost's ad-blocker and protection against online tracking. So, there's truly plenty to fine-tune.
Even though the iOS app seems more polished in terms of its appearance and performance, the Android app is more powerful in terms of VPN-related features. The same also applies when comparing CyberGhost's Windows and macOS app, where Windows users will come out on top.
How Well Do CyberGhost's Web Browser Extensions Work?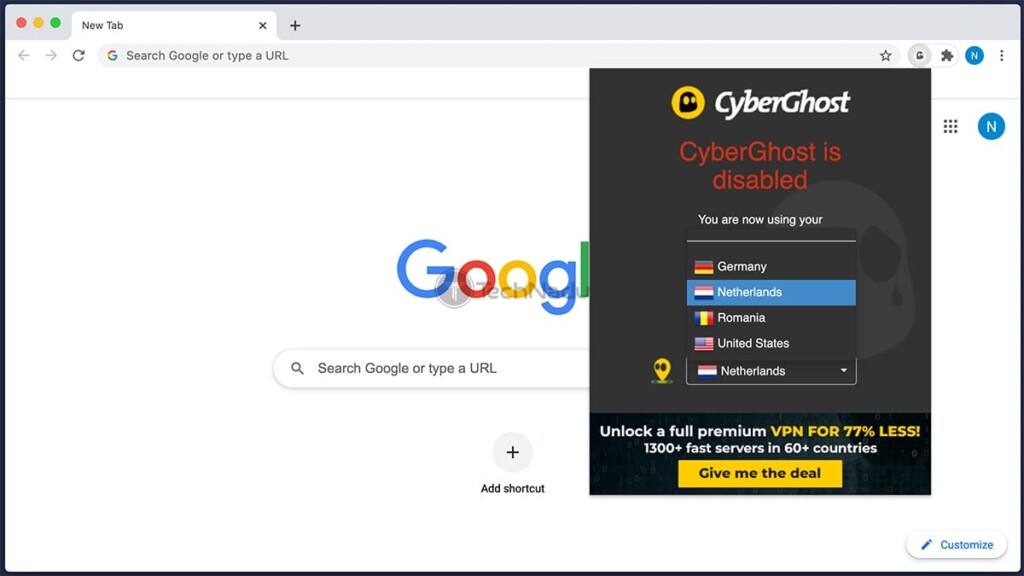 CyberGhost VPN offers Web browser extensions for Chrome and Firefox. Both of those come free-of-charge, and you don't need to be a subscriber to use them. In fact, it could be said that CyberGhost's browser extensions act as advertisements for the VPN.
As you can see from the screenshot above, users of CyberGhost's extensions will be forced to look at a rather prominent advertisement (showing outdated information) at the bottom of its interface. You get to connect to servers in four countries (the Netherlands, Romania, Germany, and the United States) – without any limitations.
There are no settings you can tweak, and there's even no option to log-in to your account. And on top of that, these Web browser extensions are proxies only. Therefore, you won't get the full protection that CyberGhost's desktop app brings.
All in all, we don't see a reason for CyberGhost VPN subscribers to use these extensions. They act as advertisements for the VPN's full range of capabilities. However, they don't even do a good job of letting you tap into this VPN's true power.
Media Streaming & Torrenting Support
CyberGhost VPN has a long history of unblocking media streaming websites. It even fully supports P2P traffic via specialized servers. Our Score: 10/10.
We're happy to say that if you need a VPN to unblock websites, CyberGhost VPN will meet your needs. We've tested it with several popular media streaming services, so here are our findings.
To make sure its users have a flawless experience, CyberGhost brings a range of specialized servers. Many of those are optimized for specific streaming services, and you can access those from the 'For Streaming' item via the main menu. This will open a list of servers, indicating their locations and their ability to unblock certain websites.
Finally, just like there are servers optimized for streaming, there are P2P-friendly servers as well. You can connect to those when downloading torrents to protect your Internet traffic. Besides, these should get you good speeds, so you can download large files as fast as possible.
Does CyberGhost VPN Work With Netflix, Hulu, BBC iPlayer, Prime Video & Disney+?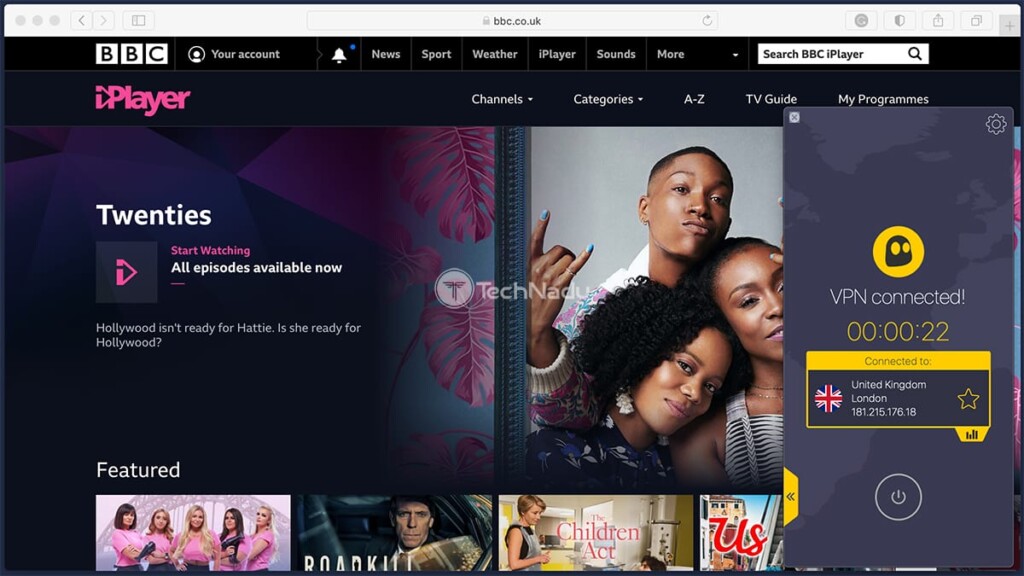 Yes, CyberGhost VPN unblocks Netflix, as well as pretty much all of the other popular streaming services. This includes Hulu, BBC iPlayer, Amazon Prime Video, Disney Plus, and more.
Speaking of Netflix, you can access its regional versions in the following countries (by connecting to CyberGhost's servers): the USA, Germany, Japan, the UK, France, and Italy. This should give you plenty of options for unblocking "hidden" Netflix titles, taking full advantage of your subscription.
When it comes to other streaming services, CyberGhost VPN works with YouTube TV, Sling TV, ESPN Plus, Pandora, Spotify, Crunchyroll, Zattoo, Globo, CBC, ORF, Comedy Central, 7TV, and plenty more. So, yes – this truly is a steaming-centric VPN service.
Which CyberGhost VPN Server Works Best for Netflix?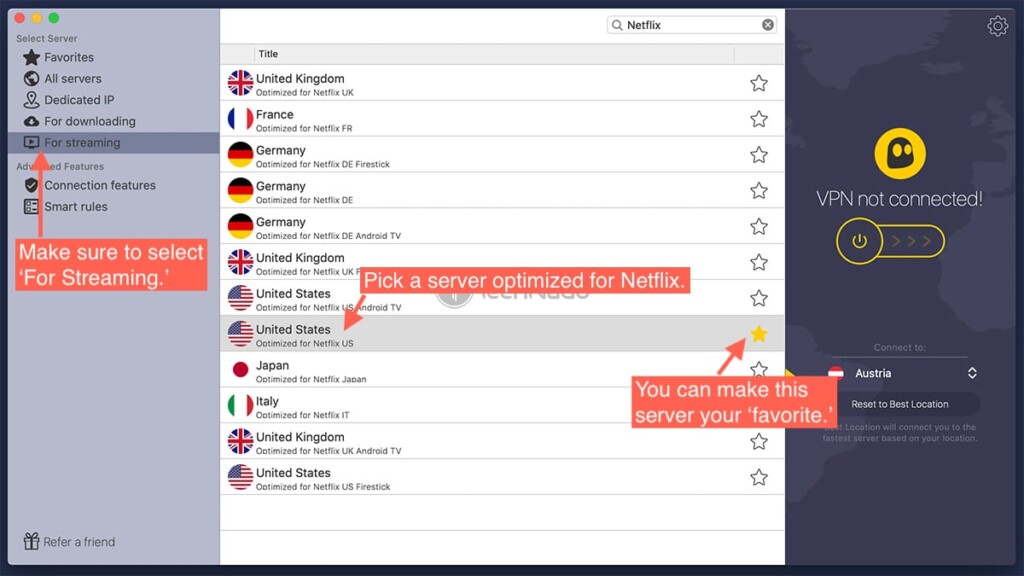 To find the server that unblocks the US version of Netflix, make sure to select 'For Streaming' on the VPN's home screen. This will open a list of servers made for all kinds of streaming services.
At the moment, you'll find three servers optimized for accessing Netflix US. One of those (labeled 'Optimized for Netflix US') should work on any device. However, there's a server for Android TV as well as for Fire OS. So, make sure to use those if you have a media streamer.
Can You Use CyberGhost VPN With Kodi?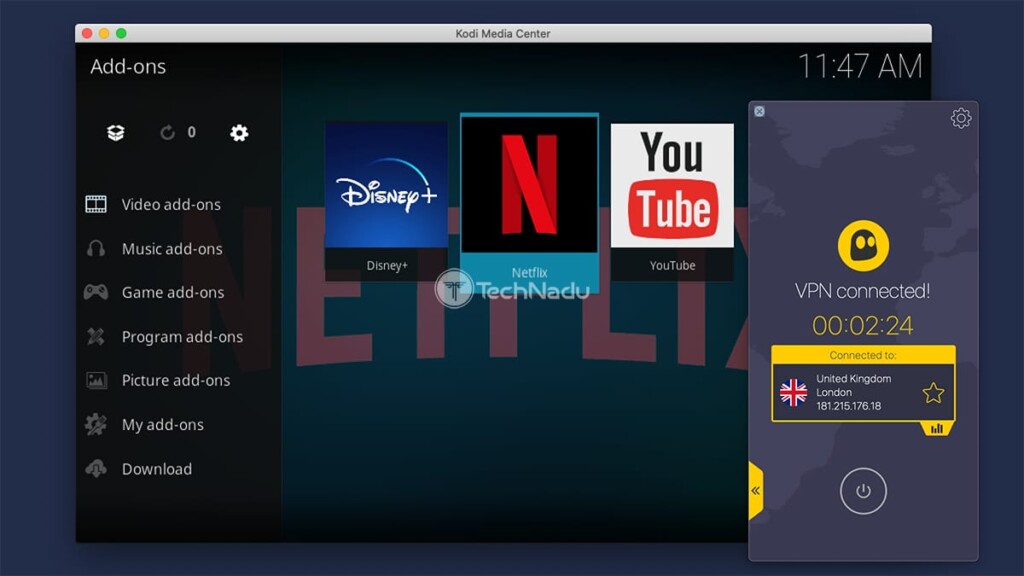 Yes, CyberGhost VPN can be a powerful ally to any Kodi user.
As you can guess, you can't integrate CyberGhost VPN with Kodi. Instead, you use these two applications separately, which is a possibility on computers, tablets, media streaming devices, and more.
Just connect to any server via CyberGhost, and then keep on using Kodi as you usually do. That way, you'll get to unblock pretty much any Kodi addon.
CyberGhost VPN is capable of unblocking a wide range of streaming services – and this includes addons made for Kodi. On top of that, the VPN could protect you when using "risky" addons by hiding your Web data.
Security & Privacy
CyberGhost doesn't collect any data and prevents all kinds of data leaks. Therefore, it has the power to keep you protected on the Web. Our Score: 10/10.
One of the most important, and in fact, the main reason people use VPNs is to stay secure online. CyberGhost VPN does a great job of keeping your Internet activity safe. So, let's examine the tool's security and privacy features in greater detail.
CyberGhost VPN Protocols – Listed & Explained!
First, we'll list all of the protocols natively supported by CyberGhost's apps for comparative purposes. So, check out the following table.
As already mentioned, the table found above lists all of CyberGhost's native protocols. This means that the table describes which protocols you'll find in the VPN's apps.
There are certain deviations to this rule as well. For example, the OpenVPN protocol isn't available on macOS and iOS natively. However, you can still use this highly capable protocol – but only if you configure it manually.
OpenVPN
CyberGhost VPN relies on the OpenVPN protocol heavily – and we're happy to see that. This is a hugely capable VPN protocol that can make you anonymous online. It typically leads to smooth performance, brings easy switching between servers, and unblocks content with ease.
By default, OpenVPN is available on Windows, Android, Linux, and Fire TV.
IKEv2
When connecting to a nearby server (located in your country, for example), it's recommended to use the IKEv2 protocol. In turn, this should bring you the fastest possible performance, while also making sure your personal data never leaves CyberGhost's tunnel.
By default, IKEv2 is available on Windows, macOS, and iOS.
WireGuard
This is a recently developed VPN protocol that shows a lot of promise. It's faster than OpenVPN while providing the same (if not better) security and privacy level. CyberGhost VPN has been aggressively pursuing this protocol during the last year, making it available across several devices.
By default, WireGuard is available on Windows, macOS, Android, iOS, Linux, and Fire TV.
PPTP & L2TP/IPSec
And lastly, we have PPTP and L2TP/IPsec. As said earlier in this article, CyberGhost no longer supports those protocols. In general, they're quite old and come with plenty of known vulnerabilities. That's why you won't find them in any of the VPN's apps.
However, this doesn't mean that CyberGhost has completely abandoned PPTP and L2TP/IPsec. If you absolutely need to use these, you can configure them manually.
Does CyberGhost VPN Log Private Data?
CyberGhost VPN comes with a strict no-logs policy. This VPN promises not to collect any of your personal data. More precisely, we're talking about data that could be linked to your VPN account – which are nowhere to be found on CyberGhost's servers.
However, you should know that some information is stored. For example, your email and password of your VPN account are needed for you to log in. CyberGhost VPN also collects some cookies as you browse its website. However, this is nothing unusual, as well as nothing to be concerned about.
We strongly believe that CyberGhost's servers will keep you protected and anonymous. However, if you need an even higher level of privacy, that's where the VPN's 'NoSPY' servers come into play.
'NoSPY' servers come with super-high premium hardware, they promise better speeds, they're operated independently, and they're designed to respect your privacy in the best way possible. However, you'll need to pay extra to access those – $4.99/month (billed yearly).
Does CyberGhost VPN Leak/Expose Your Personal Data?
To test the strength of CyberGhost's tunnel, we've used a server located in the United States. Then, we tested our Web connection for all kinds of data leaks, including IP and DNS leaks.
As you can see in the screenshots supplied in this segment, no leaks were detected. This means third-parties only see what CyberGhost VPN shows them. That would be our virtual IP address, our virtual geo-location data, and on top of that – no DNS leaks were discovered.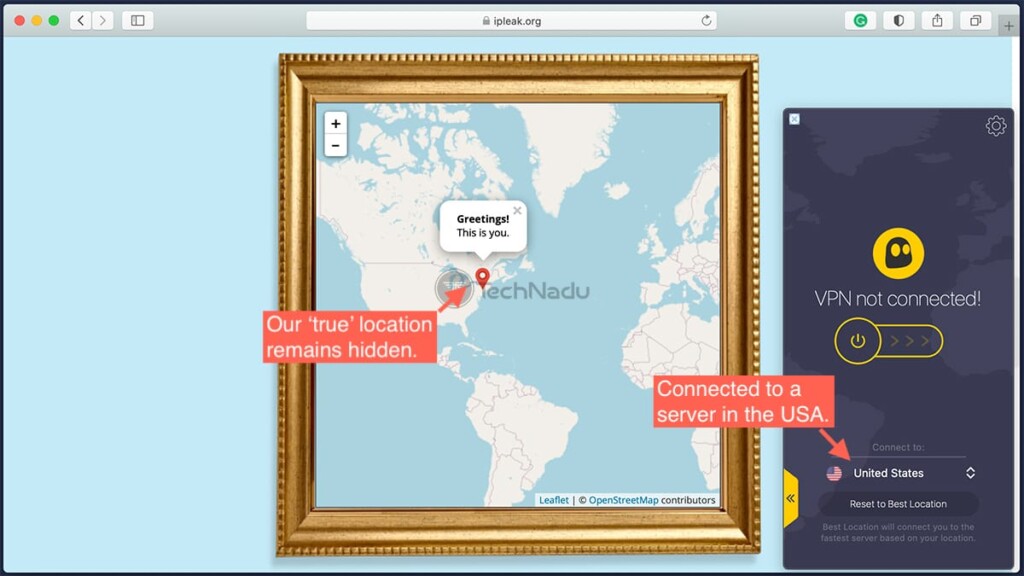 With that said, we conclude that CyberGhost's tunnel is truly a capable one. In other words, you can be sure that your private data won't be exposed online.
Speed & Performance
In general, CyberGhost's performance doesn't disappoint. However, be prepared to dive into fine-tuning your VPN connection to reach the best possible performance. Our Score: 8/10.
In this segment of our CyberGhost VPN review, we'll check this VPN's performance. This is done by connecting to various servers and testing them individually. So, keep on reading.
CyberGhost VPN Speed Test
We test VPNs by connecting to their local and long-distance servers. With that said, keep in mind that we're located in Europe and that we'll be testing servers that range from the United States all the way to Australia.

First, you need to know about our Web connection's baseline stats. As you can see from the image above, we got 393.49 Mbps for downloads and 47.95 Mbps for uploads. Once again, we're talking about our baseline data here – without CyberGhost VPN being enabled.
Local Speed Tests
When speaking about 'local' servers, we're talking about VPN servers located in Europe. More precisely, we've tested CyberGhost's servers found in Italy and the United Kingdom, so let's check out the results.

A server in Italy gave us 343.14 Mbps for downloads and 42.57 Mbps for uploads. Therefore, using a nearby server gave us relatively fast speeds without affecting our Web connection in a dramatic way.
A server in the United Kingdom gave us 143.67 Mbps for downloads and 41.99 Mbps for uploads. We have to say that we have expected better performance in this round of testing. However, even though our download speed deteriorated, our upload speed remained relatively the same.
Long-Distance Speed Tests
As you can see above, there were some slight surprises during our testing of the VPN's local servers. And as you're about to find out, those surprises continued when testing long-distance servers as well. Keep on reading to learn more.

A server on the east coast of the United States gave us 176.20 Mbps for downloads and 21.16 Mbps for uploads. These numbers could have been a bit higher, but no major surprises there.

Then, a server in Canada was placed under our spotlight. During this round of speed tests, we managed to get 251.31 Mbps for downloads and 21.98 Mbps for uploads. This was surely a pleasant surprise, especially for a long-distance server.

Sadly, we were quite disappointed by CyberGhost's servers in India. Even though we tested a large group of those, we encounter very limited speeds. On average, we managed to get only 5.5 Mbps for downloads and 1.54 Mbps for uploads.
And lastly, we wanted to test a server that's on the other side of the planet. And in our case, that would be a server in Australia. So, while testing a Sidney-based server, CyberGhost VPN gave us 53.05 Mbps for downloads and 15.96 Mbps for uploads.
So, How Well Does CyberGhost VPN Perform?
Finally, it's time to make sense of all those numbers. For that purpose, we've placed them in the following table, calculating the speed reduction of each server in contrast to our baseline data. So, make sure to take a good look below.
On average, CyberGhost VPN made our Internet connection slower by 58.7%. This might sound dramatic, but it's on par with what top-rated VPNs offer. Remember that every VPN will slow you down, which will be especially noticeable when using long-distance servers.
What was problematic about CyberGhost is its somewhat unexpected behavior. For example, a group of servers in Canada managed to get us better speeds than a group of servers in the UK (which are closer to us, geographically).
Of course, we also need to add that CyberGhost VPN offers specialized servers for streaming media and downloading files. Those should give you better performance overall. We have tested 'standard' servers for comparative purposes, so you can easily compare the above-displayed results to what other VPNs offer.
Is CyberGhost VPN Good for Torrenting (P2P)?
Yes, CyberGhost is good enough for downloading torrent files. However, we do recommend connecting to a nearby server for this purpose – especially if you plan to download large files.
In theory, you can use any of CyberGhost's servers to download P2P files. However, while using the VPN's desktop apps, you'll find a group of servers hiding behind the 'For Downloading' menu item. As their name implies, these servers are optimized for downloading files, including P2P files.
To get the fastest download speed, make sure to connect to a nearby server. As CyberGhost VPN offers thousands of servers across the world, it shouldn't be a problem to find a server that performs smoothly.
Is CyberGhost VPN Good for Gaming?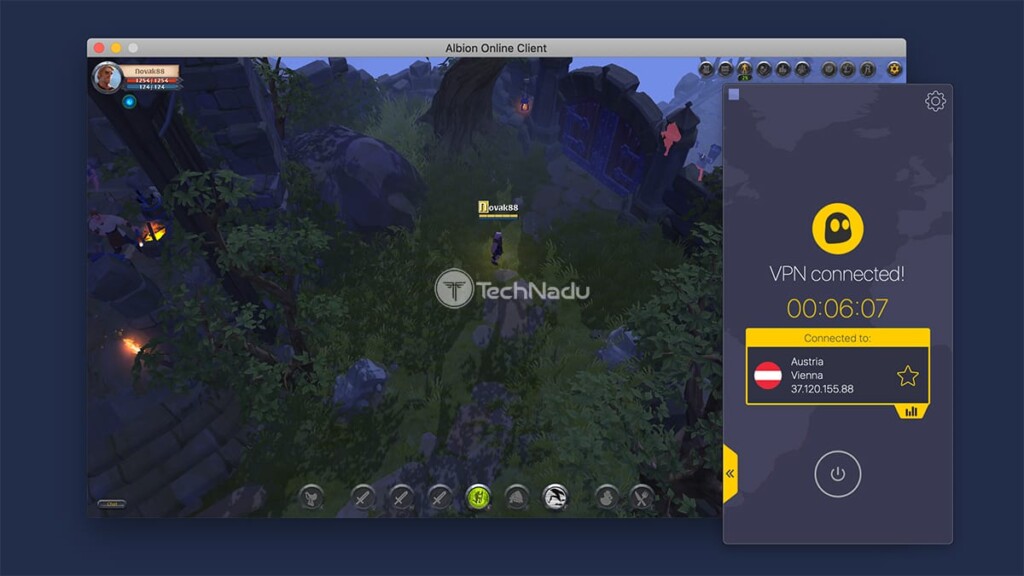 Yes, CyberGhost VPN is good enough for gaming as well. In fact, there are several reasons why you might want to pick this VPN over its competitors – if you're a gamer.
The biggest benefit here is the fact that CyberGhost VPN has thousands of servers, across the entire world. This means you have plenty of options to find a server aligned with your gaming-related needs.
This VPN doesn't have servers specialized for online gaming. However, as long as you don't connect to an overly remote server, you'll avoid high ping values. In turn, this means that lags won't be something that'll affect your gameplay experience.
Customer Support
CyberGhost VPN has a very useful and highly responsive customer service system. Kudos to their customer support staff! Our Score: 10/10.
Customer service is an essential aspect that you always need to consider when purchasing a VPN. After all, you wouldn't like to be stranded with software that troubles you, with no support channels or community to help you when you need it the most.
CyberGhost VPN has several support channels. There is even a live-chat functionality, which is useful should you wish to obtain quick answers to your queries. We contacted their support via chat to check their response times and were amazed by their quick responses.
Also, you can count on a dedicated help center with plenty of guides and FAQs. All in all, you'll always get help if you encounter any roadblock.
Finally, CyberGhost is also dedicated to educating its users via a newly released CyberGhost Privacy Hub. This is where you'll find an array of helpful articles aimed at covering the latest privacy- and VPN-related news, product announcements, and plenty more.
Pricing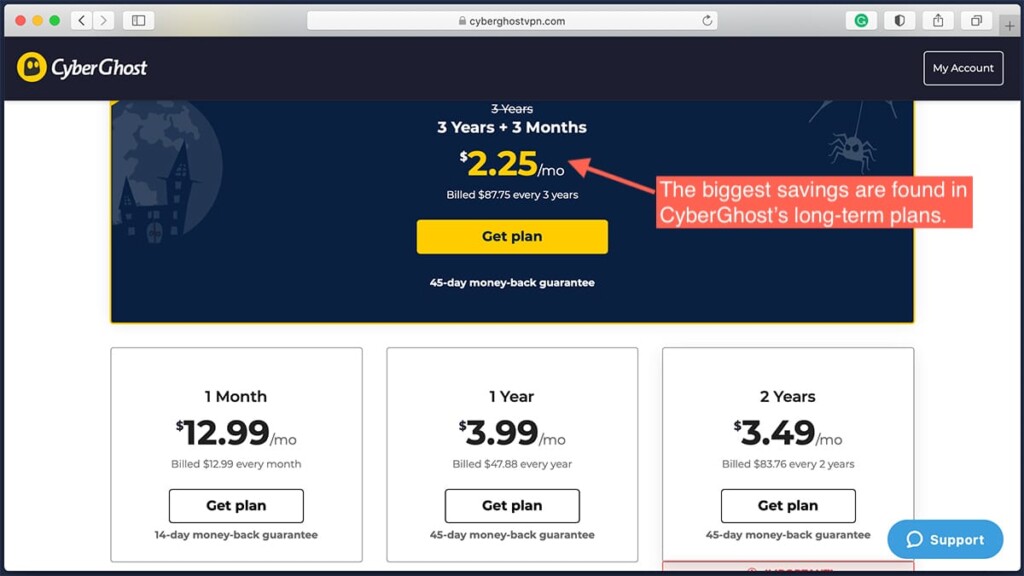 CyberGhost's monthly plan is a bit expensive when compared to some of its peers. However, its long-term plans offer big savings. Our Score: 9/10.
This VPN comes with a whole range of subscription plans. However, they all offer the same set of features. This means the only difference is in their duration – which means that long-term plans promise to bring the biggest savings. Take a look.
How Much Does CyberGhost VPN Cost?
If you decide to pay on a monthly basis, CyberGhost VPN will cost you $12.99 per month. This is on par with other top-rated VPNs. However, we do recommend checking this VPN's long-term plans.
Unlike other VPNs, CyberGhost offers hefty discounts across its one-year, two-year, and three-year plans. With that said, if you decide to subscribe to CyberGhost, you can pay only $2.25 per month for the VPN's three-year plan. On top of that, you get additional three months free of charge!
Also, know that CyberGhost VPN supports numerous payment methods. You can use your credit card (Visa, MasterCard, and American Express), as well as your PayPal account. In case you'd like to pay anonymously, CyberGhost accepts Bitcoin.
CyberGhost's Free Trial – Duration, Price & Availability!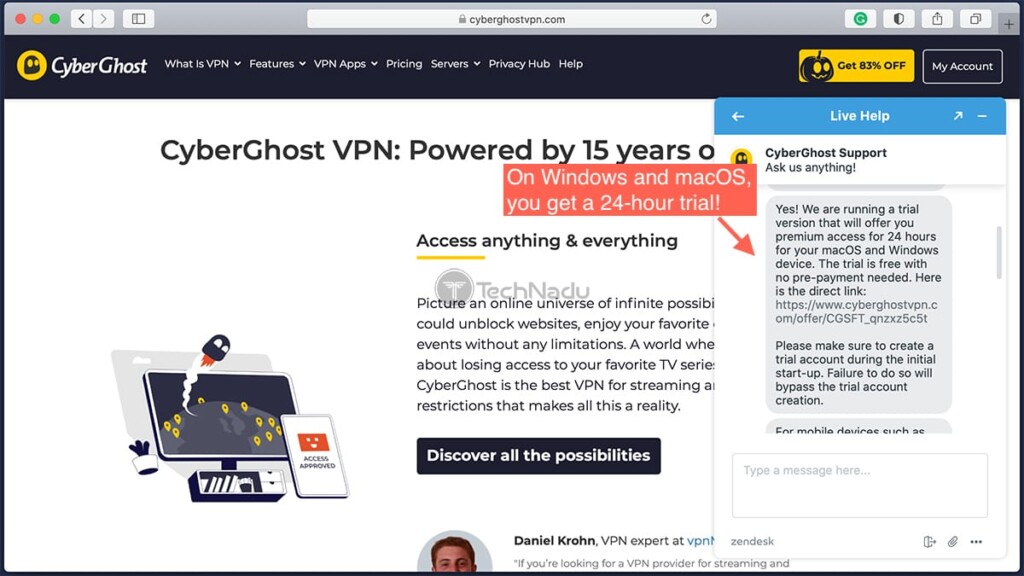 CyberGhost is one of the rare VPNs to still offer a free trial. And more importantly, this offer is available on both desktop and mobile devices.
When it comes to Windows and macOS, CyberGhost VPN offers a 24-hour trial. To activate the trial, you won't need to enter your payment information. However, you will need to create a trial account during the initial start-up (once you download the app on your computer).
In terms of iOS and Android, CyberGhost offers a 7-day trial. You can download the apps from Google's Play Store or Apple's App Store. In this case, you'll need to agree on a payment plan, which means you'll be charged once your trial expires (if you don't cancel your subscription on time).
Even if you forget to cancel your subscription, there's nothing to be worried about. This VPN comes with a 45-day money-back guarantee, so you'll have your money returned.
CyberGhost's 45-Day Money-Back Guarantee – Will You Get Your Money Back?
When it comes to CyberGhost's money-back guarantees, there's one important thing to keep in mind. Right now, this applies only to the VPN's 1-year, 2-year, and 3-year plans.
As mentioned above, the VPN also has a monthly plan, priced at $12.99/month. However, this plan comes with a 14-day money-back guarantee. So, this isn't a major obstacle – but you need to be aware that not all of CyberGhost's plans include 45-day money-back guarantees.
In terms of whether you'll get your money back, know that we're talking about a "no questions asked" policy here. Therefore, if you simply change your mind about CyberGhost within the first 45 days of use, you will get a full refund.
Is There a Way to Get CyberGhost VPN for Free?
In the past, CyberGhost used to offer a free tier. However, there's no longer a way to use this VPN free of charge.
If you'd like to test-drive CyberGhost VPN for free, know that you have several options. First and foremost, you can count on the VPN's free trial (as explained just above). And if you want to test the VPN for a longer period of time, you can count on its money-back guarantees.
CyberGhost VPN Comparisons, Additional Considerations & More!
We know that many of you are wondering how CyberGhost VPN compares to top-rated VPNs. And in addition to that, we'll answer some other pressing questions as well. So, keep on reading.
How CyberGhost VPN Compares to High-Rated VPN Services (CyberGhost VPN vs. ExpressVPN vs. NordVPN)?
Considering that we've tested CyberGhost VPN, ExpressVPN, and NordVPN hands-on, we present to you a direct comparison between these three VPNs. Check out the table below.
First of all, know that CyberGhost VPN, ExpressVPN, and NordVPN are probably the most popular and widely-used VPNs today. With that said, it's clear that each of those offers a well-rounded VPN service. However, it's also true that each of those has its downsides and upsides.
CyberGhost VPN looks like an excellent option, especially if you want to protect many devices using a single subscription. It's also suitable for media streaming, P2P downloads, and it comes with a huge server network covering 90 countries.
ExpressVPN doesn't have as many servers. However, it has pretty much everything else. This is the most expensive option here – but well worth the price. You get ultra-fast performance, media streaming, P2P traffic, strong VPN protocols, and more.
And lastly, we have NordVPN. This VPN sits somewhere in the middle between ExpressVPN and CyberGhost VPN. However, we recommend it to more advanced users who'd really like to dive deep into customizing their VPN connections.
Does CyberGhost VPN Work in China?
No, CyberGhost VPN doesn't work in China. Even though it offers virtual servers in this country, Internet users in China can't rely on CyberGhost to unblock websites in their country.
If you need a reliable VPN for use in China, we highly recommend ExpressVPN. In case you'd like in-depth information, here's all you need to know about how ExpressVPN works in China. Of course, feel free to check other best VPNs for China.
What's CyberGhost VPN Missing?
CyberGhost is a well-rounded VPN service, catering to the needs of both beginners and more advanced users. However, there are some things we'd like to see improved.
This VPN comes with pretty much every feature and tool imaginable. However, those are not available across all of CyberGhost's apps. In fact, there are big differences between what's on offer for Windows, macOS, Linux, Android, and iOS users.
Therefore, instead of coming up with new features for a while, we'd love to see CyberGhost polish and streamline its service. For example, split-tunneling is available on Windows and Android only – and even on those platforms, there are differences in how this feature works. And when it comes to other platforms, you won't find this option at all. On top of that, some features are half-baked, such as CyberGhost's ad-blocker.
CyberGhost VPN Pros & Cons – Here's the Bottom Line!
Finally, let's summarize everything said in this article and see CyberGhost's downsides and upsides. This will help you get a clear picture of whether this VPN is the right pick for you.
So, Do We Recommend CyberGhost VPN?
There is plenty to love about this VPN service. First and foremost, you can be 100% sure that none of your private data will ever leak online. Then, you can unblock media streaming websites and even download torrents without any limitations.
Let's not forget that this VPN is available on all major platforms, and it comes with a polished user interface. With all of this said, we gladly recommend it to our readers.
So, our CyberGhost VPN review concludes with the fact that this tool is one of the best VPNs out there, especially if you seek a simple solution that's backed by seriously advanced technology. Make sure you're safe online and prevent your personal information from leaking on the Internet. So, go ahead and make sure to subscribe to CyberGhost VPN today!