CyberGhost VPN takes a very high place on our list of the best VPN services. It's an excellent all-around service that offers all the basics and some advanced features at an affordable price. 
It's based in the privacy-friendly jurisdiction of Romania and offers more than 9,500 servers in 90+ countries and 115 locations. These include specialized servers optimized for different activities like streaming, gaming, and torrenting.
It has a strict no-logs policy, meaning it doesn't keep track of users' browsing activities, IP addresses, or other identifying information. CyberGhost also isn't in any of the "Eyes" alliances (Five Eyes, Nine Eyes, etc.), so it can't be forced to share user data with governments or intelligence agencies.
CyberGhost VPN uses industry-standard security features such as AES 256-bit encryption, leak protection, and a kill switch. Users can now use a premium add-on that includes an antivirus and security updater to remove malware and optimize their systems. The VPN has also introduced an innovative token system that provides truly anonymous dedicated IP addresses.
To see how these features perform in real-world scenarios, we put them through a series of tests. But before we present our findings, here's an overview of the VPN's specs:
| | |
| --- | --- |
| Jurisdiction | Romania. |
| Logs | No logging – independently audited. |
| Servers | 9,500+ in 90+ countries and 110+ locations. |
| Simultaneous Connections | 7. |
| Supported Devices | Windows, macOS, Linux, Android, iOS, Fire TV, Android TV, routers, and more. |
| Features | Kill switch, NoSpy servers, ID guard, split tunneling, dedicated IPs, ad blocker, private browser, specialized servers, and more. |
| Protocols | OpenVPN, IKEv2, L2TP, WireGuard. |
| Supports | Netflix, Prime Video, Disney Plus, HBO Max, Discovery Plus, Hulu, BBC iPlayer, gaming, torrenting, browsing, and more. |
| Customer Support | Extensive FAQs, 24/7 live chat, email, and more. |
| Price | From $2.03/month. |
| Live Deal | 83% OFF + 2 Months Extra |
| Our Score | 9.1 out of 10. |
In this in-depth CyberGhost VPN review, we'll explore all the features in greater detail and take a look at the pros and cons of the VPN. You'll learn about the VPN's server network, UI, performance, and more. You'll also find info about the platforms it supports, its streaming capabilities, and its pricing.
To learn more about our testing process, make sure to read our guide on how we review VPNs.
Background, Jurisdiction & Reputation
CyberGhost VPN has a complex past. However, this VPN has never been connected to any data leak or caught cooperating with any authorities. So, your data will be safe - even though we wished to see a more recent audit of its services. Our Score: 9/10
The first question we're going to answer is – should you trust CyberGhost VPN with your private data? To answer that question, we'll tell you what you need to know about this cyber-sec company, so make sure to keep on reading.
Where Is CyberGhost VPN Based?
CyberGhost VPN is based in Romania, one of the EU countries. Even though this country doesn't come with overly protective VPN-related laws, it's not going against VPNs either.
VPNs are legal in Romania, and this country is away from the 5/9/14-Eyes Alliance. Since it's a member of the European Union, it does protect the privacy of its citizens up to some point. The same applies to businesses operating in this country, such as CyberGhost VPN.
CyberGhost was founded by Robert Knapp, who is a tech entrepreneur coming from Germany. The company was headquartered in Romania from the start, and it's still operating from there. However, Knapp sold his company in 2017 to Israeli investors, a company named Crossrider. Then, in 2018, that company changed its name to Kape Technologies.
According to Kape's official website, that company comes from the Isle of Man. That is a self-governing British Crown dependency that has fully incorporated EU's GDPR legislation (which now comes with a set of complexities as the UK has left the European Union).
You should also know that ZenMate VPN, a popular VPN coming from Germany, was acquired by Kape Technologies back in October 2018. Then, Private Internet Access became part of Kape in early 2020. And most recently, ExpressVPN joined as well. That means all those VPNs are 100% owned by Kape Technologies at the moment, even though they operate independently.
With that said, CyberGhost VPN isn't an "indie" VPN - but there's no reason to be concerned about its corporate background. During the last four years since CyberGhost became part of Kape, not much has changed about this VPN.
More precisely, there were no data leaks or problematic developments that would force us to advise you to avoid this VPN. As per its privacy policy, this is still a no-logs VPN provider, which means none of your private data is recorded (at any given moment).
At the moment, CyberGhost VPN, Zenmate VPN, Private Internet Access, and ExpressVPN continue to exist in their standalone forms – with some technologies being exchanged between them. Also, there are assurances from Kape that all four VPNs won't be merged in the future, which means you shouldn't be worried about investing in any of those in the long term.
Did CyberGhost VPN Leak Personal Data in the Past?
During our research, we found plenty of contradictory information on the Web. While some say that CyberGhost VPN leaks your sensitive information and even collects your confidential data, others say that this is the most secure VPN out there.
For example, there were rumors in the past that CyberGhost used to log hardware IDs. This happened in August of 2016, and everyone was quick to conclude that something suspicious was happening.
However, the VPN repeatedly rejected any accusations. Still, it was discovered that CyberGhost indeed checks your hardware ID – but only to check your subscription's device limit. You can use CyberGhost VPN on up to 7 devices at the same time, and this is one of the ways for the VPN to check if you're under that limit.
CyberGhost was also affected by Typeform's data breach since the VPN used Typeform's survey software. However, the VPN revealed that only 120 email addresses and 14 usernames contained in 2 surveys were compromised. Due to a fast "cleanup" action, none of those users suffered any exposing leaks of their sensitive data.
It's important to note that CyberGhost VPN has never been connected to any widespread data leak. Furthermore, the VPN repeatedly reminds us that it doesn't collect private data.
Even if someone comes after your online activity files, CyberGhost VPN won't be able to get anything tangible. So, until proven otherwise, there's no reason not to trust CyberGhost VPN.
Is CyberGhost VPN Safe?
Yes, CyberGhost VPN is safe to use. It safeguards online connection on all your devices with a secure VPN tunnel. Moreover, it has a strict no-logs policy, so it never keeps records of your Internet activity.
While it collects some account details like names, emails, and payment info, as well as non-personal data for service improvement, this is common among VPNs. As long as your identity and Web activity stay private, these practices are generally acceptable.
CyberGhost also uses AES-256 bit encryption, a highly respected standard for online safety. You can select from various VPN tunneling methods like OpenVPN, IKEv2/IPsec, and WireGuard, depending on your preferences.
More importantly, CyberGhost VPN has been independently audited by Deloitte to confirm its strong privacy measures. In other words, you can feel confident that CyberGhost VPN is safe and reliable to use.
Supported Platforms & Devices
You can use CyberGhost VPN across a wide range of desktop and mobile platforms, with Web browser extensions and support for routers on board. Our Score: 10/10
This VPN is present across a range of platforms, including desktop and mobile devices. Here's a helpful table where you'll find all the information you need.
| | |
| --- | --- |
| Desktop Platforms | Windows, macOS, Linux, Chrome OS. |
| Mobile Platforms | Android and iOS. |
| Web Browsers | Google Chrome, Mozilla Firefox, and Microsoft Edge. |
| Routers | Tomato, DD-WRT, and more. |
| Other Devices | Raspberry Pi, Amazon Fire TV Stick, Android TV, Apple TV, Roku, LG and Samsung TVs, Synology NAS, Xbox, PlayStation, Nintendo Switch, Kodi. |
As you can see, CyberGhost VPN has done a wonderful job of creating native apps for diverse kinds of devices. Therefore, we don't really have anything negative to say about this VPN in terms of its platform compatibility.
CyberGhost VPN has been designed to allow access on 7 devices simultaneously. You can easily set up this VPN on their router to then connect other devices on the home network (which then takes only a single free "slot" of your subscription). That's also the easiest way to protect devices that don't run VPNs natively, such as PlayStation or Xbox consoles.
To learn more about how to get started, check our guide on how to set up CyberGhost VPN.
Keep in mind that you'll get up to 7 simultaneous connections - but there's some "fine print" there. If you buy CyberGhost's subscription via its website, you'll get to install it on up to 7 devices of your choosing.
However, if you buy CyberGhost's subscription via its iOS or Android app, you'll use it on up to 7 devices - all of which must be associated with your Apple/Google account.
Installation & Initial Configuration
This VPN offers an easy and convenient way to install its software – with no distractions, bundled software, or anything similar. Our Score: 10/10
This section of our CyberGhost review will guide you through the steps of installing and setting up this powerful VPN. You'll soon find that the process is very straightforward and easy to follow.
How to Download and Use CyberGhost VPN?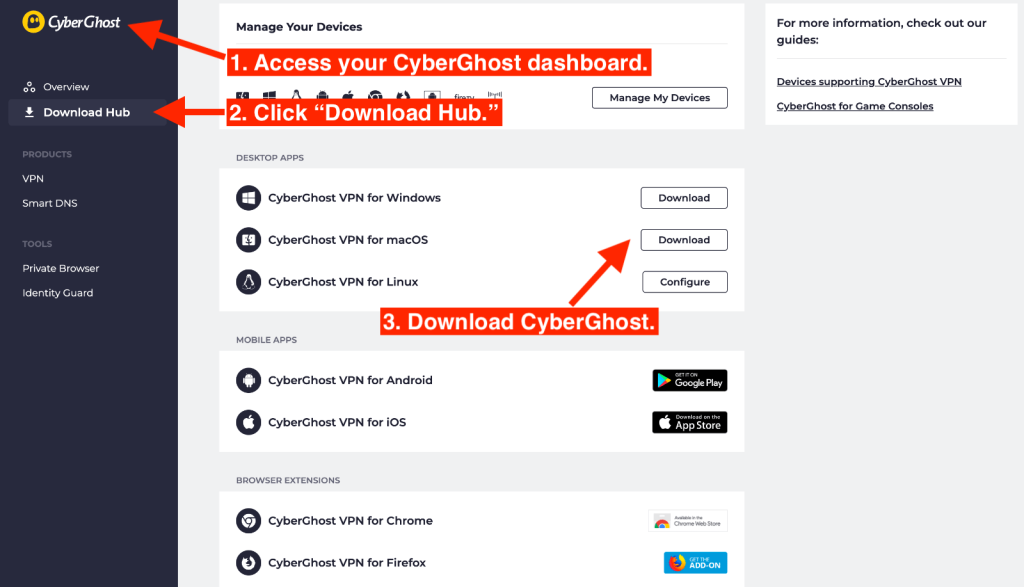 To get started with CyberGhost VPN, visit its official website and choose your subscription plan. You can then download the software to your device either directly from CyberGhost's site or via your online account dashboard. Once you have the VPN's installation file, double-click to open it, follow the prompts you'll see on your screen, and install CyberGhost.
The whole process takes only a few minutes. If you're confused, here are step-by-step instructions on what you need to do:
Subscribe to CyberGhost on their website using any browser.
Log in to your account on the site's main menu.
Download CyberGhost from your dashboard and install the app.
Launch the app and enter your login credentials.
Click on the 'All Servers' button from the home screen and select a location.
Double-click on your preferred location and wait for the connection. That's it!
It's important to note that we didn't encounter any distractions or promotional offers while installing the CyberGhost app. You get what you pay for, and that's the VPN itself. In our experience, the installation process was quick, no matter what kind of device/platform we used.
CyberGhost VPN protects your privacy from the start. But you can make it even more secure by turning on its kill switch (Homescreen > Privacy Settings > Automatic Kill-Switch). This way, your data won't leak if something goes wrong.
You can also block DNS domains used for trackers, malware, and ads (Homescreen > Privacy Settings > Block Content). We suggest you enable it as soon as you install the VPN.
If you need help setting up CyberGhost VPN on different platforms, check out our guide, which covers more than 60 devices. Here's how to set up CyberGhost VPN.
Prominent Features
Overall, CyberGhost VPN brings a compelling set of features - where you'll find a strong set of basic VPN tools alongside a range of highly advanced options. Our Score: 9/10
CyberGhost VPN offers all the basic features that a capable VPN should have. When you connect to a secure server, your Web connection data becomes encrypted, and you get a new IP address. Additionally, a full set of underlying technologies keeps you safe on the Internet. However, it's worth noting that CyberGhost doesn't support port forwarding.
Here's what you can expect from CyberGhost VPN in terms of its features:
Full Data Leak Protection: This VPN offers an ultra-tough VPN tunnel that shields your online activity from prying eyes. Whether it's your ISP, hackers, or government agencies, no one will be able to see your DNS or IP address. CyberGhost covers both IPv4 and IPv6 leaks, giving you complete peace of mind.
Kill Switch: This feature prevents data from leaking outside the VPN tunnel. This means it blocks all Internet traffic if the VPN connection drops for any reason. The kill switch feature works automatically, so you don't have to worry about turning it on or off. It's available on all supported platforms, such as Windows, macOS, iOS, and Android.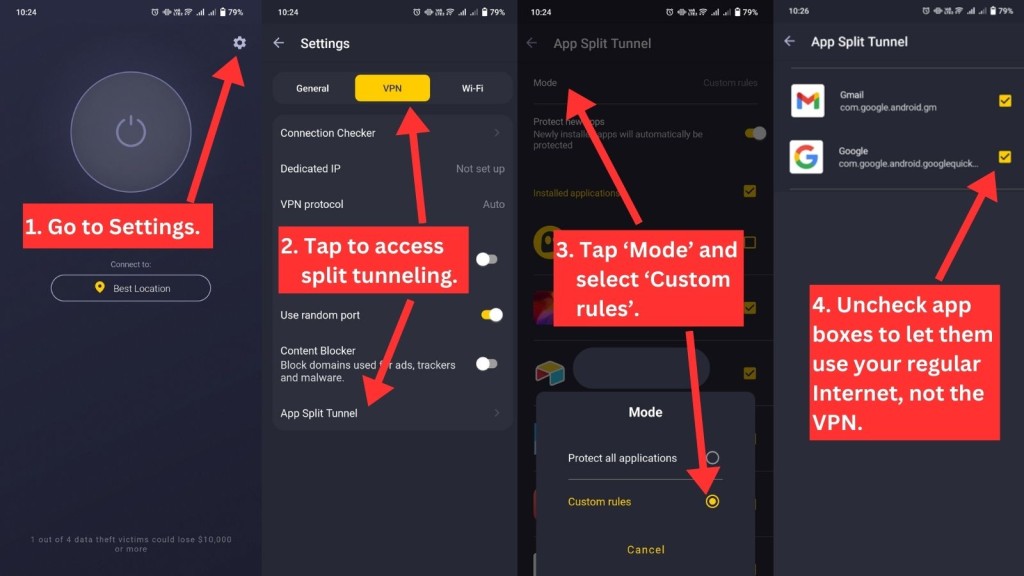 Split Tunneling: The App Split Tunnel feature is only available on Android. It's similar to Window's 'Smart Rules' feature with 'Exceptions' that essentially functions like split tunneling. With this feature, you can select which websites (on Windows) or apps (on Android) should use the VPN and which should stick to the regular Internet connection.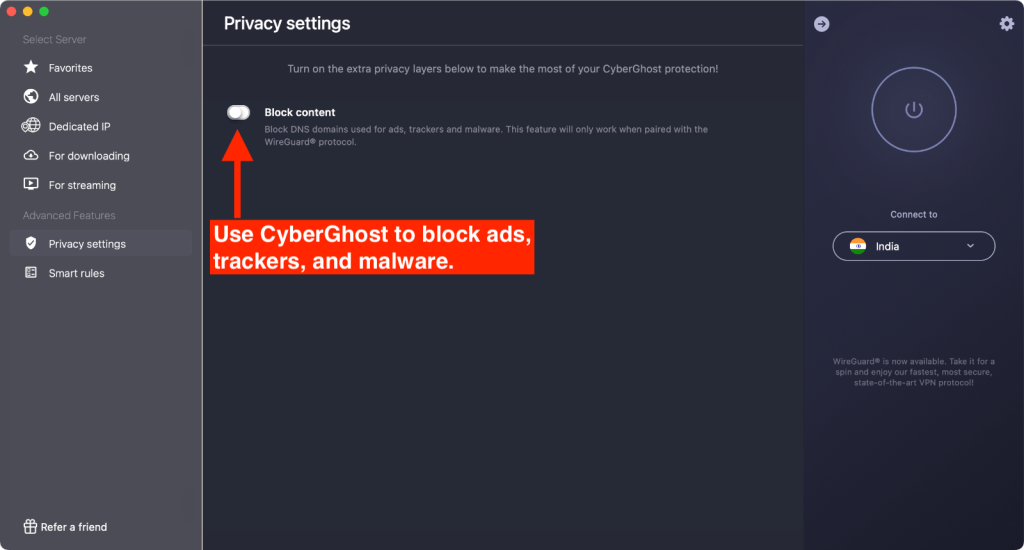 Ad-Blocker: CyberGhost has a built-in ad-blocker that tries to block ads and malware from websites and apps. However, this feature doesn't work well. It replaces the ads and malware with its data, but it can only do that for unencrypted (HTTP) traffic. Since most websites use encrypted (HTTPS) traffic nowadays, CyberGhost's ad-blocker isn't very effective.
Secure Protocols: CyberGhost VPN lets you choose from WireGuard, OpenVPN, and IKEv2 protocols for your apps. These are the most reliable and secure protocols in the industry. You can also customize your OpenVPN connection by selecting TCP or UDP mode, depending on your speed and stability preferences.
High-End Data Encryption: The provider encrypts your data with AES-256, a powerful algorithm that's widely used by governments, banks, and military organizations. This encryption is virtually unbreakable, as it would take billions of years to crack it with current technology. This is one of the reasons why, with CyberGhost, you can enjoy the Internet without fear of surveillance.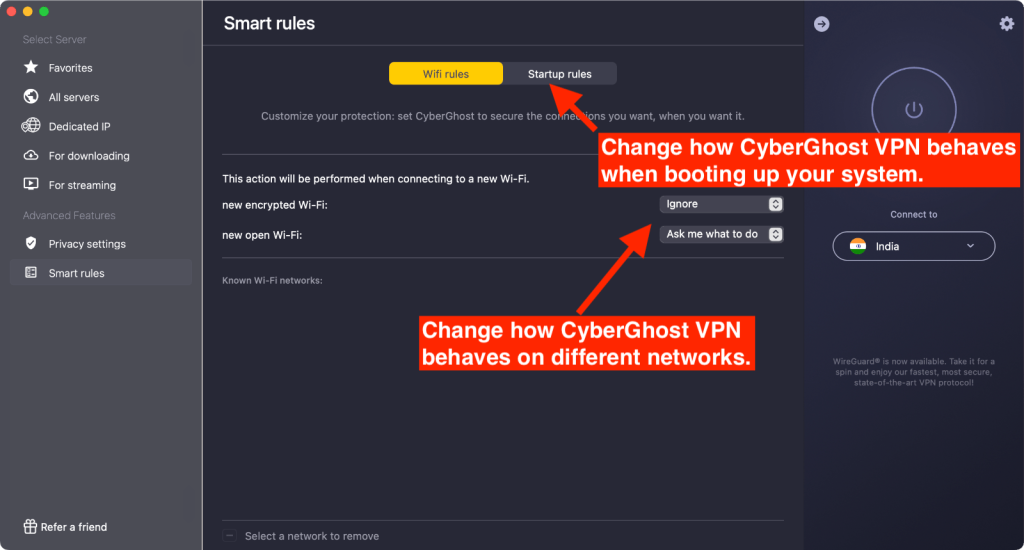 Exceptions: As mentioned earlier, this feature lets you exclude some apps and programs from its encryption. You can also use Smart Rules on Windows to customize your VPN tunneling by adding URLs of sites you don't want to use the VPN for. However, the Exceptions feature is only available on Windows and Android apps. On Android, it's called 'App Split Tunnel.'
Static/Dedicated IP Address: CyberGhost lets you add a highly secure dedicated IP to your subscription for an extra fee. This feature gives you a unique IP address that only you can use. You can choose a static IP from the US, Germany, France, the UK, or Canada and access websites and services that block VPNs with this feature.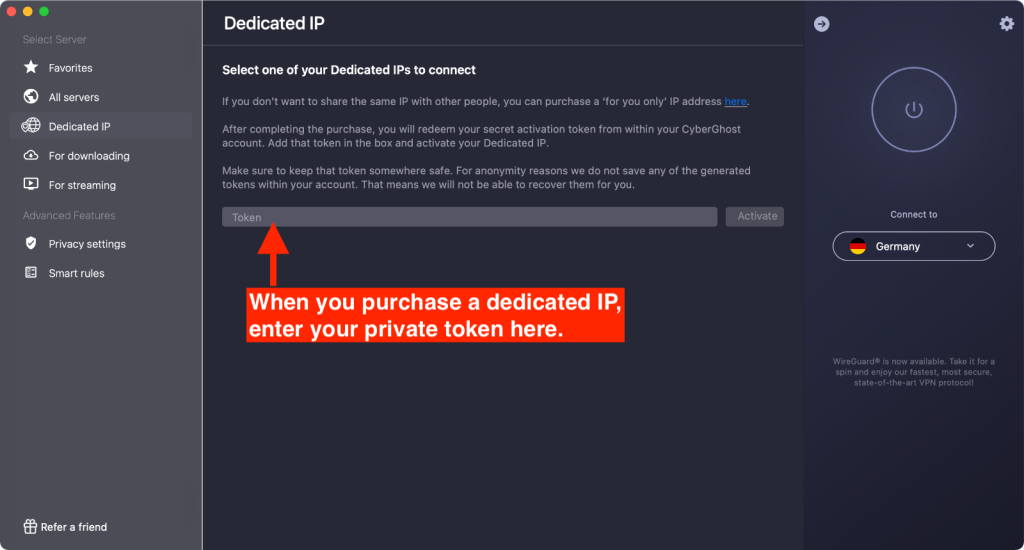 App Rules: This feature lets you choose which apps will trigger CyberGhost to connect automatically. This way, you don't have to worry about forgetting to turn on your VPN when you use sensitive or restricted apps. With this feature, you can add any app and enjoy a seamless and secure online experience.
Server Count & Infrastructure
CyberGhost brings more than 9,500 servers across 90+ countries. That truly is a massive server network (as well as one of the biggest right now). Our Score: 10/10
Ideally, you'll want a VPN provider with plenty of servers across the entire planet. And if you want to unblock websites, having the ability to pick specific locations is a huge benefit.
| | |
| --- | --- |
| Number of Servers | 9,500+ |
| Number of Locations | 110+ |
| Number of Countries | 90+ |
| Specific Cities Selection | YES |
| Unlimited Switching | YES |
When it comes to VPNs with the most servers, CyberGhost VPN stands out for its commitment to an extensive server network, putting it in the same league as renowned providers like ExpressVPN and NordVPN.
Currently, CyberGhost doesn't have obfuscated servers. But we have to mention another feature, the exclusive and premium NoSpy Servers, which are only accessible to CyberGhost's internal staff. Essentially, NoSpy Servers are the VPN's most secure option due to their in-house nature and company-owned hardware.
This VPN also offers servers in various countries worldwide, letting you know which one to use based on the intended purpose. You'll also see the "occupancy" of CyberGhost servers before you connect, so you can try to find a fast-performing one.
We also need to praise CyberGhost's dedication to expanding its server network. We are more than sure those efforts will continue in the future as well, which could be a good reason to invest in one of its long-term subscription plans.
Does CyberGhost VPN Use Virtual Server Locations?
Yes, CyberGhost VPN comes with a sizeable list of virtual server locations. Once you connect to a virtual server, your traffic won't flow through the country you've selected in CyberGhost's interface. Instead, it will flow through a virtual server with your traffic being assigned an IP from the 'end' country.
Being a transparent VPN, CyberGhost doesn't hide the fact that it's using virtual servers. And the fact is that your personal data remains safe, nonetheless. However, it's always good to know which CyberGhost server locations are virtual, which you can check just below.
| | | | |
| --- | --- | --- | --- |
| Algiers, Algeria (via Madrid, Spain) | Zagreb, Croatia (via Budapest, Hungary) | Macau, Macau (via Singapore) | Doha, Qatar (via Dubai, UAE) |
| Andorra, Andorra (via Madrid, Spain) | Nicosia, Cyprus (via Bucharest, Romania) | Kuala Lumpur, Malaysia (via Singapore) | Moscow, Russia (via Stockholm, Sweden) |
| Buenos Aires, Argentina (via Miami, USA) | Cairo, Egypt (via Bucharest, Romania) | Valletta, Malta (via Milano, Italy) | Riyadh, Saudi Arabia (via Dubai, UAE) |
| Yerevan, Armenia (via Sofia, Bulgaria) | Tbilisi, Georgia (via Sofia, Bulgaria) | Mexico City, Mexico (via Miami, USA) | Seoul, South Korea (via Tokyo, Japan) |
| Nassau, Bahamas (via Miami, USA) | Nuuk, Greenland (via Montreal, Canada) | Monaco, Monaco (via Milano, Italy) | Colombo, Sri Lanka (via Singapore) |
| Dhaka, Bangladesh (via Singapore) | Mumbai, India (via Singapore) | Ulaanbaatar, Mongolia (via Tokyo, Japan) | Taipei, Taiwan (via Tokyo, Japan) |
| Minsk, Belarus (via Vilnius, Lithuania) | Jakarta, Indonesia (via Singapore) | Podgorica, Montenegro (via Belgrade, Serbia) | Bangkok, Thailand (via Singapore) |
| São Paulo, Brazil (via Miami, USA) | Tehran, Iran (via Dubai, UAE) | Rabat, Morocco (via Madrid, Spain) | Istanbul, Turkey (via Bucharest, Romania) |
| Phnom Penh, Cambodia (via Singapore) | Douglas, Isle of Man (via Dublin, Ireland) | Lagos, Nigeria (via Madrid, Spain) | Caracas, Venezuela (via New York, USA) |
| Santiago, Chile (via Miami, USA) | Rome, Italy (via Milano, Italy) | Karachi, Pakistan (via Singapore) | Hanoi, Vietnam (via Singapore) |
| Shenzhen, China (via Singapore) | Astana, Kazakhstan (via Sofia, Bulgaria) | Panama City, Panama (via Los Angeles, USA) | |
| Bogota, Colombia (via Miami, USA) | Vaduz, Liechtenstein (via Zurich, Switzerland) | Manila, Philippines (via Singapore/Tokyo, Japan) | |
| San Jose, Costa Rica (via Miami, USA) | Luxembourg, Luxembourg (via Amsterdam, Netherlands) | Lisbon, Portugal (via Madrid, Spain) | |
UI/UX Design & Ease of Use
CyberGhost comes with a modern UI that looks very polished on desktop and mobile devices. However, its extensions are nothing more than overly simple proxies. Our Score: 8/10
In this segment, we'll talk about CyberGhost's interface on both desktop and mobile platforms. And also, we'll check this VPN's Web browser extensions. So, make sure to keep on reading our CyberGhost VPN review.
How Well Does CyberGhost VPN Work on Desktop Platforms?
CyberGhost VPN can be as simple or as complex as you need it to be. It starts with a simple UI that resembles something you expect to see on a smartphone. However, if you click on a small, gray-colored button on the left side, the CyberGhost app transforms into a fully-featured application.
On the left side of the interface, you'll see different sets of servers. You can check out your favorites, review all the available servers, or check those that are specialized for downloading and streaming. Finally, we have two new options that we discussed in one of the previous segments – 'Privacy Settings' and 'Smart Rules.'
You'll find a cogwheel icon in the top-right corner that takes you to the application's settings. It is also where you'll find customer support resources, which are links leading to the VPN's site.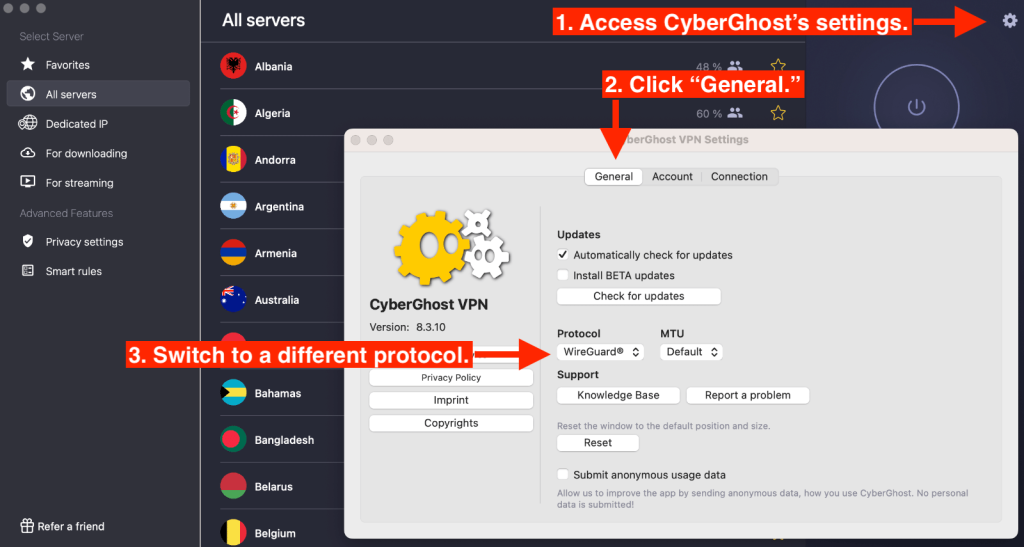 The Settings panel is comprised of three tabs: General, Account, and Connection. The 'General' tab lets you enable CyberGhost to automatically start on system startup. You can also check for updates and open the application's support resources.
How Well Does CyberGhost VPN Work on Mobile Platforms?
As mentioned throughout this CyberGhost VPN review, there are certain differences between the apps offered by this VPN. And even though all those apps feel the same, there are certain details that make each of those apps a unique piece of software.
There are similarities also in the way you connect to servers. Tap on the button labeled 'Best Location,' and the CyberGhost app will show all its servers. This is where you can review the VPN's servers, filter them by their roles, and more. This interface is the same on iOS and Android.
To dive deeper on iOS, you can tap on the cogwheel icon in the top-left corner. This will reveal a limited list of options. You get to enable CyberGhost's 'Wi-Fi Auto-Protect' feature, switch to a different protocol, and choose how CyberGhost behaves on new and known Wi-Fi networks. There's also an option to use a dedicated IP by using your token.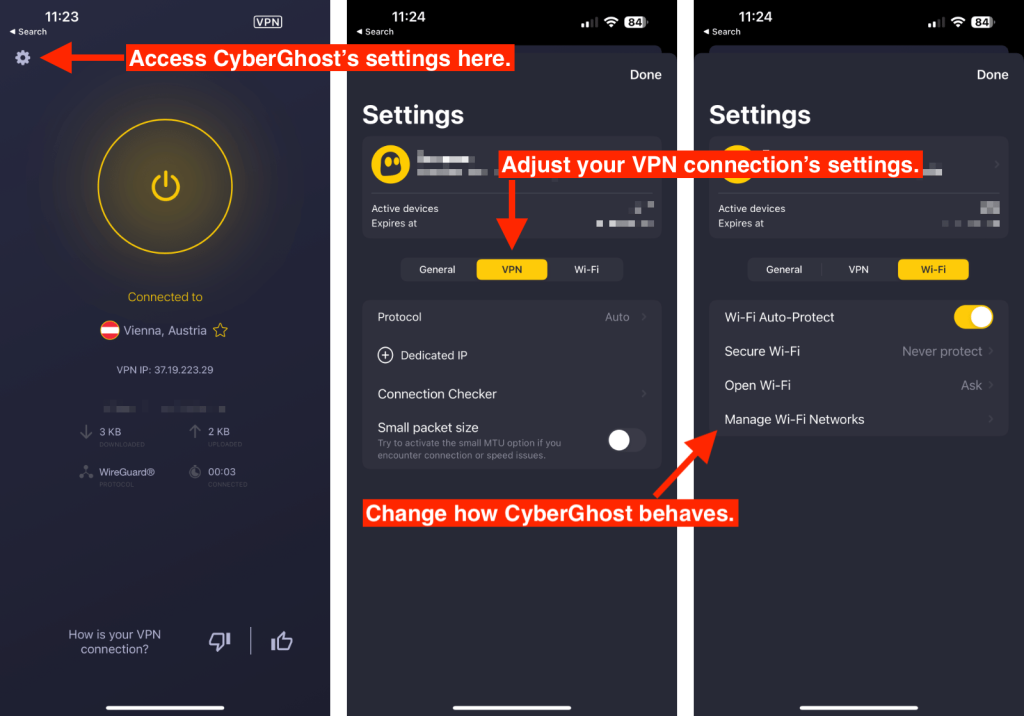 On Android, CyberGhost VPN comes with a whole host of settings and tweaks. Tap on the cogwheel button in the top-left corner, and you'll get to set up split-tunneling, use the VPN's 'Wi-Fi Protection' feature, switch to a different protocol, view your account and current plan, as well as enable additional options.
Speaking of those additional options on Android, you can enable domain fronting and data compression. This is where you can enable CyberGhost's ad-blocker and protection against online tracking. So, there's truly plenty to fine-tune.
Even though the iOS app seems more polished in terms of its appearance and performance, the Android app is more powerful in terms of VPN-related features. The same also applies when comparing CyberGhost's Windows and macOS apps, where Windows users come out on top.
How Well Do CyberGhost's Web Browser Extensions Work?
CyberGhost's Web browser extensions indeed work, but we don't find a compelling reason for subscribers to use these extensions.
Its browser extensions, including the CyberGhost extension for Chrome, act as advertisements for the VPN. The VPN also offers Web browser extensions for Firefox. Both of those come free of charge, and you don't need to be a subscriber to use them.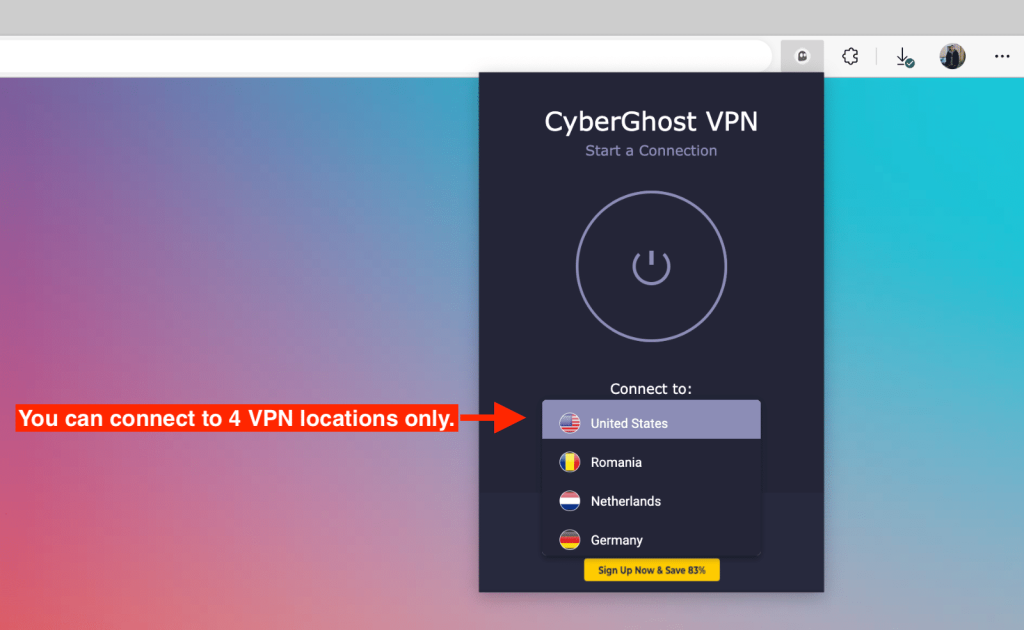 As you can see from the screenshot above, users of CyberGhost app extensions will be forced to look at a prominent advertisement at the bottom of its interface. Also, you get to connect to servers in four countries (the Netherlands, Romania, Germany, and the United States).
There are no settings you can tweak, and there's even no option to log in to your account. And on top of that, these Web browser extensions are proxies only. Therefore, you won't get the full protection that CyberGhost's desktop app brings.
Overall, we don't see a reason to use a CyberGhost extension. It acts as an advertisement for the VPN's full range of capabilities. However, it doesn't even do a decent job of letting you tap into this VPN's true power.
Media Streaming, Torrenting, and Gaming Support
CyberGhost VPN has a history of unblocking media streaming websites. It fully supports P2P traffic via specialized servers, and there are even gaming-ready servers. Our Score: 10/10
If you're looking for a VPN that can handle your media streaming, torrenting, and gaming needs, CyberGhost VPN might be the one for you. Let's see how CyberGhost performs in these areas.
Is CyberGhost VPN Good for Streaming?
Yes, CyberGhost VPN is one of the best streaming VPN services. We're happy to say that if you need a VPN to unblock websites, this provider won't disappoint you. We've tested it with several popular media streaming services, and here are our findings.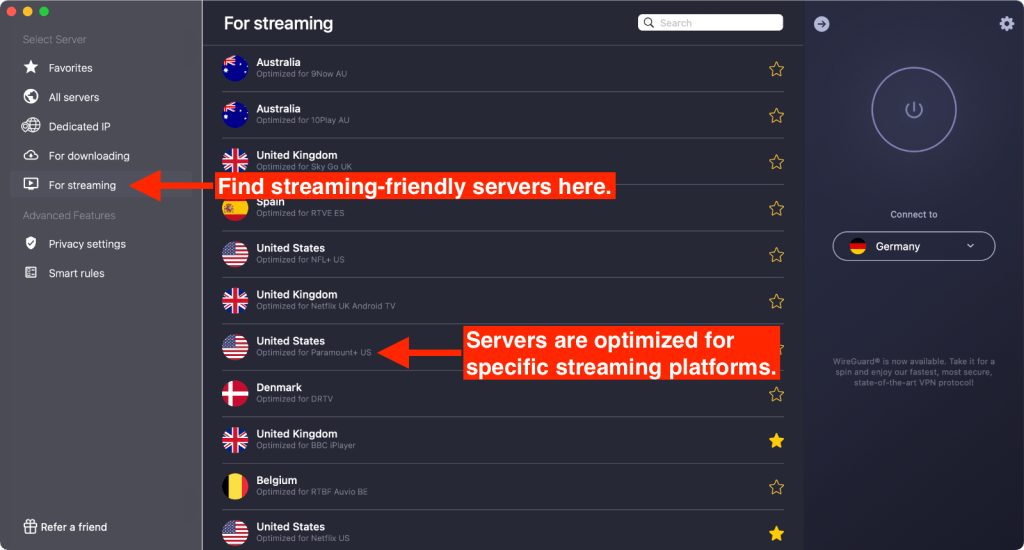 It unblocks Netflix, as well as many of the other popular streaming services. Speaking of Netflix, you can access its regional versions in the following countries as well: the United States, Germany, Japan, the United Kingdom, Canada, Turkey, Spain, Brazil, France, Italy, Australia, and South Korea.
Here are some of the other notable US-based streaming platforms this VPN unblocks.
| | | |
| --- | --- | --- |
| Netflix | Disney+ | HBO Max |
| Hulu | YouTube TV | Paramount+ |
| Apple TV+ | ESPN+ | Amazon Prime Video |
| Sling TV | Fubo TV | DirecTV |
| Pandora | Spotify | Crunchyroll |
To find the server that unblocks the US version of services, make sure to select 'For Streaming' on the VPN's home screen. This will open a list of servers for all kinds of streaming platforms. For example, you'll find three servers optimized for accessing Netflix US.
When it comes to streaming services outside the US, CyberGhost works with the following:
| | | |
| --- | --- | --- |
| BBC iPlayer (UK) | CBC (Canada) | RaiPlay (Italy) |
| 9NOW Live (Australia) | RTE (Spain) | GloboPlay (Brazil) |
| 7TV (Russia) | ORF (Austria) | Zattoo (Germany) |
All in all, CyberGhost VPN is a great choice for streaming lovers. It offers fast speeds, reliable connections, and a wide range of servers for streaming.
Is CyberGhost VPN Good for Torrenting?
Yes, CyberGhost for torrenting is good enough. You can use any server if you want to download files, including P2P files. However, for large files, you'll have to connect to a nearby server. Of course, some servers are better for downloading than others, and you can find these optimized servers under the 'For Downloading' menu.
The closer the server, the faster the download speed. CyberGhost has thousands of servers around the world, so you can easily find the best one. For more information, read our article about CyberGhost VPN for torrenting. If you want more options, check out our best torrenting VPN article.
Is CyberGhost VPN Good for Gaming?
Yes, CyberGhost is a good gaming VPN. If you're a gamer, you might want to consider CyberGhost VPN for your gaming needs. There are several reasons why this VPN stands out from its competitors.
One of the main advantages of CyberGhost VPN is that it has thousands of servers all over the world. This gives you a lot of options to choose a server that suits your gaming preferences.
Another benefit of CyberGhost VPN is that it offers servers optimized for gaming. However, these are only available on Windows devices. If you use a different device, you can still enjoy a smooth gaming experience by avoiding connecting to distant servers. This way, you can prevent high ping values and lags that can ruin your gameplay.
Security & Privacy
CyberGhost doesn't collect any data and prevents all kinds of data leaks. Even though its privacy policy looks great, there's no independent audit to prove it. Our Score: 7.5/10
One of the most important, and in fact, the main reason people use VPNs is to stay secure online. CyberGhost VPN does an excellent job of keeping your Internet activity safe. So, let's examine the tool's security and privacy features in greater detail.
CyberGhost VPN Protocols
First, we'll list all the VPN protocols natively supported by CyberGhost's apps for comparative purposes. So, check out the following table.
| | | | |
| --- | --- | --- | --- |
| | OpenVPN | IKEv2 | WireGuard |
| Windows | YES | YES | YES |
| macOS | NO | YES | YES |
| Linux | YES | NO | YES |
| Android | YES | NO | YES |
| iOS | NO | YES | YES |
| Fire TV | YES | NO | YES |
OpenVPN: CyberGhost VPN relies on the OpenVPN protocol heavily - and we're happy to see that. It's a capable protocol that brings smooth performance, simplifies switching between servers, and unblocks restricted content. By default, OpenVPN is available on Windows, Android, Linux, and Fire TV. However, it isn't available on macOS and iOS natively. But if you want, you can still use it on other platforms through manual configuration.
IKEv2: When connecting to a nearby server (located in your country, for example), it's recommended to use the IKEv2 protocol. In turn, this should bring you the fastest possible performance - while also making sure your personal data never leaves CyberGhost's tunnel. By default, IKEv2 is available on Windows, macOS, and iOS.
WireGuard: This is a recently developed VPN protocol that shows a lot of promise. It's faster than OpenVPN while providing the same (if not better) security and privacy level. CyberGhost VPN has been aggressively pursuing this protocol during the last year, making it available across several devices. By default, WireGuard is available on Windows, macOS, Android, iOS, Linux, and Fire TV.
Does CyberGhost VPN Keep Logs?
No, CyberGhost VPN doesn't keep logs. More precisely, we're talking about data that could be linked to your VPN account - nowhere to be found on CyberGhost's servers.
However, you should know that some information is stored. For example, your email address and VPN account password are needed for you to log in. CyberGhost VPN also collects some cookies as you browse its site. Nonetheless, this is nothing unusual.
We strongly believe CyberGhost's servers will keep you protected and anonymous. Also, if you need an even higher level of privacy, that's where the VPN's 'NoSPY' servers come into play.
'NoSPY' servers, which come with super-high premium hardware, promise better speeds, operate independently, and are designed to respect your privacy in the best way possible. However, you must pay extra to access those - $4.99/month (billed yearly).
Lastly, this VPN has been audited just recently by Deloitte, hired to check the VPN's server network and management systems. So, you can rest assured that CyberGhost won't collect or expose your sensitive information.
Does CyberGhost VPN Leak/Expose Your Personal Data?
No, CyberGhost VPN doesn't leak your personal data. To test the strength of CyberGhost's tunnel, we've used a server located in the United States. Then, we tested our Web connection for all kinds of data leaks, including IP and DNS leaks.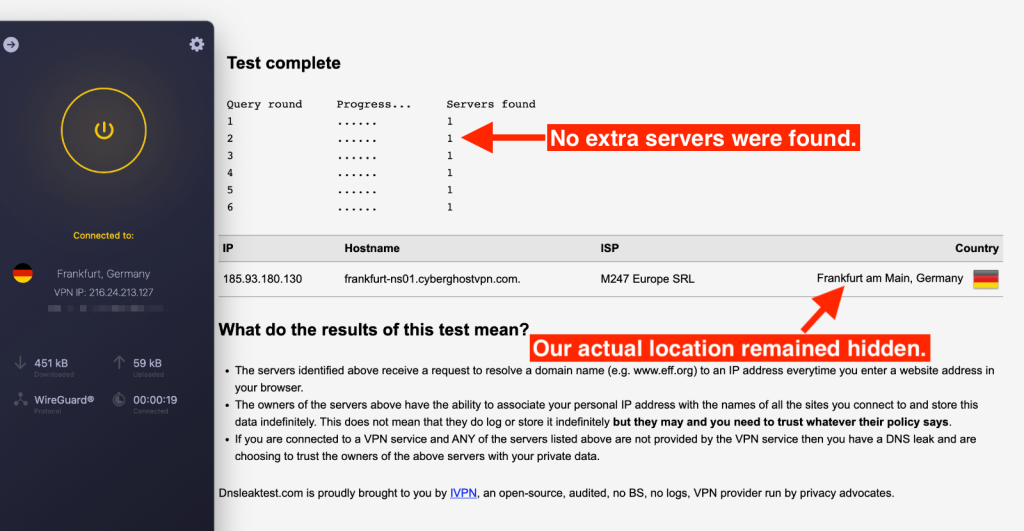 As you can see, our true location remains undetected. This means third parties only see what CyberGhost VPN shows them. That would be our virtual IP address and our virtual geo-location data, and on top of that - no DNS leaks were discovered.
With that said, we conclude that CyberGhost's tunnel is truly a capable one. In other words, you can be sure that your confidential data won't be exposed online.
Speed & Performance
CyberGhost's performance is truly impressive. It employs fast and reliable servers that deliver outstanding results for both local and remote connections. We experienced a 22% average decrease in speeds with the VPN enabled. Our Score: 8/10
In this section of our CyberGhost VPN review, we'll dive into the VPN's performance. We thoroughly tested the service by connecting to servers across various locations, from the US to Australia. 
Before enabling CyberGhost VPN, we recorded our Internet connection's baseline stats of 104.74 Mbps for downloads and 113.66 Mbps for uploads. Due to the nature of encryption and security protocols, we observed a predictable drop in speeds once the VPN was activated.
Italy Server – In our testing, the Italian server in Milan had a minimal download speed decline of 8%, dropping to 96.59 Mbps. The upload speed saw a considerable reduction, however, dropping to 5.13 Mbps. That said, the download speed is more than sufficient for handling any online activities.
UK Server – The London server performed relatively well, with a download speed reduction of 19%. It achieved a download speed of 84.35 Mbps and an upload speed of 5.18 Mbps. As long as your baseline speeds are high, this is likely good enough to handle whatever you might want to do online, including streaming, torrenting, and more.
US Server – CyberGhost's New York server had a significant drop of 37%, achieving a download speed of 65.51 Mbps. On slower baseline connections, this high of a decline in speed could lead to insufficient performance for activities such as video streaming or gaming.
Canada Server – The Vancouver server performed well, achieving a download speed of 85.03 Mbps and an upload speed of 3.52 Mbps. The speed reduction of around 19% is acceptable for most online activities, although uploads may take considerably longer than preferred.
India Server – The Mumbai server had a significant speed decline of 25%, achieving a download speed of 78.24 Mbps and an upload speed of 6.73 Mbps. If users' baseline Internet connections are on the slower side, this could be an issue should they require fast speeds to stream or play games.
Australia Server – The Sydney server achieved a download speed of 77.44 Mbps and an upload speed of 5.37 Mbps, which is a reduction of around 26%. While this steep drop in speed is not unseen in the VPN world, it could still limit you from some activities that require fast connections.
| | | | |
| --- | --- | --- | --- |
| | Download Speed | Upload Speed | Speed Reduction |
| Baseline  | 104.74 Mbps | 113.66 Mbps | 0% |
| Italy (Milan) | 96.59 Mbps | 5.13 Mbps | 8% |
| UK (London) | 84.35 Mbps | 5.18 Mbps | 19% |
| US (New York) | 65.51 Mbps | 2.42 Mbps | 37% |
| Canada (Vancouver) | 85.03 Mbps | 3.52 Mbps | 19% |
| India (Mumbai) | 78.24 Mbps | 6.73 Mbps | 25% |
| Australia (Sydney) | 77.44 Mbps | 5.37 Mbps | 26% |
Overall, CyberGhost VPN offers average speed reductions of 22%, which is in line with the fastest VPNs. As expected, we saw the largest declines in speed with the most distant servers, which is why connecting to servers closest to you is always recommended for the best performance.
It's important to note that all VPNs will slow down your Internet connection to some degree. As long as you start with high baseline speeds, you'll be able to stream, play games, download torrents, and browse without restrictions. As a bonus, CyberGhost has specialized servers for streaming media and downloading files that offer even better performance. 
Customer Support
CyberGhost VPN has a particularly useful and highly responsive customer service system. Kudos to their customer support staff! Our Score: 10/10
When selecting a VPN, customer service is key. You wouldn't want to deal with problematic software without support. Here's what you can expect from CyberGhost's customer support.
Live Chat: The 24/7 live chat feature is quite helpful should you wish to obtain quick answers to your queries. We contacted their support via chat to check their response times and were amazed by their quick responses.
Troubleshooting Support: This support covers various common issues, such as connection problems, installation difficulties, streaming issues, and more. The content is presented in a step-by-step format, making it easy for readers to follow along and implement the suggested solutions.
Guides: You can rely on this support feature, which offer a wealth of comprehensive guides for tasks like installing and configuring CyberGhost VPN. It ensures that you'll consistently find the assistance you need when faced with any issues.
FAQs: CyberGhost VPN's FAQs are a user-friendly resource covering a wide range of topics, from setup to advanced security. It provides clear and concise answers, making sure that they're easy to understand for users of all technical levels.
Email: If you have any further inquiries or concerns, the support team can also assist you through email. This type of support is for those looking for personalized assistance. Also, it's good to know that the support team is proficient in English, French, German, and Romanian languages.
Privacy Hub: CyberGhost is also dedicated to educating its subscribers via this support feature. This is where you'll find an array of helpful articles aimed at covering the latest privacy- and VPN-related news, product announcements, and plenty more.
Pricing
CyberGhost's monthly plan is a bit expensive when compared to its direct competitors. Still, its long-term plans offer significant savings. Our Score: 9/10
This VPN comes with a complete range of subscription plans. They all offer the same set of features. The only difference is in their duration - which means long-term plans promise to bring the biggest savings. Take a look.
How Much Is CyberGhost VPN?
CyberGhost VPN is an affordable service that starts at only $2.19/month. Moreover, it offers different pricing plans to suit various needs and budgets.
To compare the plans more effectively, we need to look beyond the price and examine the features and benefits of each option. So let's explore what each plan offers and how it can suit your needs below.
1-Month Plan: This plan is a great option if you want to test CyberGhost VPN for a short time. Here, you get unlimited access to all its premium features, such as strong encryption, bandwidth, and a strict no-logs policy. You can also secure up to 7 devices at the same time and browse the Web with privacy and freedom. The 1-month plan is $12.99 per month and comes along with a 14-day money-back guarantee if you're not satisfied.
6-Month Plan: With the 6-month plan, you can enjoy CyberGhost VPN at a lower cost and with more value. Compared to the 1-month plan, you can save 46% and pay only $6.99 per month while getting access to all its premium features. This one is billed at $41.94 every 6 months and has a 45-day money-back guarantee.
2-Year Plan (+2 Free Months): This one is the best option for long-term users. With this plan, you save 83% on the monthly fee compared to the 1-month plan. You only pay $2.19 per month and get 2 extra months for free. That's 26 months of total protection for $56.94 for the first 2 years. You can enjoy all the features and benefits of the service, along with a 45-day money-back guarantee, which comes in handy if you change your mind.
 Let's take a look at the table below for more details.
CyberGhost VPN also supports numerous payment methods. You can use your credit card (Visa, MasterCard, and American Express) as well as your PayPal account. In case you'd like to pay anonymously, CyberGhost accepts Bitcoin.
Is CyberGhost VPN Free?
No, CyberGhost VPN isn't a free service, but you can still try it out for free with some available options before committing to a paid plan. Here are the options and how they work. 
For Windows and macOS users, CyberGhost VPN offers a 24-hour free trial. You can download and install the app on your computer and enjoy all the servers, features, and settings of the paid version for a full day. You don't need an account or payment information to start the trial.
For Android and iOS users, this VPN has a longer free trial. You can get a 3-day trial on Android by downloading the app from the Google Play Store and signing up with your email. Similarly, you can get a 7-day trial on iOS by downloading the app from the App Store and creating an account with your Apple ID. In both cases, you'll need to enter your payment details, but you won't be charged until the trial ends.
For all its subscription plans, it has a 45-day money-back guarantee. To get a refund, just contact the customer support team via live chat or email and tell them why you want to cancel. The refund process is easy and fast.
This VPN gives you many chances to test its service and see if it suits you. Use our detailed guide on the CyberGhost VPN free trial for additional information on how to access it across multiple devices.
CyberGhost VPN Comparison with Other VPN Providers
While CyberGhost VPN offers excellent features and performance, it's essential to understand how it stacks up against its competitors. To provide you with an idea, we'll compare CyberGhost VPN to ExpressVPN, another top-tier VPN service.
ExpressVPN vs. CyberGhost VPN: Both of these VPN providers are strong choices. CyberGhost VPN has extras like ad-blocking and dedicated IPs, plus more servers than ExpressVPN. However, ExpressVPN is quite fast, while CyberGhost can be slower for long-distance connections. In terms of affordability, CyberGhost VPN is the better choice, especially for long-term plans. But if you prioritize top-notch performance and are willing to invest more, ExpressVPN is the ultimate option.
Final Thoughts - Is CyberGhost a Good VPN?
Yes, Cyberghost is a great VPN. There's plenty to love about its service, and we can see why it's so popular among VPN users. We were impressed with its powerful media streaming capabilities, and we were able to torrent files without any limitations.
It has native apps for all popular devices and works well with major streaming platforms, like Netflix, Prime Video, Disney+, Hulu, and BBC iPlayer. We didn't notice any DNS or IP leaks during our tests and were completely satisfied with its commitment to privacy and security. 
However, we have to note that CyberGhost's features aren't uniform across all devices. For example, the iOS version doesn't have an ad-blocker, split tunneling, or malware protection. CyberGhost VPN is also one of the few providers that offers dedicated gaming servers, but we felt somewhat restricted by their limited availability.
The inconsistency in features across different devices and platforms isn't a deal breaker though, and it won't stop us from recommending CyberGhost VPN. And when you consider the no-questions-asked refund policy, you only have to make a risk-free decision.
PROS
Capable set of VPN features.
Works on practically any device.
Incredibly large server fleet.
Specialized servers on offer.
Impressive performance.
Very affordable (in the long term).
45-day money-back guarantees.
Free trial available.
24/7-available live chat support.
CONS
High-end features priced extra.
Not the fastest option available.
Big differences between individual apps.
No port forwarding.
No obfuscated servers.
FAQ
What Is CyberGhost?
CyberGhost is a premium VPN that protects your data and digital identity using advanced encryption features and security protocols. It also offers several additional features, such as dedicated IP addresses and antivirus protection.
Who Owns CyberGhost VPN?
CyberGhost VPN is owned by Kape Technologies. It's a UK-based cybersecurity company that owns a variety of digital security products, including ExpressVPN, PIA, and more.
Is CyberGhost Legit?
Yes, CyberGhost is legit. It has a strong track record for security and reliability, making it a reputable choice for VPN services.
What Is Cyber Ghost VPN Used For?
CyberGhost VPN is used to enhance online security and privacy. It encrypts your Internet connection, shielding your data from potential threats and allowing you to browse the Web anonymously. This makes it a valuable tool for safeguarding your online activities and accessing geo-restricted content.
Does CyberGhost VPN Work in China?
No, CyberGhost VPN doesn't work in China. Even though it offers virtual servers in this country, Internet users in China can't rely on CyberGhost to unblock websites in their country.
If you need a reliable VPN for use in China, we highly recommend ExpressVPN. Also, feel free to check our guide to the best VPN for China.
Does CyberGhost VPN Allow P2P?
Yes, CyberGhost VPN does allow P2P traffic through specialized servers. This ensures secure and efficient peer-to-peer file sharing.
Does CyberGhost VPN Work with Netflix?
Yes, CyberGhost VPN works with Netflix. It's a reliable choice for streaming your favorite shows and movies on Netflix from different regions.
Does CyberGhost VPN Work with uTorrent?
Yes, CyberGhost VPN works seamlessly with uTorrent. CyberGhost offers optimized servers designed for torrenting, ensuring you get the fast speeds you require.