VPN solutions have become incredibly popular in the last few years, which translates to fierce competition among VPN providers. Following the Net Neutrality controversy and Facebook's Cambridge Analytica scandal, we've seen a massive increase in VPN usage across the entire world. So, when you set out to find a VPN provider, you'll see many options. And among those, CyberGhost deserves a special place. Being present on the market for 7 years now, it managed to expand its reach and adopt new technologies. And just recently, it went through a major overhaul that brought numerous new features. So, welcome to our CyberGhost review!
First, we would like to present some basic information about this VPN provider. The following table contains a set of crucial specifications and could be a good way to compare CyberGhost to other options on the market.
| Criteria | Details |
| --- | --- |
| Features | Unlimited bandwidth and traffic; Hides your real IP; Highest encryption level; Anti-fingerprinting; Wi-Fi protection; No logs. |
| Number of Servers | 3,028 servers spread across 59 countries. |
| Logging Policy | Strict no-logs policy. |
| Encryption Standards | Up to 256-bit AES, OpenVPN, L2TP, IKEv2. |
| Privacy | Strong protection against DNS and IP leaks. |
| Speed | Speed reduction by up to around 40%. |
| Device Support | Windows, MacOS, iOS, Android, Android TV, Amazon Fire, Linux. |
| Parallel Connections | Up to 7 devices (connections) at the same time. |
| Price | $11.99 – per month; $4.99 – per 6 months; $2.75 – per 18 months. |
| Our Score | 9.5/10. |
| Visit | CyberGhost |
Next, we are going to show you how successfully CyberGhost can unblock media streaming websites. After all, we're sure that many of you want to watch Hulu abroad or unblock Netflix's US version. So, here are the results of our tests.
| Streaming Service | Result |
| --- | --- |
| Netflix | YES – Brings servers optimized for media streaming. |
| Hulu | YES – Brings servers located in the US specifically for Hulu. |
| Kodi | YES – You can use any server to secure Kodi streaming. |
And also, we understand that some of you are in a rush. So, if you don't have the time to read this entire article, let's jump to our conclusions. The following table will let you know about the biggest benefits and possible downsides of using CyberGhost. Take a look.
Criteria
Our Findings
Pros

Easy to install and very easy to use.
Plenty of advanced features including ad-blocking, anti-fingerprinting, kill-switch, and more.
Doesn't collect any of your personal data.
Offers more than 3,000 servers spread across the entire world.

Cons

Not the fastest performance out there.
Highly-priced monthly subscription.
And finally, we are ready to dive into the full review of CyberGhost. As you can see from the tables found above, this provider shows a lot of promise. So, we need to test its claims and capabilities to see how successfully it does its job.
CyberGhost VPN – TechNadu's In-Depth Review
First of all, you should know that we've tested the latest version of CyberGhost – version 7.0.5. This is a recently published version that is quite different from the previous ones. So, if you're reading other reviews as well, make sure they're all talking about the same thing. And also, we've tested CyberGhost on a Windows 10 PC using an ultra-fast broadband connection.
Supported Devices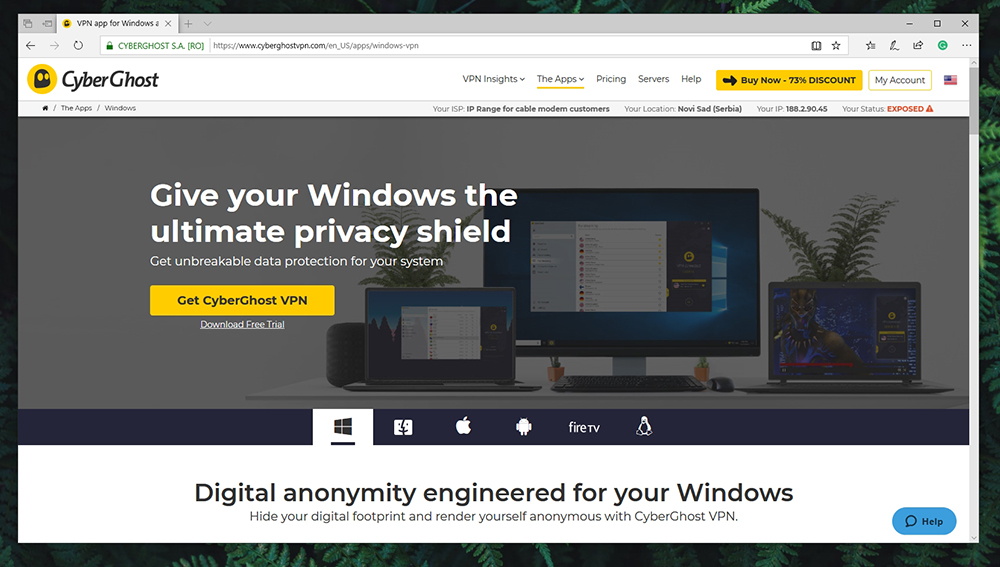 CyberGhost can be used across all popular desktop and mobile platforms, with the recent inclusion of Amazon's FireOS as well. Our Score: 10/10.
CyberGhost is present on all device platforms including desktop and mobile devices. You can use this VPN on Windows, iOS, Android (including Android TV), MacOS, Linux, and Amazon FireOS. And also, this VPN can be installed on a VPN-compatible router.
You don't need to be a tech wizard to use CyberGhost VPN. It supports and connects on almost all major and popular operating systems and devices. The use of the tool guarantees a complete solution that ensures an amazing online experience with an unprecedented level of freedom when browsing the Web on any of your handheld smart devices or on any of your laptops or computing devices with Unix/Linux systems or Windows installed.
CyberGhost VPN has been designed to permit access to 7 devices simultaneously. One can easily set up CyberGhost on their router to be able to connect other devices as well on the home network. The tool boasts unlimited bandwidth so you can browse the Internet without worrying about the limitations of bandwidth and running out of limits.
Installation & Setup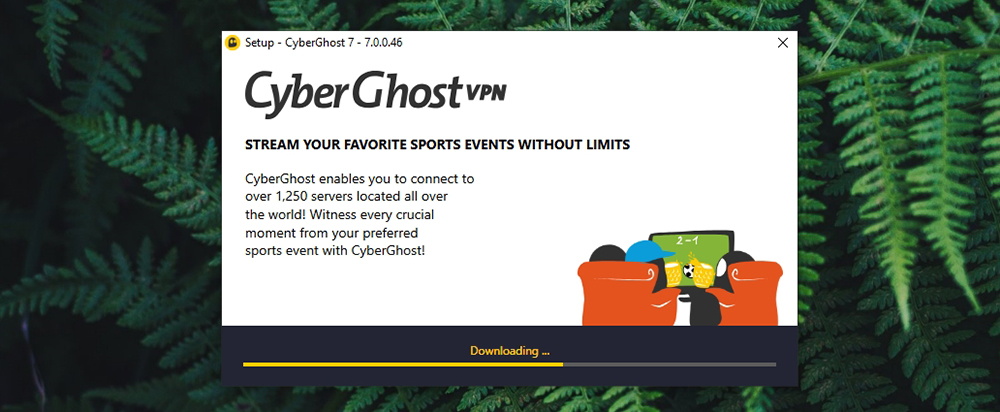 This VPN provider offers an easy and convenient way to install the software – with no distractions, whatsoever. Our Score: 10/10.
To get started with CyberGhost, you first need to visit its official website. This is where you'll be able to choose your subscription and then download the software to your device. The installation file is actually quite lightweight since the main components are downloaded during the installation. So, double-click on the installation file and go through the rest of the setup procedure.
What's important to note is that we didn't encounter any distractions or promotional offers during the installation. This means that there's no bundled software or any other annoyances. You get what you pay for, and that's CyberGhost itself. And finally, you should know that the entire installation process should not take more than a few minutes of your time – no matter what kind of device/platform you use.
Prominent Features
CyberGhost offers everything you hope to see – and it also brings in a few interesting extras. Our Score: 9.5/10.
First, you should know that this VPN provider covers the basics quite well. When you connect to a secure server, all your Web connection data becomes encrypted. You get a new IP address and there's a whole set of underlying technologies that keep you safe. For example, anti-fingerprinting technology protects information about your system from leaking. There's also a kill-switch designed to stop all Web data in case a secure connection drops, thus not leaking your data. And also, DNS and IP leak protection are there to give you an all-new virtual identity.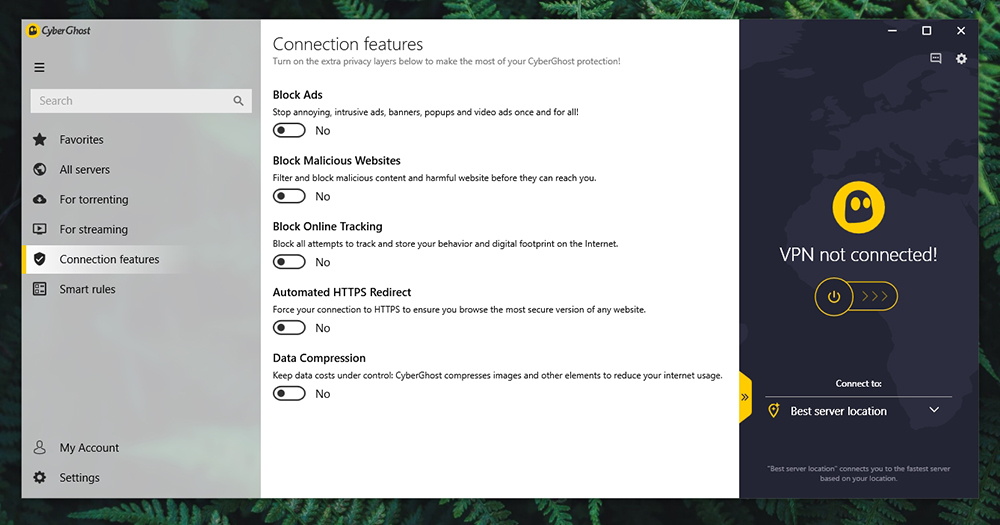 Now, the latest version of CyberGhost brings some welcome granular controls over your connection. Named 'Connection Features', you can find a set of ON/OFF switches to enhance your connection. For example, you can instruct CyberGhost to block ads and malicious websites, prevent online tracking, redirect you to HTTPS by default, and even compress data. Each of these tools brings a lot of value and this is what sets this VPN apart from the rest of the VPN pack.
And finally, let's not forget to mention a new feature called 'Smart Rules'. Using this option, you can instruct CyberGhost how to behave in certain situations. For example, what it should do when you connect to an encrypted or fully open Wi-Fi network. You can choose from four levels of protection, automating the way this VPN works.
Ease of Use
CyberGhost 7 comes with an all-new UI that looks very polished. It's easy to use and gives you complete control over your data. Our Score: 9.5/10.
The all-new CyberGhost (version 7) can be as simple or as complex as you need it to be. It starts out with a simple UI that resembles something we expect to see on a mobile device. However, if you click on a little yellow-colored button on the left side, CyberGhost transforms into a fully-featured application.
On the left side of the interface, we can see different sets of servers. We can check out favorites, review all of the available servers, or check those that are specialized for torrenting and streaming. Finally, we have two new options that we discussed in the previous segment – Connection Features, and Smart Rules. At the very bottom, you'll find your Settings – completely overhauled in comparison to the previous version.
The new Settings panel is now comprised of two tabs: General and Connection. The general tab lets you enable CyberGhost to automatically start on your system. You can also change between different languages or reset settings to default. Next, let's check out the Connection tab.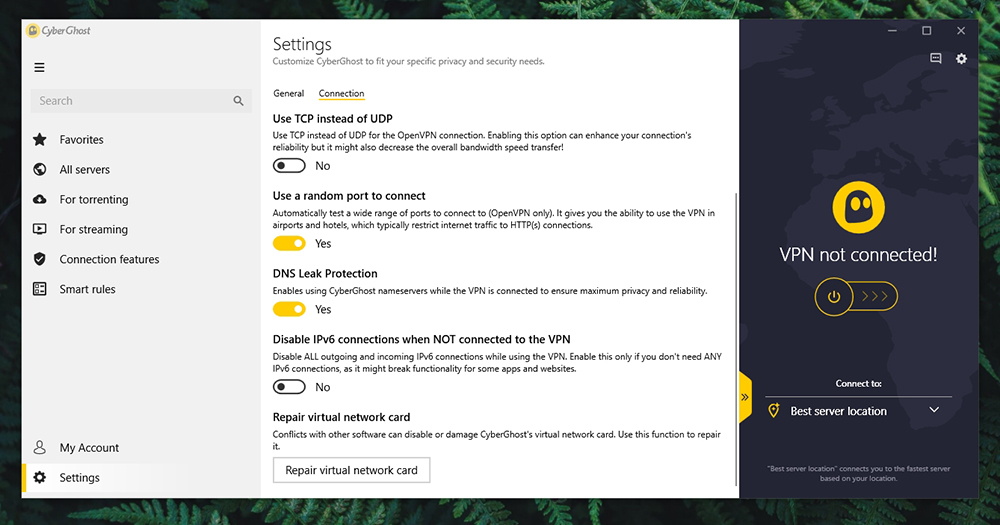 Using this tab, you can optimize the way CyberGhost operates. At the very top, you can choose from three different VPN protocols including OpenVPN, IKEv2, and L2TP. Then, you can use TCP over UDP if you use the OpenVPN protocol – which means that you'll get better protection but your Web connection speed might be throttled. Then, we have three more options. You can decide to use a random port each time you connect (highly recommended), enable or disable DNS leak protection (enabled by default), and disable IPv6 connection when not using CyberGhost.
And finally, let see how to actually use this application – which is quite simple as you're about to see. Here's how this process works:
Let's say that we want to access Hulu, which would require us to connect to a server located in the USA. So first, we launch the app and click on 'For Streaming' from the left-placed menu;
Then, we click on a server called 'United States – Optimized for Hulu';
On the right side on the UI; we can click to connect. CyberGhost will take a few moments to connect and you'll receive a notification once that happens;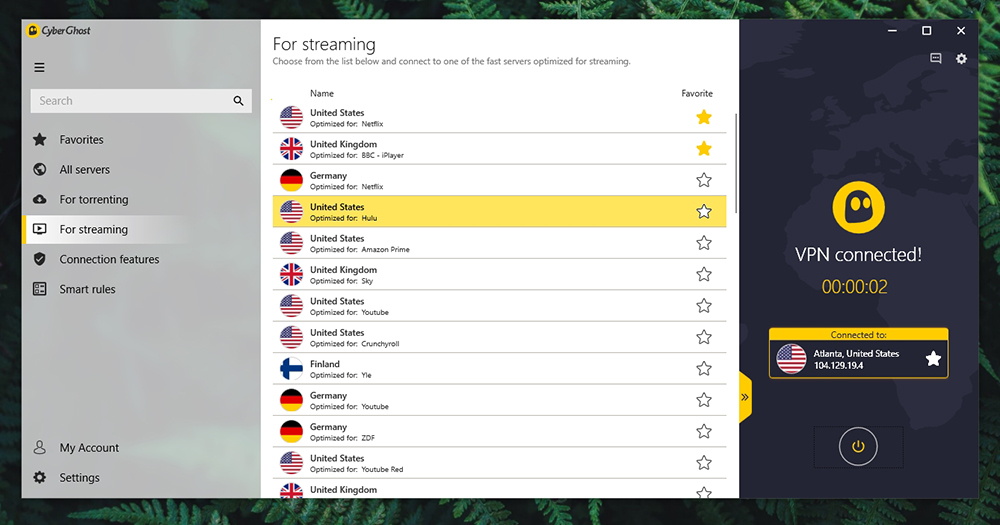 From here on, we are free to browse and stream Hulu. Once we no longer want to use the VPN, we switch the toggle to OFF. That's it!
Server Locations
CyberGhost brings more than 3,000 servers across 59 countries – therefore, it ranks quite high on our list. Our Score: 9.5/10.
By having more than 3,000 servers, you can be sure that you'll get to browse the Web from any content of the world. What's interesting about this provider is that it gives you a nice overview of which server to use. For example, you can check how many users are connected to a specific server, how far is it, and what's current load. Therefore, you can easily see what kind of performance to expect even before you secure your connection.
It's also worth noting that we've featured CyberGhost in our overview of VPNs with the highest server count. You'll find some providers offering 4,000 and even 5,000 servers but that doesn't necessarily translate into better performance.
Speed & Performance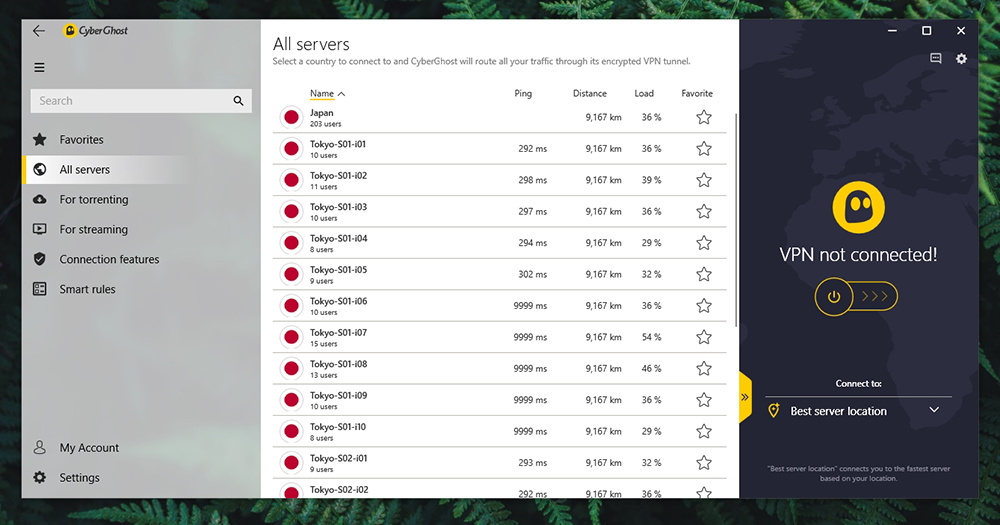 This isn't the fastest VPN out there. Therefore, users with fast Web connections will reap the biggest benefits. Our Score: 8/10.
When it comes to speed tests, VPNs are often notorious for dramatically reducing the network speed. All network traffic is routed through a usually distant VPN server, which is responsible for possible delays and throttling. Still, you need to know that there's plenty you can do to make VPNs faster.
However, with CyberGhost VPN, the results are not as gloomy, for, the VPN performs fairly well in the sped tests. It is important to note that speed tests depend on the network performance at the time of testing, which is highly fluctuating. It is therefore important to consider these test results in this light, and how they are indicative of the network performance at the time of testing.
That said, it's time to see the speed test results. We first tested the network with the VPN turned off to establish a baseline. This means that we first check the speed of our 'naked' Web connection.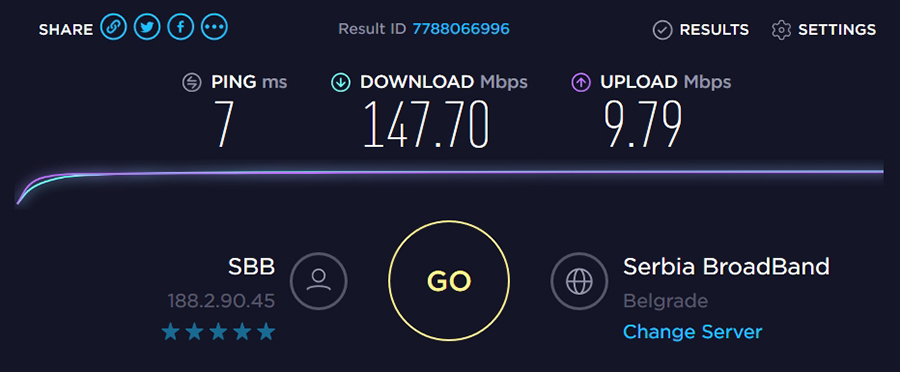 According to our ISP, we should get 150Mbps. The speed test tells us that we got 147.7Mbps which is very close to what's advertised. After all, it's nearly impossible to get the highest possible speed at all times.
Next, we have allowed CyberGhost to pick the most suitable server based on its own input. After a brief search for the best server, the application told us that there's a server in the country where we're located. So, we connected to that server and managed to get 83.14Mbps. This means that CyberGhost made our connection slower by 43%. Not the best result for sure, even though you can expect some throttling to happen with every VPN.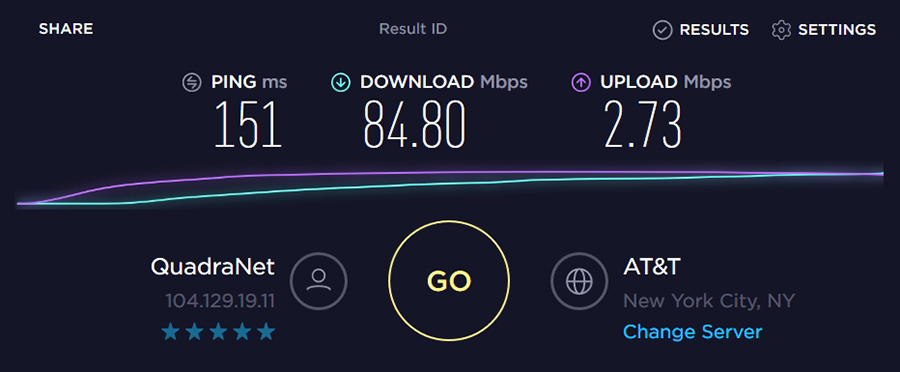 Then, we have decided to test a server found in the USA and that's also optimized for Netflix. The next test said that we got 84.8Mbps – which is a decrease of 42.5% over the naked speed. So, all in all, the tool performs decently. It does reduce the network speed, but if your Internet connection is fast enough, you will get to browse the Web and stream HD/4K media without any problems.
Security & Privacy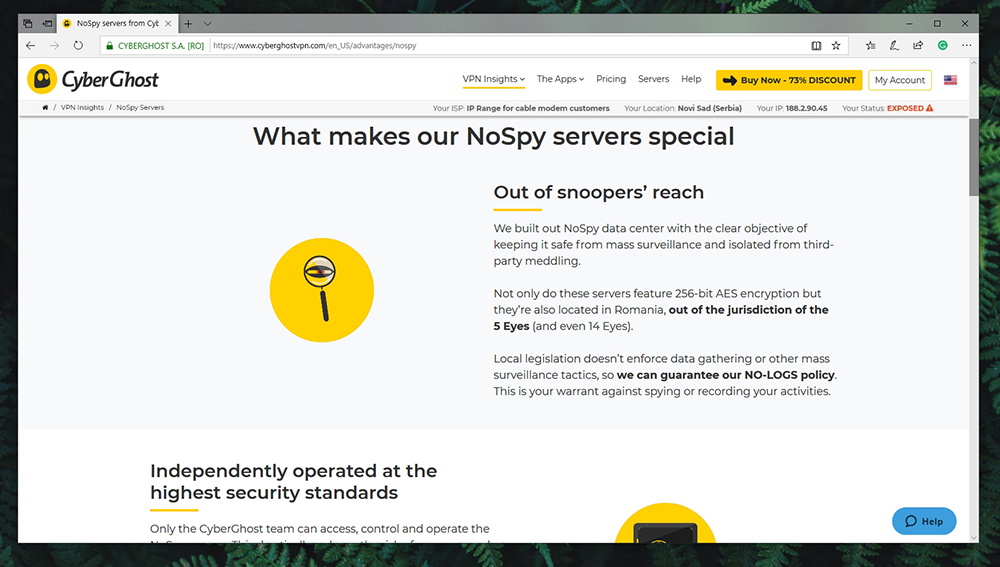 CyberGhost doesn't collect any data and prevents any leaks – and we completely agree with these statements. Our Score: 10/10.
One of the most important, and in fact, the main reason people use VPNs is to stay secure online, keeping their browsing activity private. CyberGhost VPN does a great job of keeping your Web activity secure. Let's examine the tool's security and privacy features in greater detail.
Encryption
The provider offers AES-256 encryption, which is said to be the strongest encryption mechanism. In addition, it utilizes highly secure VPN protocols where OpenVPN leads the pack. In simple terms, you can be sure that third-parties won't be able to read your data if they somehow get to it.
Logging
This provider offers so-called NoSpy servers. This means that the primary servers not only feature 256-bit AES encryption, they are also located in Romania. So, they are out of the jurisdiction of the 5 Eyes Alliance. On top of all of this, CyberGhost doesn't collect any your data – and it even can't tell what you're doing online. It's safe to say that your online activity will stay off your ISP's radar.
DNS Leaks
Just like with do with every VPN we test, we wanted to know if CyberGhost leaks DNS or IP details. So, we've used this application to secure our connection, and then we ran a DNS test. Not a single trace of our real identity was revealed online – which is the reason why we gave CyberGhost the highest possible rating in this segment.
Customer Service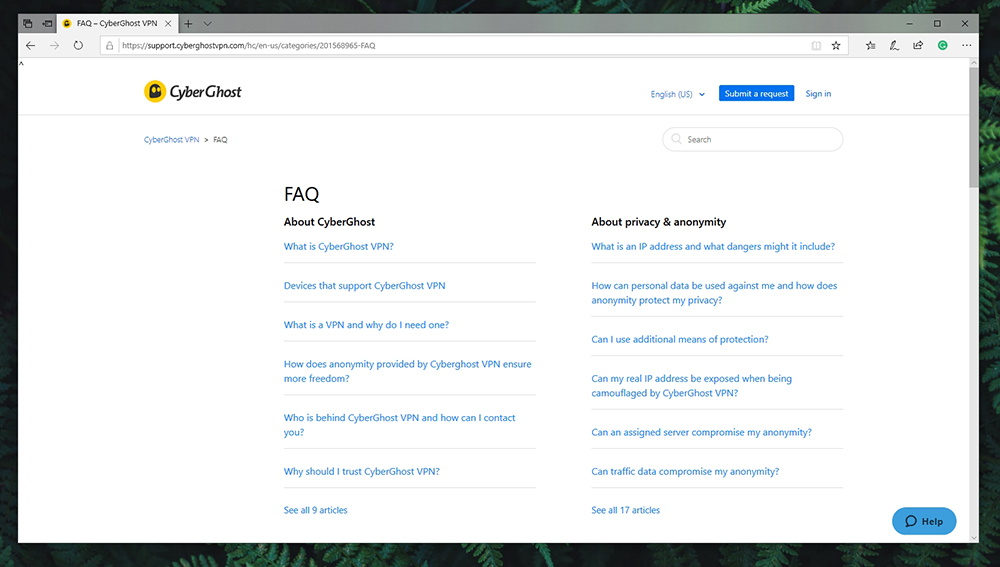 CyberGhost VPN has a great and highly responsive customer service. Kudos to their support staff! Our Score: 10/10.
Customer service is an essential aspect that you always need to consider when purchasing a VPN tool. After all, you wouldn't like to be stranded with a software that troubles you every once in a while, with no support channels or community to help you when you need it the most.
CyberGhost VPN has several support channels. There is even a live-chat functionality, which is useful should you wish to obtain quick answers to your queries. We contacted their support via chat to check their response times and were amazed by their quick responses. Also, you can count on a dedicated help center with plenty of guides and FAQs. All in all, you'll always get help if you encounter some roadblock.
Pricing
CyberGhost is a bit expensive when compared to some of its peers. However, its long-term plans offer big savings. Our Score: 9/10.
CyberGhost VPN is not the most pocket-friendly VPN tool out there. It is priced at the higher end of the VPN market, which might come as a disappointment to some. The following are the main plans the tool offers to subscribers.
It is also worth noting that CyberGhost frequently offers special deals and promotions, so it's wise to keep your eye on the official website of this VPN. However, investing in its long-term plans is always the best option.
The Bottom Line
There is plenty of love about this VPN provider. First and foremost, you can be 110% sure that none of your private data will ever leak online. Then, you can unblock media streaming websites and even download torrents without any limitations. The software is available on all major platforms and it comes with a brilliant user interface. What more could we ask for?
PROS: Very simple setup; Highly polished UI design; Present on all major platforms; Powered by advanced technologies; Great for streaming and torrenting; Granular controls.
CONS: Not the most impressive speeds.
FINAL VERDICT: 9.5 out of 10.
Buy CyberGhost Today!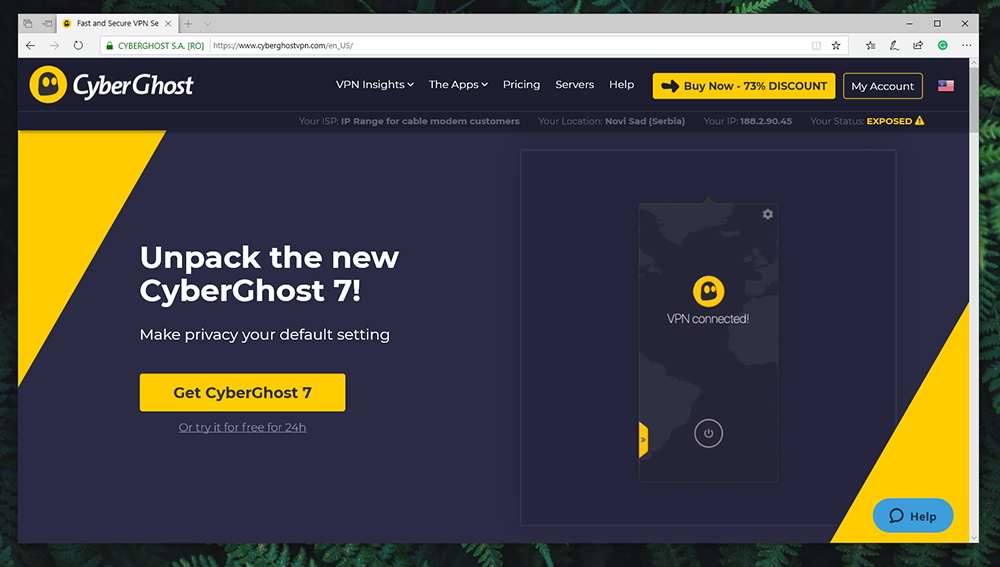 It's clear by now that CyberGhost is one of the best VPNs out there – especially if you seek a simple solution that's backed up by seriously advanced technology. Make sure you're safe online and prevent your personal information for leaking on the Web. Subscribe to CyberGhost today!
Final Thoughts
We sincerely hope that you've found our review of CyberGhost to be helpful. In case you have any questions of doubts, don't hesitate to post a comment below. We'll do our best to respond in a timely manner.
If you made it this far, why not share this article online? You can also follow us on Facebook and Twitter – so make sure to stay on top of the latest news. Thanks!