CyberGhost VPN takes a very high place on our list of the best VPN services. It's an excellent all-around service that offers all the basic and some advanced features at an affordable price. 
It's based in the privacy-friendly jurisdiction of Romania and offers more than 9,500 servers in 90+ countries and 115 locations. These include specialized servers optimized for different activities like streaming, gaming, and torrenting.
It has a strict no-logs policy, meaning it doesn't keep track of users' browsing activities, IP addresses, or other identifying information. CyberGhost also isn't in any of the "Eyes" alliances (Five Eyes, Nine Eyes, etc.), so it can't be forced to share user data with governments or intelligence agencies.
CyberGhost VPN uses industry-standard security features such as AES 256-bit encryption, leak protection, and a kill switch. Check out our report on what's new in CyberGhost VPN to see its latest updates and newest features. Users can now use a premium add-on that includes an antivirus and security updater to remove malware and optimize their systems. The VPN has also introduced an innovative token system that provides truly anonymous dedicated IP addresses.
To see how these features perform in real-world scenarios, we put them through a series of tests. But before we present our findings, here's an overview of the VPN's specs:
| | |
| --- | --- |
| Jurisdiction | Romania |
| Logs | No logging – Independently audited |
| Servers | 9,500+ servers in 90+ countries and 110+ locations |
| Simultaneous Connections | 7 |
| Supported Devices | Windows, macOS, Linux, Android, iOS, Fire TV, Android TV, routers, and more |
| Features | Kill switch, NoSpy servers, ID guard, split tunneling, dedicated IPs, ad blocker, private browser, specialized servers, and more |
| Protocols | OpenVPN, IKEv2, L2TP, WireGuard |
| Supports | Netflix, Prime Video, Disney Plus, HBO Max, Discovery Plus, Hulu, BBC iPlayer, gaming, torrenting, browsing, and more |
| Customer Support | Extensive FAQs, 24/7 live chat |
| Price | From $2.03/month |
| Live Deal | 83% off + 2 months extra |
| Our Score | 9.1 out of 10. |
In this in-depth CyberGhost VPN review, we'll explore all these features in greater detail and take a look at the pros and cons of the VPN. You'll learn about the VPN's server network, UI, performance, and more. You'll also find info about the platforms it supports, its streaming capabilities, and its pricing. To learn more about our testing process, make sure to read our guide on how we review VPNs.
Now, let's dig deeper and see what you can realistically expect from CyberGhost.
Background, Jurisdiction & Reputation
CyberGhost VPN has a complex past. However, this VPN has never been connected to any data leak or caught cooperating with any authorities. So, your data will be safe - even though we wished to see a more recent audit of its services. Our Score: 9/10
The first question we're going to answer is – should you trust CyberGhost VPN with your private data? To answer that question, we'll tell you what you need to know about this cyber-sec company, so make sure to keep on reading.
Where Does CyberGhost VPN Come From? Is It Part of the 14-Eyes Alliance?
CyberGhost VPN comes from Romania, one of the EU countries. Even though this country doesn't come with overly protective VPN-related laws, it's not going against VPNs either.
VPNs are legal in Romania, and this country is away from the 5/9/14-Eyes Alliance. Since it's a member of the European Union, it does protect the privacy of its citizens up to some point. The same applies to businesses operating in this country, such as CyberGhost VPN.
CyberGhost was founded by Robert Knapp, who is a tech entrepreneur coming from Germany. The company was headquartered in Romania from the start, and it's still operating from there. However, Knapp sold his company in 2017 to Israeli investors, a company named Crossrider. Then, in 2018, that company changed its name to Kape Technologies.
According to Kape's official website, that company comes from the Isle of Man. That is a self-governing British Crown dependency that has fully incorporated EU's GDPR legislation (which now comes with a set of complexities as the UK has left the European Union).
You should also know that ZenMate VPN, a popular VPN coming from Germany, was acquired by Kape Technologies back in October 2018. Then, Private Internet Access became part of Kape in early 2020. And most recently, ExpressVPN joined as well. That means all those VPNs are 100% owned by Kape Technologies at the moment, even though they operate independently.
With that said, CyberGhost VPN isn't an "indie" VPN - but there's no reason to be concerned about its corporate background. During the last four years since CyberGhost became part of Kape, not much has changed about this VPN.
More precisely, there were no data leaks or problematic developments that would force us to advise you to avoid this VPN. As per its privacy policy, this is still a no-logs VPN provider, which means none of your private data is recorded (at any given moment).
At the moment, CyberGhost VPN, Zenmate VPN, Private Internet Access, and ExpressVPN continue to exist in their standalone forms – with some technologies being exchanged between them. Also, there are assurances from Kape that all four VPNs won't be merged in the future, which means you shouldn't be worried about investing in any of those in the long term.
Did CyberGhost VPN Leak Personal Data in the Past?
During our research, we found plenty of contradicting information on the Web. While some say that CyberGhost VPN leaks your sensitive information and even collects your confidential data, others say that this is the most secure VPN out there.
For example, there were rumors in the past that CyberGhost used to log hardware IDs. This happened in August of 2016, and everyone was quick to conclude that something suspicious was happening.
However, the VPN repeatedly rejected any accusations. Still, it was discovered that CyberGhost indeed checks your hardware ID – but only to check your subscription's device limit. You can use CyberGhost VPN on up to 7 devices at the same time, and this is one of the ways for the VPN to check if you're under that limit.
CyberGhost was also affected by Typeform's data breach since the VPN used Typeform's survey software. However, the VPN revealed that only 120 email addresses and 14 usernames contained in 2 surveys were compromised. Due to a fast "cleanup" action, none of those users suffered any exposing leaks of their sensitive data.
It's important to note that CyberGhost VPN has never been connected to any widespread data leak. Furthermore, the VPN repeatedly reminds us that it doesn't collect private data.
Even if someone comes after your online activity files, CyberGhost VPN won't be able to get anything tangible. So, until proven otherwise, there's no reason not to trust CyberGhost VPN.
Is CyberGhost VPN Safe?
Yes, Cyberghost VPN is safe to use. It doesn't collect any personal information that could expose your identity on the Web. It has a strict no-logs policy, meaning that it never keeps records of your internet activity.
However, it does collect some account information, like names, email addresses, and payment information. It also logs non-personal data relating to your browser, mobile/desktop device, OS version, the date and time of your visit, and your preferences on the CyberGhost's website. It collects this data to improve customer experience and maintain a higher quality of service.
This is a standard policy for most VPNs. It may collect more information than necessary, but we aren't too concerned about it as long as your identity and web activity remain private.
Supported Platforms & Devices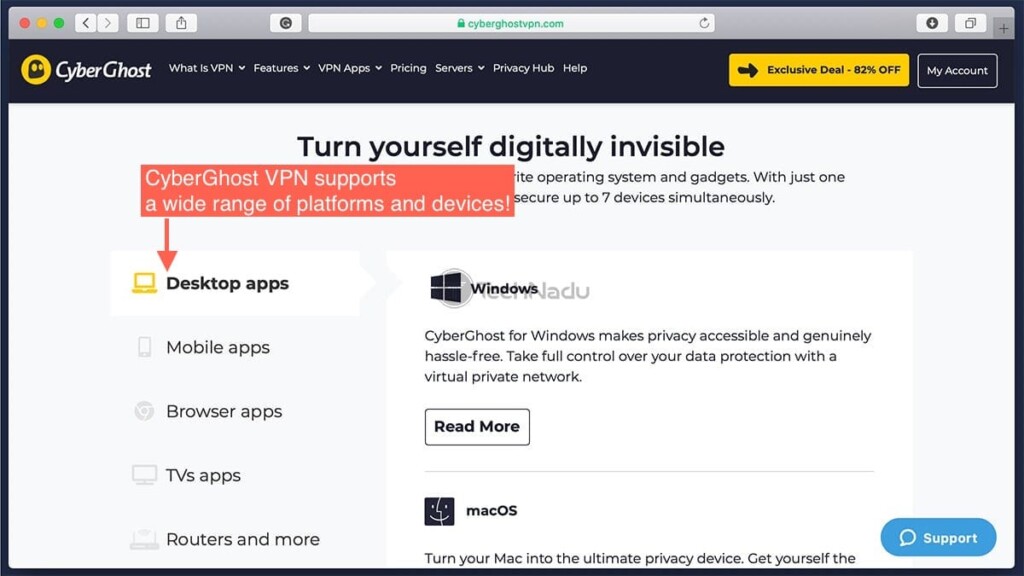 You can use CyberGhost VPN across a wide range of desktop and mobile platforms, with Web browser extensions and support for routers on board. Our Score: 10/10
This VPN is present across a range of platforms, including desktop and mobile devices. Here's a helpful table where you'll find all the information you need.
| | |
| --- | --- |
| Desktop Platforms | Windows, macOS, Linux, Chrome OS. |
| Mobile Platforms | Android and iOS. |
| Web Browsers | Google Chrome, Mozilla Firefox, and Microsoft Edge. |
| Routers | Tomato, DD-WRT, and more. |
| Other Devices | Raspberry Pi, Amazon Fire TV Stick, Android TV, Apple TV, Roku, LG and Samsung TVs, Synology NAS, Xbox, PlayStation, Nintendo Switch, Kodi. |
As you can see, CyberGhost VPN has done a wonderful job of creating native apps for diverse kinds of devices. Therefore, we don't really have anything negative to say about this VPN in terms of its platform compatibility.
CyberGhost VPN has been designed to allow access on 7 devices simultaneously. You can easily set up this VPN on their router to then connect other devices on the home network (which then takes only a single free "slot" of your subscription). That's also the easiest way to protect devices that don't run VPNs natively, such as PlayStation or Xbox consoles.
To learn more about how to get started, check our guide on how to set up CyberGhost VPN.
Keep in mind that you'll get up to 7 simultaneous connections - but there's some "fine print" there. If you buy CyberGhost's subscription via its website, you'll get to install it on up to 7 devices of your choosing.
However, if you buy CyberGhost's subscription via its iOS or Android app, you'll use it on up to 7 devices - all of which must be associated with your Apple/Google account.
Installation & Initial Configuration
This VPN offers an easy and convenient way to install its software – with no distractions, bundled software, or anything similar. Our Score: 10/10
To get started with CyberGhost VPN, you first need to visit its official website. This is where you'll get to choose your subscription plan and then download the software to your device (either directly from CyberGhost's site or via your online account dashboard).
Once you download the VPN's installation file, double-click to open it. A familiar installation wizard will appear, so follow the prompts you'll see on your screen.
What's important to note is that we didn't encounter any distractions or promotional offers while installing the VPN. So, there's no bundled software or any other annoyances. You get what you pay for, and that's the VPN itself.
Finally, you should know that the entire installation process should not take more than a few minutes of your time, no matter what kind of device/platform you use.
Prominent Features
Overall, CyberGhost VPN brings a compelling set of features - where you'll find a strong set of basic VPN tools alongside a range of highly advanced options. Our Score: 9/10
We've come up with a list of specific features that every capable VPN should offer. Here's how CyberGhost VPN ranks in that aspect (check the table below).
| | |
| --- | --- |
| DNS Leak Protection | YES |
| IPv6 Leak Protection | YES |
| Kill-Switch | YES (Windows, Mac, iOS, Android) |
| Split-Tunneling | YES (Windows, Android) |
| Dedicated/Static IPs | YES |
| Ad-Blocker, Anti-Malware | YES |
| Unlimited Server Switches | YES |
| Unlimited Bandwidth | YES |
| Unlimited Data | YES |
First, you should know that this VPN service covers the basics quite well. When you connect to a secure server, all your Web connection data becomes encrypted. You get a new IP address, and there's a full set of underlying technologies that keep you safe on the Internet.
More precisely, your traffic will be routed through a secure tunnel, free of IP and DNS leaks. Of course, the way your data is routed is dictated by the chosen VPN protocol (and CyberGhost VPN offers several of those, all of which are time-tested and solid options).
Then, there are a few extra features, such as 'Smart Rules.' Using that option, you can instruct CyberGhost on how to behave in certain situations. For example, you can enable the VPN to launch on system startup and connect automatically (keeping you safe at all times). You can also instruct the VPN to auto-connect when you use an unsecured Wi-Fi network.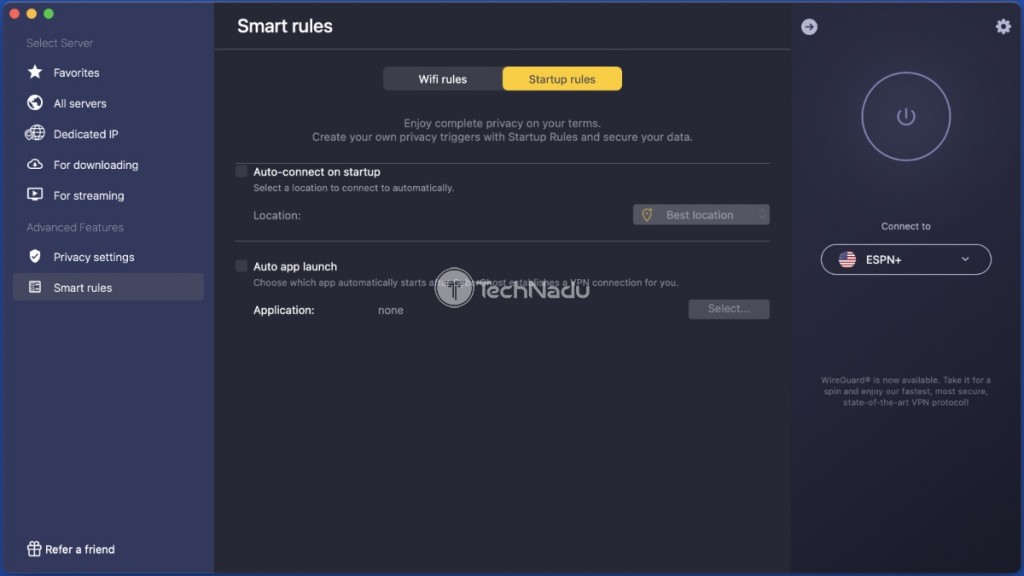 And if you click 'Privacy Settings' on the left side of CyberGhost VPN's interface, you'll use special DNS servers that block ads, trackers, and malware.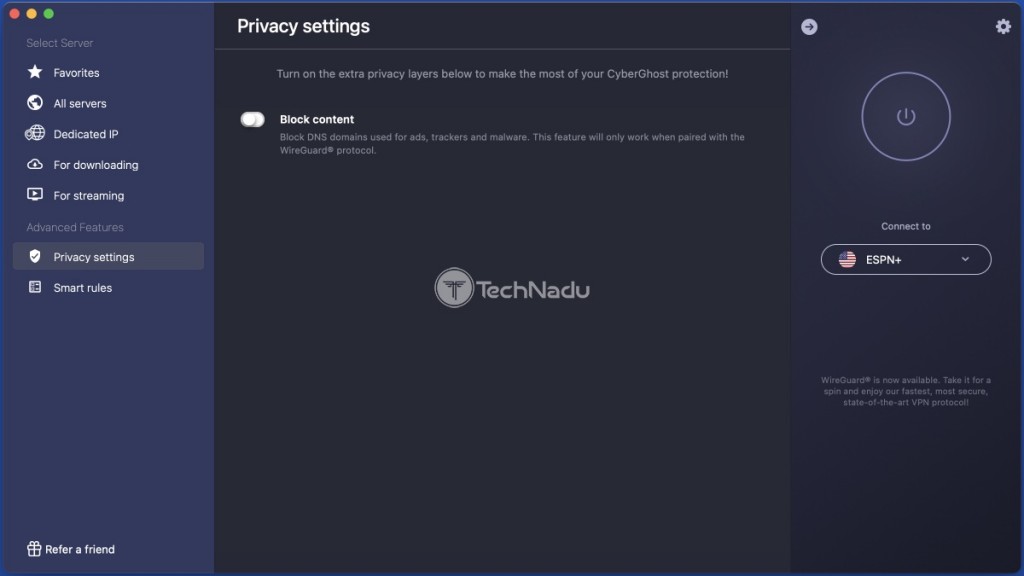 Let's not forget to mention CyberGhost's extra features, many of which are included in your subscription. For example, there's a Chromium-based Web browser made by CyberGhost, as well as 'Cookie Cleaner' extensions for Chrome and Firefox.
Aside from that, CyberGhost can monitor your email address. If it ever appears in a breach, you will get notified so that you can change it promptly. This feature is found on your account's dashboard, which you can access by logging in to your account on CyberGhost's site.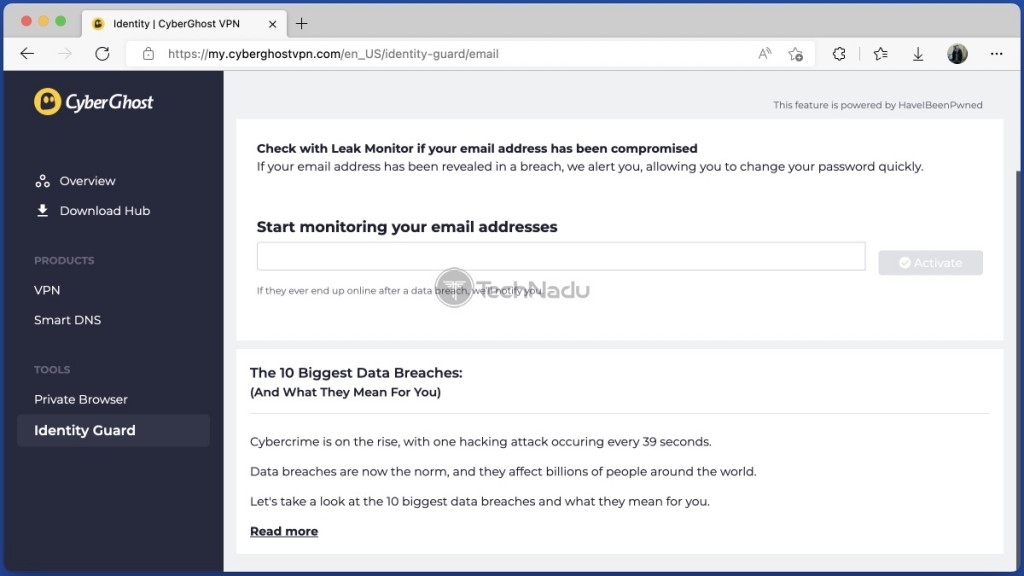 And lastly, this VPN now includes antivirus for Windows, as well as a password manager in the form of a Web browser extension. That said, it's clear that CyberGhost is no longer only a VPN service, but a comprehensive cyber-security solution.
How Many Simultaneous Connections Do You Get with CyberGhost VPN?
CyberGhost VPN gives you up to 7 simultaneous connections. That applies to all its subscribers, regardless of how they obtained their subscriptions, as explained below:
Regular Subscriptions: Up to 7 devices on any of the supported platforms.
iOS (In-App) Purchase: Up to 7 iOS devices linked to your Apple ID.
Android (In-App) Purchase: Up to 7 Android devices linked to your Google account.
At any moment, you can review the list of devices linked to your subscription. That is done by logging in to your account on CyberGhost's site. Then, select 'VPN' on the left-hand side and you'll see (and get to manage) your currently active devices (the 'Active VPN Devices' tab).
Does CyberGhost VPN Have a Kill Switch?
Yes, CyberGhost VPN comes with a kill switch. This feature is available across all its apps on any of the platforms natively supported by the VPN.
However, it's worth noting that CyberGhost VPN doesn't really have a 'traditional' kill switch. As a subscriber, you won't have access to this feature on some platforms. Instead, the VPN's kill switch is enabled by default and goes into effect when needed.
In case a secure VPN connection is dropped, CyberGhost blocks all Internet traffic and attempts to reconnect for 60 seconds. If the connection isn't re-established, your traffic remains blocked. You'll see a dialog box on your screen asking you to re-connect manually.
Does CyberGhost VPN Offer Split Tunneling?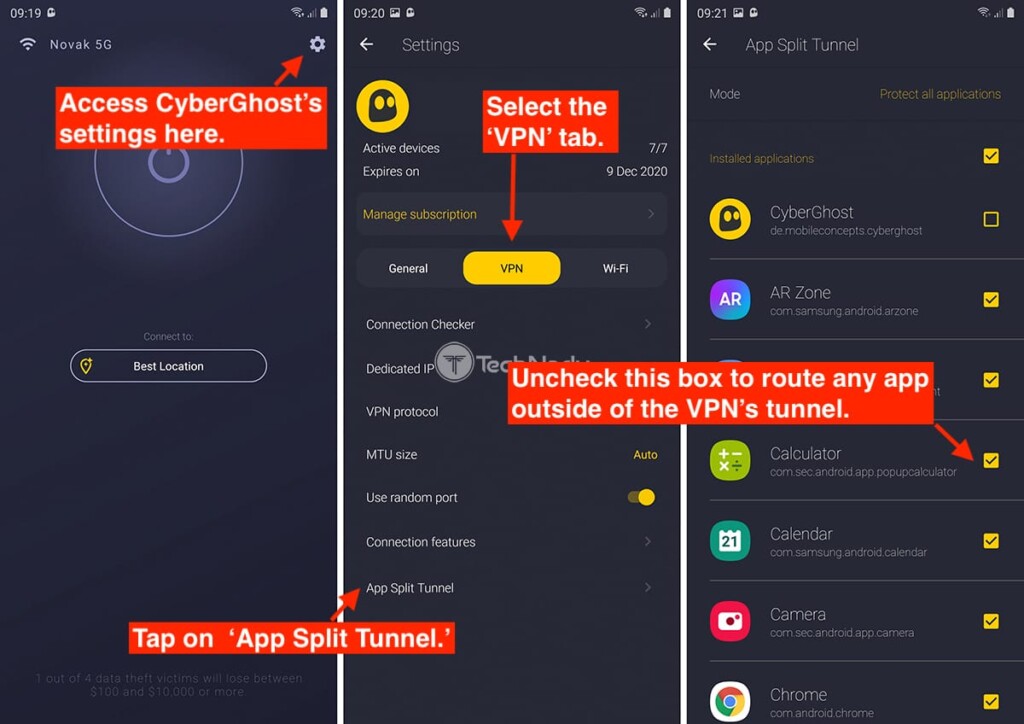 Yes, CyberGhost VPN offers split tunneling. However, this feature is available on Android only.
Setting up split tunneling in CyberGhost's Android app is easy enough. You'll need to dive into the app's settings, where you can set custom VPN tunneling rules.
Keep in mind that the VPN will ask you which apps NOT to protect (you select a group of apps that will continue to use your regular Internet connection).
On Windows, CyberGhost offers a bit different version of split-tunneling. That feature is called 'Smart Rules' and allows you to add exceptions. For example, you can add URLs of any number of websites you wish not to use your VPN connection.
Does CyberGhost VPN Offer a Static/Dedicated IP Address?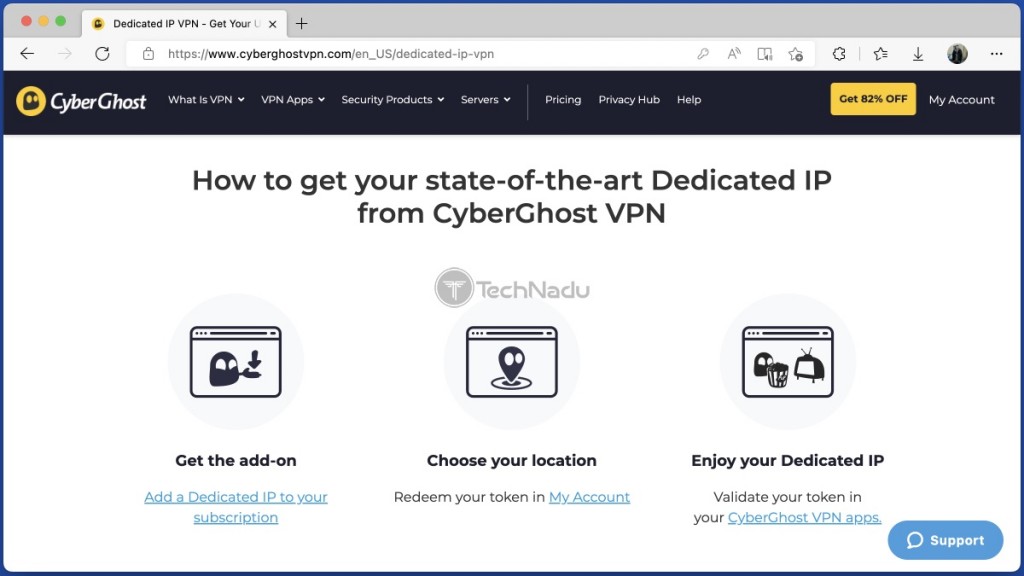 Yes, CyberGhost VPN offers highly secure static (dedicated) IPs. They come as an add-on for your subscription (priced at $5.00/month and often discounted to $2.50/month).
In general, dedicated IPs are seen as a threat to your privacy, especially in the world of VPN services. That's why CyberGhost VPN has produced an innovative token-based system. That way, the VPN doesn't know your static IP, which is never tied to your VPN account.
Also, keep in mind that CyberGhost VPN can give you only a single dedicated IP. If you need more than one, you need to have several (independent) subscriptions.
On top of that, it's crucial to store your token somewhere safely (used to activate your dedicated IP). If you lose it, not even CyberGhost can help you retrieve it.
Finally, know that a get a dedicated IP associated with one of the following countries: the United States, Germany, France, the United Kingdom, and Canada.
Does CyberGhost VPN Have an Ad-Blocker?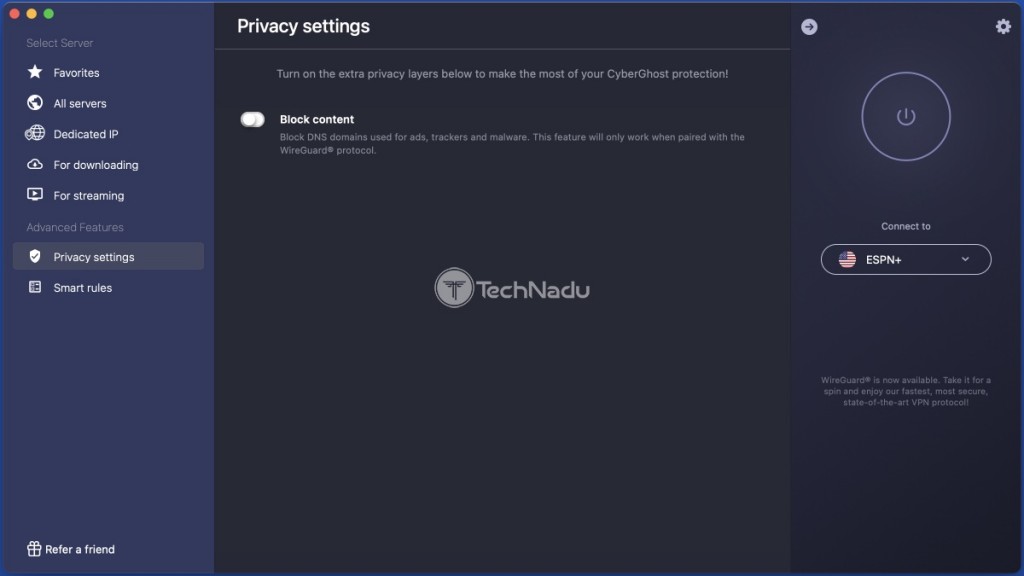 Yes, CyberGhost VPN comes with an ad-blocker. However, this feature is far from usable.
This VPN is trying to prevent malware and ad-related trackers by replacing them with its own (placeholder) data. This means CyberGhost VPN intercepts malware- and ad-related traffic, trying to prevent it from reaching your computer.
For this method to work properly, connections made to a specific website must not be encrypted. Therefore, we are talking about HTTP traffic here. Since most of today's websites have switched to HTTPS, CyberGhost's ad-blocker isn't as effective as it used to be.
In other words, you're better off using a dedicated ad-blocker. These typically come either as a standalone app or a Web browser extension.
What Features Are Missing on Android & iOS (Compared to Desktop Apps)?
There are big differences between CyberGhost's apps for different platforms. Overall, Windows users will reap the largest number of benefits, as this is CyberGhost's most capable application. It's closely followed by CyberGhost's Android app, which comes with split tunneling and has the power to let you fine-tune your VPN connection.
Then, we have the VPN's macOS and Linux software. Apart from their specific protocols, those applications lack split tunneling. The same could be said for iOS, which doesn't even have an ad-blocker. So, if you're a mobile VPN user, we hope you're using Android - especially if you need high-end features.
In the end, it's important to say that CyberGhost VPN will keep you protected - no matter which device you use. However, you won't get everything your subscription offers on all your devices. This is clearly a noticeable obstacle - but not a major downside.
Server Count & Infrastructure
CyberGhost brings more than 9,500 servers across 90+ countries. That truly is a massive server network (as well as one of the biggest right now). Our Score: 10/10
Ideally, you'll want a VPN provider with plenty of servers across the entire planet. And if you want to unblock websites, having the ability to pick specific locations is a huge benefit.
| | |
| --- | --- |
| Number of Servers | 9,500+ |
| Number of Locations | 110+ |
| Number of Countries | 90+ |
| Specific Cities Selection | YES |
| Unlimited Switching | YES |
CyberGhost VPN understands the importance of offering an expansive server network, and it certainly delivers in that regard. This VPN offers servers placed across the world, letting you know which one to use based on the intended purpose. You'll also see the "occupancy" of each server before you connect, so you can try to find a fast-performing one.
We also need to praise CyberGhost's dedication to expanding its server network. We are more than sure those efforts will continue in the future as well, which could be a good reason to invest in one of its long-term subscription plans.
Does CyberGhost VPN Use Virtual Server Locations?
Yes, CyberGhost VPN comes with a sizeable list of virtual server locations.
Once you connect to a virtual server, your traffic won't flow through the country you've selected in CyberGhost's interface. Instead, it will flow through a virtual server with your traffic being assigned an IP from the 'end' country.
Being a transparent VPN, CyberGhost doesn't hide the fact that it's using virtual servers. And the fact is that your personal data remains safe, nonetheless. However, it's always good to know which locations are virtual, which you can check just below.
CyberGhost VPN's Virtual Server Locations – Full List
Argentina
Armenia
Bahamas
Bangladesh
Belarus
Chile
China
Colombia
Costa Rica
Croatia
Cyprus
Egypt
Georgia
Indonesia
Iran
Kazakhstan
Macau
Malaysia
Malta
Monaco
Mongolia
Montenegro
Morocco
Nigeria
Pakistan
Panama
Philippines
Portugal
Qatar
Russia
Saudi Arabia
South Korea
Taiwan
Turkey
Ukraine
Venezuela
Vietnam
UI/UX Design & Ease of Use
CyberGhost comes with a modern UI that looks very polished on desktop and mobile devices. However, its extensions are nothing more than overly simple proxies. Our Score: 8/10
In this segment, we'll talk about CyberGhost's interface on both desktop and mobile platforms. And also, we'll check this VPN's Web browser extensions. So, make sure to keep on reading our CyberGhost VPN review.
How Well Does CyberGhost VPN Work on Desktop Platforms?
CyberGhost VPN can be as simple or as complex as you need it to be. It starts with a simple UI that resembles something you expect to see on a smartphone. However, if you click on a small, grey-colored button on the left side, the VPN transforms into a fully-featured application.
On the left side of the interface, you'll see different sets of servers. You can check out your favorites, review all the available servers, or check those that are specialized for downloading and streaming. Finally, we have two new options that we discussed in one of the previous segments – 'Privacy Settings' and 'Smart Rules.'
You'll find a cogwheel icon in the top-right corner that takes you to the application's settings. It is also where you'll find customer support resources, which are links leading to the VPN's site.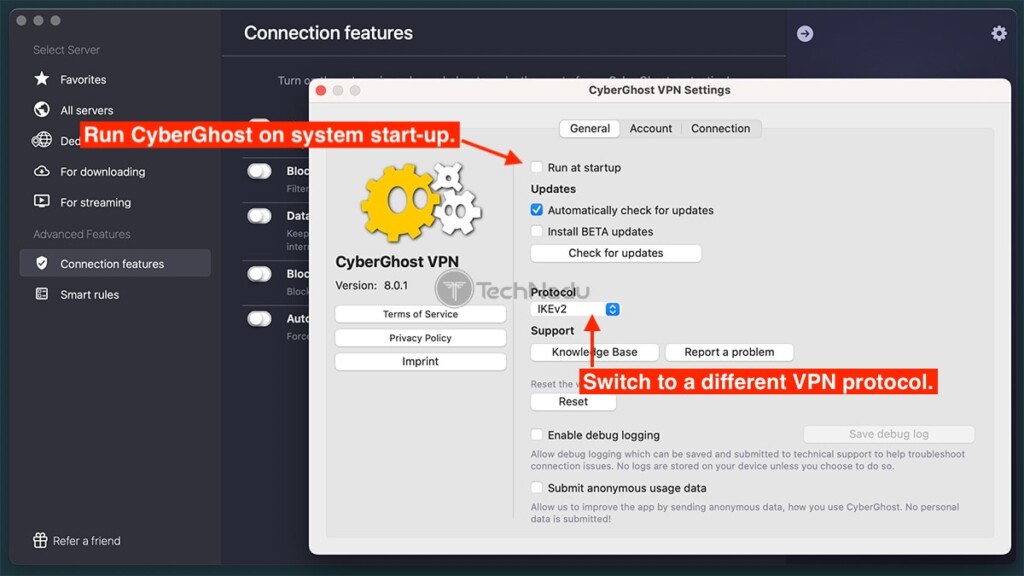 The Settings panel is comprised of three tabs: General, Account, and Connection. The 'General' tab lets you enable CyberGhost to automatically start on system startup. You can also check for updates and open the application's support resources.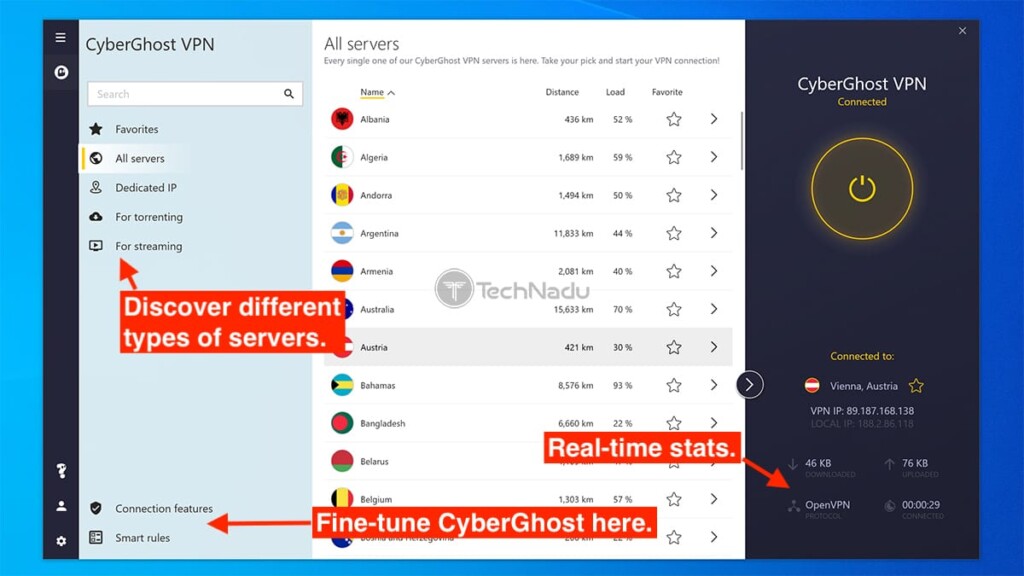 How Well Does CyberGhost VPN Work on Mobile Platforms?
As mentioned throughout this CyberGhost VPN review, there are certain differences between the apps offered by this VPN. And even though all those apps feel the same, there are certain details that make each of those apps a unique piece of software.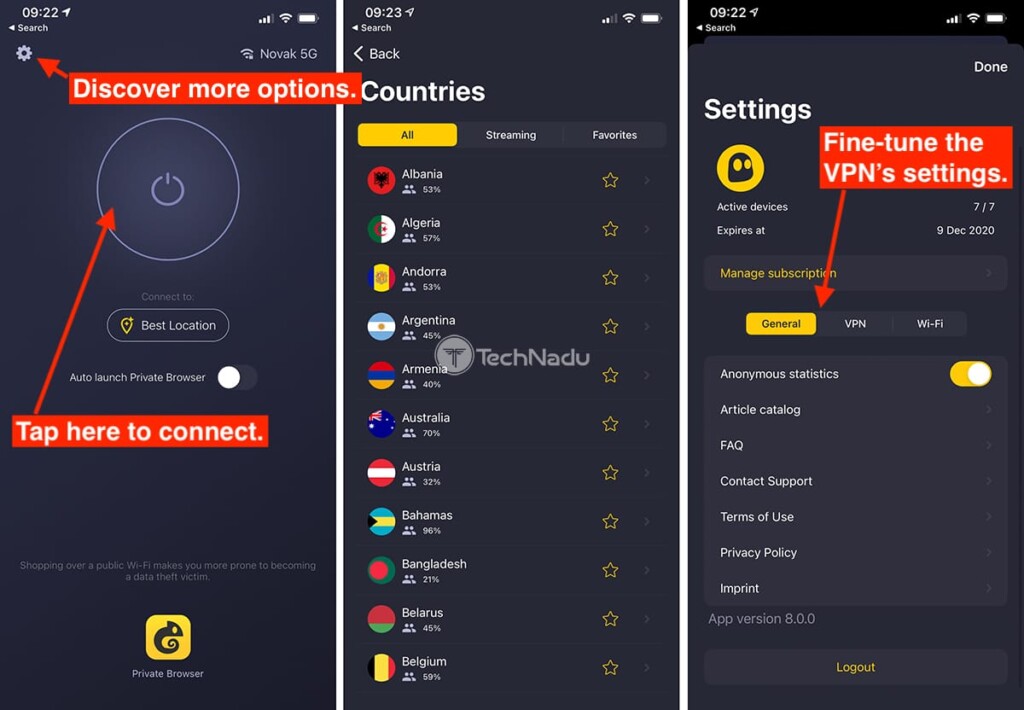 There are similarities also in the way you connect to servers. Tap on the button labeled 'Best Location,' and CyberGhost VPN will show all its servers. This is where you can review the VPN's servers, filter them by their roles, and more. This interface is the same on iOS and Android.
To dive deeper on iOS, you can tap on the cogwheel icon in the top-left corner. This will reveal a limited list of options. You get to enable CyberGhost's 'Wi-Fi Auto-Protect' feature, switch to a different protocol, and choose how CyberGhost behaves on new and known Wi-Fi networks. There's also an option to use a dedicated IP by using your token.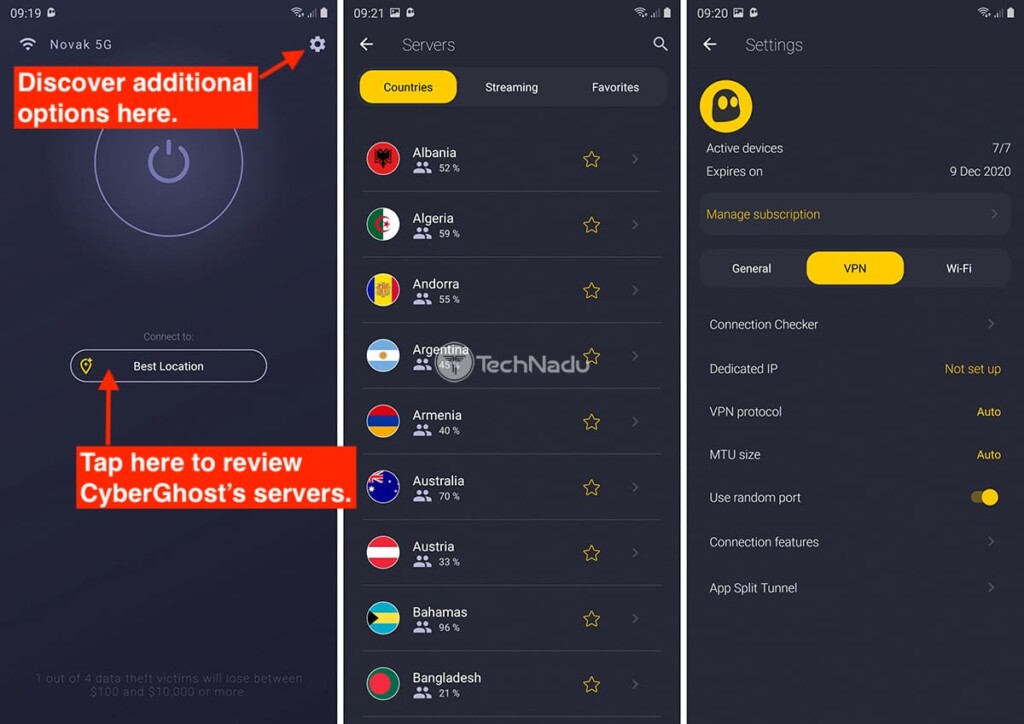 On Android, CyberGhost VPN comes with a whole host of settings and tweaks. Tap on the cogwheel button in the top-left corner, and you'll get to set up split-tunneling, use the VPN's 'Wi-Fi Protection' feature, switch to a different protocol, as well as enable additional options.
Speaking of those additional options on Android, you can enable domain fronting and data compression. This is where you can enable CyberGhost's ad-blocker and protection against online tracking. So, there's truly plenty to fine-tune.
Even though the iOS app seems more polished in terms of its appearance and performance, the Android app is more powerful in terms of VPN-related features. The same also applies when comparing CyberGhost's Windows and macOS apps, where Windows users come out on top.
How Well Do CyberGhost's Web Browser Extensions Work?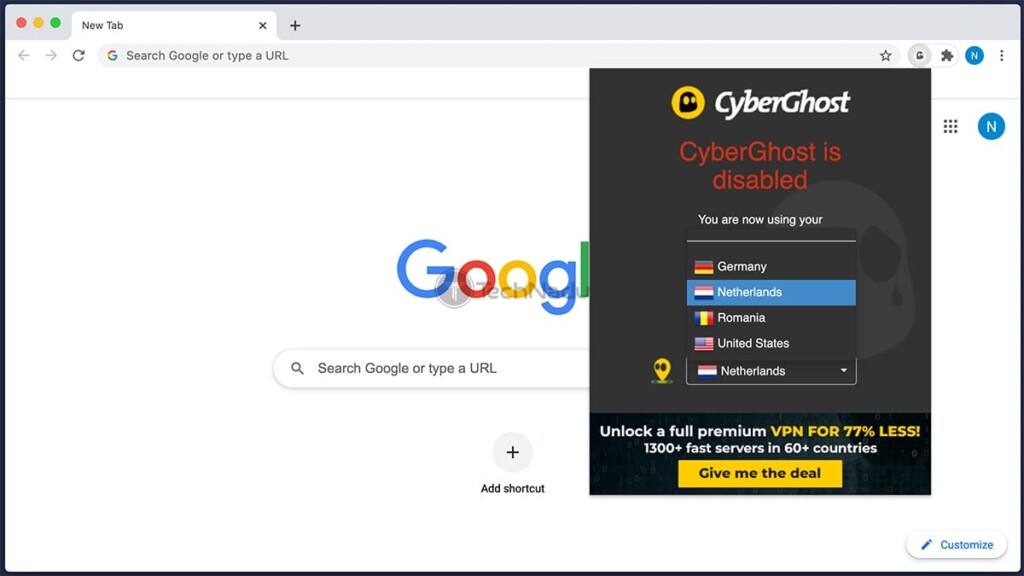 CyberGhost VPN offers Web browser extensions for Chrome and Firefox. Both of those come free of charge, and you don't need to be a subscriber to use them. In fact, it could be said that CyberGhost's browser extensions act as advertisements for the VPN.
As you can see from the screenshot above, users of CyberGhost's extensions will be forced to look at a prominent advertisement (showing outdated information) at the bottom of its interface. You get to connect to servers in four countries (the Netherlands, Romania, Germany, and the United States) - without any limitations.
There are no settings you can tweak, and there's even no option to log in to your account. And on top of that, these Web browser extensions are proxies only. Therefore, you won't get the full protection that CyberGhost's desktop app brings.
Overall, we don't see a reason for CyberGhost VPN subscribers to use these extensions. They act as advertisements for the VPN's full range of capabilities. However, they don't even do a decent job of letting you tap into this VPN's true power.
Media Streaming, Torrenting & Gaming Support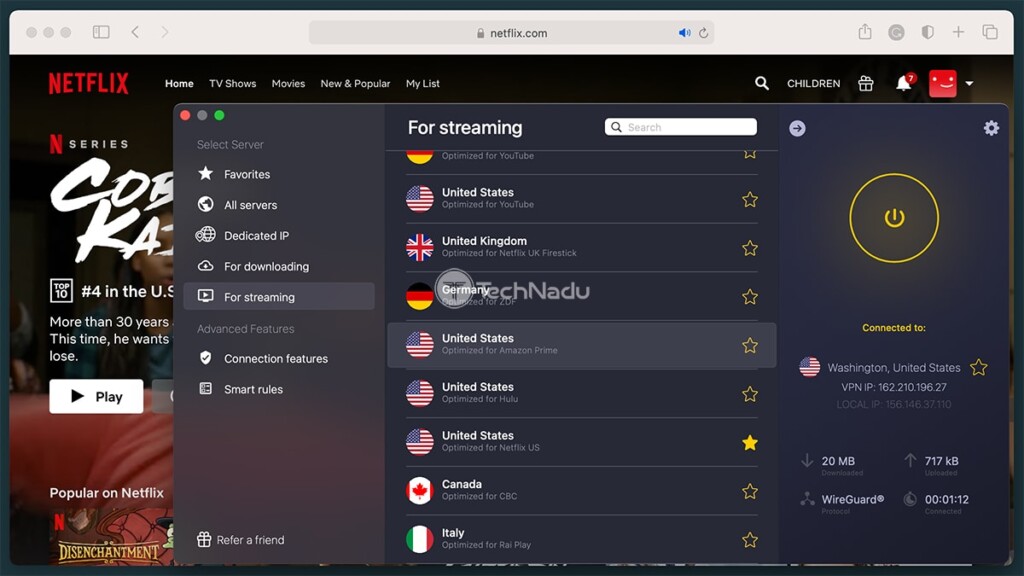 CyberGhost VPN has a history of unblocking media streaming websites. It even fully supports P2P traffic via specialized servers, and there are even gaming-ready servers. Our Score: 10/10
We're happy to say that if you need a VPN to unblock websites, CyberGhost VPN will meet your needs. We've tested it with several popular media streaming services, so here are our findings.
| | |
| --- | --- |
| American Netflix | YES |
| Hulu | YES |
| Disney Plus | YES |
| HBO Max | YES |
| Discovery Plus | YES |
| BBC iPlayer | YES |
| Amazon Prime Video | YES |
| Kodi | YES |
To make sure its users have a flawless experience, CyberGhost brings a range of specialized servers. Many of those are optimized for specific streaming services, and you can access those from the 'For Streaming' item via the main menu. That will open a list of servers, indicating their locations and their ability to unblock certain websites.
Finally, just like there are servers optimized for streaming, there are P2P-friendly servers as well. You can connect to those when downloading torrents to protect your traffic. Besides, these should get you good speeds, so you can download large files as fast as possible.
Does CyberGhost VPN Work with Netflix, Hulu, BBC iPlayer, Prime Video & Disney+?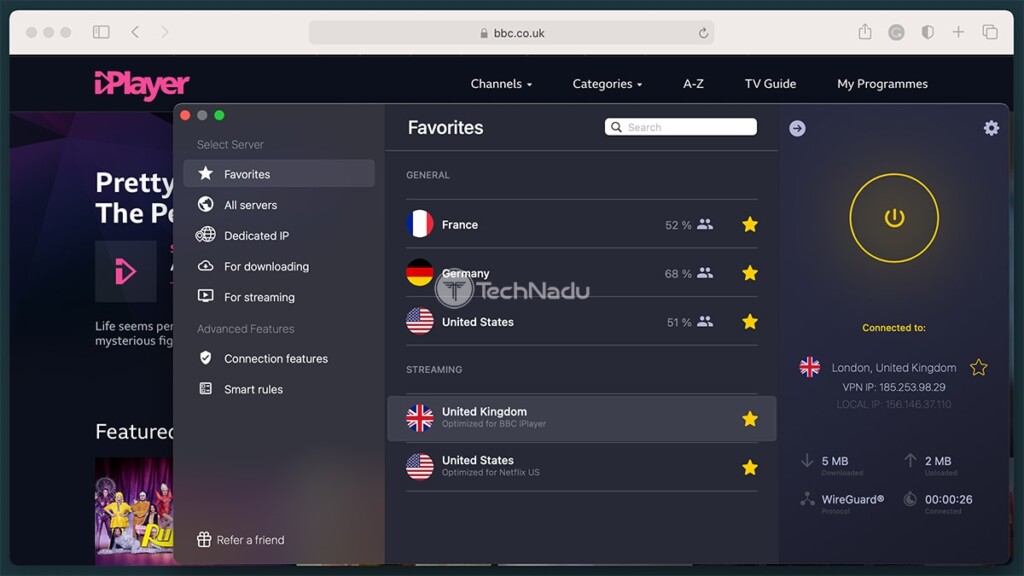 Yes, CyberGhost VPN unblocks Netflix, as well as any of the other popular streaming services. This includes Hulu, BBC iPlayer, Amazon Prime Video, Disney Plus, and more.
Speaking of Netflix, you can access its regional versions in the following countries: the United States, Germany, Japan, the United Kingdom, Canada, Turkey, Spain, Brazil, France, Italy, Australia, and South Korea.
When it comes to other streaming services, CyberGhost VPN works with YouTube TV, Sling TV, ESPN Plus, Pandora, Spotify, Crunchyroll, Zattoo, Globo, CBC, ORF, Comedy Central, 7TV, and plenty more. So, yes - this truly is a steaming-centric VPN service.
Which CyberGhost VPN Server Works Best for Netflix?
To find the server that unblocks the US version of Netflix, make sure to select 'For Streaming' on the VPN's home screen. This will open a list of servers made for all kinds of streaming services.
At the moment, you'll find three servers optimized for accessing Netflix US. One of those (labeled 'Optimized for Netflix US') should work on any device. However, there's a server for Android TV as well as for Fire OS. So, make sure to use those if you have a media streamer.
Can You Use CyberGhost VPN with Kodi?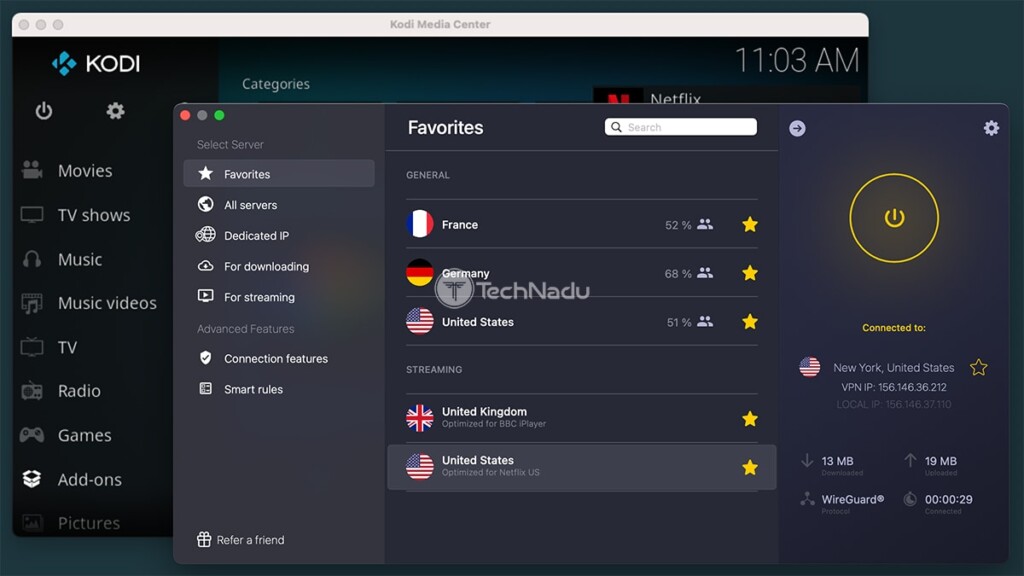 Yes, CyberGhost VPN can be a powerful ally to any Kodi user.
As you can guess, you can't integrate CyberGhost VPN with Kodi. Instead, you use these two applications separately on computers, tablets, media streaming devices, and more.
Just connect to any server via CyberGhost, and then keep on using Kodi as you usually do. That way, you'll get to unblock any Kodi addon.
CyberGhost VPN can unblock a wide range of streaming services - and this includes add-ons made for Kodi. On top of that, the VPN could protect you when using "risky" addons by hiding your Web data.
Is CyberGhost VPN Good for Torrenting (P2P)?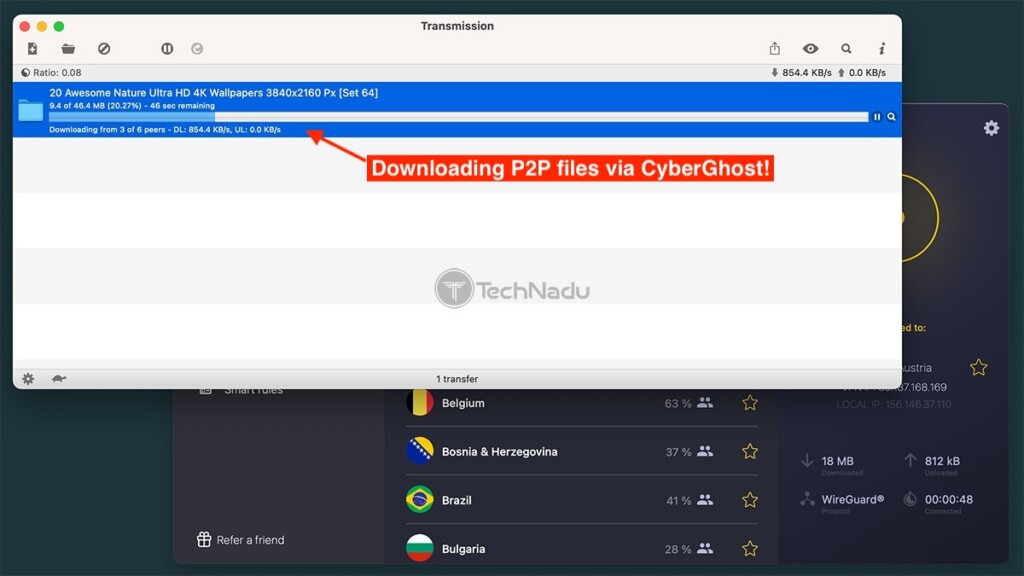 Yes, CyberGhost is good enough for downloading torrent files. However, we do recommend connecting to a nearby server for that purpose - if you plan to download large files.
In theory, you can use any of CyberGhost's servers to download P2P files. However, while using the VPN's desktop apps, you'll find servers hiding behind the 'For Downloading' menu item. As their name implies, these servers are optimized for downloading files, including P2P files.
To get the fastest download speed, make sure to connect to a nearby server. As CyberGhost VPN offers thousands of servers across the world, it shouldn't be a problem to find a server that performs smoothly.
To learn more, check our article that explains whether CyberGhost VPN is good for torrenting.
Is CyberGhost VPN Good for Gaming?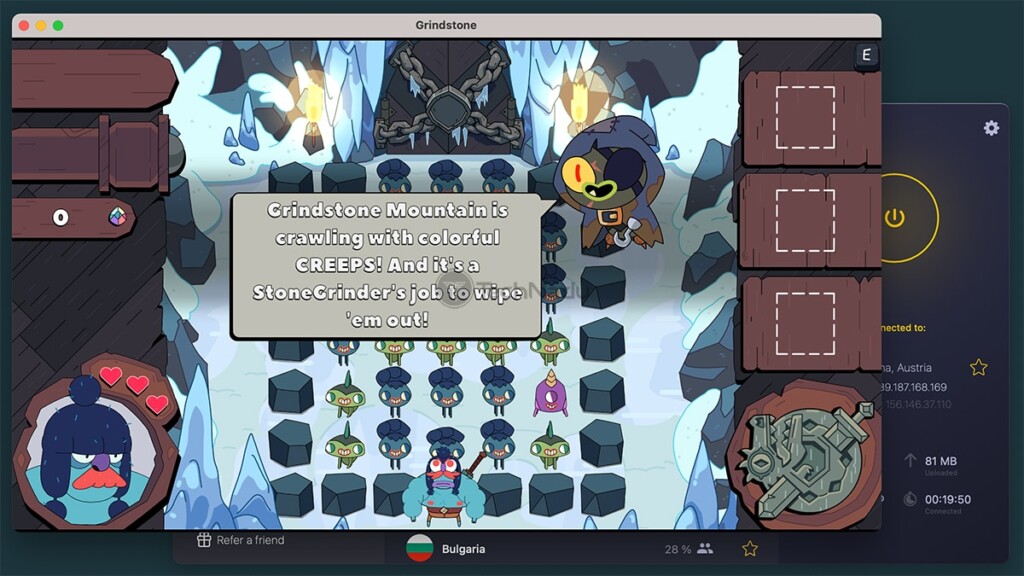 Yes, CyberGhost VPN is good enough for gaming as well. In fact, there are several reasons why you might want to pick this VPN over its competitors - if you're a gamer.
The biggest benefit here is the fact that CyberGhost VPN has thousands of servers across the entire world. This means you have plenty of options to find a server aligned with your gaming-related needs.
Unlike most other VPNs, CyberGhost VPN does have servers optimized for gaming. However, those are available on Windows only. However, as long as you don't connect to an overly remote server, you'll avoid high ping values. In turn, this means lags won't be something that'll affect your gameplay experience.
Security & Privacy
CyberGhost doesn't collect any data and prevents all kinds of data leaks. Even though its privacy policy looks great, there's no independent audit to prove it. Our Score: 7.5/10
One of the most important, and in fact, the main reason people use VPNs is to stay secure online. CyberGhost VPN does an excellent job of keeping your Internet activity safe. So, let's examine the tool's security and privacy features in greater detail.
CyberGhost VPN Protocols - Listed & Explained!
First, we'll list all the protocols natively supported by CyberGhost's apps for comparative purposes. So, check out the following table.
|   | Windows | macOS | Linux | Android | iOS | Fire TV |
| --- | --- | --- | --- | --- | --- | --- |
| OpenVPN | YES | NO | YES | YES | NO | YES |
| IKEv2 | YES | YES | NO | YES | NO | NO |
| WireGuard | YES | YES | YES | YES | YES | YES |
As already mentioned, the table found above lists all CyberGhost's native protocols. This means the table describes which protocols you'll find in the VPN's apps.
There are certain deviations to this rule as well. For example, the OpenVPN protocol isn't available on macOS and iOS natively. However, you can still use this highly capable protocol - but only if you configure it manually.
OpenVPN
CyberGhost VPN relies on the OpenVPN protocol heavily - and we're happy to see that. This is a hugely capable VPN protocol that can make you anonymous online. It typically leads to smooth performance, brings easy switching between servers, and unblocks content with ease.
By default, OpenVPN is available on Windows, Android, Linux, and Fire TV.
IKEv2
When connecting to a nearby server (located in your country, for example), it's recommended to use the IKEv2 protocol. In turn, this should bring you the fastest possible performance - while also making sure your personal data never leaves CyberGhost's tunnel.
By default, IKEv2 is available on Windows, macOS, and iOS.
WireGuard
This is a recently developed VPN protocol that shows a lot of promise. It's faster than OpenVPN while providing the same (if not better) security and privacy level. CyberGhost VPN has been aggressively pursuing this protocol during the last year, making it available across several devices.
By default, WireGuard is available on Windows, macOS, Android, iOS, Linux, and Fire TV.
Does CyberGhost VPN Log Private Data?
CyberGhost VPN comes with a strict no-logs policy. This VPN promises not to collect any of your personal data. More precisely, we're talking about data that could be linked to your VPN account - nowhere to be found on CyberGhost's servers.
However, you should know that some information is stored. For example, your email account and the password of your VPN account are needed for you to log in. CyberGhost VPN also collects some cookies as you browse its site. However, this is nothing unusual.
We strongly believe that CyberGhost's servers will keep you protected and anonymous. Also, if you need an even higher level of privacy, that's where the VPN's 'NoSPY' servers come into play.
'NoSPY' servers come with super-high premium hardware, they promise better speeds, they're operated independently, and they're designed to respect your privacy in the best way possible. However, you'll need to pay extra to access those - $4.99/month (billed yearly).
Lastly, this VPN has been audited just recently by Deloitte, hired to check the VPN's server network and management systems. So, you can rest assured that CyberGhost won't collect or expose your sensitive information.
Does CyberGhost VPN Leak/Expose Your Personal Data?
To test the strength of CyberGhost's tunnel, we've used a server located in the United States. Then, we tested our Web connection for all kinds of data leaks, including IP and DNS leaks.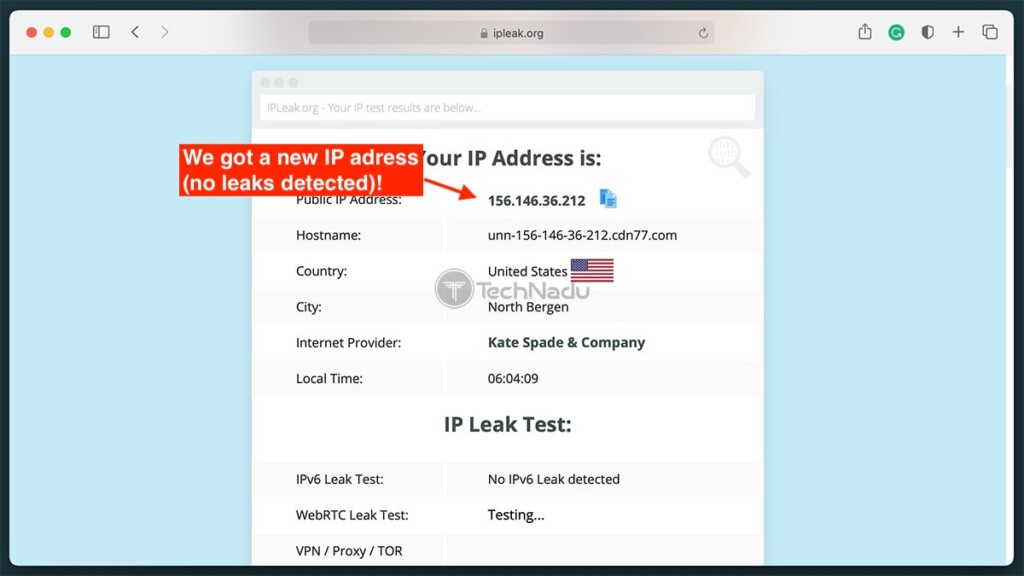 As you can see in the screenshots supplied in this segment, no leaks were detected. This means third parties only see what CyberGhost VPN shows them. That would be our virtual IP address, and our virtual geo-location data, and on top of that - no DNS leaks were discovered.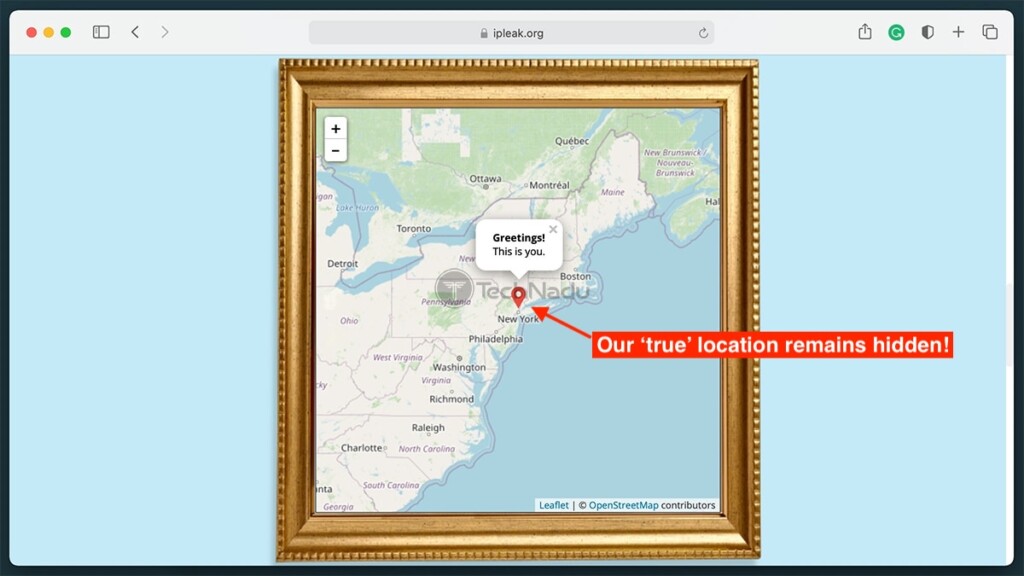 With that said, we conclude that CyberGhost's tunnel is truly a capable one. In other words, you can be sure that your confidential data won't be exposed online.
Speed & Performance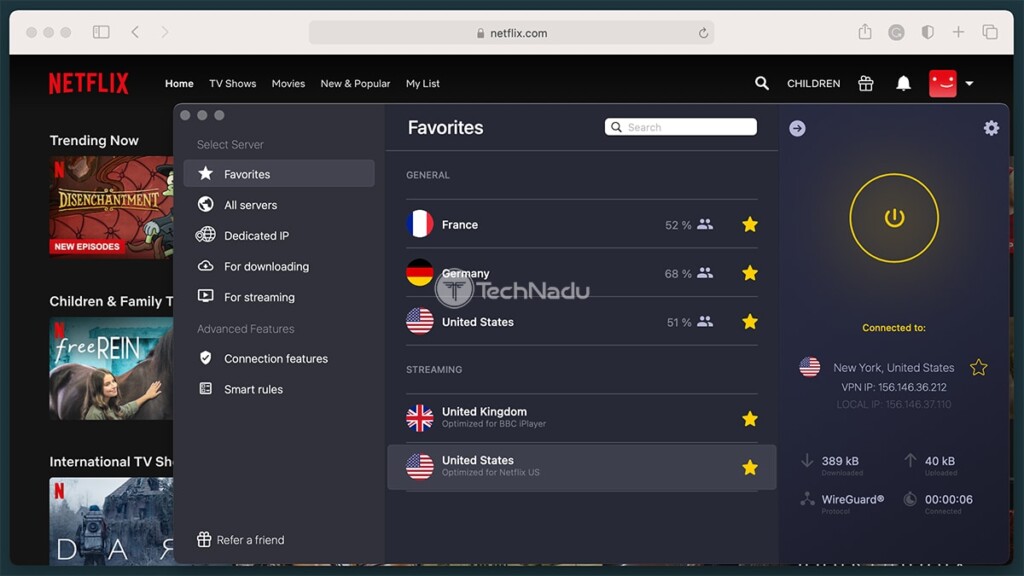 In general, CyberGhost's performance doesn't disappoint. This is a speedy VPN service that works great for both local and remote VPN connections, for the most part. Our Score: 8/10
In this segment of our CyberGhost VPN review, we'll check the VPN's performance. This is done by connecting to various servers and testing them individually. So, keep on reading.
CyberGhost VPN Speed Test
We test VPNs by connecting to their local and long-distance servers. With that said, keep in mind that we're located in Europe and that we've tested servers that range from the United States all the way to Australia.

First, you need to know about our Web connection's baseline stats. As you can see from the image above, we got 262.58 Mbps for downloads and 57.27 Mbps for uploads. Once again, we're talking about our baseline data here - without CyberGhost VPN being enabled.
Local Speed Tests
When speaking about 'local' servers, we're talking about VPN servers located in Europe. More precisely, we've tested CyberGhost's servers found in Italy and the United Kingdom, so let's check out the results.

Italy Server - A server in Italy gave us 256.29 Mbps for downloads and 23.41 Mbps for uploads. As you can see, using a nearby server gave us amazingly fast speeds without affecting our Web connection in a dramatic way.

UK Server - A server in the United Kingdom gave us 234.23 Mbps for downloads and 23.96 Mbps for uploads. Once again, pretty fast and stable speeds.
Long-Distance Speed Tests
As you can see above, there were some slight surprises during our testing of the VPN's local servers. And as you're about to find out, those surprises continued when testing long-distance servers as well. Keep on reading to learn more.

USA Server - A server on the east coast of the United States gave us 152.08 Mbps for downloads and 7.54 Mbps for uploads. We must note that we're surprised by those numbers, especially since VPN connections to the US are considered long-distance based on our location.
Canada Server - Then, a server in Canada was placed under our spotlight. During this round of speed tests, we managed to get 155.09 Mbps for downloads and 7.04 Mbps for uploads. Even though our download speed remained steady, our upload speed dropped in a noticeable way.

India Server - In earlier versions of this CyberGhost VPN review, we had issues with India-based servers in terms of their performance. However, it looks like CyberGhost managed to fix those, as this time around, we got 107.19 Mbps for downloads - but only 1.20 Mbps for uploads.

Australia Server - And lastly, we wanted to test a server that's on the other side of the planet (in relation to our physical location). In our case, that would be a server in Australia. So, while testing a Sidney-based server, CyberGhost gave us 215.86 Mbps for downloads and 3.50 Mbps for uploads.
So, How Well Does CyberGhost VPN Perform?
Finally, it's time to make sense of all those numbers. For that purpose, we've placed them in the following table, calculating the speed reduction of each server in contrast to our baseline data.
| | Download Speed | Upload Speed | Speed Reduction |
| --- | --- | --- | --- |
| Baseline (Europe) | 262.58 Mbps | 57.27 Mbps | 0% |
| Italy (Rome) | 256.29 Mbps | 23.41 Mbps | 2% |
| UK (London) | 234.23 Mbps | 23.96 Mbps | 11% |
| USA (New York) | 152.08 Mbps | 7.54 Mbps | 42% |
| Canada (Toronto) | 155.09 Mbps | 7.04 Mbps | 41% |
| India (Mumbai) | 107.19 Mbps | 1.20 Mbps | 59% |
| Australia (Melbourne) | 215.86 Mbps | 3.50 Mbps | 18% |
On average, CyberGhost VPN made our Internet connection slower by 29%. That might sound dramatic if you have never used a VPN before, but it's on par with what top-rated VPNs offer. Keep in mind that every VPN will slow you down, which will be especially noticeable when using long-distance servers.
Of course, we also need to add that CyberGhost VPN offers specialized servers for streaming media and downloading files. Those should give you better performance overall. We have tested 'standard' servers for comparative purposes, so you can easily compare the above-displayed results to what other VPNs offer.
What Kind of Performance Can You Expect? In our case, when using the most remote VPN server we could find, CyberGhost VPN reduced the speed of our Web connection by a bit over 50% - from around 260 Mbps to about 110 Mbps. Once again, that happened when using a highly remote server.
With that said, how fast is your Web connection? If you have a 25 Mbps Internet connection, you should still be able to stream in HD. And if you have a 50 Mbps connection, you'll get to continue to stream in 4K – even when connected to CyberGhost's servers.
Lastly, keep in mind that plenty can be done to fine-tune any VPN's performance. You can learn more about that in our guide on how to speed up a slow VPN.
Customer Support
CyberGhost VPN has a particularly useful and highly responsive customer service system. Kudos to their customer support staff! Our Score: 10/10
Customer service is an essential aspect that you always need to consider when purchasing a VPN. You wouldn't like to be stranded with software that troubles you, with no support channels or community to help you when you need it the most.
CyberGhost VPN has several support channels. Live chat is available, which is useful should you wish to obtain quick answers to your queries. We contacted their support via chat to check their response times and were amazed by their quick responses.
Also, you can count on a dedicated help center with plenty of guides and FAQs. Overall, you'll always get the needed help if you encounter any roadblocks.
Finally, CyberGhost is also dedicated to educating its users via its 'Privacy Hub.' This is where you'll find an array of helpful articles aimed at covering the latest privacy- and VPN-related news, product announcements, and plenty more.
Pricing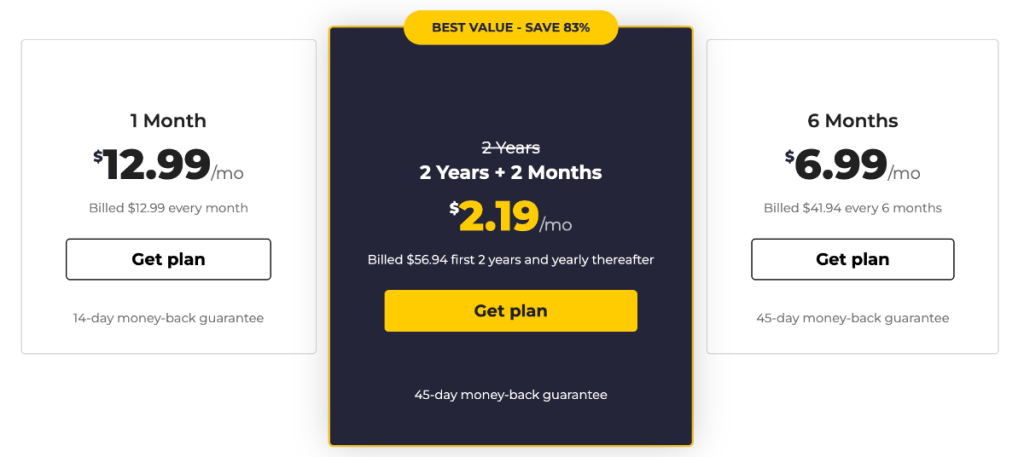 CyberGhost's monthly plan is a bit expensive when compared to its direct competitors. Still, its long-term plans offer significant savings. Our Score: 9/10
This VPN comes with a complete range of subscription plans. They all offer the same set of features. So, the only difference is in their duration - which means long-term plans promise to bring the biggest savings. Take a look.
How Much Does CyberGhost VPN Cost?
If you decide to pay monthly, CyberGhost VPN will cost you $12.99 per month. This is on par with other top-rated VPNs such as ExpressVPN and NordVPN. However, we do recommend checking this VPN's long-term plans.
Unlike other VPNs, CyberGhost offers hefty discounts across its long-term plans. That said, if you decide to subscribe to this VPN, you can pay only $2.19 per month for its 2-year plan. On top of that, you get an additional 2 months free of charge.
Also, CyberGhost VPN supports numerous payment methods. You can use your credit card (Visa, MasterCard, and American Express), as well as your PayPal account. In case you'd like to pay anonymously, CyberGhost accepts Bitcoin.
It is worth noting that CyberGhost VPN frequently offers deals and promotions, so it's wise to keep your eye on the official website of this VPN.
CyberGhost's 45-Day Money-Back Guarantee - Will You Get Your Money Back?
When it comes to CyberGhost's money-back guarantees, there's one crucial thing to keep in mind. Right now, that offers applies to the VPN's long-term plans.
As mentioned above, the VPN also has a monthly plan, priced at $12.99/month. However, this plan comes with a 14-day money-back guarantee. So, this isn't a major obstacle - but you need to be aware that not all CyberGhost's plans include 45-day money-back guarantees.
In terms of whether you'll get your money back, know that we're talking about a "no questions asked" policy here. Therefore, if you simply change your mind about CyberGhost within the first 45 days of use, you will get a full refund.
Is CyberGhost VPN Free?
No, CyberGhost VPN isn't free. It's a premium VPN service that offers affordable subscription plans and a 24-hour free trial on Windows and macOS. For Android and iOS users, the free trial extends to 3 and 7 days, respectively, which is more than long enough to test its features.
You don't need to enter your credit card or other payment details on Windows and macOS, which isn't the case for Android and iOS. 
We also have a detailed guide on the CyberGhost VPN free trial that explains how to use it on different devices.
Final Thoughts - Is CyberGhost a Good VPN?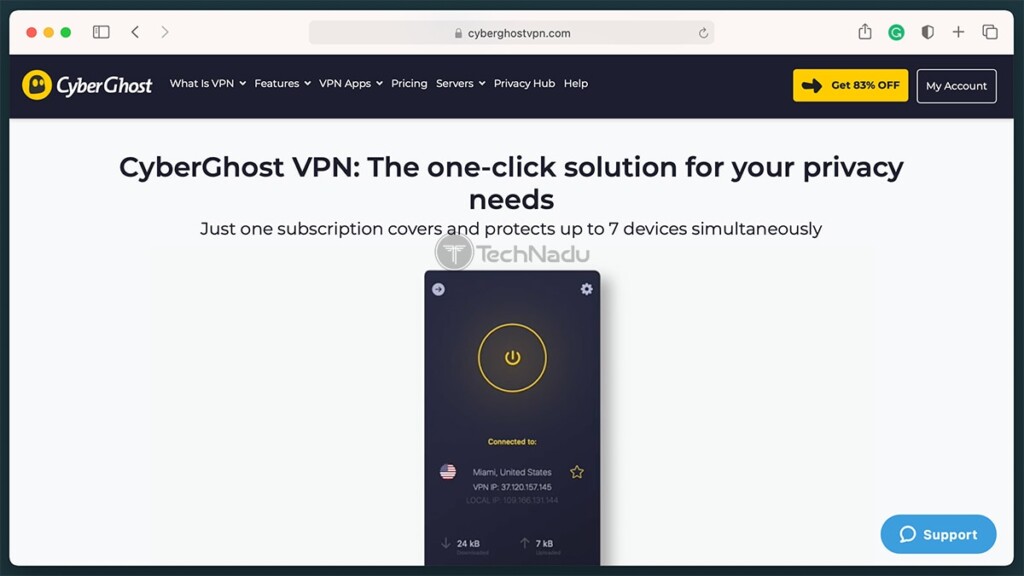 Yes, Cyberghost is a great VPN. There's plenty to love about its service, and we can see why it's so popular among VPN users. We were impressed with its powerful media streaming capabilities, and we were able to torrent files without any limitations.
It has native apps for all popular devices and works well with major streaming platforms, like Netflix, Prime Video, Disney Plus, Hulu, and BBC iPlayer. We didn't notice any DNS or IP leaks during our tests and were completely satisfied with its commitment to privacy and security. 
However, it's important to note that CyberGhost's features aren't uniform across all devices. For example, the iOS version doesn't have an ad-blocker, split tunneling, or malware protection. CyberGhost VPN is also one of the few providers that offer dedicated gaming servers, but we felt somewhat restricted by their limited availability.
The inconsistency in features across different devices and platforms isn't a deal breaker though, and it won't stop us from recommending CyberGhost VPN. And when you consider the no-questions-asked refund policy, you only have to make a risk-free decision.
CyberGhost VPN Pros and Cons
Finally, let's summarize everything said in this article and see CyberGhost's downsides and upsides. This will help you get a clear picture of whether this VPN is the right pick for you.
| | |
| --- | --- |
| CyberGhost VPN PROS | CyberGhost VPN CONS |
| Capable set of VPN features. | High-end features priced extra. |
| Works on practically any device. | Not the fastest option available. |
| Incredibly large server fleet. | Big differences between individual apps. |
| Specialized servers on offer. | |
| Impressive performance. | |
| Very affordable (in the long term). | |
| 45-day money-back guarantees. | |
| Free trial available. | |
| 24/7-available live chat support. | |
FAQ
What is CyberGhost?
CyberGhost is a premium VPN that protects your data and digital identity using advanced encryption features and security protocols. It also offers several additional features, such as dedicated IP addresses and antivirus protection.
Who Owns CyberGhost VPN?
CyberGhost VPN is owned by Kape Technologies. It's a UK-based cybersecurity company that owns a variety of digital security products, including ExpressVPN, PIA, and more.
Does CyberGhost Sell Your Data?
No, CyberGhost VPN doesn't sell, share, or trade your data. It collects information related to your account, like your email address, username, payment information, and some non-identifiable information. However, it has no history of selling users' data to third parties.
Which is Better - ExpressVPN or CyberGhost?
ExpressVPN is better than CyberGhost in many aspects. Although CyberGhost offers more servers than ExpressVPN (9,500+ compared to 3,000), ExpressVPN offers faster speeds and has better Android and iOS apps. 
Also, CyberGhost is more affordable if you go with the 6-month or 2-year plans. If you want to see how the two VPNs compare, take a look at our ExpressVPN vs. CyberGhost comparison.
Does CyberGhost VPN Work in China?
No, CyberGhost VPN doesn't work in China. Even though it offers virtual servers in this country, Internet users in China can't rely on CyberGhost to unblock websites in their country.
If you need a reliable VPN for use in China, we highly recommend ExpressVPN. Also, feel free to check our guide to the best VPN for China.