After taking a quick look at PureVPN's official website, you'll be surely impressed by its advertised features. According to the website, this is the world's fastest VPN and comes with a set of features that you won't find elsewhere. After reviewing several dozen VPNs, we have to say that we couldn't wait to get our hands on this application. So, let's show you all there is to know about this interesting provider. Welcome to our review of PureVPN!
Before we start with our review, we'll take a quick detour. We're sure that some of you are reading this article to compare PureVPN to its competitors. So, we'll start with the basic set of information to introduce you to this software.
Quick Facts
Jurisdiction
Hong Kong
Logs
Doesn't collect PII data.
Number of Servers
140+ countries / 2,000+ servers
Parallel Connections
5
Encryption Standards
OpenVPN, IKEv2, SSTP, L2TP, PPTP
Speed Reduction
71.5% on average
P2P Support
YES
Live Chat Support
YES
Supported Platforms
Windows, macOS, Linux, iOS, Android, Chromebooks & compatible routers.
Price
Starts at $3.33/month
The following table will give you a quick glance into PureVPN's media streaming capability. Differently said, you'll find the following table to be helpful if you plan on using a VPN to unblock media streaming websites.
Media Streaming Support
American Netflix
YES
Hulu
NO
BBC iPlayer
YES (via dedicated IP)
Amazon Prime Video
YES (slow performance)
Kodi
YES (with some servers)
Lastly, we have one more table for you. We understand that you might not have the time to read this entire review. So, let's jump to what you really want to know. Here are the most prominent strengths and weaknesses of PureVPN.
The Bottom Line
Pros
Easy to use; Plenty of advanced features; Torrenting support; Thousands of servers; Very affordable.
Cons
Problematic data leaks; Troublesome past; Subpar performance.
The Final Verdict
PureVPN looks like an amazing VPN on the outside. However, the troublesome past and detected data leaks show the reason for its low price. Still – it could be a good option for those not interested in total anonymity.
Our Score
5.1/10
Next, what awaits us is our in-depth and hands-on review of PureVPN. So, make sure to keep on reading if you want a behind-the-scenes look at this VPN provider.
PureVPN – TechNadu's Hands-On Review
Just like we do in our every VPN review, we'll try to take a good look at PureVPN. This starts with checking background information, and then we'll proceed by explaining its features, performance, privacy policy, and plenty more.
Background, Jurisdiction & Reputation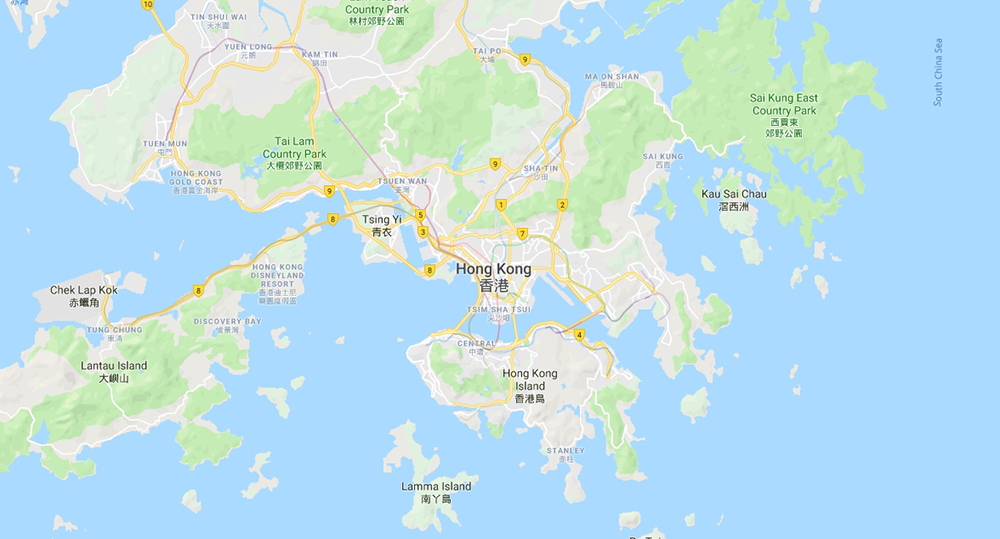 There are numerous privacy-related questions surrounding PureVPN – a company that is shrouded in mystery. Our Score: 2/10.
No matter which VPN you pick, you should know that it will process all your Web browsing data. As you can imagine, this includes your private data as well. This is why it's imperative to check some background facts about the VPN that you'll use. Here's the situation that surrounds PureVPN.
PureVPN Jurisdiction
PureVPN proudly states that it's based in Hong Kong. You probably know that Hong Kong is under the political jurisdiction of China – but you can look at it as an independent state. It has political autonomy in terms of free markets, freedom of speech and they even some independent diplomatic relations with other countries, outside of China. Most importantly, the Great Firewall of China doesn't apply to Hong Kong.
So, we can presume that PureVPN is perfectly safe for use, right? Well, this is where things get complicated. First, you need to dig deep to learn about this VPN. There is a company registration code on the website, and it corresponds to a company registered in Hong Kong. However, digging a bit deeper will lead you to another company – called Gaditek. This company is based in Karachi, Pakistan – and it even proudly showcases PureVPN's logo on its official website. Pakistan is a problematic country to base your VPN operations as it has data retention laws and problematic political situation.
It's also worth noting that some reports have surfaced linking Gaditek to a series of VPN review websites with highly aggressive SEO (Search Engine Optimization) strategies. By operating these websites, Gaditek hires writers to produce highly positive reviews of PureVPN – and these articles rank high on Google. In other words – false marketing.
PureVPN's Past Data Leaks
There have been several privacy-related incidents directly connected to PureVPN. Most recently, it was discovered that PureVPN can leak passwords since it's storing them in a plain text format. This has happened in September 2018 and has been apparently solved since.
In March of 2018, PureVPN found itself among VPNs that leak IP data. Despite several protections in place, it was surprising to hear that PureVPN can leak your personal and 'true' IP – fully exposing your online activities. What's interesting to note is that PureVPN has come up with a solution and upgraded it server since – according to the company's representatives. However, as you'll learn later in the article, this might not be the case.
Supported Platforms & Devices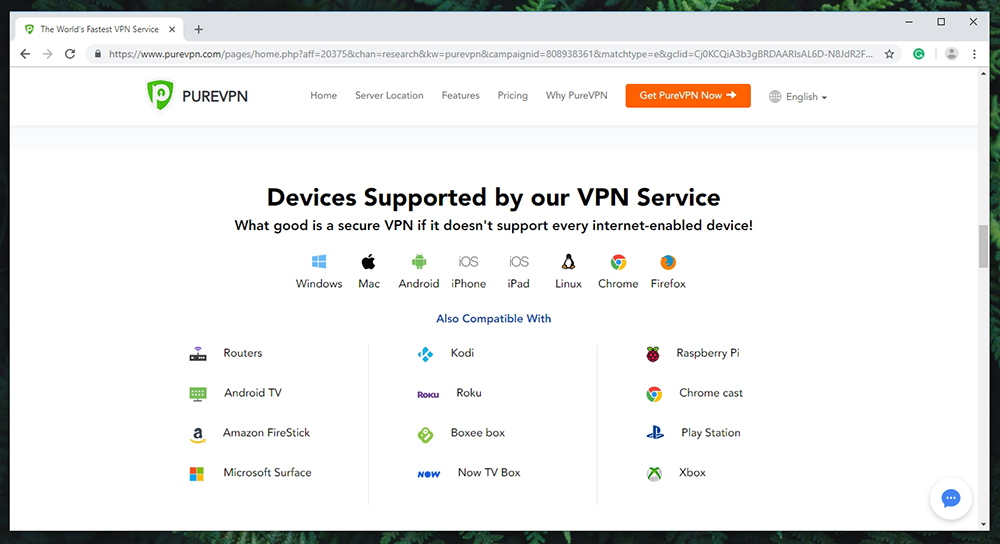 PureVPN brings wide compatibility with currently popular devices and operating systems, both desktop, and mobile. Router support is there as well. Our Score: 10/10.
When choosing a VPN, you first need to pay attention to its native apps. Ideally, you want a VPN to offer native apps for any device that you own. Leaving one device unprotected could lead to a leak, eliminating your privacy protection efforts. Here's what PureVPN offers.
Platform Compatibility
Desktop Platforms
Windows, macOS, Linux, Chromebooks.
Mobile Platforms
Android, iOS.
Web Browsers
Google Chrome and Mozilla Firefox.
Routers
DD-WRT, Tomato, and other compatible routers.
Other Devices
Android TV and Amazon Fire OS.
By taking a look at the table above, it's clear that PureVPN has covered the basics. It offers native apps for desktop and mobile platforms – and you can install these at any moment. There's also support for devices such as Chromebooks, Android TV and Amazon Fire OS, which is something we don't see often. Of course, you can also install PureVPN on a router and therefore keep all your devices protected at once.
It's also worth knowing that you can use PureVPN on up to 5 devices at the same time. Using it on a router counts as a single device, no matter how many devices you can connect to that routers. This leaves plenty of empty slots, so you can protect yourself even on the go.
Installation & Initial Configuration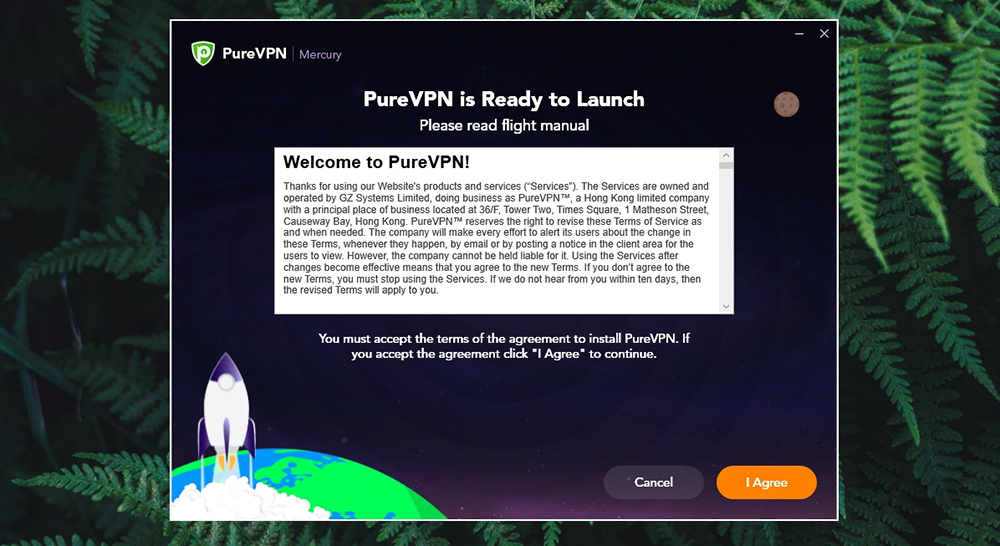 Even though the installation went fine, finding the correct installer and downloading it from the website was unnecessarily complicated. Our Score: 5/10.
As you can imagine, it all starts by getting a PureVPN subscription. You will then have to use your email address and your new password to log-in to the website's account area. However, finding that page proved to be quite difficult. There are dozens of buttons to buy this VPN – and we couldn't find a clearly stated 'My Account' page. And trust us, we've reviewed several dozen VPNs so far.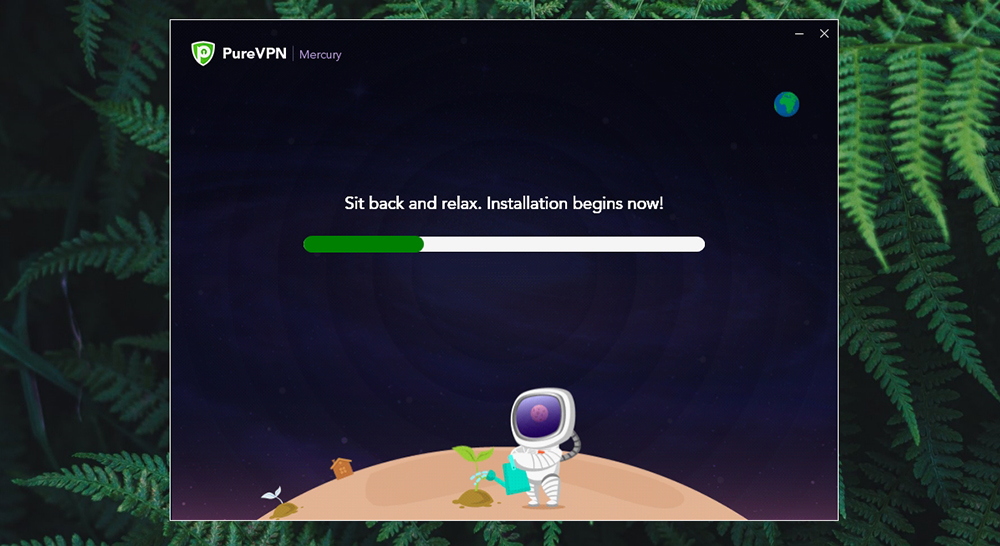 A quick Google search did the trick – and when we finally returned to the home page of PureVPN, the 'My Account' link was there. So, this must have been a bug. We managed to log into our account, then clicked on a few links and finally managed to download one of the official applications. The actual installation went smoothly. We were asked to install a TAP driver for our Windows PC – and the entire procedure took about one minute.
We felt like the entire process was unnecessarily complicated. The process of the installation went without a single problem. However, we had to jump through several hoops to find out how to download the application to our computer. PureVPN needs to make this process a lot easier.
Prominent Features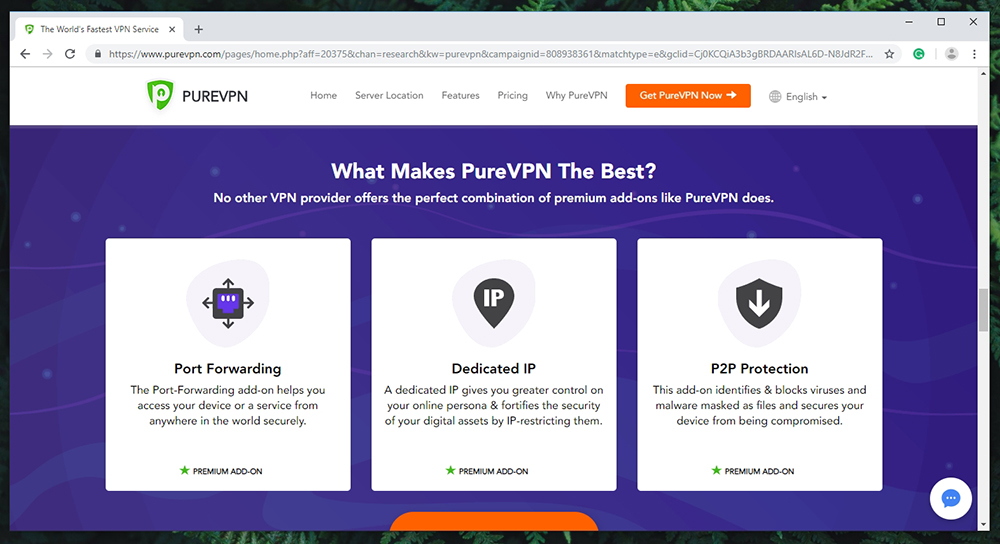 On the outside, PureVPN looks like a perfect VPN. It does come with interesting features, but they don't quite work as advertised. Our Score: 5/10.
This is where we take a look at the standard set of features that any capable VPN should bring. So, here's a table explaining what to expect from PureVPN.
VPN Features Checklist
DNS Leak Protection
YES
IPv6 Leak Protection
YES
Kill-Switch
YES
Ad-Blocked, Anti-Malware
YES
Unlimited Server Switches
YES
Unlimited Bandwidth
YES
Unlimited Data
YES
On the outside, PureVPN seems like the perfect VPN. It includes different kinds of data leak protection, including DNS and IPv6. There's even a kill-switch that prevents your data from leaking if a secure connection drops. And as you can imagine, you can count on unlimited usage. However, if you continue reading, you'll see that PureVPN's features (especially data leak protection) don't work as they should.
Among other interesting features, PureVPN supports split tunneling. You can use this VPN only for certain apps if you want while leaving other apps outside of this VPN's protection. There are also dedicated streaming servers, which we'll soon test.
Server Count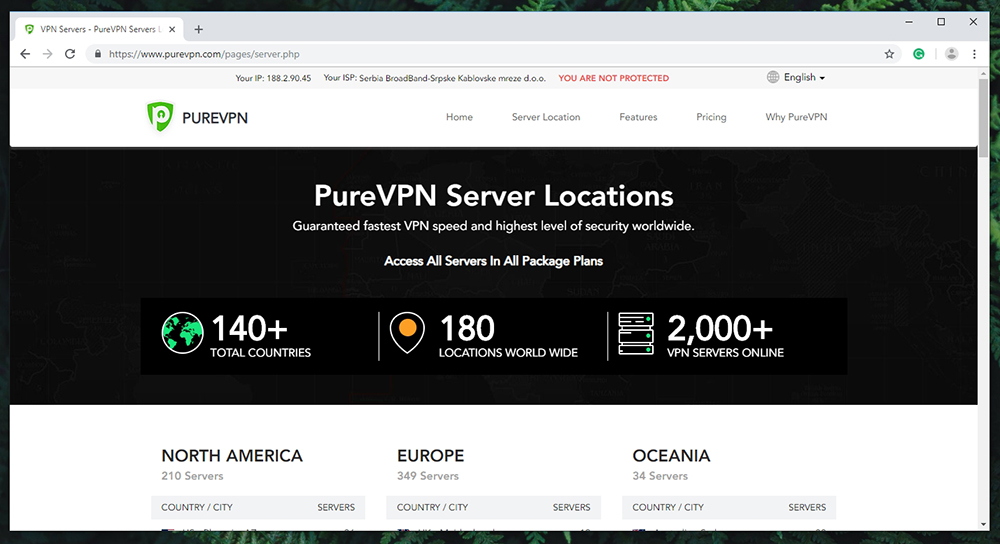 PureVPN doesn't have the largest network of servers out there – but it has the power to take you to any corner of the Web. Our Score: 8/10.
The truth is that PureVPN has plenty of servers around the world. So, here are some quick facts regarding its server count.
Server Count Info
Number of Servers
2,000+
Number of Locations
180+
Number of Countries
140+
Specific Cities Selection
YES
Unlimited Switching
YES
Once again, PureVPN exceeds our expectations. Having more than 2,000 servers spread across the globe, this VPN is among those with the highest server count. Furthermore, this VPN is trying to be as transparent as possible by giving you not only an overview of the countries where its servers are located – you can also select specific cities. This could be helpful in those situations where certain Web services are available in a number of cities (like YouTube TV, for example).
What's also interesting to note is that a number of PureVPN's servers are 'Ozone-enabled'. These are more advanced servers with several helpful features built-in. There's an URL filter for screening websites that you visit. They also protect you against malware, ads, and tracking. You can select these from within the app and they don't come at an additional cost.
Ease of Use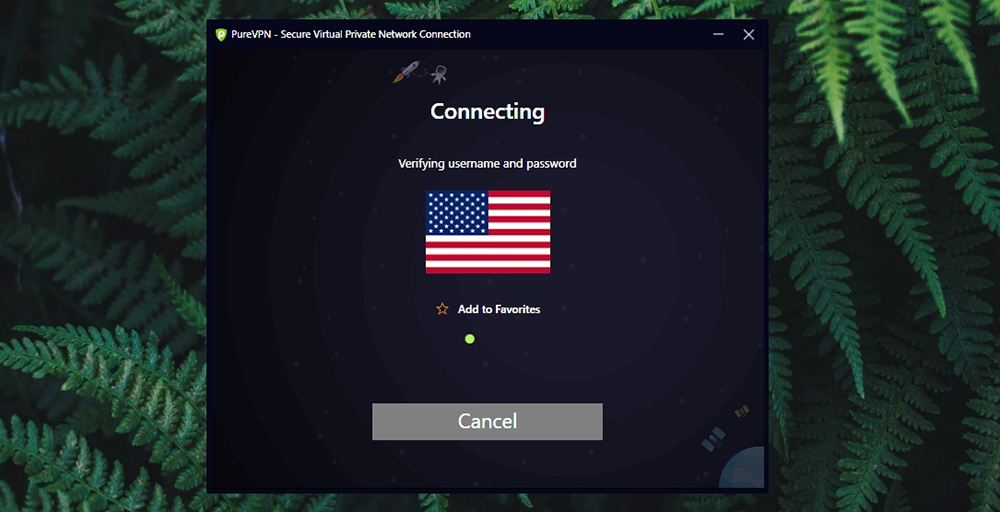 PureVPN doesn't bring the most polished UI design, which can be confusing at times – especially for complete newbies. Our Score: 5/10.
PureVPN is trying to offer its services through a 'relaxed' design, which is evident by the looking of its website and native applications. They come with all kinds of funny graphics and vibrant colors, taking away the seriousness of VPN applications. So, let's take a look at what you can expect.
Upon the first launch, you'll have the option to select a mode – which includes streaming, Internet freedom, security/privacy, file sharing, and dedicated IP. Each of those modes comes with a predefined set of servers optimized for specific functions (as well as some mode-specific options). When you get past this launch screen, you'll get to see PureVPN's home screen that lets you start using the application.
As noted by some of our readers, PureVPN doesn't always necessarily show the 'Select Mode' window at startup. However, you can always change between different modes by going to the application's options (top-right corner of the windows). This will optimize the VPN for different purposes, so make sure to use this feature.
On the left side of the screen, you'll see two buttons, called Dashboard and Gravity. Here's what these can do:
Dashboard: This is where you'll be spending the majority of your time. It's worth mentioning that the dashboard is based on your selected mode. For example, you can go with the 'Stream' mode that connects you to a secure server based on its country or city. Also, you can run a ping test to quickly check the performance of a number of servers. You can either select a country or an individual city, and PureVPN will take care of the rest. After a few seconds, the connection will be made, and you can return to your regular online activities. Other modes bring a somewhat different UI but their goal is always the same – to connect to a VPN server.
Gravity: This is a newly introduced feature that helps you fight viruses, malware, and hackers. You can click on 'Configure' to be taken to your account page, where you can fine-tune this option. Once you get back, simply enable this feature and it will work in the background.
The only thing that left for us to check is the application's settings panel. You can access it by clicking on the cogwheel button, in the top-right corner:
App Settings: You'll find some basic but highly important options here. To ensure maximum protection, you can set PureVPN to launch at startup and immediately connect to a predefined VPN server. This is where you can also select one of the supported VPN protocols and choose from several languages.
Select Mode: As said earlier, you can choose from different modes that prioritize specifically optimized servers. For example, there's a mode for streaming, Web browsing, file-sharing, and more.
Network Type: If you're a skilled VPN user, you can make sure that PureVPN works the way you want. This including letting the application pick the best network-related settings or you can force it to use a non-NAT network.
Advanced Options: By default, these options come already enabled. For example, 256-bit encryption is already enabled as is IPv6 leak protection. However, what's not enabled by default is a kill-switch. We strongly recommend you to use this option.
VPN Hotspot: As you probably know, you can turn your computer into a hotspot and provide Internet connectivity to connected devices. Well, PureVPN can share your VPN connection with other devices, so you can easily extend its reach.
Split Tunneling: Now, here's a very interesting feature. If you don't want to use this VPN to protect only specific applications (like your torrent client, for example), you can use split tunneling.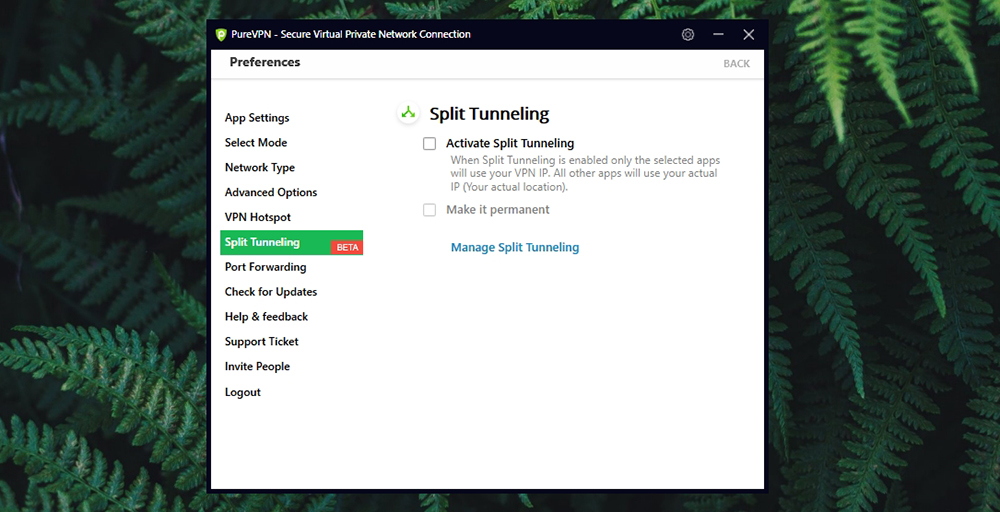 Port Forwarding: Connecting to a specific Web-connected device typically involved accessing certain ports. That's why PureVPN allows you to do that without compromising your security.
Help & Support: Interestingly enough, PureVPN lets you create a support ticket from within the application – which is a really nice and convenient way to get help.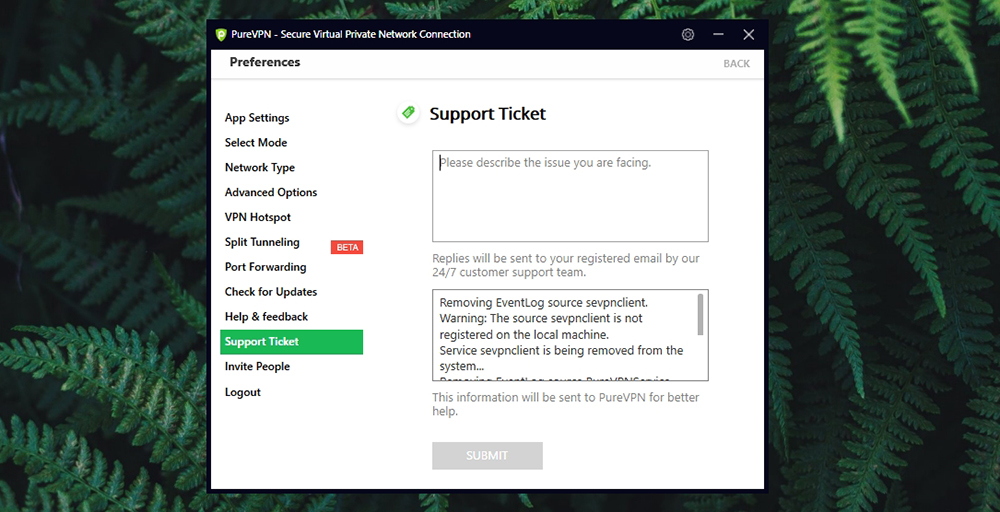 Invite People & Log Out: Pretty self-explanatory, right? You can recommend PureVPN to your friend to get 'surprise rewards'.
All in all, PureVPN comes with a very simple UI that's also easy to use. It's not the most intuitive at times nor is it highly polished – but it will get the job done. We liked the application's comprehensive settings panel, that truly lets you dive deep into customizing your experience.
Media Streaming & Torrenting Support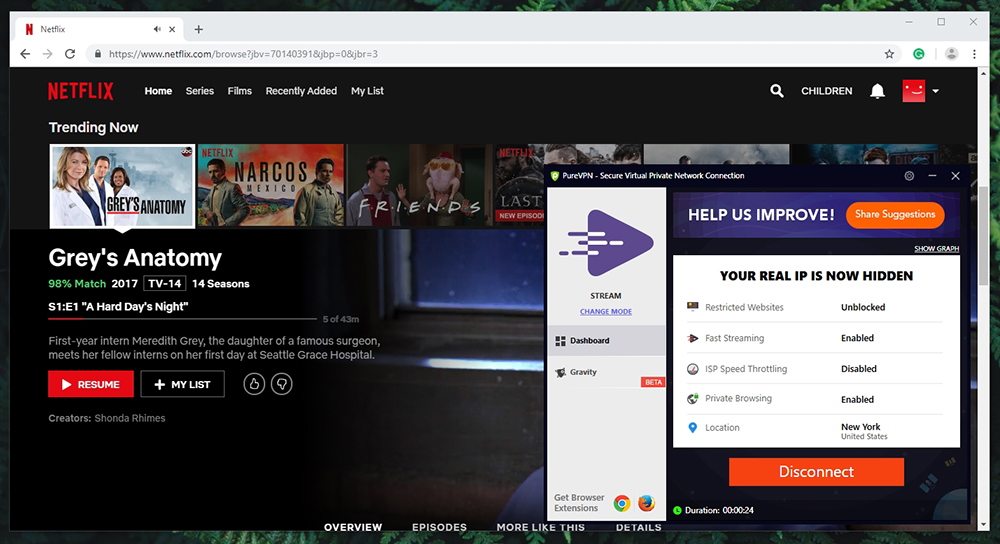 According to our tests, PureVPN can only fully unblock Netflix and BBC iPlayer. Aside from that, it also fully supports torrenting – and that's pretty much it. Our Score: 5/10.
It's time to see how successfully can PureVPN unblock media streaming website. Don't worry, we haven't forgotten fans of P2P traffic either. Here's what you need to know.
Media Streaming & Torrenting Support
Netflix US
YES
Hulu
NO
BBC iPlayer
YES (via dedicated IP)
Amazon Prime Video
YES (very slow performance)
Torrenting (P2P) Support
YES
We are sure that many of you want to use a VPN to unblock media streaming websites. This is precisely why we test every VPN that we review – and our test include the top four most popular streaming services.
The good news is that when it comes to unblocking Netflix US, this VPN can help you. It's interesting to note that you often hear that PureVPN can't unblock Netflix. However, this wasn't the case during our testing. We managed to play US-only titles without any problems whatsoever. PureVPN wasn't able to unblock Hulu and we managed to unblock BBC iPlayer after chatting with the company's support team. For this service, you need to use a dedicated IP. And when it comes to Amazon Prime Video, we did unblock it – but we weren't able to play anything due to constant buffering. The bottom line – Netflix users are in luck, while users of other services will have to find the best VPN for streaming.
And we have good news if you depend on P2P traffic. PureVPN allows torrenting via many of its servers. For this purpose, you'll have to go with the 'File Sharing mode' which will make downloading large files as easy as possible.
Security & Privacy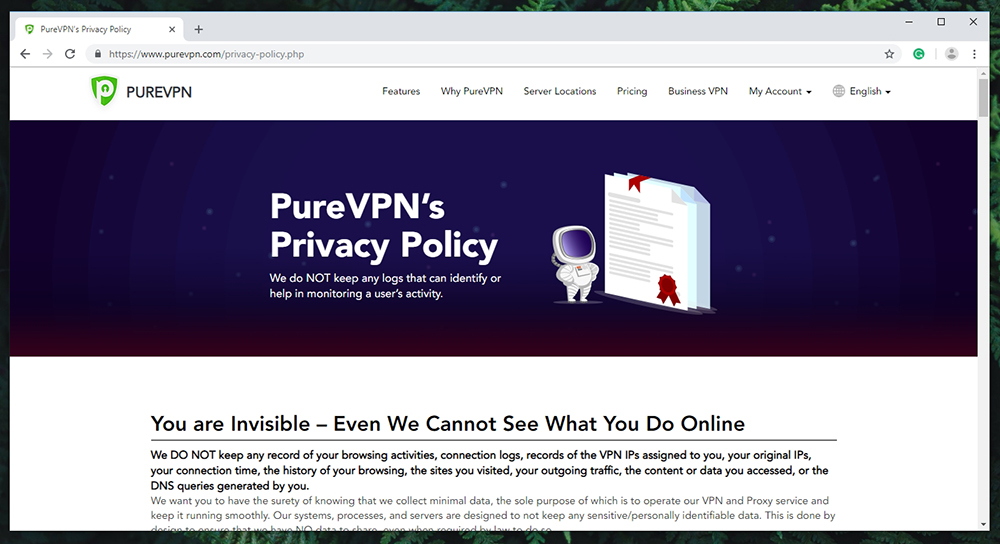 PureVPN can be recommended only to those whose main goal isn't to be 100% anonymous online, as we've detected alarming data leaks. Our Score: 1/10.
As you could learn in the first segment of our review, PureVPN does have a somewhat problematic past. So, let's take a closer look and see how well it can protect the privacy of its users.
Supported Encryption Standards
PureVPN is using plenty of capable tools for encrypting your data. This means that it doesn't allow a third-party to take advantage of your personal information. The core of this technology is military-grade 256-bit encryption – the strongest type available right now.
In addition to using highly capable encryption, PureVPN relies on a whole range of VPN protocols as well. These are OpenVPN (UDP/TCP), IKEv2, PPTP, L2TP, and SSTP. Each of these comes with its strengths and weaknesses – where OpenVPN is considered to the best one right now. This means that PureVPN has covered the basics well.
Logging Policy
Even the strongest VPN protocols don't mean much if your VPN collects your data. And in 2017, PureVPN completely tarnished its own reputation. This was connected to a case where the FBI was able to catch a cyber-stalker by forcing PureVPN to hand over personal data of the person in question. And all of this was happening at a time when PureVPN claimed that it doesn't know anything about its customers.
To improve its standing, PureVPN has done plenty to persuade its customers into staying. They've updated their privacy policy to make it more transparent and here's what kind of information they log right now:
Information regarding your Internet Service Provider;
The date and time you connect to a secure server.
The types of information mentioned above cannot be used to identify what you do online. This means that your true IP address, connection timestamps or any other personally identifiable information are not collected.
It's true that PureVPN has had several problems in the past – and it already managed to disappoint its users once. However, we do believe that the company has improved its privacy policy and that it no longer collects personal data. In fact, this VPN went through an independent audit recently, confirming that PII (personally identifiable information) is never collected – which once again makes PureVPN an interesting pick.
DNS Leak Test
Lastly, we are going to put PureVPN through a DNS leak test. This will tell us if websites can see our true information, or they only see what PureVPN serves them. Take a look at the following screenshot.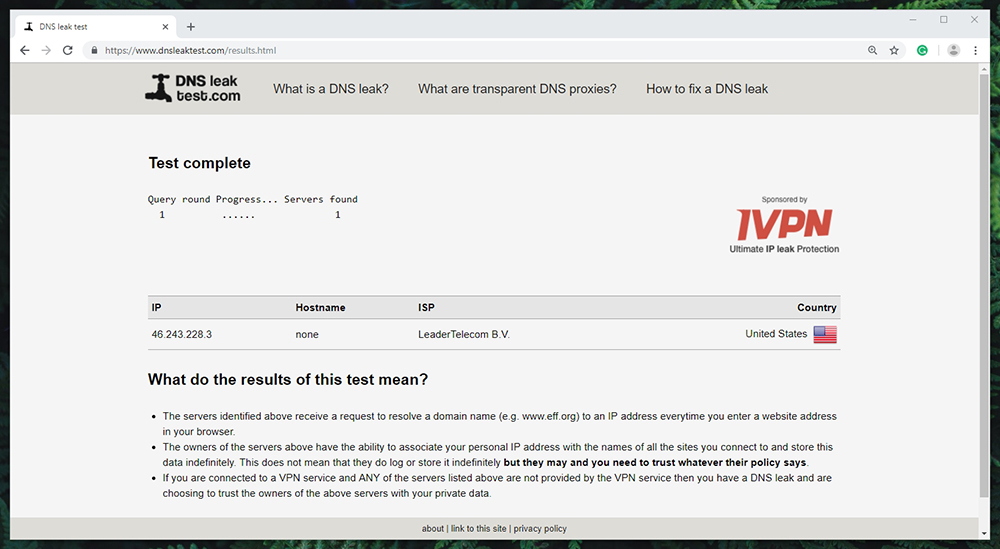 During our first test, it all seemed to be just fine. We got a new American IP address, and we were able to hide our real identity. However, knowing that PureVPN has had some problems in the past, we've decided to do another test, so we connected to another US-based server.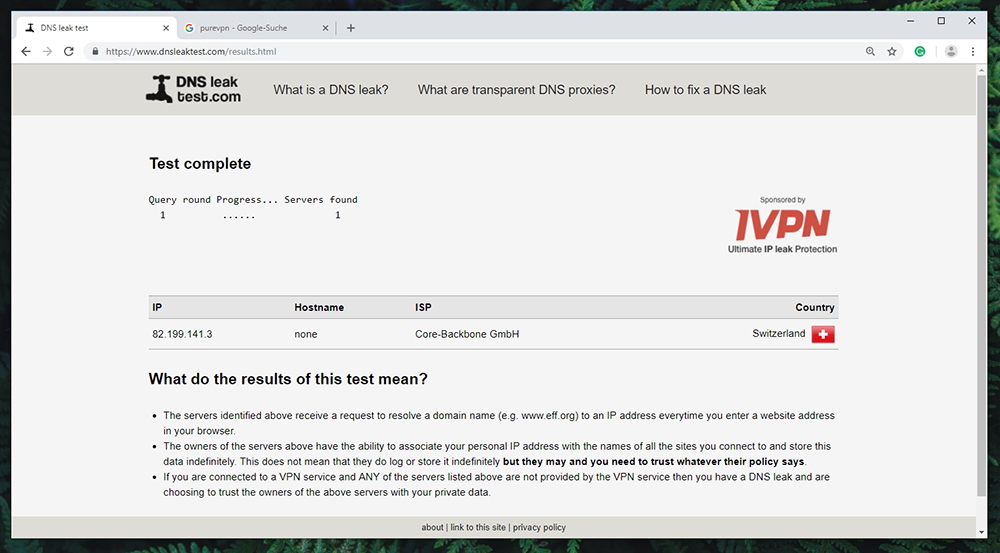 As you can see from the image above, we did get a new IP address. However, the problem was that this new IP came from Switzerland even though we were connected to an American server. This means that websites can see the server that PureVPN is presenting them but they can also see past that – DNS server provided by our Internet Service Provider. In other words, the test managed to list both our 'fake' and real IP address, which means that a leak has been detected.
Speed & Performance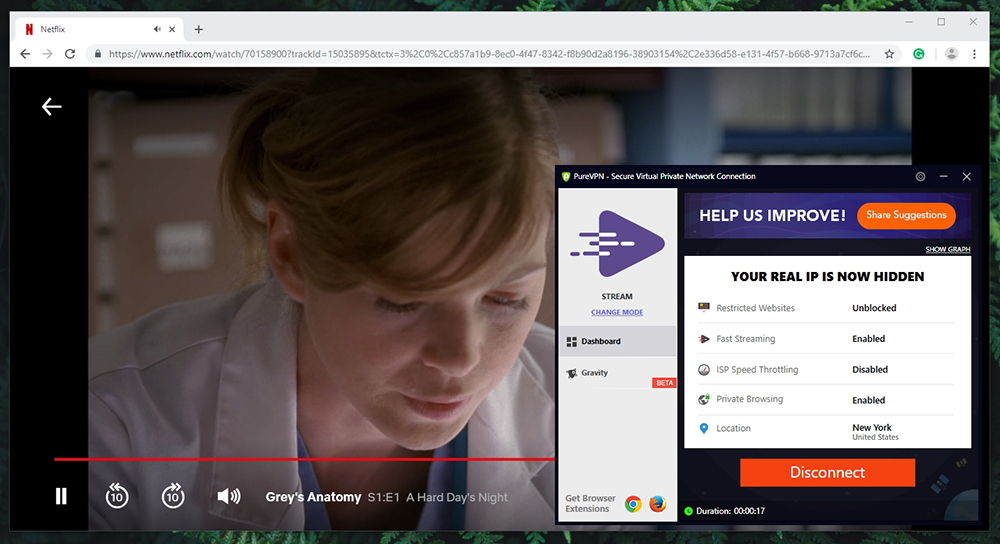 On average, PureVPN slowed our Web connection down by around 70%. This is quite below what you can usually expect. Our Score: 3/10.
Now is the time to check the performance of PureVPN. For this purpose, we'll use a connect to several secure servers, and run speed tests. However, we first need to set our baseline speed, without a VPN.

The image above shows the speed of our Web connection without using a VPN. Even though our ISP is advertising 150Mbps, we got 148.14 Mbps (close enough) for downloads and 9.68 Mbps for uploads. These numbers will help you calculate the speed reduction imposed by PureVPN.

First, we've made a secure connection to a nearby server, located in our own country. In general, we've expected to see some reduction but not by much. However, that's wasn't the case. We got 74.25 Mbps for downloads and 8.99 Mbps for uploads.
Then, we've connected to a remote server, located in the USA. This is when our speed deteriorated even further and came down to 37.01 Mbps for downloads and 4.24 Mbps for uploads. Once again, this kind of throttling is not usual and should not be drastic – especially when it comes to reputable and long-standing VPN providers.
To give it another shot, we've switched to a 'Streaming' mode – hoping to get somewhat better results. Once again, we connected to a server in the USA. Unfortunately, this server throttled our Web connection in a big way. We only got 14.53 Mbps for downloads and 2.75 Mbps for uploads.
To make sense of this data, we are going to put all of the above-mentioned information in a table. This will help us calculate by how much did PureVPN reduced the speed of our Web connection.
| | | | |
| --- | --- | --- | --- |
| | Download Speed | Upload Speed | Speed Reduction |
| Baseline Speed | 148.14 Mbps | 9.68 Mbps | 0% |
| Nearby Server | 74.25 Mbps | 8.99 Mbps | 49.8% |
| Remote Server 1 | 37.01 Mbps | 4.24 Mbps | 75.0% |
| Remote Server 2 | 14.53 Mbps | 2.75 Mbps | 90.0% |
We can conclude that PureVPN made our Web connection slowed up to 71.5%. It's true that VPNs can slow you down since your data needs to be travel more. However, this kind of drastic reduction is quite below what you can usually expect.
Customer Support
Even though PureVPN offers different communication channels, you won't always find the information you're looking for. Our Score: 3/10.
We'll also tell you what kind of customer support you can expect from PureVPN. After all, having someone to assist you in case of any question is quite important. So, here are different ways to get help:
Live Chat Support: On every page of PureVPN's website, you can find a live chat in the bottom-right corner. This is the best and speediest way to get help since you can talk to a real person. There aren't any queues and you can start chatting with someone in an instant.
Setup Guides: To help you install this VPN, you can rely on a number of setup guides. This perhaps isn't needed when installing PureVPN on Windows or macOS. However, you'll find resources helpful when installing the VPN on a router.
FAQs: If you have any doubts about buying this VPN, you can check out frequently asked questions. Many of those are helpful if you have questions in mind before buying a subscription.
Support Tickets: Instead of sending an email, you can open a support ticket and send a message to PureVPN's support team. You can expect a response in a day or two.
Special Guides: PureVPN also offers some special guides for users in China, watching Netflix outside the USA, and more.
Even though there are numerous communication channels available, you won't always get the information you're looking for. For example, you will be told that PureVPN supports Hulu, and you might be offered a list of servers. When you try them, you'll see that they don't work. However, PureVPN will insist that they work and that you've only encountered a temporary setback. Deeper research will unveil that Hulu has not been an option for a while now.
Pricing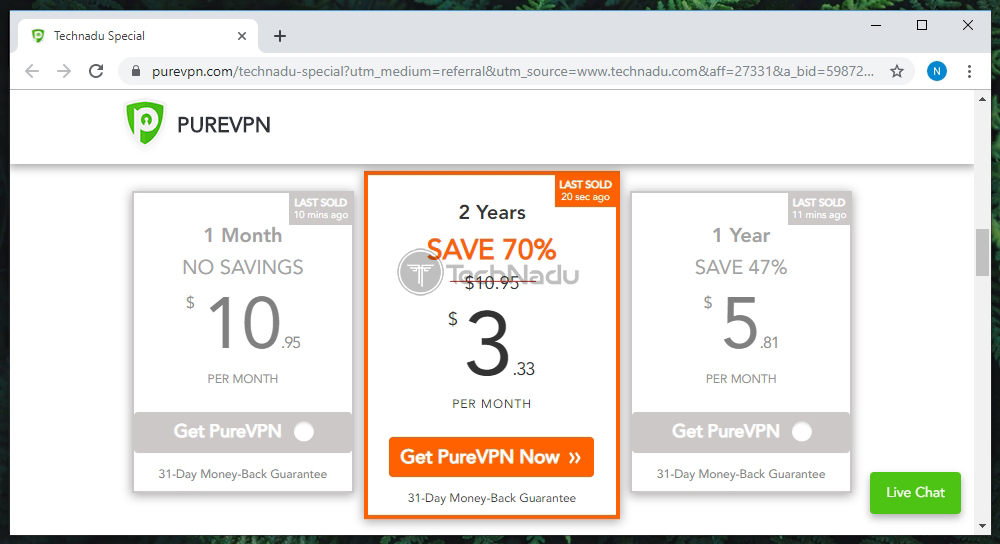 PureVPN is among the cheapest VPNs out there – which is an amazing thing only if you're looking to unblock new websites. Our Score: 9/10.
Lastly, we'll take a look at PureVPN's pricing structure. We have put together a helpful table below where you can find information to get started.
| | | | |
| --- | --- | --- | --- |
| Subscription Plan | Total Price | Per Month | Savings |
| 1-Month Plan | $10.95 | $10.95 | 0% |
| 1-Year Plan | $69.72 | $5.81 | 47% |
| 2-Years Plan | $79.92 | $3.33 | 70% |
It's evident that PureVPN's annual plan is by far its best option. Furthermore, you can also subscribe to PureVPN for $80 for 2 years, which comes down to $3.33 per month. We'll be honest with you – and we'll say that you'll hardly find a better price right now.
There are different ways to pay, including credit cards, Bitcoin payments, PayPal, AliPay, and even via gift cards. And finally, you should know that PureVPN offers a 31-day money-back guarantee – with no questions asked. And you should also note that some payment methods do not include the refund option, such as the Google Play Store and Apple App Store.
Do We Recommend PureVPN in 2019?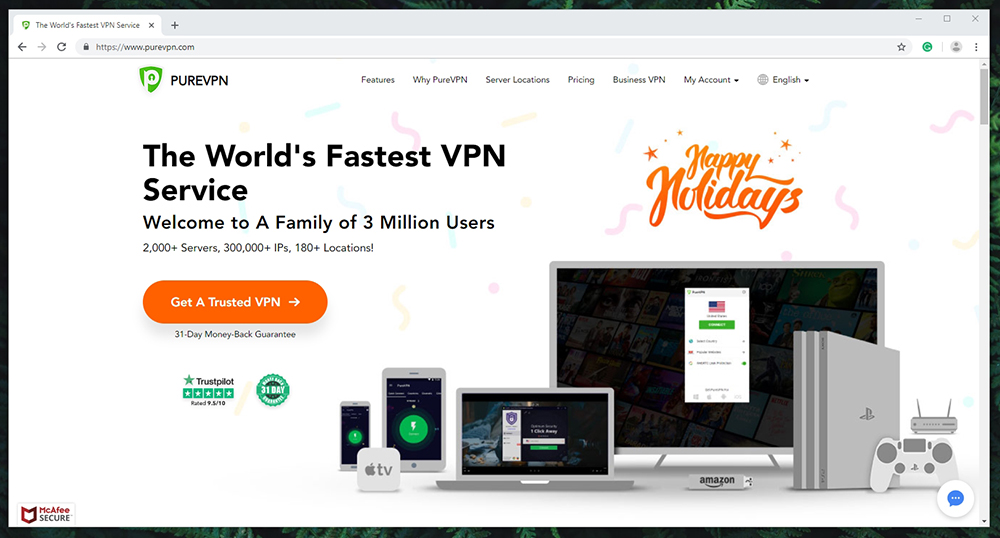 So, the big question is – is PureVPN worth the money? If you've read this review carefully, you know that PureVPN is far from perfect. Most importantly, there are some questions regarding its ability to protect your data from leaking. This is why we don't recommend it to those who want a VPN to fully go anonymous online. However, other types of users would enjoy using PureVPN – for media streaming, torrenting, and unblocking new types of websites (as long as your privacy isn't your top priority).
PROS: Simple to use; Plenty of interesting features, Thousands of servers across the world; Strong encryption.
CONS: Data leaks; Below-average performance; Noticeable throttling.
OUR SCORE: 5.1 out of 10!
In case you think PureVPN could be a good fit for you, don't hesitate and sign up for PureVPN today. Even though it might not be the most secure option, we're sure that some users would find it to be useful – especially considering its low price!
Finally, we'd like to ask you to share this article online. And don't forget to follow us on Facebook and Twitter. Thanks!