PureVPN is a prominent contender in the vast world of VPNs. But what makes it stand out? Well, for starters, it follows a strict no-logs policy, ensuring your online activities remain private. Operating from the British Virgin Islands, it also distances itself from international surveillance alliances.
That said, PureVPN also falls short in some areas - it has a history of controversial leaks (more on that later on). Yet, there's more to explore. PureVPN excels at unblocking geo-restricted streaming platforms, supporting P2P file sharing, and delivering a consistent gaming experience.
It's also armed with privacy and security features with AES 256-bit encryption, so it's no surprise that PureVPN secures a spot on our list of the best VPN services.
Before we get more into that, here's an overview of the VPN, showing its specifications and other critical information.
| | |
| --- | --- |
| Jurisdiction  | British Virgin Islands. |
| Logs | No logging (independently audited). |
| Servers | 6,500+ in 70+ countries. |
| Simultaneous Connections | 10. |
| Supported Devices | Windows, macOS, Linux, iOS, Android, Chrome OS, and more. |
| Features | Kill switch, split tunneling, obfuscation, dedicated IPs, port forwarding and more. |
| Protocols | WireGuard, OpenVPN, IKEv2, and more. |
| Supports | Netflix US, BBC iPlayer, Disney+, torrenting, gaming, and more. |
| Customer Support | 24/7 live chat, email, FAQ, and more. |
| Price | From $2.29/month. |
| Live Deal | 82% OFF (2-year plan) + 3 Extra Months |
| Our Score | 7.8 out of 10. |
This PureVPN review will cover each aspect of the VPN, from encryption to performance and reliability, privacy and security, user interface, pricing, server spread, streaming capabilities, and more. Check out how we review VPNs to learn about the uniform approach we've used in testing 65+ providers. 
Background, Jurisdiction & Reputation
PureVPN has been under the privacy spotlight, with questions about its practices. In response, they've taken a step towards transparency by initiating an independent audit to verify their zero-logs policy. Our Score: 2/10
Evaluating the trustworthiness of a VPN relies on understanding how your data is handled and protected. In this context, two critical factors to consider are the VPN's background and the jurisdiction it operates in. Now, let's explore how these factors relate to PureVPN.
Where Is PureVPN Based?
PureVPN is now based in the British Virgin Islands, a jurisdiction outside the 5/9/14 Eyes Alliance. In 2021, it relocated from Hong Kong to the British Virgin Islands, in response to rising Chinese influence. This move reflects a wider trend of VPNs leaving Hong Kong to protect user data amid the city's shifting political dynamics.
More precisely, PureVPN is a product of a company called GZ Systems Limited, as per this VPN's legal documentation. That's where you'll find the company's address, providing a level of transparency that we don't often see in today's VPN services (if you don't take a closer look, as you're about to find out).
Digging a bit deeper will lead you to another company called Gaditek. This company is based in Karachi, Pakistan – and it even proudly showcases PureVPN's logo on its official website. Pakistan is a problematic country to base VPN operations in, as it has data retention laws and a highly complex political situation.
We also have to mention that Uzair Gadit, the co-founder and CEO of PureVPN, holds the position of co-founder and CEO at Gaditek. Notably, he's a founding partner of Disrupt.com as well. Other co-founders of PureVPN, Umair Gadit and Aaqib Gadit, also share the role of founding partners at Disrupt.com and are leading other companies under the same brand.
These interconnected roles and associations definitely shed light on the collaborative landscape among these ventures.
Did PureVPN Leak Private Data in the Past?
There have been several privacy-related incidents directly connected to PureVPN. Most recently, it was discovered that PureVPN could have leaked passwords since it stored them in a plain text format. This discovery was unveiled in September 2018, and this security vulnerability has been apparently solved since.
In March of 2018, PureVPN found itself among a group of VPNs leaking IP data. Despite several protections in place, it was surprising to hear that PureVPN could have a DNS leak or IPv6 leak – fully exposing your online activities.
We should also mention that in 2017, PureVPN was happy to assist the FBI in catching a cyberstalker. At that time, the VPN claimed that no data was collected, which turned out to be false. Even though committing a crime is against any digital service's 'Terms of Service' out there, the problem is that PureVPN wasn't honest about its logging practices.
In 2013, PureVPN faced a data breach when attackers exploited a vulnerability to access email addresses and names. Fortunately, the breach didn't expose sensitive financial data, as PureVPN doesn't store such information. They also maintained their no-logs policy, ensuring that user privacy and security remained intact despite the incident.
Finally, in an effort to improve its image, PureVPN went through an audit. As per the results of this audit, the VPN doesn't leak any personal information, and it also doesn't store anything sensitive. This is definitely good news for its subscribers, but we still recommend exercising caution while using this VPN.
Is PureVPN Safe?
Yes, PureVPN is safe. It uses AES 256-bit encryption, which takes your online data and transforms it into a complex code, rendering it nearly impossible for hackers to decipher. Moreover, it now operates from one of the world's most friendly locations for data privacy.
As we touched on earlier, this VPN came under intense scrutiny in the past over concerns about its counteractive activities. However, just as importantly, it has taken very strong measures to build back trust. It has done this by implementing secure VPN tunnels and protocols like OpenVPN, WireGuard, IKEv2, and more.
In 2021, it became the first VPN to sanction an "Always-On" audit. This means the audit firm in charge, KPMG, can analyze PureVPN's network and servers at any time, without warning, to verify its no-logs claims. 
Non-scheduled audits present a benchmark in an industry where most providers have never even had their servers evaluated by independent bodies.  
Supported Platforms & Devices
PureVPN brings wide compatibility with every currently popular device and operating system, both desktop and mobile. Router support is there as well. Our Score: 10/10
When choosing a VPN, you first need to pay attention to its native apps. Ideally, you want a VPN to offer native apps for just about any Internet-connected device. Leaving a single device unprotected could lead to a leak, eliminating your privacy protection efforts.
| | |
| --- | --- |
| Desktop Platforms | Windows, Mac, Linux, Chrome OS. |
| Mobile Platforms | Android, iOS, iPadOS, Huawei. |
| Web Browsers | Chrome, Firefox, Edge, Brave. |
| Routers | DD-WRT, Tomato, Linksys, Pfsense, and more. |
| Other Devices | Xbox, Android TV, Amazon Fire TV, and more. |
By looking at the table above, it's clear that PureVPN has covered the basics well, as it offers native apps for desktop and mobile platforms. There's also support for platforms like Chrome OS, Android TV, and Amazon Fire OS, which is something we don't see very often.
Of course, you can also install PureVPN on a router and, therefore, keep all your household devices protected at once. Even though that isn't the most straightforward process to go through, it's the best way to ensure that your personal data doesn't leak online.
In addition to that, PureVPN extends its support to the Chrome extension and other well-known browser extensions. Moreover, it provides a wealth of downloadable resources and tutorials, making it a breeze to configure not just on routers but also on Kodi, Amazon's Fire Stick, and more.
It's also worth knowing that you can use PureVPN on up to 10 devices at the same time. Using it on a router counts as a single device, no matter how many devices you connect to that router. This leaves plenty of "empty" slots, so you can protect yourself even on the go.
Installation & Initial Configuration
In general, downloading and installing PureVPN comes without any annoyances. The process is suitable even for complete beginners. Our Score: 10/10
In this part of our PureVPN review, we'll show you how to get PureVPN, from downloading it to setting it up. It's an easy process, as you'll soon find out.
How to Download and Use PureVPN?
To get started with PureVPN, you need to subscribe first, download the installation file, and install the app on your device. The whole process is quick and straightforward, requiring just a few minutes of your time.
Here's what you need to do:
Subscribe to PureVPN on any Web browser.
Log in to your account to access the dashboard.
Go to 'Download' and select your device.
Next, download and run the installation file.
Once installed, enter your username and password.
Choose a server and connect. You're all set!
No matter which platform you use, the process of installing PureVPN is quite simple. And if you ever get stuck along the way, you can consult PureVPN's installation guides, which come nicely written with plenty of useful material.
Prominent Features
PureVPN has eliminated a group of unique yet very problematic features - and is now a reliable and powerful VPN service once again. However, not all of PureVPN's advertised features are available across all its apps. Our Score: 8/10
This is where we take a look at the standard and advanced features that PureVPN brings in 2023. So here's what to expect from the VPN service when it comes to features:
High-End Data Encryption: PureVPN uses AES 256-bit encryption for data encryption and decryption. This top-tier encryption method is widely trusted and serves as the foundation for modern security standards across various protocols and technologies.
Full Leak Protection: Prioritizing your online anonymity, PureVPN employs IPv4 and IPv6 DNS leak protection to safeguard your online activities. It also ensures your security with WebRTC protection, shielding you from hackers and trackers while enhancing your online privacy.
Internet Kill Switch: This feature works by disconnecting your Internet when PureVPN's connection drops, ensuring that your real IP and various online activities remain protected. It's available on Windows, macOS, Android, and Linux devices.
Split Tunneling: PureVPN now offers split tunneling for Windows and Android devices. This feature's name says it all – it splits your Internet traffic. You get to decide which apps go through the VPN network or your local network, customizing your online experience the way you want.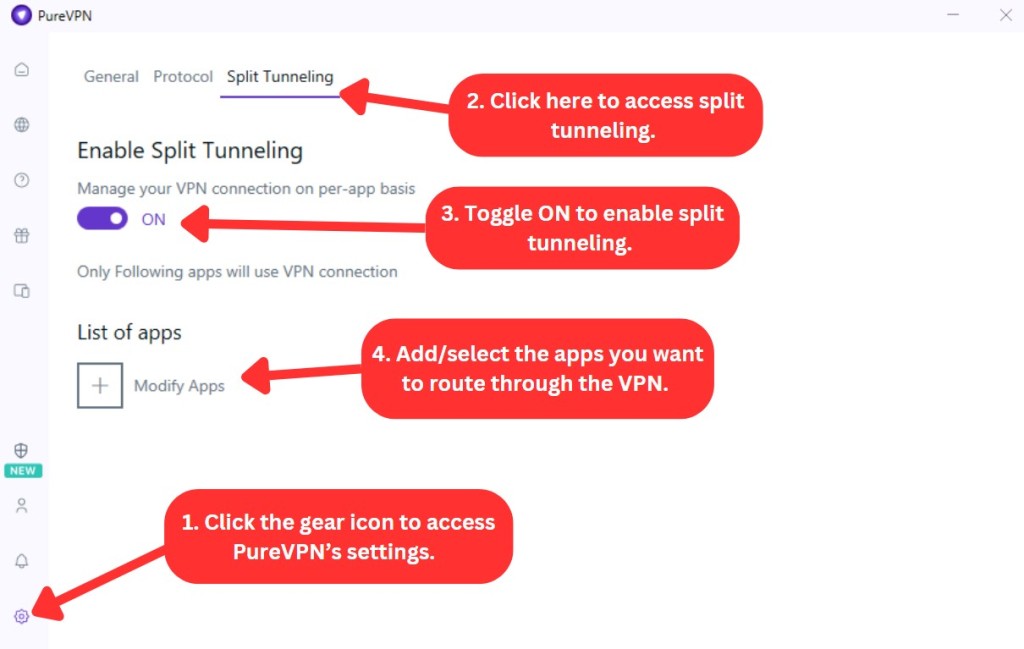 Dedicated IP: PureVPN offers this special add-on, giving you an exclusive IP address and the choice of 7 different IP locations. With a dedicated IP, your IP address is yours alone and won't change even if you switch routers or networks.
Port Forwarding: This paid PureVPN add-on is available in 15 different locations. When activated, it provides extra protection for your Internet traffic, making sure it travels securely between the VPN server and the Web.
Always-On / VPN On Demand (Android & iOS): The Always-On feature in the Android App keeps you connected to the VPN continuously, even re-establishing the connection if it disconnects during a session. Meanwhile, on iOS, 'VPN on Demand' provides an instant VPN connection as soon as any Internet-based activity occurs on the specified domains, offering a seamless and time-saving experience.
Interestingly enough, PureVPN used to come with all kinds of unique features. For example, there were "Gravity" and "Ozone" servers used to scan for malware and obfuscate your traffic in a unique way. However, they also brought performance-related issues. That said, it's not surprising to see those features discontinued.
Server Count & Infrastructure
PureVPN doesn't have the largest network of servers out there, but it has the power to take you to any corner of the Web. Our Score: 9.5/10
The truth is that PureVPN has plenty of servers around the world. That said, our PureVPN review wouldn't be complete without inspecting its server network, which you can learn more about just below.
| | |
| --- | --- |
| Number of Servers | 6,500+ |
| Number of Locations | 88+ |
| Number of Countries | 70+ |
| Specific Cities Selection | YES |
| Unlimited Switching | YES |
We have to say that PureVPN has exceeded our expectations. Having more than 6,500 servers spread across the globe, it's one of the VPNs with the most servers right now. Furthermore, it's trying to be as transparent as possible by giving you an overview of the countries with server locations and even letting you pick specific cities.
All that comes in handy once you start using PureVPN's software. On top of that, you can sort the server list based on different types. You get to choose P2P servers for file sharing, Quantum-resistant (for added security), enabling port forwarding, and virtual options. This way, you get precisely what you need.
Also, when you use the OpenVPN (UDP/TCP) protocol with PureVPN, all servers obfuscate your data. This extra layer of security ensures the privacy and protection of your Web activities.
Does PureVPN Use Virtual Server Locations?
Yes, a portion of PureVPN's network uses VPN virtual locations. We'll give you an example of how they work.
Imagine you want to use a server in Brazil, but PureVPN uses servers in Argentina for this. When you connect, your Internet traffic goes through Argentina's servers, but you get a Brazilian IP address. This makes it seem like your Web activity is coming from Brazil. It's like a virtual detour to the location you want.
PureVPN's Virtual Server Locations - Full List
| | | | |
| --- | --- | --- | --- |
| Afghanistan | Bahrain | Brunei Darussalam | Oman |
| Algeria | Bangladesh | Cayman Islands | Panama |
| Angola | Barbados | Egypt | Philippines |
| Argentina | Bermuda | India | Puerto Rico |
| Aruba | Bolivia | Monaco | Russia |
| Bahamas | British Virgin Islands | Nigeria | Vietnam |
UI/UX Design & Ease of Use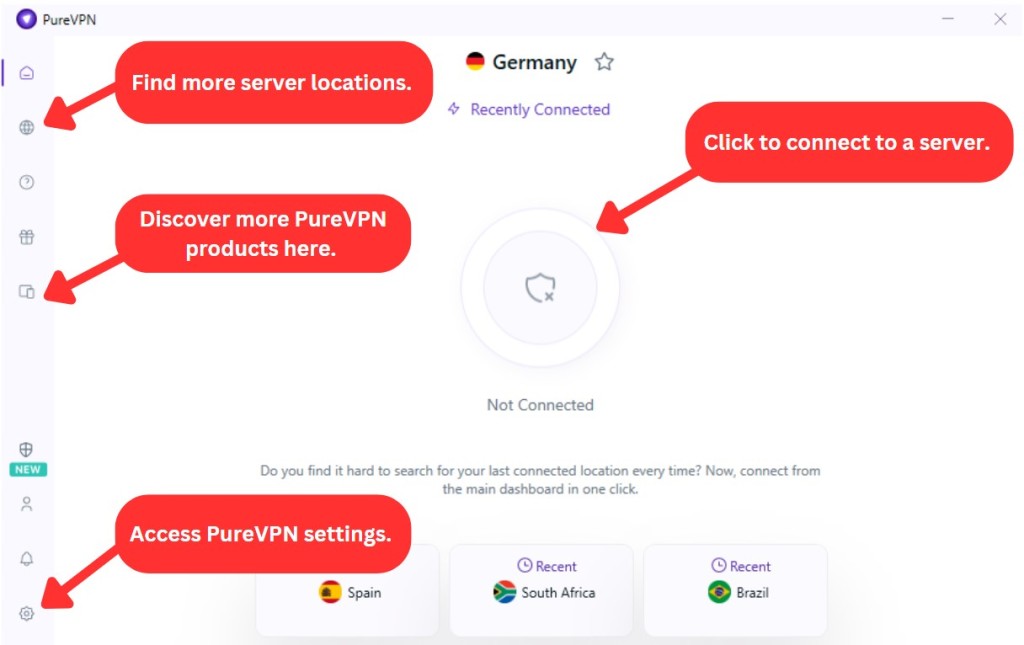 PureVPN has a much more polished application now - even though plenty of work can still be done to improve it. Our Score: 6/10
In this segment of our PureVPN review, we'll look into the VPN's desktop and mobile apps. We'll also check what the VPN has to offer with its Web browser extensions.
How Well Does PureVPN Work on Desktop Platforms?
PureVPN has made their desktop apps more polished after a series of updates, although there's still room for improvement. The home screen of PureVPN is very simple. You can connect to the nearest server or decide to connect to the most recently used one.
When it comes to other options in PureVPN's main menu (on the left side of its interface), you won't find much there except for the settings and the new 'Security Progress' tab.
To tap into all of PureVPN's servers, click the globe icon on the left-hand side. That's where you'll see a recommended location (in close proximity to your physical location), any recently used and favorite servers, or you can pick any server manually.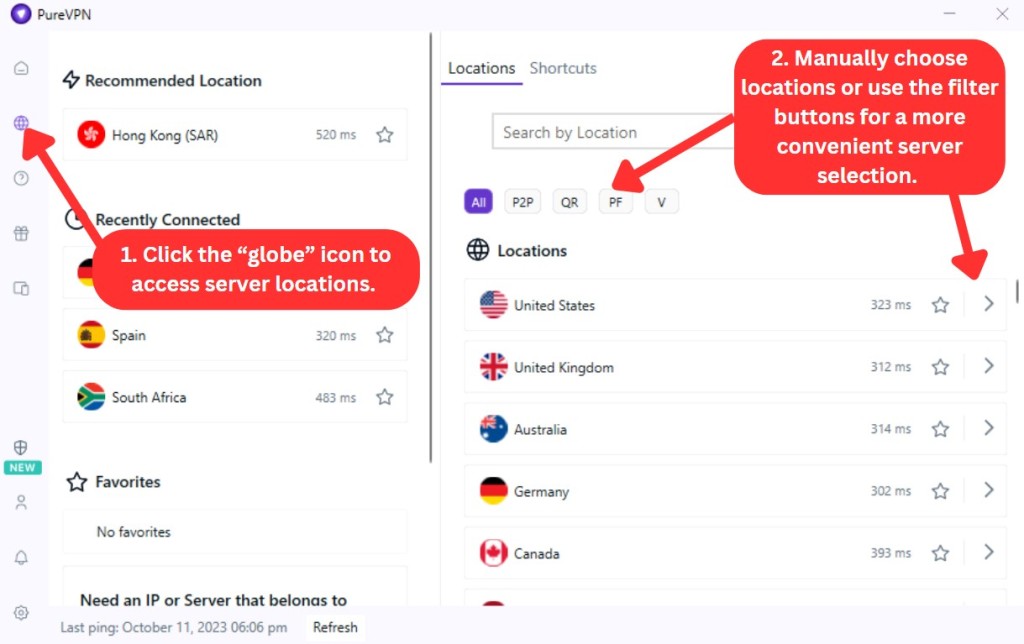 The support tab lets you check a small group of frequently asked questions, submit a support ticket, or start a live chat (by going to PureVPN's site). Next is the 'Refer a Friend' tab, which lets you share a free 30-day PureVPN access with your friends and family. When they sign up using your link, you'll get a $10 credit.
The next tab is where you'll discover other products and services that you can get with PureVPN. These include PureKeep (a password manager), PurePrivacy (social media privacy tool), PureEncrypt (for secure file encryption), and Family Plan (extends coverage to other family members).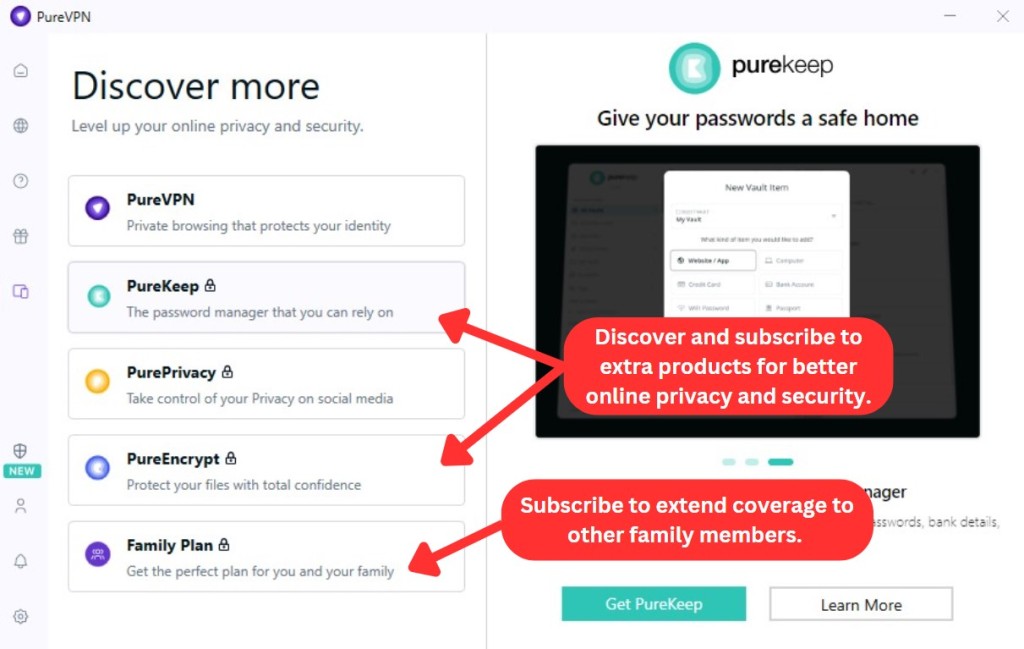 Interestingly, a new tab lists security tasks for you to complete. When you finish a few tasks, you'll be rewarded with a 7-day extension on your PureVPN subscription.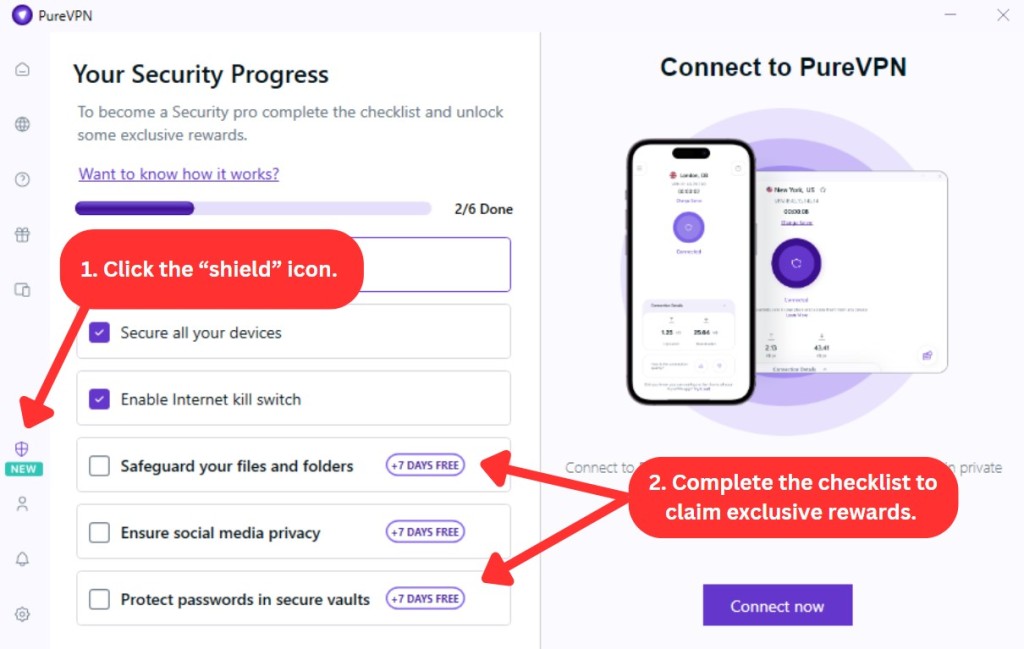 To see your subscription details in the app, just click on the 'user profile' icon. In this tab, you'll find your username, email, account and plan type, subscription status, billing cycle, and VPN expiration. You also get to access add-ons in this tab.
The 'Notifications' tab acts as a message board for PureVPN to inform you of anything requiring your attention (we have yet to see a message posted there). Now, if you head over to PureVPN's settings, you'll encounter three tabs. Let's take a close look at what's found there (at least when it comes to Windows):
General: This tab lets you enable the kill switch, pick another language, as well as instruct the VPN to launch on system startup and auto-connect (if you want protection 24/7).
Protocol: PureVPN makes it easy to switch between different VPN protocols. By default, the app will pick the best protocol. However, you're always free to make your own choices.
Split Tunneling: Lastly, this tab allows you to control your Internet connection for individual apps. You can choose which apps exclusively use the VPN connection.
How Well Does PureVPN Work on Mobile Platforms?
PureVPN's mobile apps share the same visual language as the VPN's desktop apps. For example, PureVPN's Android app opens to a very simple home screen (useful for first-time users), letting you connect to a server or dive into the app's settings.
During the last couple of months, this VPN app has become more powerful, which is nice to see as it initially launched with limited features.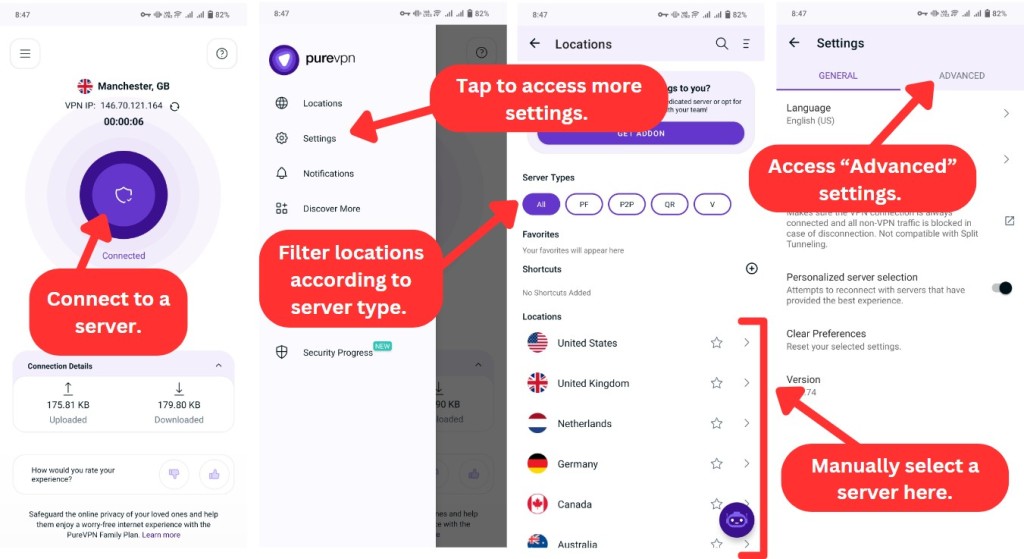 Within the PureVPN Android app, a world of choices awaits to fine-tune your server selection. Whether your goal is seamless streaming, efficient file sharing, heightened privacy and security, or exploring virtual servers, its mobile apps has you covered.
What sets PureVPN apart is its Quantum-Resistant Servers, boasting encryption keys crafted through a proven quantum process for the utmost security and privacy assurance.
When you tap on "Settings," you can manage both General and Advanced options. Yet, it's in the Advanced tab where you can fine-tune more of the customizable VPN settings, which include:
Connection Protocol: Handpick your preferred protocols or trust the app to automatically enable the best one for you.
Split Tunneling: This allows you to route your Internet traffic through PureVPN for chosen applications, enhancing selective privacy and security.
Bypass VPN for Local Networks: This flexibility allows you to control how your local connections interact with the VPN. You can choose whether your local network stays outside the VPN or goes through it.
How Well Do PureVPN's Web Browser Extensions Work?
PureVPN offers extensions for popular browsers like Chrome, Firefox, and Edge, including Brave. These extensions share a common feature set, providing a consistent experience across different browsers.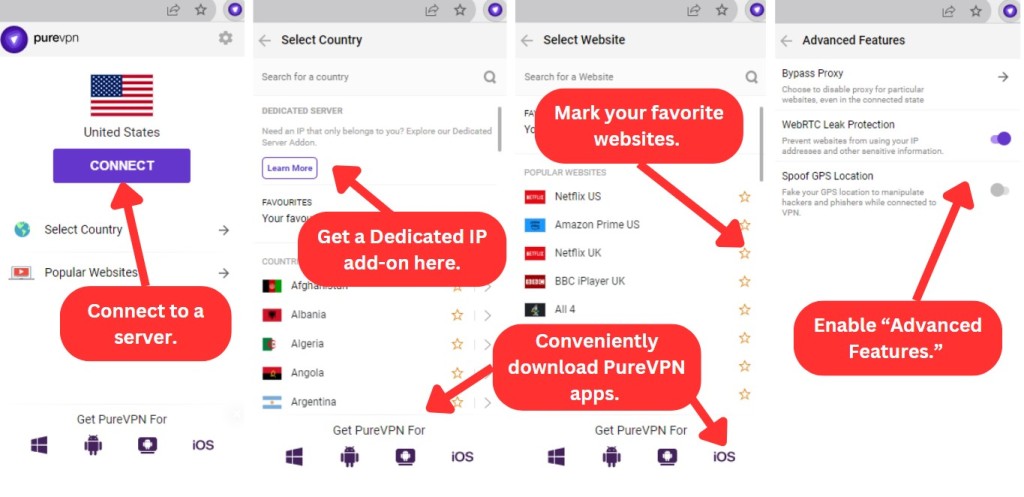 The browser extensions might seem a bit dated in appearance, but they still effectively serve their purpose. You also have the convenience of downloading other PureVPN apps via these extensions, which is a cool feature. However, when it comes to advanced functionalities, it offers just three:
Bypass Proxy: You can disable the proxy for specific websites, even when you're already connected to the VPN.
WebRTC Leak Protection: This feature safeguards your IP addresses and sensitive information from being used by websites.
Spoof GPS Location: You can fake your GPS location to outsmart hackers and phishers while connected to PureVPN.
Overall, we're happy to see this VPN making an effort to redesign its apps. However, we're not yet convinced that PureVPN has picked the right direction. Compared to top-rated VPNs, this one looks like a product in development, with numerous interface quirks that are yet to be ironed out.
Media Streaming, Torrenting, and Gaming Support
As per our tests, PureVPN can unblock a whole range of popular media streaming services. It also fully supports torrenting via a series of specialized servers. However, this VPN's speed can be limited at times. Our Score: 8/10
VPNs offer various benefits, like unblocking websites, enabling torrent downloads, and ensuring secure, lag-free gaming. Yet, not every VPN excels in all these areas. Our PureVPN review shows how it performs in these crucial aspects. Here's what we found.
Is PureVPN Good for Streaming?
Yes, PureVPN is good for media streaming. It has a special category when browsing its servers (called "Shortcuts"), optimized for streaming.
Our tests show that PureVPN unblocks Netflix US and other libraries quite effortlessly. We experienced no issues streaming exclusive US TV shows while connected to the Netflix US server. 
Here's a table showing some of the notable US-based streaming platforms unblocked by PureVPN:
| | | |
| --- | --- | --- |
| Netflix | Disney+ | Max |
| Hulu | Discovery+ | Paramount+ |
| Apple TV+ | ESPN+ | Peacock |
| Sling TV | Fubo TV | DirectTV Stream |
PureVPN also extends your access to streaming platforms worldwide, not limiting you to the US. Here's a sneak peek of what's in store:
| | | |
| --- | --- | --- |
| BBC iPlayer (UK) | ITVX (UK) | NOW TV (UK) |
| Channel 4 (UK) | StackTV (Canada) | RaiPlay (Italy) |
| Foxtel (Australia) | Crave (Canada) | GloboPlay (Brazil) |
| DSTV (S. Africa) | Movistar Plus+ (Spain) | Zattoo (Germany) |
We also have to add that PureVPN offers dedicated, high-speed servers to ensure smooth and buffer-free streaming for your movies, TV shows, and live sports on any platform.
Plus, it comes with a dedicated Chrome extension so you can enjoy your favorite shows without dealing with proxy errors. We believe that PureVPN excels in the streaming category and could contend for a spot on our best streaming VPN list.
Is PureVPN Good for Torrenting?
Yes, PureVPN is good for torrenting - but it's not one of the best VPNs for torrenting you'll find right now. On the plus side, it offers an array of optimized P2P servers in several locations in Europe, Africa, Asia, and the Americas.
Torrenting has its risks, with the main concern being the exposure of your IP address. With PureVPN, however, several features can prevent that from occurring, including bank-level AES 256-bit encryption, an automatic kill switch, and compatibility with many popular torrent clients. Furthermore, its zero-log policy ensures that you leave no lingering trails after you're done.
On the flip side, unreliable speeds sometimes result in frustrating experiences because of the massive file sizes usually involved.
Also, bear in mind that the server location matters with PureVPN with regard to torrenting. The provider explicitly states that it doesn't permit the activity in countries with unfriendly regulations (the US, UK, Canada, and Australia). 
Is PureVPN Good for Gaming?
Yes, PureVPN is a good choice for online gaming - if you connect to nearby servers. Its unblocking ability plays a major role here, allowing access to games restricted to specific locations or countries.
PureVPN also offers you the flexibility to seamlessly connect to and switch between 6,500+ servers across 70+ countries, all without the hassle of dropped connections.
Add-ons like port forwarding and dedicated IPs also mean you can host gaming servers and play without any security concerns. While local speeds could be better, the pings we experienced are good enough for lag-free gaming.
However, that's not quite the case when you connect to servers farther away. PureVPN's performance falls significantly, and ping rises as high as 200+ ms. So, if gaming is your priority, consider exploring our article on the best gaming VPNs to meet your requirements.
Security & Privacy
PureVPN has had plenty of issues in the past. However, it seems that this VPN has done plenty in recent years to improve its reputation. Our Score: 6/10
In this section, we'll gauge PureVPN's security and privacy features and assess three key factors: VPN protocols, logging policy, and IP/DNS leak prevention. This helps us understand how well PureVPN safeguards our personal data.
PureVPN Protocols
PureVPN provides various VPN protocols, but their availability varies by device. To start, here's an overview of the protocols you can expect:
| | | | | | |
| --- | --- | --- | --- | --- | --- |
| | OpenVPN UDP | OpenVPN TCP | IKEv2 | WireGuard | Proxy |
| Windows | YES | YES | YES | YES | NO |
| macOS | YES | NO | YES | YES | NO |
| Linux | YES | YES | NO | YES (manual) | NO |
| iOS | YES | YES | YES | YES | NO |
| Android | YES | YES | YES | YES | YES |
OpenVPN UDP: This is a good choice for streaming and downloading. However, it ditches error checks for faster transmission - meaning, it's a bit less reliable than TCP.
OpenVPN TCP: While TCP in Open VPN is known for its reliability, it does come at the cost of higher bandwidth usage. So, it may not be as fast as UDP.
IKEv2: When it comes to VPN protocols, IKEv2 shines as one of the fastest options. It's the go-to choice for stable connections, often preferred for streaming and downloading purposes.
WireGuard: This one excels at delivering both speed and security to your PureVPN connection, making it a popular choice for streaming and Web browsing.
Proxy: Opt for a Proxy if you want top-notch speed, but keep in mind that it doesn't offer added security. It's also worth noting that this protocol lacks support for split tunneling and is exclusive to Android devices.
Aside from these protocols, PureVPN still offers older protocols like PPTP, L2TP, and SSTP, but only in specific locations: Australia (Sydney), Germany, Netherlands, UK (London), and USA (California, Florida, Illinois, New York, Texas, and Washington DC).
Does PureVPN Keep Logs?
No, PureVPN doesn't keep any logs that could identify what you do online (it used to log that data through). However, some data is collected, which is the case with most of today's VPNs.
Even the most reliable VPN protocols don't mean much if your VPN collects your data. And in 2017, PureVPN tarnished its own reputation. That was connected to a case where the FBI caught a cyber-stalker by forcing PureVPN to hand over very precise personal data about one of its subscribers. And all of that was happening at a time when PureVPN claimed it didn't know anything about its customers.
To improve its standing, PureVPN has done plenty to persuade its customers to stay. Here's what kind of information they log right now:
At Signup:
Your name
Email address
Chosen password
Mode of payment
During Service Usage for Support:
Connection times
ISP Tracking
Day of connection
Usage & activity logs
Data for App and Service Improvements:
Software usage and performance data
Information from live chats, emails, and feedback forms
The types of information mentioned above can't be used to identify what you do online. This means your real IP address, connection timestamps, or any other personally identifiable pieces of information remain private.
Additionally, this VPN went through an independent audit, confirming their no logging policy - which once again makes PureVPN an interesting pick.
Does PureVPN Leak/Expose Private Data?
No, PureVPN doesn't leak your personal data. We've put PureVPN through a rigorous DNS leak test, and we're happy to report that no leaks were detected.
As you can see from the image above, our real IP stayed hidden. Once you connect to a PureVPN server, your private information will remain within this VPN's secure tunnel.
Speed & Performance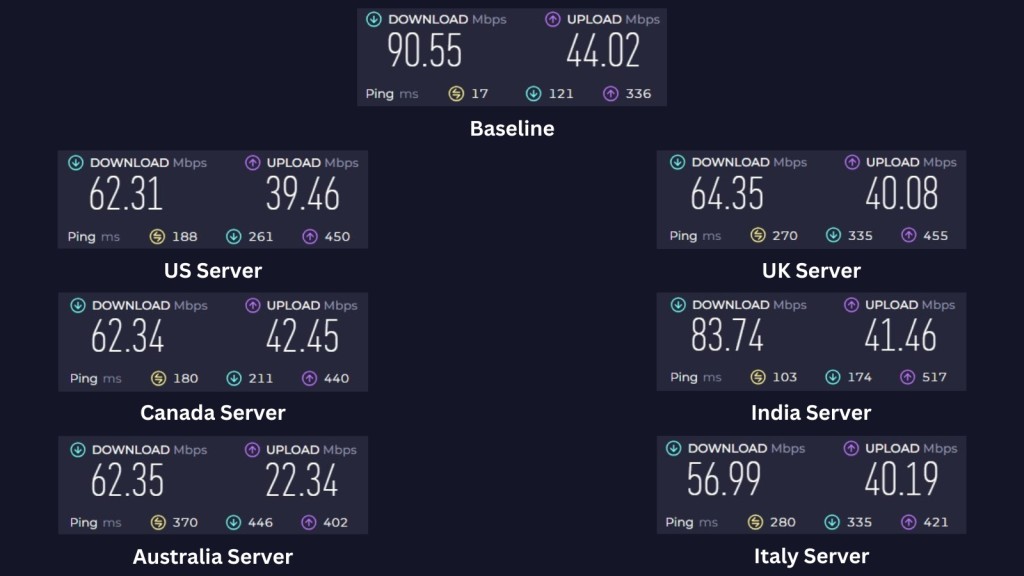 On average, PureVPN slowed our Web connection down by around 28%. This performance could stand as a contender when compared to other high-speed VPNs in the industry. Our Score: 8/10
The image above shows the speed of our Web connection without using the VPN. As you can see, we got 90.55 Mbps for downloads and 44.02 Mbps for uploads. These stats serve as our baseline for our current location in Asia.
When reviewing VPN services, we connect to both local and remote servers to check their speeds. We did the same with PureVPN, so here's what you can expect in terms of its performance.
USA Server (Los Angeles): This US server in Los Angeles was quite a trek from our Asian base, but PureVPN still managed to provide a decent connection. We experienced a 31% speed reduction, which is understandable for such a long distance. Our download speed clocked in at 62.31 Mbps, while our upload speed reached 39.46 Mbps.
UK Server (London): This server offered a dependable connection, even with a moderate distance from our current location. We experienced a 29% speed reduction, which is quite acceptable. Our download speed hit 64.35 Mbps, and our upload speed reached 40.08 Mbps.
Canada Server (Vancouver): Similar to the US server, this Canadian server in Vancouver also experienced a 31% reduction in speed. Our download speed held steady at 62.34 Mbps, while the upload speed averaged 42.45 Mbps.
India Server (Mumbai): Staying close to home in Asia, the Mumbai server delivered excellent performance, with just an 8% reduction in speed. Our download speed surged to 83.74 Mbps, and our upload speed reached 41.46 Mbps.
Australia Server (Perth): Interestingly, this server shares the same speed reduction as the US and Canada servers at 31%. Nevertheless, it's a reliable choice, offering a download speed of 62.35 Mbps and an upload speed of 22.34 Mbps.
Italy Server (Milan): Navigating through Italy via the Milan server, we maintained a reliable connection despite the distance from our location. A 37% speed dip was expected, with download speeds at 56.99 Mbps and uploads reaching 40.19 Mbps.
To make sense of the data and images displayed above, we have put all that information in the following table.
| | | | |
| --- | --- | --- | --- |
| | Download Speed | Upload Speed | Speed Reduction |
| Baseline Data | 90.55 Mbps | 44.02 Mbps | 0% |
| USA | 62.31 Mbps | 39.46 Mbps | 31% |
| UK  | 64.35 Mbps | 40.08 Mbps | 29% |
| Canada  | 62.34 Mbps | 42.45 Mbps | 31% |
| India  | 83.74 Mbps | 41.46 Mbps | 8% |
| Australia  | 62.35 Mbps | 22.34 Mbps | 31% |
| Italy  | 56.99 Mbps | 40.19 Mbps | 37% |
We conclude that PureVPN made our Internet connection slower by 28%, on average. Even though every VPN will slow you down, you can expect much better performance in general. Notably, the upload speeds remained decent, contributing to a well-rounded VPN experience.
Customer Support
PureVPN has plenty of customer support material, ranging from live chat to comprehensive FAQs. Our Score: 10/10
We'll also tell you what kind of customer support you can expect from PureVPN. After all, having someone to assist you in case of any questions or issues is quite important.
Live Chat Support: On every page of PureVPN's website, you can find a live chat button in the bottom-right corner. This is the best and speediest way to get help since you can talk to a real person. There aren't any queues, and you can start chatting with someone in an instant.
Setup Guides: To help you install this VPN, you can rely on several setup guides. This perhaps isn't needed when installing PureVPN on Windows or macOS. However, you'll find installation guides to be helpful when installing this VPN on a router, for example.
FAQs: If you have any doubts about buying or using this VPN, you can check out PureVPN's frequently asked questions.
Support Tickets: Instead of sending an email, you can open a support ticket and send a message to PureVPN's support team. You can expect a response in a day or two.
Special Guides: PureVPN also offers some special guides for users in China, how to watch Netflix outside the United States, and more.
Pricing
When compared to its competitors, PureVPN is a more affordable option. That especially goes for its long-term plans. Our Score: 8/10 
PureVPN provides you with a choice of three different subscription plans. If you're looking to maximize savings, considering one of their longer-term plans might be a smart move. Here's how much you'll need to pay to become a PureVPN subscriber.
How Much Is PureVPN?
PureVPN's plans start at $2.29/month and come in 3 different options: Standard, Plus, and Max. The cost of each plan depends on how long you want to subscribe.
Regardless of the plan, you'll enjoy a 31-day money-back guarantee and the convenience of 10 multi-logins. Plus, when you opt for the 1- and 2-year plans, you'll receive an extra three months absolutely free. Let's take a look at each plan:
Standard: This plan offers access to PureVPN's essential features, ultra-fast download speeds, and allows usage on up to 10 devices. However, the Standard plan has no discount or cost savings.
Plus: The Plus plan combines PureVPN with PureEncrypt for file encryption and includes PureKeep, a password manager. You can choose between three pricing options: $15.95 a month, $5.82 a month on the annual plan, or $3.33 a month for the first two years.
Max: This one is an all-inclusive package offering PureVPN, PureEncrypt, PureKeep, and the personal encryption manager PurePrivacy. You have three pricing options to choose from: $19.95 per month, $7.49 per month with the yearly plan, or a reduced rate of $4.99 per month during the initial two years.
As you can see, the most significant savings are found in the VPN's long-term subscriptions. There's the 1-year subscription, priced at $3.74 per month. However, you save as much as 82% with the 2-year subscription, priced at $2.29 per month (you get 3 extra months on top!).
You can also give PureVPN a test run for 7 days for just $0.99. If you cancel within that period, you can get your money back, essentially making it a free trial.
Its other premium-priced monthly add-ons include a dedicated server priced at $12.00, port forwarding at $1.49, and a dedicated IP for $4.99. If you want both port forwarding and dedicated IP add-ons, the total monthly cost will be an extra $6.49.
Additionally, the company has expanded its privacy options with new deals, products, and services. These include family plans, a 15% student discount offer, and PureDome for businesses to secure business networks.
While PureVPN doesn't have a lifetime subscription, we spoke to their customer service, and they're offering a 5-year holiday deal for $74.95 upfront or $1.24 per month. Now, that's a deal worth checking out!
When it comes to supported payment options, you can choose between credit/debit cards, PayPal, Google Pay, and various crypto-currencies. Also, remember that with PureVPN, you can get your money back within 31 days – no questions asked.
For their refund policy, note that some payment methods don't include the refund option (if you pay via the Google Play Store and CoinGate, for example).
Final Thoughts - Is PureVPN Good?
Yes, PureVPN is good, especially if you're looking for great deals. But there's more to it than that. PureVPN also holds up solidly in many other areas, such as privacy and security. Military-level encryption, a no-logs policy, a wide server network, and loads of features and add-ons add up to present a solid VPN service.
That said, it will always hold a reputation as the VPN that gave away "non-existent" customer logs to the FBI. That stain may never be wholly erased, but that won't be down to the provider not trying. Unfortunately, those efforts also include white-washed reviews and marketing.
PureVPN also excels in streaming, with specialized servers for Netflix and other services, provides reasonable torrenting support, and is a good choice for online gaming when connected to nearby servers.
With its strong performance, privacy features, and plenty of servers, we strongly recommend PureVPN for your online security and streaming requirements.
PROS
Wide network of servers.
Independently audited. 
Specialized servers for streaming. 
Works on any device. 
Privacy-friendly jurisdiction. 
Strong VPN protocols. 
Affordable pricing. 
CONS
Troublesome history. 
Mediocre performance. 
Outdated UI.
FAQ
What Is PureVPN?
PureVPN is a versatile VPN service and one of the best VPNs we recommend. It's known for its strong security features, expansive server network, and excellent streaming capabilities.
Who Owns PureVPN?
PureVPN is owned by GZ Systems Limited, a company that develops cybersecurity apps. 
Where Is PureVPN Based?
PureVPN has its headquarters in the British Virgin Islands. Until 2021, it was based in Hong Kong. However, alongside some other services, it shifted its base in the face of stricter data privacy regulations in the Chinese special administrative region.
Is PureVPN a Chinese Company?
No, PureVPN isn't a Chinese company. It's owned by GZ Systems Limited, and its parent company, Gaditek, is based in Pakistan. PureVPN has recently migrated its headquarters from Hong Kong to the British Virgin Islands.
Is PureVPN Free?
No, PureVPN isn't free. It's a premium VPN and has a range of pricing offers. However, to let you decide if the provider fits your requirements, it offers a 7-day trial for $0.99. The trial comes with access to all the VPN's features and works on all its apps on different platforms.
Can PureVPN Be trusted?
Yes, you can trust PureVPN. Despite some privacy issues in the past, they've improved security and promise not to keep your data. They also undergo regular audits to make sure your privacy is protected.
Does PureVPN Work with Netflix?
Yes, PureVPN effectively works with Netflix. It grants access to U.S., UK, and various other international libraries, making it a great choice if you're a Netflix enthusiast.
Does PureVPN Sell Your Data?
No, PureVPN doesn't sell, store, rent, or share your data to third parties.