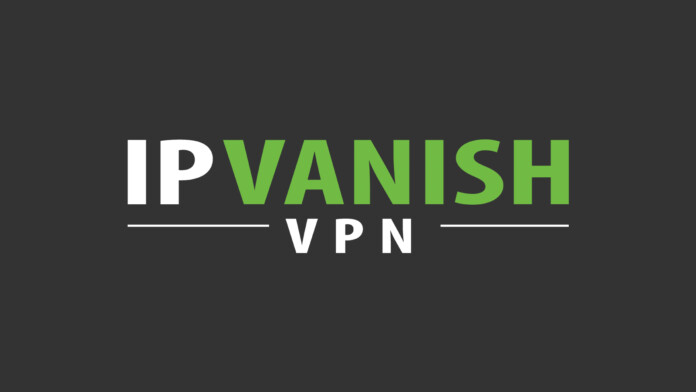 On the outside, IPVanish looks like a complete solution to your every VPN-related need. If we take a quick look at its official website, you won't only learn what are VPNs; You'll find plenty of interesting promises luring you to immediately buy a subscription. You'll see claims related to end-to-end encryption, intuitive applications, and lightning-fast speeds. However, we all know better than to trust what it says on the box. With this said, welcome to our review of IPVanish!
First, we are going to introduce you to this VPN provider by listing some quick facts. We do the same in our every VPN review, so the following table comes in handy if you want to compare several VPN providers and their basic set of features.
Quick Facts
Jurisdiction
The United States of America
Logs
No activity or connection logs
Number of Servers
60+ countries, 1,300+ servers
Parallel Connections
10
Encryption Standards
AES 256-bit; OpenVPN; IKEv2; L2TP; SSTP; PPTP
Speed Reduction
Up to 35% on average
P2P Support
YES
Live Chat Support
YES
Supported Platforms
Windows, MacOS, Linux, Chromebook, iOS, Android, Fire TV, and Routers.
Price
$6.49/month
Next, we like to test every VPN against its claims of unblocking media streaming websites. As a matter of fact, many users rely on VPNs to stream American Netflix and other services, so we think of this aspect as being crucial. So, take a look.
Media Streaming Support
American Netflix
NO
Hulu
NO
BBC iPlayer
NO
Amazon Prime Video
NO
Kodi
YES – via some servers.
And lastly, we have one more table. This one will show you our findings after spending some hands-on time with IPVanish. So, here are its biggest strengths and weaknesses.
The Bottom Line
Pros
Effortless installation; No usage limits; Supports P2P traffic; Doesn't keep any logs; Strong encryption; Real-time connection analytics.
Cons
Can't unblock Netflix, Hulu, and other services; On the expensive side.
The Final Verdict
Despite a few quirks, IPVanish covers the basics quite well – and it keeps your private data safe. However, a major drawback is its inability to unblock media streaming websites.
Our Score
8/10
We're now ready to dive into our full review of IPVanish. As we'll be dissecting this provider into its smaller pieces, we highly recommend you keep on reading and learn all there's to know about IPVanish.
IPVanish – TechNadu's Hands-On Review
Before actually showing you how IPVanish looks like, we're going to take one step back. That's because we'll start by doing background research on this provider. So, let's get started with our review.
Background, Jurisdiction & Reputation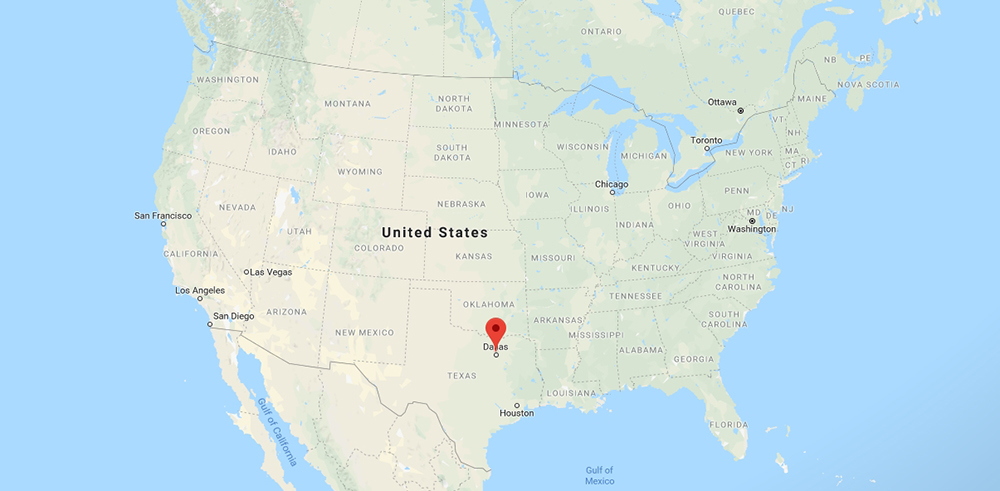 It's true that IPVanish has had a troublesome past, which can be highly problematic when it comes to VPNs. Still, it's under an all-new management team now. Our Score: 7/10.
VPN providers deal with plenty of sensitive information supplied by their customers. This is where data retention laws come into play. You want to be 100% sure that your VPN doesn't exploit your private data, at any moment. This is why we are going to investigate two aspects of IPVanish. First, let's learn more about its jurisdiction (and data retention laws that apply), and we'll investigate its past data leaks as well.
Jurisdiction & Applicable Laws
During our background check of IPVanish, we've encountered plenty of interesting information. The situation is somewhat complicated, so we'll try to explain it as simply as possible.
IPVanish was created in 2012 as a VPN product of a company called Mudhook Media. This was a subsidiary of Highwinds Network Group, whose headquarters was in Florida. In the beginning, this was a fairly basic VPN that was designed for Windows PC users. However, it didn't take long for the company to grow to include a number of devices and more advanced features. During that time, IPVanish found itself in the center of a privacy-related scandal, which we'll talk about in the following segment of our review.
Things changed in 2017 when IPVanish was acquired by a company called StackPath. We can't say that this VPN provider changed in any way, except for one thing. The management team of IPVanish, along with its CEO Lance Crosby, has been constantly reminding us that any previous scandals were in the past and that IPVanish doesn't log any personal data anymore. We don't have any reason to believe otherwise.
Finally, it's important to be said that IPVanish comes from the USA. If you didn't know, this country is a member of the 14 Eyes Alliance – created for the purpose of data collection. Even though the USA has data retention laws, it looks like IPVanish functions by finding legal loopholes and avoiding the entire process of deliberate data harvesting.
Past Data Leaks
In 2016, it was discovered that IPVanish actually logs some personal data – even though this provider claimed to have a 'strict no-logs' policy since 2012. As can be seen in this criminal affidavit, this case involved child abuse and pornography and a suspect who was investigated by the US Department of Homeland Security.
As can be seen in the criminal affidavit, the US Homeland Security asked for personal data records from Highwinds Network Group, the parent company of IPVanish. After some discussion, the VPN provider decided to hand over two types of information:
Source IP address of the suspected user;
Dates and times that clearly describe when the user was actively using IPVanish.
As you can see, this information proved that IPVanish isn't only willing to work with the authorities – it actually records some personal data.
Of course, everything said so far applies to the time when IPVanish was owned by Highwinds Network Group. In 2017, this provider has been acquired by StackPath, and its new CEO decided to reassure existing and new subscripts into the VPN's intentions. Lance Crosby took the discussion to Reddit and clearly explained that IPVanish does not collect any data. He also added that he's a lawyer willing to 'spend his last breath protecting individuals' rights to privacy'. It's also worth noting that ever since StackPack took over the management, IPVanish has been away from any privacy-related scandals.
Supported Platforms & Devices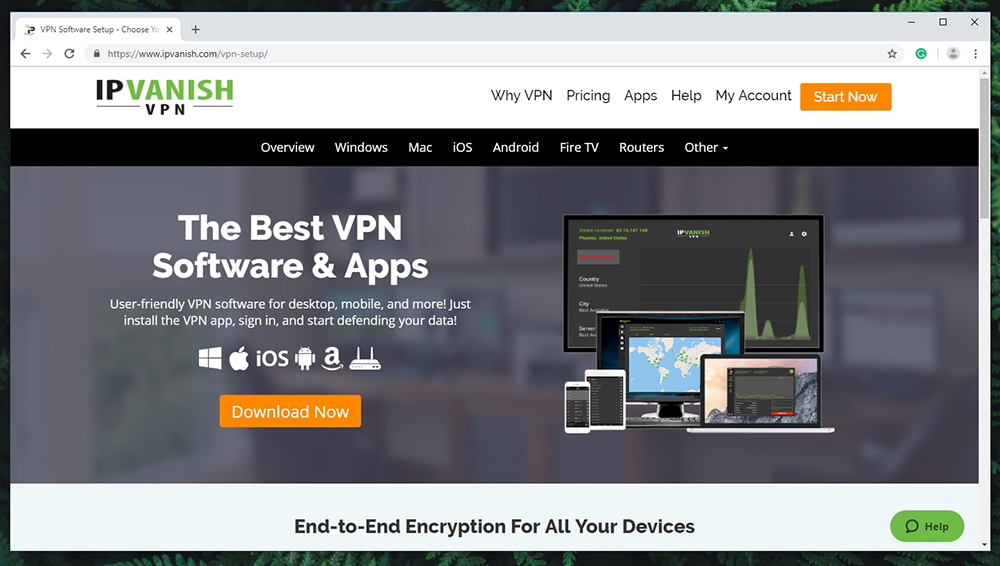 No matter what kind of device you use, you can rest assured that IPVanish will keep it protected. Our Score: 10/10.
One of the first things that we look for in a VPN provider is platform compatibility. As you can imagine, a capable VPN must provide native applications for all popular desktop and mobile platforms. Here's how IPVanish ranks in this aspect.
Platform Compatibility
Desktop Platforms
Windows, MacOS, Linux, and Chromebooks.
Mobile Platforms
Android, iOS, and Windows Phone.
Web Browsers
None (Can be manually configured via SOCKS5).
Routers
Compatible OpenVPN, Tomato, and DD-WRT routers.
Other Devices
Amazon Fire TV devices.
The table found above explains what to expect from IPVanish. There are native apps for desktop and mobile operating systems, and you can install IPVanish on supported routers. In addition, owners of devices such as Fire TV Stick and Fire TV can also take advantage of this VPN. Unfortunately, there aren't any Web browsers on the list, which isn't a huge downside after all.
It's also important to note that you can use IPVanish on up to 5 devices at the same time. Installing it on a router will count as one device, so you'll still have four left. In other words, this VPN provides a way to enjoy total online protection in your home, workplace, and even on the go.
Installation & Initial Configuration
The process of installation is very simple. You download the installer, run it, and you'll have your new VPN ready to be used within minutes. Our Score: 10/10.
This process starts by subscribing to IPVanish. After that, you'll have your username and password that you'll use to log into the app. We've expected from the website to let us download the app after we login to our account. However, that's not the case. You directly download the application from the website, even without having to log-in to your account.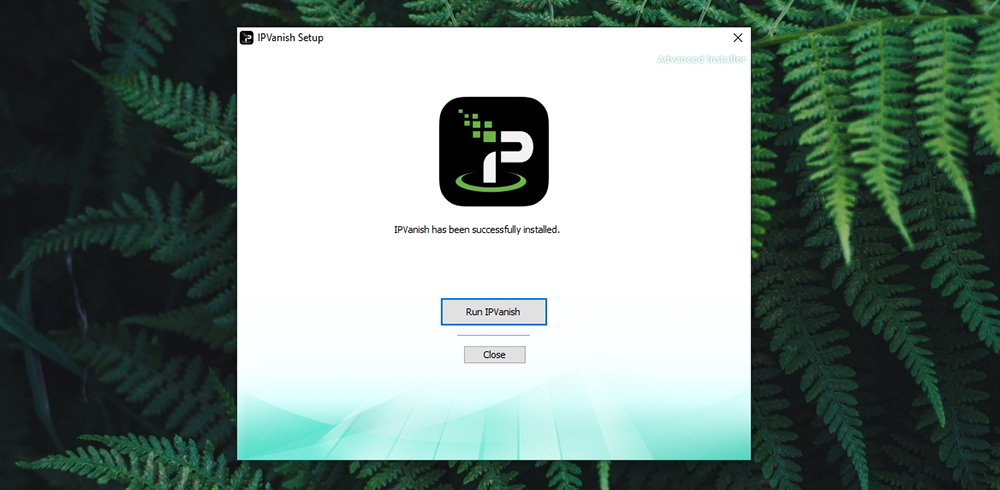 Once the installer is downloaded, you need to double-click to launch it. You will see a window that resembles installers that were present during the Windows 7 era. However, the entire process is very simple. You need to read the Terms of Use and agree to them, select where to install IPVanish, and that's about it. After a few seconds, the application will be ready to use.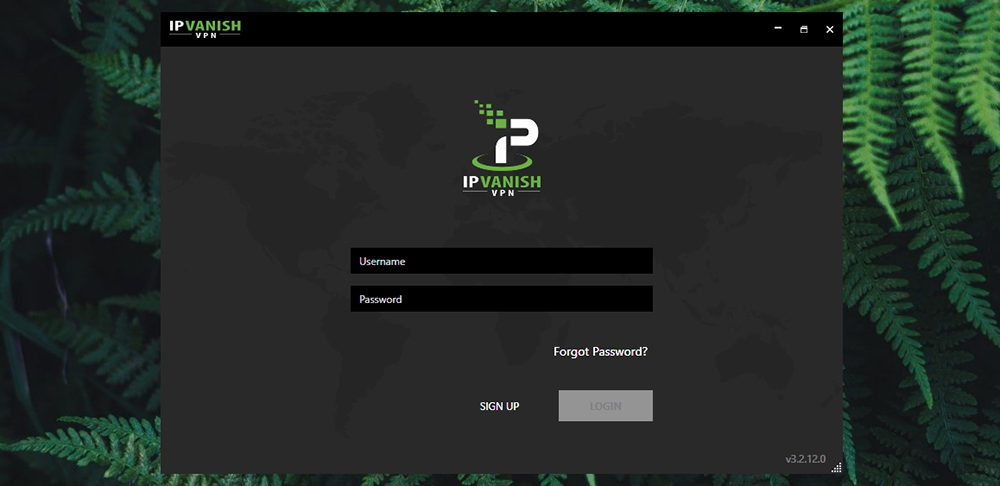 What's interesting is that IPVanish comes already configured based on your system's specs. This means that as soon as you log into your account, you're ready to start using the application. Select a server, connect to it, and that's pretty much it.
Prominent Features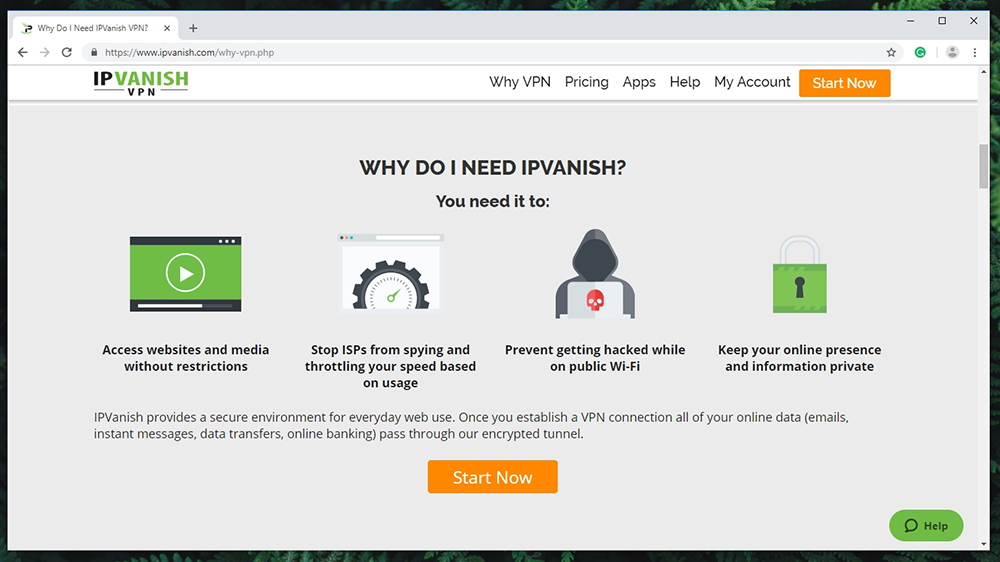 IPVanish covers the basic features well. However, it can't compete with VPNs that have developed some highly advanced and even unique features. Our Score: 8.5/10.
We've come up with a list of basic and advanced features that every capable VPN should offer. So, the following table will let you know if IPVanish has managed to meet our expectations.
VPN Features Checklist
DNS Leak Protection
YES
IPv6 Leak Protection
YES
Kill-Switch
YES (on Windows and MacOS)
Ad-Blocker, Anti-Malware
NO
Unlimited Server Switching
YES
Unlimited Bandwidth
YES
Unlimited Data
YES
After taking a closer look at IPVanish, we conclude that this service covers the basics well. First of all, there's DNS leak protection and IPv6 leak protection. Interestingly enough, IPv6 leak protection isn't advertised on the official website but can be enabled/disabled within the VPN's (Windows) app. You can also use this service without any limitations. This means that you can switch between servers whenever you can, and there aren't any data caps.
When it comes to more advanced features, IPVanish is a mixed bag. It has a kill-switch that shuts down all your traffic if a secure connection is dropped. And it allows split-tunneling but only on Android devices. Lastly, it doesn't have any specialized ad-blockers or anti-malware.
Before we jump to our following segment, we'd like to say that IPVanish offers real-time statistics. You'll get to see interesting information about your connection as soon as you connect to a remote server. However, there aren't any speed-testing tools or anything similar.
Server Count
IPVanish brings more than 1,300 VPN servers that seem to be strategically placed around the planet. However, this is far from what more popular VPNs offer. Our Score: 6/10.
We'll be honest here. It's nice to have a VPN with thousands of servers. However, this isn't a clear indication of any VPN's performance. However, having plenty of servers means that a VPN can host numerous users without technical difficulties. With this said, here's some basic server count info related to IPVanish.
Server Count Info
Number of Servers
1,300+
Number of Locations
75
Number of Countries
60+
Specific Cities Selection
YES
Unlimited Switching
YES
We can see once again that IPVanish has covered the basics quite well. Unlike the majority of VPN providers, this one gives you a nice overview of its servers. You can select a country, and then pick a city and even an individual server. This is how you can make yourself a nice list of fast-performing servers and always connect to those.
When it comes to VPN usage, some countries are definitely more popular than others. Therefore, it's not surprising to see some countries having plenty of servers like the USA, UK, Canada, and Australia. The only thing that's missing here is an option to pick specialized servers, like media streaming and P2P optimized ones. However, maybe this is an indication that all of IPVanish's servers are optimized for these activities, which we'll test later in the article.
Ease of Use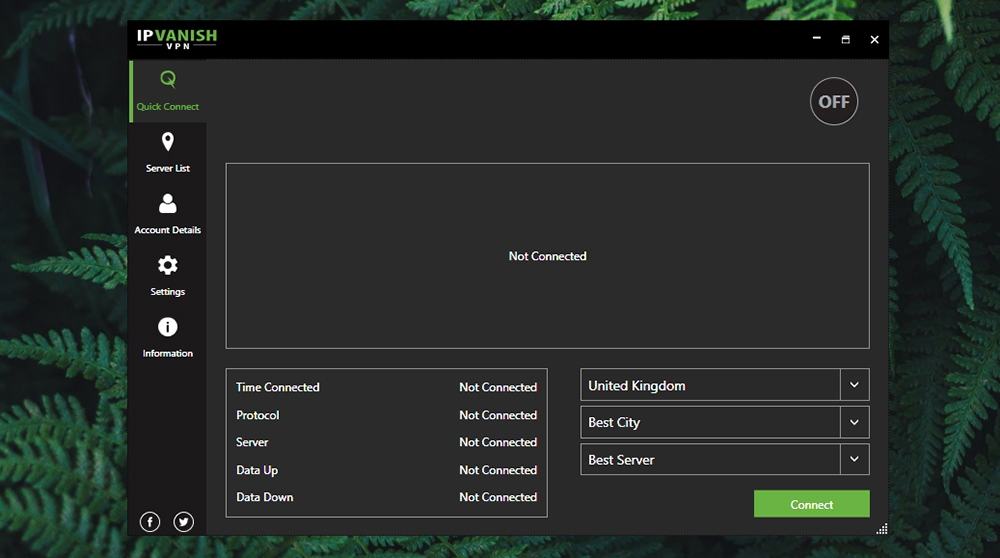 Even though it doesn't bring the most polished UI, we're sure that you won't have a hard time using this application in the long-run. Our Score: 9/10.
Getting started with IPVanish is easy, even if this is your first time using a VPN application. This one comes with a user-friendly interface that's quite self-explanatory. However, to know what to expect, we will guide you through its user interface, explaining some of the most prominent options.
When you launch IPVanish, you will see a series of 'sections' or tabs in the left-placed sidebar. These will give you an overview of different options, so let's take a look a brief look at those:
Quick Connect: This is actually the home screen of IPVanish, from where you can connect to its numerous servers. The 'Quick Connect' tab gives you three options. In the bottom-right corner, you can select a country to connect to. Based on the chosen country, you can select a city and even an individual server. To allow IPVanish to check the best server based on your real location, just click on 'Connect' after selecting a country, and the application will do the rest of the job.
Server List: This tab gives you much greater freedom of checking the available servers. You can browse the list of servers, where you can see their individual occupancy. Then, you can browse a map or filter the servers based on their country of origin and latency. At any moment, you can make a server your 'favorite', and connect to it at a later time.
Account Details: You can imagine what this one can do. You can check basic information about your account like when it's due to expire, and you can log-out.
Settings: This tab requires our deeper attention, so we're going to explain how to optimize IPVanish down below.
Information: The final tab gives you an overview of the company's terms of service and licenses.
As promised, we need to take a closer look at the application's settings – as this is where you can fine-tune your experience. So, here are the three tabs you'll see when you get to this part of the application:
General: Here, you can allow IPVanish to start when your computer turns on, and you can automatically connect to a server as well. This is a way to anonymize your traffic at all times.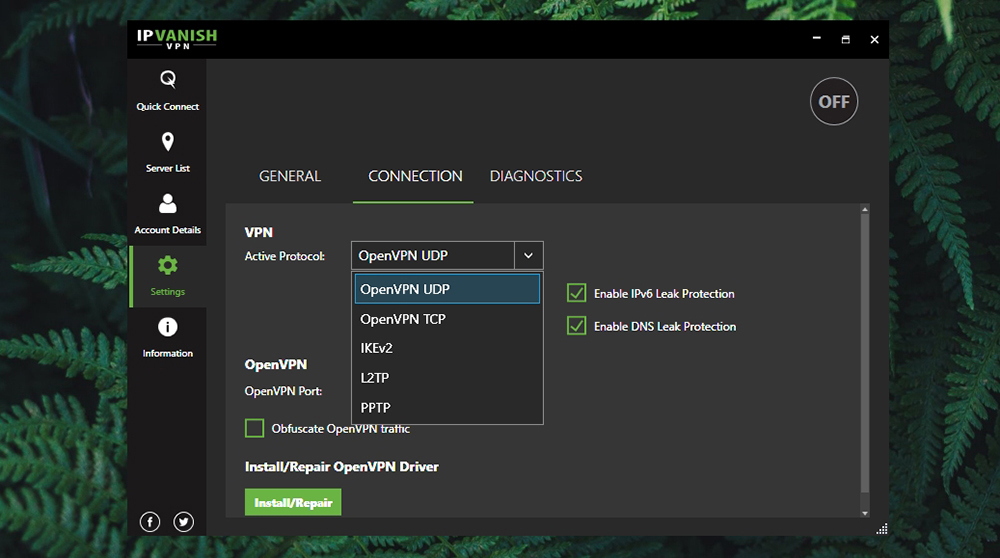 Connection: In this section, you can select one of several VPN protocols. These are IKEv2, OpenVPN, L2TP, and PPTP – and please note that available protocols depend on your operating system. Then, you can enable/disable auto-reconnect, kill-switch, DNS and IPv6 leak protection. Our strong advice is to enable all of these options. For increased security, you can able enable the option called 'Obfuscate OpenVPN traffic'.
Diagnostics: Lastly, this is where you'll find diagnostic information that might be of help to the company's support team.
All in all, IPVanish is really a simple application. It will take a few minutes to get acquainted with its UI – and it's all smooth sailing after that.
Media Streaming & Torrenting Support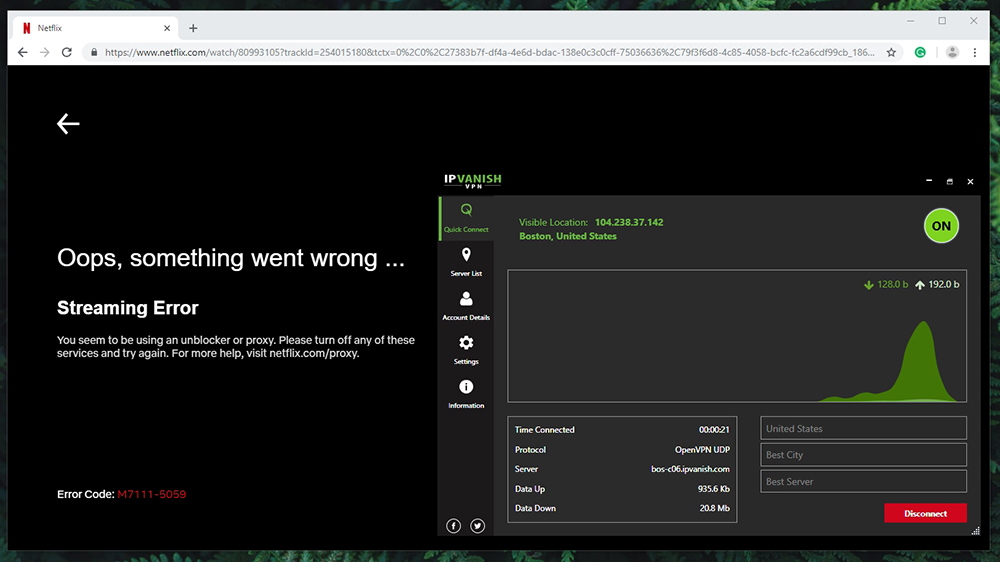 Unfortunately, IPVanish can't unblock any of the hugely popular media streaming services. However, it fully supports torrenting, which is like the next-best option. Our Score: 2/10.
We're sure that many of you want to know if IPVanish can unblock Netflix. This is why we've decided to test IPVanish's capabilities of unblocking several hugely popular services. Here are the results.
Media Streaming & Torrenting Support
Netflix US
NO
Hulu
NO
BBC iPlayer
NO
Amazon Prime Video
NO
Torrenting (P2P) Support
YES
We're disappointed to say that IPVanish is not the best choice if you care about media streaming. During our tests, this VPN wasn't able to unblock any of the hugely popular media streaming services. This isn't surprising really since this is a known fact for a long time now.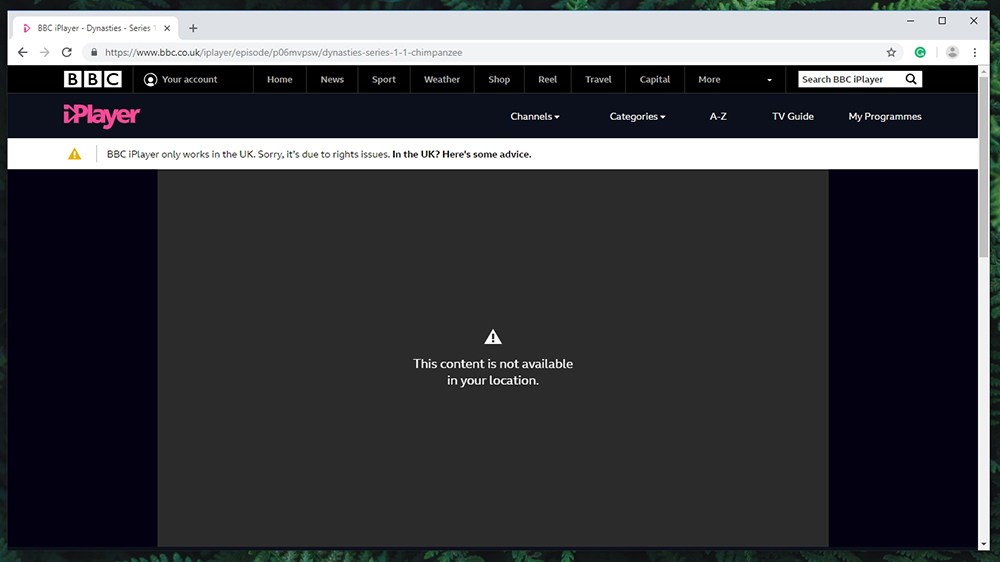 To make up for this, IPVanish fully supports torrenting. Aside from media streaming, many users rely on sharing P2P files and they're looking for a VPN that enables this kind of activity. Well, you'll be happy to know that IPVanish doesn't impose any kind of restrictions or limitations to sharing P2P files. During our tests, we've experienced a steady download speed by letting the application connect us to the most suitable server based on our physical location.
Security & Privacy
We conclude that IPVanish deserves our and your trust, despite its problematic past. You can rest assured that your private data will never be collected. Our Score: 10/10.
The best VPNs out there do not log your data. This means that they provide no-logs policies and they don't allow anyone to find your true location. So, let's see how IPVanish ranks in those areas.
Supported Encryption Protocols
Every VPN supports at least a few VPN protocols. You can think of these are encryption instructions. While some provide tough encryption (and full protection for your data), they can also throttle the speed of your connection – and vice versa. So, having plenty of protocols to choose from is always a good idea.
IPVanish supports all currently popular protocols including OpenVPN (UDP and TCP), IKEv2, L2TP, and PPTP. On top of that, it uses AES 256-bit encryption. Among these, OpenVPN is the most secure one – and you should stick to this one you want to hide your Web browsing data. Luckily, this provider gives you plenty of freedom to fine-tune your experience.
Logging Policy
It is true that IPVanish was embroiled in a privacy-related scandal a while back. However, this has happened before it was acquitted by StackPath. As said earlier in this article, the new owner is reassuring us that it's committed to its 'no logs' policy – and we have no reason not to trust them.
First of all, IPVanish knows that another scandal would bring the company to its knees. After all, not many individuals would subscribe to such a service, right? And ever since StackPath took the ownership of IPVanish, we didn't hear about a single incident. Therefore, its reputation is still strong.
DNS Leak Test
Lastly, we will put IPVanish to the test of DNS leaks. To do this, we'll connect to one of its servers, and run a reliable and capable DNS leak test that should investigate what third-party website know about us.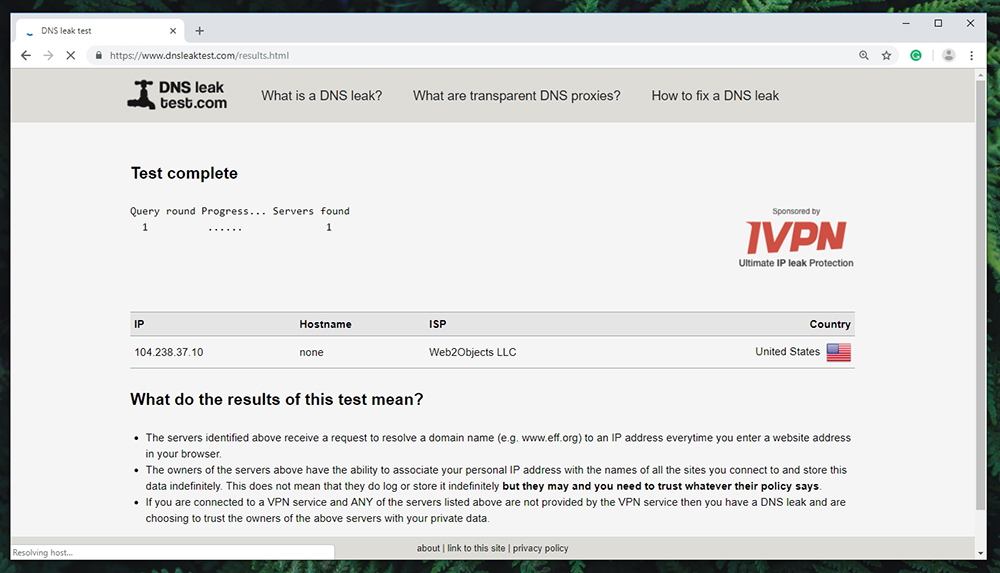 The result is clear – IPVanish doesn't let anyone know about our 'real' address as it instead shows its own servers. This means that websites will always see your virtual IP address, and this means that your true identity is protected.
Speed & Performance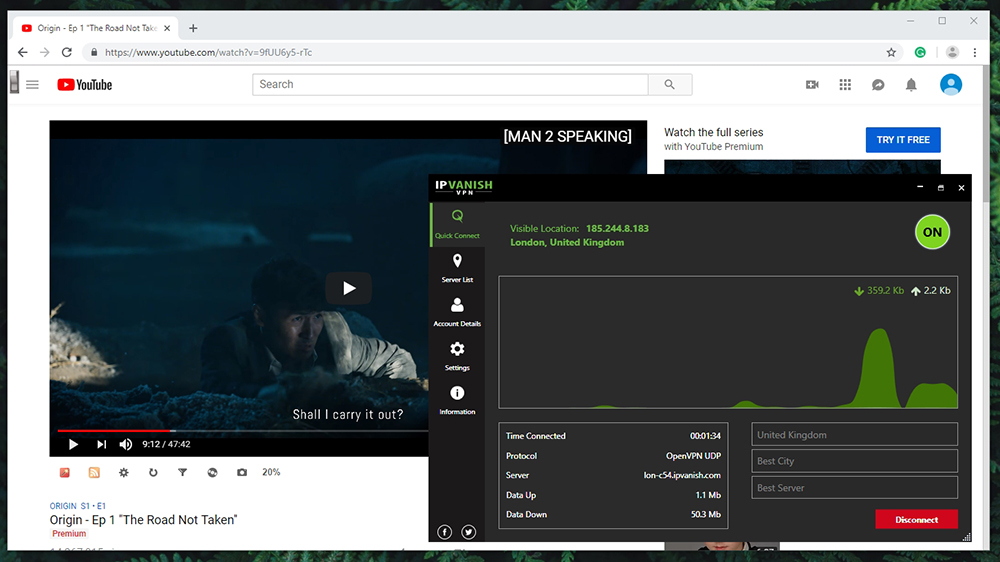 Based on our tests, IPVanish brings average performance. By slowing our Web connection up to 35% on average, it's not exactly the fastest VPN out there. Our Score: 7.5/10.
Now, the time has come to test IPVanish's real-world performance. We are going to connect to several servers and check their speeds. With this said, we'll start by testing the speed of our 'naked' connection.
As you can see from the image above, we have 147.08 Mbps for downloads and 9.5 Mbps for uploads. Once again, these numbers indicate the speed of our Web connection without using a VPN application. Next, we'll use IPVanish and connect to a nearby server, which in general should give us a speedy performance.

As expected, we managed to get a nice result. After connecting to a secure server located in our own country, we got 104.86 Mbps for downloads and 9.13 Mbps for uploads. Yes, there is some throttling – but this result is actually much better than what you'll get with comparable VPNs.

Finally, we've also tested a remove server, located in the USA. As it turned out, the speed of our connection deteriorated further. We got 87.80 Mbps for downloads and 5.87 Mbps for uploads. Finally, let's put all these numbers into a table and find out the end result.
| | | | |
| --- | --- | --- | --- |
| | Download Speed | Upload Speed | Speed Reduction |
| Baseline Speed | 147.08 Mbps | 9.50 Mbps | 0% |
| Nearby Server | 104.86 Mbps | 9.13 Mbps | 28.7% |
| Remote Server | 87.80 Mbps | 5.87 Mbps | 40.3% |
Finally, we can conclude the IPVanish made our Web connection slower by around 35%. So, you can expect average performance, as there must be some throttling with any VPN. However, the best VPNs out there can slow you down up to 10-15%, which is considered to be a great achievement.
Customer Support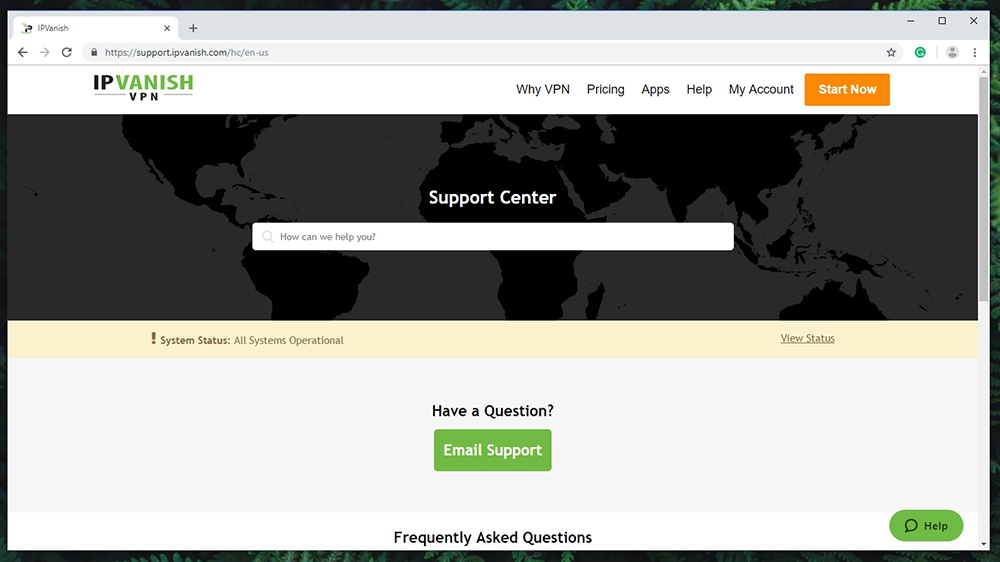 There are plenty of helpful resources on the official website, which also offers a support center and live chat. Our Score: 10/10.
Now, we'll take a look at IPVanish's customer support resources. There are different ways to find help and have your questions answered. Here are some of them:
Live Chat Support: Older reviews will tell you that IPVanish doesn't have live-chat support. However, the company has now implemented a helpful 24/7 live chat that's available from any page of its official website (you can find it in the bottom-right corner).
Email Support: You can also send an email, which will create a new support ticket. This could be a good way to get help if you're not in a rush, as it might take several days to get a response.
Phone Support: Among newly introduced types of customer support, IPVanish now has a dedicated phone number that you can call (Monday to Friday, 8 am to 5 pm / CET). This is perhaps the fastest way to have your questions answered, and we're happy to see IPVanish offering this option.
Frequently Asked Questions: IPVanish understands that a number of its customers might come up with common questions. For example, how to reset your password, how much the service costs, and so on. All of those questions are answered within the company's support center.
Setup Guides: Finally, it's good to know that you can find a number of setup guides, covering pretty much any compatible device.
In general, we like the way IPVanish provides customer support. There's plenty of resources on the official website, and you can find which communication channel suits you the best. Also, there are different ways to get help in a timely manner, which is crucial when it comes to VPN services.
Pricing
Even though there's plenty to like about IPVanish, this service is among the priciest VPNs. It can't unblock media streaming websites, so the price could be lower. Our Score: 8/10.
At the moment, IPVanish offers three subscription models. They all come with the same feature set, where their difference is in their subscription period length and price.
| | | | |
| --- | --- | --- | --- |
| Subscription | Total Price | Per Month | Savings |
| 1 Month | $10.00 ($11.99) | $10.00 ($11.99) | Up to 17% |
| 3 Months | $26.99 ($35.97) | $8.99 ($11.99) | 25% |
| 12 Months | $77.99 ($143.88) | $6.49 ($11.99) | 46% |
Even though IPVanish is known for offering promotions year-around, you'll see that its most comprehensive plan provides the best value. If you subscribe to IPVanish and buy its annual plan, this comes down to $6.49 per month. It's not the best price out there, however, there's plenty of value here. Remember that IPVanish can successfully anonymize your traffic and keep your private data safe at all times.
When it comes to payment methods, you can use a number of credit cards (Visa, MasterCard, Discover, American Express, and more) and PayPal. Unfortunately, there's no anonymous way to pay such as Bitcoin. Lastly, IPVanish offers a 7-day money back period, during which you can change your mind and have your money returned.
Do We Recommend IPVanish?
In case you want a VPN that protects you online and effectively hides your true location, IPVanish will meet your needs. It's also quite easy to use and comes with plenty of servers. Therefore, the basics are covered in the best way possible. Still, this isn't a good option for those who wish to unblock media streaming websites.
PROS: Wide platform/device compatibility; Polished UI; No-logs policy; Steady and reliable performance; Tough encryption; Helpful customer support.
CONS: Previous privacy-related incidents; Average speed; Can't unblock media streaming websites.
OUR SCORE: 8.0 out of 10!
Even though it has a few flaws, IPVanish still manages to stand above the rest of VPNs on the market. The bottom line is that this is a very reliable VPN that won't leak your personal data. Furthermore, you can be sure that no one will see what you do online. If that's what you're looking for, don't hesitate and subscribe to IPVanish right away.
Finally, we would like to ask you to share this VPN review online. And to stay on top of the latest information, don't forget to follow TechNadu on Facebook and Twitter. Thank you!