If you're looking for the best VPN service in the market, chances are that you've already heard of IPVanish, a US-based VPN that offers a solid network of over 2,000 servers in more than 50+ countries. It's an excellent choice for users who want to protect their privacy and access streaming platforms or other blocked sites without breaking the bank.
Since IPVanish is based in the US, it's subject to the 5-Eyes, 9-Eyes, and 14-Eyes jurisdictions. However, we were glad to find out that the company has a strict no-logs policy that's been independently audited and verified. This means that even if a government agency requests your data, IPVanish won't have any record of it to share.
IPVanish uses AES 256-bit encryption to protect your data and features a handy kill switch and DNS leak protection. It also offers split tunneling, allowing users to choose which traffic to route through the VPN, leaving everything else outside of their VPN tunnel.
IPVanish can unblock a number of popular streaming platforms, including Netflix, Disney+, Prime Video, and BBC iPlayer. It supports P2P traffic on all its servers and has even added support for SOCKS5 proxies to facilitate P2P file sharing and torrenting.
These are all top-tier features, but we wanted to test them out so you can see if they're a good fit for you. However, before we dive into our detailed IPVanish review, here's an overview of the key features to help you get a sense of what to expect.
| | |
| --- | --- |
| Jurisdiction | United States (5/9/14-Eyes Alliance) |
| Logs | No logging – independently audited |
| Servers | 2,000+ servers in 50+ countries |
| Simultaneous Connections | Unlimited |
| Supported Devices | Windows, Mac, Linux, iOS, Android (TV), Fire TV,  and routers |
| Features | Kill switch, split tunneling, DNS leak protection, SOCKS5 proxy, and more |
| Protocols | OpenVPN, IKEv2, IPSec, WireGuard |
| Supports | Netflix, Prime Video, Disney+, Hulu, BBC iPlayer, gaming, torrenting, and more |
| Customer Support | FAQs, setup guides, 24/7 live chat |
| Price | From $3.99/month |
| Live Deal | 66% OFF (1-year plan) |
| Our Score | 7.9 out of 10 |
In this IPVanish review, we'll dig deeper into the VPN's features and explore its strengths and weaknesses. We'll also talk about IPVanish's jurisdiction, server network, supported platforms, and more. On top of that, we will also keep you up to date on what's new with IPVanish, as it's a rapidly evolving VPN service.
If you want to learn more about our testing process, take a look at our guide on how we review VPN services. And now, let's begin our in-depth IPVanish VPN review!
Background, Jurisdiction & Reputation
Even though IPVanish comes with a very turbulent past, it's now quite transparent and willing to go through regular audits, proving its commitment to its no-logs policy. Our Score: 7/10
VPN services deal with a massive volume of sensitive information supplied by their customers. With that said, you want to ensure that your VPN doesn't exploit your trust in any way. So, let's see whether you can trust IPVanish with your sensitive data.
Where Does IPVanish Come From? Is It Part of the 5/9/14-Eyes Alliance?
IPVanish launched in 2012 as a VPN service of a company called Mudhook Media. This was a subsidiary of Highwinds Network Group, whose headquarters was in Florida (the USA).
Initially, this was a basic VPN designed for Windows PC users. However, it didn't take long for the company to grow its service to cover other devices and more advanced features. During that time, this VPN found itself at the center of a privacy-related scandal, which we'll discuss in the following segment of this review.
Things started to change in 2017 when Highwinds Network Group became a part of a company called StackPath. We can't say this VPN changed drastically except for one thing. The new management team, along with its CEO Lance Crosby, decided to turn IPVanish into a no-logs VPN, promising not to collect a single file pointing to your online whereabouts.
Today, IPVanish is owned by NetProtect, a brand owned by Ziff Davis (previously known as J2 Global). You probably haven't heard about this company until now, but it owns several major VPN brands. We're talking about VPNs such as StrongVPN, SaferVPN, Encrypt.me (which merged with Buffered VPN in the meantime), ibVPN, OverPlay VPN, and WLVPN (which acts as a white-label VPN service), among others.
Finally, it's important to highlight that IPVanish (still) comes from the USA. That country is one of the founding members of the 5/9/14 Eyes Alliance – created for the purpose of intelligence sharing. To mitigate that downside, IPVanish now goes through regular audits to prove its no-logs claims, as explained below.
Did IPVanish Leak Private Data in the Past?
In 2016, it was discovered that IPVanish used to log some personal data – even though this VPN claimed to have a strict no-logs policy since 2012. As can be seen from this affidavit, that case involved child abuse and pornography, as well as a suspect who was investigated by the US Department of Homeland Security.
As per the criminal affidavit, the US Department of Homeland Security asked for data records from Highwinds Network Group, the parent company of IPVanish at the time. After some discussion, the VPN provider decided to hand over 2 types of information:
Source IP address of the suspected user;
Dates and times that clearly describe when the accused individual was actively using IPVanish.
As you can see, that information proved that IPVanish wasn't only willing to work with the authorities – it actually recorded plenty of personal data as well. Of course, we can't blame IPVanish for helping the authorities resolve such a severe crime. Still, we need to highlight that IPVanish did, in fact, log private data despite what its privacy policy said.
Of course, everything said above applies to when Highwinds Network Group was in charge of IPVanish. It changed two owners in the meantime and is now owned by Ziff Davis (J2 Global), which means its management and policies have evolved in the meantime.
Therefore, we should acknowledge these past incidents - but keep in mind that they no longer define IPVanish as a VPN service. Until proven otherwise, we don't have a reason to believe that IPVanish is (once again) logging private information.
The latest security audit was done in March 2022 by "Leviathan Security Group" to prove IPVanish's commitment to its Privacy Policy. As per the results of that audit (available to all IPVanish subscribers via their online dashboards), IPVanish doesn't log any personally identifiable information and is in full compliance with its publicly available Privacy Policy.
Is IPVanish Safe?
Yes, IPVanish is a safe VPN, as it uses military-grade encryption and offers world-class security features to safeguard your data. It is a no-logs VPN that has been tested and verified through independent third-party audits.
IPVanish VPN comes with a kill switch that disconnects you from the Internet if your VPN connection drops. It's a useful feature that prevents accidental exposure of data that could be leaked through an unprotected connection. The kill switch worked great for us during our tests.
IPVanish also offers DNS/IP leak protection and even a Scramble feature that works with the OpenVPN protocol. The Scramble feature disguises your VPN traffic as normal internet traffic, thus adding obfuscation to your connection. No one will know you're even using a VPN!
Supported Platforms & Devices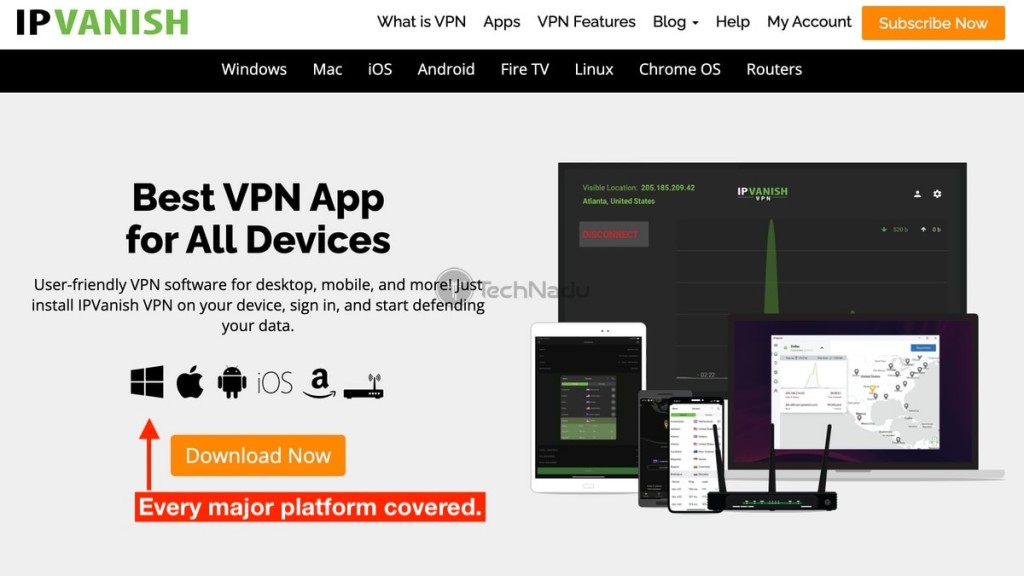 IPVanish covers a wide range of platforms and devices, including media streaming devices and routers - but it doesn't offer extensions for Web browsers. Our Score: 8/10
One of the first things we look for in a VPN is platform compatibility. After all, a capable VPN should provide native software across the board. So, here's what IPVanish offers.
| | |
| --- | --- |
| Desktop Platforms | Windows, macOS, Linux, and Chrome OS. |
| Mobile Platforms | Android and iOS. |
| Web Browsers | None. |
| Routers | DD-WRT, Tomato, ASUS-WRT, Merlin, and more. |
| Other Devices | Amazon Fire OS, Android TV. |
We can see that IPVanish has done an excellent job covering a whole slate of devices and platforms. You can use it on your computer, smartphone, tablet, and even on media streaming devices. With that said, the only thing that's missing is support for Web browsers.
However, keep in mind that Web browser extensions don't typically act as fully-featured VPNs. Instead, they act as proxies, which means you won't use your VPN's full encryption. So, the decision of this VPN to avoid offering browser extensions is understandable.
Also, IPVanish now supports unmetered VPN connections, which is still a rare thing to find in the world of commercial VPN services. In other words, your subscription will let you install as many apps as you want while using as many VPN servers as you need (simultaneously).
Installation & Initial Configuration
The process of installing IPVanish is straightforward. You download the installer, run it, and you'll have your new VPN ready to be used within minutes. Our Score: 10/10
The process of installing this VPN starts by subscribing to IPVanish. That's how you'll get your username/password, which you'll use to log in to the app. After that, you need to download IPVanish from its website based on the operating system you use.
If you use macOS, you simply need to drag and drop IPVanish's icon onto your Applications folder. And if you're on Windows, you'll see a typical software installer. Choose where you'd like to save the required files, and IPVanish will finish everything on its own. This really is the simplest method of installing software on any computer.
When it comes to mobile devices and media streaming platforms, IPVanish has listed its app across many digital stores. That means you can turn to Apple's, Google's, or Amazon's App Store to download IPVanish, which means no manual configuration is involved.
What's interesting is that IPVanish comes already configured based on your system's specs, so you're ready to start using the application as soon as you log into your account. Select a server, connect to it, and that's pretty much it. Still, as you'll find out soon enough, taking your time to dive deeper into this VPN's software will be worth your time.
Prominent Features
IPVanish covers the basic features well while also offering a few high-end ones. However, those features aren't available across all of the apps provided by this VPN. Our Score: 6.5/10
In this segment, we'll explain whether IPVanish meets the needs of both beginners and advanced users alike. So, here's what to expect in terms of its security-related features.
| | |
| --- | --- |
| DNS Leak Protection | YES |
| IPv6 Leak Protection | YES |
| Kill Switch | YES (Windows, macOS, Android) |
| Split Tunneling | YES (Android, Fire OS) |
| Dedicated/Static IPs | NO |
| Ad-Blocker, Anti-Malware | NO |
| Unlimited Server Switches | YES |
| Unlimited Bandwidth | YES |
| Unlimited Data | YES |
IPVanish seems to cover the basics well. You get IP and DNS leak protection, which means this VPN should hide your data without any leaks. Besides, some more advanced features are on offer, such as a kill switch and split tunneling (more on those below).
However, the problem with IPVanish is that certain features are available on select platforms only. This means you can't expect the same offer across all of the apps offered by this VPN service. To see what we mean, keep on reading our IPVanish review.
How Many Simultaneous Connections Do You Get With IPVanish?
IPVanish gives you an unlimited number of simultaneous connections. That means there's no limit regarding how many devices you can use within a single subscription.
Differently said, you are free to install and use IPVanish on all your devices, such as computers, smartphones, tablets, routers, media streaming devices, and more. The VPN won't impose limits on your bandwidth or anything similar. That's one of the reasons why IPVanish is among the featured VPNs in our guide to the best VPN for multiple devices.
Keep in mind that IPVanish doesn't allow multiple-party use or non-individual use. So account sharing is against the VPN's Terms of Service.
Does IPVanish Have a Kill Switch?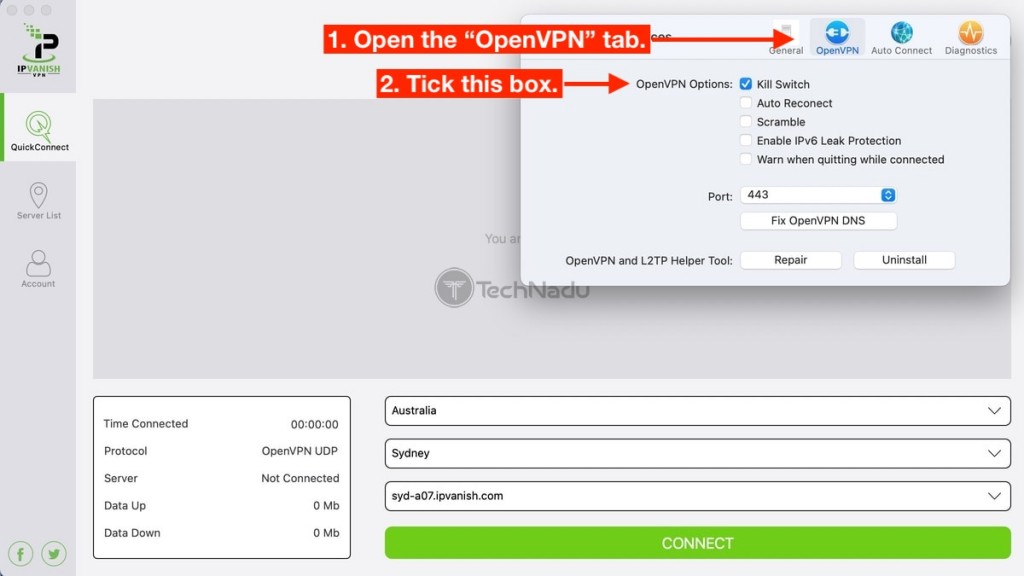 Yes, IPVanish comes with a kill switch - available on Windows, macOS, and Android. This feature works as expected, with IPVanish employing a system-level kill switch.
If something happens to your connection (if it becomes unstable or you disconnect from a secure server), IPVanish's kill switch will prevent your device from connecting to the Web (which should prevent your data from leaking online).
A number of VPNs offer granular controls over their kill switch features. For example, you can decide which apps are affected by this feature, giving you some flexibility. However, IPVanish's kill switch is a system-level one. You can only enable or disable it.
How to Enable IPVanish's Kill Switch on Windows
On the left-hand side, select 'Settings.'
Then, select the 'Connection' tab.
Scroll down until you see a group of features titled 'Enhanced Security Features.'
Check the box next to 'Kill Switch.'
How to Enable IPVanish's Kill Switch on macOS
Go to IPVanish VPN > Preferences.
Make sure you're on the 'General' tab.
Pick 'OpenVPN' next to 'Active Protocol.'
Then, select the 'OpenVPN' tab.
Check the box labeled 'Kill Switch.' That's it!
How to Enable IPVanish's Kill Switch on Android
Launch IPVanish and tap on the hamburger button (on the left side).
Tap on 'Settings,' and then select the 'Connection' tab.
Scroll down and select 'Android OS Kill Switch.'
Tap on 'Take Me There' to open your phone's Settings app.
Next, tap on the cogwheel icon next to IPVanish's icon.
Enable these features: 'Always-On VPN' and 'Block Connections Without VPN.'
Does IPVanish Offer Split Tunneling?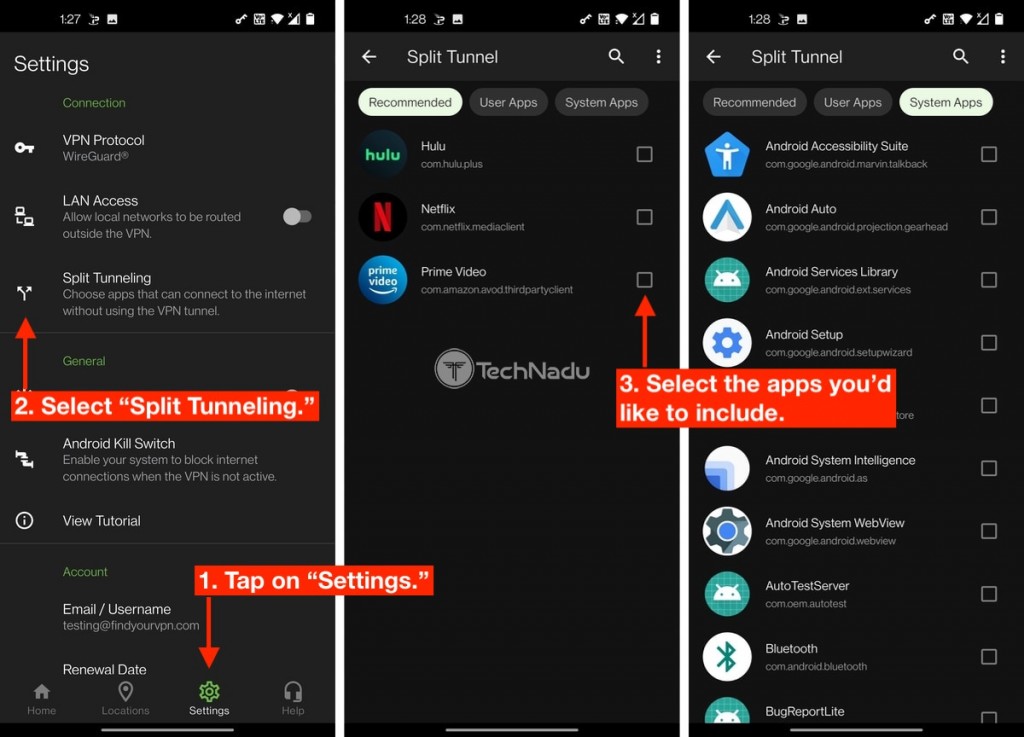 Yes, IPVanish offers split tunneling - but only on Android and Fire OS devices.
This VPN gives you the option to choose specific apps that are routed through your regular Web connection. That means your other apps will continue to use IPVanish's VPN tunnel.
This is helpful if you want to exclude specific applications from the VPN's tunnel. Those apps will use the full bandwidth of your Web connection, as IPVanish won't throttle them.
How to Enable Split Tunneling via IPVanish (on Android)
Tap on the hamburger icon and select 'Settings.'
Select the 'Connection' tab and pick 'Split Tunneling' below.
This is when you'll see two groups of apps: 'User Apps' and 'System Apps.'
Go through these lists and select the applications that you'd like to exclude.
Once done, return to the VPN's home screen.
Does IPVanish Offer a Static/Dedicated IP Address?
No, IPVanish doesn't offer static/dedicated IP addresses. As the VPN explains, it uses dynamic IPs to prevent individual users from being tied to any particular IP.
Therefore, each time you connect to an IPVanish server, you get a different IP address. In other words, this system ensures there's no way for someone to track your online whereabouts by tracking your IP.
Even though IPVanish's statement looks great on paper, it misses mentioning that VPNs can offer dedicated IPs without compromising their users' privacy. For example, one of the latest (highly reputable) VPNs to have started offering this feature is CyberGhost VPN.
Does IPVanish Have an Ad-Blocker?
No, IPVanish doesn't have an ad-blocker. Therefore, you'll need to rely on a third-party solution if you wish to block digital ads.
You'll be happy to know that many other VPNs use special DNS servers to get rid of ads (with a lot of success, by the way). So, if IPVanish's inability to unblock ads is a deal-breaker for you, here's our guide to the best VPN with ad blocking.
What Features Are Missing on Android & iOS (Compared to Desktop Apps)?
If we compare IPVanish's mobile and desktop apps, we'll see that not all its apps offer the same features. There are even certain discrepancies between IPVanish's Android and iOS apps, which you'll get to know about only after you subscribe to this VPN.
For example, IPVanish's Android app comes with split tunneling and a kill switch. However, the same doesn't apply to the VPN's iOS app. Furthermore, split tunneling can't be found on IPVanish's desktop apps either.
IPVanish offers plenty of features but fails to adequately explain what to expect on each of its supported devices. This is why reviews like this one are essential to read before buying any VPN subscription.
Server Count & Infrastructure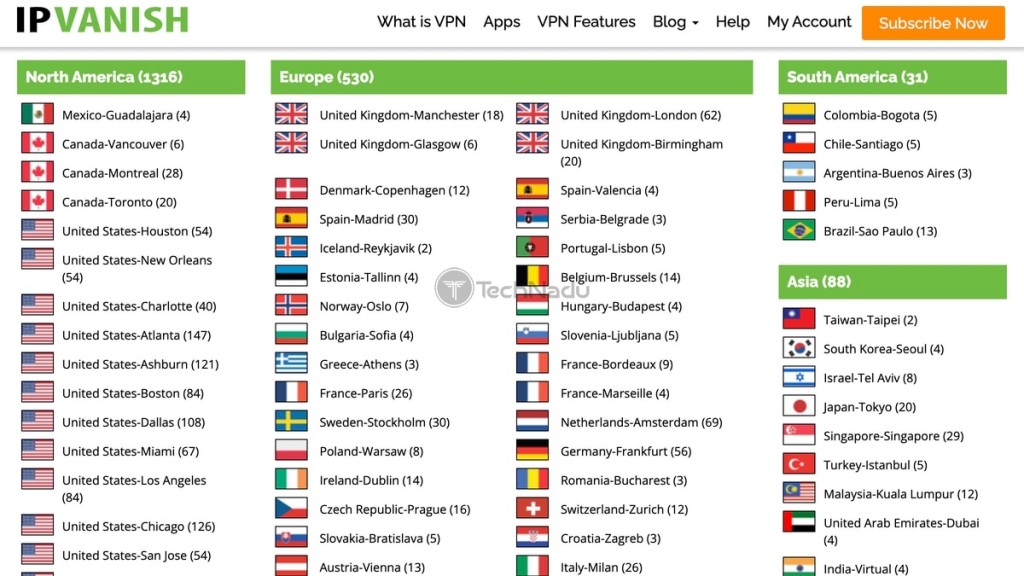 IPVanish brings over 2,000 VPN servers that seem strategically placed around the planet. However, you'll find those servers in 50+ countries only. Our Score: 7/10
Having plenty of servers means that a VPN can accommodate numerous users without technical difficulties. With that said, here's some basic server count info related to IPVanish.
| | |
| --- | --- |
| Number of Servers | 2,000+ |
| Number of Locations | 75+ |
| Number of Countries | 50+ |
| Specific Cities Selection | YES |
| Unlimited Switching | YES |
Unlike most VPN services, this one gives you an excellent overview of its servers. You can select a country, a city, and even an individual server. That's how you can make a helpful list of fast-performing servers (your favorites) and easily connect to those.
When it comes to VPNs and their general usage, some countries are more popular than others. Therefore, it's not surprising that some countries have plenty of servers, like the USA, the UK, Canada, and Australia. That's the case with IPVanish as well.
The only thing missing here is an option to pick specialized servers, such as media streaming- and P2P-optimized ones. However, this may indicate that all of IPVanish's servers are optimized for these activities, which we'll test later in this review.
Does IPVanish Use Virtual Server Locations?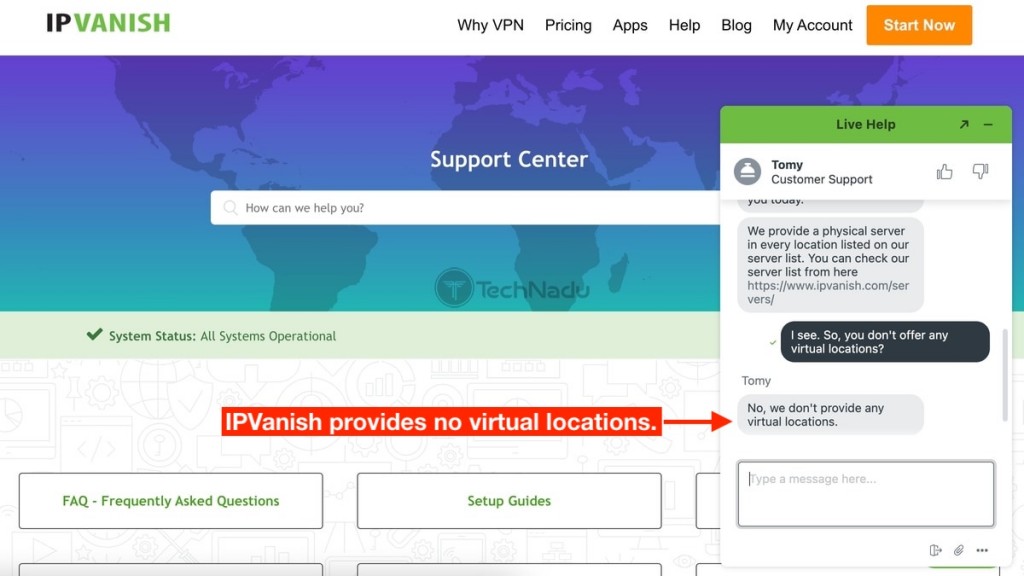 No, IPVanish doesn't offer virtual VPN server locations. Its entire server network is based on physical servers, according to its customer support agents.
Interestingly enough, IPVanish doesn't provide a definitive answer regarding virtual servers via its website. Therefore, we had to contact the VPN via its customer support. After being pointed to a list of servers present on the VPN's website, we pushed further to find out whether any of those were virtual.
In the end, we've received assurances that IPVanish doesn't have a single virtual server in its offer. That means all its servers are physical, located in their "end" locations. So, If you connect to a server in Norway (for example), you can be sure that you're connecting to a server that's physically located in Norway.
UI/UX Design & Ease of Use
Even though it doesn't bring the most modern-looking UI, we're sure you won't have a hard time using IPVanish's software (in the long run). Our Score: 7.5/10
IPVanish offers applications for desktop and mobile operating systems, and we'll show you how they look and work. So, let's continue with our IPVanish review.
How Well Does IPVanish Work on Desktop Platforms?
When you launch IPVanish, you will see a series of 'sections' or tabs in the left-placed sidebar. Therefore, the best way to explain how IPVanish works is by taking a quick look at its sidebar, which you can learn more about below.
Quick Connect: This is IPVanish's home screen, using which you can connect to its VPN servers. The 'Quick Connect' tab gives you 3 options. In the bottom-right corner, you can select a country. Based on the chosen country, you can select a city and even an individual server. To allow IPVanish to find the best server based on your location, click on 'Connect' after selecting a country, and the app will do the rest of the job.
Server List: This tab gives you more freedom when checking IPVanish's servers. You can browse its list of servers, where you can see their individual occupancy. You can then browse a map or filter the servers based on their country of origin and latency. At any moment, you can make a server your 'favorite' and connect to it at a later time.
Account: You can imagine what this one does. Using this tab, you can check your account's basic information, including when it's due to expire, and you can log out as well.
As promised, we will also take a closer look at the application's settings – as this is where you can fine-tune your user experience. So, here's what you'll find there:
General: Using this tab, you can switch between different protocols (this is where you'll find the newly launched WireGuard protocol), enable IPVanish to launch on system startup, opt for beta updates, auto-connect to a server, and change between different themes.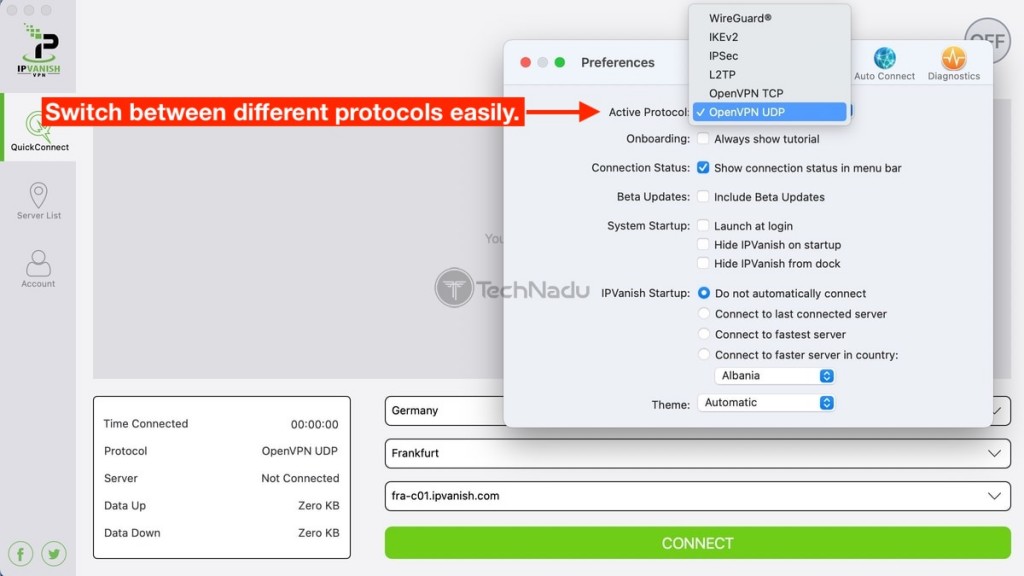 OpenVPN: If you decide to use the OpenVPN protocol, this is where you can enable the VPN's kill switch, scramble your Web traffic, enable IPv6 leak protection, and more.
Auto Connect: Using this tab, you can instruct IPVanish on how to behave in certain situations. It can connect on-demand and stay connected once you quit the app. Then, you can instruct the VPN to "trust" certain networks, automating your VPN protection.
Diagnostics: Lastly, this is where you'll find IPVanish's diagnostic data that might be of help to the company's support team. You'll also see an option there to archive your app's diagnostic information, letting you upload it to IPVanish's customer support agents (if required, of course).
All in all, IPVanish is a really simple application. We can't say it's the best-looking VPN, as you'll easily find more polished alternatives. However, it's worth noting that IPVanish is in the process of redesigning its interface, which should reach Windows and Android first. Of course, we'll make sure to update this review once IVanish's next design iteration becomes widely available.
How Well Does IPVanish Work on Mobile Platforms?
As noted earlier, IPVanish doesn't offer an identical app for all its supported platforms. However, it uses the same design language across its software, which is always a welcome thing to see. So, let's talk about IPVanish's Android and iOS apps.
IPVanish now brings an overhauled Android app that looks cleaner than before. On the home screen, you'll see your IP address and location. You can connect to the nearest server from there or tap on "Locations" to reveal all locations.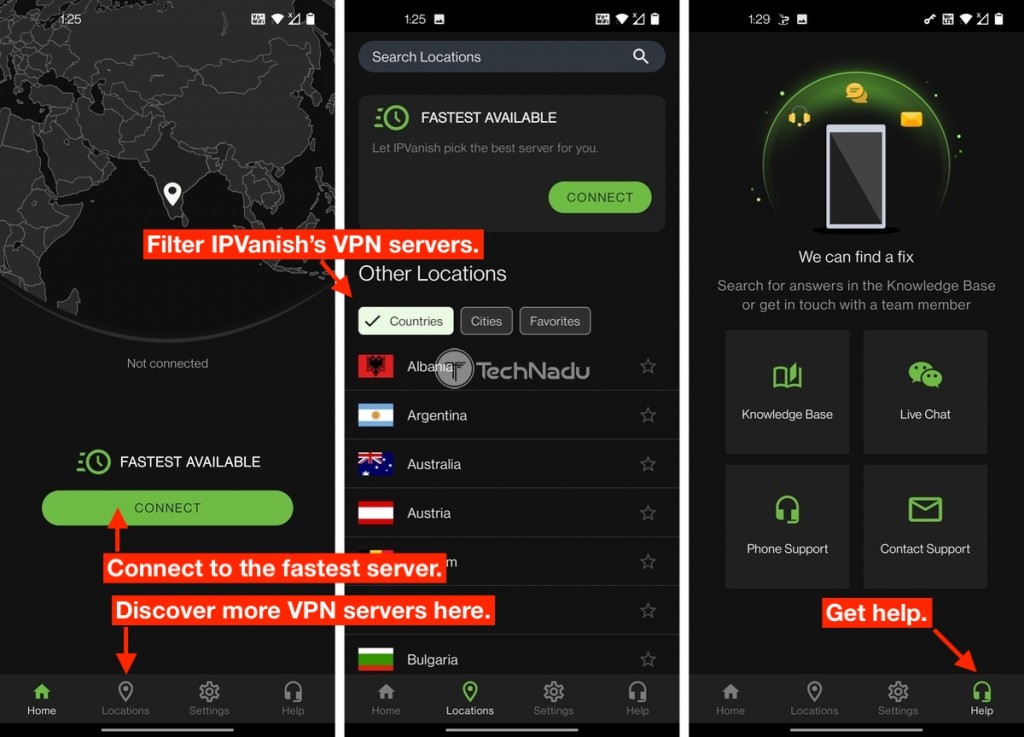 As soon as you connect to a server, your actual IP and your geo-location data are replaced by IPVanish's virtual information. You'll also see a real-time graph showing helpful information about your sessions, such as your VPN connection speed and bandwidth.
To dive deeper, tap on the "hamburger" tab at the bottom. That's where you can switch from different protocols (WireGuard, OpenVPN, and IKEv2 on Android), allow LAN access, set up split tunneling, enable the app's kill switch, and more.
IPVanish now also brings a dedicated "Help" tab. You can use it to chat with IPVanish's team, send an email, as well as review other customer support channels.
On iOS, IPVanish offers an interface similar to what you'll find on Android. This means the home screen is reserved for picking a server, checking your actual and virtual information, as well as checking your VPN connections' real-time data.
Diving into IPVanish's settings on iOS is done by tapping the "Settings" tab. However, you won't find too many options to fine-tune. For example, you can change a VPN protocol, set up IPVanish's on-demand connections, change a theme, and similar.
All in all, IPVanish brings fully functional apps on iOS and Android. Still, there are significant differences between them, where the Android app takes the win. And also, these are not the most polished apps in terms of their UI/UX design, but they get the job done.
Media Streaming, Torrenting & Gaming Support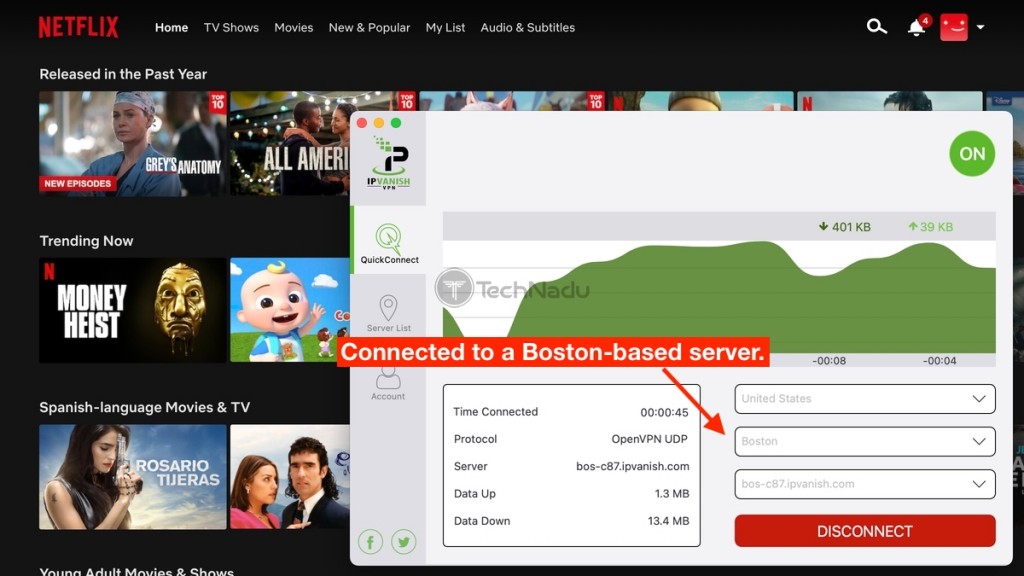 IPVanish seems suitable for streaming as it unblocks Netflix, Disney Plus, iPlayer, and tons of other streaming services. It also supports P2P and can even be used for gaming - but you'll need to make some optimization and pick your servers wisely. Our Score: 8/10
We've tested IPVanish by trying to unblock a group of popular streaming platforms. So, to check the results of our tests, use the table found just below.
Media Streaming and Torrenting Support
| | |
| --- | --- |
| Netflix US | YES |
| Hulu | YES/NO (works sometimes) |
| Disney+ | YES |
| BBC iPlayer | YES |
| Amazon Prime Video | YES/NO (works sometimes) |
| Torrenting (P2P) Support | YES |
As per our hands-on tests, IPVanish seems good enough for media streaming. It works with Netflix US just fine, as well as with Disney+ and BBC iPlayer. We also managed to unblock Hulu and Amazon Prime Video. Those 2 streaming services worked most of the time - but don't be surprised if IPVanish struggles with them on occasion.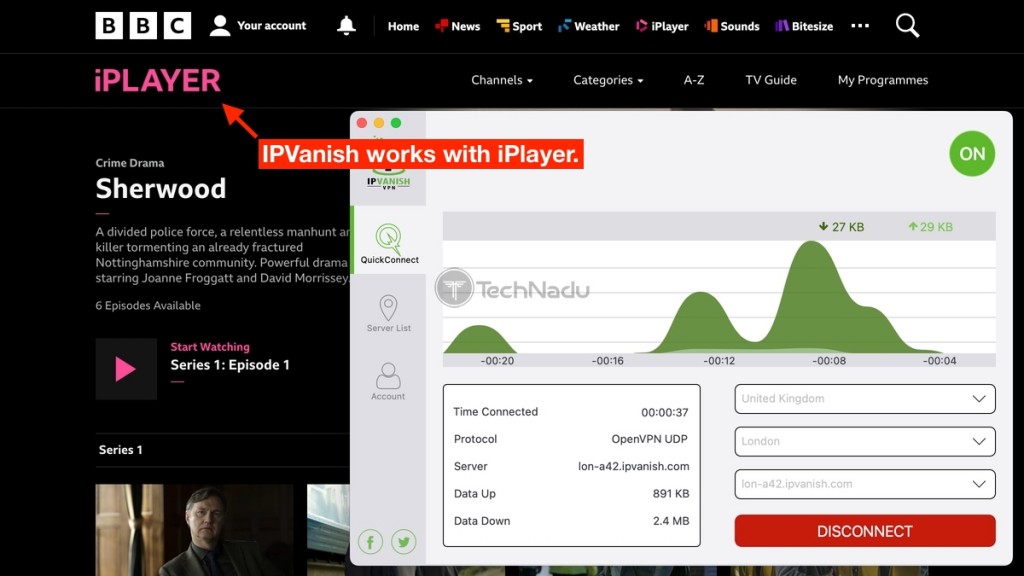 We'll also add that IPVanish works with a lot of other US-based streaming services, especially those available free of charge. We tested it with Pluto.TV, Crackle, Tubi TV, and Popcornflix, without any issues whatsoever.
Also, IPVanish supports P2P traffic. Still, you should keep in mind that this VPN comes from the USA, which means you need to avoid infringing any copyrights. With this said, our strong recommendation would be to stick to legal torrent websites only.
Does IPVanish Work With Netflix, Hulu, BBC iPlayer, Prime Video & Disney Plus?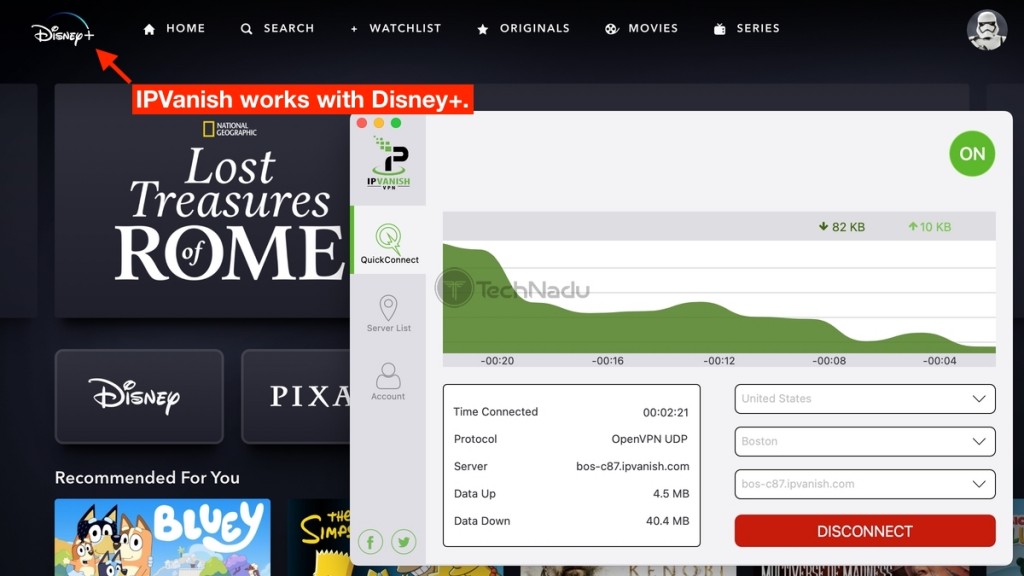 Yes, IPVanish works with Netflix and Disney Plus just fine. When it comes to Prime Video and Hulu, you might encounter roadblocks from time to time.
Based on our tests, we recommend going with the OpenVPN UDP protocol, as that one seems to unblock streaming sites without any issues. For some reason, WireGuard appears to struggle with streaming in the case of IPVanish, so you'll want to try alternative protocols.
Which IPVanish Server Works Best for Netflix?
We've had plenty of luck using a number of different IPVanish servers to access Netflix outside the USA. However, we got the best speeds by connecting to the VPN's Boston-based servers.
Therefore, no matter if you're in the USA or if you wish to unblock the US-based version of Netflix from abroad, we highly recommend using IPVanish's servers located in Boston. If those fail to meet your expectations, New York-based servers should also do the job (especially when it comes to Disney Plus).
In case of any issues with trying to stream Netflix, check our dedicated guide on what to do when IPVanish doesn't work with Netflix.
Can You Use IPVanish with Kodi?
In general, yes - you can use IPVanish with Kodi. However, this depends on your primary goal of combining Kodi with a VPN service.
If you're after privacy, IPVanish will protect you. This VPN has the means to hide everything you do online, thanks to its capable VPN protocols and a leak-free environment. In that aspect, we recommend using this VPN.
Is IPVanish Good Enough for Torrenting (P2P)?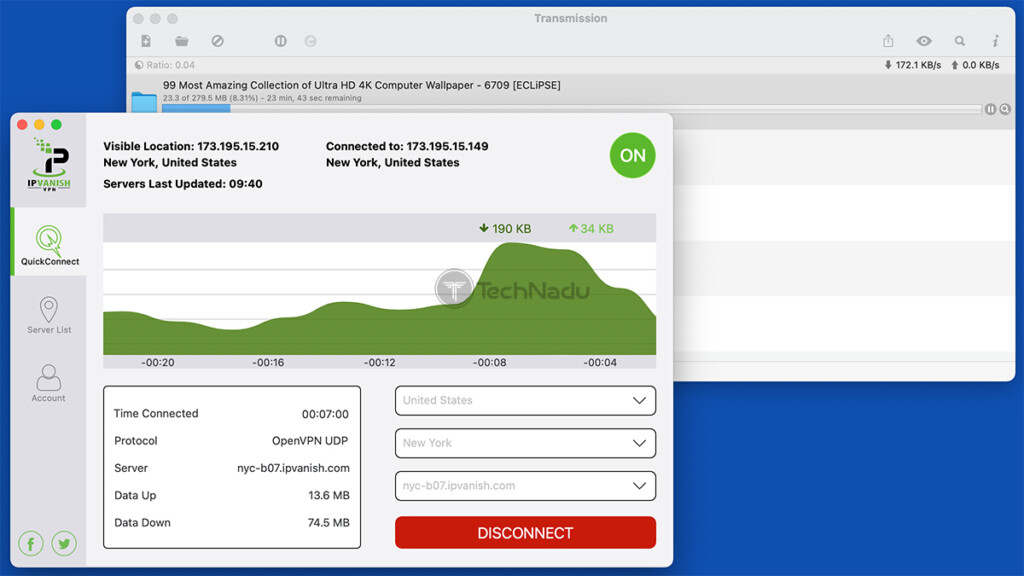 Yes, IPVanish is a good option for torrenting - and there are multiple reasons for that.
First and foremost, downloading P2P files isn't against this VPN's terms of use. IPVanish allows torrenting, and this applies to all of its servers. Therefore, you won't find a group of specialized servers for this purpose, as you can use any server.
Then, keep in mind that IPVanish gives you a SOCKS5 proxy. This is something you can integrate with a large number of torrent clients. And also, this is how you can achieve fast download speeds while maintaining your anonymity.
Still, we'll remind you that IPVanish originates from the USA, a country known for its rigorous stance regarding copyright infringement. So far, there haven't been any reports of IPVanish working with anti-piracy agencies. Even though its no-logs policy sounds reassuring, we still recommend exercising caution when using this VPN for torrenting.
Is IPVanish Good Enough for Gaming?
Yes, IPVanish is a good VPN for gaming (even though it might not appear so at first glance).
IPVanish's apps (on all of the VPN's supported platforms) come with a handy trick. You get to discover what performance to expect before connecting to a server. For example, you'll see each server's current load and ping values.
Therefore, choosing a server with a low ping value will lead to a pleasurable gaming session. And also, you get a whole slate of VPN protocols, which means that you can fine-tune your VPN connection in an effort to achieve better Web connection speeds.
Security & Privacy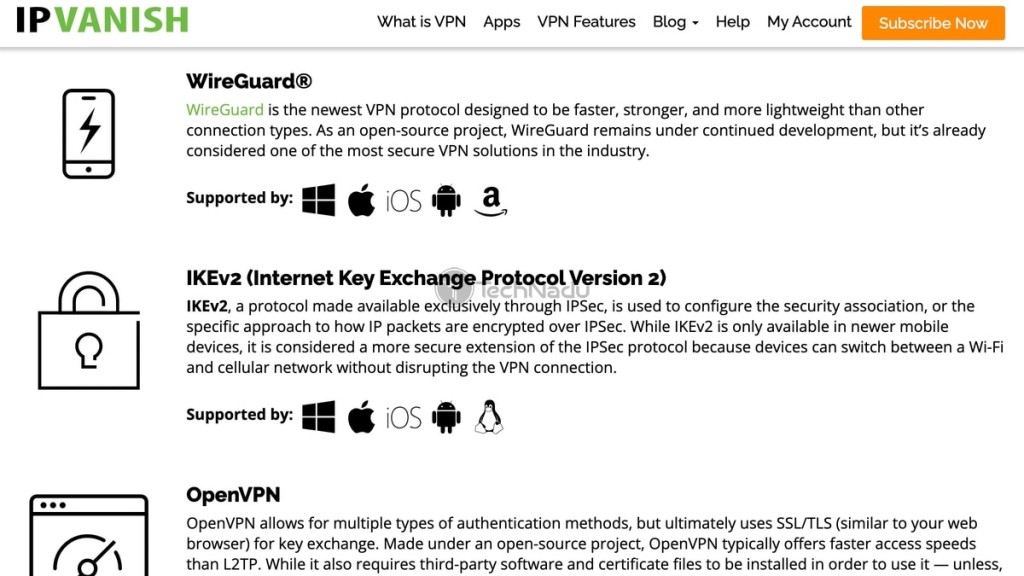 IPVanish comes with a complex past that doesn't benefit its current image. However, this is now a no-logs VPN with many audits under its belt, powered by the strongest VPN protocols you'll find available right now. Our Score: 9/10
The best VPNs out there do not log your data. It means they provide no-logs policies, and they don't allow anyone to find your true location. So, let's see how IPVanish ranks in those areas.
IPVanish Protocols - Listed & Explained
In this segment, we'd like to introduce you to IPVanish's VPN protocols. With that said, you'll want to check the following table first, showing you the situation with each platform.
| | | | | | | |
| --- | --- | --- | --- | --- | --- | --- |
| | Windows | macOS | Linux | Chrome OS | Android | iOS |
| WireGuard | YES | YES | YES | YES | YES | YES |
| OpenVPN | YES | YES | YES | YES | YES | NO |
| IKEv2 | YES | YES | YES | NO | YES | YES |
| IPSec | NO | YES | YES | NO | YES | YES |
The table found above shows both built-in and custom protocols offered by IPVanish. And as you can see, you have plenty of options.
The most secure protocols are also built into the VPN. However, if you're not afraid to tinker, IPVanish can help you add additional protocols by tweaking your device's settings or using third-party software. Keep reading to learn more.
WireGuard
This is the newest VPN protocol that promises extra-fast performance and high-end security measures. In general, it's faster, stronger, and more lightweight than its competitors. However, it's still brand-new and under continued development.
OpenVPN
Cybersecurity experts often recommend using OpenVPN by default. This is the most robust VPN protocol currently available, offering fast performance and easy connectivity. And on top of that, it's present across many different devices and platforms.
IKEv2
IKEv2 is a more secure variant of the IPSec protocol, mainly used across mobile devices. It doesn't have the same security level as OpenVPN, but it's known for its fast performance.
IPSec
IPSec isn't a traditional VPN protocol, per se. Instead, it provides a framework for secure transport, which is why it's often combined with IKEv2. That's the case with IPVanish as well, which offers the IKEv2/IPSec protocol.
Does IPVanish Log Private Data?
IPVanish was embroiled in a privacy-related scandal a while back. However, that was before the current owner (NetProtect and Ziff Davis/J2 Global) acquired it. Today, IPVanish is a zero-logs VPN service, as described in its recently updated Privacy Policy.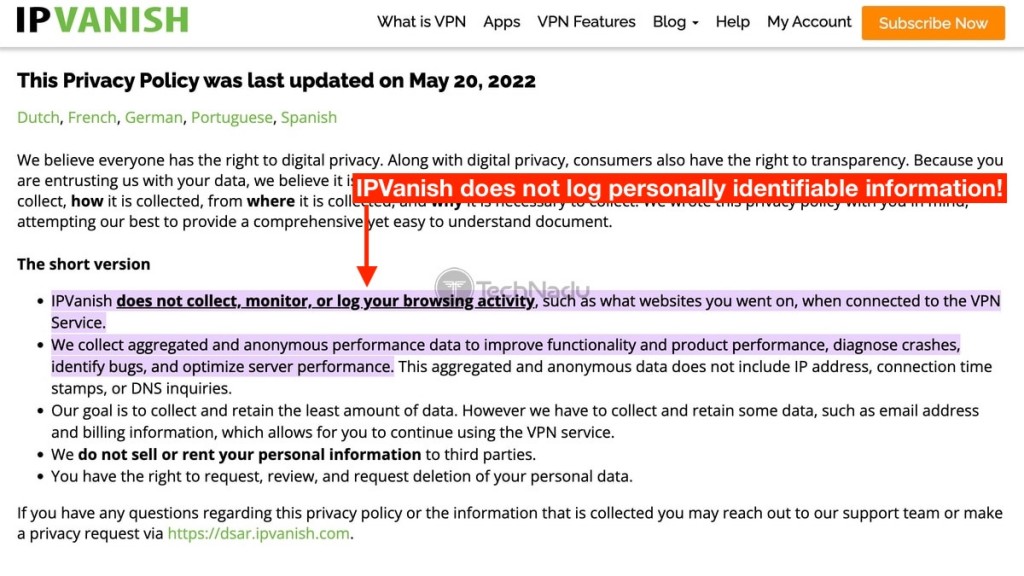 If you check the new Privacy Policy, you'll see that IPVanish has become a transparent VPN service. It promises not to collect any personal data - and that includes your VPN connection, traffic, or activity data. The only information that IPVanish collects is your email address and payment method to process transactions.
IPVanish is well aware that another privacy-related scandal would bring the company down to its knees. After all, not many individuals would subscribe to such a service, right? And ever since Ziff Davis took ownership of IPVanish, we didn't hear about a single incident.
Does IPVanish Leak/Expose Your Private Data?
To check for data leaks, we've connected to several IPVanish servers. Then, we ran data leak tests, checking whether our "real" IP address, DNS data, or geolocation data would find its way to the Web.
As you can see from the screenshots in this segment, IPVanish provided a leak-free tunnel. That means our "true" information remained hidden, as well as that no third parties could have reached our personal data - while connected to IPVanish's servers.
In other words, IPVanish gave us a new IP address, pointing to a virtual location, protecting our identity. Therefore, we conclude that IPVanish has the means and the power to keep you safe and private on the Web.
Speed & Performance
This VPN doesn't really impress with its performance, but it doesn't disappoint either. You can expect it to cut your speed by around 50%. Our Score: 6/10
Now, the time has come to test IPVanish's real-world performance. We are going to connect to several servers and check their speeds. So, let's continue with our hands-on IPVanish review.
IPVanish Speed Test
When testing VPN servers, we always check both local and long-distance connections. That's going to be the case with IPVanish as well. Our goal is to check download and upload speeds and then compare those numbers with our baseline data.

Speaking of our baseline data, we ran a speed test on our 'naked' Web connection - without having IPVanish enabled in the background. As you can see above, we managed to get 269.63 Mbps for downloads and 54.68 Mbps for uploads.
Local Speed Tests
When it comes to local (nearby) connections, we connect to servers in the UK and Italy. So, let's see how did those IPVanish servers perform.

Italy Server - Upon letting IPVanish find the best available server, we ran a speed test and got 183.82 Mbps for downloads and 11.70 Mbps for uploads. Overall, those are good enough results, on par with most other VPNs.

UK Server - Then, we tested a range of servers found in the United Kingdom. The best result we got was 240.67 Mbps for downloads and 17.50 Mbps for uploads. Excellent results overall.
Long-Distance Speed Tests
We've tested IPVanish's long-distance servers found in the USA, Canada, Singapore, and Australia. So, let's see how IPVanish handles remote VPN connections.
US Server - A server in the United States (located on the east coast) gave us 145.96 Mbps for downloads and 4.50 Mbps for uploads. Servers in the US are typically under a heavy load, so it's great to see that IPVanish can keep up with the demand.

Canada Server - Then, a Canada-based server provided somewhat disappointing results. During this round of testing, we got 46.95 Mbps for downloads and 3.77 Mbps for uploads.
India Server - A server in India performed surprisingly well, giving us 95.32 Mbps for downloads and 2.52 Mbps for uploads. We can see that IPVanish's remote servers have a hard time reaching fast upload speeds, which is definitely something to keep in mind.

Australia Server - Lastly, we also tested a server found in Australia. IPVanish gave us 72.58 Mbps for downloads and 1.29 Mbps for uploads.
So, How Well Does IPVanish Perform?
To make sense of all the numbers above, we've put them into a table, calculating by how much each of IPVanish's servers throttled the speed of our Internet connection. So, take a look.
| | | | |
| --- | --- | --- | --- |
| | Download Speed | Upload Speed | Speed Reduction |
| Baseline Data | 269.63 Mbps | 54.68 Mbps | 0% |
| Italy | 183.82 Mbps | 11.70 Mbps | 32% |
| UK | 240.67 Mbps | 17.50 Mbps | 11% |
| USA | 145.96 Mbps | 4.50 Mbps | 46% |
| Canada | 46.95 Mbps | 3.77 Mbps | 83% |
| India | 95.32 Mbps | 2.52 Mbps | 65% |
| Australia | 72.58 Mbps | 1.29 Mbps | 73% |
We conclude that IPVanish made our Web connection slower by 52% on average. When it comes to its performance, IPVanish doesn't really impress - but it doesn't disappoint either. As long as you have a fast-enough connection, this VPN won't prevent you from your favorite online activities.
What Kind of Performance Can You Expect? - It's impossible to precisely predict what kind of performance you can expect because there are many variables in that equation, such as the speed of your Web connection, your physical location, your chosen protocol, and more.
Keep in mind that there's plenty you can do to speed up a slow VPN. The provided link will take you to our guide with more than a dozen tips on taking full advantage of your VPN.
When it comes to IPVanish itself, make sure to visit its settings and switch to a different protocol, which should speed up your Web connection. Even the newly introduced WireGuard protocol should provide noticeable results.
Customer Support
There are plenty of helpful resources on the official IPVanish website, offering a dedicated customer support center and 24/7 live chat. Our Score: 10/10
Now, we'll take a look at IPVanish's customer support resources. There are different ways to find help and have your questions answered. Here are some of them:
Live Chat Support: Older and outdated reviews will tell you that IPVanish doesn't have live chat support. However, this VPN has recently implemented that option, now available on any page of its official site. Furthermore, their live chat reps are available 24/7.
Email Support: You can also send an email, creating a new support ticket along the way. This could be a good way to get help if you're not in a rush.
Phone Support: Among the newly introduced types of customer support, IPVanish now has a dedicated phone number. This is perhaps the fastest way to have your questions answered, and we're happy to see IPVanish offering this option.
Frequently Asked Questions: IPVanish understands that a number of its customers might come up with common questions. For example - how to reset your password, how much the service costs, and so on. Their FAQ section answers most of those, though the number of FAQs is pretty limited for now.
Setup Guides: Finally, it's good to know that you can find many setup guides covering pretty much any compatible device.
Lastly, we'll note that contacting IPVanish has never been easier. That especially applies to its mobile apps, which now feature direct communication channels.
Pricing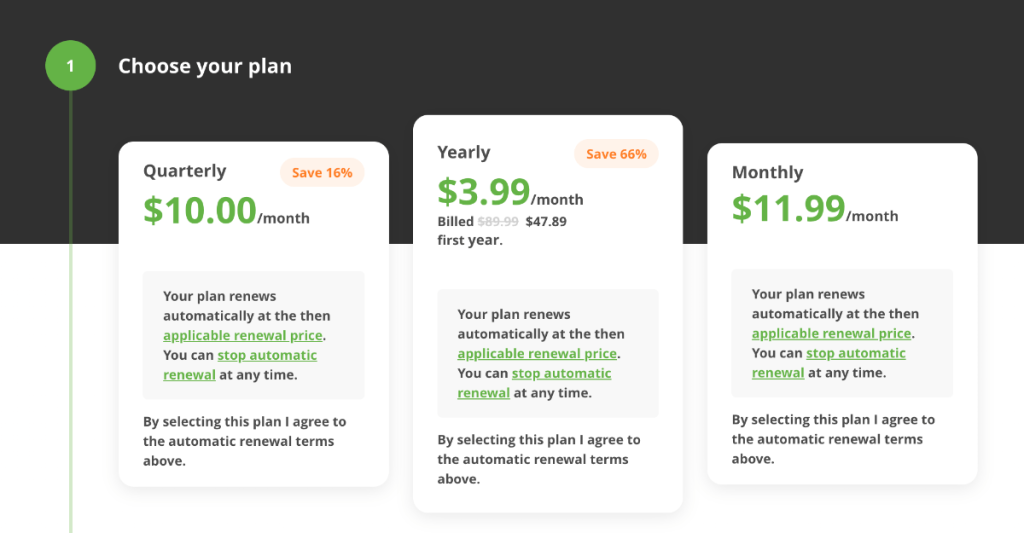 If you want to invest in a VPN in the long term, IPVanish is an affordable option. Still, make sure to read the fine print before you sign up (more on that below). Our Score: 7.5/10
How Much Does IPVanish Cost?
IPVanish currently offers three types of subscriptions. Even though this VPN often comes up with deals and special offers, here's how much you can expect to pay - at the moment.
As you can see from the table above, IPVanish's monthly plan comes priced at $11.99. Still, you can lower the VPN's price by choosing the yearly plan, which comes down to $3.99 per month. Keep in mind that you'll need to pay $47.89 for the first year of your subscription. After that, you will be charged $89.99 annually.
We also must add that your investment in IPVanish comes without risks. That's because the VPN offers a 30-day money-back guarantee without any questions asked. You only need to keep in mind that your subscription must originate from IPVanish's website. If you subscribe via its iOS/Android app, you'll need to turn to Apple/Google if you want your money returned.
Regarding the available payment methods, you can use credit cards (Visa, MasterCard, Discover, American Express, and more) and PayPal. There's no anonymous way to pay.
Is IPVanish Free?
No, IPVanish is not a free VPN. It's a premium service that offers a 7-day free trial that you can get through Apple's App Store or the Google Play Store. Although the free trial is processed through the app stores, it provides access to the entire IPVanish software suite, so you can use it on your desktop or streaming devices if you want. 
You can cancel your plan anytime you want during the trial period without incurring any charges. However, once the free trial period ends, you'll be charged the subscription fee for the plan you selected even if you cancel your subscription.
Final Thoughts - Is IPVanish Good?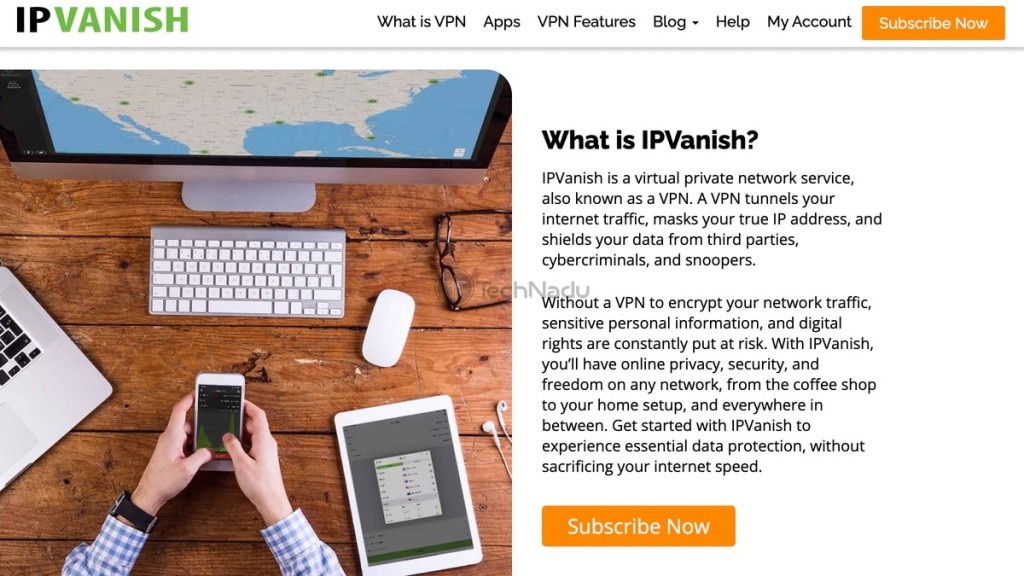 Yes, IPVanish is a good VPN overall. It comes with everything you need in a VPN and even offers some advanced tools. It has robust security features such as a kill switch, split tunneling, and VPN scrambling, and it also has powerful unblocking capabilities. 
You can connect unlimited devices to it on just one subscription (which isn't common in the VPN industry!). You also get an extensive server fleet, a zero-logs policy, and responsive customer support — so you can get help with any questions you might have along the way.
Although it isn't quite as fast as some other VPNs, and its reputation doesn't really come intact, the company has been actively trying to iron those issues out. If you're looking to protect your devices, mask your location, or unblock streaming platforms, IPVanish is a great option. 
You can sign up for IPVanish completely risk-free, and if you aren't fully satisfied with the purchase, you can claim a refund within 30 days.
IPVanish Pros and Cons
Lastly, after spending quite some time testing IPVanish, we'd like to share this VPN's most prominent pros and cons. Check the following table.
| | |
| --- | --- |
| IPVanish PROS | IPVanish CONS |
| Compatible with numerous platforms and devices. | Based in the United States (5-Eyes Alliance). |
| Large selection of capable VPN protocols. | Data logging in the past. |
| Supports unlimited VPN connections. | Owned by a corporation. |
| Powered by AES-256 encryption. | Doesn't work in China. |
| Works with Netflix, Disney+, and iPlayer. | Slower than its competitors. |
| Allows P2P traffic. | |
| Very easy to set up and use. | |
| Real-time VPN connection analytics. | |
| Live chat support is available. | |
FAQ
What is IPVanish?
IPVanish is a US-based VPN service that protects your Internet traffic by passing it through an encrypted "tunnel." It replaces your original IP address with one of its own so that no one can know your actual location.
Is IPVanish Legit?
Yes, IPVanish is a legit VPN, as it comes from a reliable service provider. It's successfully undergone a third-party audit that verified its privacy policy and its no-logs policy.
How Does IPVanish Work?
IPVanish works by creating an encrypted "tunnel" between your device and the Internet for data to travel through. It routes all your device information and Internet traffic through that secure tunnel, concealing it from prying eyes and keeping you safe.
Can I Use IPVanish on Multiple Devices?
Yes, you can use IPVanish on multiple devices. It doesn't put a limit on the number of simultaneous device connections you can have at once on a single subscription.
How Much Is IPVanish?
IPVanish pricing starts at $3.99 per month if you choose the yearly plan. However, this price will only be valid for the first term of your subscription. After that, you'll have to pay the regular subscription fee.
What Does IPVanish Do?
IPVanish adds an encrypted layer of protection between your device and the internet. The added layer of protection hides your personal data and internet activity from your ISP or anyone else who might try to see it.
What Is IPVanish Used For?
IPVanish is used for keeping your Internet activity private and secure. It's also used for unblocking sites and services restricted in your region and hiding your actual location.
Does IPVanish Work in China?
No, IPVanish doesn't work in China. This VPN service (including its website) is blocked in China, and there's no way to overcome that limitation.
Our guide to the best VPN for China can help you make the right choice.