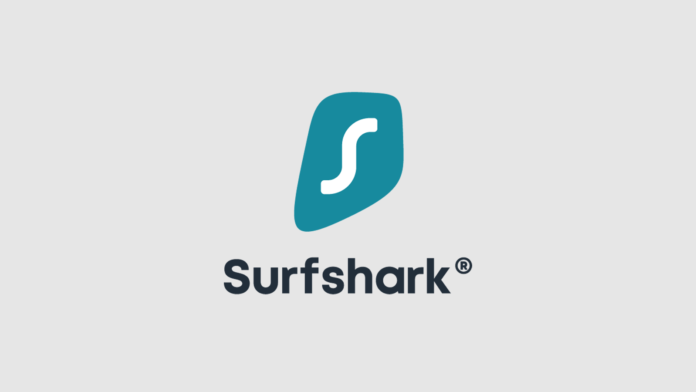 Even though they might look like simple applications, VPNs bring numerous advanced technologies. Therefore, you should never judge a VPN by its looks but instead dive deep into its specifications. As you surely know, the best way to truly get to know if investing in a VPN is a good idea is to read a review just like this one. And we are going to help you by dissecting Surfshark into its smallest bits and checking whether this VPN service deserves your attention. So, welcome to our Surfshark review!
Before going any deeper into this topic, you might want to spend a few minutes to get to know this technology. If you didn't know, VPNs come with numerous benefits where the most important one is safeguarding your private data on the Web. They can make you anonymous online and even battle throttling imposed by your ISP. However, this doesn't mean that any VPN will do the job – as there are different degrees of success. So, let's see how Surfshark ranks and if it can beat any of the currently best VPN services.
As we do in our every VPN review, we'll first highlight the most important aspects of this VPN provider. Take a look at the table below.
Quick Facts
Jurisdiction
The British Virgin Islands
Logs
No logs, whatsoever.
Number of Servers
60+ countries, 1,040+ servers.
Parallel Connections
Unlimited.
Encryption Standards
AES-256; OpenVPN, IKEv2.
Speed Reduction
Up to 28% on average.
P2P Support
YES
Live Chat Support
YES
Supported Platforms
Windows, macOS, iOS, Android, Fire OS, Web browsers, and routers.
Price
Starts at $1.99/month.
We are certain that many of you are interested if Surfshark works with popular streaming services. Don't worry, we've tested it with several options, and shown below.
Media Streaming Support
American Netflix
YES
Hulu
YES
BBC iPlayer
YES
Amazon Prime Video
YES
Kodi
YES
And before we dive into our detailed review, let's take a look at the biggest pros and cons of using Surfshark. Don't worry, this is our final table before we get to our full review.
The Bottom Line
Pros
Broad device compatibility; Easy to use; Unblocks websites; Highly secure; Doesn't collect logs.
Cons
A medium-sized network of servers.
The Final Verdict
Surfshark brings a lot of value for its price – and could easily be one of the best VPNs right now.
Our Score
9.3/10
By taking a quick glance at the tables found above, you can see that Surfshark is a capable VPN provider. However, how effective it really is? Let's find out.
Surfshark VPN – TechNadu's Hands-On Review
We want to make this review as comprehensive as possible, which is why we'll start with the basics. This means that we'll first do some background check on Surfshark. Then, we'll install the application, test its interface design, performance, and plenty more. To learn more about this process, here's how we review VPN services.
Background, Jurisdiction & Reputation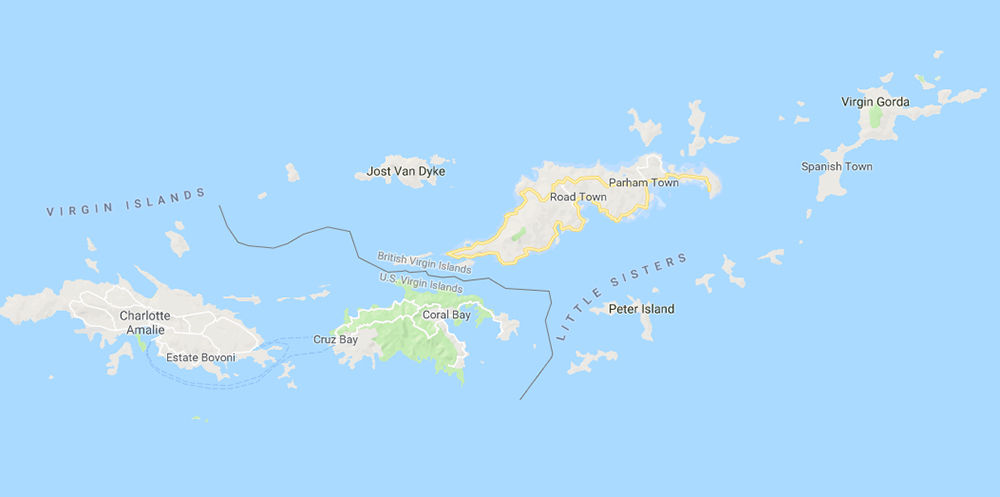 Surfshark has taken the needed precautionary measures to protect its users from data harvesting. Also, there aren't any data leaks in the past. Our Score: 10/10.
Before deciding whether to trust a VPN, you need to know some background information. In this segment, we'll take a look at the origins of Surfshark, and we'll also check for previous data leaks.
Surfshark VPN Jurisdiction
You will notice that many VPNs come from 'exotic' countries, and this also applies to Surfshark. This VPN comes from the British Virgin Islands, just like ExpressVPN – one of our favorite VPN services at the moment. This country doesn't have data-retention laws and it has full autonomy that protects businesses found within its borders. This also means that the 14-Eyes Alliance won't be able to get to your data.
If you visit Surfshark's website, you'll also see that it doesn't collect any logs. To make this possible, this company needed to base its operations in a country whose laws protect this kind of practice. Therefore, we can conclude that Surfshark has covered the basics in the best way possible.
Surfshark's Past Data Leaks
Taking a closer look at any VPN's data leak history is imperative. This gives you a clear indication of whether you should trust it or stay away as far as possible. Well, you should know that this puts Surshark in the best possible position – as it comes with a clean slate.
Even though this VPN doesn't have the same age as some reputable VPNs, it managed to stick to its promises. There aren't any reports of data collection or data breaches in the past.
Supported Platforms & Devices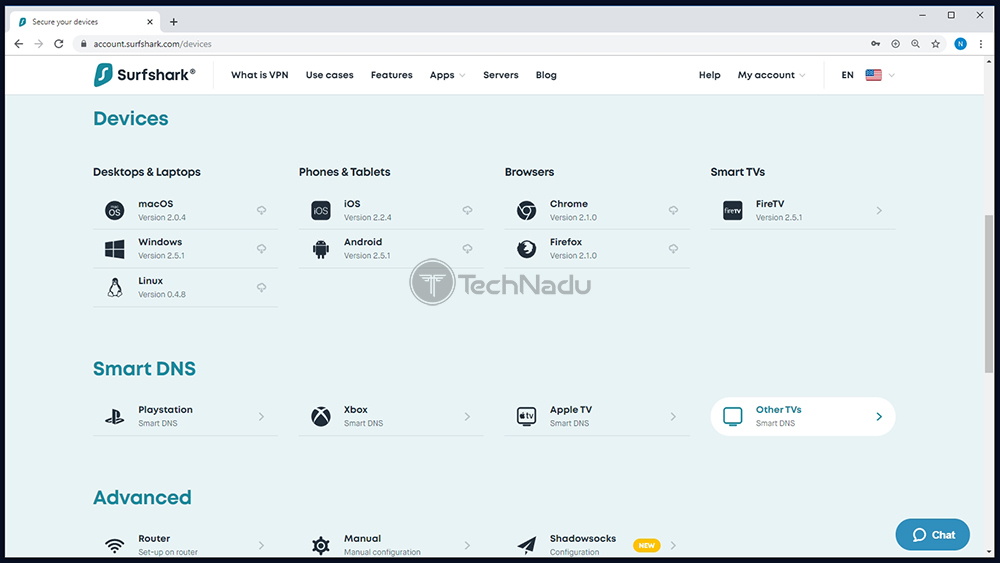 Surfshark is compatible with a wide range of platforms and devices. It even supports different kinds of routers, ensuring total protection. Our Score: 10/10.
A reliable and well-developed VPN should cover all of the currently popular platforms. That's why we were happy to see that Surfshark is compatible with pretty much any popular platform, both desktop, and mobile.
Platform Compatibility
Desktop Platforms
Windows, macOS, Linux, Chromebooks.
Mobile Platforms
Android, iOS.
Web Browsers
Google Chrome, Mozilla Firefox.
Routers
AsusWRT, DD-WRT, and Tomato.
Other Devices
Amazon Fire OS.
We have been following the development of this VPN for a while now. A year ago, it offered a modest range of native apps, which is something that has completely changed in the meantime. There are now applications for all currently popular platforms.
Let's also not forget to mention that this VPN is compatible with a number of routers as well. You can use it via OpenVPN configuration files, and there's a sizeable list of support devices. Even though setting up a VPN on a router might look like a complicated task, all you need is a trustworthy guide. It's worth the effort since this is how you can protect all your Web-connected devices at once.
Installation & Initial Configuration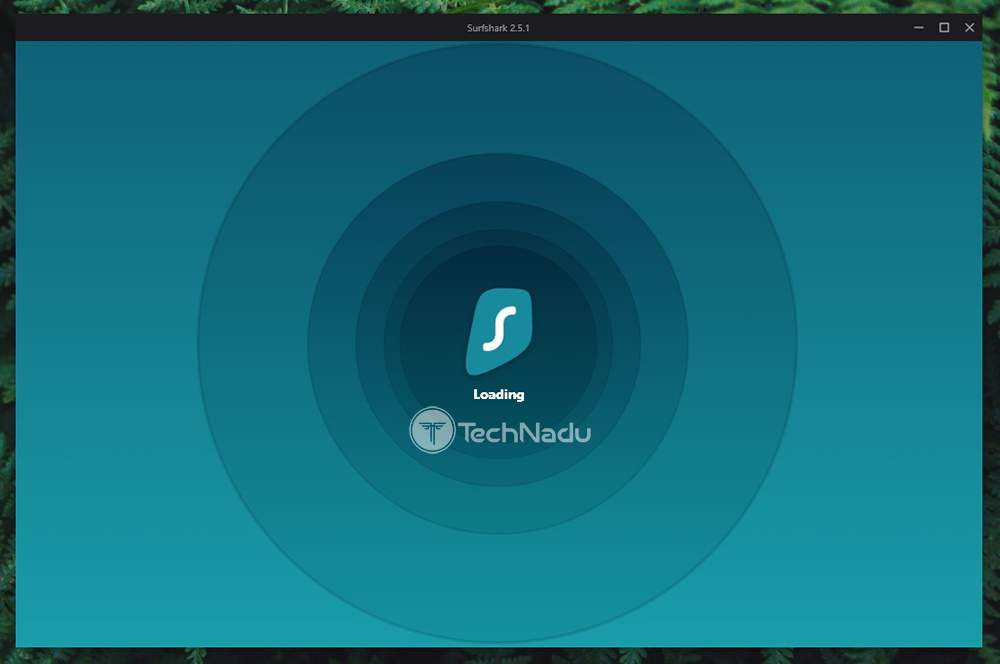 When it comes to native apps, you can install them in a matter of minutes. Sign in to your account, download the app and install it. That's it. Our Score: 10/10.
We have tried Surfshark on Windows and Android, where installing the application on both of these platforms went without any problems. Once you sign-up for a Surfshark account on its official website, you'll get to your personalized account area. This is where apps can be downloaded from, and this is where you can find instructions for platforms without native Surfshark apps (where the manual configuration is needed).
When it comes to Windows, the installation file comes in at around 15MB. In general, this is a very lightweight application and it should run just fine even on older machines. You start the installation by double-clicking on the installation file. Everything is automated and you'll see the VPN's log-in screen after a few seconds – and that's pretty much it.
Since Surfshark supports the OpenVPN standard, you can use it to install the application on platforms without the native app offered by this provider. Once again, this process starts on the official website. The good news is that you'll find helpful and detailed tutorials on this topic. With a bit of technical knowledge, you should not have any problems using this VPN.
Prominent Features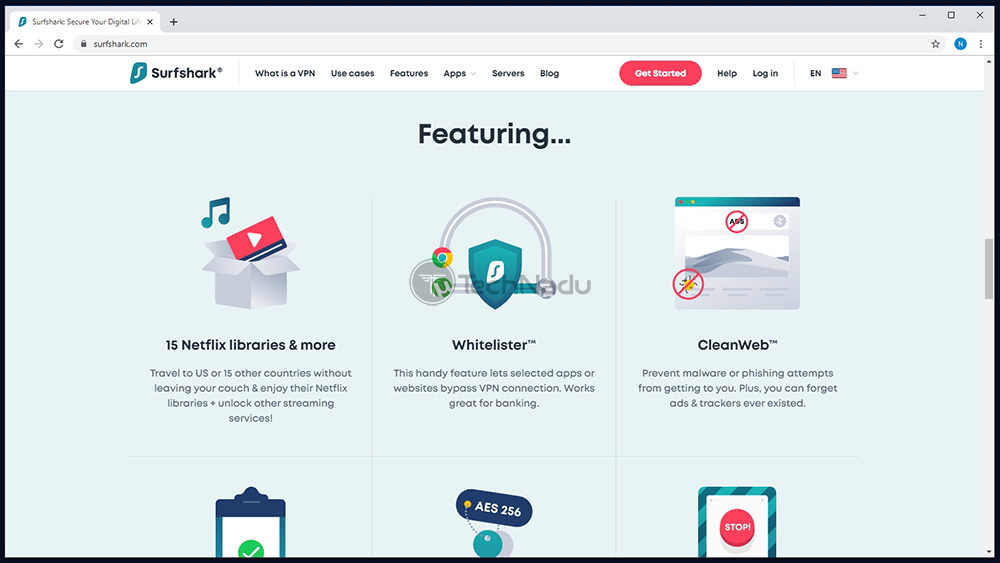 Even though Surfshark looks like a simple VPN, it is powered by advanced tech. There's a kill switch, zero-knowledge DNS, and plenty more. Our Score: 10/10.
We've come up with a set of features that any capable VPN needs to offer. So, let's take a look at what you can expect from Surfshark.
VPN Features Checklist
DNS Leak Protection
YES
IPv6 Leak Protection
YES
Kill-Switch
YES
Ad-Blocker, Anti-Malware
YES
Unlimited Server Switches
YES
Unlimited Bandwidth
YES
Unlimited Data
YES
Surfshark covers the basics quite well. Once you connect to a remote server, you get a new IP address. This will allow you to 'alter your physical' location and unblock websites, including the most popular media streaming platforms.
To further enhance your Web browsing experience, this VPN uses a so-called 'CleanWeb' feature that blocks advertisements, trackers, and malware. There's also a capable kill switch which makes sure your real IP and your private files are not exposed in case a VPN connection drops.
Among other interesting features, Surfshark offers a way to route your traffic via two secure servers and this feature is called MultiHop. And also, let's not forget to mention that this provides employs a no-logs policy and zero-knowledge DNS. This means that your private data will truly stay private even after you connect to the Web.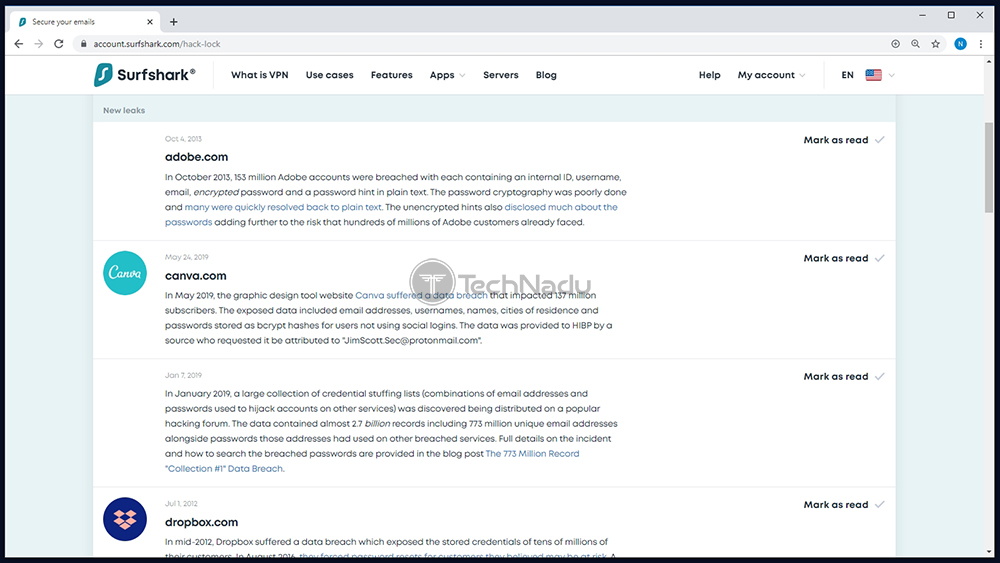 And finally, we should also mention two recently released features, called HackLock and BlindSearch (these two are available as an add-on to your subscription, available for $0.99 per month). The first one is designed to check whether your email address has been compromised in the past. More precisely, Surfshark will give you a list of previous incidents that might have exposed your email address and password (after checking your email address, that is). To stay secure, you should change your password to something unique.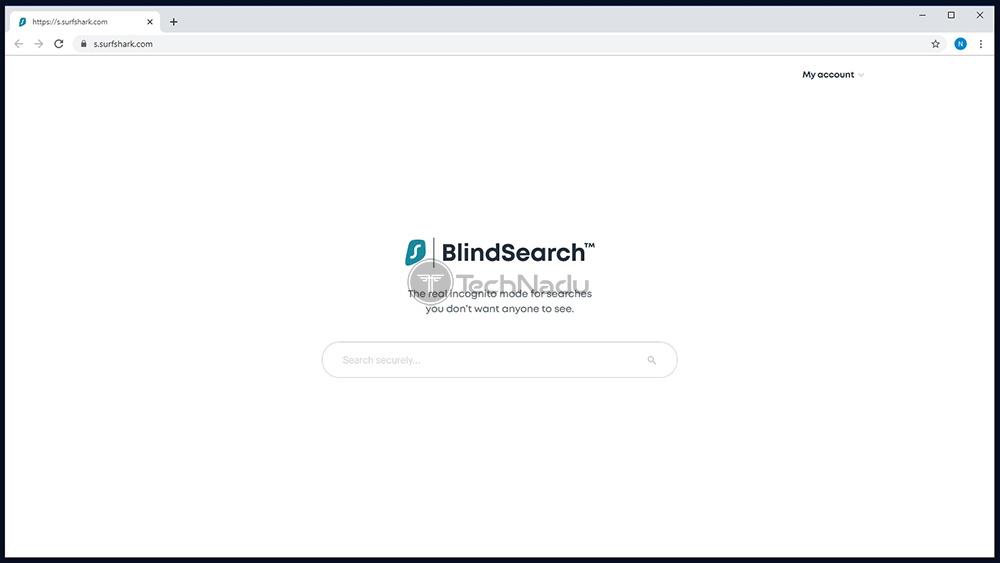 Then, there's BlindSearch. This is an ad-free Web search experience powered by Bing. This means that you'll get organic results that should be relevant to your search. If you didn't know, other search engines (like Google, for example) rely on your search history to show you custom-tailored results, which invades your privacy. Well, Surfshark's BlindSearch resolves this problem.
Update (December 2019): Surfshark has introduced yet another innovative feature, this time for Android users. Thanks to a recently published update, Surfshark users can now spoof their GPS coordinates each time they connect to a secure server. This means that aside from getting a new IP address, you'll also get new GPS coordinates – which adds another layer of protection against intrusive apps that track your physical location.
Server Count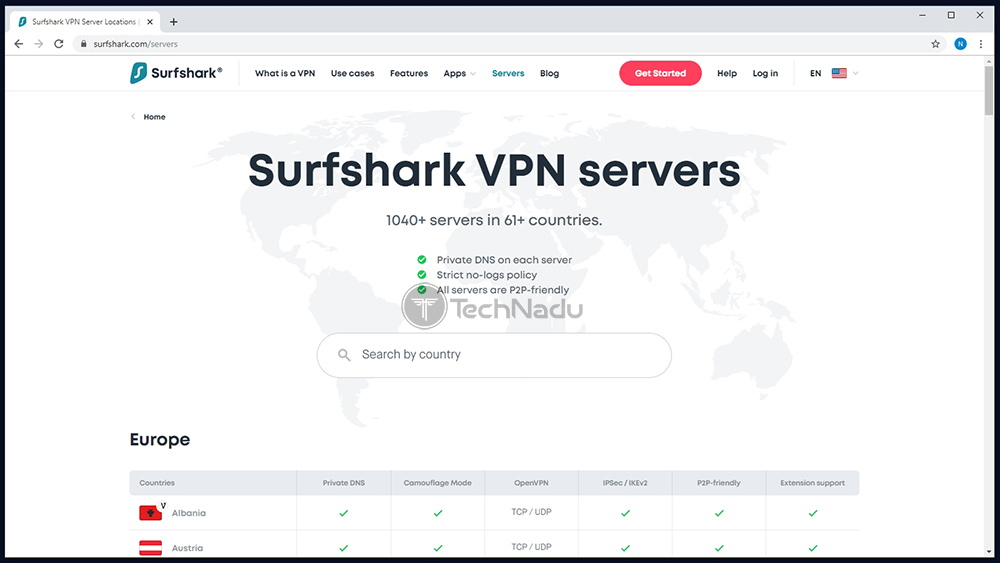 Surfshark comes with 1,040+ servers, at the moment. Therefore, it falls somewhere in the middle in comparison to other VPN services. Our Score: 5.5/10.
To make it easier to present what to expect from Surfshark in terms of its server network, we've put together a handy table. Find some additional info below.
Server Count Info
Number of Servers
1,040+
Number of Locations
N/A
Number of Countries
60+
Specific Cities Selection
Only in the USA
Unlimited Switching
YES
At the moment, Surfshark has more than 1,040 servers located across 60+ countries. So, even though there aren't that many servers, they're strategically placed. A huge portion of European countries can be found on this list, as well as some countries from the Middle East, Asia, Oceania and more. Needless to say, there's a number of different servers located in the United States – which is always a hugely popular location due to media streaming services restricted to this country.
As you can see in our article on VPNs with the highest server count, some VPN providers offer more than 5,500 servers to their customers. What this means is that a huge volume of individuals can use those servers without major performance drawbacks. In terms of connectivity, you should pay attention to the location of VPN servers (not their number) – and this is where Surfshark has done a great job. Plus, we're sure that this VPN provider will add more servers as its user base grows.
Ease of Use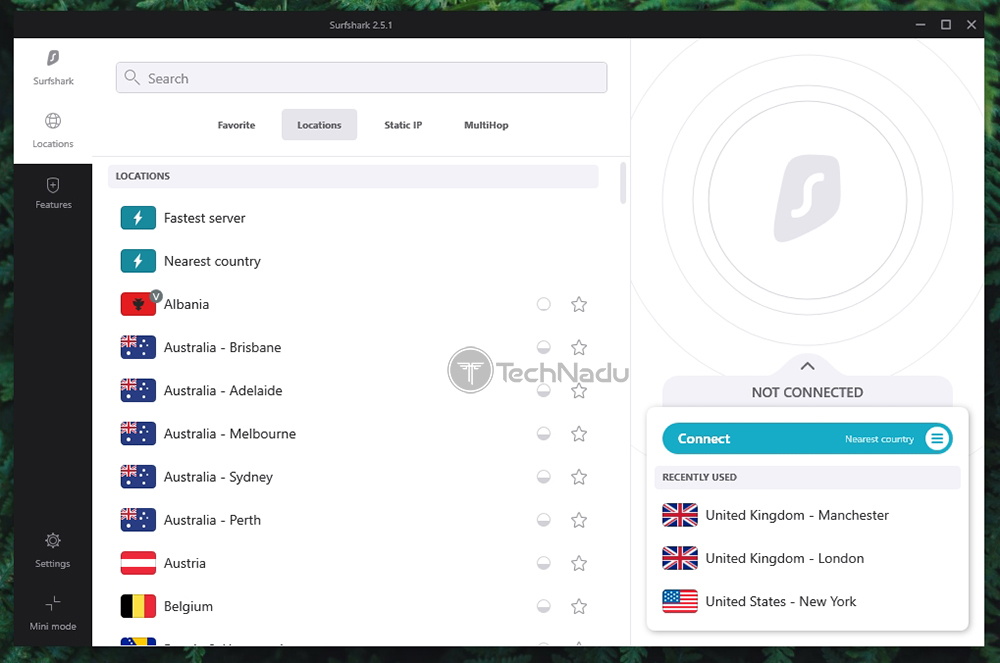 You don't have to be an expert to use this VPN. It comes with a simple UI that's easy to comprehend even if you're a total beginner. Our Score: 10/10.
Surfshark's ease of use is perhaps its biggest strength. Once you log-in to your account, the application will show a very clean and polished interface. If you click on the prominent blue-colored button labeled 'Connect', the application will find an optimal location. This means that you'll be connected to the closest server which should, in turn, provide stable performance and fast Web browsing speeds.
You are also free to pick a server manually which is done by clicking on the 'Locations' button found on the left side of the application's UI. This is where you can filter the available servers by their name and function. Click on any of these and Surfshark will initialize its procedure. After a few moments, your Web connection will be secured.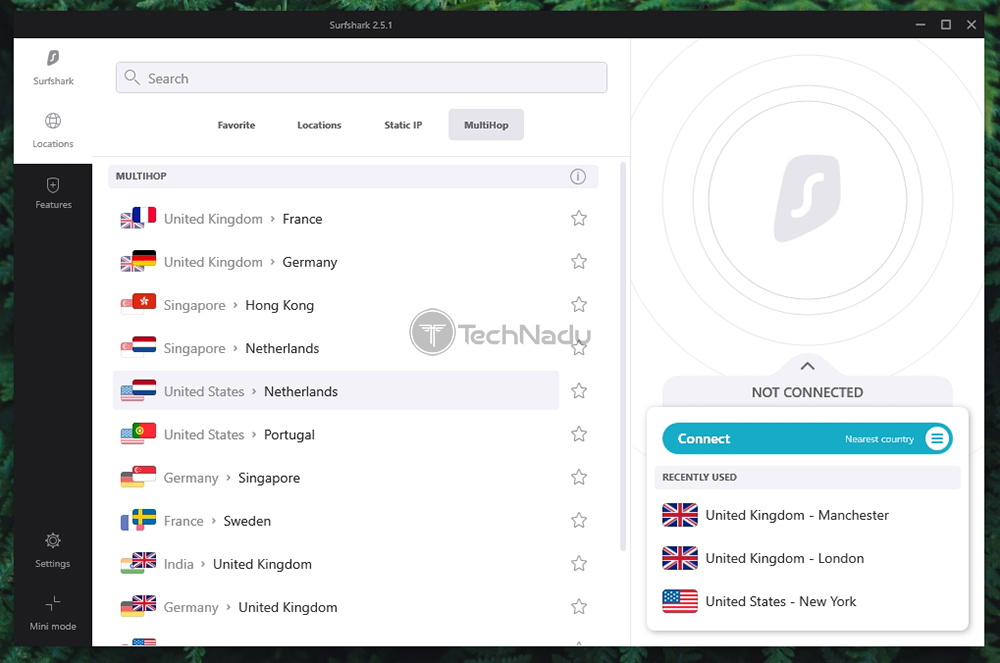 While browsing the available locations, you can also connect to two servers at the same time. This is done by clicking on the 'MultiHop' item in the top-right corner. There are more than a dozen different connections to choose from, and three of those allow you to obtain an IP address from the USA.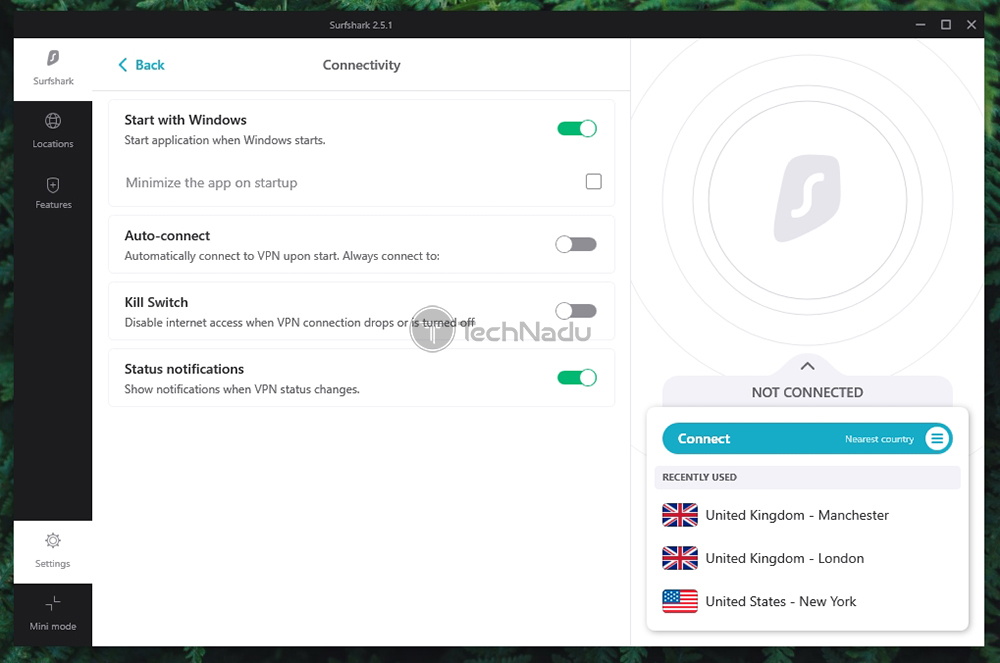 Let's also not forget to check out the application's settings. You can fine-tune your user experience by clicking on the 'Settings' icon (bottom-left corner). As you'll see, this is a good way to check your account, when your subscription is due to expire, and this is from where you can update the application. This is also where you can use a dark theme, and check additional options found behind the Connectivity and Advanced buttons.
Connectivity: In case you want to be connected to a secure server at all times, this is where you can make that happen. First, enable the application to start every time Windows starts, and also enable the option of connecting to a remote server automatically. This is also where you can enable the VPN's kill-switch, which we strongly recommend you do.
Advanced: Using this tab, you can choose from different VPN protocols, as well as enable some advanced options. For example, the 'NoBorders' feature helps you battle even the most rigorous anti-VPN measures. And if you seek total online anonymity, you can make your device invisible to other devices on your local network.
Media Streaming & Torrenting Support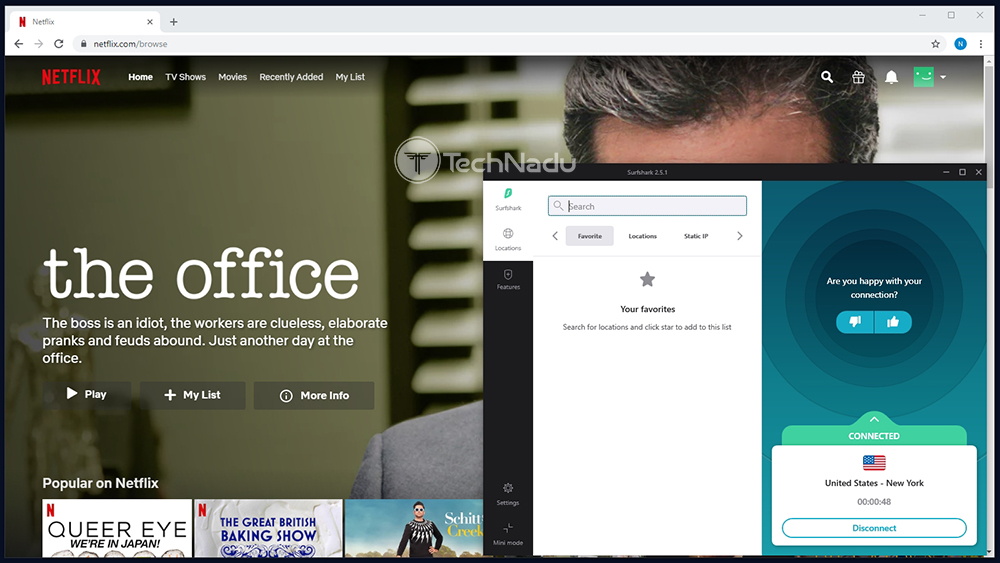 Surfshark VPN manages to unblock pretty much any popular media streaming website. Torrenting is also part of its offer. Our Score: 10/10.
Aside from keeping you safe online, VPNs can also unblock websites – such as media streaming services. However, not all VPNs can equally capable when it comes to this. So, here's what Surfshark can help you with.
Media Streaming & Torrenting Support
Netflix US
YES
Hulu
YES
BBC iPlayer
YES
Amazon Prime Video
YES
Torrenting (P2P) Traffic
YES
In general, to unblock hugely popular media streaming websites, you have to rely on high-priced VPNs. However, it's good to see Surfshark offering that same feature for a low price. Despite being still relatively new, you can use it to effortlessly unblock different versions of the same website and unblock those not available in your country.
As per our tests, Surfshark managed to unblock Netflix, Hulu, BBC iPlayer, and Amazon Prime Video. Strangely enough, we had some trouble only with BBC's iPlayer. However, trying different UK-based servers did the job in the end.
It's also important to note that Surfshark supports P2P traffic across the majority of its servers. This means downloading torrents anonymously should not be a problem at all.
Security & Privacy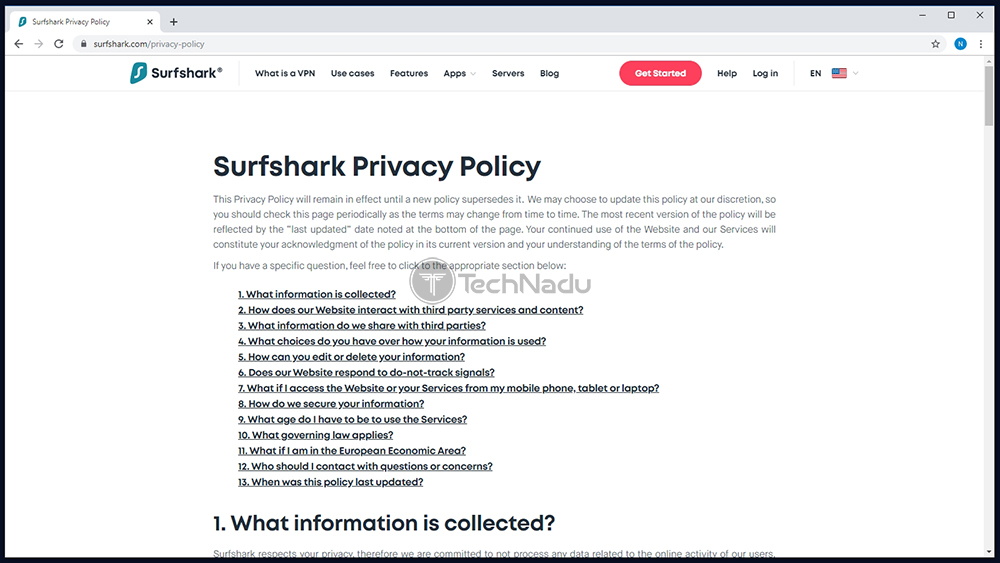 Surfshark promises not to keep any of your personal information and it effectively blocks anyone from tracking you online. Our Score: 10/10.
In this segment, we'll take a close look at three different aspects: encryption, logging, and DNS leaks. Each of these should tell us how well this company takes care of your sensitive data. Take a look.
Supported Encryption Protocols
Surfshark brings powerful AES-256 encryption that's enabled by default. This level of encryption is used in major financial and government-based institutions, which tells a lot. Even though there aren't many available VPN protocols, you will reap the biggest benefits of using OpenVPN – which is also enabled by default. This means that even less skilled users will be perfectly protected right from the start.
Logging Policy
Not every VPN provider will take care of your data in the best way possible. That's the reason why we published an article on the best VPNs with no-logs policies. We're happy to say that Surfshark can join this list, as this VPN promises not to collect a single file about your Web browsing. What's also important to mention is that this VPN functions under the jurisdiction of the British Virgin Islands. This means that no obligatory data retention laws apply.
DNS Leak Test
Finally, we also want to check if this VPN leaks our private data. So, we have connected to a remote server and then ran a DNS leak test. The purpose of this test is to establish whether websites only see our 'virtual' location and other types of information. Detecting a leak would mean that this VPN doesn't keep you secure enough.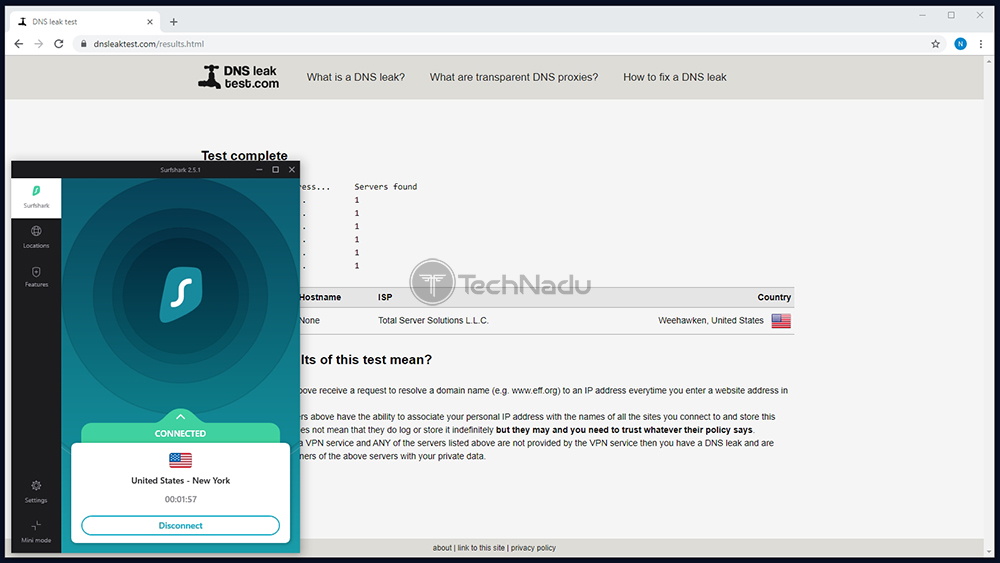 Luckily, our real IP address remained hidden and so is our real geographical location. Websites that we visit see only what Surfshark shows them. In other words, there are no leaks here.
Speed & Performance
On average, Surfshark throttled our Web connection speed by up to 28% – which isn't actually that bad for a newly released VPN service. Our Score: 8.5/10.
To test the performance of Surfshark, we are first going to test the speed of our 'naked' connection. This will give us the baseline data to work with, and then we'll check a few nearby and remote servers offered by this VPN. So, let's get started.
First, we've done a speed test without using a VPN. Even though our ISP says that we're getting a 150 Mbps broadband connection – we got 148.87 Mbps, which is close enough. Of course, that's for downloads. When it comes to uploads, we're getting 9.67 Mbps.

First, we'll connect to a nearby sever by allowing Surfshark to find an optimal location. After a few moments, we were connected to a server in Germany, and we did a speed test. Surprisingly, this VPN didn't throttle our Web connection in a big way. We got 137.73 Mbps for downloads and 9.10 for uploads.

Next, we've wanted to test a remote server, in the USA. These are typically overcrowded as numerous users want American IPs to unblock content. After connecting to a server in Dallas, we got 77.42 Mbps for downloads and 4.31 for uploads.
To make sense of these numbers, we're going to put them into a table and calculate by how much did Surfshark throttle our Web connection, on average. So, here it is.
| | | | |
| --- | --- | --- | --- |
| | Download Speed | Upload Speed | Speed Reduction |
| Baseline Speed | 148.87 Mbps | 9.67 Mbps | 0% |
| Nearby Server | 137.73 Mbps | 9.10 Mbps | 7.4% |
| Remote Server | 77.42 Mbps | 4.31 Mbps | 47.8% |
We can say that the performance of Surfshark is as expected. Nearby servers are quite speedy, so it all depends on where you're located. Servers found in the USA are usually under a heavy load, so you can expect more noticeable throttling with those.
Customer Support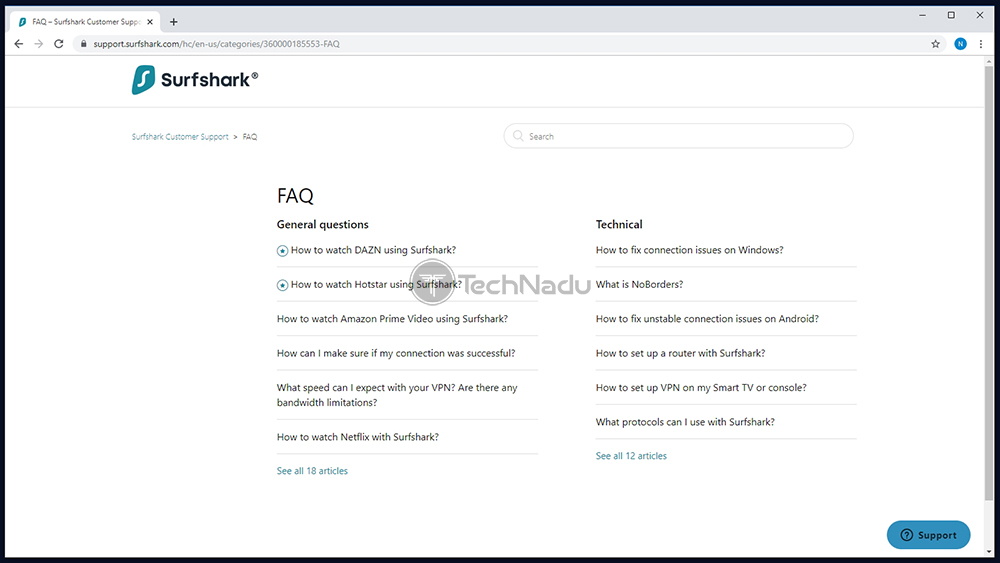 There are different ways to contact this company and have your questions answered. You can also talk to a real person via live chat. Our Score: 10/10.
In case you have any questions about this service, or if you're experiencing any troubles, the best place to start is Surfshark's official website. This is where you'll be greeted by the live-chat option, found in the bottom-right corner. A real person will be there to assist you, 24/7 and without waiting for more than a few minutes. So, here are all the customer support channels you can use:
Live Chat Support: As already noted, you can take advantage of Surfshark's live chat. We've talked to the company's representatives a few times, and they always managed to come up with a solution/answer to our question.
Setup Guides: Surfshark's support center includes tutorials on installing the application on supported devices. Even though you'll manage to install it just fine on desktop and mobile platforms, you'll need a guide for installing this VPN on a router.
FAQ: Even though it isn't as comprehensive as we hoped to see, the FAQ section can answer some of your general and technical questions.
Support Tickets: Finally, you can go for the 'official' way of getting help from Surfshark. This is done by filling out a form found on the website, where you can explain your problem and wait for the tech team to contact you.
All in all, Surfshark has done a great job of providing a reliable customer support system. We're sure that you'll have your questions answered in no time.
Pricing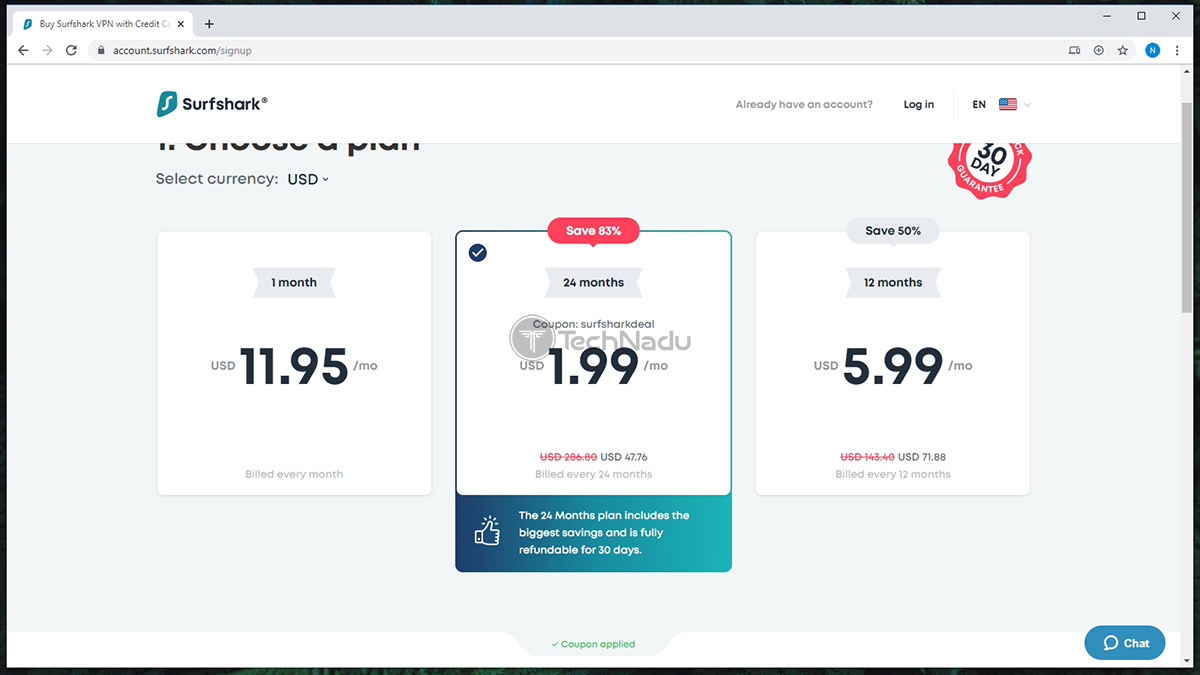 Considering its overall value, we think that Surfshark is a good deal – especially if you go for its long-term plans. Our Score: 8.5/10.
The majority of currently popular VPNs are similarly priced – which makes it even harder to pick the best option out there. So, here's how much you'll need to pay if you want to become a Surfshark subscriber.
| | | | |
| --- | --- | --- | --- |
| Subscription Plan | Total Price | Per Month | Savings |
| 1-Month Plan | $11.95 | $11.95 | 0% |
| 12-Month Plan | $71.88 | $5.99 | 50% |
| 24-Month Plan | $47.76 | $1.99 | 83% |
As you can see, you have several options in front of you. However, you can save the most by picking the VPN's 24-month plan. This one lets you subscribe to Surfshark for only $1.99 per month. Considering that it doesn't collect logs, provides plenty of protection, and even unblocks websites – it's clear that this is an amazing deal.
We also told you earlier in this article about HackLock and BlindSearch. These are Surfshark's advanced tools that take further care of your privacy. By using these, you can search the Web without endangering your privacy, and you can check whether your email credentials have leaked in the past. However, these two are available as a bundle, priced at $0.99 per month – and they truly bring plenty of value.
When it comes to payments, you'll be happy to hear that numerous payment methods are supported. This includes PayPal, credit cards, AliPay, and cryptocurrencies. No matter which of these three subscription plans you select, you will get the same thing. In other words, Surfshark will come fully unlocked. And let's not forget to mention that there's a 30-day money-back guarantee.
Do We Recommend Surfshark VPN?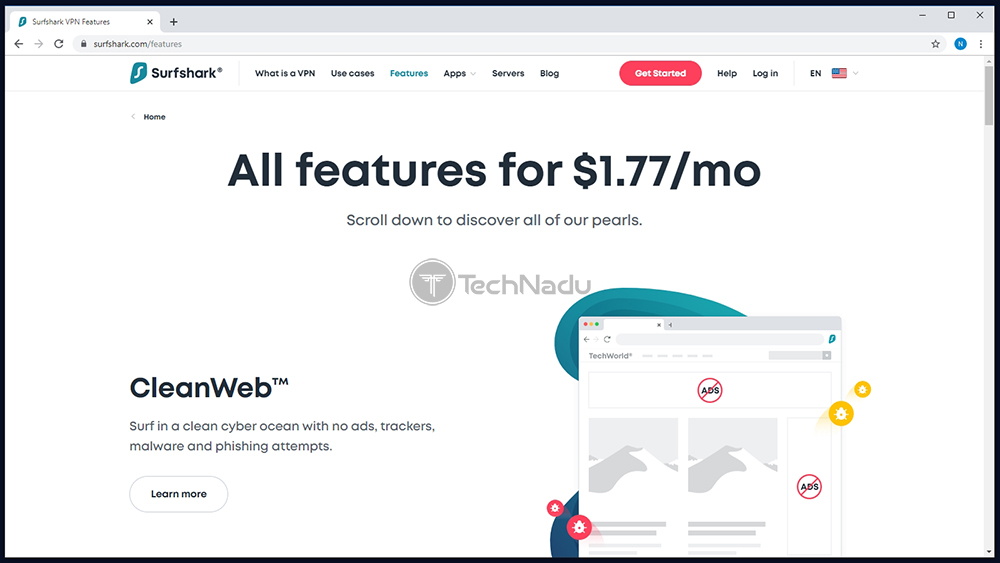 Surfshark provides one of the best VPN offers we've seen recently and covers everything that you will ever need. It allows you to browse the Web anonymously, hide your online whereabouts, obtain virtual IPs, use media streaming websites, and even download torrents. What's not to like here, really?
PROS: Very easy to use; Effortless installation; Unblocks popular streaming services; Supports torrenting; Doesn't collect logs; Strong reputation.
CONS: Not the biggest server network out there.
OUR SCORE: 9.3 out of 10!
We believe that Surfshark is very close to perfection. You can use this VPN without having to worry if your data will end up in the wrong hands. And you can continue using your favorite websites, or even download torrents. Finally, this all comes at an affordable price. So, if you decide to subscribe to Surfshark, you surely won't make a mistake.
In case you've made it this far, why not share this article online? And also, you can follow TechNadu on our Facebook and Twitter pages. Thank you!