Surfshark VPN has made a name for itself as one of the best VPN services. Despite being relatively new to the industry (having been founded in 2018), Surfshark has quickly established itself as a force to be reckoned with in the VPN world. Its advanced features and user-friendly interface rival even the most established premium VPN providers. Hence, Surfshark is a top choice as a high-quality VPN service.
Based in the Netherlands, Surfshark is a part of the 14-Eyes Alliance, so governments may request your data. However, Dutch law does not support international intelligence sharing, and there are no data retention laws either. Also, since Surfshark has a strict no-logs policy, it doesn't save any personally identifiable data that any government could use. Surfshark has never had any data leaks, which speaks to its commitment to privacy.
Also, this VPN uses advanced AES-256 encryption and a variety of protocols like OpenVPN, WireGuard, and IKEv2 to safeguard your data and keep your online activity hidden. That said, this VPN is a powerful tool that enables you to access all your desired content at blazing-fast speeds without restriction.
But is Surfshark genuinely worth all the hype it's getting? Yes, it is! Here's a table of essential Surfshark features that show why.
| | |
| --- | --- |
| Jurisdiction | Netherlands. |
| Logs | No logging - independently audited. |
| Servers | 3,200+ servers in 100 countries. |
| Simultaneous Connections | Unlimited. |
| Supported Devices | Windows, macOS, Linux, Android, iOS, routers, and more. |
| Features | Kill switch, split tunneling, private DNS, CleanWeb, and more. |
| Protocols | WireGuard, IKEv2, OpenVPN. |
| Supports | Netflix, Disney+, Hulu, torrenting, gaming, and more. |
| Customer Support | Email, 24/7 live chat, knowledge base, and FAQs. |
| Price | From $2.30/month. |
| Live Deal | Save 82% OFF + Get 2 Extra Months FREE |
| Our Score | 9.5 out of 10. |
This Surfshark VPN review will thoroughly examine the VPN's legality and safety, inner workings, setup process, pricing options, and streaming capabilities. Read our comprehensive guide to learn more about how we review VPN services.
Given that Surfshark continuously improves its offer by providing new and enhanced features across various devices, you can also check out what's new in Surfshark. 
And now, let's start with our Surfshark review, shall we?
Background, Jurisdiction & Reputation
Surfshark is a Netherlands-based VPN that has taken the necessary precautionary measures to protect its users from data harvesting, logging, or unauthorized access. Our Score: 9/10
Before deciding whether to trust a VPN, you need to know its background information. In this segment, we'll take a look at the origins of Surfshark and more.
Where Is Surfshark Based?
Surfshark is based in the Netherlands. It used to come from the British Virgin Islands, just like ExpressVPN – one of the top-rated VPN services at the moment. However, in 2021, this VPN moved its operations to the Netherlands, a European Union country.
It's true that the Netherlands is part of the 5/9/14-Eyes Alliance, which is a group of countries that aggressively collect and share intelligence data. Of course, that works on an international level, forcing the Netherlands to cooperate with other countries if there's a reasonable doubt that an individual is planning or has committed a crime.
More importantly, the Netherlands has introduced its own version of EU's GDPR laws, aiming to restrict and control various types of data logging. The country doesn't force data controllers (such as Surfshark) to log data or create databases of its users. That's what allows the VPN to stay true to its no-logs privacy policy.
It's also interesting to note that in 2015, the Netherlands' data retention law was scrapped before coming into effect. The final ruling said that mandatory data retention laws would be a breach of privacy.
Then, in February 2022, Surfshark merged with Nord Security, the owner of cyber-sec brands such as NordVPN, NordPass, NordLocker, and more. While Nord Security comes from Lithuania (where Surfshark also has offices), NordVPN's headquarters are in Panama.
As per the latest reports, Surfshark plans to remain incorporated in the Netherlands despite being merged with Nord Security. If anything changes regarding this VPN's jurisdiction, we'll make sure to update our Surfshark VPN review.
Did Surfshark Leak Personal Data in the Past?
No, Surfshark never leaked any personal data in the past. Even though this VPN doesn't have the same age as its competitors, it manages to stick to its promises. There aren't any reports of personal data being collected in the past. In other words, your private information should be safe in the hands of this VPN.
Is Surfshark Legal and Safe to Use?
Yes, Surfshark is both legal and safe to use. This doesn't apply only to this specific VPN but to all VPN services in general. However, this situation isn't so black-and-white in the entire world.
In a small group of countries, VPNs are illegal to use or might be restricted. Our strong recommendation is to consider your country's laws regarding VPNs and make sure to respect those laws.
We also need to mention that using a VPN isn't an excuse to go against any laws. It's true that VPNs guarantee your online anonymity. However, you must never use that privilege to do something that might be considered criminal activity in your country.
Is Surfshark a Good VPN?
Yes, Surfshark is a good VPN because of its unbeatable combination of security, privacy, and value.
With its advanced security and encryption, Surfshark keeps your data safe from prying eyes. Its strict no-logs policy ensures that your browsing history stays private. At the same time, its ability to unblock geo-restricted content means you can access all your favorite websites and apps from anywhere in the world.
But Surfshark isn't just about privacy. It's also about convenience. With its lightning-fast speed and unlimited simultaneous connections, Surfshark makes it easy to stream, download, and game without lag. Plus, with features like CleanWeb, MultiHop, and a kill switch, Surfshark ensures that your online activities are always protected.
Let's not forget about value. Surfshark offers affordable plans, making it accessible to all.
Supported Platforms & Devices
Surfshark is compatible with a wide range of platforms and devices. It even supports different kinds of routers, ensuring total privacy protection. Our Score: 10/10
A reliable and well-developed VPN should cover all of the currently popular platforms. That's why we're happy to see Surfshark being compatible with pretty much any platform out there, both desktop and mobile.
| | |
| --- | --- |
| Desktop Platforms | macOS, Windows, Linux. |
| Mobile Platforms | iOS and Android. |
| Web Browsers | Google Chrome, Mozilla Firefox, Microsoft Edge. |
| Routers | AsusWRT, DD-WRT, Tomato, and others. |
| Other Devices | Smart TVs, gaming consoles, and more. |
We've been following the development of this VPN for a while now. A couple of years ago, it used to offer a modest range of native apps, which is something that has completely changed in the meantime. Today, you'll find native applications for various platforms and devices.
Let's also not forget to mention that this VPN is compatible with many routers as well. You can use it via OpenVPN configuration files, and there's a sizeable list of supported devices.
Even though setting up a VPN on a router might look like a daunting task, all you need is a trustworthy guide. It's worth the effort since this is how you can protect all your devices at once. And yes, Surfshark has the required documentation to help you get started.
On Surfshark's website, you'll also see that this VPN is compatible with Xbox and PlayStation consoles. However, in those cases, we're talking about a "Smart DNS" feature, which means you can count on unblocking certain Internet services only (without encrypting your Web traffic).
Installation & Initial Configuration
When it comes to Surfshark's native apps, you can install them in a matter of minutes. Sign in to your account, download the app, and then install it. That's it. Our Score: 10/10
If you want to enjoy secure and private online surfing with Surfshark, you can download and use its native apps on your desktop or mobile device. It's a simple and quick process that only takes a few minutes.
How to Download and Use Surfshark?
To get Surfshark on your desktop, just go to the website and follow the installation instructions. To get it on your mobile, find it in your app store, sign in, and you're ready to surf. It's that simple and quick.
If you're still confused, here are step-by-step instructions on how you can get Surfshark on your device:
Subscribe to Surfshark on its website using any Web browser.
Select your device from the list of supported platforms and click on "Download."
Install the Surfshark app by following the screen prompts.
Launch the app and log in with your account details.
Choose a server or let "Quick Connect" do it for you.
Enjoy secure and private online surfing with Surfshark. You're all set!
When you use Surfshark, you get privacy protection right away. It has a cool feature called "Nexus" that links all the VPN servers into one huge network. It's "on" by default and lets you choose any server. It also encrypts your traffic through its Nexus network instead of one server.
Another handy feature is the Kill Switch. You can turn it on or off by going to Settings > VPN Settings and then flipping the toggle next to Kill Switch.
Prominent Features
Even though Surfshark looks like a very simple VPN, it's powered by advanced tech. There's a kill switch, zero-knowledge DNS, and plenty more. This is an almost perfect list of features. Our Score: 9/10
Surfshark VPN is one of the best VPN services on the market. It offers a range of features that make it stand out from the crowd. In this section, we'll review some of the most prominent features of Surfshark VPN and how they can benefit you as a user.
Private DNS & Leak Protection: Surfshark is a privacy solution that provides protection against DNS or IP leaks. This means that no one can spy on your online activity. Even with the IPv4 protocol, Surfshark has you covered with its advanced encryption and leak protection features, which give you faster and more reliable connections.
High-End Data Encryption: The service features Lightway, which is a top VPN protocol that combines speed and security. It does that by using AES-256 encryption, the same standard trusted by governments and militaries, and switching between AES-256-GCM and ChaCha20/Poly1305, two fast and secure encryption types. This service keeps your data safe and sound.
MultiHop: This feature lets you connect to two different VPN servers at the same time, making it harder for anyone to track your online activity. You can find MultiHop in the Surfshark app's settings and choose from various server combinations.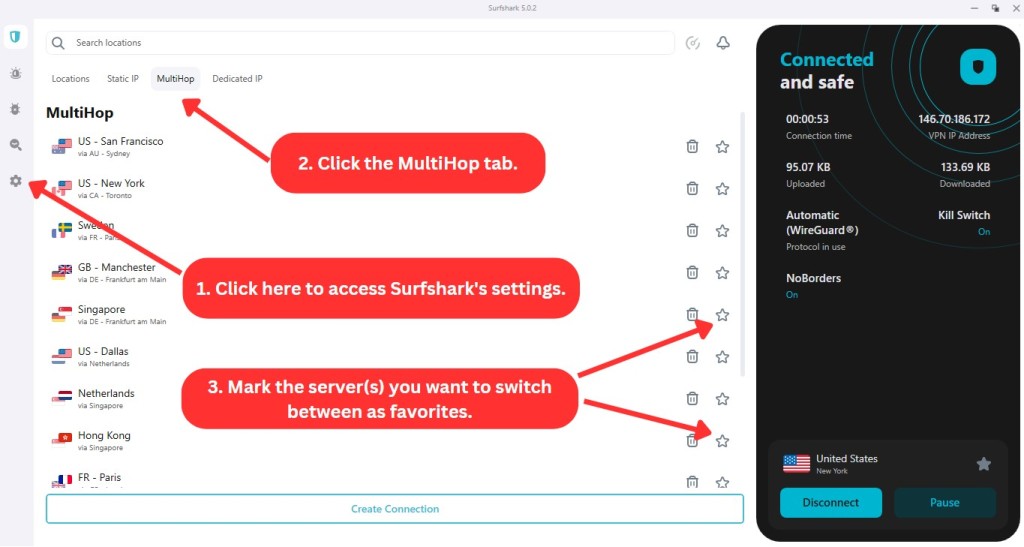 Nexus Technology: This feature uses the whole server network to route your traffic, so you can choose where you want to exit but not where you want to enter. This boosts your Web speed and avoids congestion. Nexus also changes your IP address every few minutes without dropping your connection.
Kill Switch: Yes, Surfshark offers a very capable kill switch via its native software for Windows, macOS, Android, and iOS. It's designed to keep your private data from leaking. Once you enable it, this tool will stop your Web traffic and prevent any application from connecting to your Internet unless you're connected to the VPN.
CleanWeb: With this feature, you can enjoy an ad-free browsing experience on any device. This feature is built into all Surfshark apps and blocks domains that serve ads or malware. However, CleanWeb is not a full-fledged ad-blocker. It can't stop YouTube ads or similar types of ads. You'll need a separate ad blocker for that.
Bypasser: Split tunneling on Surfshark VPN is called "Bypasser." This feature lets you choose which apps or sites go through the VPN and which don't. Right now, Bypasser only works on Windows and Android devices, but more options are coming soon. On Windows, you can also bypass the VPN for specific IPs, which can help you avoid throttling.
Static (Dedicated) IP Address: Instead of selling you an IP that only you can use, Surfshark offers servers with static IPs in six countries: Germany, Japan, Netherlands, Singapore, the UK, and the US. In theory, this setup is supposed to be like having your own IP address because the IP addresses of those servers never change. However, you'll still be sharing those IPs with other users, so it's only useful in a few specific situations.
Camouflage Mode (Obfuscation): Its main purpose is to bypass content filtering by concealing your traffic, making it highly challenging to monitor your online activities. When VPN ports are blocked in your country, Camouflage leverages your existing network ports to establish a secure connection. It's available on Windows, macOS, Linux, iOS, and Android devices.
NoBorders Mode: This feature ensures seamless usage of Surfshark VPN in regions with strict limitations. If your Surfshark app detects any restrictions on your network, it will automatically activate the NoBorders mode. This mode provides a curated list of servers for enhanced performance in restricted environments. It's available on Windows, macOS, Android, and iOS devices.
Alternative ID: This neat feature allows you to create a whole new online persona, along with an email address to use on the Internet. It generates a false online identity to safeguard your actual one. Right now, Alt ID is exclusively available to Surfshark One and Surfshark One+ plans.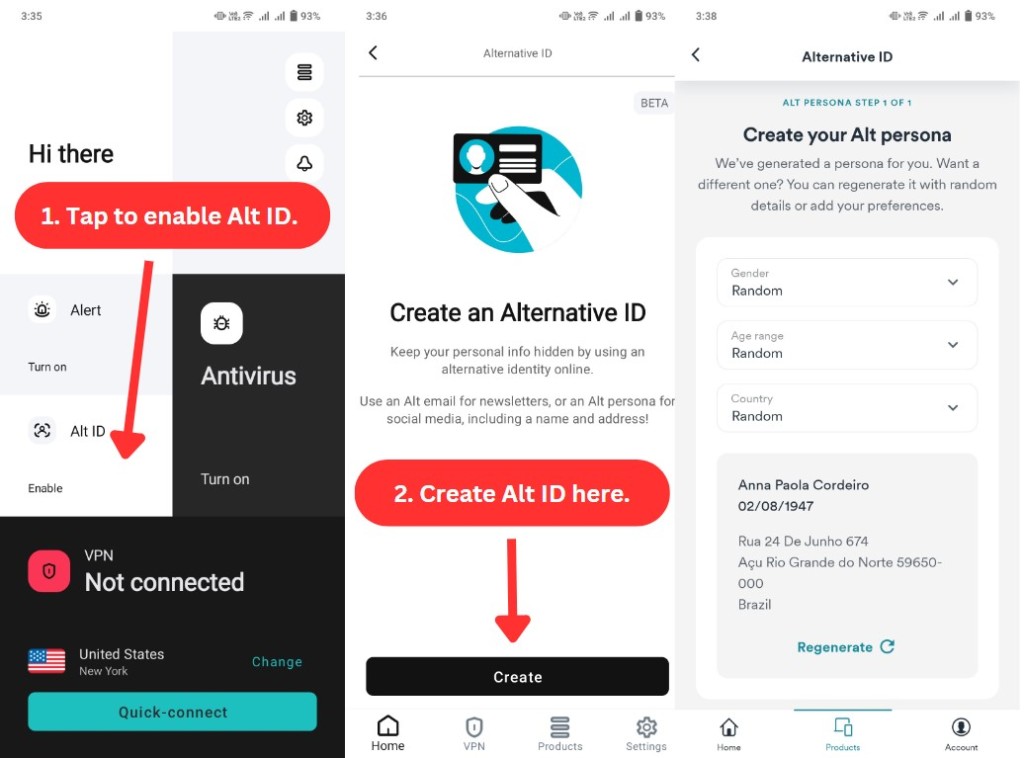 Rotating IP: When you're using a basic VPN, you usually have one IP address for each session. But when you enable this feature, your IP address keeps changing while you're still securely connected. This way, your Internet Service Provider (ISP) will find it even harder to follow what you're doing online.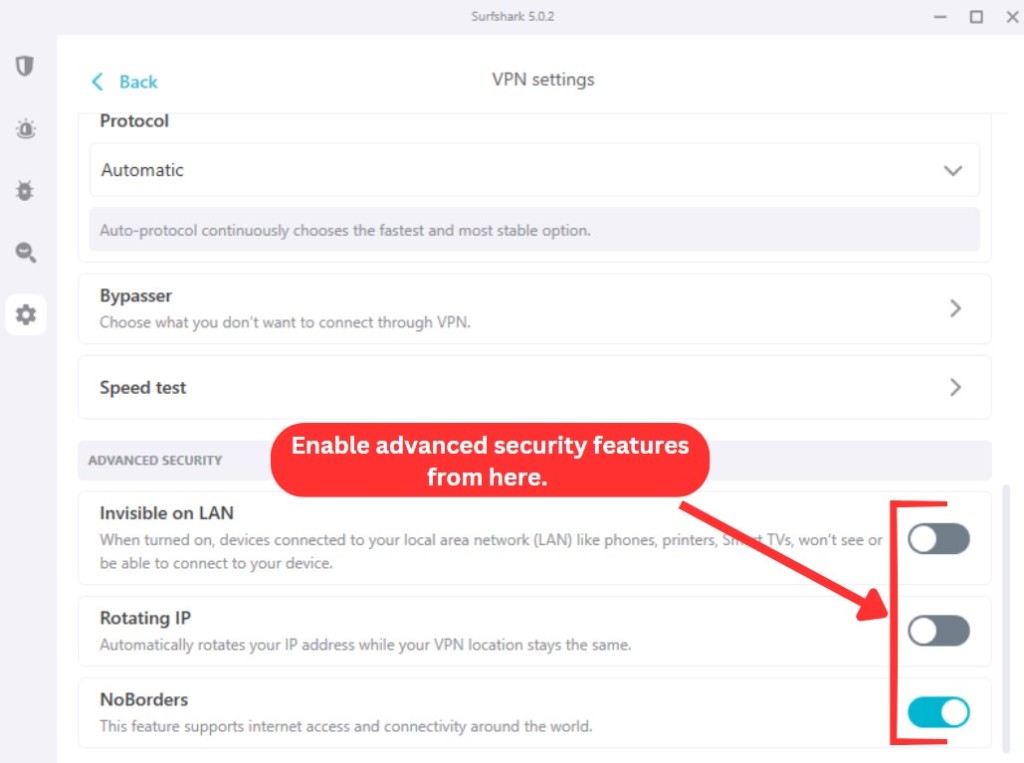 Invisible on LAN: Your device becomes hidden from others on the same network if you use this feature. However, it's useful when you're on public networks, where you don't want other devices on the same network to connect to your device. It's available on Windows and Android.
Small Packets: If you're an Android user, then you're in for a treat. When you're online, your data is split into small chunks called packets, making it easier to send. Now, each packet carries a piece of the information you're sending or getting. When you enable this feature, you shrink the size of each packet, possibly making your connection faster and steadier.
Besides its core features, Surfshark also offers three optional extras for an additional price: Antivirus, Alert, and Search. 
Firstly, the Antivirus scans your device for malware, viruses, and unwanted apps. Secondly, the Alert feature monitors your email address for any data breaches, and you'll be notified in real-time when your personal info is leaked. 
Lastly, Search is a privacy-friendly Web search tool that doesn't show ads or track your queries. It gives you organic and relevant results without compromising your privacy.
Server Count & Infrastructure
Surfshark comes with 3,200+ servers at the moment. Also, this VPN has been aggressively expanding its network in the last 12 months. Our Score: 9/10
To make it easier to present what to expect from Surfshark in terms of its server network, we've put together a handy table. Check it out below.
| | |
| --- | --- |
| Number of Servers | 3,200+ |
| Number of Locations | N/A |
| Number of Countries | 100 |
| Specific Cities Selection | YES (For certain countries) |
| Unlimited Switching | YES |
At the moment, Surfshark has more than 3,200 servers located across 100 countries. This list features a considerable number of European countries, as well as countries from the Middle East, Asia, North & South America, Oceania, and more.
It's also worth mentioning that all of Surfshark's servers are subject to the same set of policies. This means you'll find a private DNS on each server, they're all powered by RAM (instead of hard drives), and all those servers are P2P-friendly.
And lastly, all Surfshark servers are unified thanks to the VPN's Nexus technology. That means Surfshark will use its entire network to route your Web traffic, helping you change your IP address without disconnecting you at any moment.
So, even though Surfshark doesn't have the biggest server network out there, this VPN is quite smart in how it uses its servers. That's definitely something you won't find elsewhere.
Does Surfshark Use Virtual Server Locations?
Yes, Surfshark offers a small number of virtual server locations. We're happy to report that Surfshark is very open and transparent about its network. 
While using any of the VPN's apps, you'll see a small 'V' next to specific country names, indicating the presence of a virtual server (instead of a physical one). If you decide to use those, you won't connect to a server physically available in the selected country (but you'll receive an IP associated with that country). 
Additionally, it's worth mentioning that Surfshark's virtual server locations receive the same treatment as their physical counterparts.
Surfshark's Virtual Server Locations - Full List
| | | | |
| --- | --- | --- | --- |
| Algeria | Bolivia | India | Peru |
| Argentina | Brunei | Macau SAR China | Philippines |
| Armenia | Chile | Morocco | Saudi Arabia |
| Bahamas | Ecuador | Mexico | Sri Lanka |
| Bangladesh | Egypt | Myanmar (via Burma) | Uzbekistan |
| Belize | Georgia | Nigeria | Venezuela |
| Bhutan | Ghana | Pakistan | Vietnam |
UI/UX Design & Ease of Use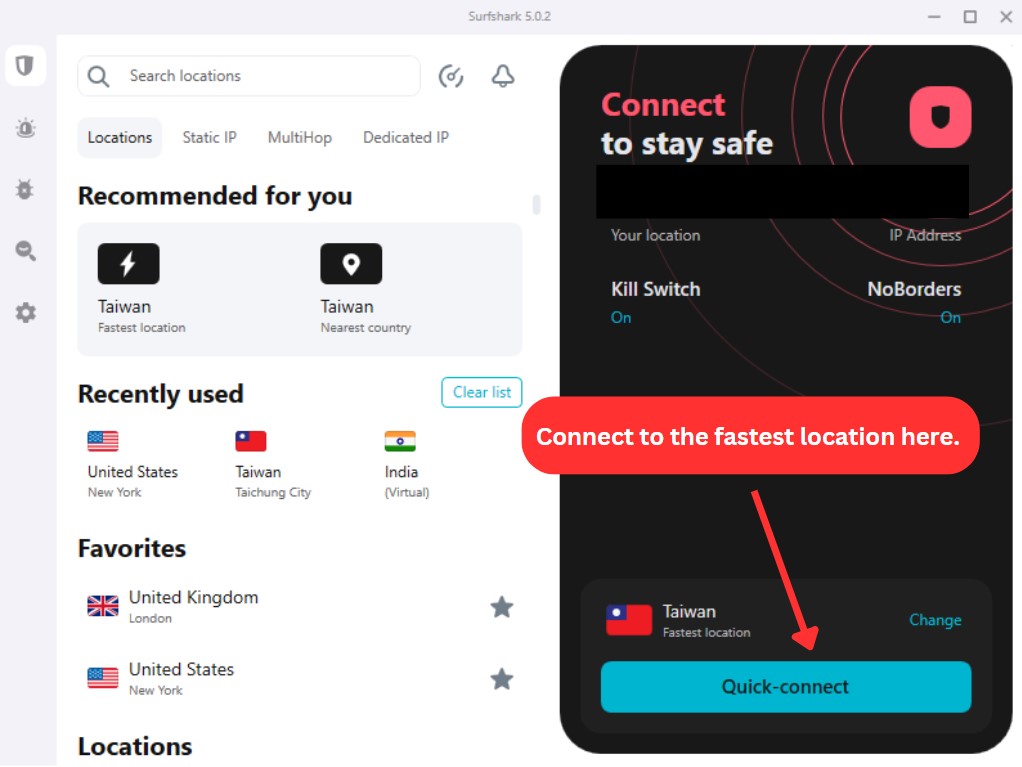 You don't have to be an expert to use this VPN. It comes with a simple UI that's very easy to comprehend, even if you're a total beginner. However, more advanced users are left out, as Surfshark doesn't offer a lot of fine-tuning. Our Score: 9/10
Before you get your Surfshark subscription, we're sure you'd like to know what this VPN looks like. That's precisely what we'll explore in this segment, focusing on the VPN apps for desktop and mobile platforms as well as checking out Surfshark's Web browser extensions.
How Well Does Surfshark Work on Desktop Platforms?
Surfshark works exceptionally well on desktop platforms. Once you log in to your account, the application will show a spotless and polished interface.
We used a Windows computer in this Surfshark VPN review. If you check the left-hand side of the VPN app's interface, you'll see the main menu, giving you quick access to Surfshark's servers, additional features, and the VPN's settings panel. So, let's go through each of those menu items one by one.
On the right, you'll see Surfshark's logo, which acts as the gateway to the VPN's compact home screen. Using this option, you can quickly connect to a server that Surfshark thinks is optimal. And also, you can connect to the server that's closest to your physical location.
The "Locations" tab on the upper left side is where you can browse servers manually and create your list of favorites while also accessing "Dedicated IP" and "MultiHop" servers. As you browse the available servers, you also see countries with virtual servers.
Then, on the left side, you can also check out Surfshark's standalone features, which have their own interface page. For example, this is where you'll find "Alert," "Antivirus," and "Search" features, which you can obtain via a "Surfshark One" subscription.
And lastly, clicking on the cogwheel icon gets you to the application's settings. Four menu items are found there, as explained just below.
VPN Settings: Using this menu item, you can enable Surfshark's CleanWeb, Kill Switch, and Bypasser. You can also switch to a different protocol and decide if you'd like to use "NoBorders" servers (useful in countries with heavy online censorship).
App Settings: Surfshark allows you to switch between light and dark themes, choose another UI language, and more. This is also where you can check if you have the latest version of the app.
My Account: If you want to know when your subscription is due to expire, change your password, or enter Surfshark's login code (for smart TVs), you'll find all those options here.
Get Help: This part of Surfshark's app gives you access to all kinds of troubleshooting guides. For the most part, the buttons found here act as links, taking you to Surfshark's website.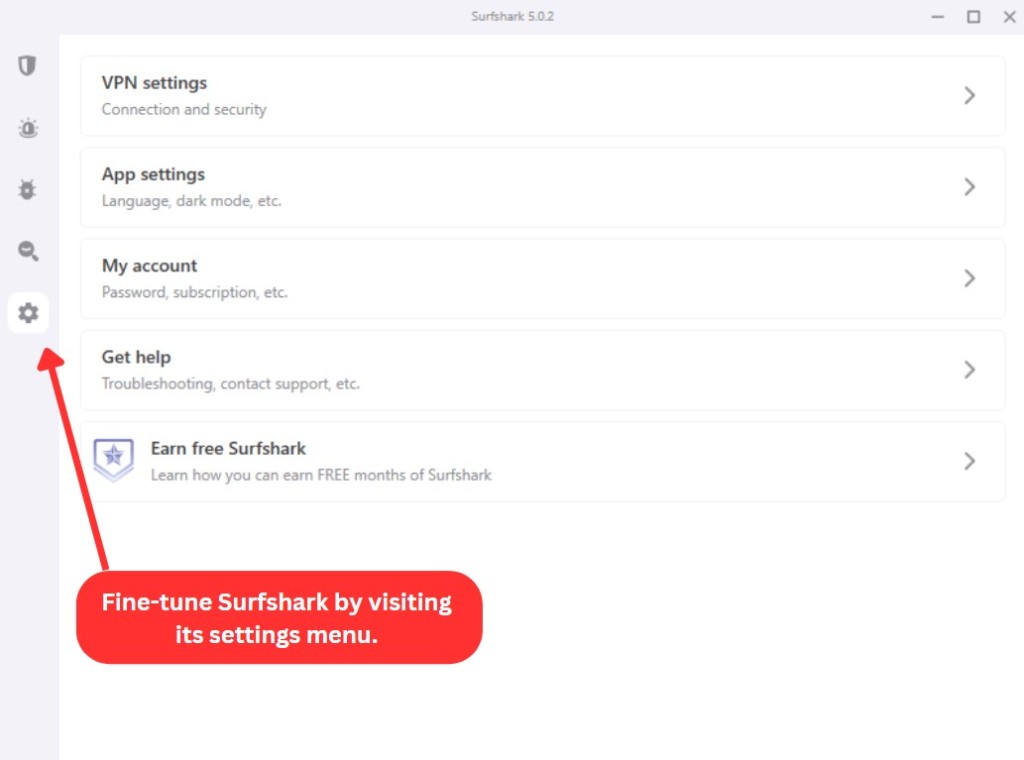 Even though Surfshark allows you to fine-tune certain aspects, it doesn't offer in-depth customization. That's great for average home users looking for a fully-automated VPN. However, if you're a more advanced user, you might find it a bit disappointing.
How Well Does Surfshark Work on Mobile Platforms?
Surfshark works excellently on mobile platforms. Overall, Surfshark's mobile apps work in the same way across iOS and Android - and we're delighted to see this level of uniformity. However, just like it happens with any other VPN, the Android app is a bit more capable, so let's explain that situation.
On both Android and iOS, you'll be greeted by a highly polished home screen. Tap on the blue ribbon you'll see at the bottom of your screen, and you'll connect to the nearest server. If you want to enable the VPN's kill switch and tweak other settings, just tap the cogwheel icon on the right side of the home screen.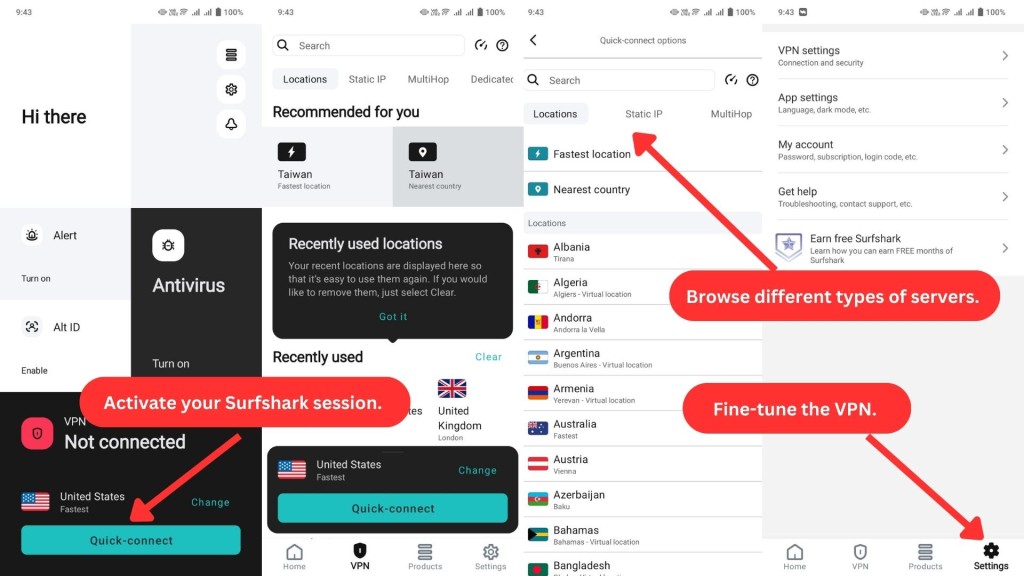 Also, you'll see four tabs at the bottom: Home, VPN, Products, and Settings.
Using the "VPN" tab, you can browse all of Surfshark's servers. You're free to check each location manually, connect to the fastest server (or the nearest country), and check out "Static IP" servers or chain servers via a "MultiHop" feature.
When it comes to the "Products" tab, you'll find additional features here (priced extra) called Alert (for checking whether your email was in any data leak), Search (the VPN's privacy-friendly alternative to Google), and Alternative ID (hides your true info using a different online identity). Android users can also access Surfshark's antivirus through this tab (at least for those subscribed to Surfshark One).
And lastly, we have the "Settings" tab. This is where you can enable Surfshark's kill switch, change your VPN protocol, review your account information, and get help. Really simple yet highly effective - just like the rest of the Surfshark apps.
How Well Do Surfshark's Web Browser Extensions Work?
Surfshark's Web browser extensions work seamlessly and effectively. It offers extensions for Chrome, Firefox, and Edge. However, keep in mind that the Chrome extension should work just fine on Brave, Edge, Opera, and other Chromium-based browsers. The Firefox extension should work across a range of Gecko-based Web browsers.
In the past, this used to be a very simple Web browser extension. However, Surfshark managed to overhaul it just recently, bringing a desktop-like interface. That means you now get access to all of Surfshark's servers, including "Static IP" servers.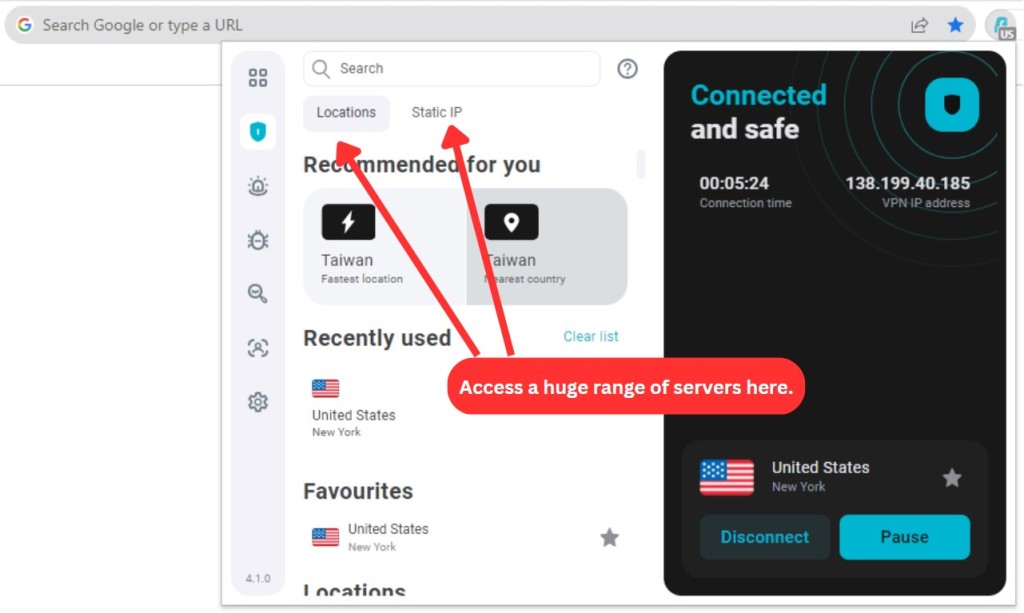 If you dive deeper into the Surfshark VPN extension settings, you'll find a whole bunch of options available via (Settings > VPN Settings). You can enable Surfshark's ad-blocking feature, prevent cookie prompts from showing up, see notifications about data breaches, and even split-tunnel your traffic when visiting specific websites or IP addresses.
All in all, Surfshark has done a wonderful job of creating and offering well-rounded extensions for Web browsers. They look just like the desktop app, giving you a strong set of options. Still, take note that, when it comes to encryption, nothing can replace a VPN desktop app.
Media Streaming, Torrenting, and Gaming Support
With Surfshark VPN, you can unblock any popular media streaming platform you want. You can also download P2P files with ease. And if you're a gamer, you'll love Surfshark's lightning-fast speeds and unique features. Our Score: 10/10
VPNs have many benefits besides protecting your online privacy. They can also help you access blocked websites, download large files from torrent sites, and play games without lag or security risks. But not every VPN can do all these things well. We've tested Surfshark to see how it performs in these three areas, and here's what we found out.
Is Surfshark VPN Good for Streaming?
Yes, Surfshark VPN is good for streaming. Unlike many expensive VPNs, it can unblock popular streaming sites at a low cost. You can use this new VPN to access different versions of Netflix, Hulu, Disney+, and Amazon Prime Video from anywhere in the world.
Here are some of the notable US-based streaming platforms this VPN unblocks.
| | | |
| --- | --- | --- |
| Netflix | Disney+ | Max |
| Hulu | YouTube TV | Paramount+ |
| Sling TV | ESPN+ | Amazon Prime Video |
With Surfshark, you can access streaming platforms from all over the world, not just the US. Here's a glimpse of what you can enjoy.
| | | |
| --- | --- | --- |
| BBC iPlayer (UK) | CBC (Canada) | RaiPlay (Italy) |
| 9Now (Australia) | ITVX (UK) | Globoplay (Brazil) |
| DStv (S. Africa) | RTE (Spain) | Zattoo (Germany) |
Netflix has different shows and movies in each country due to licensing agreements. We tested Surfshark's servers in various countries and found that they can unblock Netflix in the UK, USA, Australia, Spain, Argentina, France, Ukraine, and Canada. Having problems with Surfshark and Netflix? Refer to our guide "Surfshark not working with Netflix" for troubleshooting tips.
Surfshark doesn't have any servers marked for streaming. That means you can use any server you want, which makes things easier. However, we recommend choosing a server that's not too busy for the best performance.
Is Surfshark VPN Good for Torrenting?
Yes, Surfshark is an excellent choice for torrenting. It fully supports peer-to-peer (P2P) traffic on the majority of its servers, making it convenient for users to engage in torrenting activities. Furthermore, the service offers dedicated P2P servers that can be easily accessed by simply typing "P2P" in the search field of the application. This ensures safe and swift torrent downloads from any location around the globe.
Privacy and security are also paramount features of Surfshark. By establishing a secure data tunnel, Surfshark effectively conceals your P2P activities from your Internet Service Provider (ISP) and other prying eyes. Additionally, Surfshark operates with a strict no-logs policy, meaning it doesn't retain any records of your data or online activities. These privacy-centric measures are highly beneficial for users engaged in torrenting.
With its robust support for P2P traffic, strong privacy protection, and absence of data logs, Surfshark stands out as an excellent VPN solution for those seeking a reliable and secure torrenting experience. There's one caveat though - this VPN doesn't support port forwarding, which can be useful for P2P activity.
Is Surfshark VPN Good for Gaming?
Yes, Surfshark VPN is good for gaming due to its exceptional features and benefits. One of its greatest strengths is its lightning-fast speeds and throttle-free connections, ensuring a smooth and uninterrupted gaming experience. Its unique CleanWeb feature enhances this experience by blocking annoying ads and malware that can potentially hinder gameplay.
Another standout feature is MultiHop, which enables users to simultaneously connect to two VPN servers, resulting in improved speed and reduced lag. This feature is particularly beneficial for gamers who require optimal performance during their online gaming sessions.
Additionally, Surfshark provides robust protection against DDoS attacks, a notorious threat that can disrupt gameplay. This sets Surfshark apart from many other VPN providers, as it offers specialized defense mechanisms to safeguard gamers from such attacks.
With its impressive blend of performance and security, Surfshark stands out as a great choice for gamers, guaranteeing both an enhanced experience and peace of mind.
Security & Privacy
Surfshark checks all the boxes when it comes to ensuring your security and privacy. Also, it doesn't store or leak your data. Our Score: 9/10
To evaluate Surfshark's data security and privacy, we need to look at three key factors: the VPN protocols it uses, the logging policy it follows, and the IP/DNS leaks it prevents. These will tell us how well Surfshark protects and respects our personal data when we use its service.
Surfshark VPN Protocols
Surfshark offers three VPN protocols: IKEv2, OpenVPN, and WireGuard. Each of them has advantages and disadvantages, depending on your needs and preferences. Here's a brief overview of what they can do for you.
| | | | | | |
| --- | --- | --- | --- | --- | --- |
| | Windows | macOS | iOS | Android  | Router |
| WireGuard | YES | YES | YES | YES | YES |
| OpenVPN | YES | YES | YES | YES | YES |
| IKEv2 | NO | YES | YES | NO | YES |
IKEv2: This is a fast, flexible, and secure protocol for mobile devices. It can keep your VPN connection stable when you switch between Wi-Fi and cellular networks. But it's not the most secure protocol, so it may not work well in high-risk situations. Surfshark doesn't offer IKEv2 on Windows and most routers. Certain routers may support it, though.
OpenVPN: This is an open-source protocol that provides the best security and privacy for your data. It can bypass censorship and geo-restrictions, and it's compatible with most platforms and devices. However, it may be slightly slower than other protocols and may require third-party applications.
WireGuard: This is the newest and most advanced protocol on the market. It's lightweight, fast, and uses state-of-the-art encryption. It can deliver smooth and reliable performance, even on low-end devices. However, it's still in development, so it may have some bugs or vulnerabilities.
Does Surfshark Keep Logs?
No, Surfshark doesn't keep logs. As per our findings, the VPN service respects your online privacy and security. It doesn't keep any records of your online activities, so you can browse, download, and stream with peace of mind. 
However, Surfshark's updated Privacy Policy states that it retains details about your connection to a specific VPN server. These include your IP address, user ID, and connection time stamps, which are necessary for Surfshark's services. Fortunately, they're automatically erased within 15 minutes after you end your session. Also, no information is kept about the websites you access.
In 2022, Deloitte, a renowned auditing firm, independently audited Surfshark's no-logs policy. The audit confirmed that Surfshark doesn't collect or store any logs of its users' data or activities, including any information that could identify you or reveal your online behavior. This means it doesn't track your browsing history, IP addresses, session information, bandwidth usage, connection timestamps, network traffic, or anything similar.
Moreover, Surfshark is based in a jurisdiction that supports digital freedom and doesn't impose any logging or reporting obligations. Your online activity is your own business, and Surfshark respects that.
Does Surfshark Leak/Expose Your Personal Data?
No, Surfshark doesn't leak your personal data. The service offers a highly secure tunnel that uses various technologies. We tested its tunnel to see if it leaked any data. 
As the screenshot above shows, our IP location remains hidden. When we connected to a VPN server, only our virtual information was visible to third parties. Our IP address, DNS, and other data matched Surfshark's server information. 
We also checked our geolocation data on different websites. None of them could detect our actual physical location. This is why Surfshark can unblock almost any website.
Speed & Performance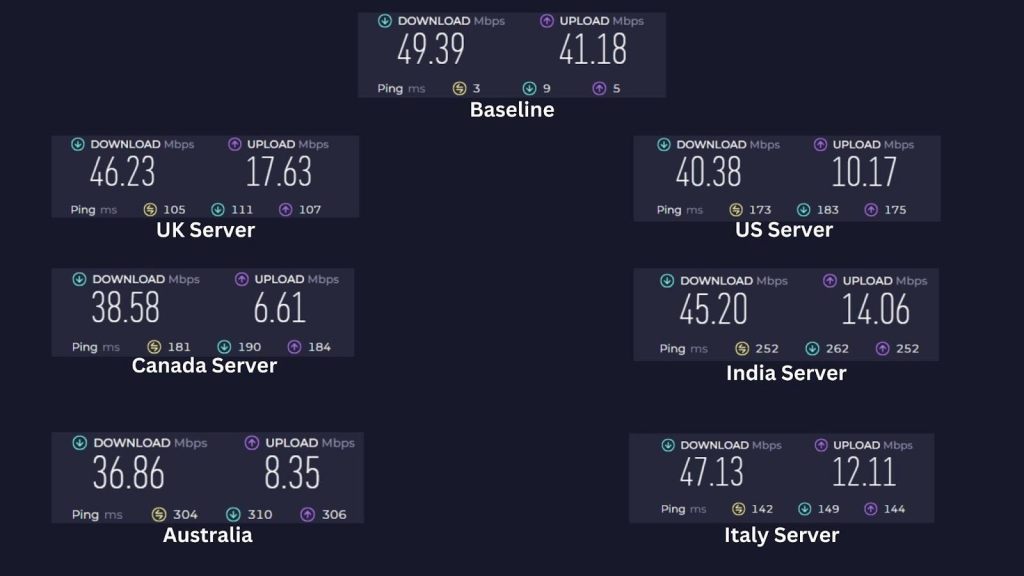 Surfshark VPN impressed us with its excellent speed, providing a seamless experience for various Internet activities such as browsing, streaming, and torrenting on nearby and distant servers. Our Score: 10/10
To evaluate the performance of this VPN, we'll assess the speed of our Web connection both with and without the VPN running in the background. First, we'll establish a baseline measurement by testing our Internet speed without an active VPN session.
After conducting our baseline speed test, we obtained download speeds of 49.39 Mbps and upload speeds of 41.18 Mbps. Please note that VPNs can slightly decrease Internet speed due to the longer routes they establish for connections. Now, let's assess Surfshark VPN in this area and see how it performs.
USA Server: Despite the considerable distance between our physical location and the server, Surfshark VPN maintained a speedy connection. We experienced an 18% reduction in speed, which is acceptable given the long distance. Our download speed reached 40.38 Mbps, while the upload speed reached 10.17 Mbps.
UK Server: The speed test result was impressive for a server located relatively close to us. The speed reduction was about 6%, with an incredible download speed of 46.23 Mbps. However, we could only upload at 17.63 Mbps.
Canada Server: Similar to the USA server, this server was located quite far from us. However, it exhibited comparable performance with a reduced speed of 22%. We downloaded at 38.58 Mbps and uploaded at 6.61 Mbps. Given the distance, the browsing speed was great, but our upload speed took a major hit. 
India Server: The server in Mumbai, India, is remote. Consequently, we anticipated a significant decrease in speed. However, the download speed was quite impressive, reaching 45.20 Mbps, resulting in a 9% speed reduction. The upload speed came in at 14.06 Mbps.
Australia Server: Despite being the farthest server from our location, Surfshark VPN impressed us with its performance. We only experienced a 25% reduction in speed, which was great considering the remote location. Our download speed maxed out at 38.86 Mbps, while the upload speed was 8.35 Mbps.
Italy Server: As the closest server to our location, we had high expectations for this one. Surfshark VPN didn't disappoint, delivering a fast and stable connection with only a 5% reduction in speed. We achieved impressive download speeds of 47.13 Mbps, but our upload speeds dropped to 12.11 Mbps.
| | | | |
| --- | --- | --- | --- |
| | Download Speed | Upload Speed | Speed Reduction |
| Baseline Speed | 49.39 Mbps | 41.18 Mbps | 0% |
| USA (New York) | 40.38 Mbps | 10.17 Mbps | 18% |
| UK (Manchester) | 46.23 Mbps | 17.63 Mbps | 6% |
| Canada (Montreal) | 38.58 Mbps | 6.61 Mbps | 22% |
| India (Mumbai) | 45.20 Mbps | 14.06 Mbps | 9% |
| Australia (Sydney) | 36.86 Mbps | 8.35 Mbps | 25% |
| Italy (Rome) | 47.13 Mbps | 12.11 Mbps | 5% |
Surfshark demonstrated an impressive performance across its international servers, with an average speed reduction of just 14%. Hence, this fastest VPN service is best for speed-intensive activities like torrenting and streaming. 
The only downside we noticed was that the upload speed dropped significantly across multiple servers. Otherwise, Surfshark fits the bill for most Internet needs. 
Customer Support
There are different ways to contact this VPN and have your questions answered. You can also talk to a real person via live chat. Our Score: 10/10
In case you have any questions about this service or are experiencing any troubles, the best place to start is Surfshark's official website. In the bottom-right corner, you'll find Surfshark's live chat feature.
A real person (as opposed to a bot) will be there to assist you 24/7 and without you waiting for more than a few minutes. So, here are all the customer support channels you can use:
Live Chat Support: As already noted, you can take advantage of Surfshark's live chat. We've talked to the company's representatives a couple of times, and they always managed to come up with a solution/answer to our question (in a very friendly way, too).
Setup Guides: Surfshark's support center includes tutorials on installing the application on supported devices. Even though you'll manage to install it just fine on desktop and mobile platforms, you'll need a guide for installing this VPN on a router.
FAQ: Even though it isn't as comprehensive as we hoped it would be, the FAQ section answers some of your general and technical questions.
Support Tickets: Finally, you can use the 'official' way of getting help. You can do this by filling out a form found on the website, where you can explain your problem and wait for the tech team to contact you.
All in all, Surfshark has done a great job of providing a reliable customer support system. We're sure that you'll have your questions answered in no time.
Pricing
Surfshark's regular (monthly) price is on the expensive side. However, massive savings are found in this VPN's long-term subscription plans. Our Score: 9/10
Most VPNs, especially those like Surfshark, are premium-priced. So, you'll want to know whether you're spending your money wisely. With that said, let's talk about Surfshark's pricing.
How Much Is Surfshark VPN?
It's $2.30/month when it comes to Surfshark VPN price. Let's take a closer look at three different subscription plans to help you decide which one is best for you.
Surfshark Starter: This plan offers you a secure VPN and a reliable ad-blocker, along with a cookie pop-up blocker. Its monthly price costs $12.95, while the 12-month plan costs $3.99/month, and the 24-month plan costs $2.30/month.
Surfshark One: If you get this one, you'll have the same features as the Starter plan. However, you'll also get webcam protection, including 24/7 antivirus, anti-spyware, and malware protection with real-time email breach alerts and data security reports. This plan costs $17.95/month, the annual plan costs $4.49/month, and the 2-year plan will cost you $3.22/month.
Surfshark One+: For this plan, you get all the features of the other two plans, plus data removal from search sites and company databases. The monthly cost for this plan is $22.95/month. It's $8.29/month for the yearly plan and $5.99/month for the 24-month plan.
| | | | |
| --- | --- | --- | --- |
| | Surfshark Starter | Surfshark One | Surfshark One+ |
| 1 Month | $12.95/mo | $17.95/mo | $22.95/mo |
| 12 Months | $3.99/mo | $4.49/mo | $8.29/mo |
| 24 (+2) Months | $2.30/mo | $3.22/mo | $5.99/mo |
We mentioned earlier about 'Surfshark Alert,' 'Surfshark Search,' and 'Surfshark Antivirus,' which are all in the Surfshark One plan. For just $3.22 per month, you can have access to all three tools. You'll have to pay $83.76 for 26 months, followed by $79.00 per year. Opting for this 24-month plan can reduce your Surfshark cost by up to 82%.
When it comes to payments, you'll be happy to hear that numerous payment methods are supported to get Surfshark VPN, including PayPal, Google Pay, Amazon Pay, credit cards, cryptocurrencies, and more. No matter which of the three subscription plans you select, you'll get the same thing product-wise.
Is Surfshark VPN Free?
No, you can't use Surfshark for free. This VPN doesn't have a free tier, and we don't think it will offer one anytime soon. However, you can try Surfshark for a limited time without paying anything upfront. Here's how.
Surfshark has a 30-day money-back guarantee that applies to all of its plans. This means you can sign up for any plan and cancel it within 30 days to get a full refund. You can also get a refund for your Surfshark subscription twice, but they must be six months apart.
Another way to access the Surfshark free trial is to try it on Android or iOS devices. You can download the app from Google Play or the App Store and click on "Start Free Trial." However, there are some caveats to this option.
First, you need to have a payment method set up on your smartphone, as you'll be asked to pick a subscription plan before starting the trial. Second, you'll be charged automatically once the trial ends unless you cancel it beforehand. Third, if you want a refund after being charged, you'll have to contact Google or Apple, not Surfshark.
Therefore, sign up for Surfshark using its website, as this gives you more control and flexibility over your subscription.
Surfshark Comparison with Other VPN Providers
Among VPN providers, Surfshark is a standout option. But other noteworthy contenders like ExpressVPN and NordVPN are also in this space. In this segment, we'll look into how Surfshark VPN's offerings compare to these well-known alternatives.
Surfshark vs. ExpressVPN: Surfshark spans servers across 100 countries, while ExpressVPN covers around 90 and offers obfuscation universally. ExpressVPN also stands out for its impressive speed and swift connections, whereas Surfshark occasionally experiences inconsistent connection times. However, both share top-notch privacy, security, content access, and user-friendly experience.
Surfshark vs. NordVPN: Both Surfshark and NordVPN are really good VPN services. NordVPN has over 5,400 servers, while Surfshark has 3,200+. With Surfshark, you can use it on as many devices as you want at the same time. But with NordVPN, it's limited to only 6. Also, it's important to note that NordVPN got hacked once in the past. So, to play it safe, Surfshark might be the better choice.
Final Thoughts – Is Surfshark a Good VPN?
Yes, Surfshark is a good VPN because it has strong security and privacy measures and offers a wide range of features that enhance your online experience. Whether you're streaming, torrenting, gaming, or just browsing the Web, Surfshark has you covered. 
With its advanced security and encryption, strict no-logs policy, fast and stable speeds, and unlimited simultaneous connections, Surfshark is a VPN service that truly has it all.
The best thing about Surfshark is its commitment to protecting your privacy. And with its headquarters located in a jurisdiction that values digital freedom, Surfshark is a VPN service you can trust and the one that gets a solid vote from us.
So, if you're looking for a VPN service that offers the ultimate combination of performance, privacy, and convenience, we recommend Surfshark.
PROS
Excellent speed.
RAM-only servers.
Virtual server locations.
No logs (independently audited).
Unlimited simultaneous connections.
Comes with an ad-blocker.
MultiHop and split tunneling features.
NoBorders & Camouflage modes.
Alternative ID.
CONS
Split tunneling unavailable on iOS.
Monthly plans are pricey.
Weak apps for Apple products.
FAQ
What Is Surfshark?
Surfshark is a company dedicated to developing privacy and security solutions. Its products include a VPN, antivirus software, a data leak detection system (Alert), and a private search tool (Search), among others. 
Who Owns Surfshark?
The CEO and founder of Surfshark is Vytautas Kaziukonis. However, it's important to note that Surfshark merged with Nord Security, the parent company of NordVPN, in 2022. But even with the merger completed, both brands still operate separately. 
Where Is Surfshark Based?
Surfshark is headquartered in the Netherlands. The company's registered business address is located at Kabelweg 57, 1014BA Amsterdam. Surfshark also has a presence in Vilnius, Lithuania, and Warsaw, Poland, to serve its global customers better.
How Does Surfshark Work?
Surfshark routes your Internet data through an encrypted tunnel to a server in another location. When you connect, your device establishes a secure connection with one of its servers, and it replaces your actual IP address with one from the server's location. 
What Does Surfshark Do?
Surfshark is a VPN service that helps to protect your online privacy and security. It encrypts your Internet connection, hides your IP address, and routes your internet traffic through a secure server.
Is Surfshark Legit?
Yes, Surfshark is a legitimate and excellent VPN provider.
How Much Is Surfshark VPN per Month?
Surfshark VPN costs $12.95 per month if you pay monthly. However, you can get a much better deal if you sign up for a longer plan.
Does Surfshark Have a Browser Extension?
Yes, Surfshark has browser extensions for Google Chrome, Firefox, and Edge. These browser extensions allow you to easily protect your online privacy and security while browsing the Web.
Does Surfshark Work with Netflix?
Yes, Surfshark works with Netflix and a host of other popular streaming services.