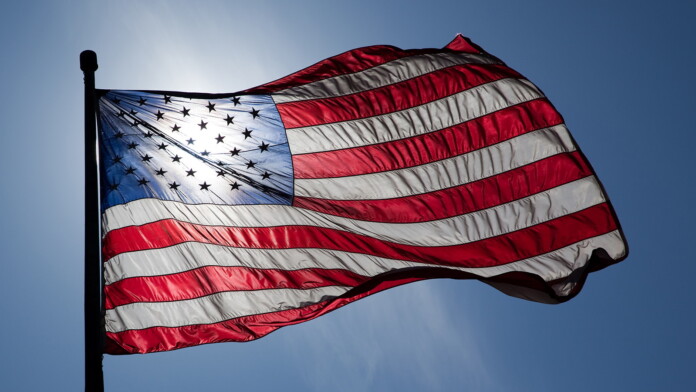 During the last couple of years, we've seen numerous reports and leaks on how the USA is snooping on its citizens. Actually, you might be surprised by the extent of this data collection as the USA is one of the 5 Eyes Alliance members. The only way to put an end to this and to preserve your privacy on the Web is via VPN applications. In case you're looking for one, you've come to the right place. Let's talk about the best VPN for USA in 2018.
First, we will shortlist five of the best VPN providers right now – based on our extensive testing of dozens of different VPNs. Then, we will try to make this article as helpful as possible by answering some frequently asked questions. Let's dive right in.
We have tested dozens of different VPN providers and published full reviews that you can find on TechNadu.
For this article, we have picked 5 best USA VPN that work without a single issue in April 2019. Keep on reading to find out more.
1. ExpressVPN
The first suggestion for the best VPN for USA is ExpressVPN. Being one of the most highly-ranked VPNs out there, we are 100% sure you won't make a mistake if you go for this one. Here's why.
ExpressVPN comes with native apps for all popular platforms and numerous devices. No matter what's your preferred platform, you will get to use a very simple UI. This makes ExpressVPN great for complete beginners. It uses AES 256-bit encryption powered by the OpenVPN protocol, which provides the toughest encryption out there. Even though some metadata is logged, there are no traffic logs that could show your Web activities. And finally, ExpressVPN is based in the British Virgin Islands, out of the jurisdiction of the US government.
To learn more about this VPN provider, make sure to read our ExpressVPN review.
2. CyberGhost VPN
Up next, we recommend CyberGhost VPN for the best VPN for the USA. Based in Romania, this VPN is trying to be above the rest by providing transparent privacy policies and amazing performance.
First, you need to know that CyberGhost doesn't collect your data which also covers user activity logs and metadata. Even the company behind this VPN provider won't have any knowledge of your Web activities. Also, it's based on OpenVPN, which means that you can install CyberGhost on routers as well. Needless to say, advanced options await as well, like a highly secure VPN tunnel with DNS leak protection and a kill switch. Finally, you can pick servers based on your planned activity, which can be streaming, torrenting, using Wi-Fi protection, or Web browsing.
We are sure that that you're interested in learning more about this VPN, so here's our CyberGhost review.
3. NordVPN
Even though its name gives off a Scandinavian vibe, NordVPN comes from Panama. At least that's where this company is registered, making it out of reach for American intelligence agencies. This is a well-known VPN provider that has a huge userbase today.
The most prominent feature of this VPN is its double-hop servers providing an extra layer of protection. By encrypting your data twice, NordVPN goes a big step forward in providing you the level of privacy you need. Even though this might be an overkill for home users, it's always better to be safe than sorry. NordVPN is also powered by OpenVPN and uses 256-bit encryption standard. You are allowed to install this app on up to six devices and use them all within a single encryption. This is what makes this VPN a hugely valuable deal.
There are numerous other features that you need to know about. So, reading our NordVPN review should be your next step.
4. SaferVPN
Coming from Israel, SaferVPN has built a magnificent reputation over the years. This provider doesn't keep any of your data or logs, which should give you a piece of mind.
Just other options on our list of the best VPN for USA, SaferVPN brings 256-bit AES encryption. In case you're wondering, this kind of encryption is present in banks and other large financial institutions. You will get to use a very simple UI, suitable for inexperienced users. There are more than 700 servers in 30+ countries. Even though this isn't the biggest server network out there (NordVPN has more than 5,000), you should be more than covered well. There are servers optimized for streaming if you want to 'go abroad' and explore options not present in the USA.
We have only scratched a surface here, so make sure to learn more about SaferVPN. Clicking on the provided link will take you to our full review.
5. PrivateVPN
Even though it's one of younger VPN providers, PrivateVPN has already managed to build a stellar reputation. This incredibly transparent service will allow you to reach every corner of the Web with ease.
The company behind PrivateVPN has a very strict no-logs policy. Even if your ISP somehow gets to PrivateVPN in an effort to retrieve your data, this effort won't produce any result. Thanks to the OpenVPN and 256-bit AES encryption, you become truly invisible on the Web. There is a whole slate of advanced features as well, like a kill switch that shuts down your Web connection if the VPN connection drops. You can also engage in P2P traffic and use PrivateVPN on 6 devices at the same time.
Interested in what this VPN has to offer? To learn more, turn to our review of PrivateVPN.
FAQ
Knowing your options is a good place to start. However, we are sure that you need more information to make a well-informed decision. So, here are some commonly asked questions with answers that you might find to be helpful.
Why Do You Need a VPN in the USA?
In the USA, laws that govern electronic privacy and telecommunications are incredibly vague. Known as the Patriot Act, this set of laws gives a great amount of power to the US government. Even though the main idea behind these laws is collecting data and preventing possible terror attacks, they reach far beyond that. As Edward Snowden's leaks pointed out, the government has the power to track you and learn incredibly personal details about you via the Internet and phone surveillance. Even though many of this didn't believe this to be possible, it turns out that we're being spied on in unimaginable ways.
This is where a reliable VPN comes into play. This type of application is used on devices that have the Web connection by encrypting your data. In other words, all your incoming and outgoing data becomes unreadable by anyone else including your Internet service provider. There are also some other benefits like anonymous file download, watching media streaming services not available in the US, and more.
What's the Best VPN for Torrenting in the US?
Just like in many other parts of the world, downloading and sharing copyrighted material is illegal in the US. This means that downloading torrents can get you in trouble – if you stick to illegal types of files. Still, it's worth noting that you can do a lot even if you're caught torrenting.
Since P2P traffic is typically associated with the illegal content, some US-based ISPs block torrenting altogether. This means that you won't be able to use it even if you want to stay legal while torrenting. Once again, a VPN can help you. To make sure you pick the best one out there, we have a dedicated article on the best VPNs for torrenting, so take a look.
How to Get a USA IP Address?
A large portion of users around the world is using VPNs to access servers based in the US. By doing this, they can unlock new media streaming services available in this country only. However, Internet users in the US don't have this need. Instead, they mostly want to encrypt their connection and preserve their digital privacy. This is also done by getting an IP address from the US. Differently said, they connect to a server in the US, get a new IP address and continue using the Web as usual. This can be done with any of VPNs present in this article.
Should You Use Free VPNs in the USA?
Finally, we need to address free VPNs that you can find online. We will keep this paragraph short and tell you to avoid using these VPNs. Many of these are serving advertisement and some of them sell your Web browsing data. Furthermore, free VPNs can't guarantee the safety of your data. This is why investing in a commercial VPN is always a good decision.
Dear readers, this is where we conclude our article on the best VPN for USA in 2019. We hope that you found this article helpful and that is answered your questions. If there's something else you need to know, please post a comment below.
Finally, we would like to ask you to share this article online and help others in the US to find the perfect VPN. Also, don't forget to follow TechNadu on Facebook and Twitter. Thanks!