Getting a VPN for iPhones or iPads can be tricky since there are so many different options out there. Every VPN on the App Store gets reviewed by Apple, but there are still many shady apps that slip past the company's audits. Plus, every VPN app for an iPhone has different pros and cons, so how will you know which one is right for you?
To find out, we tested 60+ of the top iPhone VPNs ourselves. We all know Apple does plenty to protect our privacy (like "iCloud Private Relay," for example), but we still need something more to be entirely secure. That said, a reputable, reliable, independent, and robust VPN is the only way to protect your personal information on your iPhone or iPad. 
A quality iOS VPN is safe to install and secures all your incoming and outgoing Web traffic. It also lets you connect to servers across many countries. On top of that, the best VPN unblocks tons of streaming platforms (apps), so you can watch shows and movies from anywhere.
In this article, you will find the 7 best iOS VPNs available today. We'll also show you how to choose the best option for you, explain what you can do with a VPN, and plenty more. 
So, without further ado, let's dig in!
How to Get a VPN on iPhone & iPad
After you choose a VPN, you'll need to subscribe to one of its plans and set it up on your device. Follow these steps to connect to a VPN on your iPhone or iPad:
Subscribe to a VPN using a Web browser (we recommend ExpressVPN).
Open the App Store and download the provider's app for your device.
Launch the VPN app and sign-in to your account.
Complete the initial setup and reach the app's home screen.
Connect to a server. That's it - your data is now protected!
It's best to subscribe to a VPN through its website (which you can do via Safari on your iPhone, iPad, or any computer) because you won't be eligible for a refund via an in-app purchase.
Also, there are other methods to set up your iPhone VPN. To learn more, check out our guide with extra details on how to use a VPN on iPhone.
Best VPN for iPhone
We looked at the following features when we ranked the best VPNs for iPad and iPhone. A wide server network is essential for accessing content blocked in your country. Then, simultaneous connections let you connect your iPhone, iPad, and other devices using a single VPN account. A no-logs policy lets you know the VPN is trustworthy and won't record or sell your data. Lastly, a good VPN for iPhone comes with a money-back guarantee that lets you get a refund if you're not satisfied, and each of the VPNs in our list has one. 
Based on the criteria mentioned above, these are the 7 best VPNs for iPhone:
At the moment, ExpressVPN is the best VPN for iPhones because it's the most powerful all-in-one solution available. It works great for privacy protection, Web browsing, streaming, and more. On top of that, you get ultra-powerful features as well as a simple-to-use iPhone VPN app. Find more information on different aspects of ExpressVPN just below.
Supported iOS Versions: Requires iOS 12.0 or later.
User Interface: Connecting to a server is done by tapping on the "three dots" icon on the home screen. This gives you the ability to manually connect to any server, pick a recommended server, or make a list of favorite locations. Tinkering with the app's settings is done by tapping on 'Options,' where you can review your subscription information, access support documentation, and use privacy- and security-related tools.
Features: If you're looking for an automated iPhone VPN app, ExpressVPN is the one. It comes with ultra-secure servers built upon TrustedServer technology (and powered by AES-256 encryption). None of your private data is logged at any moment, as proven by ExpressVPN's independent audit. Also, this VPN protects you against trackers employed by websites and iOS apps through its 'Threat Manager' feature. Lastly, ExpressVPN is one of the rate VPNs to offer a kill switch on iOS and iPadOS.
Protocols: On iOS and iPadOS, ExpressVPN relies on its own protocol, called Lightway. You can choose to use IKEv2 as well. And when it comes to other platforms, OpenVPN is also an option.
Servers: Bringing over 3,000 servers, this iPhone VPN is present in 90+ countries. There are no specialized servers, as all of the available ones secure your connection and unblock streaming services - all at once. ExpressVPN unblocks Netflix, Hulu, Disney Plus, Prime Video, HBO Max, and numerous other streaming platforms.
Settings: By visiting ExpressVPN's settings, you can pick a protocol you'd like to use (Settings > VPN Protocol). As already noted, this fully-automated VPN requires minimal user input. ExpressVPN's settings panel also includes a few handy tools, as described below.
Tools: Going to Settings > Privacy & Security Tools will show you four handy tools. You'll get to check your IP address (to see if your VPN connection is valid and active), and you'll get to check for DNS and WebRTC leaks (to see if your data is safe). There's also a password generator. All these tools are available on ExpressVPN's website, so you'll be redirected from the iOS app.
Support: ExpressVPN is the best VPN for an iPhone due to its customer support system as well. There's live chat available on its website, available 24/7. You can also send an e-mail or create a support ticket. All issues are resolved in a timely manner.
Useful Resources: How to Download, Install, and Use ExpressVPN
PROS
Suitable even for beginners.
Highly polished software.
Sizable network of VPN servers.
Fast and stable performance.
Great for media streaming.
Great for protecting your digital privacy.
30-day money-back policy.
CONS
5 simultaneous connections
NordVPN is known for its high-end privacy measures. However, this VPN for iPhones and iPads is quite simple to use, giving you a range of options to protect your privacy. It's also a great pick if you need access to a larger number of servers. Find more information below.
Supported iOS Versions: Requires iOS 13.0 or later.
User Interface: One of the reasons why NordVPN is one of the best VPN for iPhone and iPad is its interface. We're talking about a highly sophisticated VPN for iOS that's not afraid to do things differently. The home screen presents a map using which you can connect to servers. Then, you can check real-time stats about your connection and dive into the app's settings.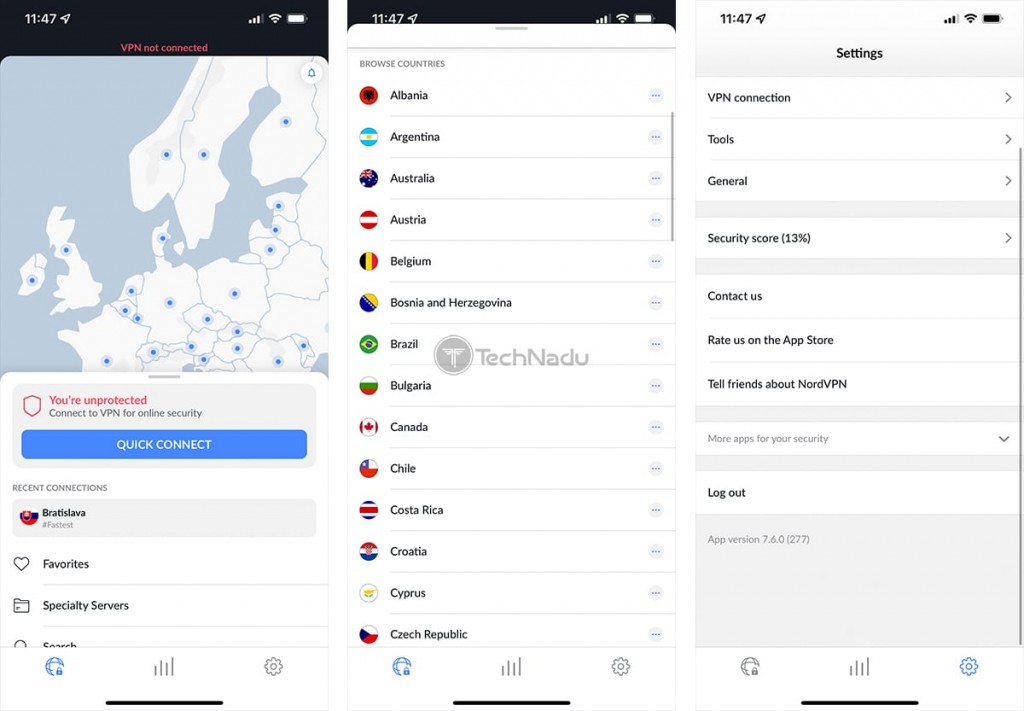 Features: Aside from specialty servers, NordVPN brings its 'Threat Protection Lite' tool to iOS (via 'Settings') - designed to block ads and malware. A 'Dark Web Monitor' alerts you if your credentials get exposed online (via 'Settings'). And also, you can instruct NordVPN to auto-connect on specific types of Wi-Fi networks (Settings > VPN Connection > Auto-Connect).
Protocols: NordVPN brings the following protocols on iOS - OpenVPN (both UDP and TCP), IKEv2, and NordLynx. Other platforms are covered by those same protocols, which is one of the unique things about this iPhone/iPad VPN. Also, NordVPN allows you to set a custom DNS, which is something that very few VPNs offer on iOS/iPadOS.
Servers: If you're looking for 'Onion Over VPN' and 'P2P' servers on iOS, know that NordVPN offers both of those types of specialty servers (accessible by clicking on 'Specialty Servers' on the app's home screen). There are also 'Double VPN' and 'Obfuscated' servers. You should also know that there are servers in close to 60 countries. NordVPN helps you unblock Netflix, Hulu, Disney+, BBC iPlayer, and Prime Video. However, make sure to contact the VPN's support to get fresh recommendations on which servers to use for a specific streaming platform.
Settings: NordVPN's Settings panel on iOS is a joy to use. We recommend enabling the Threat Protection Lite feature if you'd like to get rid of ads and malicious sites. You can also pick a VPN protocol and decide if you'd like to auto-connect in certain situations (or all the time). Then, you can enable Siri commands (Settings > Tools > Siri Shortcuts) and contact the VPN's support.
Support: NordVPN is known for being one of the most transparent VPNs. You can contact its support team via email, open a support ticket, or even chat live. There are also user-friendly tutorials and guides, in addition to a regularly updated blog.
Useful Resources: How to Download, Install and Use NordVPN
PROS
Great for more advanced users.
Plenty of specialized servers.
Great performance overall.
Suitable for media streaming.
OpenVPN comes built-in.
30-day money-back policy.
CONS
No specialized servers for streaming.
Remote servers can be slow.
CyberGhost has always been known as a great solution for media streaming. That's because this iPhone VPN has 9,000+ servers, among which are those optimized for streaming. Just pick a streaming app you want to unblock and that's all. Here's everything you need to know.
Supported iOS Versions: Requires iOS 13.2 or later.
User Interface: Here, we have another easy-to-use VPN that basically consists of two screens. The home screen allows you to connect to a server of your choosing, where you can also search for a specific server. If you tap on the cogwheel icon in the top-left corner, you get to the app's settings. There is where you can fine-tune your user experience and review your details.
Features: CyberGhost comes with a kill-switch on iOS. However, you can't enable or disable it manually, as it comes active by default. It works in the background to protect you from leaks if something unexpected happens. Then, it lets you auto-protect your device on public Wi-Fi (Settings > Wi-Fi Auto-Protect). Also, you get to use dedicated servers and run diagnostic tests to see if the VPN protects your connection properly.
Protocols: You can count on using IKEv2 and WireGuard protocols on iOS (which you can pick manually or let the VPN app decide for you). On other platforms, CyberGhost VPN also supports OpenVPN, which is a highly secure protocol that brings reliable performance as well.
Servers: Currently, this VPN for iPhones and iPads offers 9,000+ servers found in 90+ countries. What is unique about this VPN is that it provides servers designed for media streaming on iOS, letting you unblock Netflix, HBO Max, Disney Plus, BBC iPlayer, Prime Video, as well as services like Sling TV, Crunchyroll, ZDF, ITV, and plenty more.
Settings: Aside from letting you pick a different protocol, CyberGhost's settings panel allows you to auto-protect Wi-Fi networks. Automating your VPN connection is quite handy, no matter if you want a VPN to use at home or on the go. Moreover, you can access the app's help section, switch to a different protocol, run diagnostic tests, and more.
Tools: If you can't connect to a specific server, or if you'd like to check if everything's working correctly, there's a diagnostic tool (Settings > VPN > Connection Checker). In case of any issue, we recommend using this tool to see if CyberGhost's servers are reachable from your iPhone (if they're not, that indicates a local problem, on your device).
Support: CyberGhost comes with comprehensive guides, troubleshooters, and frequently asked questions (accessible from the iOS app). And when you want to have your questions answered quickly, you can turn to the VPN's website, where you'll find an option to chat live.
Useful Resources: How to Download, Install & Use CyberGhost VPN
PROS
Sizable selection of servers.
Servers optimized for streaming.
Easy and quick setup.
Easy-to-use iOS/iPadOS app.
45-day money-back policy.
CONS
Slower than its competitors.
Private Internet Access is a dream come true for more advanced users. This is the best VPN for an iPhone if you need in-depth customization. So, without any surprise, this VPN can protect your privacy using a bulletproof data tunnel. Find more information below.
Supported iOS Versions: Requires iOS 12.1 or later.
User Interface: If you're a more advanced VPN user, you're going to see why PIA is the best iPhone VPN right now. As soon as you open its home screen, you'll see an extensive range of options. Besides connecting to the closest server, you can also check your real and virtual IP address, review in-depth info about your VPN connection, and more. PIA also provides plenty of flexibility in terms of simplifying its interface or making it more complex.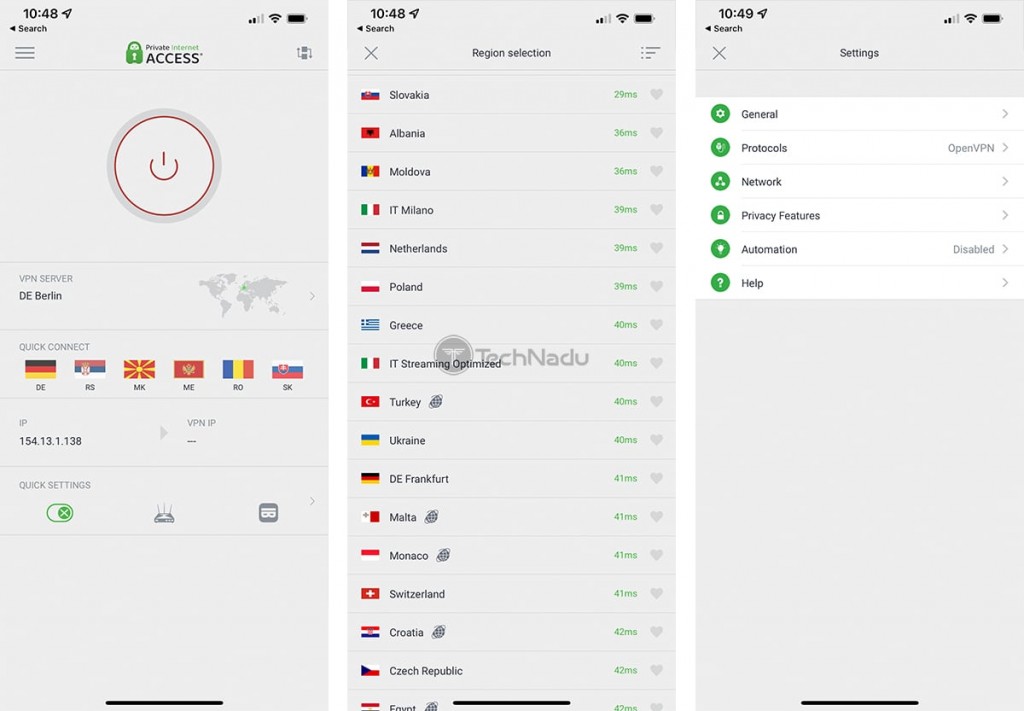 Features: PIA is the best VPN for iPhones if you're after fully-functional kill switch (Settings > Privacy Features > VPN Kill Switch). Then, you can create a list of trusted Wi-Fi networks (Settings > Automation). Private Internet Access also comes with "geo-located region" servers. These are not located in their designated countries, bypassing possibly problematic laws in certain regions.
Protocols: You can choose from OpenVPN, IPsec/IKEv2, and WireGuard on iOS - all incredibly secure. However, what's interesting is that you can fine-tune those protocols. For example, if you decide to go with OpenVPN, you can pick the type of data transport, level of encryption, and decide whether to use smaller packets.
Servers: With thousands of servers in 80+ countries, this iPhone VPN offers a lot. Some of those are "geo-located" servers (accessible with the 'Region Selection' panel), intended for use in countries with strict anti-VPN laws.
Settings: This VPN's settings panel provides plenty of customization. You can easily switch to a different protocol (Settings > Protocols), set up Siri shortcuts (Settings > General), enable the VPN's kill-switch, and set up custom DNS routes. The 'Automation' tool configures how the VPN behaves on Wi-Fi and cellular networks.
Support: Just recently, PIA overhauled its customer support system. You can easily search its knowledge base, start a live-chat conversation, or submit a support ticket.
PROS
In-depth customization.
Suitable for more advanced users.
Vast network of VPN servers.
High-end VPN protocols.
30-day money-back guarantee.
CONS
Semi-powerful streaming capabilities.
Might be overwhelming for beginners.
If you're looking for the best VPN for iPhone that comes fully automated, IPVanish is a solid pick. This is a simple-looking VPN that covers the basics quite well. You get bulletpoof protection for your privacy and a few extra features. Here's what to expect from this VPN app for iPhones.
Supported iOS Versions: Requires iOS 14.0 or later.
User Interface: IPVanish now has a brand-new interface on iOS, simple enough even for inexperienced users. The home screen allows you to connect to servers by picking a country, then a city, and a specific server as well. To check all the available servers, tap 'Locations.' And, of course, the 'Settings' tab lets you pick a different protocol and make a few other adjustments.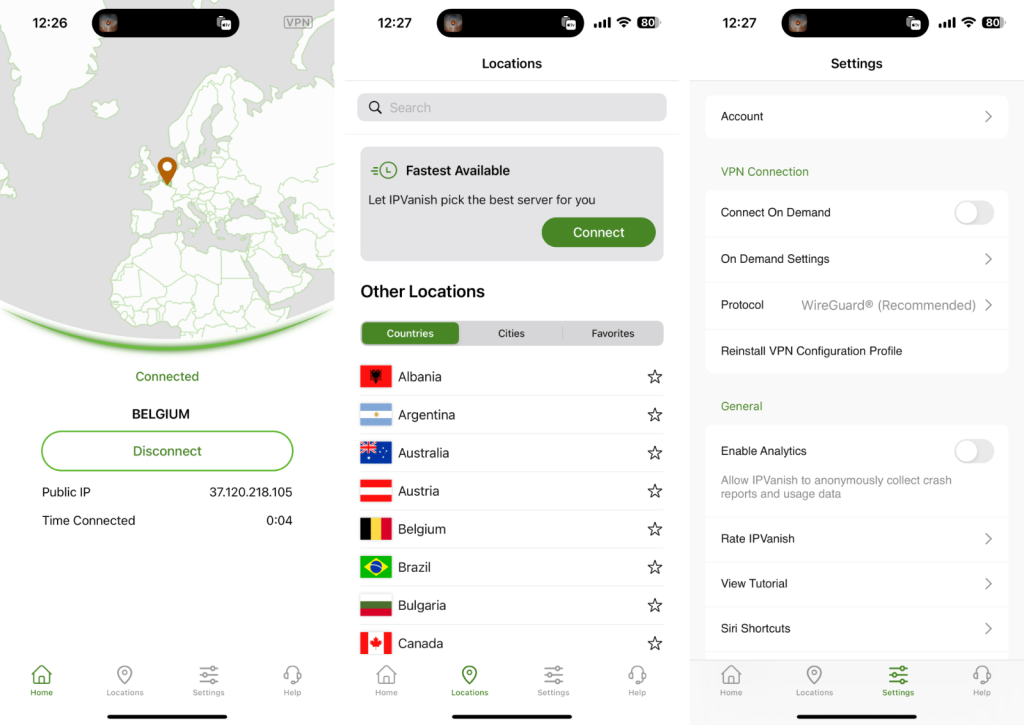 Features: In terms of its features on iOS, IPVanish comes without too many surprises. Aside from creating your custom list of servers, checking real-time stats, and doing some basic fine-tuning, you can also automate the app. By going to Settings > On Demand Settings, you can instruct IPVanish to auto-connect when using cellular, unknown, and known networks. You can even add domains that activate the VPN automatically, which is an excellent addition.
Protocols: IPVanish gives you three protocols on iPhones and iPads, and those are - IKEv2, IPsec, and WireGuard. So, there's a lot you can do to enhance the VPN's performance. And if you decide to use IPVanish on other platforms, you'll also get to use the OpenVPN protocol.
Servers: Even though there are no specialty servers, IPVanish excels when it comes to picking a very specific server (and there are 2,200+ units available right now). You can select a country if you don't care about a specific region. Alternatively, you can pick a city and even an individual server.
Settings: Diving into the settings panel allows you to review your account information, switch to a different protocol, refresh the list of servers, and more. There's also a nice iOS integration allowing you to set up Siri shortcuts (Settings > Siri Shortcuts). However, we have to note that IPVanish doesn't really let you customize your VPN connection in-depth.
Support: Using the IPVanish iOS app, you can search the VPN's knowledge base, submit a ticket, and even chat live with the company's representatives. All of these features will take you to IPVanish's website. In general, this VPN is known for being very quick in responding to its customers, so there's nothing to be worried about.
PROS
Very simple to use.
Basic yet fully-functional UI.
Nice range of VPN protocols.
Real-time VPN connection data.
30-day money-back policy.
CONS
Basic media streaming capabilities.
Relatively small server network.
Here, we have another easy-to-use VPN for iPhones. Called Ivacy, this VPN helps you navigate to the best server by picking a specific online activity. Of course, you'll get to pick a location manually as well as do some basic fine-tuning. Let's dive deeper, shall we?
Supported iOS Versions: Requires iOS 13.0 or later.
User Interface: Ivacy VPN comes with a freshly redesigned interface, which is still very easy to use. Its home screen allows you to connect to all kinds of servers, with different ways to find a server suitable for your needs (for streaming, downloading, or unblocking). You'll also find a stylized hamburger button in the top-left corner, letting you do some basic fine-tuning.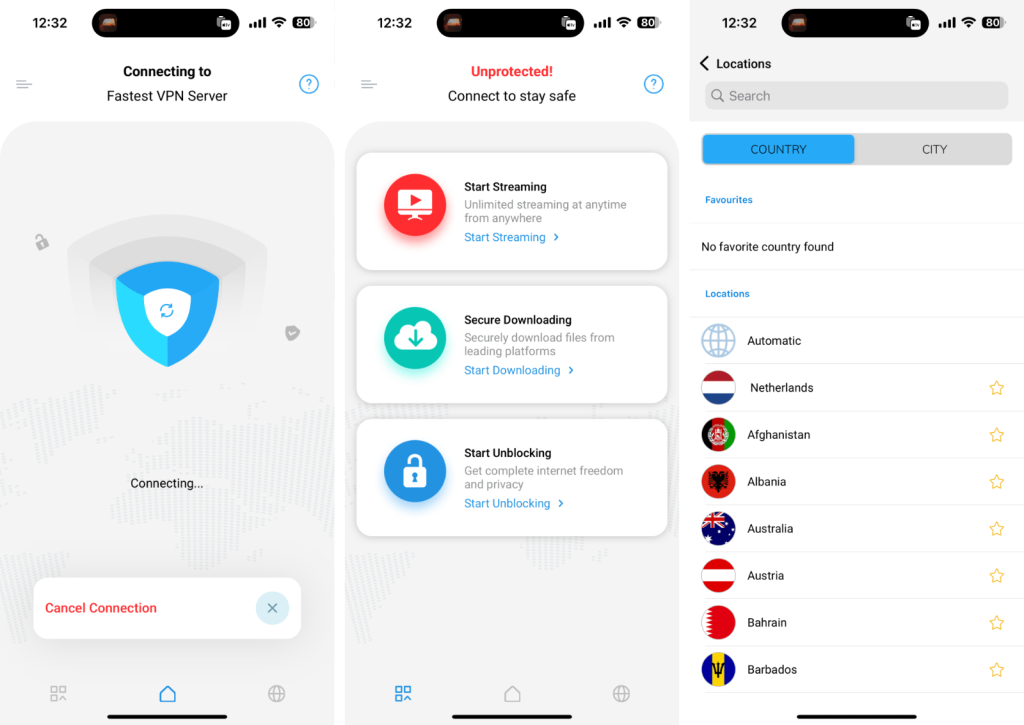 Features: There's only a single advanced feature here. Using the 'On-Demand' feature (Settings > Connect On-Demand), you can set up Ivacy to automatically connect before accessing a certain website or online service, or perhaps leave the VPN enabled all the time. Of course, the basic set of features is present as well. That includes AES-256 encryption, which can ensure your data doesn't leak on the Web.
Protocols: You'll get to use IKEv2, IPSec, OpenVPN, and WireGuard on iOS. In the past, this VPN used to be quite limited on iOS. However, that's no longer the case. It even goes beyond its competitors by offering four solid protocols.
Servers: Ivacy has 3,500+ servers in over 100 countries. However, we must highlight this VPN's specialized servers. There are servers optimized for streaming, downloading files, and avoiding censorship - all of which are available on iOS as well. In terms of streaming, Ivacy helps you unblock Hulu, Netflix US, Prime Video, ITV, ABC, beIN Sports, and dozens more.
Settings: The settings panel of the Ivacy iOS app comes with handy features to fine-tune your user experience and review your account details (Hamburger Button > Account Details). You can switch between protocols (Settings > Advanced), and enable the 'On-Demand' feature (Settings > General). If you ever need help, know that the app's help section is found in the 'Settings' section as well, from where you can send a support ticket.
Support: You'll be happy to know that Ivacy comes with live chat on its website. This is where you'll also find nicely written guides, tutorials, general VPN-related articles, and more. As you can expect, you can also submit support tickets as well.
PROS
Suitable if you have a fast connection.
Suitable for media streaming.
Good pick for beginners.
Easy to use, overall.
30-day money-back policy.
CONS
Can be slow at times.
Sometimes takes a while to connect.
Surfshark is known for its highly optimized interface. That's doesn't only make it a good VPN for iPhones, but also the best VPN for iPads. It can be used for privacy protection, media streaming, unblocking iOS apps, and plenty more. Let's show you what to expect.
Supported iOS Versions: Requires iOS 13.0 or later.
User Interface: Surfshark features a very intuitive interface on iOS. You can use the bottom-placed 'Surfshark' and 'Locations' tabs to connect to a server. The first one lets you connect to the fastest server or the nearest country. And using the second tab, you can pick any server manually. Using these bottom-placed tabs, you can easily switch between servers and different tools, as well as visit the app's settings panel.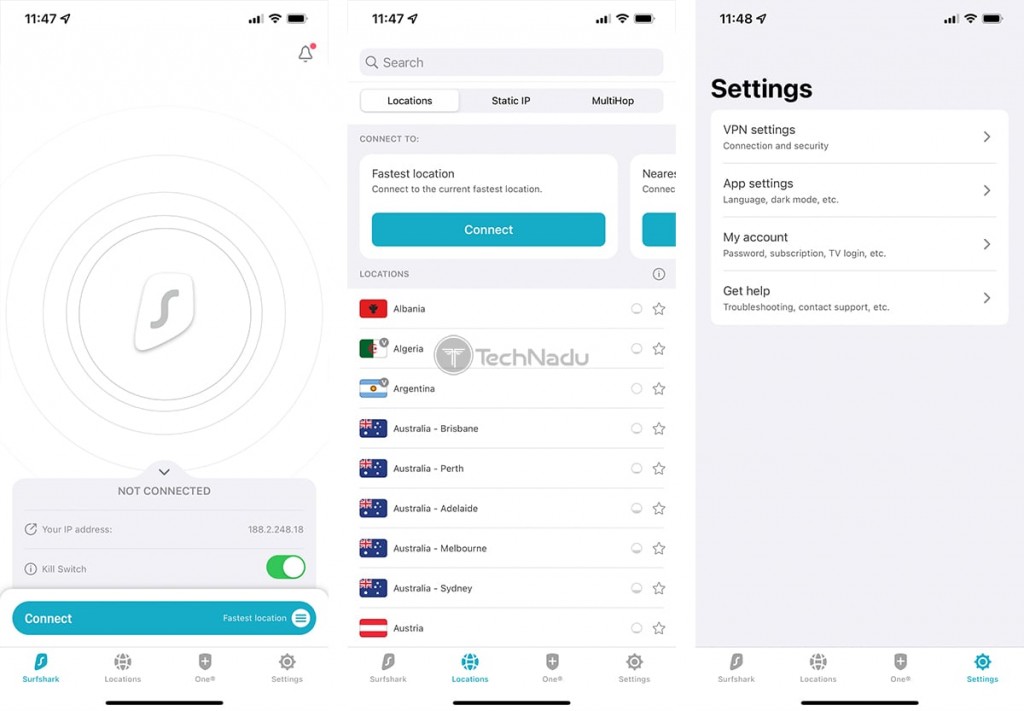 Features: We're happy to report that Surfshark comes with a kill-switch on iOS (found in the Settings tab). Aside from that, a CleanWeb feature blocks ads and trackers. For $1.49/month, you can get a suite of features called 'Surfshark One,' which comes with an antivirus app (not available on iOS), a privacy-friendly Web search tool, and a tool that alerts you if your email gets exposed on the Web.
Protocols: On iOS, Surfshark brings OpenVPN (UDP/TCP), IKEv2, and WireGuard. By default, you'll use WireGuard, which comes with speedy performance and high-end encryption. Still, you can always change that by going to Settings > VPN Settings > Protocol.
Servers: Covering 100 countries and offering 3,200+ servers, this VPN provides plenty of value for its price. All those servers are optimized for P2P and you can use them for media streaming as well. Among specialty servers, you'll find static and multi-hop servers, which are great if you're concerned about your privacy. This VPN also plays nice with streaming platforms like Netflix, Hulu, BBC iPlayer, Amazon Prime Video, and more.
Settings: To fine-tune the app, tap on 'Settings' in the lower-right corner. Then, you can adjust your VPN connection and security by going to 'VPN Settings.' That's where the kill-switch and CleanWeb are enabled. The 'App Settings' section lets you switch to another language, check for updates, and opt for push notifications. And lastly, Surfshark's settings let you review your account details and seek assistance.
Tools: As explained earlier, Surfshark offers two specialty tools - found by tapping on the 'One' tab. We're talking about 'Alert' and 'Search,' which come as premium add-ons (affordably priced, though). These aren't fully integrated with the iOS app, as you'll be redirected to Surfshark's website (which is equally functional).
Support: Aside from offering live chat via its website, Surfshark also lets you create a new support ticket. This VPN has also done a great job of coming up with tutorials, set-up guides, frequently asked questions, and other helpful resources.
PROS
Uniquely designed and polished app.
Plenty of protocols to choose from.
Suitable for media streaming.
Ever-expanding server network.
30-day money-back policy.
CONS
Requires some fine-tuning (easy to do).
Unpredictable performance, at times.
How to Choose the Best VPN for iPhone/iPad?
You can pick the best iPhone/iPad VPN only if you consider and prioritize your needs as a mobile user. You can do that in the following way.
Think about why you need to use a VPN. Very few VPNs are suitable for just about any online activity, which is the case with ExpressVPN. More often than not, you'll find VPNs that are suitable for a certain type of online activities, like streaming, privacy, or P2P. For example, we recommend CyberGhost if you're into streaming. And if you want in-depth fine-tuning and privacy protection, NordVPN does a great job.
Think about which server locations you'll need. To unblock websites, streaming services, and apps available in a particular country, your VPN must offer servers in that country (and more than a single location, preferably). So, don't forget to check each VPN's server network, done by visiting their official websites.
Think about how many devices you'll want to cover. On average, VPN apps help you connect to servers on up to 5 devices at the same time. That's more than enough to protect your iPhone and your iPad as well. However, if you want to protect other devices, make sure to check if you'll get enough simultaneous connections. Also, check if you'll be covered by native software (always a better option than configuring VPNs manually).
Don't forget about the basics. There's no excuse for a VPN to collect your private data. So, go for the best no-logs VPN, even if you're not obsessed with your privacy. And when it comes to iOS, you can count on a VPN with specialized servers, a kill-switch, and the ability to let you change a protocol on the go.
Lastly, don't overlook money-back policies. Investing in a VPN doesn't have to be risky. Any reliable VPN will give you a 30-day money-back policy (at least), so you can test it properly while reserving your right to change your mind (and have your money returned).
What Is a VPN on iPhone?
A VPN is a cyber-security app that you can install on your iPhone and iPad. You can use it to connect to secure servers, which route your Internet traffic using a secure VPN tunnel.
However, keep in mind that not every VPN is the same. They all use different techniques to tunnel your traffic, which affects their performance. The best VPN for iPhones allows you to use the full speed of your connection while encrypting your traffic and giving you the ability to visit geo-restricted websites.
To learn more, we've prepared a dedicated article for you. So, here's more info on what is a VPN on an iPhone, including why do you need one, as well as how to configure it.
Is It Legal and Safe to Use a VPN on iPhone?
Yes, it's perfectly legal to use a VPN on your iPhone - as well as on any other device. They protect your right to privacy, and they're both legal and safe to use.
Keep in mind that there are a few countries where VPNs are illegal, so it's better to stay away from VPNs in those countries. If you live elsewhere, there's no obstacle to using VPNs.
What Does a VPN Do on iPhone?
A capable iPhone VPN app helps protect your privacy, secure your Web connection, and lets you unblock new apps and websites. Find more info just below.
VPNs protect your privacy. By obfuscating your IP address (replacing it with a new one) and encrypting your data, a VPN helps prevent digital trackers from working. In other words, you'll use the Web in a much safer and privacy-friendly way.
VPNs secure any Web connection. We tend to connect to all kinds of Web networks and connections when using our iPhones. That includes mobile networks (supervised and filtered by your mobile carrier) and public Wi-Fi networks (known for their vulnerabilities). A VPN helps you secure any type of Web connection on your iPhone.
VPNs let you unblock websites and avoid censorship. Do you live in a country where the flow of information is regulated? Or perhaps you want to access a website that's not yet available in your country? Well, both of those things are possible when you use a VPN.
VPNs let you unblock new streaming apps. If you like to stream media on your iPhone, know that VPNs unblock new types of streaming apps (even those that are not available in your country). Also, a reliable VPN helps you get more movies on Netflix. To learn more, check our guide to the best VPN for streaming.
If you wish to expand your knowledge on this topic, here's why you should use a VPN. We've explained 7 different reasons there, and they all apply to iPhone VPNs as well.
What an iPhone VPN Doesn't Do?
A VPN for iPhones and iPads can't change any details about your Apple ID, and it's also not capable of hiding your GPS data. Keep on reading to learn more.
iPhone VPNs can't change your Apple ID country. To download apps not available in your country, you must create a new Apple ID and set it to your desired region/country. So, even though a VPN can't unblock different versions of the iOS App Store, you can do that manually. After that, a VPN will make those apps work (once you install and launch them, that is).
iPhone VPNs can't change your GPS data. Using a VPN to hide your IP address will be enough to trick most iOS apps into thinking you're somewhere else. That's how you can bypass geo-restrictions. However, a VPN can't change your GPS data (which is possible only on rooted Android devices, by the way). So, if an app relies on your GPS to determine your location, there'll be nothing you can do to obfuscate that information.
Since there are many misconceptions about VPNs out there, we made sure to produce our guide on what a VPN doesn't do. Use the provided link to learn more.
Do I Really Need a VPN for My iPhone/iPad?
Yes, you absolutely need a VPN for your iPhone and iPad. There are many reasons for that, so let's explain some of the most prominent ones.
Does My iOS Device Have a VPN Built-In?
No, your iPhone doesn't come with a VPN built-in. However, you're free to pick any VPN out there and set it up on your iPhone manually.
Once you open the Settings app on your phone, you'll see a menu item labeled 'VPN.' Still, that's not a built-in VPN. Instead, that menu item helps you add VPN connections manually. And once you install a third-party VPN app on your iPhone, the Settings app will list those connections as well (so you can have an overview of what's happening on your phone).
So, even though your iPhone gives you an option to set up a VPN, it doesn't come with a VPN app built-in. Instead, you have a framework for setting up new VPN connections.
What to Look For in an iOS VPN?
With so many different VPNs out there, it can be hard to find the best VPN for iPhones and iPads. However, we're here to help you out. Let's talk about the essential requirements when choosing a VPN for iOS.
Capable iOS VPN Protocols: You'll see that VPNs advertise a range of VPN protocols. Due to the constraints of Apple's iOS system, you usually won't get to use all of those. So, pay attention to what your chosen VPN brings on iOS (you'll want to use WireGuard, OpenVPN, IKEv2, or IPSec).
No Data Logging: If privacy is the reason you want a VPN, go for a VPN app with a "no logs" policy. In many cases, you'll find independent audits to prove those claims. Checking a VPN's background should also do the job of avoiding potential security risks in the future.
Plenty of Servers: To get the best possible speed, you'll want to connect to a server in your country (or nearby). VPNs that have plenty of servers usually come with better performance, giving you plenty of options to connect.
Polished & Up-to-Date VPN Apps: Once you narrow down your selection of VPNs, head over to the iOS App Store. Check their ratings, their update frequency, and what other users are saying. You'll want a VPN offering an often-updated app, showing that it cares about its subscribers' privacy.
Reliable Customer Support: Finally, don't overlook the importance of customer support. Reputable VPNs offer 24/7 live-chat functionality via their websites, so you don't have to wait in case you encounter a problem with your VPN.
How To Set Up a VPN on iPhone and iPad?
The simplest way to set up an iOS app is to download it from the App Store. You can also set up a VPN manually by going to Settings > VPN.
To connect to a VPN server (once you set up your VPN, that is), you can either use your VPN's iOS app or go to Settings > VPN. This is where you'll see a list of servers that are at your disposal. Wait a couple of seconds until you're connected to the VPN.
If you need step-by-step instructions on how to set up a VPN on iOS, make sure to use the provided link to visit our dedicated guide (with screenshots included). Also, learn how to use a VPN to change your location on your iPhone.
What to Do If Your VPN Doesn't Work on iPhone?
If your iPhone VPN app is giving you a hard time, there's a group of troubleshooting steps you can take. Keep on reading, as you'll find them just below.
Try a Different Server & Protocol: VPN servers are under a lot of pressure as they're used by many individuals at once. So, try to connect to a different server. And also, you'll want to switch to a different VPN protocol, done by visiting your VPN app's settings. Remember that each time you change a protocol, you need to try a different server.
Ensure Your VPN is Up-to-Date: Every reputable VPN brings regular updates, resolving bugs and improving performance along the way. With that said, visit the iOS App Store and tap on your profile icon (in the top-right corner). A new window will open, which you can refresh by pulling from the top. That will force your iPhone to check for updates.
Restart Your Online Equipment: A number of technical issues can be resolved by restarting your router. Unplug it, and then wait around 30 seconds. Plug it back in and give it a couple of minutes until it boots up. Once you connect to the Web, try using your VPN again.
If you want a more detailed explanation, we have a guide that explains why your VPN doesn't work. So, click the provided link to get additional tips.
Can I Use a Free VPN for iPhone?
Yes, you can use a free VPN app for iPhone. However, free VPNs always come with tons of limitations. 
Most importantly, free VPNs are usually less safe than paid VPNs. Many don't come with a kill switch, don't give you multiple protocols, and have weaker data leak protection. 
What's even worse is many don't protect your privacy and some compromise it. They might not have a no-logs policy and those VPNs often collect and sell your data to make money.
Most free VPNs also have bandwidth restrictions that won't let you stream for more than a few hours. Not to mention, they have fewer servers, offer fewer simultaneous connections, and they're typically not effective at unblocking streaming platforms and websites. 
Overall, using a free VPN isn't recommended since they can cause you more harm than good. 
Final Thoughts
The best VPN for iPhone must offer strong security features and respect your privacy. VPNs also let you connect from multiple devices, unblock tons of streaming apps with a wide server network, and come with money-back guarantees.
We recommend ExpressVPN for all iPhone & iPad users since it performed the best in every category during our tests. It's also compatible with many devices and offers lightning-fast speeds. Plus, it's super easy to get a refund if it's not for you. So, it comes risk-free.
FAQ
What Is the Best VPN for iPhone?
The best VPN for iPhone is ExpressVPN. It's compatible with iPhones and iPads. Plus, it offers a great server network and lightning-fast speeds that are excellent for streaming.
Is a VPN Safe for iPhone?
Yes, it's safe to use a VPN with your iPhone as long as you choose the right one. All the VPNs on our list are safe to install, have trustworthy no-logging policies, and can protect all the data on your device.
Does ExpressVPN Work on iPhone?
Yes, ExpressVPN works on iPhones. It comes with a native app, so you can set up ExpressVPN on iOS with a few simple taps.
Does NordVPN Work on iPhone?
Yes, NordVPN works on iPhones. You can easily set up NordVPN on iOS and start using it in a matter of minutes.
That's all for our guide on the best VPN for iPhones and iPads. If you have any questions, make sure to post your comment just below. Thank you for reading!