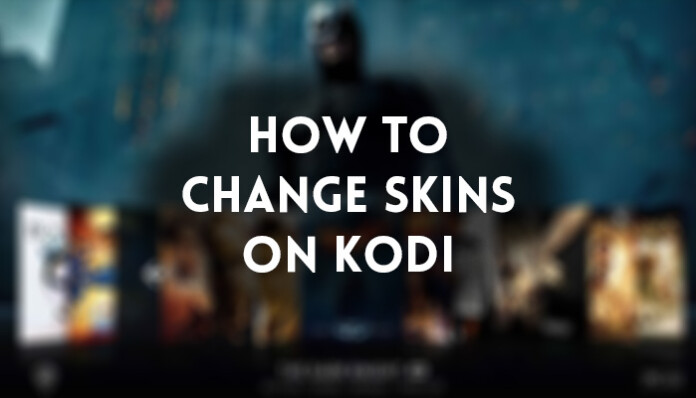 One of the things we like the best about Kodi is its customization. Many of us will agree that Kodi looks amazing on its own. The latest major version of Kodi brings a highly polished interface that is also very intuitive to use. However, you would be wasting a part of Kodi if you didn't try to customize it. So, let's take a look at how to change skins on Kodi.
Change Skins on Kodi – The Basics
Every major version of Kodi brings a new skin, by default. In the case of Kodi 17, this skin is called Estuary. You'll recognize it by its black and blue color and various hues of these two colors. Also, you will see that Kodi's main menu is placed on the left side of the screen. In case you don't like this setup, there are lots that can be done to change it.
What Can a Kodi Skin Do?
What is important to understand is that skins don't just add another layer of paint over Kodi. Instead, they can the power to completely change the way this application looks and behaves. By installing a new skin, you can change the position of the start menu as well as how different items are displayed. On top of that, it's incredibly easy to learn how to change skins on Kodi. Finally, they are completely free of charge.
How to Change Skins on Kodi – Instructions
We will assume that you're an inexperienced Kodi user. This is why our guide will be very detailed in an effort for you to understand what it takes to get the job done. So, let's get started.
Open Kodi and you will be greeted by its Home Screen;
Click on the gear icon, located in the top-left corner. You will find it just below the application's logo;
Welcome to Kodi's Settings! Click on 'Interface Settings';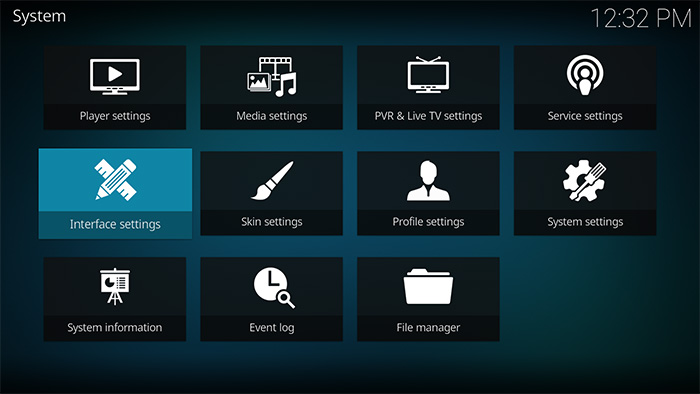 Make sure to select 'Skin' in the left-placed sidebar;
Next, select 'Skin' on the right side of the screen;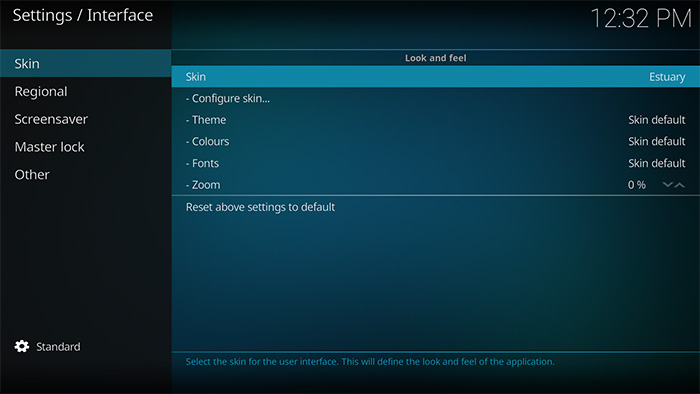 A new pop-up will be shown. This is where you can pick from different skins that are already installed on Kodi. For now, click on the 'Get More' button;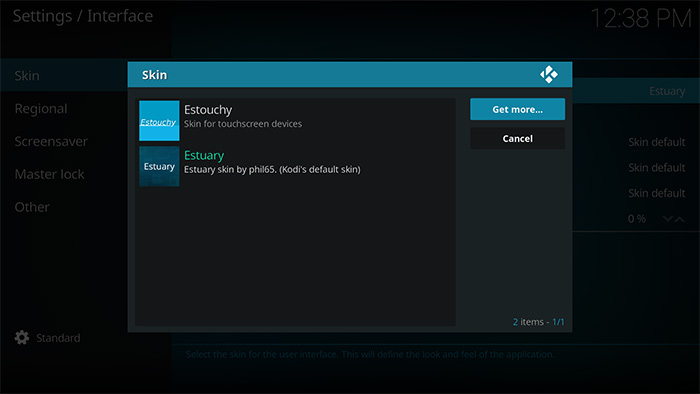 At this moment, you should see a list of available skins. If you click on any of these, they will be automatically downloaded and applied. So, pick one and you'll see a new window indicating the download process;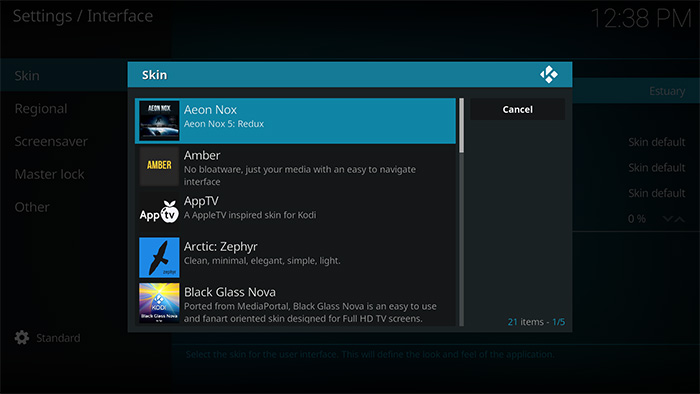 In certain situations, dependencies might need to be installed. You don't have to worry about that since this will happen automatically;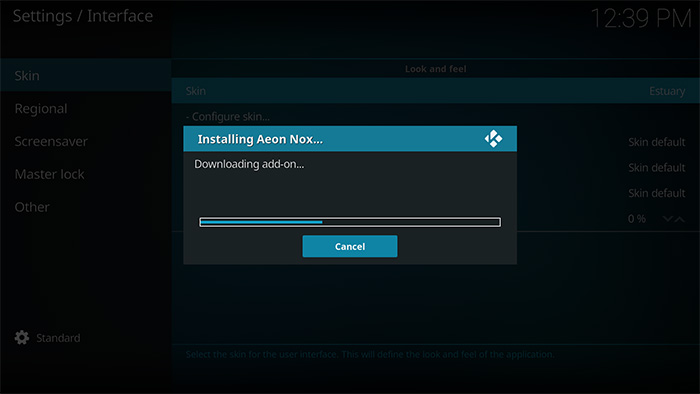 Once installed, Kodi will ask whether you'd like to keep using the selected skin.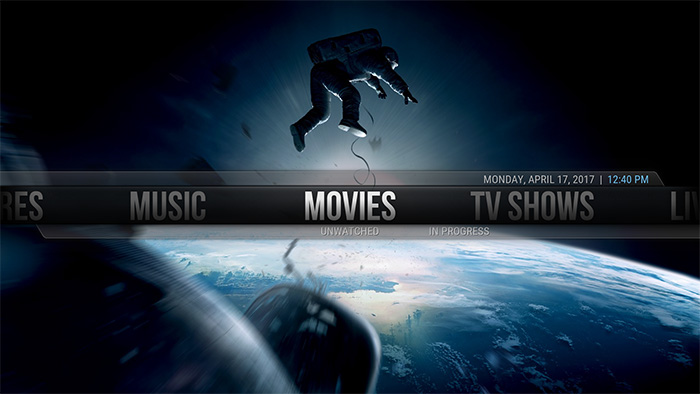 That's it! You've downloaded a new skin and applied it. If you decide to go return to the previous skin, you need to repeat this process. It's also important to say that downloaded skins will remain downloaded on your Kodi. This means that you can switch between different skins even without having the Internet connection.
How to Change Skins on Kodi (Using a ZIP file)
By default, Kodi brings a large selection of skins. All of these can be accessed by going to the application's Settings and repeating the guide found above. However, you can also find skins for Kodi at various websites or Kodi's official forum. Since they come as a ZIP file, you need to use a different installation method. So, let's take a look at how to change skins on Kodi using a ZIP file.
Make sure to download a skin and to keep it in the ZIP file format;
In addition, make sure that your Kodi accepts files from unknown sources. Use the provided list to read our quick and easy guide.
Now open Kodi and click on 'Add-ons' in the main menu;
Next, click on the open box icon in the top-left corner;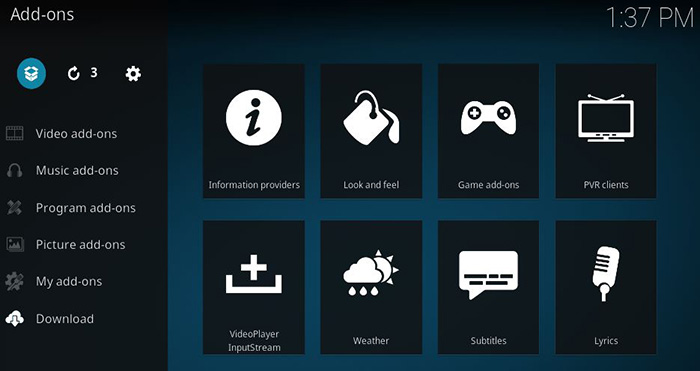 Select 'Install from ZIP file';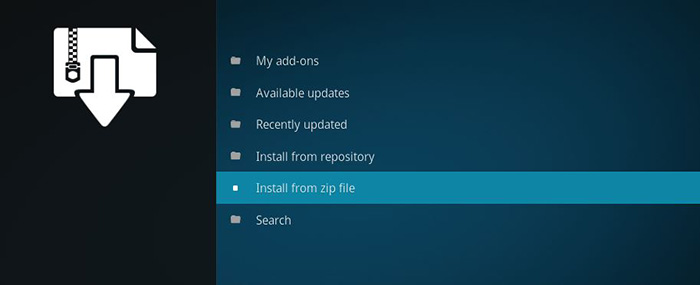 A pop-up will appear. You need to navigate to the location of the ZIP file. Let's say that the files you download from the Web are saved to your desktop. If that's the case, you need to go to C: > Users > Your Username > Desktop;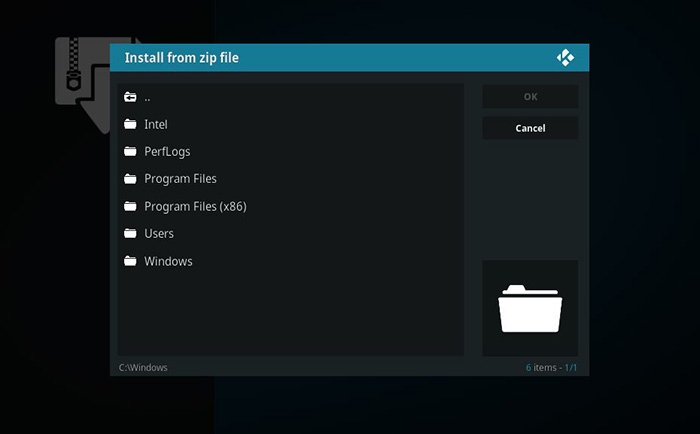 Once you find the ZIP file, click on it;
Wait a few moments and your new skin will be installed.
After a few moments, your new skin should be installed on Kodi. Here's how to find it:
Click on 'Add-ons' in the main menu of Kodi;
Now click on 'My Add-ons' on the left side of the screen;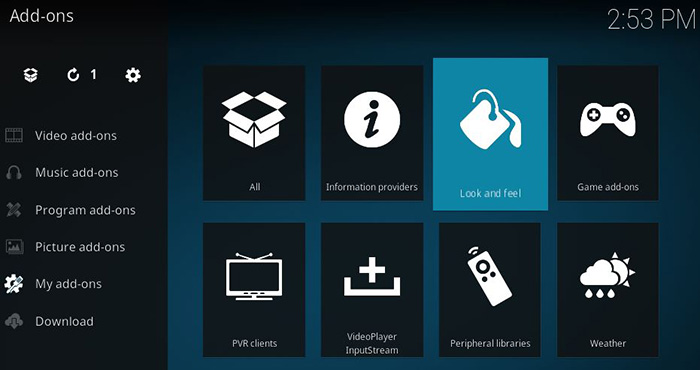 On the right-hand side, click on 'Look and Feel';
Finally, click on 'Skin' and your new skin should be located there.
Additional Resources: What's Next?
So, now you know how to change skins on Kodi. However, the question is which one to pick? There are a lot of amazing options out there, and we don't want to leave you hanging. So, allow us to provide some helpful recommendations.
Here's our overview of the very best Kodi skins. This is where you can find an up-to-date selection of skins. You can install them using the first method explained in this article;
Final Words
We hope you've found this article to be useful and that you've learned how to change skins of Kodi. Without any doubt, we are sure you'll spend quite a lot of time trying out different skins. In case of any additional questions, don't hesitate to contact us. You can use the comments section below to post a comment and we'll respond in a timely manner.
If you think other users of Kodi might benefit from reading this article, don't hesitate to share it via social networks. We're sure many users aren't aware of this amazing feature, so why not let them know that they can easily change Kodi skins.