Without any doubt, the best VPN for Disney Plus will help you unblock this streaming service from anywhere while also giving you access to more movies and TV shows. However, know that Disney isn't a big fan of VPNs, which is why it actively blocks them. With that said, we'll show you which ones unblock this streaming service with ease every single time.
Before we go any further, there's something important for you to keep in mind. We've produced this article after having tested 60+ VPN services. And yes, we've tried each of those with Disney Plus as well (alongside other streaming services). Therefore, we guarantee that the following picks will give you precisely what you need.
Still, to get the best possible experience, make sure to read this entire article very carefully. And with that said, let's show you all there's to know about Disney Plus and VPNs.
How to Choose the Best VPN for Disney Plus?
It looks like there are countless VPNs out there, promising to bring the very best features. However, don't get swayed by those marketing messages. Here's what to look for in a VPN when searching for one that's capable of unblocking Disney Plus.
Compatibility With Disney Plus: Right now, you won't find too many VPNs that can access Disney+ without any problems. So, either rely on hands-on reviews or contact each VPN to ask whether they work with this streaming platform.
Cross-Platform Compatibility: The best VPN for Disney Plus should be compatible with computers, handheld devices, and media streaming devices. If you want to watch Disney+ on your TV, you should also consider installing a VPN on a router.
Sizeable Network of Servers: VPNs with plenty of servers tend to throttle your Web connection in the least noticeable way. When it comes to streaming, you'll want your Internet connection to be as fast as possible, so this is why choosing a VPN with thousands of servers is always a good idea.
Supported VPN Protocols: Speaking of performance, VPNs come with several protocols that you can fine-tune to your liking. You should always pick a VPN that comes with OpenVPN, as this is the most secure protocol available. However, to get the best possible speed, you should also look for protocols like IKEv2 and WireGuard.
Money-Back Guarantees: Finally, you'll be happy to know that VPNs offer money-back guarantees of up to 45 days in some cases. It means that buying a VPN is a risk-free investment.
With that said, let's talk about the best VPN options you have (based on our hands-on testing). So, keep on reading.
Best Disney Plus VPNs
After testing dozens of VPNs, we believe we know which ones will make you happy. With this said, here are the 5 best VPNs to watch Disney Plus from anywhere.
1. ExpressVPN - Top-Recommended VPN for Disney+
| | |
| --- | --- |
| Encryption & VPN Protocols | AES-256; OpenVPN, Lightway, L2TP/IPSec, PPTP |
| Unblocks Disney+ Website | YES |
| Unblocks Disney+ Apps | YES (Fire TV, Android TV, iOS, iPadOS, and more) |
| Money-Back Guarantee | Up to 30 days |
We strongly believe that the best Disney Plus VPN is ExpressVPN. After spending plenty of time testing a large number of VPNs, we think there's no better option than this one. It comes with pretty much everything you need to protect your online privacy and unblock different types of websites as well.
In terms of safeguarding your private data, you can count on AES-256 encryption and an excellent range of secure VPN protocols. However, all this technology can be used to unblock even some of the most notorious anti-VPN websites, like Netflix, Hulu, and similar. In fact, you'll have a tough time finding a streaming service that doesn't work with ExpressVPN.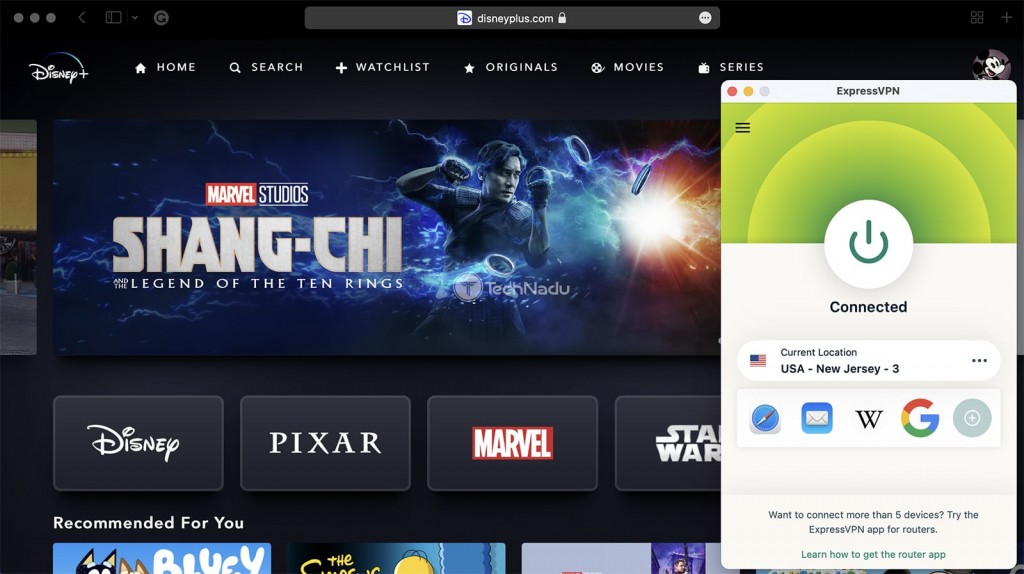 This VPN works on more than 60+ devices (here's how to set up ExpressVPN), which means you'll get to unblock Disney Plus on any platform. When it comes to devices that don't support VPNs (like game consoles, for example), this VPN offers something called 'MediaStreamer,' which lets you configure the VPN using your device's settings.
We also have to praise ExpressVPN's performance. It has more than 3,000 servers, so you'll get plenty of options to find a server bringing fast and smooth performance. And if you dive into its settings, you'll get to change between different protocols. All of that should be more than enough to let you stream Disney Plus even in 4K.
We are sure you'll want to read more about this VPN, and we recommend you visit our hands-on ExpressVPN review.
PROS
Perfectly suitable for streaming.
Works with Disney+ without a hitch.
Supports many other streaming services.
Easy to set up and use.
Allows up to 5 simultaneous connections.
Helpful and responsive customer support.
CONS
Very fast, but not the fastest.
2. NordVPN - Best for Tinkering & Customization
| | |
| --- | --- |
| Encryption & VPN Protocols | AES-256; OpenVPN, IKEv2/IPSec, NordLynx |
| Unblocks Disney+ Website | YES |
| Unblocks Disney+ Apps | YES (Fire TV, Android TV, iOS, iPadOS, and more) |
| Money-Back Guarantee | Up to 30 days |
NordVPN has been available for many years now, helping millions of individuals secure their Web connections and do more on the Web. With NordVPN, you get online privacy protection and website unblocking, all wrapped up into a single package.
One of the notable things about NordVPN is its platform compatibility. It even comes with apps for media streaming devices, which is helpful if you plan on watching Disney+ on Fire TV streamers. And when it comes to devices that don't let you run VPNs, NordVPN offers a Smart DNS service (that works with Disney+, Netflix, and Prime Video).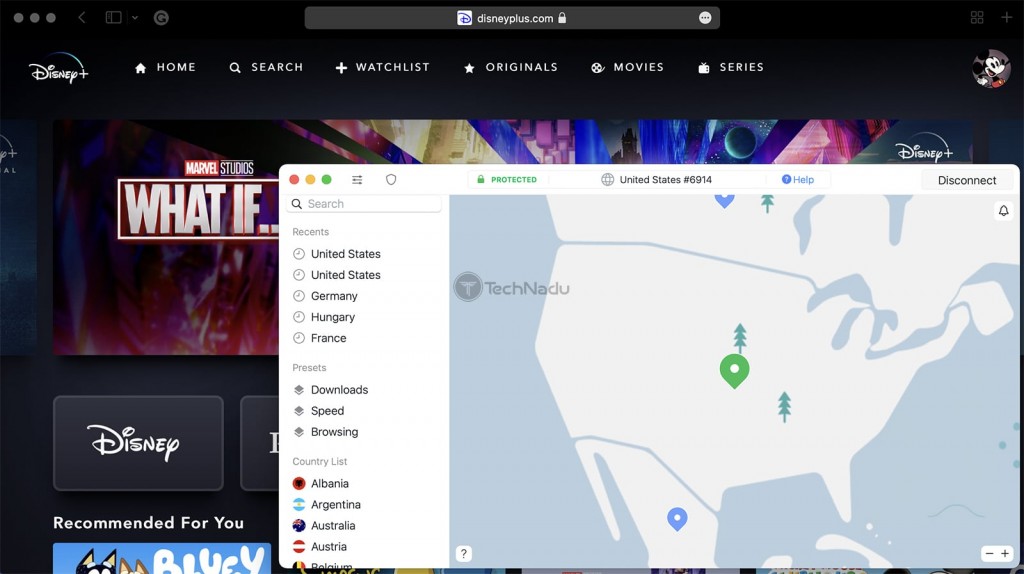 You'll get more than 5,000 servers, so there's truly plenty to choose from. Then, NordVPN helps you unblock other media streaming websites as well, without having to pay extra for 'steaming IP addresses.' And another welcome thing is that a single subscription lets you use NordVPN on up to six devices at once.
We'll also add that NordVPN is perfectly suitable for beginners. However, since it gives you an in-depth list of customizable options, more advanced users are going to love it. So, those looking to optimize and fine-tune their VPN connections should feel right at home.
If you're intrigued by this VPN, make sure to read our NordVPN review. That is where you'll find all the information to help you make up your mind before getting the best VPN to watch Disney Plus from anywhere.
PROS
Highly polished software.
Available on plenty of platforms.
High-end security features.
Very suitable for media streaming.
Comes with a Smart DNS feature.
Helpful and responsive customer support.
CONS
Requires some fine-tuning.
Sometimes takes a while to connect.
3. CyberGhost VPN - Best for Unblocking Streaming Apps
| | |
| --- | --- |
| Encryption & VPN Protocols | AES-256; OpenVPN, IKEv2, WireGuard |
| Unblocks Disney+ Website | YES |
| Unblocks Disney+ Apps | YES (Fire TV, Android TV, iOS, iPadOS, and more) |
| Money-Back Guarantee | Up to 45 days |
Next, we have another strong contender. Called CyberGhost, this VPN comes from Romania. It's known for its ease of use and its capable set of features. More importantly, CyberGhost VPN does not collect your private data (just like our other recommendations), which means that it helps you become fully anonymous online.
In terms of its media streaming capabilities, this VPN is one of the best ones you can get. It can unblock a long list of websites, both international and local. Of course, Disney+ is on this list as well. Also, it comes with servers in around 90 countries, so you'll soon be able to check out different versions of this media streaming service as well.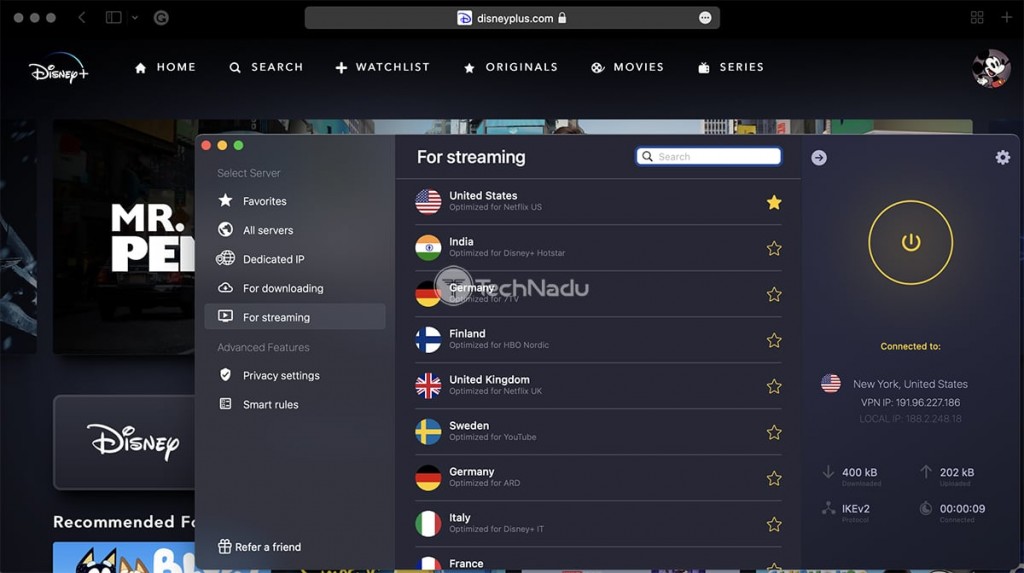 CyberGhost also has a range of native apps for desktop and mobile platforms, and it's also available as an app for media streaming devices. However, even though CyberGhost VPN offers a Smart DNS feature (which you can use on smart TVs and game consoles), it only unblocks Netflix and Hulu that way. So, for Disney Plus, you'll need to rely on native apps.
Also, keep in mind that CyberGhost VPN can be a speedy solution - but only if you dive into its settings. We recommend using WireGuard and IKEv2, both of which should be able to unblock Disney Plus. The same applies to OpenVPN, but those connections can be somewhat slow, especially when connecting to remote servers.
Plenty could be said about this VPN, as well as why it's one of the best VPNs for streaming Disney Plus. However, we'll leave you to our CyberGhost VPN review for that kind of information.
PROS
Provides strong VPN protocols.
Plenty of fine-tuning available.
Supports up to 7 connections.
Highly suitable for media streaming.
Generous money-back policy.
CONS
Remote connections can be slow.
You need to fine-tune this VPN.
4. Ivacy VPN - Best Budget-Friendly VPN
| | |
| --- | --- |
| Encryption & VPN Protocols | AES-256; OpenVPN, IKEv2, L2TP, IPsec, PPTP, SSTP |
| Unblocks Disney+ Website | YES |
| Unblocks Disney+ Apps | YES (Fire TV, Android TV, iOS, iPadOS, and more) |
| Money-Back Guarantee | Up to 30 days |
As we continue to explore the best VPNs for Disney Plus, we must not forget to mention Ivacy VPN. It is a Singapore-based VPN that's also one of the most respected options right now. Ivacy VPN might not have the same set of ingenious features that other VPNs offer, but it presents a compelling offer for average home users.
Upon testing Ivacy, we managed to unblock quite a few media streaming websites, both worldwide-known and local. No matter if you want to stream Disney Plus or some other media streaming service, you'll be covered more than well. Also, let's not forget to mention that Ivacy offers attractive deals often, so you'll want to check what's available right now.
Like other VPNs on this list, Ivacy has a range of native apps. Still, it comes without a Smart DNS proxy feature. So, to get this VPN on devices that don't support VPNs natively, you're forced to install it on a router (which can be somewhat complicated).
We should also mention that Ivacy's remote connections can be slow. However, that issue can be bypassed by trying out different protocols (this VPN offers a whole range of those) and servers (you get 3,500+ servers). So, even though Ivacy has some downsides, they're not as severe and can be alleviated if you put in some effort.
Before you reach the final decision, you'll want to check our Ivacy VPN review – where we talk about its both strong and weak sides.
PROS
A fully-automated VPN solution.
Plenty of servers optimized for streaming.
Unblocks a number of websites.
More than 3,500 servers.
Plenty of protocols to choose from.
CONS
Unpredictable performance, at times.
Smart DNS isn't on offer.
5. Surfshark VPN - Best VPN for Mobile-First Users
| | |
| --- | --- |
| Encryption & VPN Protocols | AES-256; OpenVPN, IKEv2, WireGuard |
| Unblocks Disney+ Website | YES |
| Unblocks Disney+ Apps | YES (Fire TV, Android TV, iOS, iPadOS, and more) |
| Money-Back Guarantee | Up to 30 days |
It's interesting to note that Surfshark isn't as known as other VPNs found on this list. That's because this is a relatively new VPN, but we predict that it'll soon become one of the most popular. Considering that you can use it to unblock Disney Plus in addition to a large number of other websites, it seems like a good idea to recommend it.
Surfshark delivers both in terms of protecting your privacy and website unblocking. There's a robust set of security-related features, along with the highest level of encryption that's commercially available.
You also get a no-logs policy, an unlimited number of connections, and a considerable amount of applications for all kinds of platforms. It also comes with a Smart DNS feature that's really easy to set up and use. All of that comes at an unbeatable price, which overall creates an incredibly compelling offer.
Let's not forget that Surfshark is one of the fastest VPNs out there, based on our tests. And since it has different VPN protocols that you can instantly switch between, you can do a lot to optimize its performance. With that said, streaming Disney Plus in 4K seems like an easy task for this capable VPN.
We've spent quite some time testing this VPN solution. Therefore, you'll want to take a peek at our Surfshark VPN review to get additional info.
PROS
Can be fully-automated.
Great even for first-time users.
Highly suitable for media streaming.
Unblocks Disney+ with ease.
Fast and reliable performance.
Responsive customer support.
CONS
Needs some fine-tuning for best speeds.
Sometimes takes a while to connect.
Do You Really Need a VPN for Disney Plus?
Yes, you need a VPN for Disney Plus for two possible reasons - if you want to unblock the streaming service or access another Disney Plus library.
Even though Disney Plus is now available in a range of countries (it used to be available only in the US for a while), it's still not available in the entire world. So, if you're in a country that doesn't have access to Disney Plus, a VPN is your only option to unblock it.
And also, a VPN is helpful if you're already a Disney+ subscriber. Like other streaming services, this one also offers country-based libraries, which means that each country has access to its own library, based on Disney's licensing deals. A VPN lets you bypass geo-restrictions, which means that you can use your existing subscription to reach more movies and TV shows.
Which Countries Is Disney Plus Available In?
At the moment, Disney Plus is available in many countries around the world, including the entire North and South America, as well as parts of Europe, Asia, and Africa.
More precisely, you can watch Disney Plus in the USA, Canada, Australia, and New Zealand. Then, a group of European countries got access to Disney Plus in March 2020. That included the UK, Ireland, Germany, Italy, Spain, Austria, Switzerland, and France. In April 2020, Disney Plus launched in India as well.
Throughout 2021, this media streaming service reached Asia, including countries like Japan, South Korea, Hong Kong, and plenty more. Take a look below for a more comprehensive overview of where Disney Plus is available and its future plans.
Disney+ Worldwide Availability
Release Date
Country/Territory
November 2019
Canada
Netherlands
United States
Australia
New Zealand
Puerto Rico
March 2020
Austria
Germany
Ireland
Italy
Spain
Switzerland
United Kingdom
April 2020
Channel Islands
Isle of Man
India
France
Monaco
Wallis and Futuna
New Caledonia
French West Indies
French Guiana
June 2020
Japan
September 2020
Indonesia
Belgium
Denmark
Finland
Greenland
Iceland
Luxembourg
Norway
Portugal
Sweden
October 2020
Reunion
Mayotte
Mauritius
November 2020
Argentina
Bolivia
Brazil
Caribbean
Chile
Colombia
Costa Rica
Ecuador
El Salvador
Guatemala
Honduras
Mexico
Nicaragua
Panama
Paraguay
Peru
Uruguay
Venezuela
February 2021
Singapore
June 2021
Malaysia
Thailand
November 2021
South Korea
Taiwan
Hong Kong
Early 2022
Philippines
Vietnam
Summer 2022
Andorra
Bulgaria
Czech Republic
Greece
Hungary
Israel
Lichtenstein
Poland
Romania
Serbia
Slovakia
South Africa
Turkey
Which Country Has the Largest Disney Plus Library?
At the moment, you'll find the biggest Disney Plus library in India, where the streaming service has partnered with Hotstar (bringing local content as well).
Then, countries like Australia, New Zealand, Canada, and Singapore are right at the top, all of which have more than 2,000 titles (each, of course). Check just below for an in-depth look at the top 10 countries with the most extensive Disney Plus libraries.
Top 10 Disney+ Content Libraries
| | | | | | |
| --- | --- | --- | --- | --- | --- |
| Rank | Country | Total Titles | Movies | TV Shows | Shorts |
| #1 | India | 3,400+ | N/A | N/A | N/A |
| #2 | Australia | 2,100+ | 1,380 | 548 | 193 |
| #3 | New Zealand | 2,100+ | 1,380 | 547 | 193 |
| #4 | Canada | 2,000+ | 1,370 | 523 | 192 |
| #5 | Singapore | 2,000+ | 1,286 | 532 | 192 |
| #6 | Ireland | 1,900+ | 1,254 | 487 | 190 |
| #7 | United Kingdom | 1,900+ | 1,253 | 487 | 190 |
| #8 | Austria | 1,900+ | 1,309 | 426 | 182 |
| #9 | Germany | 1,900+ | 1,309 | 425 | 182 |
| #10 | Switzerland | 1,900+ | 1,299 | 423 | 181 |
You might also wonder how does the US library compare, right? Well, Disney Plus' US library has around 1,400+ titles. Other libraries have managed to gather more content as Disney Plus has partners around the world providing local content as well.
Can You Watch Disney Plus from Anywhere?
At the moment, you can watch Disney Plus from 60+ countries and territories. So, you can't exactly access and watch it from anywhere.
Of course, that applies only to those who aren't subscribed to a VPN service. Once you add a VPN to your workflow, you'll get to access Disney Plus from anywhere. All of the VPNs featured above let you watch the US version of the media streaming service from practically any device you might use from any country out there.
To learn more, here's our in-depth guide on how to watch Disney Plus outside the US.
Does Disney Plus Work with VPN?
Yes, the only way to unblock Disney+ is by using a VPN service. That's because VPNs have a safe way to change your IP address so that it appears as if you're in a different country.
On top of that, they channel your Internet traffic via an encrypted tunnel, which is how VPNs can unblock websites and platforms such as Disney+.
Aside from unblocking websites, VPNs have other uses as well. They help secure your online anonymity, hide everything you do online, and make sure no one tracks your whereabouts. We live in a world where private information has a high value, which means that you need to do all you can to protect it.
What Can I Watch with a Disney+ VPN?
Since VPNs help you unblock the US library of Disney+, you'll get to watch content available in the United States and its associated territories.
In the United States, Disney Plus brings a combination of content produced by Disney, Pixar, Marvel, Star Wars, and National Geographic. So, no matter if you're after children-friendly content, documentaries, or sci-fi, Disney Plus should meet your needs just fine.
When it comes to some of the most popular Disney+ titles at the moment, you can check out Hawkeye, The Falcon and the Winter Soldier, Loki, various Star Wars movies, and more.
Does Disney+ Block VPNs?
Yes, just like other media streaming services, Disney Plus is trying to block VPN apps as a way to respect its licensing deals.
We all know that Disney is one of the most recognizable companies around the world. So, it doesn't come as a surprise that Disney has numerous existing deals with all kinds of content providers out there. That's why every country has a different Disney Plus library, as third parties might still have exclusive rights to some titles.
That's also the reason why Disney Plus has to block VPN services. Since it's legally obliged to serve country-based libraries, it's also forced to stop people from other territories from accessing the content they shouldn't be able to watch.
With that said, know that you'll need a very capable VPN, as not many of them still work. Our guide to the best VPNs for Disney Plus is done after hands-on testing, so rest assured that you won't make a mistake no matter which VPN from this article you pick.
Is It Legal and Safe to Use a VPN for Streaming Disney Plus?
Yes, it's both legal and safe to use a VPN to stream Disney Plus. You only have to worry about using a VPN capable of unblocking this streaming service.
Across the world, VPNs are legal to use, as they protect your right to privacy (except in a small group of countries). So, Disney can't force you to stop using your VPN (as VPNs are utilized for more than media streaming) - but it can implement geo-restrictions to prevent your access.
Still, you need to know that using a VPN might be against Disney Plus' terms of service, as you're not allowed to "alter" your access to the streaming service in any way. Still, there's no chance of you getting into trouble, as even if Disney Plus detects you are using a VPN, all you'll see is a temporary geo-block error (until your turn off your VPN).
How to Watch Disney Plus with a VPN?
It's quite easy to watch Disney Plus with a VPN, but only if you have a capable one. Here are the steps you need to take.
First, decide on which VPN you're going to use (we recommend ExpressVPN).
Sign up for your chosen VPN by visiting its website. Get a subscription.
Then, download your VPN's app on your computer, smartphone, or any other device.
Launch the VPN and access your account by logging in.
Connect to a server in the United States (pick one closer to your physical location).
Once you connect, navigate to Disney Plus. That's it!
What's the Fastest VPN for Disney+?
As per the results of our tests, the fastest VPN for Disney+ is ExpressVPN. However, it's closely followed by VPNs such as NordVPN and Surfshark.
If you need more info, turn to our guide on the fastest VPN services. Still, keep in mind that any VPN will slow down your Web connection a bit (here's how much exactly). Be prepared to do some fine-tuning to speed up your VPN, which should provide you with a pleasurable media streaming experience.
Why Is Disney Plus Not Working with My VPN?
Your VPN might have a hard time unblocking Disney Plus if it's not optimized for streaming, if its servers are overcrowded, or if it offers less powerful VPN protocols.
However, if you use a VPN with a proven track record of working with Disney Plus, there could be a local problem on your device. In that case, we recommend trying a different protocol, another server, as well as checking what's on offer via your VPN's settings.
To help you get started, we've produced a guide on fixing issues related to Disney Plus VPNs and making them work again. Use the provided link to learn more.
If you use a Disney Plus app instead of its website, there could be an error code that points to a possible solution in case of technical issues. Turn to our guide on fixing Disney Plus issues, where you'll find a long list of error codes and possible solutions.
Which Devices Does Disney Plus Support?
Disney+ works on computers, handheld devices, streaming devices, and game consoles. For a more in-depth look, check just below.
Will a Free VPN Unblock Disney+?
We'll be straight with you here - free VPNs are usually traps designed to take advantage of personal data. They collect your sensitive information, use various types of digital trackers, and they're generally not safe to use.
If you're on a tight budget, you'll want to check out the best cheap VPNs. Also, we have a guide to finding the best VPN deals around, so you'll have plenty of options.
So, What's the Best Disney Plus VPN?
As per our opinion, the best VPN for Disney Plus right now is ExpressVPN. It provides the most streamlined experience possible, and it's a perfect match for media streaming.
Aside from that, ExpressVPN also works with any other streaming service out there. And since it's compatible with 60+ devices, you'll get to unblock them on any platform. Thanks to its ease of use, we recommend it even to complete beginners.
You've reached the end of our guide to finding the best VPN for Disney Plus. If you have any questions or doubts, make sure to post your comment below. We'll do our best to respond to each one of our readers. And, of course, enjoy streaming Disney Plus!