Ivacy VPN, a hidden gem of the VPN industry, has offered one of the best VPN services since 2007. Despite its lesser-known status, Ivacy continues to thrive in 2023 thanks to its cost-effective pricing and powerful content-unblocking capabilities.
This VPN is located in Singapore, a country found in the surveillance jurisdiction of the 14 Eyes Alliance. Ivacy VPN's unwavering commitment to privacy is evident in its stringent no-logs policy. Since there's no stored info, there's nothing to hand over even if authorities come knocking. There have been no known personal data leaks in the past, but an external audit has not been performed to verify this.
Ivacy VPN boasts an impressive network of over 5,700 VPN servers in 60+ countries, with a presence in more than 180 locations worldwide. If you're looking for seamless access to geo-restricted content, such as foreign Netflix libraries, Ivacy is an excellent choice.
Also, it protects your online activity with industry-standard AES-256 encryption. The VPN offers an extra layer of security with its DNS and IPv6 leak protection, as well as a kill switch, ensuring your IP address remains hidden in the event of a disrupted connection.
Ivacy also supports protocols like OpenVPN TCP, OpenVPN UDP, IKEv2, and L2TP/IPsec to ensure solid security. However, availability may vary depending on your device.
As the provider constantly improves its offerings and adds new features to its lineup, you can always check out what's new in Ivacy to see the latest and greatest updates.
Here's a table with all the crucial information you need to know about Ivacy VPN.
| | |
| --- | --- |
| Jurisdiction | Singapore (14 Eyes Alliance) |
| Logs | No logs  |
| Servers | 5,700+ servers in 60+ countries |
| Simultaneous Connections | 10 |
| Supported Devices | Windows, macOS, Linux, Android, iOS, routers, and browsers |
| Features | Kill switch, split tunneling, IPv6 leak and DNS protection, and more |
| Protocols | OpenVPN (TCP), OpenVPN (UDP), IKEv2, and L2TP/IPsec |
| Supports | Netflix, Disney+, Hulu, torrenting, gaming, and more |
| Customer Support | Email, 24/7 live chat, support tickets, installation guide, and FAQs |
| Price | From $1.00/month |
| Live Deal | 90% OFF (5-year plan) |
| Our Score | 8.1 out of 10 |
In our Ivacy review, we'll discuss the provider's overall safety and offer a thorough breakdown of all its prominent features. We'll also cover its content-unblocking capabilities, especially with streaming giants like Netflix, as well as dive into its security and privacy protocols. Finally, we'll compare Ivacy to some other top-rated VPNs to see how it stacks up against the competition.
You can also read up on how we review VPNs to learn about our rigorous testing process. 
Ready? Let's dig in!
Background, Jurisdiction & Reputation
Ivacy comes from Singapore, which isn't ideal. Also, little is known about its parent company, which is shrouded in mystery. Still, there are no records of this VPN collecting anyone's confidential data in the past. Our Score: 7/10
The first segment of this review is about taking a look "behind the curtains." We'll investigate where Ivacy comes from, what that means for your privacy, and whether you should trust this VPN. So, here's what we've found.
Where Does Ivacy Come From?
Ivacy VPN clearly states that it comes from Singapore - you can even find exactly where this company is located (South Beach Tower, Singapore).
By having its headquarters in Singapore, you might think that Ivacy has carefully chosen where to base its operations. However, you will be surprised to know that Singapore has proven to be an important ally to the 5/9/14 Eyes Alliance.
According to Edward Snowden's leaked documents, this country has used SingTel, one of the most popular mobile carriers in Singapore, to access traffic carried by major optical cables linking Asia and the Middle East with Europe. Furthermore, this country has cooperated with Australia and Japan in collecting and exchanging various kinds of sensitive information.
So, does that automatically mean that you shouldn't trust Ivacy? Well, its country of origin might be a problem in the long run. Of course, that applies to those seeking the ultimate level of protection for their personal data. When it comes to those users, we recommend relying on a VPN from a country known for providing resistance to the 5/9/14 Eyes Alliance.
Also, it's interesting to note that Ivacy is a product of a company called 'PMG PTE Limited.' Little information is known about that company, which seems quite keen on maintaining its anonymity. This led to rumors that PureVPN and Ivacy share the same parent company (Gaditek), which comes from Pakistan.
On LinkedIn, you can find several individuals (like Mustafa Hasan and Saad Qureshi, for example) who are linked to both Gaditek and Ivacy VPN, which is hardly a coincidence. And at one point, even Ivacy admitted that it's connected to PureVPN, calling it a "minor investor."
Lastly, you should know that Ivacy's representatives once tried to bribe a reputable site to get a favorable review. With that said, many questions surround Ivacy VPN, even though most VPN companies are shrouded in mystery, which isn't necessarily a bad thing.
Did Ivacy Leak Personal Data in the Past?
We're happy to say that Ivacy seems dedicated to its zero-logs policy. You can find the required legal information clearly presented on Ivacy's site, where you'll see that the company hasn't been involved in any cases of collecting or providing data about its users.
With this said, it's clear that Ivacy is a secure VPN service – at least for now. We would have liked to see this company operating from a country that wasn't accused of collecting data about its citizens. Also, we wished to see an external audit proving that Ivacy sticks to its privacy policy.
Is Ivacy VPN Safe?
In terms of its legality and safety, you won't face any problems with Ivacy. Differently said, there's nothing illegal or unsafe about this VPN. However, you need to keep something in mind, which applies to any VPN service.
VPNs are legal in most countries. Still, that also means certain countries have made VPNs illegal, or they might block the use of VPNs. That said, if using a VPN is illegal in your country, you need to respect your country's laws.
We'd also like to note that using a VPN isn't an excuse to do anything illegal or against any digital service's terms of use. Remember that VPNs preserve your right to privacy but don't give you the right to do anything against the law.
Supported Platforms & Devices
Ivacy has done a wonderful job of being present natively on a wide range of devices, including some not-as-popular options as well. Our Score: 10/10
Before you subscribe to Ivacy, you'll want to know if all your devices will be protected. With that said, here's what to expect from this VPN.
| | |
| --- | --- |
| Platform Compatibility | |
| Desktop Platforms | Windows, macOS, Linux. |
| Mobile Platforms | Android, iOS, Blackberry. |
| Web Browsers | Chrome, Firefox, Edge. |
| Routers | Any router that supports VPN connections. |
| Other Devices | OpenELEC, Smart TV, Kodi, Amazon FireOS. |
Ivacy has done a magnificent job of offering apps for plenty of different platforms and devices. As you can see from the table above, you can install this VPN on any desktop or mobile device. Also, you can use Ivacy's extensions on Chrome, Firefox, and Edge - if you don't want to secure all your locally installed apps at once (you'll secure your Web browser only, in that case).
In fact, Ivacy VPN stands above its competition by offering native apps for platforms such as Blackberry and Kodi, which isn't something that we see often. Also, you can install this VPN on a router, protecting your entire household at once.
Installation & Initial Configuration
Getting started with Ivacy VPN is incredibly simple. Even if you get stuck along the way, there are helpful guides to check on the official website. Our Score: 10/10
Your journey toward becoming an Ivacy user starts by signing up for a new account. You'll need to select a subscription plan, fill out your details and payment information, and you'll get access to your user credentials.
This is when you can proceed to download apps from the VPN's website. Ivacy is lightweight, so even those with slower Internet connections should not have any problems downloading the VPN's installation files.
What's important to mention is that Ivacy comes with a simple installation method that takes only a few minutes of your time and doesn't have any abnormalities. There's no adware or bundled software. And it's also good to know that Ivacy offers an extensive list of installation guides that can certainly come in handy, especially if you want to install this VPN on a router.
Prominent Features
Ivacy covers the basics well and even throws in some extra features. However, it doesn't really cater to more advanced users, and many of its features are available on a limited selection of platforms only. Our Score: 7/10
This VPN grew over the years, offering diverse groups of features targeted at online security and unblocking online content. So, let's see what precisely this VPN offers.
| | |
| --- | --- |
| DNS Leak Protection | YES |
| IPv6 Leak Protection | YES |
| Kill Switch | YES (Windows, Android) |
| Split Tunneling | YES (Windows, Android) |
| Dedicated/Static IPs | YES |
| Ad-Blocker, Anti-Malware | NO/YES (Anti-Malware) |
| Unlimited Server Switches | YES |
| Unlimited Bandwidth | YES |
| Unlimited Data | YES |
As you can tell by the table found above, Ivacy is a powerful VPN – at least in theory. It covers the basics extensively while also offering a few handy perks for more advanced users.
It's also interesting to note that Ivacy was the first VPN to introduce split tunneling - back in 2010 (more on that later). Aside from that, Ivacy offers port forwarding and dedicated IPs, but keep in mind that those come as add-ons for existing subscriptions (so they're priced extra).
As you can expect from a commercial VPN service, Ivacy does not impose any limitations. You can use it up to the full extent of your Internet connection's speed and switch between secure servers as often as you'd like. And, of course, there are no data caps here.
How Many Simultaneous Connections Do You Get with Ivacy VPN?
A single subscription to Ivacy gets you 10 simultaneous connections.
Once you subscribe to Ivacy, you can download and install the VPN on up to 10 devices - and connect to different servers from all those devices.
Thanks to the VPN's "multi-login" feature (available on all platforms), you'll never have to worry about crossing your subscription's limit, as you'll be warned on time.
Does Ivacy Have a Kill Switch?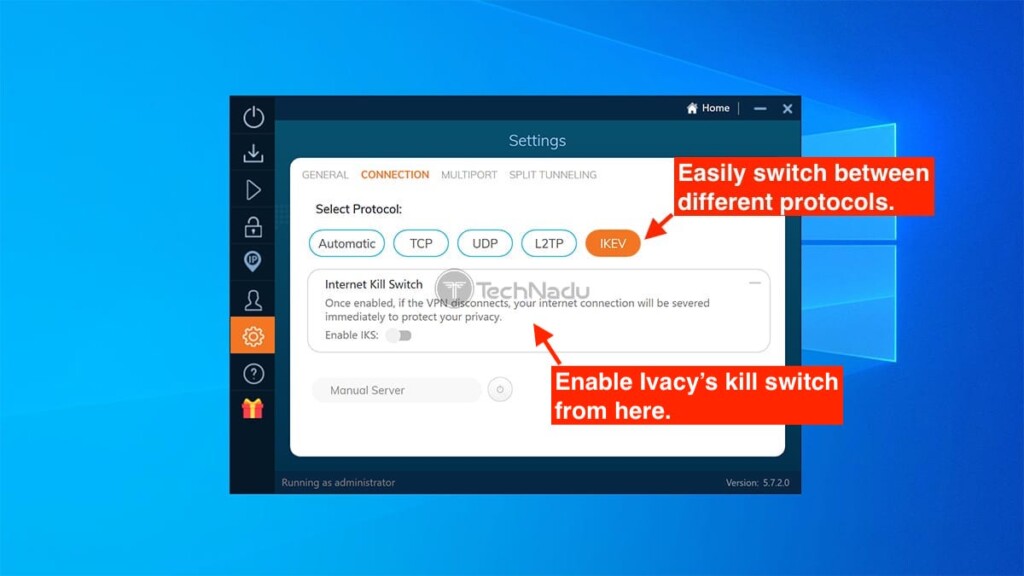 Yes, Ivacy has a kill switch. However, it's available on Android and Windows only. In other words, Ivacy's apps for iOS, macOS, and Linux don't have this functionality.
It's also important to mention that this VPN's kill switch works as you'd expect.
If you get disconnected from Ivacy's servers (for whatever reason), the VPN will try to reconnect you automatically. In the meantime, Ivacy's kill switch will activate, preventing any application from reaching the Web (and therefore, preventing any data leaks).
How to Enable Ivacy's Kill Switch on Windows
Using the left-placed sidebar, click on the cogwheel icon.
Then, make sure to select the 'Connection' tab.
Click on 'Internet Kill Switch' and enable this feature from there.
How to Enable Ivacy's Kill Switch on Android
Click on the 'hamburger' button in the top-left corner.
Tap on 'Internet Kill Switch' using the menu you'll see on your screen. That's it!
Does Ivacy Offer Split Tunneling?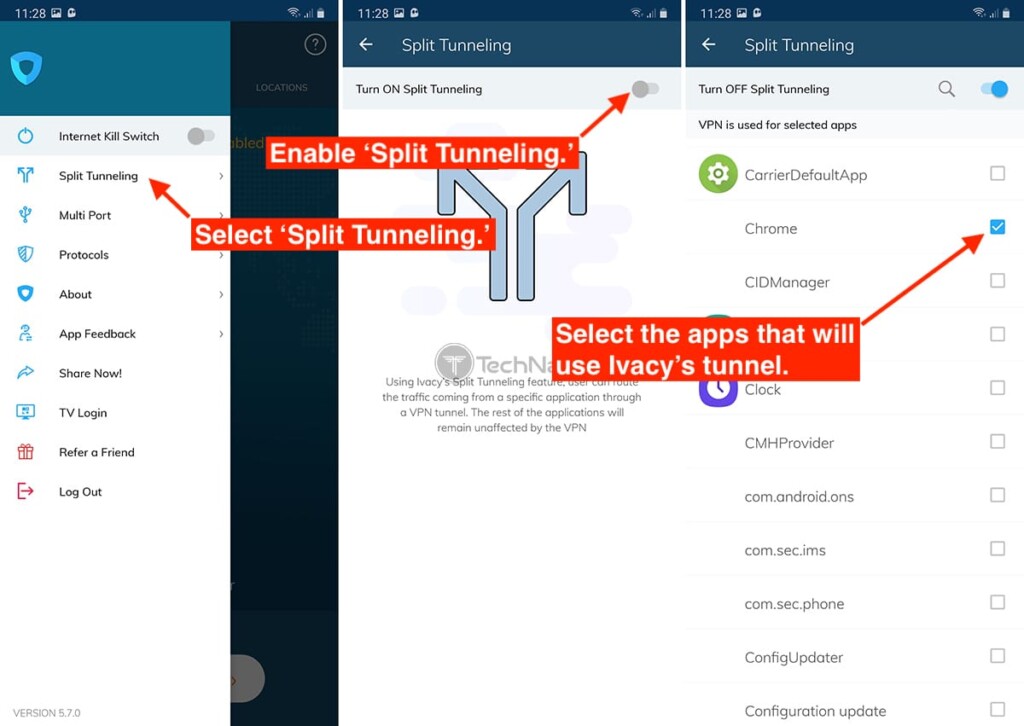 Yes, Ivacy supports split tunneling - on Windows and Android.
When browsing this VPN's website, you'll see a marketing message saying: "We pride in bringing the first-ever split tunneling feature for all your devices, including Windows PC and Android."
However, that message can be a bit misleading as Ivacy's split tunneling isn't available across the board - it's available on Windows and Android only.
It's also worth noting that when setting up split tunneling via Ivacy, you select the apps that will use the VPN's tunnel only. This means any other apps (those you haven't selected) will continue to run outside your VPN tunnel.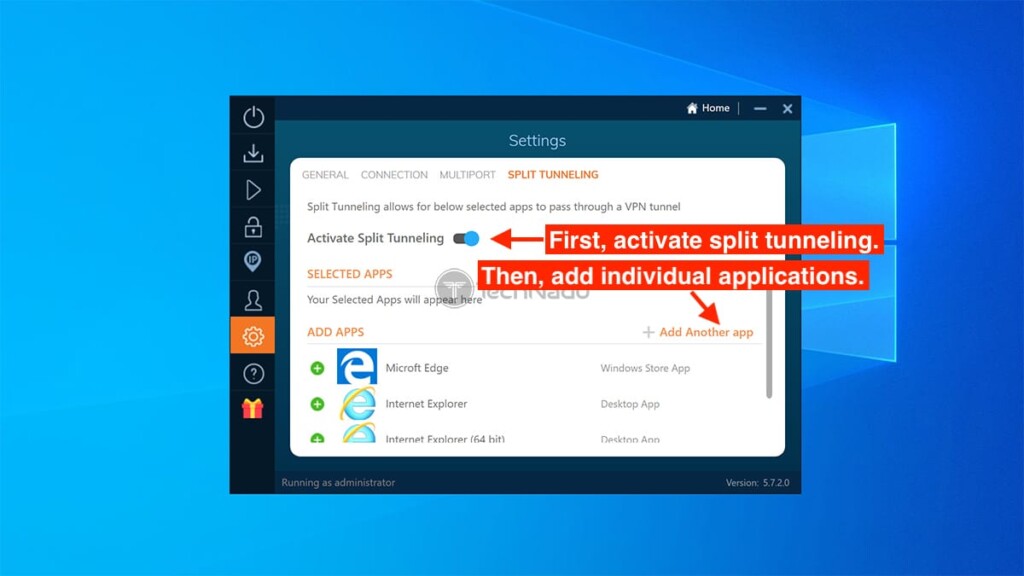 How to Enable Ivacy's Split Tunneling on Windows
Using the left-placed menu, click on the cogwheel icon.
Select the 'Split Tunneling' tab (on the right).
Activate split tunneling from here.
Click on 'Add Another App' and search for apps you'd like to add.
How to Enable Ivacy's Split Tunneling on Android
Open the Ivacy app
Tap on the 'hamburger' button in the top-left corner.
Tap on 'Split Tunneling.'
You'll be asked to enable split tunneling, so make sure to do so.
Go through the list you'll see on your screen and select the apps that will use Ivacy's VPN tunnel. All other apps will continue to use your regular Web connection.
Does Ivacy Offer a Static/Dynamic IP Address?
Yes, Ivacy offers a range of dedicated IPs. In other words, you can obtain a dedicated IP associated with any of the following countries: Australia, Canada, Hong Kong, Germany, the United Kingdom, the United States, and Singapore.
Just like when it comes to other Ivacy features, you mustn't forget to read the fine print. That's where you'll see that dedicated IPs work only on Ivacy's Windows client. On top of that, you can connect using a dedicated IP on a single device at a time.
Ivacy also says that your dedicated IP will be linked to your VPN account. However, it fails to explain how this feature works, as well as whether that system can endanger your privacy.
Does Ivacy Have an Ad-Blocker?
No, Ivacy doesn't have an ad-blocker. Therefore, if you're keen on blocking digital ads, we strongly recommend using a dedicated ad blocker.
There are plenty of both free and premium ad-blockers online (for individual Web browsers mostly, available on desktop and mobile platforms), which won't interfere with Ivacy.
Server Count & Infrastructure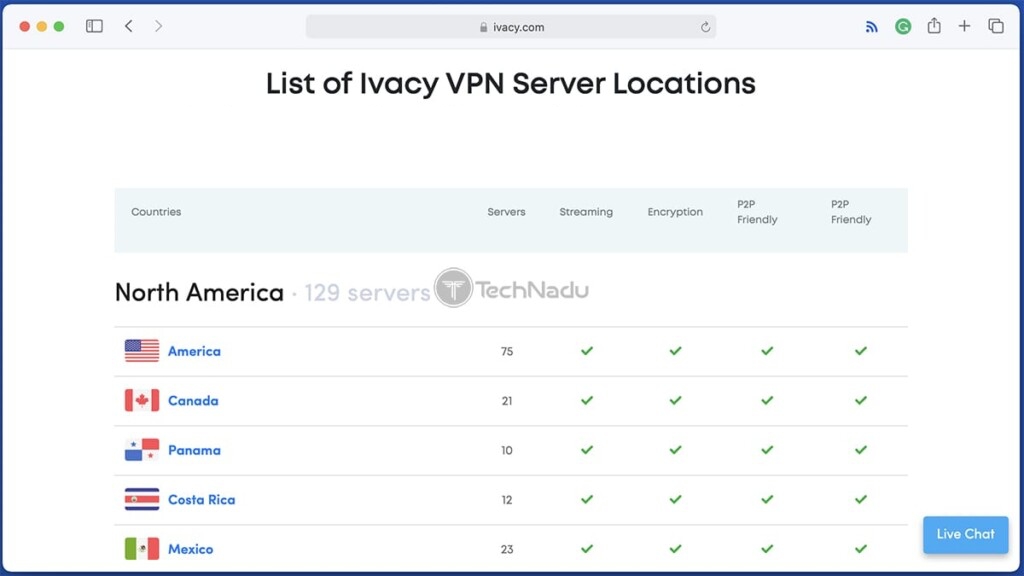 Ivacy offers more than 5,700 servers. On top of that, it has servers across 65+ countries, and very few of those are virtual server locations. Our Score: 8.5/10
When looking for a VPN, you need to pay attention to its server count. More precisely, you need to know how many servers it offers and if there are any specialized ones.
| | |
| --- | --- |
| Number of Servers | 5,700+ |
| Number of Locations | 100+ |
| Number of Countries | 65+ |
| Specific Cities Selection | YES |
| Unlimited Switching | YES |
Ivacy currently offers over 5,700 servers spread across the globe, which is a big jump forward when compared to the state of Ivacy's network a few months ago. Just recently, this VPN added close to 3,000 servers to its network - but it didn't really expand its scope.
That means Ivacy VPN still covers around 65 countries. Pretty much all the popular options are there, including the US, the UK, Canada, Australia, and more. However, we'd like to highlight that Ivacy is present in many countries across Africa, which isn't something we see every day. You'll find its servers in Kenya, South Africa, Nigeria, and more.
We should also note that Ivacy has recently removed its Indian servers as a response to that country's new Data Collection Directive. However, it still lets you obtain an Indian IP address. For that purpose, you'll use a virtual server located in Singapore.
Does Ivacy VPN Use Virtual Server Locations?
Yes, Ivacy offers virtual server locations. In the past, the VPN's representatives weren't willing to talk about this. However, Ivacy has become more transparent in the meantime.
If you update to the latest version of Ivacy's app(s), you'll see an indicator of virtual locations while browsing Ivacy's lineup of servers.
More precisely, the letter 'V' is used to indicate which location is virtual, which means you'll still get an IP associated with that country, but its servers won't be physically located there.
UI/UX Design & Ease of Use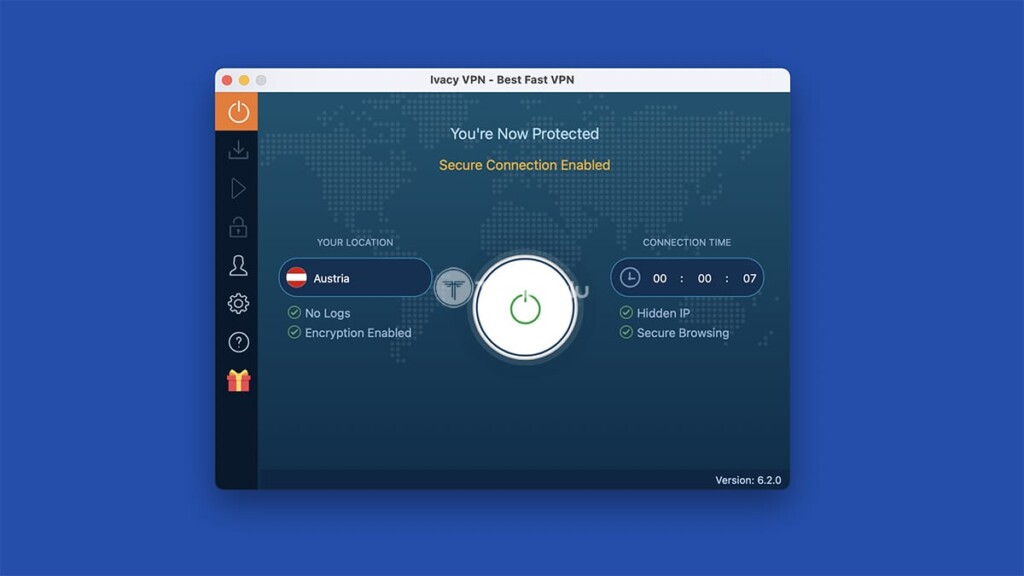 Even though Ivacy has a simple UI, it's not the most intuitive one. We hope to see an update in the future that will push Ivacy in a new direction, on par with what its direct competitors already offer. Our Score: 6/10
In this segment of our Ivacy review, we'll explain what to expect from the VPN's desktop and mobile apps. Of course, we also won't forget to talk about Ivacy's Web browser extensions, so here's everything you need to know.
How Well Does Ivacy Work on Desktop Platforms?
On the left side of Ivacy's home screen, you'll see a series of buttons/tabs. That's where you can connect to specialized servers, check your account details, and more.
To learn what each of these tabs can do, we'll go over their options.
Smart Connect: This is the application's home screen. In general, this tab brings a broad selection of 'standard' servers that you can use to secure your connection. When it comes to selecting your location, you can pick a country or an individual city. And once you connect, you'll see some basic info about your session.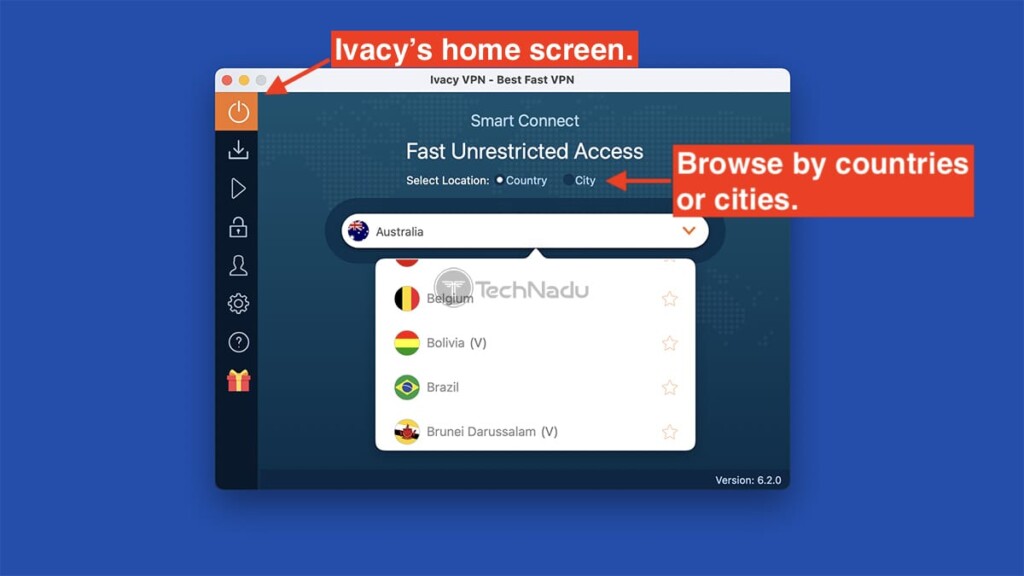 Secure Download: The name of this tab says it all. It contains a list of servers you can use when downloading files, either via the traditional way (downloading files from websites) or via torrenting. Ivacy can also check for malware. However, don't think that Ivacy's anti-malware tool can replace a dedicated antivirus app, which we strongly recommend using.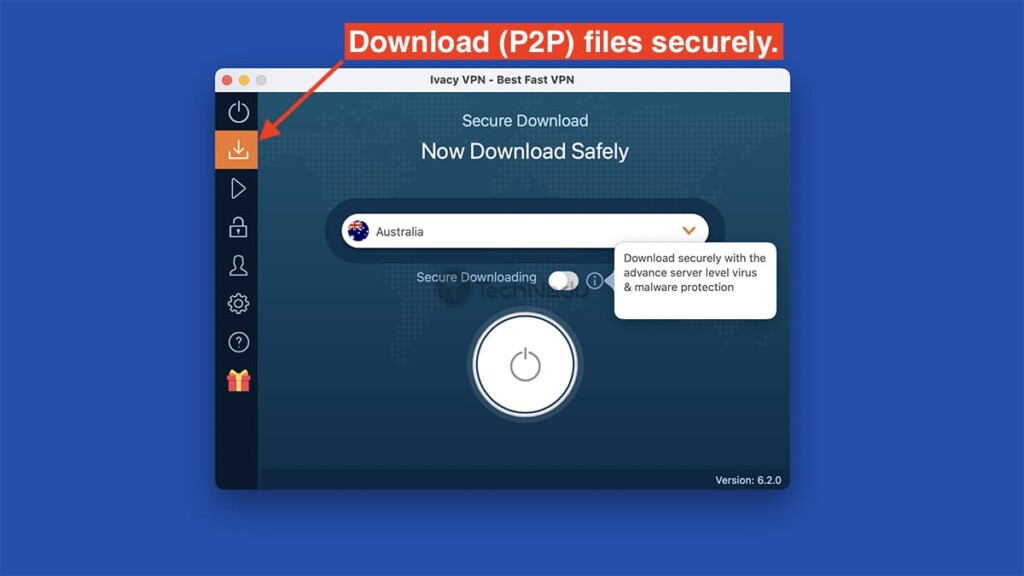 Streaming: Using this tab, you can either select a channel (or a Web service) you'd like to unblock or pick a specific country. Numerous popular services are supported, including HBO Max, Hulu, Netflix, Amazon Prime Video, ABC, NBC, the CW, BeIN Sports, and more. Non-US TV channels are on offer as well, including NRK, ORF, ZDF, RTVE, Telemundo, and plenty more. We'll take a closer look at Ivacy's capability to unblock streaming sites, so make sure to keep reading our Ivacy review.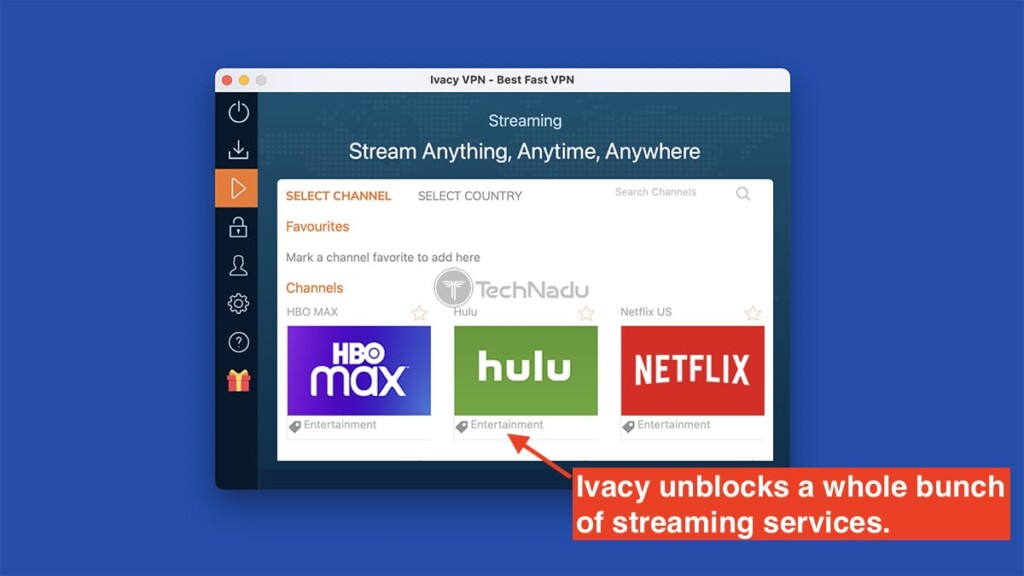 Unblocking: If you'd like to browse the Web as if you were in another country, this is where you can find that option. As we can see, this tab is close to identical to the 'Smart Connect' tab (which acts as Ivacy's home screen), except that it allows a different way to browse the available servers.
My Account: You can review your account details, log out, or upgrade your account using this tab. Besides, it lets you check how to install Ivacy on additional devices.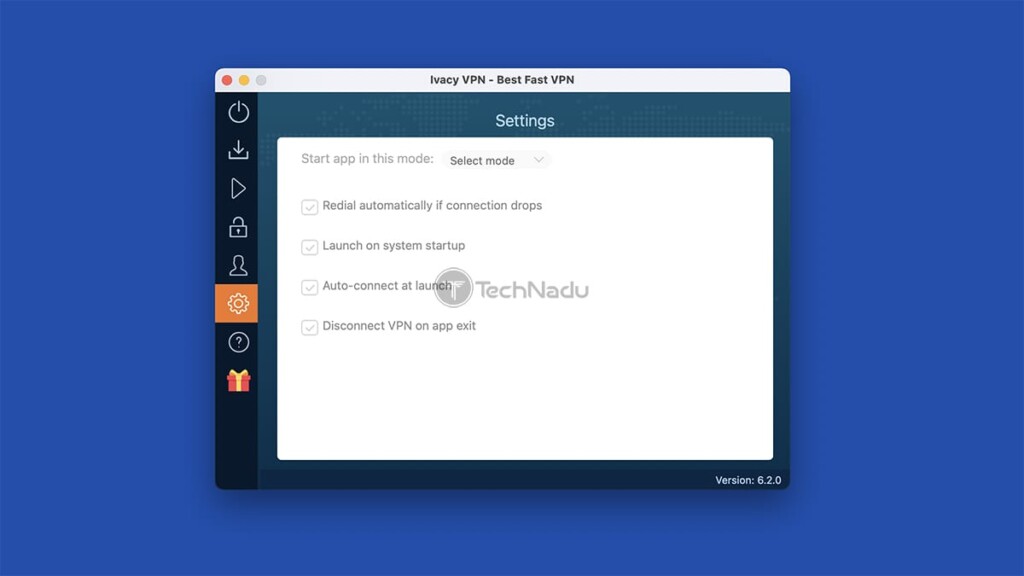 Settings: Ivacy doesn't let you take a deep dive into tinkering with its settings. You can choose to launch the app upon startup and automatically connect to a server on macOS. On other platforms, you'll get to switch to another server, set up split tunneling, and more.
Help: Lastly, there's a dedicated help section. You can review some frequently asked questions, submit a support ticket from within the app, and provide your feedback.
Overall, Ivacy does have a somewhat polished interface. However, it's not the most intuitive one, especially if you'd like to take your time to understand everything that this application offers.
Aside from that, the application's window can't be resized (at least on macOS), which might be a problem at ultra-high display resolutions.
How Well Does Ivacy Work on Mobile Platforms?
When it comes to Ivacy's mobile apps, you'll encounter a uniform design that replicates what's available on desktop platforms. However, once you dive deeper, you'll see that Ivacy's apps have plenty of differences in terms of their functionality.
On both Android and iOS, Ivacy brings a series of tabs on its home screen. These are labeled 'Purposes,' 'Smart Connect,' and 'Locations.'
The first tab lets you pick a server optimized for streaming, downloading files, or unblocking websites. The 'Smart Connect' tab connects you to the nearest server. Lastly, the 'Locations' tab will let you pick a VPN server manually.
Differences start to appear once you dive deeper into Ivacy's mobile apps. For example, the Android app brings a whole slate of features once you tap on the "hamburger" button (top-left corner). This is where you'll find Ivacy's kill switch, split tunneling, VPN protocols, and more.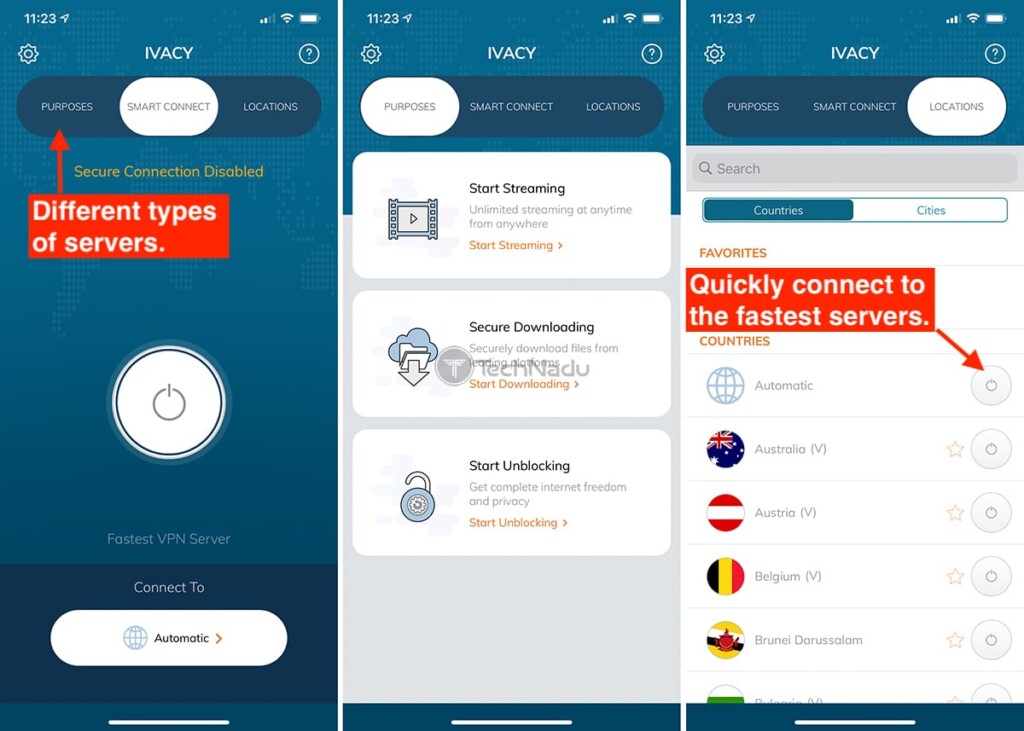 When it comes to the iOS app, there's not much you can fine-tune. You get to change a VPN protocol, set up the VPN to connect automatically (in certain cases), and that's about it. Even though Ivacy's iOS app looks nice, it's not as powerful as the Android app.
Overall, we feel that Ivacy's apps are polished in terms of their appearance. There are also no performance issues. However, this VPN should be more transparent about what you get from each of those apps, as some of its marketing messages can be misleading.
How Well Do Ivacy's Web Browser Extensions Work?
Ivacy offers Web browser extensions for Chrome, Firefox, and Edge. Let's talk about how those extensions look, as well as what to expect from them.
In many ways, these extensions replicate what's available in Ivacy's apps. That means you'll find three tabs on its home screen, called 'Purposes,' 'Quick Connect,' and 'Locations.'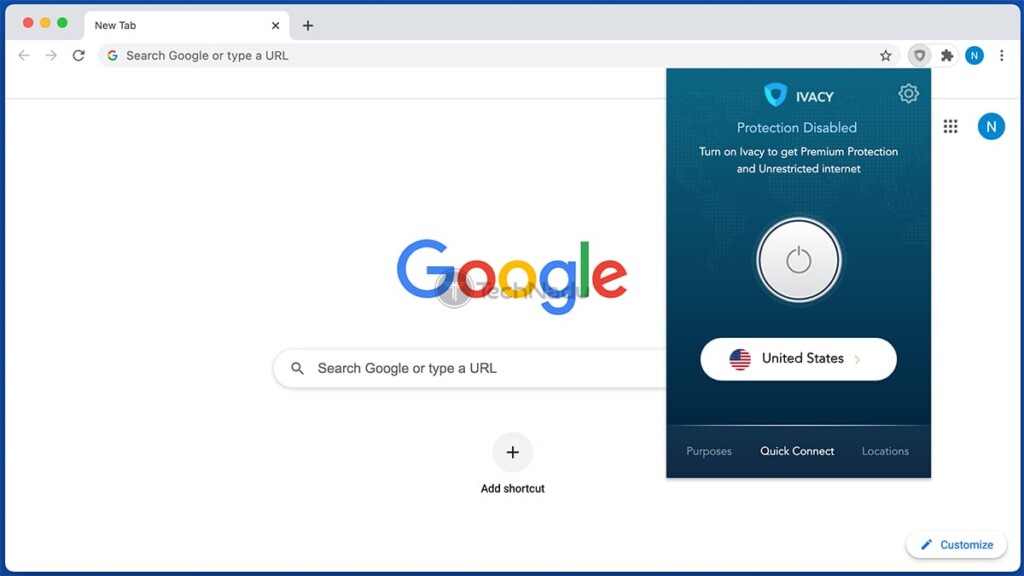 You switch between those tabs by clicking on the bottom part of Ivacy's interface. The rest of its UI is dedicated to searching for a server and connecting to one.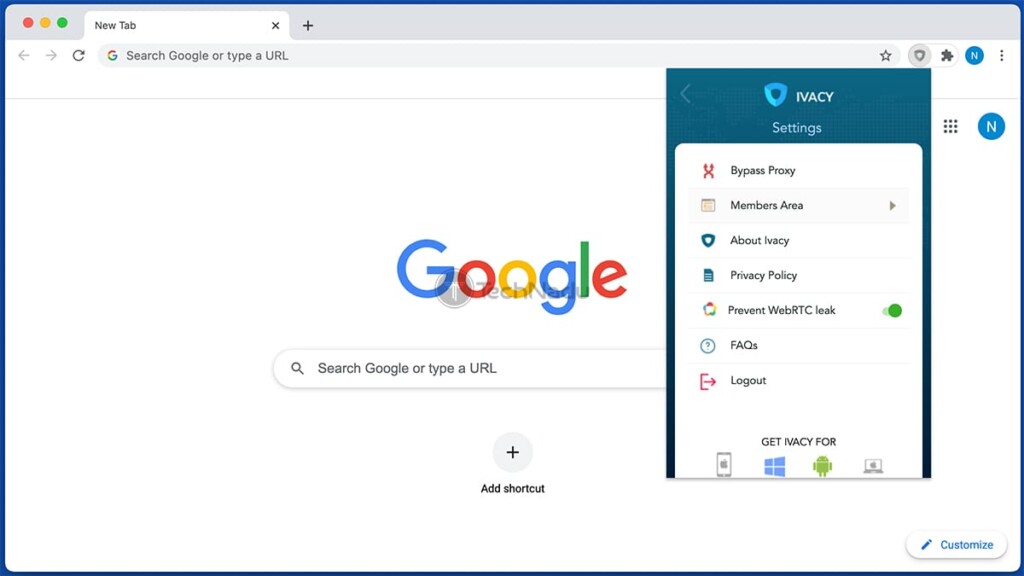 If you'd like to dive deeper, you can click on the cogwheel icon in the top-right corner. This will reveal additional settings where you can set rules to bypass proxies, prevent WebRTC leaks, and that's about it. Not the most comprehensive list of settings - but it should get the job done for average home users.
Media Streaming, Torrenting & Gaming Support
Ivacy unblocks a massive array of popular streaming services (even some niche TV networks), supports P2P, and it's even suitable for gaming. Our Score: 10/10
We're sure that many of you wonder if Ivacy can unblock popular streaming websites. We've tested it against the world's five most popular services, so here are the results.
Media Streaming and Torrenting Support
| | |
| --- | --- |
| Netflix US | YES |
| Hulu | YES |
| Disney+ | YES |
| HBO Max | YES |
| BBC iPlayer | YES |
| Amazon Prime Video | YES |
| Torrenting (P2P) | YES |
If media streaming is your biggest concern, Ivacy should be your go-to VPN. We've tested this VPN with Netflix US, Disney Plus, Hulu, BBC iPlayer, and Prime Video – and Ivacy managed to unblock all of those with ease.
This VPN also has dedicated servers for beIN Sports, ABC, NBC, FOX, CBS, CW, Canal+, ZDF, ARD, CTV, Hotstar, and a range of other individual TV network websites.
Also, we'd like to add that Ivacy is capable of streaming without buffering. However, we're going to check its speed and performance later in the article to get some clear stats.
Does Ivacy VPN Work with Netflix?
Yes, Ivacy VPN does work with Netflix. It offers unrestricted access to all Netflix libraries with its ultra-fast streaming servers. You'll be able to bypass geo-blocks and access restricted Netflix content libraries of countries such as the US, Korea, Japan, and Canada on any device.
We attribute Ivacy's smooth unblocking capabilities to its custom-built Netflix VPN servers. With lightning-fast speeds and unlimited bandwidth, your streaming experience will be seamless and uninterrupted.
Even though you won't find Disney+ via Ivacy's interface (on the list of supported services), this media streaming platform can be unblocked. You simply need to connect to any server in the USA. After that, launch the Disney+ website or any of its apps, and you'll get to access your account (from anywhere).
Which Ivacy VPN Server Works Best for Netflix?
Ivacy offers specialized servers for media streaming. In other words, you need to access the VPN's servers optimized for media streaming and then pick 'Netflix' in the following way:
How to Unblock Netflix US via Ivacy on Desktop Platforms
Launch Ivacy and pick 'Streaming' from the left-placed sidebar.
Then, make sure to find 'Netflix' on the list you'll see.
Click on 'Netflix' (once), and Ivacy will connect you automatically.
Lastly, feel free to open the Netflix website or any of its apps.
How to Unblock Netflix US via Ivacy on Mobile Platforms
Launch the Ivacy app and tap on 'Purposes' on the home screen.
Find 'Netflix US' and tap on its 'ON' switch.
Ivacy will now connect you to a server in the US, which will take a moment.
Finally, feel free to close Ivacy and open the Netflix app on your device.
Can You Use Ivacy VPN with Kodi?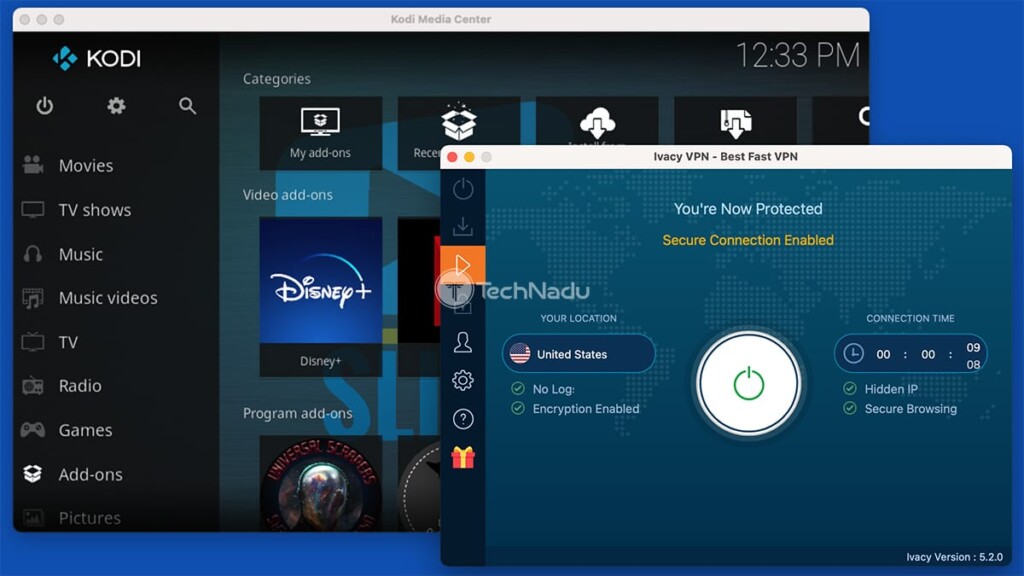 Yes, you can use Ivacy with Kodi. In fact, you'll reap numerous benefits if you decide to combine this VPN with Kodi.
First of all, Ivacy will make sure your privacy is protected online. That means the VPN will create a safe tunnel for your data, preventing anyone else from seeing what you do online. This makes using "risky" Kodi addons much safer, as not even your ISP will see your Kodi-related activities.
Then, let's not forget to mention streaming-related unblocking. Ivacy is a highly capable VPN for media streaming, unblocking a substantial number of platforms. In the world of Kodi addons, this means having access to about any addon out there. Overall, you get a complete package.
Ivacy advertises its own Kodi addon, which sounds great - in theory. We have to say that we had a tough time using this addon (it seems to be broken at the moment). Therefore, we recommend using Ivacy and Kodi side-by-side instead (without integrating them, per se).
Is Ivacy Good Enough for Torrenting (P2P)?
Yes, we recommend getting an Ivacy subscription if you want to download torrents (but only if you have a very fast Web connection, to begin with). There are several valid reasons why using this VPN is a good idea, and here's why.
As per Ivacy's official documentation, you'll find servers optimized for P2P in these countries: Canada, the UK, Brunei, Bulgaria, Costa Rica, Denmark, Germany, Latvia, Luxembourg, the Netherlands, Pakistan, Panama, Russia, Saudi Arabia, Sweden, Turkey, and Venezuela.
Therefore, Ivacy offers a wide range of P2P servers spread across the entire world. That gives you plenty of options for finding a nearby server and getting the fastest possible speeds.
On top of that, a certain number of servers come with anti-malware protection (Belgium, Denmark, Germany, Luxembourg, Norway, Romania, Russia, and Sweden), which gives you an additional security layer when downloading P2P files.
Is Ivacy Good Enough for Gaming?
Yes, we recommend Ivacy if you're a gamer and if you have a fast Web connection. After all, this is the VPN of choice for GamersOrigin, which tells a lot right off the bat.
First of all, Ivacy comes with plenty of secure servers. Therefore, you have many options to pick a server based on your specific gaming-related needs. Then, Ivacy's servers are backed by the latest technologies, which makes problems like DDoS attacks a thing of the past.
With that said, gamers have plenty of reasons to pick Ivacy - aside from the VPN's strong privacy protection. They can grab the latest titles first (even before those games reach their region or country), save money when using digital marketplaces, and plenty more.
Security & Privacy
No previous data leaks, strong encryption protocols, and bulletproof logging policy - that's what you can expect from Ivacy. Still, the VPN could be more proactive by agreeing to an external audit and increasing its overall privacy-related transparency. Our Score: 7/10 
Even the most attractive features don't mean much if your chosen VPN takes advantage of your personal data. That's why we have a dedicated section in every VPN review where we inspect security-related features. Therefore, let's jump right in.
Ivacy VPN Protocols
A capable VPN should bring a range of modern VPN protocols. With that said, we'll use this segment to inform you about the protocols you can expect from Ivacy VPN.
| | | | | |
| --- | --- | --- | --- | --- |
| | Windows | macOS | Android | iOS |
| OpenVPN | YES | NO | YES | NO |
| IKEv2/IPSec | YES | NO | NO | YES |
| L2TP/IPSec | YES | YES | NO | NO |
| WireGuard | YES | NO | YES | YES |
Ivacy brings OpenVPN, WireGuard, IKEv2/IPSec, and L2TP/IPSec. All those capable protocols help secure your confidential data online. It's also interesting to note that Ivacy does things a bit differently, especially when we compare it to the bestselling and top-rated VPNs.
Ivacy used to offer protocols such as PPTP and SSTP, which are now considered obsolete. Even though you can still use those via manual configuration, Ivacy has decided to distance itself from PPTP and SSTP. Therefore, it no longer offers them built into its apps.
OpenVPN
Without any doubt, OpenVPN is among the most secure protocols right now. It does slow you down a bit, but it also has the means to create a highly secure VPN tunnel.
By default, this protocol is available on Windows and Android via Ivacy's apps. It's also possible to use it on other platforms - but you'll need to configure it manually.
WireGuard
We're happy to report that Ivacy VPN now supports WireGuard as well. This is a brand-new VPN protocol that brings security and speed, a combination unmatched by any other protocol. At the moment, you can use it via Ivacy's apps for Windows, Android, and iOS.
IKEv2/IPSec
IKEv2 was initially known as a mobile-friendly protocol, providing a seamless experience of switching between Wi-Fi and 4G/5G networks. It's very secure and comes with fast speeds, but it also comes behind OpenVPN in certain aspects.
L2TP/IPSec
As noted above, PPTP is now considered an obsolete protocol. However, its successor is still going strong - and yes, we're talking about L2TP here. It doesn't have the same level of security as OpenVPN but brings fast performance and the ability to access blocked content.
Does Ivacy Log Private Data?
When you visit Ivacy's official website, you'll see that this is a 'zero logs' VPN. Of course, many VPNs claim not to collect your data, so you shouldn't trust any marketing messages. So, to find the truth behind this claim, we've taken an in-depth look at Ivacy's privacy policy.
This VPN claims that personally identifiable data is never logged. More precisely, the following types of information are stored on Ivacy's servers: your name, email address, and your payment information. With that said, since this VPN doesn't store any data regarding your Web browsing, third parties will never get to learn what you do online.
This isn't a new VPN exactly, as it's been on the market for more than a decade now. Since there were never any situations that would prove otherwise, we believe in Ivacy's claims.
We also need to mention that many other VPNs employ third-party cybersecurity companies to audit their services (to prove their security- and privacy-related claims). Sadly, that doesn't apply to Ivacy, which is something we wish to see improved in the future.
Does Ivacy Leak/Expose Personal Data?
Just like we always do when reviewing VPNs, we've also put Ivacy to a series of tests. Our goal was to determine whether Ivacy leaks any of our confidential information. For the purpose of discovering that, we've tested this VPN for IP, DNS, and geo-location leaks.
As the screenshots supplied in this segment prove, Ivacy can create a leak-free tunnel. In other words, our IP address and DNS data never left Ivacy's tunnel, no matter how many servers we switched between.
In addition, our geo-location data always corresponded to what was selected in Ivacy's UI. This means no one could have determined our actual (physical) location, which was always hidden.
Speed & Performance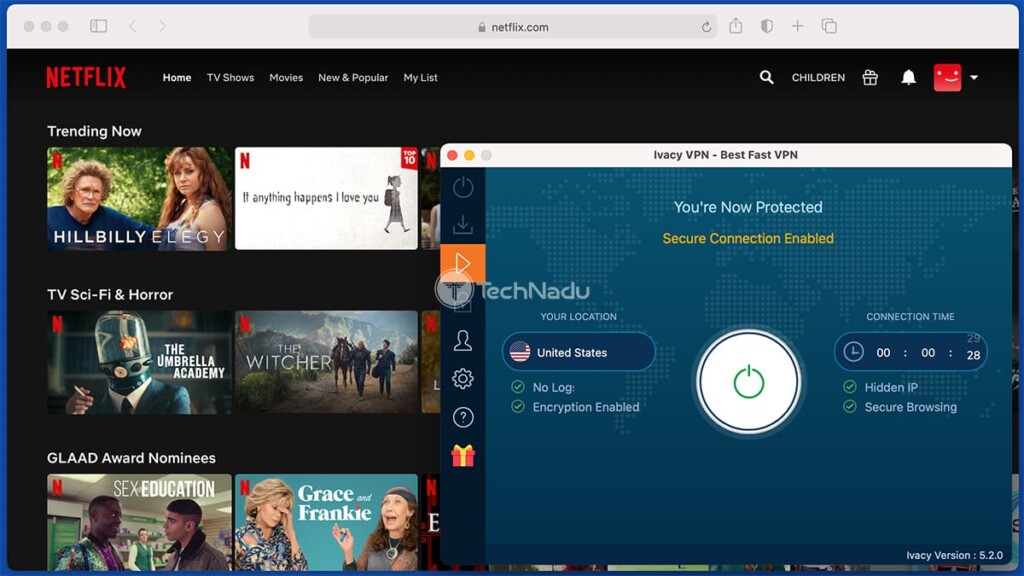 No matter which protocol you decide to use, Ivacy VPN will slow you down. We recommend using it only if you have a relatively fast Web connection. Our Score: 4.5/10
In this segment of TechNadu's Ivacy VPN review, you'll get to learn about this VPN's speed and performance. Keep in mind that any VPN will slow your Web connection down to a certain degree, but the best VPNs out there make that as unnoticeable as possible.
Ivacy VPN Speed Test
Before we set out to test Ivacy's performance, we first did a speed test of our 'naked' Web connection. The goal of this action was to provide us with baseline data, so we could calculate the speed loss induced by Ivacy VPN.

As you can see, we started out with 488.34 Mbps for downloads and 48.49 Mbps for uploads. Once again, those numbers indicate the speed of our Web connection without having Ivacy enabled, and we'll use them to calculate the speed loss introduced by the VPN.
Local Speed Tests
When it comes to local speed tests, we typically connect to VPN servers in the UK and Italy. We did the same while testing Ivacy, so here's how the VPN performed.
Once connected to a server in Italy, we managed to get 154.47 Mbps for downloads and 3.01 Mbps for uploads. Those aren't the best numbers, as local VPN connections should introduce only a slightly noticeable speed loss.

Then, a server in the United Kingdom managed to give us 121.75 Mbps for downloads and 45.28 Mbps for uploads. Even though our upload speeds weren't affected in a big way, the same can't be said for our download speed, which continued to deteriorate.
Long-Distance Speed Tests
We've also tested long-distance connections. More precisely, we focused on "popular" countries for VPN users, such as the USA, Canada, India (via Singapore), and Australia.
A server on the east coast of the United States gave us 128.94 Mbps for downloads and 11.38 Mbps for uploads. During this round of our Ivacy VPN speed testing, even our upload speed started to go down.

Then, a server in Canada managed to surprise us with its performance. More precisely, we got 200.40 Mbps for downloads and 30.54 Mbps for uploads.
A server in India (a virtual VPN location routed through Singapore) limited our download speed but managed to maintain our upload speed (with a small reduction only). As you can see above, we managed to get 127.77 Mbps for downloads and 35.83 Mbps for uploads.

And lastly, we also tested a server on the opposite side of the world. We got 110.46 Mbps for downloads and 15.32 Mbps for uploads.
So, How Well Does Ivacy VPN Perform?
We'll help you make sense of all the numbers shown above by placing them in a table. So, make sure to take a look below.
| | | | |
| --- | --- | --- | --- |
| | Download Speed | Upload Speed | Speed Reduction |
| Baseline Data | 488.34 Mbps | 48.49 Mbps | 0% |
| Italy | 154.47 Mbps | 3.01 Mbps | 68.3% |
| UK | 121.75 Mbps | 45.28 Mbps | 75.0% |
| USA | 128.94 Mbps | 11.38 Mbps | 73.5% |
| Canada | 200.40 Mbps | 30.54 Mbps | 58.9% |
| India | 127.77 Mbps | 35.83 Mbps | 73.8% |
| Australia | 110.46 Mbps | 15.32 Mbps | 77.3% |
On average, Ivacy made our Web connection slower by 71.13%. With that said, we conclude that you'll have an easy time finding a faster VPN out there. However, if you take your time to inspect this VPN's settings and try a different protocol, you might encounter faster performance overall. So, it all depends on whether you're interested in fine-tuning this VPN.
What Kind of Performance Can You Expect? - It's close to impossible to give you any concrete information about what kind of performance you can expect. That's because that depends on your location, the proximity to the nearest server, the chosen VPN protocol, and plenty more.
However, at least when it comes to our case, Ivacy did make our Web connection slower by close to 80%. Since we have a very fast Web connection, even after slowing down, our Web connection managed to perform smoothly. So, if you have a relatively slow Web connection, you might face some pretty rigorous bottlenecks.
Customer Support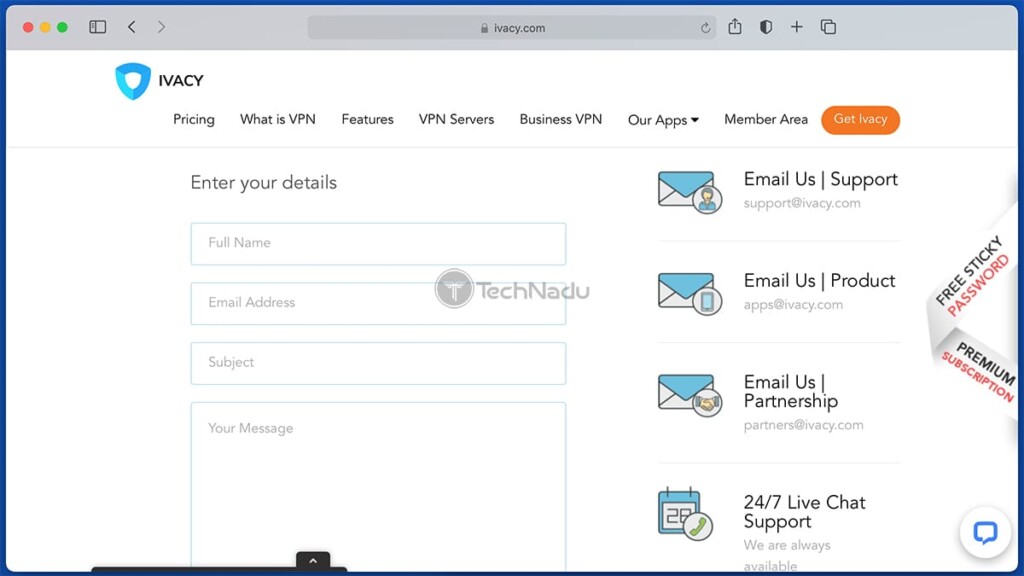 Ivacy has a dedicated customer support page with everything you hope to find. Live chat is also part of this offer. Our Score: 10/10
Reliable custom support is imperative when it comes to VPN services. Since these are highly sophisticated digital products, something might go wrong at times, preventing you from using the application. So, when it comes to Ivacy, here's what you can expect.
Live-Chat Support: Ivacy offers live chat on its website, accessible from any page. We've talked to the company's representatives quite a few times while producing this review, and there was never a long queue. Also, we always managed to get useful information.
Installation Guides: Installing Ivacy on both desktop and mobile platforms is easy. However, you need a step-by-step guide for installing Ivacy on routers, so it's good to know that you can count on this type of support documentation.
FAQs: Ivacy's FAQ section offers around 45 questions, so there's a real chance that you'll have your question answered even without contacting a support agent.
Support Tickets: You can send an email from within the app itself, and it will be treated as a support ticket. If you try to find help this way, you can expect Ivacy to respond within 24 hours. We've asked about specific Ivacy features and got a response with plenty of online resources where we found everything we wanted to know.
Email Contact: Lastly, you can send an email based on the type of question you have. There's a dedicated 'Contact Us' page on Ivacy's website, which also has an online form that you can fill out.
So, the bottom line is this - Ivacy VPN will be there for you if you ever get stuck. However, we have to mention that Ivacy's apps work just fine, without much input needed on your part. So, don't expect any serious issues, even in the long run.
Pricing
Ivacy doesn't bring the most affordable monthly subscription - considering its overall value. However, it's one of the cheapest VPNs if you're willing to pay upfront. Our Score: 9/10
No matter how polished its features are, a VPN should also provide plenty of value for its price. Therefore, we'll continue our Ivacy VPN review by talking about its price.
How Much Does Ivacy Cost?
Let's look at Ivacy's pricing structure. We've created a handy table, found below, where you can see the prices of the currently offered subscription models.
When paying for Ivacy monthly, you'll be charged $9.95 every single month. In general, this is a competitive price - especially when compared to top-rated VPNs (typically priced at around $11-$13/month). However, we do strongly recommend checking out Ivacy's long-term plans.
This VPN has never been afraid to offer massive discounts. That's how you can currently save 65% when getting Ivacy's 1-year subscription. Furthermore, you can save 90% when you subscribe to Ivacy's 5-year plan (which comes down to only $1.00 per month).
On top of that, Ivacy's 5-year plan now includes a premium password manager as well as 2TB of encrypted cloud storage.
We'll also mention that you can get a dedicated IP for $1.99/month (you can add a single dedicated IP to your account). If you need port forwarding, that feature is priced at $1.00/month.
In addition, Ivacy supports numerous payment methods. That includes credit cards, PayPal, BitPay, Coingate, PerfectMoney, and plenty more. As you can see, there's an option to pay via cryptocurrencies, which is always a welcome thing to see.
Ivacy's Money-Back Guarantee - Will You Get Your Money Back?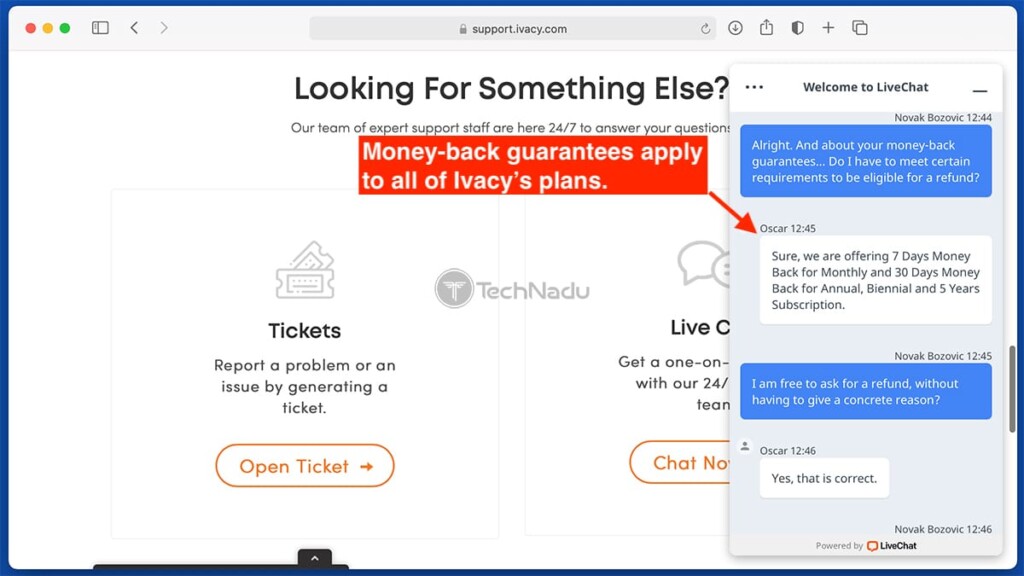 First of all, know that Ivacy offers a 7-day money-back guarantee, but only for its monthly subscription. When it comes to other (lengthier) subscription plans, you count on a 30-day money-back guarantee.
We're also happy to report that you won't find any fine print in this offer. Differently said, Ivacy doesn't impose any special restrictions on how and when you can ask for a refund. You don't really need any special reason to change your mind. However, make sure to act on time and ask for a refund within the timeframe set by Ivacy.
Is There a Way to Get Ivacy VPN for Free?
At the moment, no - there's no way to get Ivacy VPN for free. That means you'll need to pay for a subscription, but you'll be covered by Ivacy's money-back guarantees.
It's interesting to note that Ivacy used to offer a free VPN app a while back in 2018. It was called 'Ivacy Lite' and was available on iOS and Android devices. However, that app is no longer available.
Ivacy VPN's Free Trial - Duration, Price & Availability
Ivacy offers a 7-day trial, priced at $0.99. Therefore, it's not free - but it's quite affordable. To access the trial, you need to supply your email address and your payment info.
In essence, this trial is a short-term subscription to the VPN. For up to 7 days, you'll get to use Ivacy on any of its supported devices, without any restrictions in terms of your access to its premium features.
As such, getting a trial account for $0.99 seems like a good deal, especially if you plan on spending more money on one of Ivacy's long-term subscriptions.
Be Careful When Using Ivacy's 7-Day Trial - Keep in mind that once your trial ends, Ivacy will charge you the price of its annual subscription. To avoid getting charged, you need to cancel your subscription before the trial ends.
Ivacy VPN Comparison with Other VPN Providers
At the moment, ExpressVPN and NordVPN are the most popular VPNs on the global market. So, let's compare Ivacy to those two VPNs and see what you'll get from each.
| | | | |
| --- | --- | --- | --- |
| | Ivacy VPN | ExpressVPN | NordVPN |
| Jurisdiction | NOT SAFE | SAFE | SAFE |
| Data Logging | NO | NO | NO |
| Encryption | AES-256 | AES-256 | AES-256 |
| Number of Servers | 5,7000+ | 3,000+ | 5,600+ |
| Number of Countries | 65+ | 90+ | 60+ |
| Number of Connections | 10 | 5 | 6 |
| Speed/Performance | SLOW | ULTRA-FAST | FAST |
| Kill Switch | YES | YES | YES |
| Split Tunneling | YES | YES | YES |
| Netflix Support | YES | YES | YES |
| Hulu Support | YES | YES | YES |
| Prime Video Support | YES | YES | YES |
| Disney+ Support | YES | YES | YES |
| Live Chat | YES | YES | YES |
| Free Trial | NO | YES | YES |
| Price (Monthly) | $9.95/month | $12.95/month | $11.95/month |
Final Thoughts - Is Ivacy VPN Worth It?
We believe Ivacy VPN is worth it because it's a top-notch service offering a robust server network, unbeatable security features, and exceptional streaming capabilities. With its user-friendly interface and custom-built Netflix servers, accessing geo-restricted content has never been easier. 
According to our tests, Ivacy VPN is fast and secure, making it an excellent choice for privacy, streaming, gaming, and more. If you want a smooth streaming experience, Ivacy VPN has you covered. Furthermore, with its strict no-logs policy, you can be confident that your online activities will remain private. 
We recommend registering with Ivacy VPN today to experience a new level of online freedom. If you don't feel like it's the right fit, you can take advantage of its 30-day money-back guarantee, so there's nothing to lose!
PROS
Available on many platforms.
Capable set of protocols.
Plenty of specialized servers.
Easy to set up and use.
Doesn't log personally identifiable data.
Unblocks Netflix, Disney+, and more.
Affordable long-term subscriptions.
Numerous payment methods.
CONS
Somewhat problematic jurisdiction.
Not the fastest performance.
No independent audits.
Kill switch is not a universal feature.
FAQ
What Is Ivacy VPN?
Ivacy VPN is a highly reputable VPN provider that has been offering Internet users privacy and security solutions since 2007. Over the years, Ivacy has established itself as a leader in the VPN industry with cutting-edge security features such as split tunneling.
Who Owns Ivacy?
Ivacy VPN is owned by PMG Pte. Ltd., a company founded in 2016 and based in the thriving city-state of Singapore. 
Where Is Ivacy Based?
Ivacy VPN is headquartered in Singapore. This dynamic Southeast Asian nation has emerged as a hub for cutting-edge technology, making it an ideal location for a company like Ivacy to set up shop and provide its services to customers worldwide.
Is Ivacy Safe?
Yes, Ivacy VPN is a safe and reliable VPN provider. It uses military-grade AES-256 encryption and has a strict no-logs policy. Its security features, such as a VPN kill switch and DNS leak protection, ensure your online privacy and security are never compromised.