Today's VPN services are trying to offer all-in-one solutions, packed with tons of useful features. It is no longer enough for a capable VPN to be good at encryption and securing your private data. It also needs to unblock websites, offer specialized servers, and come with a wide array of globally available ones. And this is precisely what Ivacy is trying to do, at least according to marketing messages on its official website. Of course, we're here to check those claims, so welcome to our hands-on Ivacy VPN review!
Just like we do with every VPN we review, we've spent quite some time testing Ivacy. And you can be sure that we've prepared plenty of useful information about this VPN server, based on our hands-on testing. However, we are first going to extract the most prominent information that can help you compare Ivacy to its biggest rivals. So, let's check some basic info about this service.
Quick Facts
| | |
| --- | --- |
| Jurisdiction | Singapore. |
| Logs | No logs, whatsoever. |
| Number of Servers | 100+ locations, 1000+ servers. |
| Parallel Connections | 5 |
| Encryption Standards | AES-256 bit; OpenVPN, PPTP, L2TP, SSTP, IKEv2. |
| Speed Reduction | Up to 68% on average. |
| P2P Support | YES |
| Live Chat Support | YES |
| Supported Platforms | Windows, macOS, Linux, iOS, Android, Web browsers, and routers. |
| Price | Starting at $1.50/month. |
Considering the importance of media streaming, we want to let you know about Ivacy's capabilities of unblocking the world's most popular websites. So, here's a short and handy table showing which media streaming services can be unblocked and used via Ivacy VPN.
Media Streaming Support
| | |
| --- | --- |
| American Netflix | YES |
| Hulu | YES |
| BBC iPlayer | YES |
| Amazon Prime Video | YES |
| Kodi | YES |
And lastly, we have one more table for you. Since we go deep into inspecting each VPN that comes our way, our reviews can be quite lengthy. We understand some of you want to get to the meat of this review, which is where our following table comes in handy. Here are our conclusions made after reviewing Ivacy VPN.
The Bottom Line
| | |
| --- | --- |
| Pros | Doesn't collect any data; Highly safe and secure; Strong privacy features; Unblocks websites with ease; Plenty of advanced options; Affordable. |
| Cons | Somewhat outdated UI; Not the best speeds. |
| The Final Verdict | Ivacy has its downsides but also presents one of the most enticing VPN options right now. Most importantly, it keeps you safe online and unblocks websites with ease. |
| Our Score | 8.5/10 |
We can now proceed with our full review. In case you really want to dig into everything that Ivacy has to offer, including whether you should trust this service in the first place, keep on reading. You can be sure that we've prepared plenty of useful information.
Ivacy VPN  – TechNadu's Hands-On Review
Before we proceed, we'd like to say that we've tested Ivacy on a macOS computer. However, all of the information found below applies to other versions of the VPN as well. Besides, to learn more about how our review process works, we've prepared a dedicated article on how we review VPNs. Our best intention is to be as transparent as possible, so take a quick look at the supplied link to learn why you should trust our opinion in the first place.
Background, Jurisdiction & Reputation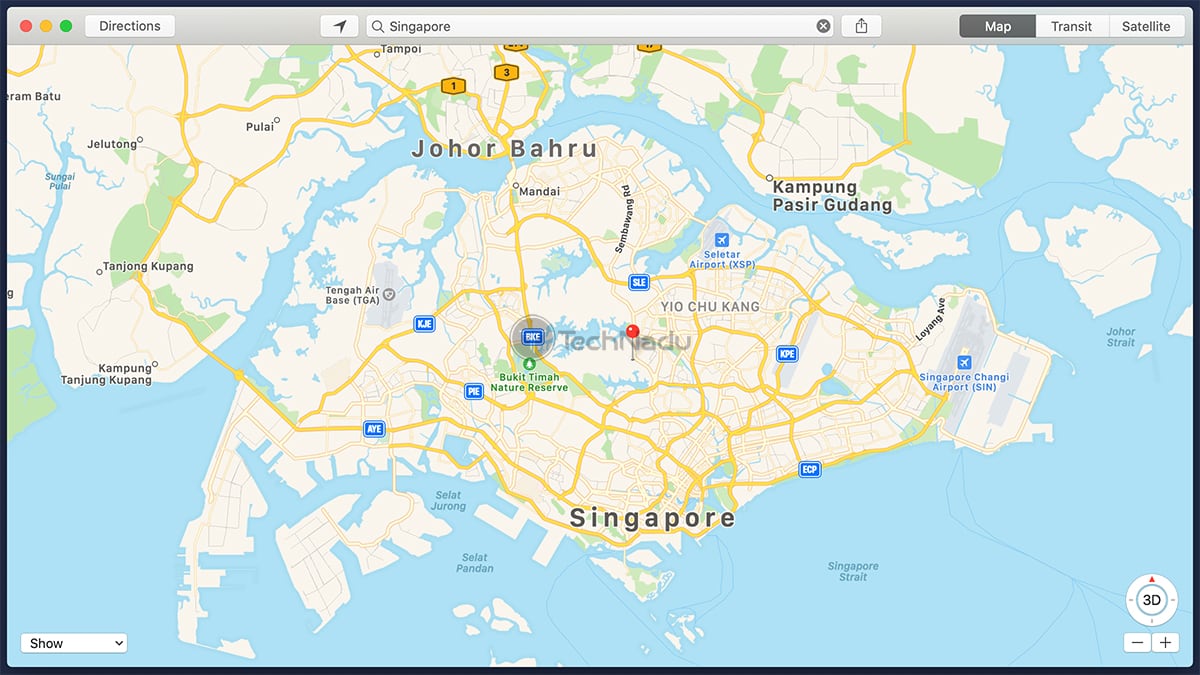 Ivacy VPN is a nice example of a transparent VPN service that keeps no user logs. It comes from Singapore, which isn't ideal, but it's far from being problematic. Our Score: 8/10.
The first segment of our Ivacy review is about taking a look behind the curtains. We are going to investigate where Ivacy comes from, what does that mean for your privacy, and whether you should trust it. So, here's what we've found.
Jurisdiction & Applicable Laws
There are two crucial pieces of information, to begin with. Ivacy claims not to collect any type of personal data about its users. And it also clearly states that it comes from Singapore – you can even find where exactly where this company is located (South Beach Tower, Singapore). Now, let's take a look at what does this information mean.
By having its headquarters in Singapore, you might think that Ivacy has carefully chosen where to base its operations. However, you will be surprised to know that Singapore has proven to be an important ally to the 5/9/14 Eyes Alliance. According to Edward Snowden's leaked documents, this country has used SingTel, one of the most popular mobile carriers in Singapore, to access traffic carried by major optical cables linking Asia and the Middle East with Europe. Furthermore, this country has cooperated with Australia and Japan by collecting and exchanging different kinds of sensitive information (intelligence).
Everything we said so far might sound alarming. However, when it comes to Ivacy and this VPN's operations, this isn't something that you should be worried about. This is where the 'no logging' policy comes into play. Ivacy does not collect any files that can identify what you do online and even comes with a pristine reputation. Of course, an ideal case would be to see Ivacy in a country with neutral diplomatic relationships. However, almost every VPN is finding legal loopholes to provide total protection to its customers, and we believe that Ivacy is doing that as well. It is why we rank Ivacy high on our list of trustworthy VPNs.
Previous Data Leaks
We're happy to say that Ivacy is highly dedicated to its 'zero-logs' policy. You can find the legal information clearly presented on the official website, where you'll see that the company hasn't been involved in any cases of providing information on its users.
With this said, it's clear that Ivacy is a secure VPN service – at least for now. We would have liked to see this company operating from a country that wasn't accused of actively collecting information about its citizens. However, Ivacy has been around for more than a decade, and it still has a spotless reputation.
Supported Platforms & Devices
Ivacy has done a wonderful job of being present natively on a wide range of devices, including some not-as-popular options as well. Our Score: 10/10.
Ideally, you want a VPN service that you can install and use on a range of devices and platforms. So, here's how Ivacy ranks from this aspect.
Platform Compatibility
| | |
| --- | --- |
| Desktop Platforms | Windows, macOS, Linux. |
| Mobile Platforms | Android, iOS, Blackberry. |
| Web Browsers | Google Chrome, Mozilla Firefox. |
| Routers | Routers supporting PPTP, OpenVPN. |
| Other Devices | OpenELEC, SmartTVs, Kodi, Amazon FireOS. |
Ivacy has done a magnificent job of being available on plenty of devices. As you can see from the table above, you can install this VPN service on any popular desktop and mobile device. In fact, Ivacy stands above its competition by offering native clients for platforms such as Blackberry and Kodi, which isn't something that we see often.
Finally, you can install and use Ivacy VPN on up to five devices at the same time while using a single subscription. This should be more than plenty to keep all your devices protected, including when you're on-the-go. Ultimately, you can install Ivacy on your router, which takes a single free 'slot' of your subscription no matter how many devices you have at your home.
Installation & Initial Configuration
Getting started with Ivacy VPN is incredibly simple. Even if you get stuck along the way, there are helpful guides to check on the official website. Our Score: 10/10.
Your journey towards becoming an Ivacy user starts by signing up for a new account. You'll need to select a subscription plan, fill out your details and information, and you'll get access to your user credentials. This is when you can proceed to download apps from the VPN's website. In general, Ivacy is quite lightweight, so even those with slower Web connections should not have any problems.
What's important to mention is that Ivacy comes with a simple installation method. It takes only a few minutes of your time, and it doesn't have any abnormalities. There's no adware of bundled software. And it's also good to know that Ivacy offers a long list of installation guides that can certainly come in handy, especially if you want to install this VPN on a router.
Prominent Features
Ivacy's feature set if a well-designed offer that should keep you safe online, without imposing any limitations. The only thing that's missing is an ad-blocker. Our Score: 9/10.
As said in the introduction to this review, Ivacy is trying to be a complete solution. It means that this VPN service grew over the years, offering different groups of features targeted at online security and online content unblocking. But first, let's see if Ivacy supports the standard set of features found in today's VPNs.
VPN Features Checklist
| | |
| --- | --- |
| DNS Leak Protection | YES |
| IPv6 Leak Protection | YES |
| Kill-Switch | YES |
| Ad-Blocker/Anti-Malware | NO/YES |
| Unlimited Server Switches | YES |
| Unlimited Bandwidth | YES |
| Unlimited Data | YES |
As you can tell by the table found above, Ivacy is a powerful VPN solution – at least in theory. It comes with all of the needed data leak protections in place and includes a few advanced features like the service's kill-switch. It's also interesting to note that Ivacy was the first VPN to introduce split-tunneling, back in 2010. Aside from that, Ivacy offers port forwarding and dedicated IPs, but keep in mind that these come as add-ons for existing subscriptions.
As you can expect from a commercial VPN service, Ivacy does not impose any limitations. You can use it up to the full extent of your Web connection's speed and switch between secure servers as many times as you'd like. And of course, there are no data caps here.
The only thing that we wished to see is an ad-blocker. However, this isn't a significant downside since Ivacy's strong encryption should keep you away from online trackers. All in all, a very intriguing set of features.
Server Count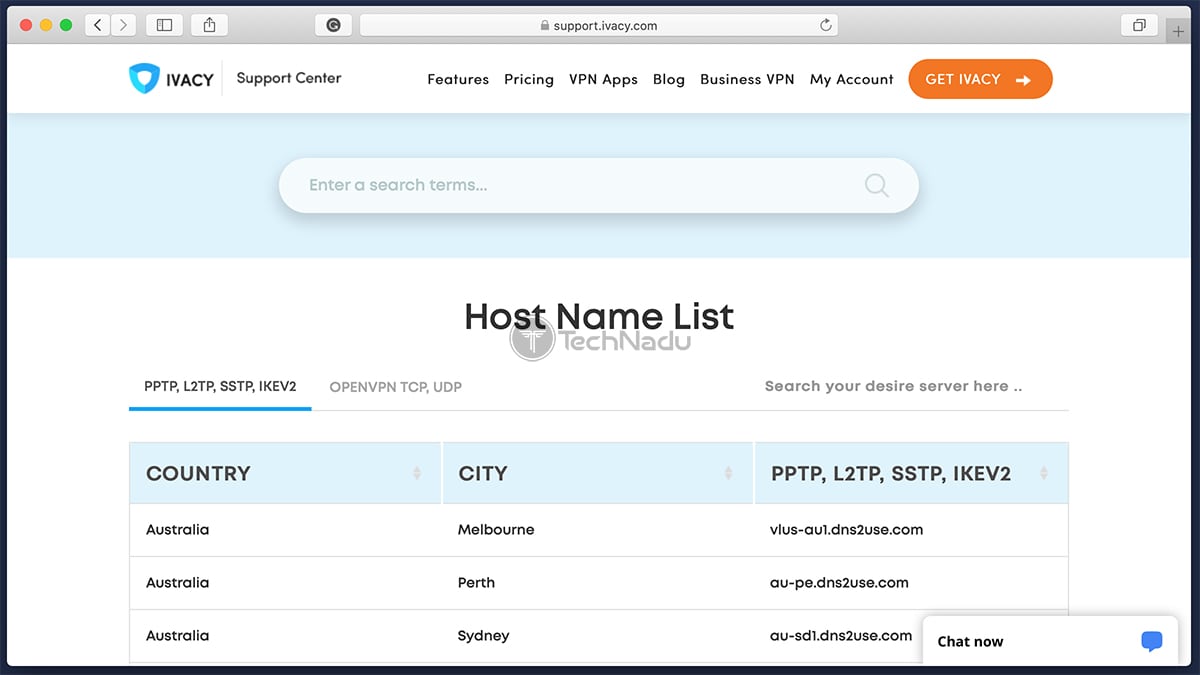 At the moment, Ivacy offers more than 1,000 servers. This might seem like a lot, but Ivacy has missed its shot of competing with top-rated VPNs. Our Score: 5.5/10.
When looking for a VPN, you need to pay attention to its server count. More precisely, you need to know how many servers it offers and if there are any specialized ones.
Server Count Info
| | |
| --- | --- |
| Number of Servers | 1,000+ |
| Number of Locations | 100+ |
| Number of Countries | 50+ |
| Specific Cities Selection | YES |
| Unlimited Switching | YES |
As you can see, Ivacy currently offers a bit over 1,000 servers spread across the entire globe. This might sound impressive, but you should know that some top-rated VPNs now offer 7,000+ servers. Therefore, we wished to see a more extensive server network that could easily accommodate a large number of users at the same time. And as said before, Ivacy has been on the market for more than a decade now. It means that this company has had plenty of time to upgrade its network.
At the moment, we think that "average" VPN users can be entirely happy with this offer. However, more advanced (or pickier) users will be left wanting for more, especially when it comes to using servers in more exotic locations.
Ease of Use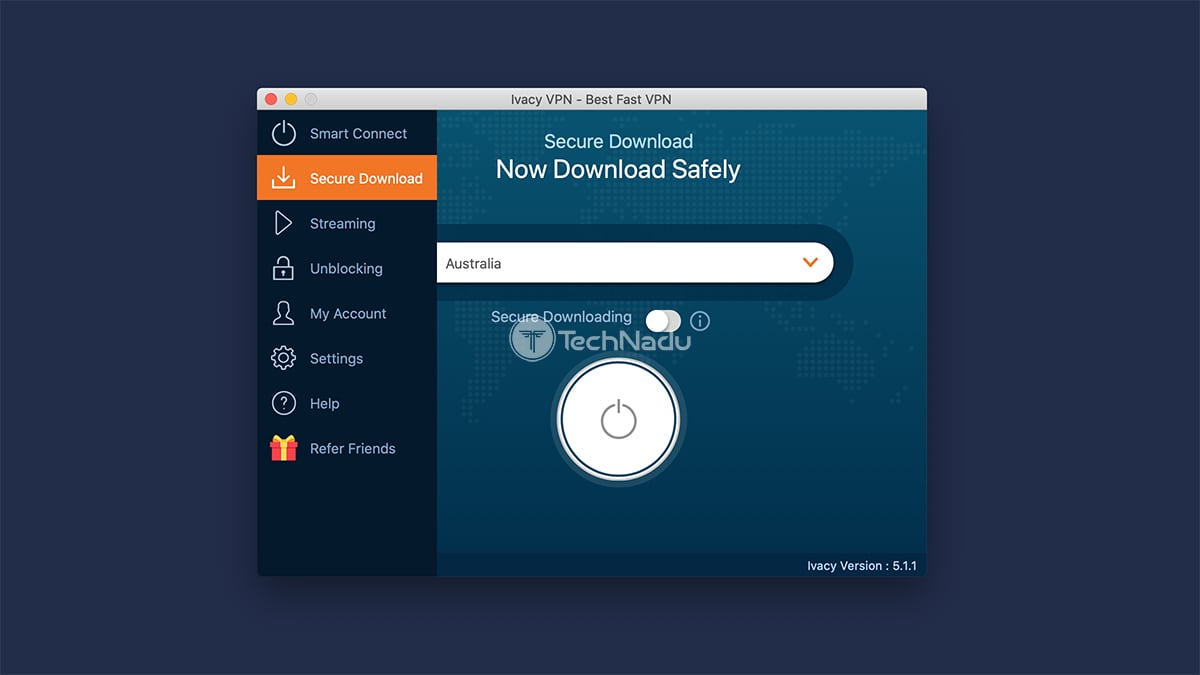 Even though Ivacy has a simple UI, it's not the most intuitive one. We feel that it's time for this application to receive a design overhaul that will bring it up to speed. Our Score: 7/10.
The home screen of Ivacy looks simple enough. The central portion of the screen informs about your current location and allows you to easily connect to a secure server. You can either pick a country or a particular city, and you can search for something specific by typing. Once you click on the prominent ON/OFF button, Ivacy will connect you to the selected server.
On the left side of the window, you'll see a series of options. This is where you can connect to specialized servers, check your account details, and more. To learn what each of these tabs can do, we'll quickly go over all of their options.
Smart Connect: This is the application's home screen, and this is what you'll see each time you launch Ivacy. In general, this tab brings a broad selection of 'standard' servers that you can use to secure your Web connection easily.
Secure Download: The name says it all. This tab contains a list of servers that you can use when downloading files from the Web, either via the traditional way (downloading files from websites) or via torrenting. Upon downloading files, Ivacy will also check for malware and viruses, and will automatically remove them.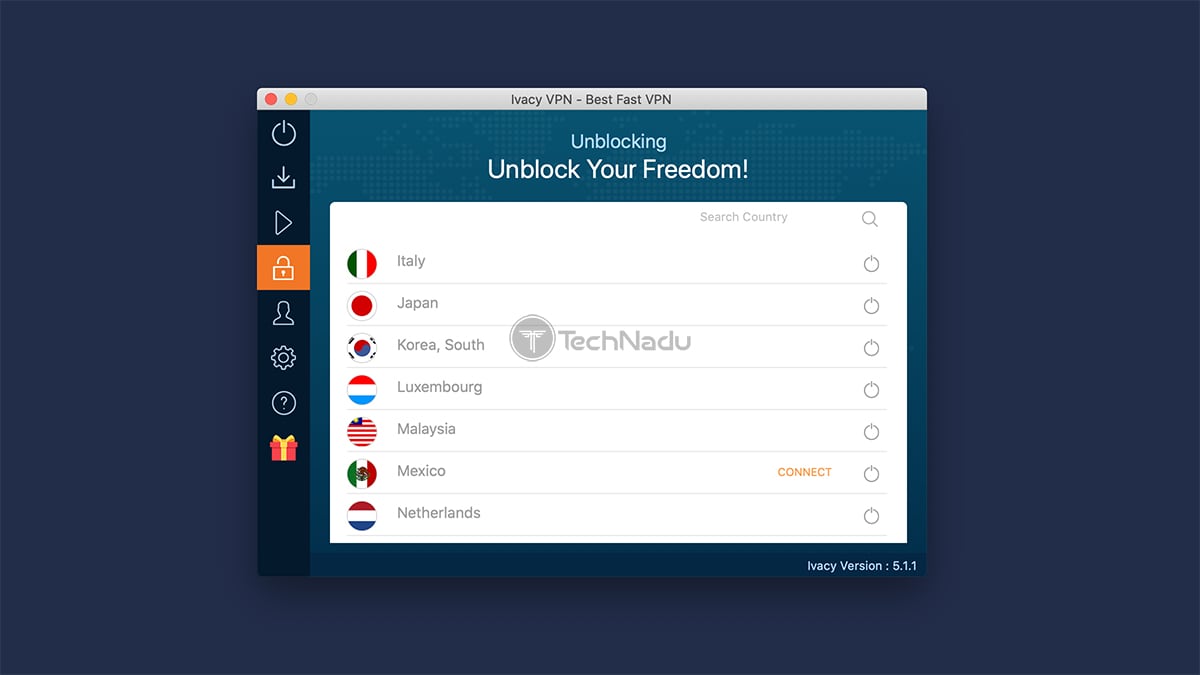 Streaming: Using this tab, you can either select a channel (or a Web service) you'd like to unblock or select a specific country. Several popular services are supported, including Hulu, ABC, ARTE, BBC, BeIN Sports, and more. We're going to take a closer look at Ivacy's capacity of unblocking media streaming websites, so make sure to keep on reading our Ivacy VPN review.
Unblocking: If you'd like to browse the Web as if you were located in another country, this is where you can find that option. As we can see, this tab is close to identical to the 'Smart Connect' one, except that it allows a different way to browse the available servers.
My Account: You can review your account details, log out, or upgrade your account using this tab. Besides, it lets you see how to install Ivacy on additional devices.
Settings: Ivacy doesn't let you take a deep dive into tinkering with its settings. You can choose to launch the application upon startup, and automatically connect to a server.
Help: Lastly, there's a dedicated help section. You can review some frequently asked questions, submit a support ticket from within the app, and provide your feedback.
All in all, Ivacy does have a polished user interface. However, we think that it's not the most intuitive one, especially if you'd like to take your time and fully understand everything that this application offers. And also, the application's window can't be resized (at least on Windows), which might be a problem at ultra-resolution display resolutions.
Media Streaming & Torrenting Support
Ivacy can unblock a massive array of popular streaming services, and it fully supports torrenting as well. Our Score: 10/10.
We're sure that many of you wonder if Ivacy can unblock popular streaming websites. We've tested it against the world's four most popular services, so here are the results.
Media Streaming & Torrenting Support
| | |
| --- | --- |
| Netflix US | YES |
| Hulu | YES |
| BBC iPlayer | YES |
| Amazon Prime Video | YES |
| Torrenting (P2P) | YES |
If media streaming is your biggest concern, Ivacy should be your pick. We've tested this VPN with Netflix US, Hulu, BBC iPlayer, and Prime Video – and Ivacy managed to unblock all of those services with ease.
This was somewhat surprising since you can often find polarizing opinions about this VPN service online. However, we're not sure if Ivacy has a stiff competition whose goal is to tarnish this VPN's reputation, or if something else is going on, which is why it's important once again to say that we've tested this VPN ourselves. Also, we'd like to add that Ivacy is capable of streaming without any buffering. However, we're going to check its speed and performance later on in the article to get some clear stats.
Lastly, Ivacy plays well with P2P file transfers. This VPN fully supports torrents, and even scans your downloaded files for malware and viruses.
Security & Privacy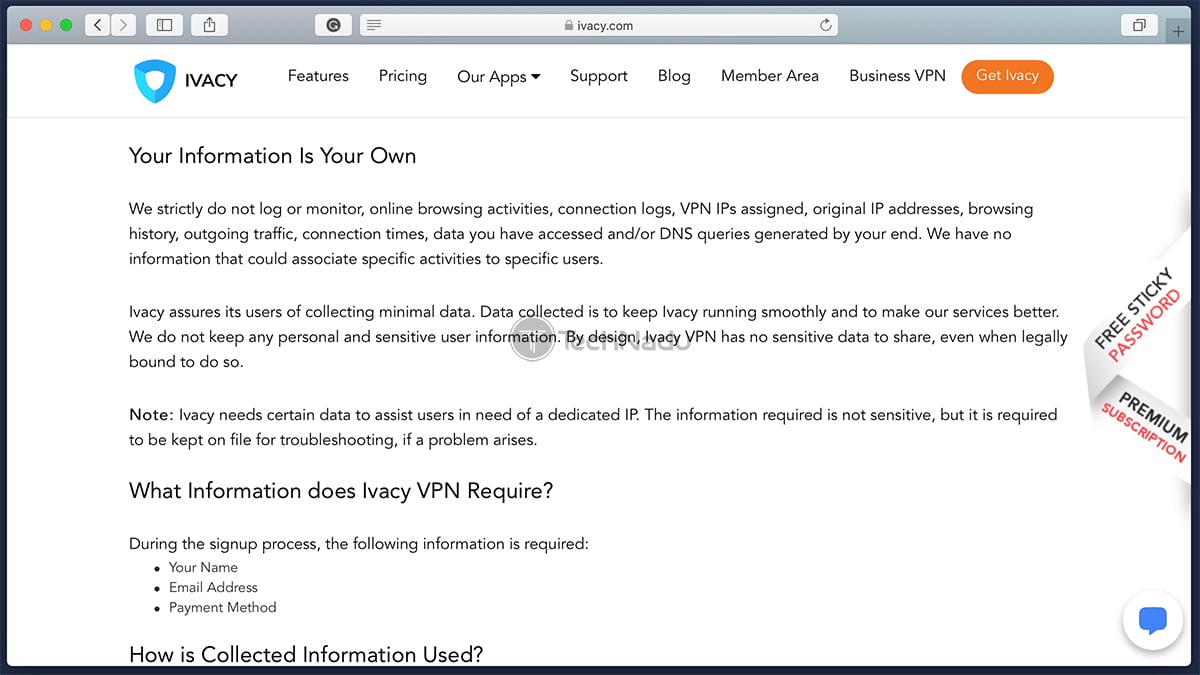 No previous data leaks, strong encryption protocols, and bulletproof logging policy – that's what you can expect from Ivacy. Our Score: 10/10. 
Even the most attractive features don't mean much if the VPN takes advantage of your personal data. This is why in our every VPN review, we have a dedicated section where we inspect security-related features.
Supported Encryption Protocols
To hide your true identity, Ivacy VPN encrypts your data using the highest level of commercial encryption available right now. We're talking about AES 256-bit encryption, and this one's practically uncrackable. With this said, you can be sure that even if someone collects your data, they won't be able to "read" it.
Next, Ivacy supports a wide range of currently used VPN protocols. In general, you can count on OpenVPN (TCP/UDP), PPTP, L2TP, SSTP, and IKEv2. The availability of these protocols changes depending on the selected platform, with the most potent options being present on Ivacy's desktop platforms.
Logging Policy
When you visit Ivacy's official website, you'll see that this is a 'zero logs' VPN. Of course, many VPNs claim not to collect your data, but only a few genuinely do not. So, to find the truth behind this claim, we've taken an in-depth look at Ivacy's Privacy Policy.
You will be happy to know that Ivacy does not collect any data. It means that your browsing history, incoming and outgoing traffic, connection times, DNS queries, as well as pretty much any other type of data isn't collected. What Ivacy knows about you is your name, email address, and your payment method. However, this type of data can't be used to identify what you do online.
We strongly believe Ivacy's claims. After all, there weren't any situations in the past that would provide otherwise.
DNS Leak Test
Finally, we'll check Ivacy's capability of protecting your data. We do this via checking for DNS leaks which might point to problematic data leaks that reveal our true identity.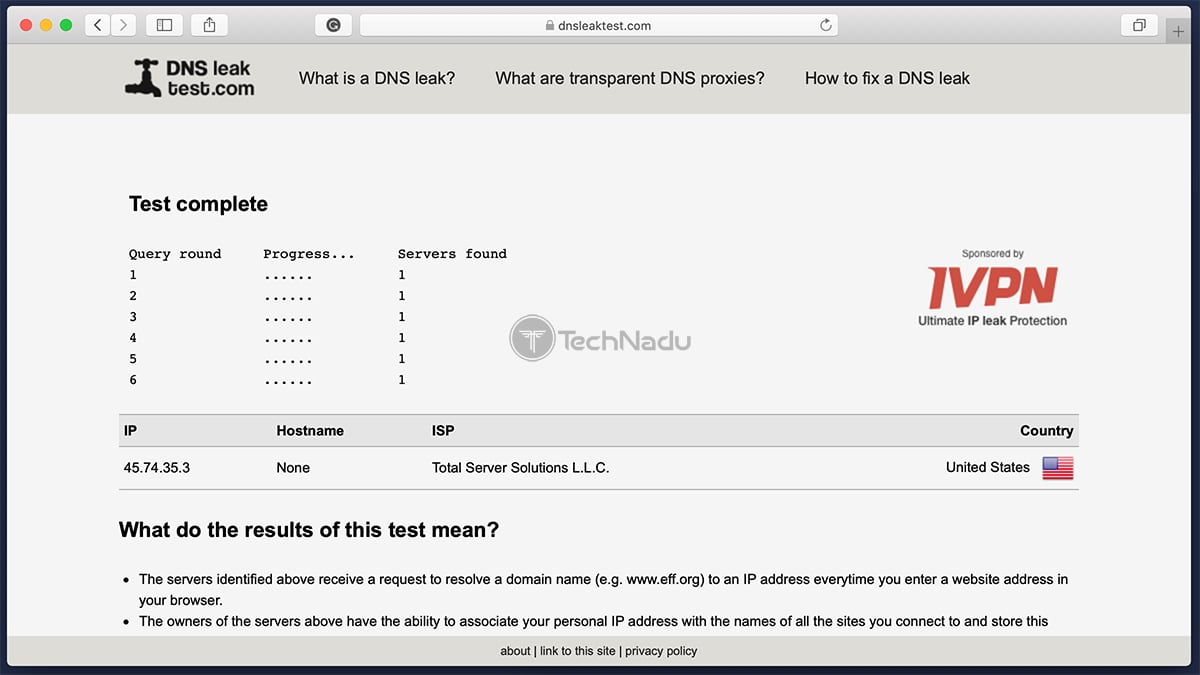 As can be seen from the image above, no DNS leaks were detected. We did an extended test, where the testing tool saw our 'virtual' information only. This means that no leaks were detected and that Ivacy is truly capable of protecting your private information in the best way possible.
Speed & Performance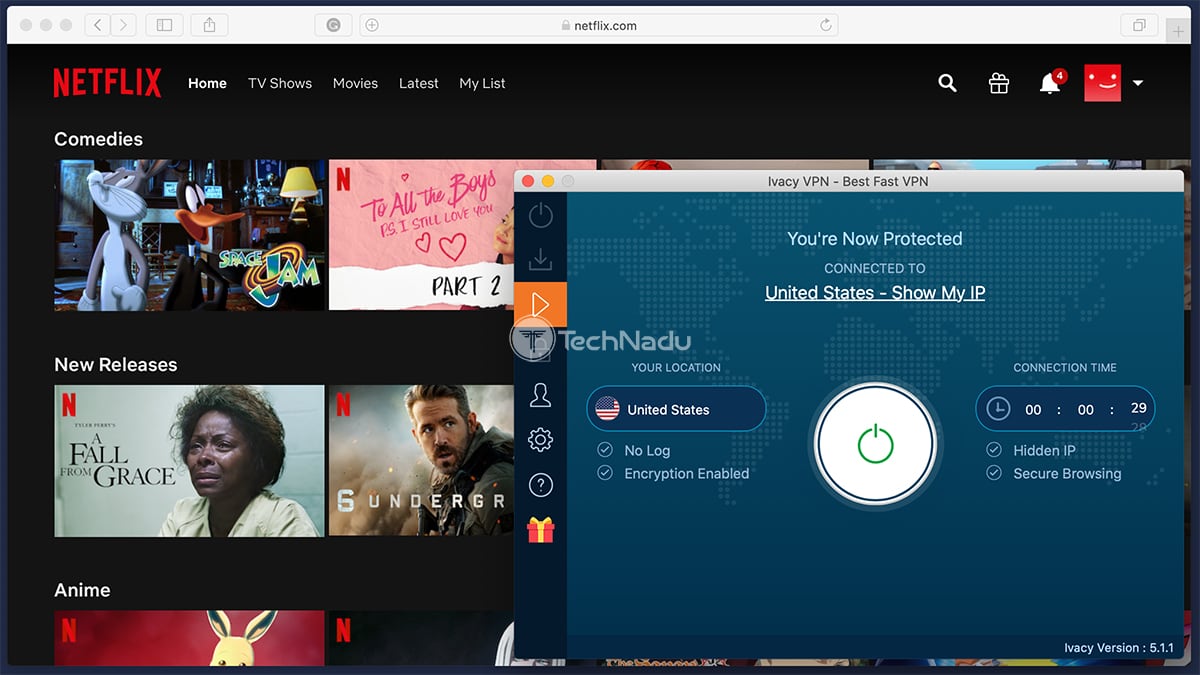 This VPN throttled our Web connection by 68% on average, which means that Ivacy VPN certainly isn't one of the best-performing VPNs. Our Score: 4/10.
When it comes to VPNs, you need to pay attention to how well they perform. And to help you find out what to expect before you buy one, we do hands-on speed tests. We do those tests by connecting to several individual servers and checking their speeds. So, let's begin.
First, we need to set up some baseline stats. For this purpose, we check the speed of our connection without a VPN. As you can see from the screenshot above, we got 488.08 Mbps for downloads and 48.58 Mbps for uploads. We'll use these numbers to see by how much does Ivacy throttle the speed of our Web connection.

First, we've allowed Ivacy to connect us to the most optimal server. The application did the calculations, and we were connected to a server in Europe (Bulgaria). A new speed test gave us 172.23 Mbps for downloads and 40.20 Mbps for uploads.

And lastly, we've wanted to check a remote server based in the United States. This server was optimized for Netflix, so we expected to see good results. However, we got 145.49 Mbps for downloads and 38.63 Mbps for uploads. We have to say that this server performed below our expectations.
| | | | |
| --- | --- | --- | --- |
| | Download Speed | Upload Speed | Speed Reduction |
| Baseline Speed | 488.08 Mbps | 48.58 Mbps | 0% |
| Nearby Server | 172.23 Mbps | 40.20 Mbps | 65% |
| Remote Server | 145.49 Mbps | 38.63 Mbps | 71% |
As you can see, Ivacy slowed down our Web connection by 68% on average. It isn't the most impressive result, as the best VPNs out there can minimize throttling up to around 15%, which is considered the best possible outcome.
Customer Support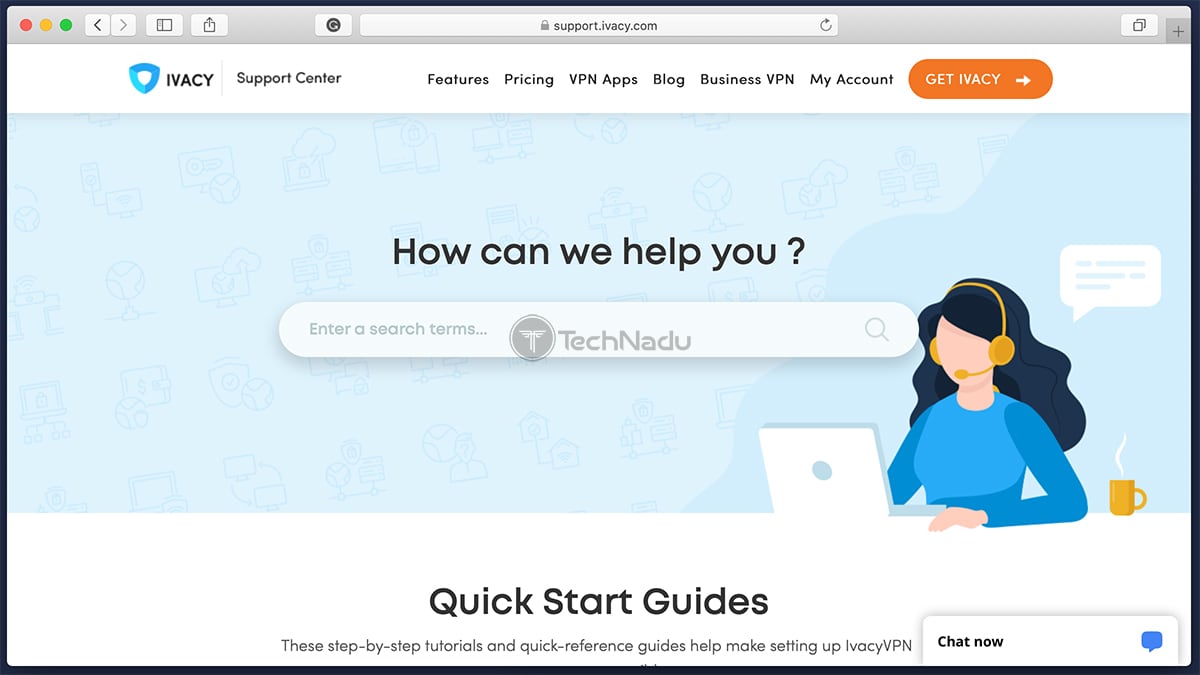 Ivacy has a dedicated customer support page with everything you hope to find. Live-chat is also part of this offer. Our Score: 10/10.
Reliable custom support is imperative when it comes to VPN services. Since these are highly sophisticated solutions, something might go wrong at times, preventing you from using the application. So, when it comes to Ivacy, here's what you can expect.
Live-Chat Support: Ivacy offers live chat on its website that you can activate from any page. We've talked to the company's representatives a few times, and there was never a long queue. Besides, we always managed to get useful information.
Installation Guides: Installing Ivacy on both desktop and mobile platforms is incredibly easy. However, you need a step-by-step guide for installing Ivacy on routers, so it's good to know that you can count on this type of support documentation.
FAQs: Ivacy's FAQ section offers around 45 questions, so there's a real chance that you'll have your question answered even without contacting a support agent.
Support Tickets: You can send an email from within the app itself, and it will be treated as a support ticket. If you try to find help this way, you can expect Ivacy to respond within 24 hours. We've asked about specific Ivacy features and got a response with plenty of online resources where we found everything we wanted to know.
Email Contact: Lastly, you can send an email based on the type of question you have. There's a dedicated 'Contact Us' page on Ivacy's website, which also has an online form that you can fill out.
Pricing
After taking a look at Ivacy's long-term plans, we can easily conclude that this VPN is a wise investment in your online safety. Our Score: 10/10.
Finally, let's take a look at Ivacy's pricing structure. We've created a handy table, found below, where you can see the prices of the currently offered subscription models.
| | | | |
| --- | --- | --- | --- |
| | Total Price | Per Month | Savings |
| 1 Month Plan | $9.95 | $9.95 | 0% |
| 1 Year Plan | $42.00 | $3.50 | 65% |
| 5 Year Plan | $90.00 | $1.50 | 86% |
We must say that Ivacy comes with a somewhat high-priced monthly plan. However, prices go down steeply if you take a look at its long-term plans. For example, you can save up to 65% if you buy the VPN's 12-month offer. Of course, there's a special long-term plan that brings the price down to $1.50 per month, but that is the 5-year plan.
It's also worth noting that Ivacy is not a new VPN provider. With more than a decade of experience, this company knows how to do things the right way, and this is why investing in Ivacy's long-term plans is as safe as it could possibly be.
We also need to mention that Ivacy offers a couple of "security add-ons," which are optional: port forwarding (priced at $1.00/month) and dedicated IPs that can be associated with the United States, Singapore, Hong Kong, Germany, Canada, Australia, and the United Kingdom. A dedicated IP comes priced at $1.99/month.
And also, let's not forget to mention that you can pay via numerous payment processors (credit cards, PayPal, AliPay, PaymentWall, etc.), in addition to Bitcoin being on board as well. Finally, know that there's a 30-day money-back guarantee, which seems fair enough.
Do We Recommend Ivacy VPN?
We have to say that Ivacy is one of the most exciting VPNs right now. First of all, it unblocks numerous popular video-streaming websites. It also brings plenty of interesting security features, and it doesn't collect any logs. And even though it could benefit from some UI polishing and resolving some speed-related quirks, we believe that many of the users will be perfectly happy with this option.
PROS: Effortless installation; No previous data leaks; Strong security features; Unblocks popular websites; Doesn't collect any logs; Highly affordable.
CONS: Not the most polished UI; You won't get the best Web connection speed.
OUR SCORE: 8.5 out of 10!
If you think that this VPN is the choice for you, don't hesitate and sign up for Ivacy VPN now! There truly is plenty to like about this VPN service, and most importantly – it gives you peace of mind when browsing the Web.