At its core, Kodi is an unbelievably powerful application. When it comes to home theater software, you can hardly find a viable alternative to Kodi (not that we haven't tried). This is because it supports almost every popular platform, plays various types of media files, and finally – comes free-of-charge. However, an important side of this application is its freedom of customization. Out of the box, Kodi is a highly polished software, ready to be used on its own. Still, you can push it a couple of steps further via amazing third-party Kodi addons, builds, and skins. With this said, TechNadu presents a list of the very best Kodi skins for January 2020.
We will be talking about how to change Kodi's UI (user interface) without making any deeper-level changes. In fact, it's incredibly easy to switch between different skins and install new ones. Therefore, we'll take a look at the best Kodi skins that work across different Kodi versions and platforms.
Also, one more notice. As you probably know, Kodi v18.5 Leia has recently been released. However, it supports a limited range of skins at the moment. Therefore, we're going to include a short notice for each of our recommendations, so you can easily find the currently supported skins.
Before getting started, we strictly recommend you to be safe while using Kodi. Therefore, we want you to read the We will be talking about software developed for Kodi – which is based on open-source code. However, the following software comes from unofficial third-parties. In addition, it is publicly available and free of charge. TechNadu doesn't claim any responsibility for how our readers decide to utilize the following software. Please note that we don't condone sharing pirated content and copyright infringement. TechNadu is not affiliated with the software mentioned in this article in no way. Make sure to carefully read the above-said disclaimer and ensure the proper use of the software.
disclaimer and WARNING notice found below.
Warning: Why you should ALWAYS USE a VPN with Kodi?
Here are the reasons that you should consider looking at it without SKIPPING.
Using ILLEGAL Kodi Addons are Dangerous without a VPN: Most of the Kodi users are installing the ILLEGAL Kodi addons on their system to access all the latest movies, TV shows, sports, music, and much more for FREE, than a legal Kodi addon where it has the least content in it. But do you know what? The video content on illegal addons is scraped and copyrighted material. If you are accessing them on Kodi, then your activities will be monitored by your ISP by tracking your IP and gives all the information to the government or companies if they request for it. This will land you in trouble. To stay away from this, you will have to connect to a VPN where it hides your identity by rotating your IP address while streaming Kodi content. This is how you will be safe from the prying eyes.
Bypass Geo-Restriction: As you probably know, some official addons like BBC iPlayer, NBC Sports, Hulu, IceFilms have geo-location restrictions. This also applies to other addons like Acestream which fetches the data from torrents. To unblock these restrictions, you will have to DEFINITELY use a VPN no matter what.
The above are the 2 reasons that forcing us to recommend a VPN to the Kodi users for safer streaming. In fact, after testing several VPNs for Kodi, we finally came up with a one non-stop solution and that is ExpressVPN, the top-rated Kodi VPN so far.
Limited Time Offer: For our TechNadu readers, there is a 49% OFF on ExpressVPN which includes 3 FREE Months in it.
Without any further ado, here are the 15 best skins for Kodi in January 2020.
1. Aeon Nox (SiLVO)
Compatible With: Kodi 17 Krypton, Kodi 18 Leia.
We'll start our overview of the best Kodi skins with probably the biggest name in the Kodi community: Aeon Nox. This skin has been around for quite some time, following several major Kodi releases. Since every new major release requires skins to be updated, Aeon Nox is usually the first one to arrive. This is a fully-featured skin that can completely transform the way you use Kodi.
First and foremost, Aeon Nox put a big emphasis on large visuals. Your movies and TV shows are presented as a grid of posters that you can navigate in several different ways. This applies to movies, TV shows, as well as music. Don't worry, your photo gallery, as well as your addons, will also have a fresh feel to them. And also, it's worth noting that Aeon Nox can be used on Kodi 17 Krypton. There's also a version for Kodi 18 Leia, called Aeon Nox: Silvo, so make sure to try it out.
2. BOX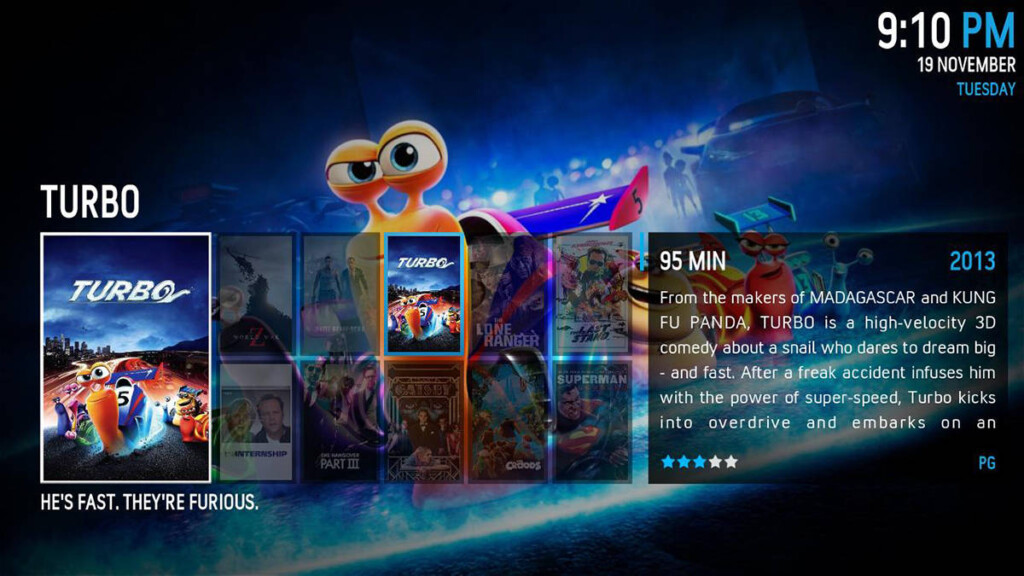 Compatible With: Kodi 17 Krypton, Kodi 18 Leia.
As its name implies, this skin is all about modularity. In case you're a long-term Kodi user, you probably remember skins such as LightBox and nBox, which were hugely popular with previous Kodi releases. Well, the BOX skin is a combination of those with a hint of unique aesthetics as well.
The most interesting thing about the BOX skin is that it provides straightforward navigation. Instead of lines of text, you'll see prominent icons with interesting iconography. Also, this skin uses different types of navigation for different types of content. This means that your movies can be previewed as a grid of posters, while your music can be a long list of artists and playlists (along with meta-data, ratings, and more).
3. Titan
Compatible With: Kodi 17 Krypton, Kodi 18 Leia.
Our list of the best Kodi skins wouldn't be complete without Titan. In fact, this has been one of the most beloved skins of our editorial team at TechNadu. That's because it strikes just the right balance between simplicity and providing plenty of information in a clear way. In other words, lots of things can be happening on the screen without overwhelming you.
Similar to how our previous suggestion works, Titan is also about modulatory. This means seeing plenty of large icons and grids of movie posters. We also especially like how the main navigation bar can be customized. If you like prominent categories, you can display them as a scrolling menu. Or if you have a smaller screen, you can shrink them and see more of those at once. Plenty of customizations await that will keep you busy for a long time.
4. Confluence
Compatible With: Kodi 17 Krypton, Kodi 18 Leia.
We have decided to put Confluence on our list of the best Kodi skins in 2020 due to its significance to the Kodi user community. This has been the default skin for numerous previous Kodi releases, which is why users of this application still miss it. However, you can easily install this skin and restore the appearance of your Kodi to its earlier state.
Confluence is based on visually heavy elements with lots of shiny UI elements and plenty of gradients. So, this isn't the right skin for you if you're into modern and minimalistic skins. The main menu is vertical, with sub-categories displayed as well. This makes navigating the application as easy as possible. In addition, this skin uses meta-data of your movies, TV shows, and other types of content to display plenty of useful information for each title.
5. GRID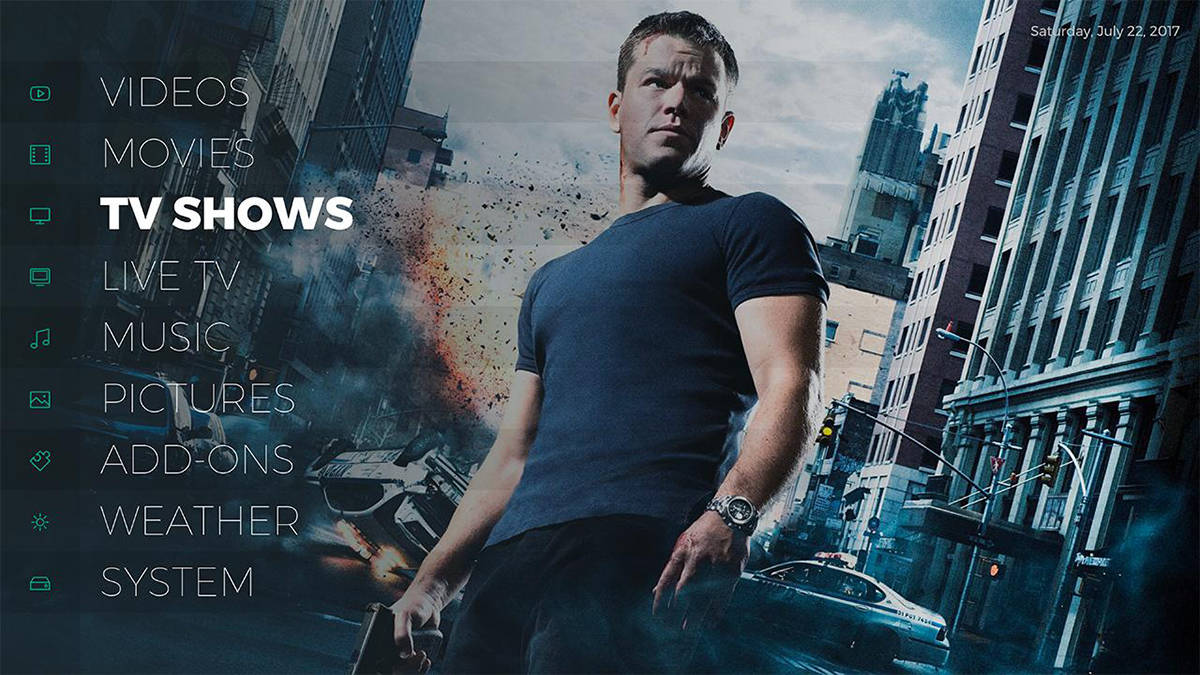 Compatible With: Kodi 17 Krypton, Kodi 18 Leia.
When it comes to something completely new and exciting, we have the GRID. This is a fast-developing skin with a very active team behind it. It even works on the newly introduced Kodi 18 Leia.
A lot could be said about the GRID. It transforms the main menu into a horizontal transparent column on the left side of the screen. As you scroll, you'll get to see beautiful visuals in the background. If you, for example, enter your TV shows category, you'll see a horizontal list of titles, along with how many episodes you didn't watch. Of course, you can transform this into a vertical scrolling bar with metadata displayed at the bottom. The GRID is popular due to its high level of customization, making us sure you'll manage to create something unique.
6. Amber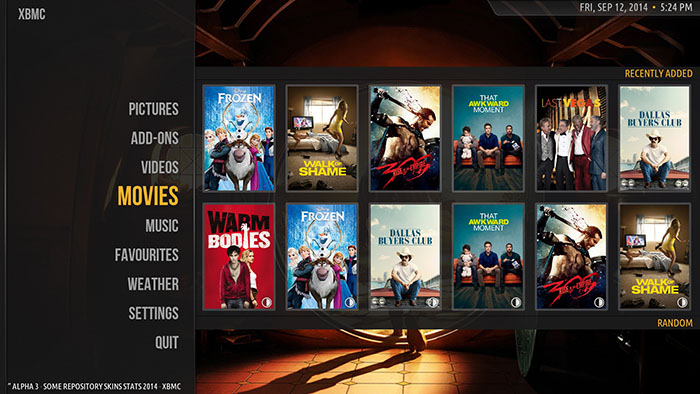 Compatible With: Kodi 17 Krypton, Kodi 18 Leia.
By default, Amber brings a horizontal menu with the main categories visible straight away. As you scroll through different categories, you'll see high-resolution images in the background. These will be based on your Kodi's media library. Once you get into a specific category, like movies, you will see a nice horizontal row filled with movie posters. However, almost everything about Amber can be customized – which is why we have placed it at the top of our list of the best Kodi skins.
If you're not a fan of the horizontal navigation, you can opt for a vertical main menu. This will automatically employ grids of artwork and movie posters so you can see more at once. In specific categories, you won't see a row of posters, but instead a grid or a list of available titles.
7. Mimic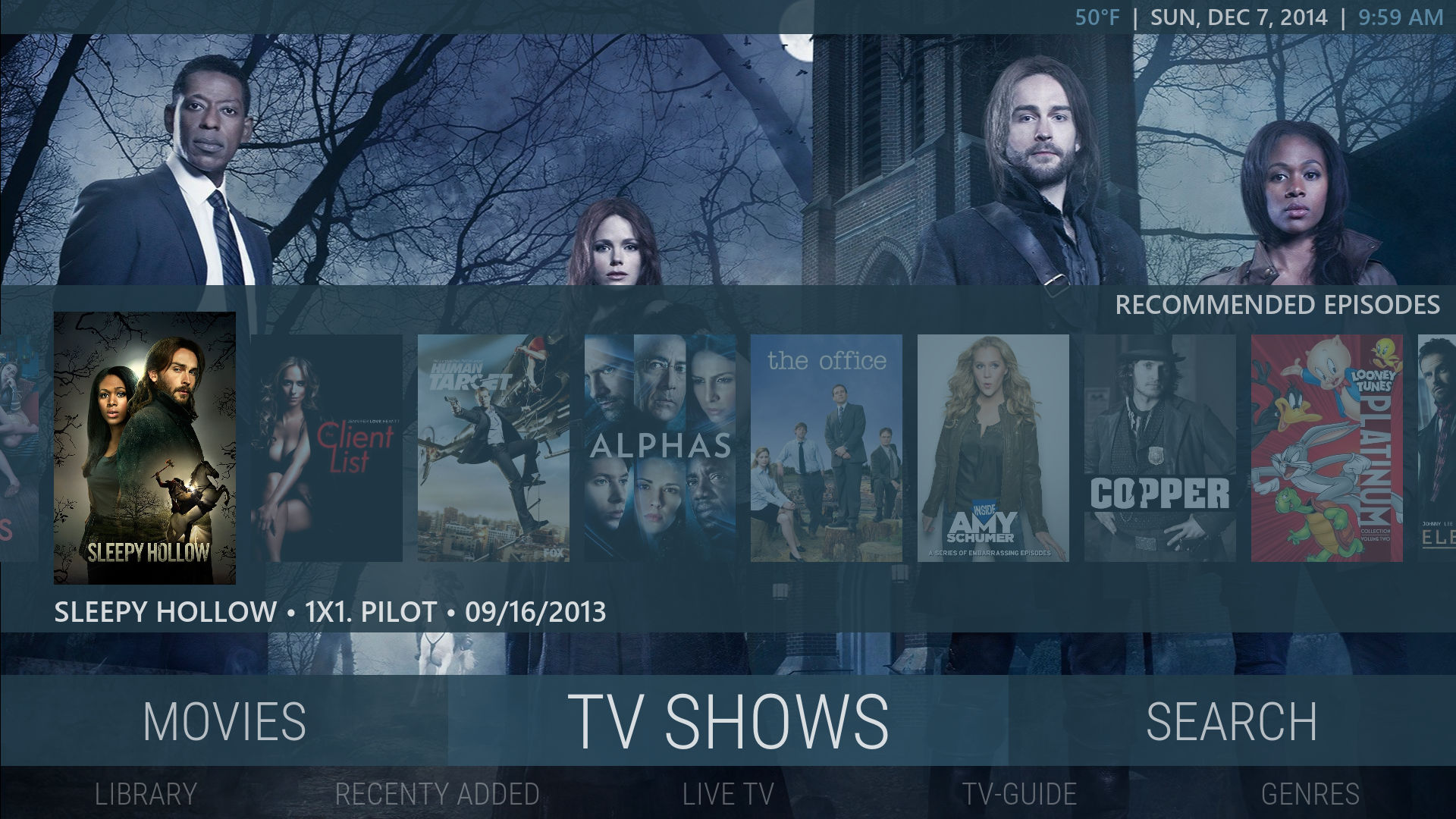 Compatible With: Kodi 17 Krypton, Kodi 18 Leia.
This Kodi skin is somewhat similar to our previous suggestion. The main difference is that Mimic is built upon the principles of flat design. What this means is that you won't see too many shiny buttons or gradients. Instead, the main color is blue and its different hues. As you can imagine, you can change the default color and adjust Mimic's appearance to your sense of aesthetics.
Perhaps the most interesting aspect of this skin is its customization. There are numerous options to review and adjust. For example, there are different ways this skin can display movie posters. Our favorite choice is a display option called 'Wall' which is a grid of posters without any border. Instead, you'll see nicely stacked covers of your music, videos, and TV shows. If you prefer something simple, you can go for a basic list option. This allows you to see a vertical list of your content in addition to its artwork, synopsis, and ratings. There are also horizontal lists which may be more suitable for large TVs.
8. Unity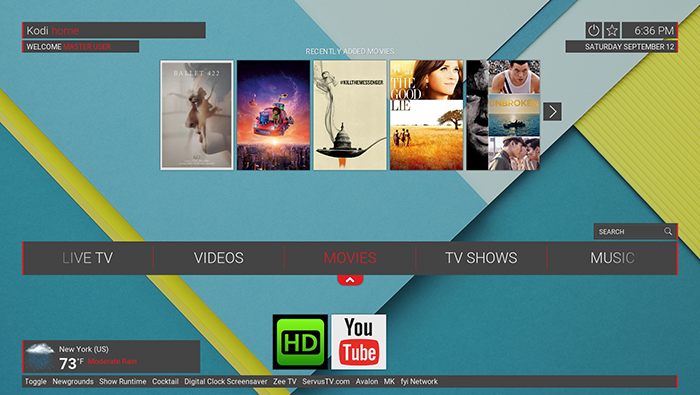 Compatible With: Kodi 17 Krypton.
Our list of the best Kodi skins would not be complete without at least one Material Design skin. This kind of aesthetics was brought by Google a couple of years back. Since then, it has found its way to numerous different platforms since it brings very clear and concise visuals. There are no gradients or other heavy elements. Instead, you'll see basic colors and buttons without transparency.
The Unity skin does a good job of bringing Material Design to Kodi. The main menu is, by default, organized into a horizontal menu. It is basically a large gray bar with white-colored letters and menu items. As you scroll through the items, you will see related apps (add-ons) as well as movie posters and artwork in the upper portion of the screen. As you'll see, everything is card-based, meaning that you'll see small and large rectangles filled with different kinds of information.
9. Black Glass Nova
Compatible With: Kodi 17 Krypton, Kodi 18 Leia.
By default, Black Glass Nova transforms Kodi's menu into a horizontal bar with large thumbnails. As you scroll left or right through different content categories, you'll see images of what each category represents. While browsing the main menu, you'll also see sub-menus at the bottom of the screen. For example, the movies section comes with sub-menus that contain Playlists, In Progress, Recently Added, and more. There are many ways to browse your content, which is where this skin excels.
When it comes to is visuals, it could be said that Black Glass Nova is built upon Windows' Aero aesthetics – if you remember that term. Dialog boxes, content sections, and images come with a transparent border with soft edges. Since there are numerous small details, our recommendation is to use this skin on a large-screen device. Otherwise, Kodi's interface might be a bit overwhelming.
10. Nebula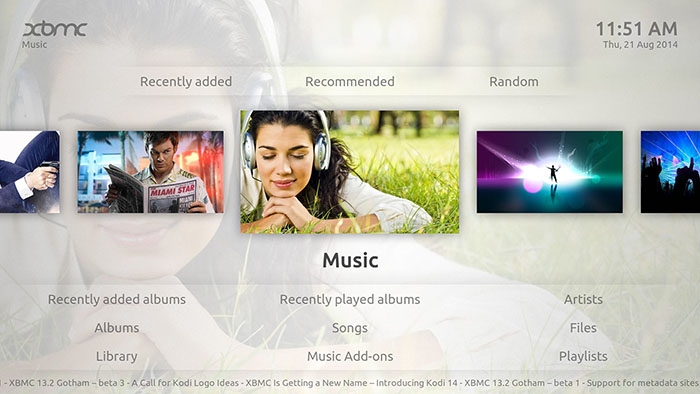 Compatible With: Kodi 17 Krypton, Kodi 18 Leia.
This is an incredibly user-friendly skin. As it seems, the main mission of Nebula is to bring as many options as possible and make them visible all at the same time. However, Nebula isn't too complex since it doesn't make the navigation too difficult to handle. In fact, it makes incredibly useful compromises.
The Home Screen of Kodi, once Nebula is applied, turns into a soft white surface with gray text. The central portion of the screen is dedicated to the main menu, which can be scrolled left or right. Once you pause at a certain category, you'll see different options at the top and bottom of the screen. For example, you can directly enter a certain movie genre without having to enter the main category first.
11. Metropolis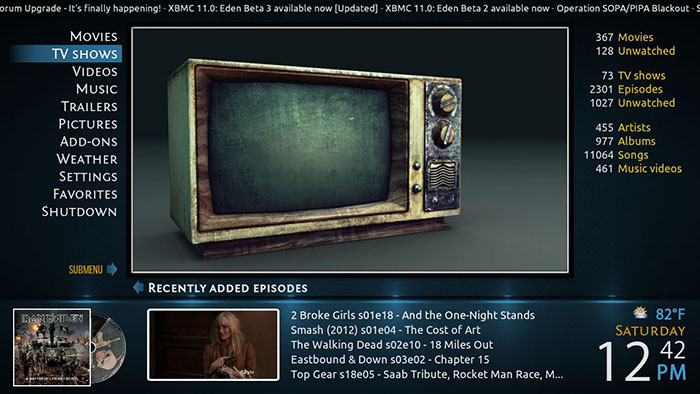 Compatible With: Kodi 17 Krypton.
This skin is all about presenting a lot of information about your media collection. For example, if you enter the TV shows category, you will see how many episodes are stored and how many of those are waiting to be watched. In addition, you can see your recently added files at the bottom of the screen.
Another interesting thing about Metropolis is that it brings a lot of freedom. You can change the default layout in many different ways, and choose between different gallery-mode options. For example, you can pick horizontal or vertical sorting. We also like custom logos for TV shows. Once you enter this section, you will see a list of your locally stored TV Shows along with their logos and artwork. This is a bit different than with other skins on this list. When it comes to dramatic overhauls, Metropolis is the best Kodi skin.
12. Arctic: Zephyr 2
Compatible With: Kodi 18 Leia.
After telling you about one of the most dramatic skins, let's switch to something simplistic. This is where Arctic: Zephyr 2 comes into play. This is an extremely polished skin that can easily replace Kodi's default option.
By default, this skin turns Kodi's menu into a large, bottom-positioned bar. This is where you'll see the main content categories, but you can also add shortcuts on your own. As you switch between different items, you'll see that a large background image changes. Enter any category, and you'll see a clear representation of your content. You can switch between different viewing options. For example, your movies can be presented as scrollable lists of posters or as text-based lists. No matter what option you pick, you'll also see legible letters and a nicely designed layout.
In case you watch live TV via your Kodi, you should know that Arctic: Zephyr 2 brings an incredibly nicely designed TV schedule where you can check out upcoming movies and TV shows.
13. Chroma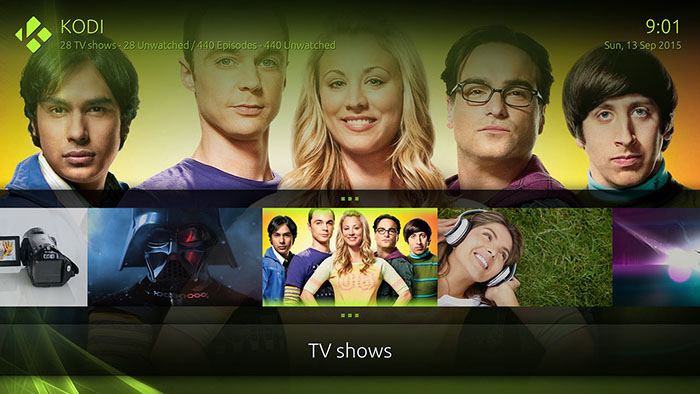 Compatible With: Kodi 17 Krypton, Kodi 18 Leia.
Even though not everyone will like this skin, we simply must mention Chroma on this list of the best Kodi skins. This is because Chroma has been available for quite some time and managed to attract a loyal user base. It might be too overwhelming on smaller screens, but Chroma works just fine on larger screens and TVs.
By default, Chroma combines a horizontal menu with high-resolution background images. If you enter a category, you will see all the needed information. For starters, there's a list of available content, in addition to ratings, genres, synopses, and artwork. As you can imagine, there are different ways to organize how the content is displayed. It can be via lists (horizontal and vertical) and different kinds of grids. There's also an option to show all your movies at once as a large interactive wallpaper.
The only thing that we'd like to see improved is legibility. At times, it can be hard to read something, especially if there's a white background.
14. Eminence 2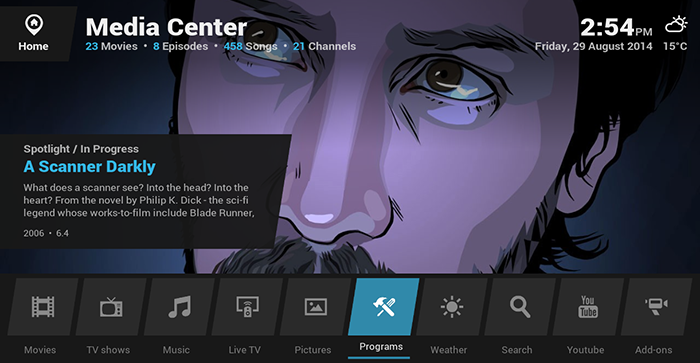 Compatible With: Kodi 18 Leia.
Eminence 2 turns your Kodi into something that resembles LG's WebOS. You can recognize it by a row of oddly shaped icons that can be scrolled left and right. However, this skin does an incredibly good job of creating a simple yet functional user interface.
As previously said, Eminence 2 brings a row of large icons on the Home Page. As you enter one of the content categories, you'll see a large grid of movie posters and artwork. However, you can turn this into a scrollable horizontal list consisted of a large image and synopsis. There are different variations to how you can present your content library. This skin also does a good job of simplifying Kodi's Settings menu by bringing clearly visible icons. The text is often separated into blocks placed within their own background. This means that you can read synopses and other information no matter the background.
We placed Eminence 2 on your list of the best Kodi skins due to its simplicity, ease of use, and fluidity of navigation. Try it out.
15. Bello 7
Compatible With: Kodi 18 Leia.
Bello 7 brings very subtle typography and plenty of subtle animations. Therefore, it looks amazing on large-screen TVs. However, you should know that the skin is also fully functional on smartphones and tablets. In case you've populated your Kodi with movies and TV shows, you will get to see large movie posters and plenty of additional information attached to them. The skin also brings a highly polished TV guide, in case you're using your Kodi to watch TV.
This list is focused on the very best Kodi skins. You can find more options within Kodi's Settings menu, but we picked the ones we feel you'll enjoy the most. As you know now, not every skin is the same. If you aren't happy with the default one, don't hesitate to try out something new.
Feel free to share it article across social networks if you think other Kodi users might find it interesting. Also, don't forget to follow TechNadu on Facebook and Twitter. Thanks!