When talking about Mexico in terms of the safety of its citizens, many of us associate this country with organized crime, cartels, and some gruesome situations from the past. Still, this applies only to certain areas of this large and picturesque country – where the government and authorities and trying to regain their control. Still, high levels of corruption and censorship are present, forcing Internet users in Mexico to think twice about their activities. This is why, in this article, we will be talking about the best VPN for Mexico in 2018.
Why Do You Need a VPN in Mexico?
The latest report by the Freedom House states that the Mexican government does not systematically request the removal of online content. There are a few cases here and there but this is mostly connected to politicians' personal ties. Still, this doesn't mean that censorship isn't present because it is – just in a different form.
We are sure you don't want your personal data to be collected by the government or by your Internet service provider, which is why many are turning to VPNs. These are very simple to use applications that encrypt your Web connection, get you a new IP address, and allow you to visit websites that were previously blocked or inaccessible. In this article, we are going to show you the best options that you can use today.
5 Best VPN for Mexico – Tested & Approved!
Finally, let's jump to what you want to know. We are going to give you short overviews of the 5 best VPN for Mexico based on our own tests. To learn more each, you can read full reviews available on our website.
Option #1: ExpressVPN
ExpressVPN comes first on our list of the best VPN for Turkey. We have tested this application thoroughly and found that it checks all the right marks. It's easy to use, brings native apps to a number of platforms, and it doesn't leak your data.
On the outside, ExpressVPN might look like a simple application. However, it hides a lot of power under its hood. You can count on the standard 256-bit AES encryption that makes sure your data is away from prying eyes. Even your ISP won't be able to collect your Web browsing history. Additionally, ExpressVPN doesn't collect any of your data either, so you can truly go 'incognito' online. And finally, you should know that this VPN brings a huge server network, across 94 countries.
We strongly recommend you take a look at our review of ExpressVPN, where you can get additional information about its tools and features.
Option #2: Buffered VPN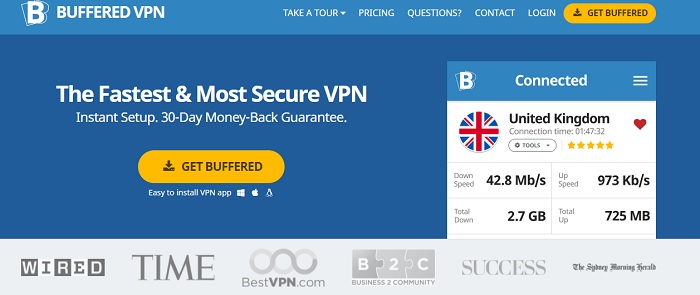 Even though this is a relatively new service on the VPN market, it has already managed to achieve a massive popularity. Buffered VPN comes with an intuitive interface and can safeguard your private information is the best way possible.
What you need to know is that Buffered VPN brings servers in 40+ locations around the world. This doesn't sound like much in comparison to other VPNs but it will get the job done. This especially goes for those who simply want to encrypt their Web connection, or even stream media and download torrents. Buffered VPN is very transparent as well and it says that it collects some connection logs – for example, how many times you've used this VPN. Still, this is nonidentifiable information and you can rest assured that no one will know your online whereabouts.
You can keep on learning about this VPN by taking a look at our in-depth review of Buffered VPN.
Option #3: PrivateVPN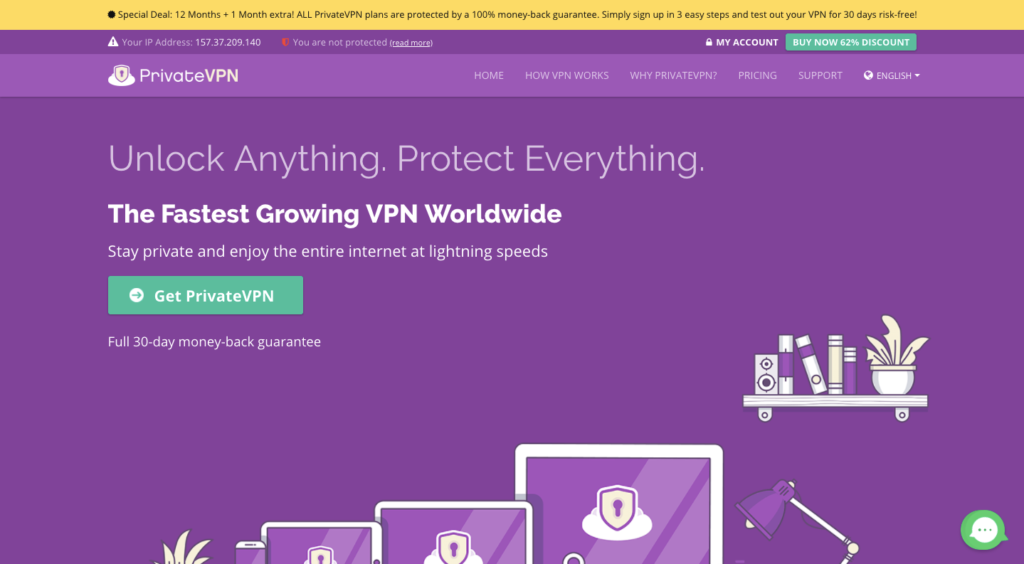 PrivateVPN is doing its best to bring a user-friendly and fully transparent service. This application doesn't collect any usage or connection logs, and it doesn't work with ISPs and their requests. This should give you a piece of mind when browsing the Web.
When it comes to supported encryption standards, PrivateVPN comes with OpenVPN, known for its tight encryption. This spreads to several hundred of available servers, located in 50+ countries around the world. As you can imagine, these servers are strategically placed – with many of them being in the USA. This means that you can rely on PrivateVPN for all your media streaming needs. By changing your IP address, you will unlock previously unavailable services and browse the Web freely.
To see why this is one of the best VPN for Mexico, make sure to learn more about PrivateVPN. We are sure you'll be intrigued by what this VPN offers.
Option #4: NordVPN

Here's an interesting fact – NordVPN is registered in the Republic of Panama. There is actually a very good reason for this since Panama is outside of the jurisdiction of major intelligence agencies. Still, NordVPN offers others ways to make sure that your data is safe.
Aside from a nicely designed UI that looks very modern and simplistic, this VPN comes with a powerful tool called DoubleVPN. While other VPNs send your traffic through one secure server (which is more than enough to keep you safe online), NordVPN adds one more server to this equation. By encrypting your traffic twice, you are 110% sure that no one will be able to use it against you. However, this means that some throttling is to be expected. Therefore, we recommend this option to those who have a broadband Internet access.
This isn't where this VPN's amazing features end. To learn more, make sure to refer to our NordVPN review.
Option #5: VyprVPN
Finally, we come to our last suggestion for the best VPN for Mexico – and that is VyprVPN. Just like our previous suggestions, this VPN covers the basis by being registered in Gibraltar. It is available on all popular platforms, looks amazing, and works every time without a single error.
The most prominent feature of VyprVPN is its proprietary cloaking technology called Chameleon. This is a very strong type of encryption that doesn't only make your data invisible to others but also breaks through any geographic restrictions. You will get to use servers found in 70+ countries, and each of these is owned by VyprVPN. In other words, you can expect a very reliable performance with close to non-existing throttling.
If you want to learn more about what this VPN offers (and you definitely should), make sure to read our VyprVPN review.
Best VPN for Mexico: Additional Considerations
Aside from providing recommendations for the very best VPNs, we want to this article to be as helpful as possible. That's why we'll answer some of your questions as well. Keep on reading.
Online Censorship in Mexico
Even though we haven't heard of any explicit demands when it comes to removing online content, another type of censorship is present in Mexico. As you probably know, many professional journalists are under a lot of pressure and many of them have even emigrated. In other words, journalists don't have any protection and are frequently threatened. As The New York Times reports, the Mexican government has spent close to $2 billion in the past five years on advertising on major media outlets. Publishing investigative articles would mean losing a significant portion of income, in case the government decided to pull its offer.
Using a VPN at the moment seems like the perfect precautionary measure since we don't know in which ways your user data is collected. We can be sure that ISPs are collecting data, so the only way to stop this is by using a VPN.
Are There Free Trial VPNs for Mexico?
We understand that you might be hesitant to use a premium-priced service right from the start. Therefore, a free trial sounds like a good idea. However, you should know that finding such option might be hard when it comes to VPNs. Still, there's something else you can use. Every option from our list of the best VPN for Mexico comes with money-back guarantees. This means that if you're not happy with the service, you can ask for your money to be returned. Some VPNs offer up to 30 days to change your mind.
What's the Best Android VPN for Mexico?
Android is the most popular mobile operating system in Mexico, with millions of users having android smartphones. So, what about your phone and can you protect it using a VPN? Well, of course, you can.
If you take a closer look at our recommendations, you'll see that all of them bring native Android apps. This means that you'll get to use a VPN on your computer and your smartphone – at the same time! These are native Android apps that run in the background, encrypting your mobile Web data and allowing you to use apps that are not available in Mexico otherwise.
Can You Use a VPN for PayPal in Mexico?
If you're using payment service like PayPal or Payoneer, it's in your best interest to use them as safely as possible. These services usually come with encrypted connections to make sure their business is protected. Using a VPN with your PayPal account is a great way to receive and send money if you're using an open Wi-Fi connection.
Every recommendation found in this article has the power to make your transactions as secure as possible. Take a closer look at their encryption protocols, which should you help you to make a final decision.
Should You Use a Free VPN in Mexico?
Lastly, we need to address free VPN that are widely available in Mexico. These services let you connect to a secure server and take advantage of a VPN connection without paying anything. So, what's the difference between these and premium-priced VPNs? Keep on reading.
First of all, free VPNs are using different means to generate revenue streaming. Some of those serve ads as you browse the Web – and these advertisements can be very aggressive. Then, there are no guarantees that your data won't be collected, exposed, or even sold to advertisers.
Our strong recommendation is to avoid any risks and opt for a premium-priced VPN. Your security and online privacy should be of the utmost importance, so make sure you've done all you can to protect yourself properly.
Final Thoughts
That would be all when it comes to our article on the best VPN for Mexico. We sincerely hope that you managed to get valuable information. If there's anything else you want to know, don't hesitate to post a comment below.
We would also like to ask you to share this article online and perhaps help others to find a suitable VPN for their needs. Thank you!