Denmark has a highly regulated Internet, which isn't necessarily a bad thing. These days, this mostly reflects on prioritizing native websites and services over those that come from abroad. Still, numerous limitations exist – all of which can be dismissed by using a VPN application. No matter if you want to watch American Netflix, unlock some services, or simply keep yourself protected on the Web, you've come to the right place. Let's take a look at our list of the best VPN for Denmark.
Why Do You Need a VPN in Denmark?
As you probably know, Denmark isn't one of those countries with tough restrictions when it comes to using the Web. However, this doesn't mean that there's no need to employ a VPN. This kind of application can take you a long way if you want to make sure that you're protected on the Web.
One of the biggest benefits of using a VPN is that they encrypt your Web connection. Encryption means hiding your Web browsing data, which becomes invisible to your ISP (Internet service provider) and just about anyone else. As you can imagine, this can be very helpful if you want to protect financial transactions and make sure your personal payment information is safe.
Then, there are numerous other benefits. Fans of media streaming services like to use a VPN to access international libraries of content. Games like VPNs because they bring new servers and let them download games sooner. No matter the reason, each one of us could benefit from using this technology.
5 Best VPN for Denmark – The Best Picks!
Finally, let's jump to what you want to know – the best VPN for Denmark. Based on our tests, these five VPNs bring the most prominent benefits in addition to error-free performance.
Option #1: ExpressVPN
We begin our list of the best VPN for Denmark with ExpressVPN. Even though it's a bit pricier than comparable options, you'll be buying a top-tier service. With a huge network of servers located in 90+ countries, ExpressVPN works just about anywhere in the world.
The thing we like the most about this VPN is that it's user-friendly. Even if this is your first time using a VPN, you will feel right at home. All you need to do is to launch the application, connect to a server, and you're ready to go. Without any additional input, ExpressVPN encrypts your connection and makes sure no one reads your data. On top of all of this, the company behind this product doesn't collect any of your personal data.
If you'd like to learn more about this VPN, we recommend reading TechNadu's in-depth ExpressVPN review.
Option #2: NordVPN

Are you looking for a highly capable VPN that is also easy to use? Aside from ExpressVPN, you should consider using NordVPN. This application has been around for quite some time and still manages to be one of the highly ranked VPNs.
First of all, NordVPN is a highly polished application. You can install it on a number of devices, where you'll find natively running applications. Then, there's a huge network of over 3,500 servers scattered across the globe. Finally, we shouldn't forget NordVPN's flagship feature – called doubleVPN. This feature allows you to create a double layer of privacy by encrypting your Web traffic twice. Sounds amazing, right?
This isn't where this VPN's amazing features end. To learn more, read our full review of NordVPN.
Option #3: IPVanish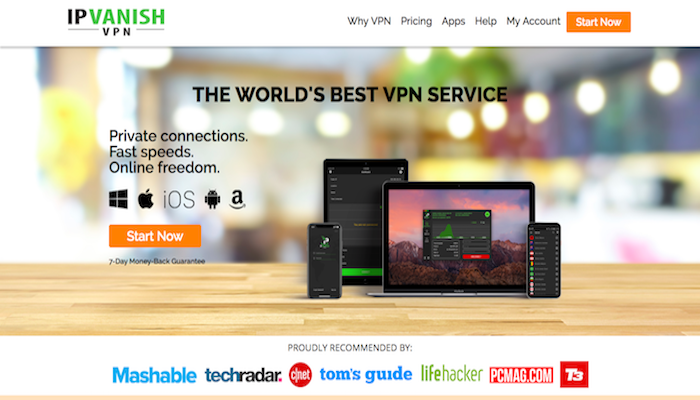 IPVanish is a good option if you don't need thousands of servers all around the globe. This is a fairly simple VPN that gets the job done without any issues. However, this doesn't mean that IPVanish is less capable than comparable VPNs.
This VPN counts around 60 countries and 1,000 servers that you can access using up to five devices at the same time. This is an amazing thing, especially considering that IPVanish is available on pretty much every platform. There is even a native Windows Phone app, if you're a hardcore Windows fan. Then, IPVanish brings the standard encryption which should keep you secure without any issues. And finally, the company employs a zero-log policy.
Don't forget to learn more about this VPN by reading our IPVanish review. Take a deeper look at the features and you'll see why this is one of the best VPN for Denmark.
Option #4: CyberGhost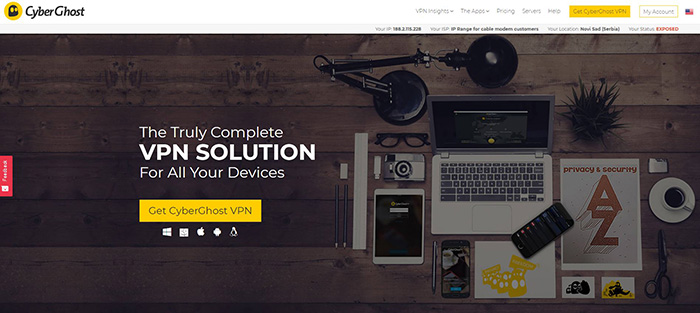 With a server network of 1,300 servers, strict no-logs policy, and advanced DNS and IP leak protection, it easy to see why CyberGhost is one of the best VPN for Denmark. We also shouldn't forget to mention affordable pricing and helpful customer support.
Even though CyberGhost is still a relatively new product, it quickly managed to attract a huge user base. If you take some time to read user reviews, you'll see that users are thrilled about fast speeds and amazing customer support. This means that if you want to stream media, this should be your pick. However, you should also know that not all of CyberGhost's servers support torrenting.
Before making the final decision, it's wise to check out all the pros and cons. So, read our full review of CyberGhost.
Option #5: VyprVPN
Last but certainly not the least on our list is VyprVPN. With a server network of 650 servers scattered across 25 countries, you'll have numerous options in front of you. Even though it doesn't have the biggest server network, you'll be amazed by its encryption protocol.
The flagship feature of VyprVPN is something called Chameleon. This encryption technology is capable of breaking through any website or service, no matter how censored your network can be. This means that you'll get to enjoy watching international streaming services without a single issue. As you can imagine, you'll need a fast speed for that – and that's exactly what VyprVPN offers.
To learn more about Chameleon and other features, read our in-depth VyprVPN review.
Best VPN for Denmark: Additional Considerations
To help you make an informed decision on the best VPN for Denmark, we'll go through some of the most important things you need to know. So, make sure to carefully read the following information.
Digital Censorship in Denmark
As you know, we don't usually tie censorship to Denmark. However, this country has some censorship programs that affect Internet users. This started in 2005 when the country started censoring criminal activities. Even though this seems like an admirable moral choice, the country quickly spread its censorship programs to other types of Internet activities. By 2008, the majority of popular torrent repositories were blocked. This has culminated with the case of Denmark police raiding the home of a 19-year old teen who was a fan of The Pirate Bay.
It should be noted that a number of torrenting websites are still blocked in Denmark. However, these are fairly simple DNS blocks which can be broken with any of the best VPN for Denmark from our list.
Media Streaming in Denmark
Even though Denmark has a strong Internet infrastructure, there are numerous services whose infrastructure is located abroad. Some of these are Pandora, BBC iPlayer, Amazon Prime Video and others. All of these services block users coming from other countries based on their IP addresses. Naturally, this can be pretty infuriating for users in Denmark.
The good news is that by using a VPN, you can access pretty much any Web service on the planet. By using a VPN tunnel, you get a new IP address and therefore access services that were previously locked.
Security Threats in Denmark
Just like any other country in the world, Internet users in Denmark can become victims of security threats. This is where Denmark's Internet infrastructure comes into play, being one of the reasons why your Web traffic might be visible to others.
The majority of popular Web services accessible in Denmark are hosted abroad. This means that your Web traffic flows through several servers before reaching the final destination. If you don't encrypt your data, it could be visible to third parties. Once again, a VPN is the solution. All of the options found in this article bring an incredibly strong encryption, so you won't have to fear about your data being stolen.
Using Free VPNs in Denmark
Perhaps you've already noticed that there's a number of VPNs that offer their services free of charge. However, you won't find any of those in this article. That's because we strongly advise you against using those services.
In general, there are two prominent problems with free VPNs. First of all, they tend to bring sluggish performance. Paying customers will always be pyritized, which is why you'll end up with a very slow Web connection. Then, you cannot know what happens with your data. After all, every company needs a steady flow of income. Therefore, it's not far-fetched to imagine your data being sold to advertisers or other companies.
Final Thoughts
Dear TechNadu fans, this is where we conclude our article on the best VPN for Denmark. We hope that you managed to find the answers you were looking for. If you have any additional questions, don't hesitate to contact us and leave a comment below.
As always, we would like to ask you to share this article online. Let's spread the word about numerous benefits of VPNs. Thanks!