When it comes to protecting your online privacy and security, few VPN services compare to Private Internet Access (PIA). It's one of the best VPN services in the industry and has everything you need to unblock restricted websites or keep your online activity under wraps.
One of the key reasons why PIA stands out from the rest is its commitment to security. It employs robust 128-bit and 256-bit AES encryption and supports WireGuard, OpenVPN, L2TP/IPsec, and IKEv2 protocols.
But PIA isn't just about security. It also prioritizes privacy and has a strict no-logs policy. This VPN never keeps a record of your online activities, meaning you can browse, stream, and download without worrying about unwanted third parties.
However, one discouraging fact about PIA is its location. It is headquartered in the United States, which is considered one of the worst jurisdictions for a VPN company, given the US is a member of the 5-Eyes Alliance. Despite its location, PIA has proven its commitment to user privacy through multiple real-world verifications and independent audits of its privacy policy and logging practices. 
Also, PIA features a high-speed NextGen server network optimized for browsing and streaming. It allows you to enjoy a fast and stable connection, making it easy to stream videos, play online games, and download large files without interruption.
Before we review PIA's vast range of features, here's a quick overview for your convenience. It includes all the essential information about PIA, allowing you to make an informed decision.
| | |
| --- | --- |
| Jurisdiction | The United States |
| Logs | No logs (audited) |
| Servers | Thousands of servers (no exact number) in 84 countries |
| Simultaneous Connections | Unlimited |
| Supported Devices | Windows, macOS, Linux, Android, iOS, routers, and Web browsers |
| Features | Kill switch, split tunneling, private DNS, anti-tracking, and more |
| Protocols | WireGuard, OpenVPN, L2TP/IPsec, and IKEv2  |
| Supports | Netflix, Disney+, Hulu, torrenting, gaming, and more |
| Customer Support | 24/7 live chat, e-mail, and FAQs |
| Price | From $2.11/month |
| Live Deal | 82% OFF (2-year plan) + 3 months FREE |
| Our Score | 9.1 |
This review offers a detailed analysis of the Private Internet Access VPN service. To understand the methodologies we use when testing and reviewing VPN services, check out how we review VPN services. You can also learn what's new in PIA, given how often the VPN provider updates and improves its offer. 
That said, let's dive into this PIA VPN review and check out what it has to offer!
Background, Jurisdiction & Reputation
PIA comes from the USA, which isn't ideal. Also, it's owned by Kape, a company that owns a number of VPNs. However, it's also true that PIA had proven in the past that no data logging is involved, which is what matters the most. Our Score: 8/10
Want to know where this VPN comes from and how that affects its subscribers? We've done in-depth research, and here are our findings.
Where Does PIA Come From? Is It Part of the 14-Eyes Alliance?
'London Trust Media' was the original owner (and creator) of this VPN service. That company used to own a selection of privacy-related brands covering different types of software, online publications, and more.
Some of the most prominent brands owned by London Trust Media were Linux Journal (which is no longer available), BlockExplorer, FreeNode, Kore Asian Media, and a crypto-based search engine called Private.SH. And the most important piece of information – this company's corporate offices were located in Denver, Colorado.
Then, a company called 'Kape Technologies' acquired Private Internet Access not too long ago. That happened after Kape Technologies acquired CyberGhost VPN and ZenMate VPN, both of which are still highly popular VPN services. However, Private Internet Access is now run by a subsidiary named 'Private Internet Access, Inc.' - still located in Denver, Colorado.
Just recently, Kape Technologies also acquired ExpressVPN for $936 million, becoming perhaps the most dominant VPN company today. In our article explaining which VPNs are owned by Kape, you can learn more about this company's turbulent history. However, the bottom line is that we have no reason to distrust Kape Technologies, as all of its VPNs have remained dedicated to their no-logs policies while also expanding their set of features in the meantime.
Even though PIA isn't proudly showcasing its true location on the home page, it's not hiding it either. We can understand that as the USA is perhaps one of the least desirable countries in the world for VPN businesses. After all, there's the 5/9/14-Eyes Alliance, and there was plenty of talk about Edward Snowden's revelations.
It's safe to say that the USA is capable of collecting even the most personal data of its citizens, which makes us question whether we should trust PIA in the first place. However, we do believe that this VPN has proven many times before that it truly cares about its customers, as you're about to find out.
Did PIA Leak Private Data in the Past?
It's true that this VPN is located in the USA. However, that doesn't mean PIA is actively sharing your personal data with third parties. In fact, there are no records of PIA providing access to third parties or leaking any personal information whatsoever.
In 2018, this VPN was forced by the FBI to hand over the personal files of an individual using PIA. However, this company proved its 'zero logs' promise by not providing a single file (even when pressured by the FBI). That was a big win for PIA and its no-logging policy.
Is Private Internet Access Safe?
Yes, Private Internet Access is safe. It has military-grade encryption and advanced privacy features such as a kill switch and DNS leak protection to ensure your online activity stays private.
Additionally, PIA has a strict no-logs policy. They don't keep any record of your online activities, making it difficult for outside parties to track your online activities. Also, PIA has undergone independent audits to verify their no-logs claims and the safety of their applications. 
However, it is essential to note that no company or service can guarantee 100% safety. So, it's always a good idea to be vigilant about your online security and keep an eye on any news or updates about the service.
Supported Platforms & Devices
PIA has done a wonderful job of supporting all popular (and less popular) platforms, including desktop and mobile platforms - and routers as well. Our Score: 10/10
Check out the following table to learn more about the currently offered applications and software by Private Internet Access.
Platform Compatibility
| | |
| --- | --- |
| Desktop Platforms | Windows, macOS, Linux. |
| Mobile Platforms | Android, iOS. |
| Web Browsers | Google Chrome, Mozilla Firefox, Opera. |
| Routers | DD-WRT, Tomato, and other compatible routers. |
| Other Devices | Android TV, Fire TV. |
Private Internet Access supports a wide range of platforms and devices. When it comes to desktop systems, you can use PIA natively on Windows, macOS, and Linux. Also, even quite old machines should run PIA with no issues whatsoever.
To protect your Web browsing on the go, you can rely on native apps for iOS and Android. Aside from that, you can use this VPN on a wide range of compatible routers, and you can find some nicely explained installation guides for each supported model. And lastly, PIA is now also available on media streaming devices powered by Android TV and Fire OS.
Let's also not forget to mention that PIA now supports unlimited simultaneous connections. That means you can install PIA's apps on as many devices as you want - and connect from all those devices at the same time.
Installation & Initial Configuration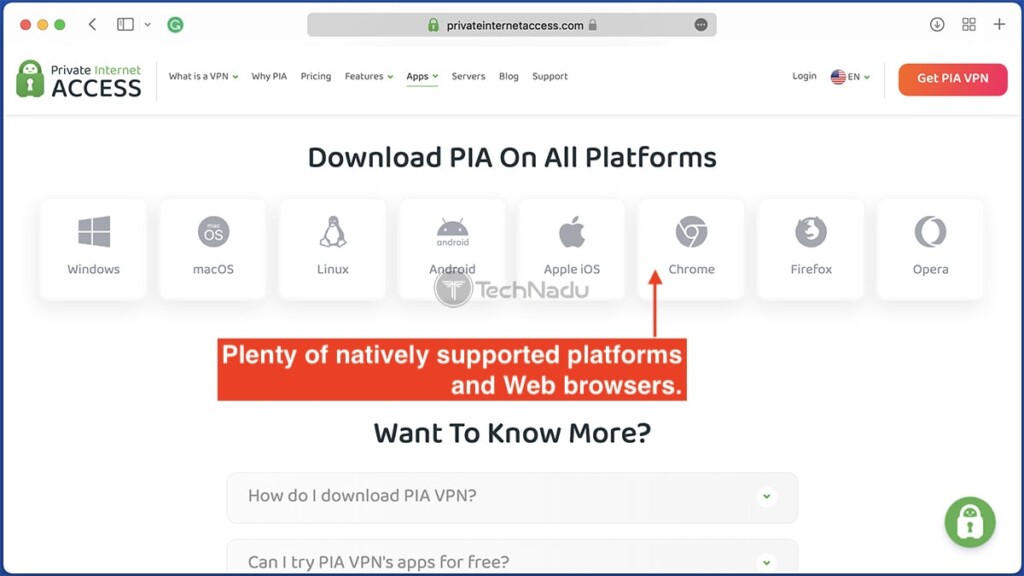 You can download, install, and begin using PIA in less than one minute. The installation process is very simple and doesn't come with any complications. Our Score: 10/10
Getting started with PIA is incredibly easy. The first step is to sign up for a new account, where you'll need to pick a subscription plan along the way. Once you receive your credentials, download the official app from PIA's website.
PIA has done a wonderful job of eliminating any installation steps - at least on Windows and macOS. You download its application, open the installation file, and PIA will be ready to use within a few seconds. You'll see a log-in screen where you need to input your credentials, and it's all smooth sailing from there.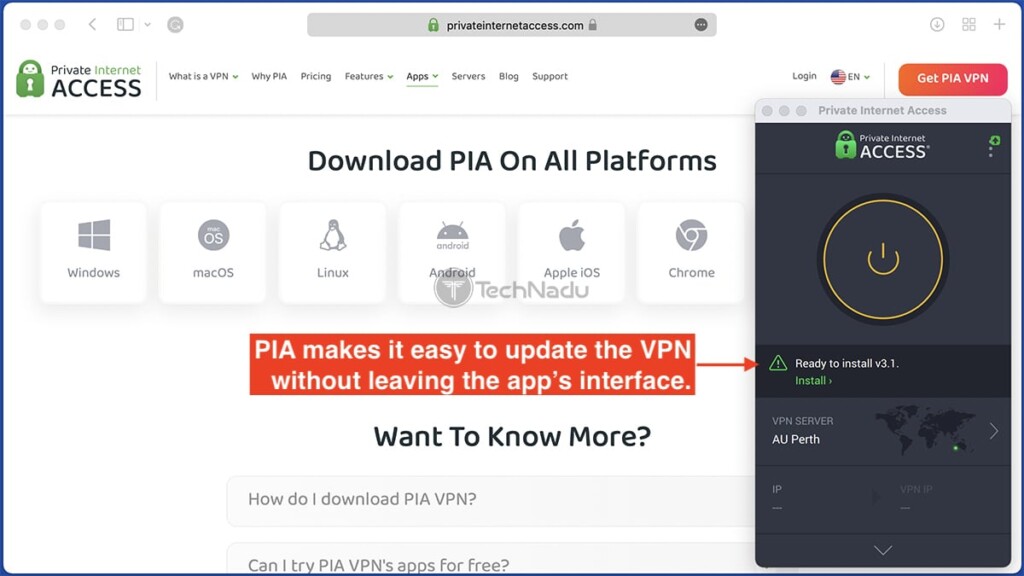 When it comes to other platforms, the installation procedure is very simple as well. In case you get stuck along the way, you can always return to PIA's website and read the installation guides. All in all, this is a very easy and straightforward process.
Prominent Features
Even though PIA comes with a strong and very interesting feature set, it does things a bit differently. Still, it's a very capable and reliable VPN solution. Our Score: 9/10
PIA has been around for a long time as a VPN provider, and it has kept up with the competition by adding new features over the years. In this section, we'll see how well PIA meets our standards for a good VPN service and explore some of its key features.
Here's a breakdown of the features you can expect from PIA:
DNS and IP Leak Protection: Without any surprise, PIA VPN is capable of creating an ultra-tough VPN tunnel. That means you won't have to worry about DNS or IP leaks, so no one will know what you do online. Just like its direct competitors, PIA can protect you from IPv4 and IPv6 leaks.
AES-256 Encryption: Whether you're browsing, streaming, gaming, or shopping, PIA VPN will keep your data encrypted and your identity hidden with its AES-256 encryption. This is the same level of encryption trusted by the military to protect their secrets. It's virtually impossible to crack.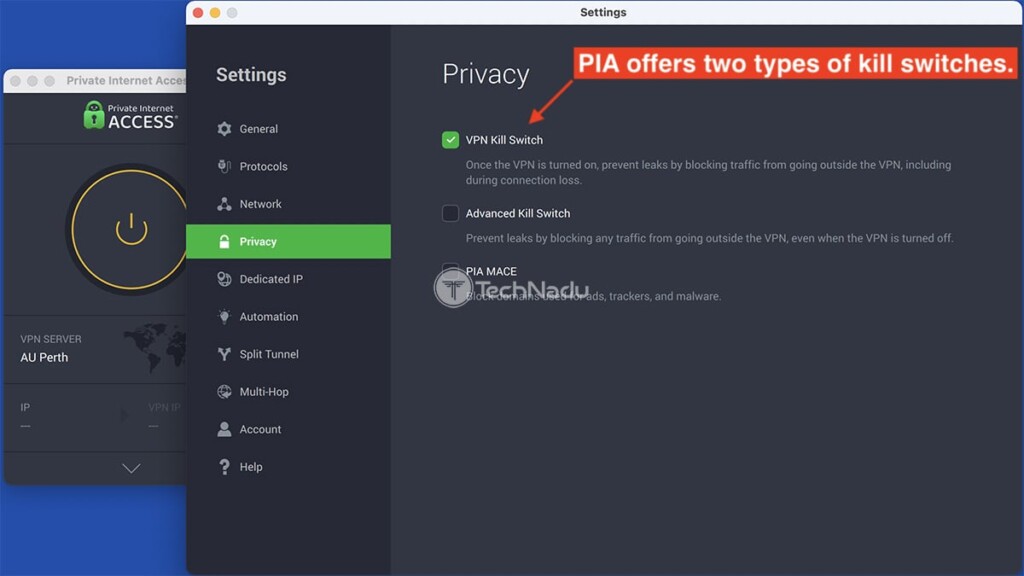 Kill Switch: PIA has a kill switch feature that works on all its apps, which means you can use it on Windows, macOS, Linux, Android, iOS, and more. It does what you expect: it cuts off your Web connection if your VPN drops for any reason. This way, you don't have to worry about your personal data leaking on the Web if something goes wrong.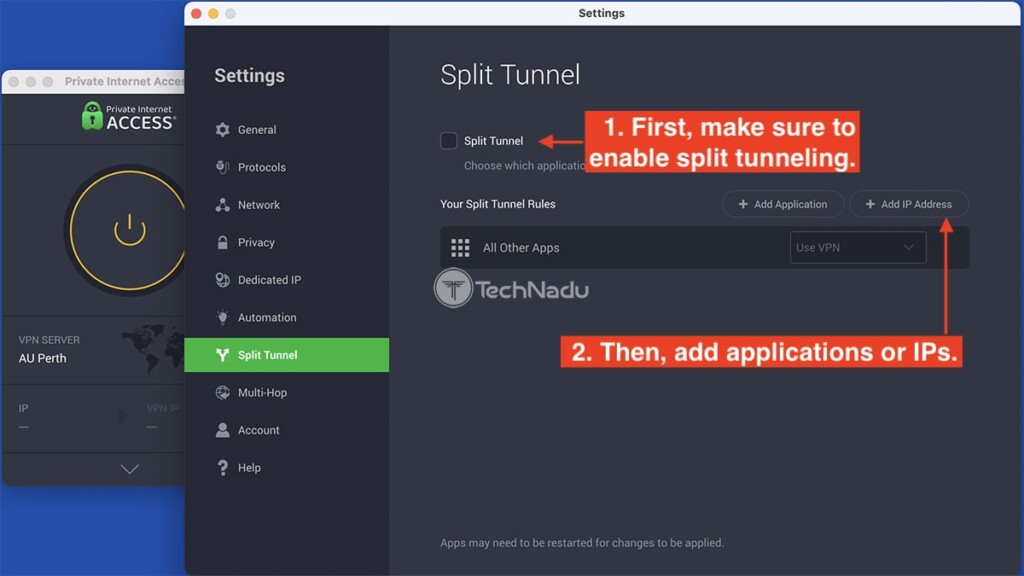 Split Tunneling: PIA offers split tunneling on Windows, macOS, Linux, and Android. The only platform that doesn't have this feature is iOS. The service used to have a very complex set of split tunneling options. But to simplify things, PIA redesigned their apps recently. Now, setting up split tunneling is a breeze, even if you're new to this feature.
Dedicated IP Addresses: PIA offers dedicated IP addresses for an extra $2.50 per month. This VPN service has a token-based system to safeguard your privacy. You'll be responsible for activating your (random) token, so PIA's team won't know the IP address linked to your account. Dedicated IPs are available in the US, Canada, Australia, Germany, and the UK.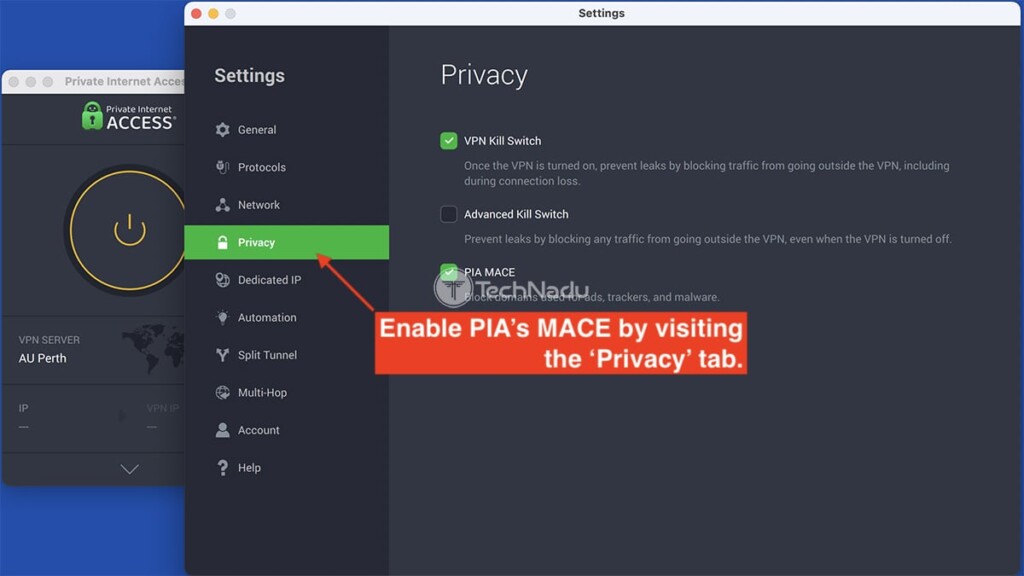 Ad-Blocker: Private Internet Access has a feature called 'MACE.' It blocks ads, trackers, and malware. It works on Windows, macOS, Linux, and Android. This feature routes your traffic through a special DNS process run by PIA. In simple terms, PIA has a blacklist of bad domains and stops them from loading. However, keep in mind that PIA's MACE is "off" by default. You can turn it "on" in the app's settings (Settings > Privacy).
Unlimited Server Switches and Bandwidth: The service gives you unlimited access to its global network of servers. You can switch between servers as often as you want without any extra fees or limitations. PIA VPN also lets you use as much data as you need without any caps or throttling. 
Server Count & Infrastructure
Private Internet Access VPN has one of the largest server networks out there (many of those are virtual servers), with units spread across more than 80 countries. Our Score: 9/10
VPNs that offer a large number of servers can more easily accommodate numerous users at once. So, here's how Private Internet Access ranks in that aspect.
Server Count Info
| | |
| --- | --- |
| Number of Servers | Thousands (presumably). |
| Number of Locations | 95+ |
| Number of Countries | 84 |
| Specific Cities Selection | YES (for some countries) |
| Unlimited Switching | YES |
In the past, Private Internet Access used to have a dedicated page on its website, providing the exact number (and locations) of servers it had in its network. Throughout 2020 and 2021, that number ranged from 17,500+ to 30,000+ as the VPN switched to its "next-gen" network.
To help you make sense of those numbers, we'll say that other top-rated VPNs have 3,000 to 6,000 server units in their networks. With that said, we're not exactly sure how PIA used to count the number of servers it had in its network. When asked about using virtual servers, for example, PIA told us that only a limited number of virtual servers exist in its network.
In any case, it's obvious that PIA offers a massive number of servers. Still, what's even more important is that PIA's network spans over 84 countries.
And lastly, let's also not forget to mention that you can connect to specific cities within certain countries, such as the USA, Canada, Germany, the UK, and Australia. Furthermore, PIA is the only VPN to offer servers in all 50 US states. So, if you need an IP associated with a specific US state to bypass blackouts or access your bank account from abroad, PIA is the right pick.
Does 'Private Internet Access' Use Virtual Server Locations?
Yes, PIA uses a number of virtual servers. These are so-called 'geo-located servers,' available in countries where using a VPN can be restricted.
In other words, PIA's geo-located servers aren't physically available in their 'end' countries. Still, once you connect to one, you'll get an IP address associated with the chosen country. All your virtual information will correspond to the selected country, just like when connected to a physical server.
PIA doesn't hide the fact that it's using a number of virtual locations, and those are clearly labeled in PIA's apps and its website.
If you don't wish to use PIA's geo-located servers, you can hide those from the VPN's UI. Click on the three-dots icon in the top-right corner (in PIA's desktop apps) and pick 'Settings.' Then, select 'General' and disable the 'Show Geo-Located Regions' feature.
PIA's Virtual Server Locations (Geo-Located Servers) - Full List
Algeria
Andorra
Argentina
Armenia
Bahamas
Bangladesh
Brazil
Cambodia
Chile
China
Colombia
Costa Rica
Croatia
Cyprus
Egypt
Georgia
Greenland
Hong Kong
India
Indonesia
Isle of Man
Kazakhstan
Lichtenstein
Macao
Malaysia
Malta
Mexico
Monaco
Mongolia
Montenegro
Morocco
Nigeria
Panama
Philippines
Portugal
Qatar
Saudi Arabia
Sri Lanka
Taiwan
Turkey
Ukraine
Venezuela
Vietnam
UI/UX Design & Ease of Use
PIA now has a brand-new UI design that looks great on both small and large screens. It can be a bit confusing at first (especially if you never used a VPN before), but it's highly usable and customizable. Our Score: 9/10
In this segment of our Private Internet Access VPN review, we will take a close look at PIA's desktop and mobile software. And since this VPN offers Web browser extensions, we won't forget to check those as well.
How Well Does PIA Work on Desktop Platforms?
When you launch PIA for the first time, you'll see its 'compact' version, whose interface allows you to quickly select a server and connect. It provides some basic information as well, like your real IP and your VPN (virtual) IP address.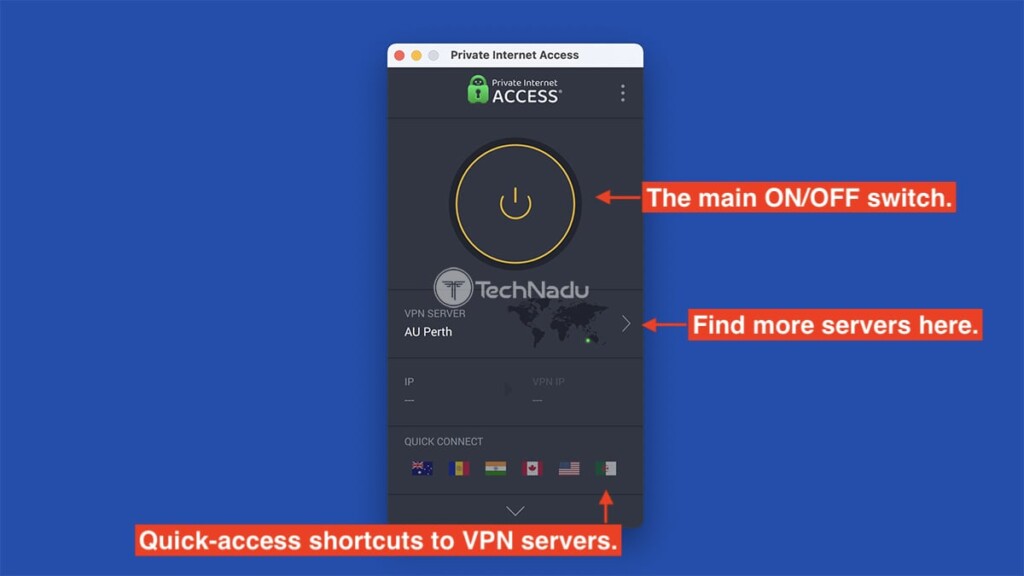 To expand that information, click on the arrow icon found at the bottom of PIA's 'compact' UI. That action will expand PIA's options, allowing you to connect to specific locations quickly, check the real-time performance and data usage, and there's a quick settings panel and more.
At any moment, you can 'bookmark' any of those segments if you want them to become part of the 'compact' UI. That means that PIA brings a high level of customization. Let's not forget to mention that you can choose from two themes (dark and light), both of which look amazing.
When choosing a server, you'll be presented with a sizeable list of countries. You can mark any of those as your favorite, so you can easily connect to them in the future. PIA also provides an option to connect you to the best available server, which depends on your physical location.
Lastly, don't forget to take a peek behind the 'three dots' icon, found in the top-right corner. This is where you'll find additional options and settings. So, here's what to expect here:
General: This is where you can set Private Internet Access to launch on system startup and connect to a specific server automatically. Then, you can choose from more than a dozen different languages, switch between different themes, and more.
Protocols: As the name of this tab implies, this is where you can change PIA's protocol. Unlike other VPN services, this one lets you dive deep into customizing your connection. When it comes to OpenVPN (for example), you can pick the type of data transport, encryption, remote and local ports.
Network: In case you'd like to use a different (custom) DNS and port forwarding, you can find those options there. Also, you can easily enable/disable LAN traffic between your local devices.
Privacy: Three options are present here. You can enable the VPN's kill switch or turn on PIA's MACE, which blocks malicious domains with aggressive ads, trackers, and malware. Just recently, PIA's started offering an 'Advanced Kill Switch' as well, blocking any traffic from going outside the VPN, even when the VPN is disabled.
Dedicated IP: As mentioned above, Private Internet Access now offers dedicated IPs, priced extra. If you decide to get one, you'll need to use the 'Dedicated IP' tab to activate your token, which is generated using your 'My Account' page on PIA's website (recently redesigned).
Automation: Using this tab, you can instruct PIA to connect or disconnect from its servers once your computer joins a specific Wi-Fi network. That's how, for example, you can instruct PIA to protect you using a public Wi-Fi network and then turn it off once you enter your home.
Split Tunnel: A recent update to PIA's apps gave split tunneling its own section. That should make it easier to set up various split-tunneling options by adding applications or IP addresses and then letting PIA know whether to route its traffic through its servers.
Multi-Hop: This tab allows you to add an extra layer of protection by including an additional proxy to your Web traffic flow. There are two types of proxies available in this scenario: Shadowsocks or SOCKS5 proxy. PIA allows you to pick a country, which will be the location of the additional server that will route your Web data. The purpose of using this type of obfuscation is to hide that you're using a VPN app.
Account: If you'd like to see when your subscription is due to expire, this is where you can check that information. You'll also find links that let you manage your account and log out.
Help: Lastly, this is where you can do maintenance tasks that can resolve certain problems, such as reinstalling the network driver, submitting debug logs, and more.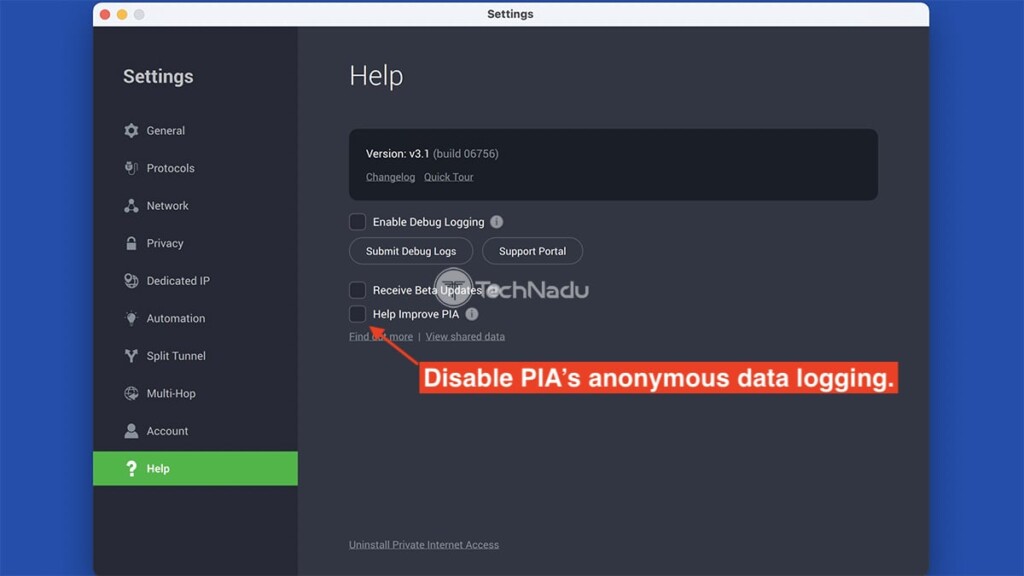 As you can see above, PIA offers a huge number of customizations. With that said, it's oriented toward those who wish to control their VPN connection in-depth. Inexperienced users will also find their way through PIA, even though some other VPNs might offer a more suitable environment for that early stage of entering the world of VPNs.
How Well Does PIA Work on Mobile Platforms?
PIA has done a magnificent job of creating a series of uniform apps for all of its supported platforms. This also applies to PIA's mobile apps, which are highly polished.
On Android, you will see a customizable home page. Without going deeper into the app, you'll get to connect to servers, check your 'real' and 'virtual' IP, toggle certain settings, snooze the VPN, and more. Of course, all of those segments can be enabled or disabled, which is done by clicking on the 'Home Screen Edit' button (found in the top-right corner).
Checking what other stuff PIA's Android app offers is done by tapping on the 'hamburger' button in the top-left corner. This is where you can review the list of available servers ('Region Selection'), review your account information ('Account'), fine-tune split tunneling ('Per App Settings'), and play with PIA's settings.
Speaking of the settings panel ('Hamburger' button > Settings) of PIA's Android app, there's plenty of customization. This is where you can enable the kill switch, block IPv6 traffic, block local traffic, set up the VPN's encryption level, and more. You can even set up PIA to auto-launch on system start, keeping you protected at all times.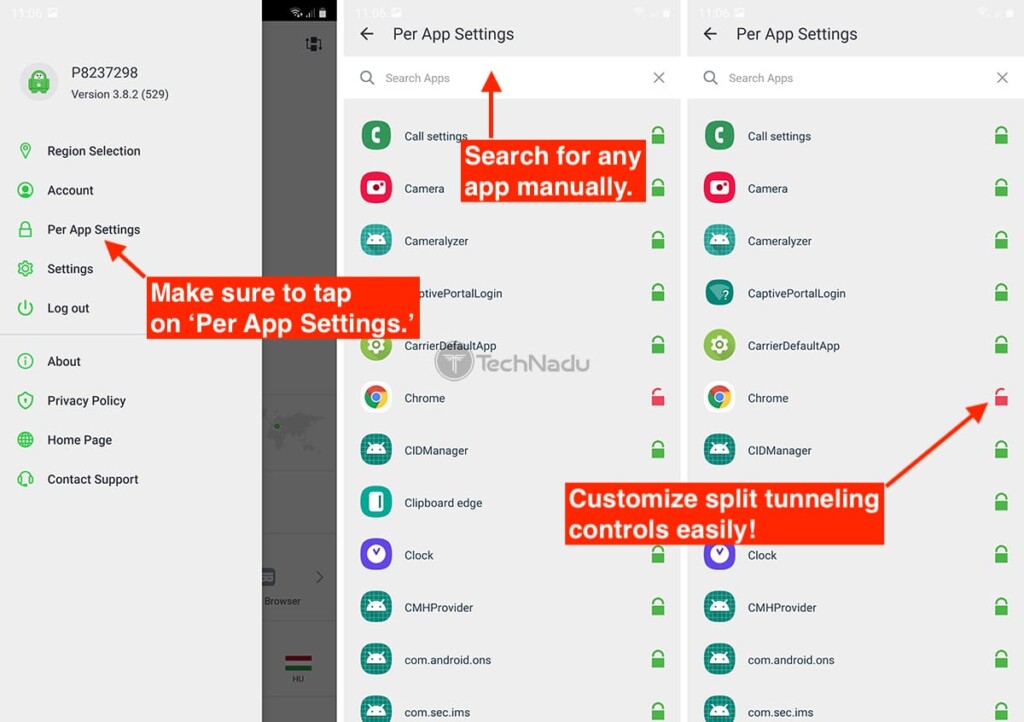 Then, we also have PIA's iOS app. For the most part, this one looks close to identical to the Android app. This means that you get a customizable home screen that can be as simple or as complex as you want it to be.
Once again, diving deeper is done by using the 'hamburger' button. That's where you'll find a list of PIA's servers, information related to your account, and the app's settings (which are more limited than what you'll find on Android).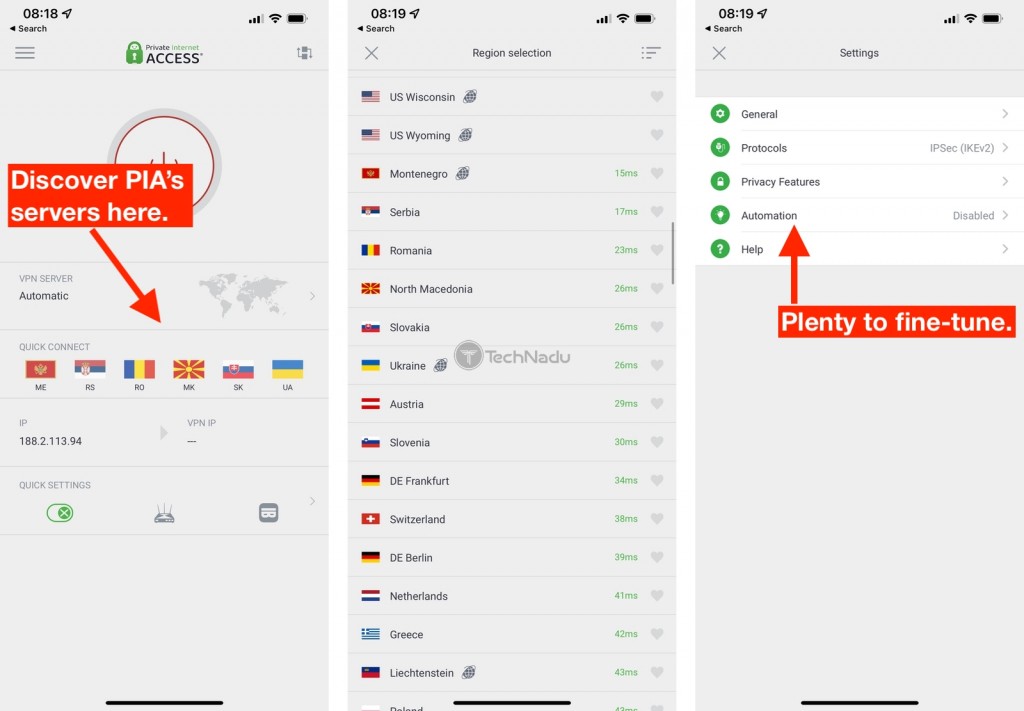 When it comes to fine-tuning on iOS, you can pick a different protocol, set up a custom DNS, set up PIA's level of encryption, force the app to use small packets, and enable/disable the kill switch. All in all, even advanced users should be happy with this app.
How Well Do PIA's Web Browser Extensions Work?
Private Internet Access comes with extensions compatible with Chrome, Firefox, and Opera. You install them like you would install any extension. However, keep in mind that you'll need a PIA account to use them (therefore, they don't come free of charge).
We have to say that PIA's Web browser extensions are probably the best VPN extensions we've tried so far. They're packed with highly useful features that make a big difference in the way you interact with the Web.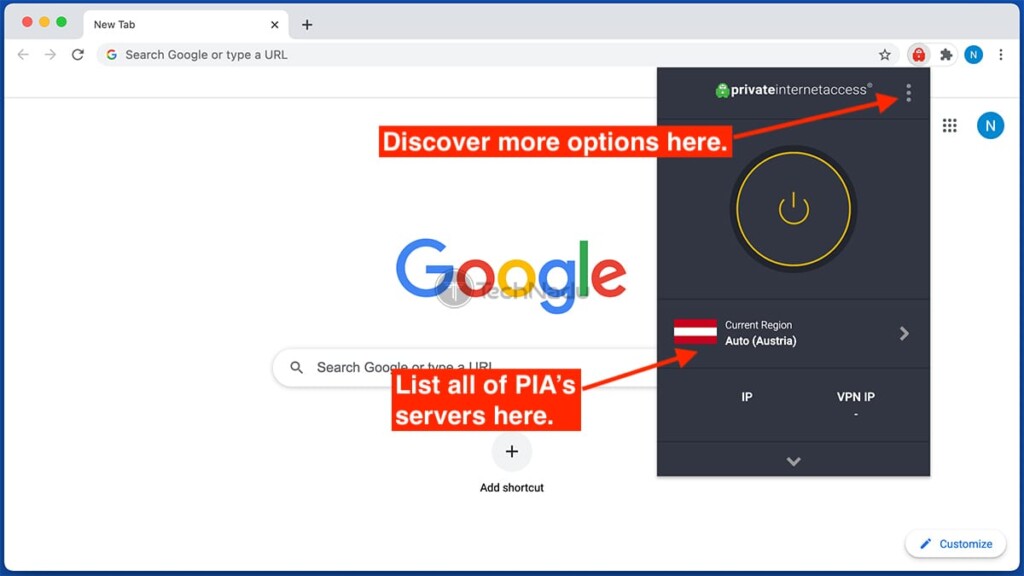 As PIA features a uniform design across all of its software creations, this also applies to its Web browser extensions. The home screen lets you connect to servers, toggle quick settings ON or OFF, and more. However, the real power of these extensions is found behind an icon in the top-right corner, where you'll find 'Extra Features.'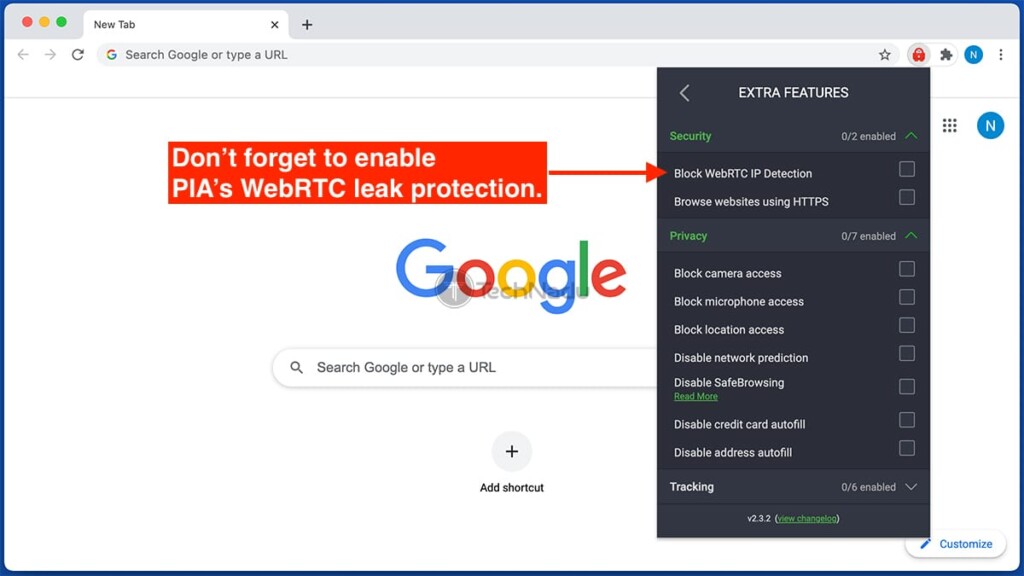 PIA's Web browser extensions allow you to block WebRTC leaks, force your browser to use HTTPS, as well as block access to your camera, microphone, location, data autofill, and plenty more. And in terms of tracking, you can disable cookies, block ads, and more.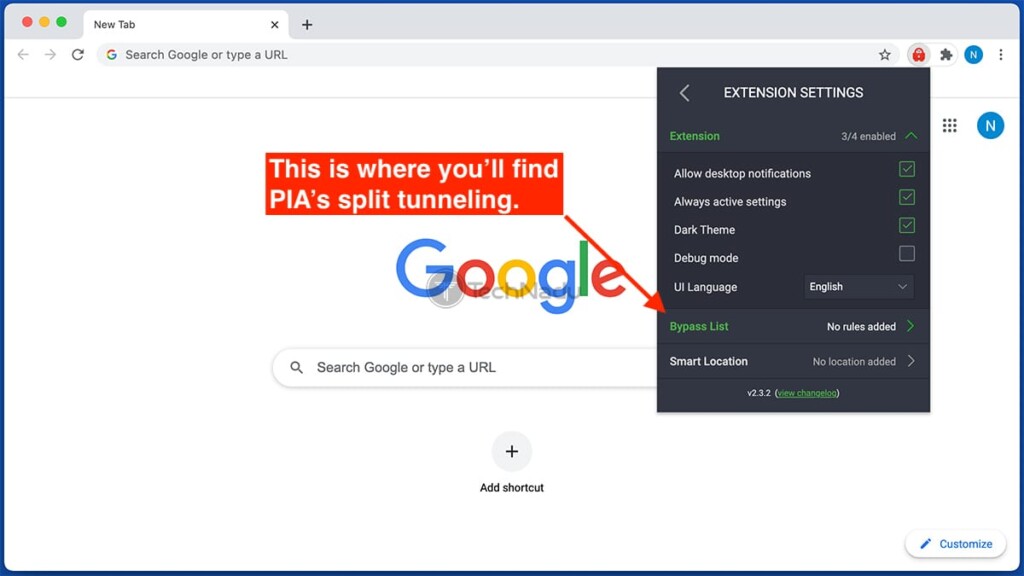 It's also worth noting that split tunneling is available via PIA's Web browser extensions. This feature is found by going to Extension Settings > Bypass List. You're free to add any URL here, which will force PIA to route you to those domains outside of its secure tunnel.
All in all, PIA's extensions for Web browsers are hugely capable. Unlike what other VPNs offer, these extensions aren't an afterthought. Instead, they bring genuinely useful features designed to protect your digital privacy.
Media Streaming, Torrenting, and Gaming Support
PIA is an excellent option for streaming, as it unblocks a variety of US-based and international streaming services. You can also use it for torrenting and gaming - but keep in mind that you'll need to optimize this VPN for speed. Our Score: 8.5/10
One of the main reasons why people use VPNs is to access various types of online content, such as streaming services, torrenting sites, or gaming platforms. However, not every VPN can handle these tasks equally well. That's why we've put PIA to the test and evaluated its performance in these three areas. 
In this section of our PIA review, we'll share our findings with you and help you decide if this VPN meets your needs.
Is Private Internet Access Good for Streaming?
Yes, Private Internet Access (PIA) is a good VPN for streaming. We say that because it lets you stream movies and TV shows from different platforms across the globe.
Here are some of the most notable US-based streaming platforms this VPN unblocks.
| | | |
| --- | --- | --- |
| Netflix | Disney+ | HBO Max |
| Hulu | Amazon Prime Video | Paramount+ |
| Apple TV+ | ESPN+ | Discovery+ |
The provider is equally good with platforms outside the US. Here are some non-US streaming services you can enjoy with this VPN.
| | | |
| --- | --- | --- |
| BBC iPlayer (UK) | CBC (Canada) | Disney+ Hotstar (India) |
| 9NOW (Australia) | ITV (UK) | FranceTV (France) |
| DRTV (Denmark) | YLE (Finland) | tv4play (Sweden) |
It's important to note that not all PIA servers work with Netflix. While some servers can unblock Netflix, many don't. This means you might have to try several servers before finding one that works. In addition, PIA has recently introduced servers optimized for media streaming. These servers are more likely to work with Netflix and other streaming platforms.
Overall, PIA is a solid option for accessing US-based streaming services.
Is Private Internet Access Good for Torrenting?
Yes, PIA is good for torrenting. First of all, it has P2P-optimized servers that are specially designed to deliver fast and reliable speeds for downloading and uploading large files. These servers are spread across different regions around the world, so you can always find one that suits your needs. You can easily connect to them through the PIA client and enjoy a smooth torrenting experience.
Second, it has a strict no-logs policy that ensures your online activity is never recorded or stored. This means you can torrent with peace of mind, knowing that your privacy is protected at all times. In addition, PIA has advanced security features such as a kill switch and DNS leak protection, which prevent your real IP address and DNS requests from being exposed to third parties.
On top of that, PIA supports port forwarding, which allows you to open specific ports on your connection and improve your torrenting speeds.
Is Private Internet Access Good for Gaming?
Yes, PIA is good for gaming and has several features that make it ideal for gamers. For starters, it has a fast and reliable server network that lets you connect to the nearest server for optimal performance. Plus, it supports port forwarding, which can improve your connection's stability and reduce lag. That's a big deal for online gaming, where every millisecond counts.
PIA VPN also takes your security seriously. It has a kill switch feature that automatically disconnects you from the Internet if your VPN connection drops, preventing your real IP address and location from being exposed. Additionally, it has DNS leak protection to protect you from DDoS attacks and other online threats that could ruin your gaming session. 
According to our tests, PIA VPN has an average ping of 30 ms and an average latency of 40 ms, which are decent for gaming.
Security & Privacy
Private Internet Access has a reputation for protecting its users, even once police organizations such as the FBI come knocking at their doors. So, even though it's based in the US, which isn't ideal, there are a lot of reasons to trust this VPN. Our Score: 9/10
You must be wondering how effective PIA is when it comes to protecting your private data? To answer that question, we'll be taking a look at three aspects of this VPN service, so let's jump right in.
Private Internet Access VPN Protocols
PIA comes with a comprehensive set of VPN protocols, such as OpenVPN, WireGuard, as well as IKEv2/IPSec. The following table will show you a list of PIA's applications, along with the VPN protocols supported by each of those apps.
| | | | | | |
| --- | --- | --- | --- | --- | --- |
| | Windows | macOS | Linux | Android | iOS |
| OpenVPN | YES | YES | YES | YES | YES |
| WireGuard | YES | YES | YES | YES | YES |
| IKEv2/IPSec | NO | NO | NO | NO | YES |
As you can see above, PIA brings OpenVPN and WireGuard across all its apps. Then, there's IKEv2 (IPSec) available on iOS as well. All of those are incredibly secure protocols, giving you some room to choose between security and performance.
In the past, PIA used to support PPTP and L2TP as well. Even though you can still find guides on how to set up those protocols manually, keep in mind that PIA is moving away from those two protocols. This goes hand-in-hand with the VPN's 'Next-Gen' infrastructure, with legacy servers being left behind.
OpenVPN is known as the most secure and stable VPN protocol, being used across numerous VPN services. Even though this protocol will slow you down a bit, it brings an unparalleled level of security to your private data.
WireGuard is a brand-new VPN protocol that comes with plenty of promises. Most importantly, it's incredibly lightweight. That means that connecting and disconnecting from servers is done instantly. You can also expect incredibly fast Web speeds.
PIA uses IKEv2/IPsec protocol on iOS, which is known for its stability and security. However, it's primarily designed for mobile devices. That's how you can easily switch from a 4G/5G network to a Wi-Fi connection without losing connectivity.
Does Private Internet Access Keep Logs?
No, PIA doesn't keep logs — it has a strict no-logs policy. It doesn't keep records of your online activities at all. This VPN doesn't store any information that could be used to identify you or your online activity.
PIA's no-logs policy is designed to protect the privacy and security of its users. This policy is an essential aspect of its service, as it ensures that users can browse, stream, and download content without worrying about their online activities being tracked or recorded.
However, it's important to note that PIA does collect some minimal data, such as the amount of data you use, the date and time of your connection, and the server location you connect to. This information is used to troubleshoot technical issues and improve the service, isn't linked to any identifiable information, and is regularly deleted.
Does PIA Leak Your Private Data?
We've done a round of data leak tests while connected to different PIA servers. With that said, we're happy to report that PIA seems to be incredibly secure, with no leaks detected.
More precisely, we've checked for IP, DNS, WebRTC, and geo-location leaks. PIA's VPN tunnel seems to be incredibly strong, not allowing anyone to get to our private information. Instead, our 'virtual' information is what's visible, without any surprises.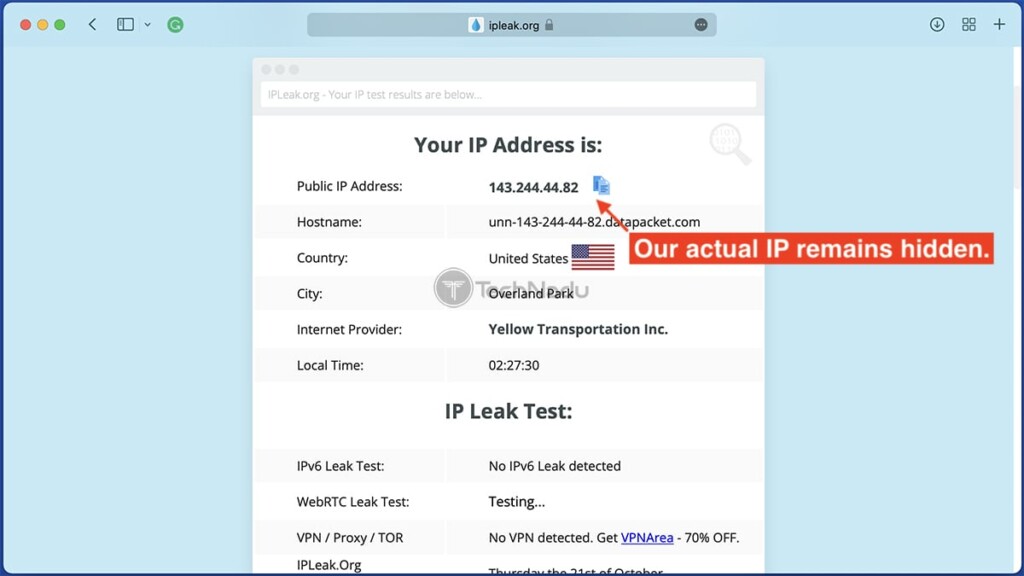 It's also worth mentioning that PIA provides plenty of fine-tuning. It doesn't actually come with the highest possible level of security by default. However, even this VPN's default values should be more than what you'll ever need. And if you're really concerned about your privacy, you can change your data encryption to AES-256, leaving no trace behind.
Speed & Performance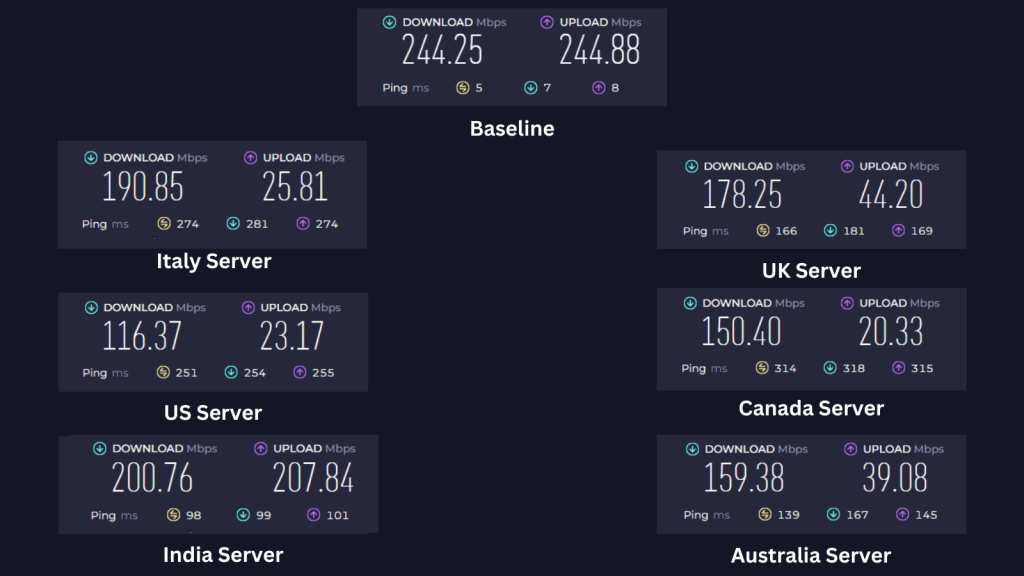 PIA brings incredibly fast and stable connections to nearby and remote servers, especially if you take your time to optimize this VPN for performance. Our Score: 9/10
In this part of our review, we'll see how PIA VPN affects our connection speed. We're doing this test on a 200 Mbps connection. Our baseline speed test showed 244.25 Mbps for downloads and 244.88 Mbps for uploads. That's our 'naked' connection without the VPN. Now, we'll connect to different servers around the world and compare the results.
We know VPNs tend to slow down your Web traffic because they make connections travel longer routes, so we want to find out how well PIA performed in this aspect.
Here are the results of our other server tests:
USA Server: Regrettably, the performance of the US server was quite disappointing. It had a drastic impact on the speed, causing it to drop by 52%. Consequently, we were left with a download speed of 116.37 Mbps.
UK Server: Although there was a decent performance with the server in the UK, it fell short of our ideal expectations. It affected the speed by 27%, resulting in a download speed of 178.25 Mbps.
Canada Server: The performance of the Canadian server was comparable to that of the UK server, albeit with some differences in terms of latency. It reduced the speed by 38%, resulting in a download speed of 150.40 Mbps. 
India Server: The Indian server exceeded our expectations with its impressive performance. It had a minimal impact on the speed, reducing it by only 18%. As a result, we enjoyed a high download speed of 200.76 Mbps.
Australia Server: This server had subpar performance to the Indian server with a 35% speed reduction. It achieved a download speed of 159.38 Mbps, which was close to the speeds of other servers.
Italy Server: This server left a strong impression on us with its remarkable performance. It had a minimal impact on speed, reducing it by only 22%. Consequently, we experienced a high download speed of 190.85 Mbps.
| | | | |
| --- | --- | --- | --- |
|   | Download Speed | Upload Speed | Speed Reduction |
| Baseline Speed | 244.25 Mbps | 244.88 Mbps | 0% |
| USA | 116.37 Mbps | 23.17 Mbps | 52% |
| UK | 178.25 Mbps | 44.20 Mbps | 27% |
| Canada | 150.40 Mbps | 20.33 Mbps | 38% |
| India  | 200.76 Mbps | 207.84 Mbps | 18% |
| Australia  | 159.38 Mbps | 39.08 Mbps | 35% |
| Italy | 190.85 Mbps | 25.81 Mbps | 22% |
Our test results show that PIA slowed down our Web connection by 32% on average compared to the baseline speed. Nevertheless, the service has done a great job of optimizing its servers for speed and performance. That said, be aware that your upload speed will be noticeably throttled if you use overly remote servers.
Customer Support
PIA comes with many support channels available, including live chat. We're happy to report that they offer 24/7 support and that their reps are very responsive and helpful. Our Score: 10/10
It's crucial for VPN services to offer reliable customer support channels. That's because they are highly complex technical solutions, and something can easily go wrong – which is why you need to know if help is on the way. Here are all the ways that PIA helps its customers.
Live Chat: We are happy to see PIA reintroduce live chat via its official website. This option was abandoned a few years back, but now you can once again talk to this VPN's customer support agents in real time and resolve your issue in a quick manner.
Knowledgebase: PIA has prepared around 200 articles on solving different technical problems. They also have a pretty neat search function that retrieves results from different categories (news, files, tickets, guides, etc.).
Setup Guides: No matter your platform of choice, you'll find a nice range of setup guides. These come with clearly explained steps accompanied by screenshots, making it easy to install Private Internet Access on any of its supported platforms.
Email Support: In case you can't find a solution to your problem in some other way, you can contact the company via email. Actually, you can contact them via a contact form, but you'll receive a response via email.
Pricing
Private Internet Access VPN is one of the most affordable VPNs on the market (in the long term). Overall, its price seems fair enough. Our Score: 9/10
Now, it's time to check the price of Private Internet Access. Make sure to read this segment carefully, as we'll unveil a number of interesting tidbits.
How Much Is Private Internet Access?
PIA starts at $2.11/month and offers three subscription plans to suit different needs and budgets. Let's take a look at each one of them and see what they have to offer.
1-Month Plan: If you need a VPN for a short time or want to try the service first, the monthly plan might suit you. It lets you pay as you go, but it's also the priciest option at $11.99 per month. You also won't get any discounts with this plan, so it's not very cost-effective.
6-Month Plan: This plan is a perfect balance between flexibility and cost-effectiveness as you only pay $45.00 every six months, which is $7.50 per month. That means you'll save about 37% compared to the monthly plan.
2 Years (+ 3 Free Months): PIA's long-term plan is the best value for money. For just $56.94, you get 2 years of subscription and 3 months free. This works out to just $2.11 per month, which is a whopping 82% saving compared to the monthly plan. This plan is ideal if you need a VPN for a long time or want to get the most out of your money.
Whatever plan you choose, you'll get access to all the features and benefits of PIA VPN, such as unlimited bandwidth, fast speeds, multiple protocols, thousands of servers, and more. You'll also get a 30-day money-back guarantee, so you can try the service risk-free.
PIA VPN accepts various payment methods, including credit cards, PayPal, Amazon Pay, and even cryptocurrencies. If you value your privacy and anonymity, you might want to pay with Bitcoin or another digital currency, as this will leave no trace of your identity.
Is Private Internet Access Free?
No, PIA isn't free. However, they do provide a 30-day money-back guarantee, essentially allowing you to use the first 30 days as a trial period. 
But you can only try PIA for free on Android and iOS devices. Moreover, you have to pay upfront and request a refund later if you change your mind. To make matters worse, you can't get a refund from PIA itself. You have to go through Google or Apple and hope for the best.
For this reason, we recommend buying PIA from its website instead of the app stores. This way, you can test PIA risk-free for a month with its 30-day money-back guarantee. If you're not happy with the service, you can ask for a refund within the first month of your subscription. However, you can only do this once every three months.
PIA VPN Comparison with Other VPN Providers
PIA's direct competitors are ExpressVPN and NordVPN. All three of those VPNs bring high-end privacy protection, sizable server networks, and a plethora of unique features. So, if you're in doubt about which one to pick, check out the following table.
| | | | |
| --- | --- | --- | --- |
| | PIA | ExpressVPN | NordVPN |
| Jurisdiction | SAFE | SAFE | SAFE |
| Data Logging | NO | NO | NO |
| Encryption | AES-256 | AES-256 | AES-256 |
| Number of Servers | N/A | 3,000+ | 5,000+ |
| Number of Countries | 80+ | 90+ | 60 |
| Number of Connections | Unlimited | 5 | 7 |
| Speed/Performance | FAST | ULTRA-FAST | FAST |
| Kill Switch | YES | YES | YES |
| Split Tunneling | YES | YES | YES |
| Netflix Support | YES | YES | YES |
| Hulu Support | YES | YES | YES |
| Prime Video Support | YES | YES | YES |
| Disney+ Support | YES | YES | YES |
| Live Chat | YES | YES | YES |
| Free Trial | YES | YES | YES |
| Price (Monthly) | $11.99/month | $12.95/month | $11.95/month |
Final Thoughts - Is Private Internet Access Worth It?
Yes, Private Internet Access is most certainly worth it, as it's a VPN with a powerful combination of security protocols, privacy features, and high-end performance.
Its high-speed server network, advanced encryption, and strict no-logs policy make it an excellent option for anyone looking to improve their online security and privacy or unblock websites. Whether you're a movie buff, a gamer, or just someone who wants to stay connected to the world, PIA has got you covered.
In summary, PIA is like a guardian angel for your online identity, watching your back and ensuring that your data is always safe and secure. So, if you're looking for a VPN provider you can trust, look no further than Private Internet Access. It is a VPN service that we highly recommend! 
However, keep in mind that PIA is based in the United States, and also - it's owned by a very large corporation. That might be problematic for overly cautious users, even though PIA was never caught logging any information (even after being forced by the FBI).
With that said, we believe that many of you will be perfectly happy with this VPN. Therefore, you won't make a mistake if you go ahead and subscribe to Private Internet Access.
PROS
Don't log your private data (audited).
Highly polished applications.
Works on practically any device.
Huge army of servers.
Unlimited simultaneous connections.
Plenty of fine-tuning available.
Great for more advanced users.
Ultra-powerful VPN protocols.
Works with Netflix and Disney Plus.
Supports P2P traffic via all of its servers.
Anonymous payments available.
CONS
Based in the United States.
Limited upload speeds.
Best-suited for more advanced users.
Can be overly technical for some.
FAQ
What is Private Internet Access?
Private Internet Access is a VPN that offers advanced security features, high-speed servers, and a strict no-logs policy to protect users' online activities and keep them private. It allows you to access blocked content, stream media, play games, and browse the Internet safely and securely.
Where is Private Internet Access Based?
Private Internet Access is based in the United States. This isn't a great location for VPNs in general because of data-sharing laws in the US, but PIA has a tried-and-true track record of keeping zero logs of user data and has also been audited — so it's not a concern.
Is Private Internet Access a Good VPN?
Yes, Private Internet Access is a good VPN service. It has advanced security features, a high-speed server network, and a strict no-logs policy. 
Does PIA VPN Work in China?
Yes, PIA VPN works in China. However, it doesn't work all the time. So, be prepared to do some fine-tuning on occasion, just like with most other VPNs.