Private Internet Access is one of the oldest VPNs on the market, which tells a lot right off the bat. The VPN industry is a rapidly evolving field, and we can see new technologies being released every single year. So, staying on top of all those developments must mean that Private Internet Access is a trustworthy VPN, right? Well, let's check this VPN service out and answer that question.
Upon taking a quick look at Private Internet Access (PIA), we can see that this VPN is offering plenty of high-end features at a very affordable price. However, to truly get to know what this VPN could do, you must take a deeper look. And the best way to do this is by reading a hands-on review, just like this one. With this said, we wish you a warm welcome to our Private Internet Access review!
So, let's start with the basics. The following table will show you some quick information about PIA, which might come in handy if you're comparing this VPN to some other solution.
Quick Facts
Jurisdiction
The United States (5-Eyes Alliance).
Logs
No connection logs; No activity logs.
Number of Servers
3,335+ servers in 30 countries.
Parallel Connections
10
Encryption Standards
AES-256; OpenVPN, PPTP, L2TP/IPSec.
Speed Reduction
8%, on average.
P2P Support
YES
Live Chat Support
NO
Supported Platforms
Windows, macOS, Linux, Android, iOS, Web browser extensions, routers.
Price
Starts at $3.33/month.
We also test each VPN for its media streaming capabilities. So, if you'd like to know if PIA can unblock the most popular media streaming websites, take a quick look at the table found below.
Media Streaming Support
American Netflix
YES
Hulu
NO
BBC iPlayer
NO
Amazon Prime Video
NO
Kodi
NO
And for those who are in a rush, we've prepared a set of our conclusions (after having reviewed PIA). So, here are the biggest pros and cons of this VPN service.
The Bottom Line
Pros
Easy installation; Polished UI; Huge server network; Unblocks Netflix; No past data leaks; Extremely fast performance.
Cons
Based in the USA; Not the best customer support.
The Final Verdict
PIA shows a lot of promise and it has proven its dedication to protecting its customers. Aside from a few downsides, it's easy to recommend this VPN.
Our Score
8.0/10
With the most important highlights behind us, we're now ready to present our full hands-on review of Private Internet Access. We'll be going deep into investigating this VPN, so keep on reading as plenty of useful information is on your way.
Private Internet Access – TechNadu's Hands-On Review
We start by checking background information about VPNs, and then we go over the actual application itself – and this procedure applies to PIA as well. If you'd like to learn more about how we review VPNs, click on the provided link.
Background, Jurisdiction & Reputation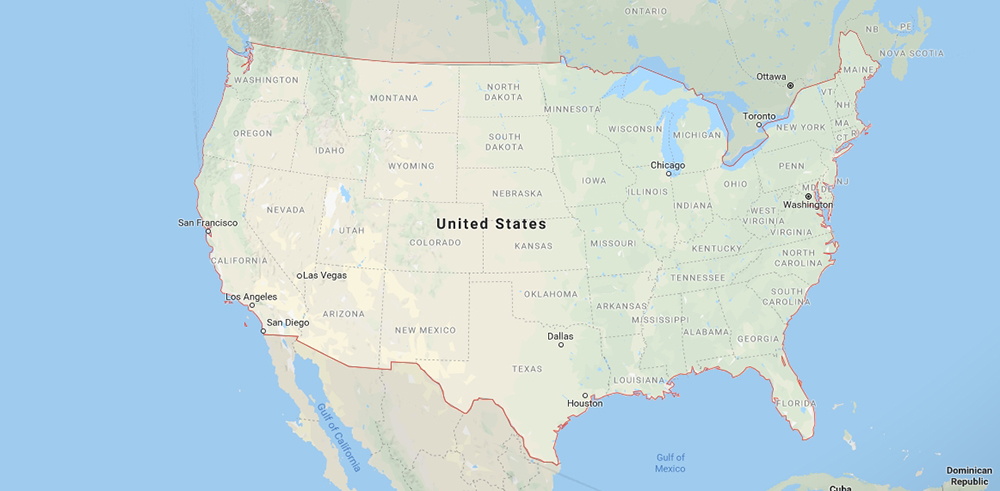 PIA comes from the USA, which certainly isn't ideal. However, it has proven before that it doesn't collect data, and therefore can't share it with third-parties. Our Score: 8.5/10.
Want to know where this VPN comes from, and how that affects its subscribers? We've done in-depth research, and here are our findings.
Jurisdiction & Applicable Laws
Private Internet Access is currently owned by London Trust Media, but that should change soon enough. This company owns a large selection of privacy-related brands covering different types of software, online publications and more. Some of the most prominent brands owned by London Trust Media are Linux Journal (which is no longer available), BlockExplorer, FreeNode, Kore Asian Media, and a new cryptography-based search engine called Private.SH. And the most important piece of information – this company's corporate offices are located in Denver, Colorado.
Even though PIA isn't proudly showcasing their true location on the home page, it's not hiding it either. We can understand this since the USA is perhaps one of the least desirable countries in the world for VPN businesses. After all, there's the 5-Eyes Alliance, and there was plenty of talk about Edward Snowden's revelations. It's safe to say that the USA is capable of collecting even the most personal data of its citizens, which makes us question whether we should trust PIA in the first place. However, we do believe that this VPN has proven many times before that it truly cares about its customers – as well as that it doesn't collect a single file about your use of this tool (keep on reading to learn more about this).
Now, here comes another important piece of information. Just recently, Kape Technologies announced its intention to acquire Private Internet Access. This process is expected to end sometime in the first half of 2020, which is when London Trust Media will become a part of Kape Technologies. Interestingly enough, this company already owns CyberGhost VPN and ZenMate VPN, both of which are high-rated VPN services.
Previous Data Leaks
Yes, this VPN is located in the USA. However, that doesn't mean that PIA is actively sharing your personal data with third-parties. In fact, there are no records of PIA providing access to third-parties or leaking any personal information, whatsoever.
In 2018, this VPN was forced by the FBI to hand over personal files of an individual using PIA. However, this company proved that it doesn't have anything to give – which means that it's not collecting information that could identify what you do online. This was a big win for PIA and their 'no-logging' policy.
Supported Platforms & Devices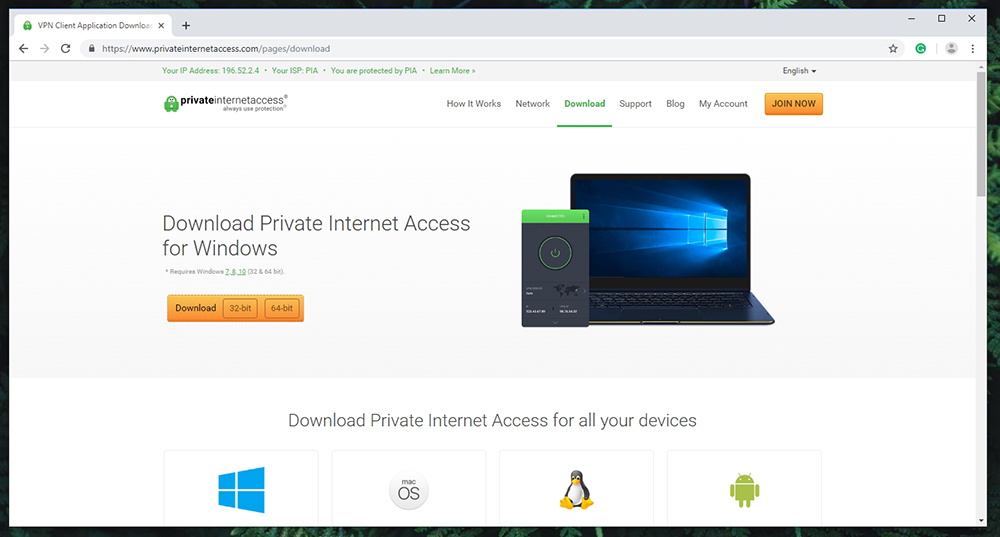 PIA has done a wonderful job of supporting all popular (and less popular) platforms, including desktop and mobile platforms, and routers as well. Our Score: 10/10.
Check out the following table to learn more about the currently offered applications and software by Private Internet Access.
Platform Compatibility
Desktop Platforms
Windows, macOS, Linux.
Mobile Platforms
Android, iOS.
Web Browsers
Google Chrome, Mozilla Firefox, Opera.
Routers
DD-WRT, Tomato, and pfSense routers.
Other Devices
Windows Phone, Chromebook, Fire OS.
Private Internet Access supports a nice range of platforms and devices, including all of the currently popular ones. When it comes to desktop systems, you can use it natively on Windows, macOS, and Linux. Also, even quite old machines should run PIA with no issues whatsoever.
To protect your Web browsing on-the-go, you can rely on native apps for iOS and Android. And among other devices, owners of Chromebooks and Fire OS devices (like Kindle and Fire TV Stick) can take advantage of PIA. Lastly, you can use this VPN on a wide range of compatible routers, and there are nicely explained installation guides for each supported model.
Let's also not forget to mention that you can install PIA on an unlimited number of devices, but you can use it on up to 10 devices at the same time, which seems generous enough.
Installation & Initial Configuration
You can download, install, and begin using PIA in less than one minute. The installation process is very easy and doesn't come with any complications. Our Score: 10/10.
Getting started with PIA is incredibly easy. The first step is to sign up for a new account, where you'll need to pick a subscription plan along the way. Once you receive your user credentials, proceed to download the official app from PIA's website.
We've tested PIA on a Windows 10 PC, and we were surprised by how easy the installation process went. Instead of going for the traditional installation method, you need to double-click on the installation file – and the process will be done in less than one minute. PIA has eliminated installation steps and fully automated the entire process. Once the installation is done, you'll be greeted by the application's Welcome Screen where you can take a short and informative tour.
When it comes to other platforms, the procedure is very simple as well. In case you get stuck along the way, you can always return to PIA's website and read installation guides. All in all, this is a very easy and straightforward process.
Prominent Features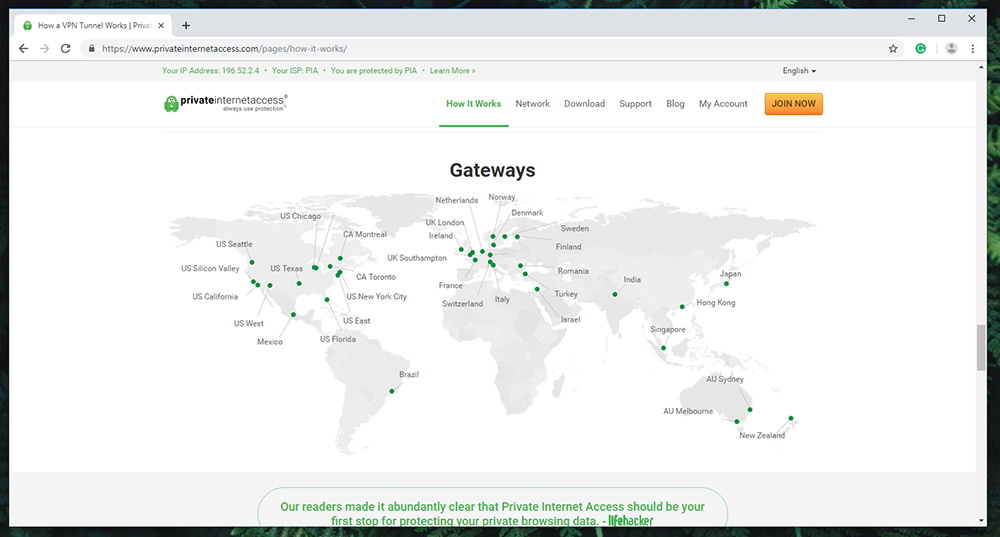 Even though PIA comes with a strong and very interesting feature set, it does things a bit differently. Still, this is a very capable and reliable VPN solution. Our Score: 8/10.
PIA has been on the market for a long time now, which means that they've had their shot at creating a compelling feature set. Now, let's see how well PIA meets our criteria.
VPN Features Checklist
DNS Leak Protection
YES
IPv6 Leak Protection
NO
Kill-Switch
YES
Ad-Blocker, Anti-Malware
YES (limited)
Unlimited Server Switches
YES
Unlimited Bandwidth
YES
Unlimited Data
YES
As you can see from the table above, PIA covers the basic features well. It protects you against DNS leaks that could jeopardize your personal data. Then, it comes with a built-in kill-switch that keeps you protected if your VPN connection becomes unstable. And also, you can use it with no limitations in terms of data, server switches, and bandwidth.
When it comes to IPv6 leak protection, you should know that PIA actually disables IPv6 traffic while you're using the VPN. Therefore, it doesn't offer proactive protection but instead disables this feature altogether. And when it comes to its ad-blocking features, this one also works in an enhanced way. Instead of actively blocking ads on websites, it uses a list of fraudulent URLs and stops you from accessing those.
It's also worth mentioning that PIA supports split-tunneling as well, which is a feature that can be found in its desktop applications. You can use PIA to set applications that can bypass the VPN tunnel and use your 'regular' Web connection instead – which is what split-tunneling is essentially about.
Server Count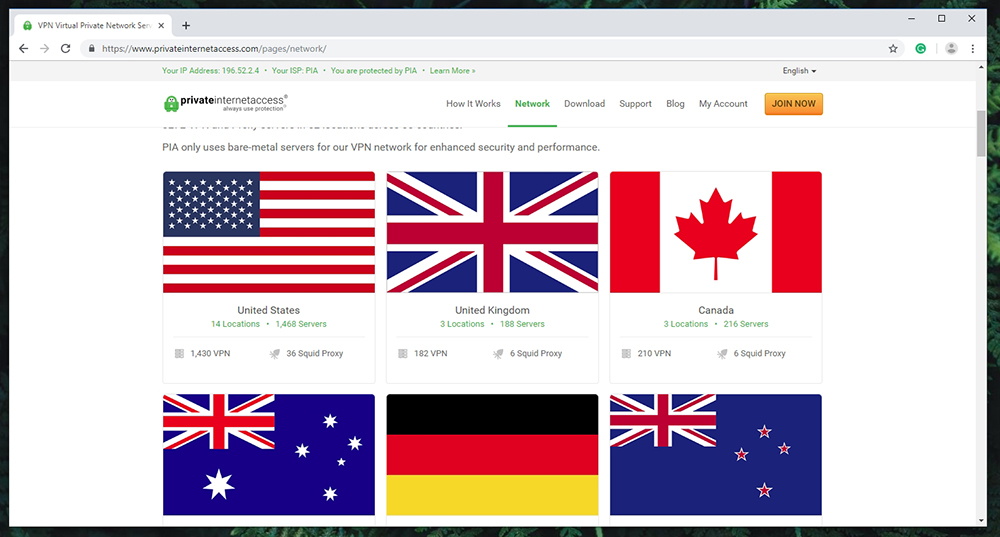 With over 3,335+ servers on offer, Private Internet Access offers a lot. Its servers are placed in strategic locations, and you can even connect to specific cities. Our Score: 9/10.
VPNs that offer a large number of servers can more easily accommodate numerous users at once. This also shows their dedication to expanding their feature set. So, here's how Private Internet Access ranks in this aspect.
Server Count Info
Number of Servers
3,335+
Number of Locations
200+
Number of Countries
30
Specific Cities Selection
YES (for some countries)
Unlimited Switching
YES
It's evident that PIA offers plenty of servers. In fact, you can find this VPN on our list of VPNs with the highest server count. More precisely, PIA comes in third on that list, after NordVPN and CyberGhost VPN – both of which are offering more than 5,000 servers.
In addition, PIA's servers are strategically placed across the world, in 30 countries. You are free to browse the list of available countries and servers at any moment, and you can see helpful real-time stats before connecting. Let's also not forget to mention that you can connect to specific cities within certain countries such as the USA, Canada, Germany, the UK, and Australia. And as you can expect, you are free to switch between different servers at any moment, which is included in the subscription cost.
Ease of Use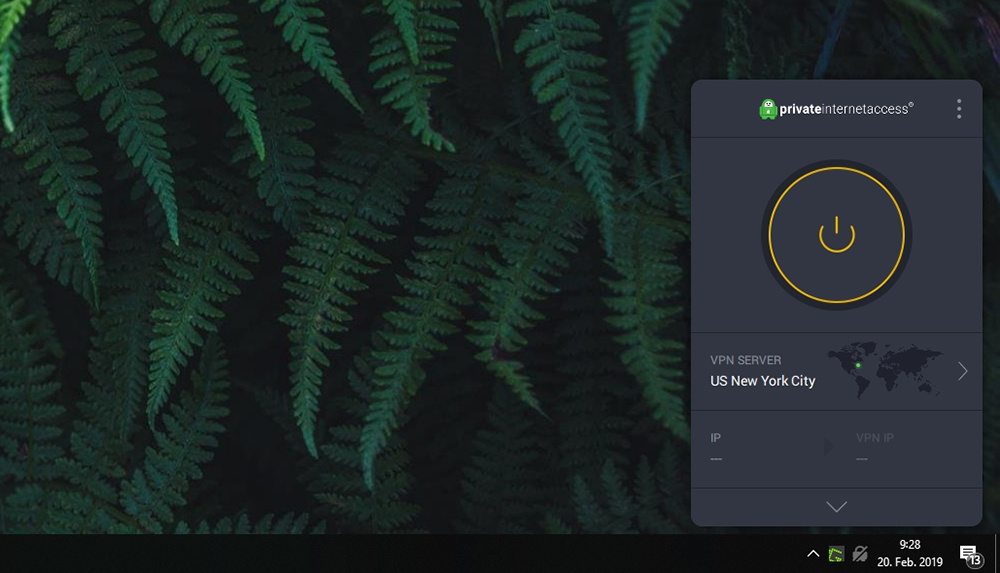 PIA comes with a brand-new UI design that looks great on both small and large screens. There are a few annoyances here and there, but nothing overly serious. Our Score: 9/10.
Now, it's time to take a look at how PIA looks like, and how easy it is to use. With this said, we'll provide a guided tour of its Windows 10 client. And before we continue, we'd like to say that PIA has recently overhauled the UI of its client. So, here's what you can expect.
First of all, you should know that once installed, PIA becomes part of your taskbar. This means that it's not a free-floating window, which might be annoying to some. However, you won't interact with it frequently (only to connect and disconnect from secure servers), so it's not a big downside.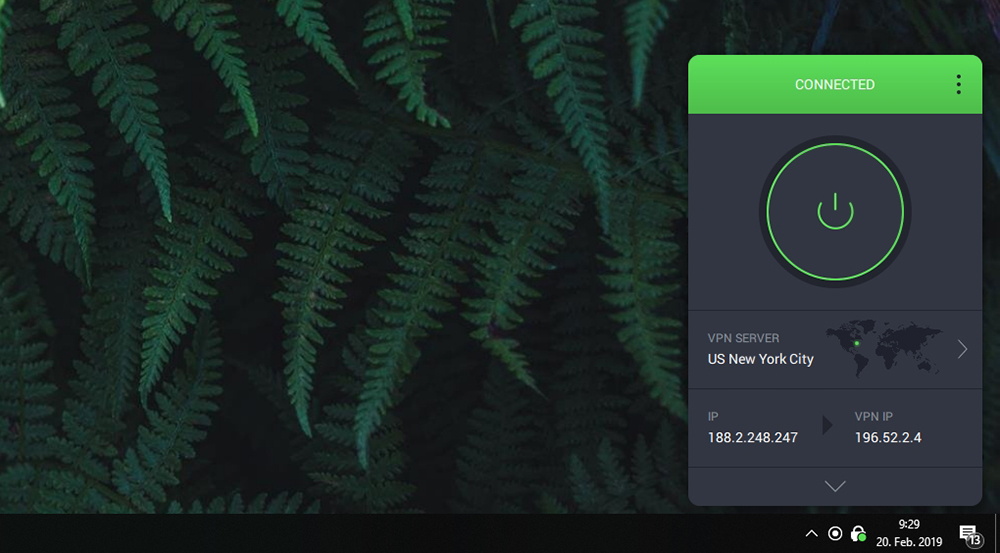 When you activate PIA's window, you'll see its 'short' version. It allows you to quickly select a server and connect, and it provides some basic information like your real IP and your VPN (virtual) IP address. To expand this information, you can click on the arrow found at the bottom. This lets you connect to certain locations quickly, check the real-time performance and data usage, and there's a quick setting panel, among other handy features.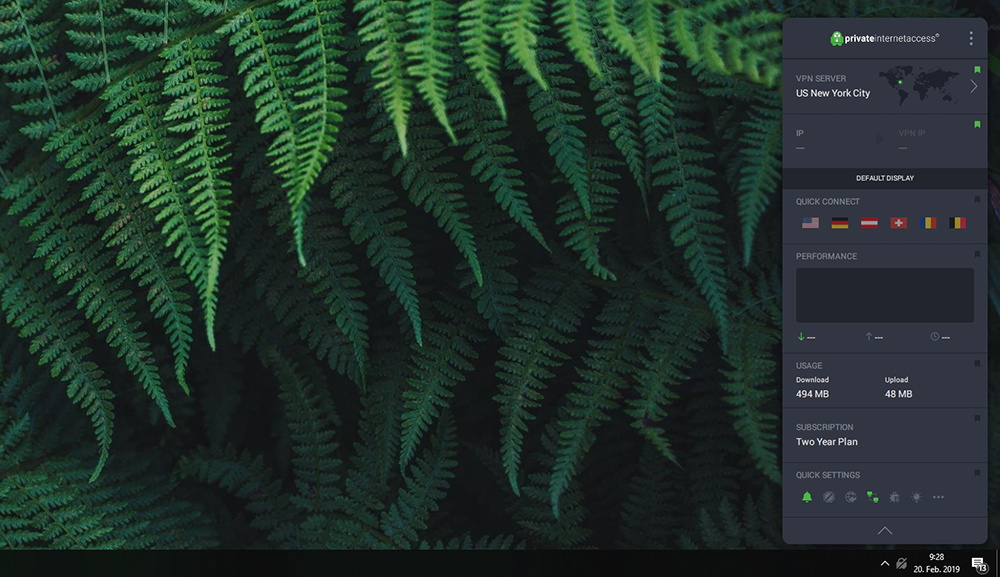 At any moment, you can 'bookmark' any of these segments if you want them to become part of the 'main' UI. This means that PIA brings a nice level of customization and you don't have to use its default UI. And let's not forget that you can choose from two themes (dark and light), both of which look amazing.
When choosing a server, you'll be presented with a sizeable list of countries. You can mark any of those as your favorite, so you can easily connect to it in the future. And PIA also provides an option to connect you to the best available server, which depends on your physical location. We'll be testing this option soon, so make sure to stick with us until the end of this review.
Lastly, don't forget to take a peek behind a 'three dots' icon, found in the top-right corner. This is where you can check additional options and settings. So, here's what to expect here:
General: This is where you can set Private Internet Access to launch on system startup and to automatically connect to a specific server. Then, you can choose from more than a dozen different languages and switch between different themes.
Account: If you'd like to see when your subscription is due to expire, this is where you can check that information. You'll also find links that let you manage your account and log-out.
Privacy: Two options are present here. You can enable the VPN's kill switch and turn on PIA MACE, which is the VPN's feature that blocks malicious domains with aggressive ads, trackers, and malware.
Network: In case you'd like to use a different DNS and port forwarding, you can find these options there. And also, you can easily enable/disable LAN traffic.
Connection: This tab lets you fine-tune different VPN protocols and encryption levels. There's plenty of fine-tuning available and you can choose between performance and security.
Proxy: PIA also provides you a series of proxies, allowing you to fine-tune your VPN tunnel. At the moment, you can choose between Shadowsocks and SOCKS5 proxies.
Help: Lastly, this is where you can do maintenance tasks that can resolve certain problems such as reinstalling network driver, submit debug logs, and more.
All in all, Private Internet Access comes with a nicely designed UI that looks great on small and large screens. We wished to see it as a free-floating window. Other than that, we have no further remarks.
Media Streaming & Torrenting Support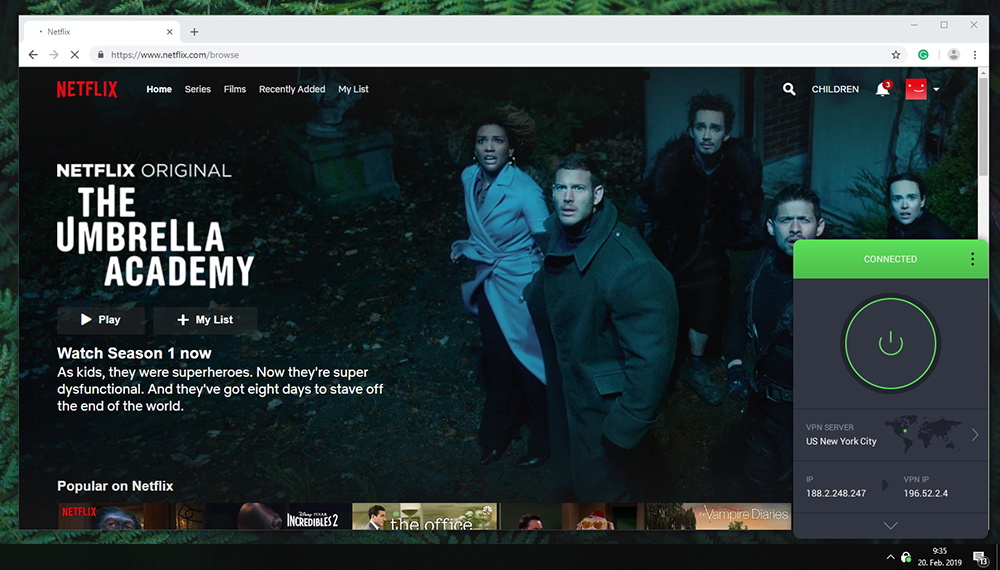 Netflix is on the list of supported websites that can be unblocked by PIA, as is torrenting. However, the same can't be said for other popular websites. Our Score: 4/10.
Are you planning to use this VPN to unblock media streaming websites? If that's so, make sure to carefully read this segment of our review. We've tested PIA with four of the biggest media streaming websites, and here are the results.
Media Streaming & Torrenting Support
Netflix US
YES
Hulu
NO
BBC iPlayer
NO
Amazon Prime Video
NO
Torrenting (P2P)
YES
As you can see, Private Internet Access can help you unblock Netflix outside the US. However, we've seen reports from the past about Netflix not being supported by this VPN, which means that your mileage might vary. At the moment of writing this article, we managed to unblock this website and play videos with no issues whatsoever.
Sadly, the same can't be said for services such as Hulu, BBC iPlayer, and Amazon Prime Video. None of those websites can be unblocked via PIA – as all of those easily detect the VPN. It's worth noting that PIA was able to unblock BBC iPlayer and Hulu up to one year ago, but it made no progress since.
Lastly, Private Internet Access fully supports P2P traffic (torrenting). However, please note that some users reported receiving copyright infringement notices. It's unclear whether they failed to set up their VPN properly, or if something else was happening. This is why our strong recommendation is to stick to legal torrents only.
Security & Privacy
PIA has proven that it doesn't collect user data and it also utilizes powerful VPN protocols. However, we can't ignore the fact that it comes from the USA. Our Score: 8/10.
You must be wondering how effective PIA is when it comes to protecting your private information online? To answer this question, we'll be taking a look at three aspects of this VPN service.
Supported Encryption Protocols
Private Internet Access comes with granular controls over encryption. You are free to select anything between AES-128 up to AES-256, including different protocols related to data authentication (from SHA1 to SHA256) and handshake (from RSA-20148 up to RSA-4098). This kind of control gives you full power over deciding whether you want to prioritize performance over security or vice versa.
When it comes to the available VPN protocols, you'll find a nice range of supported ones. There's PPTP, L2TP/IPSec, and OpenVPN – which is considered to be the industry standard. The application provides a convenient way to switch between different protocols, which is a welcome feature.
Logging Policy
This VPN service proudly states that it does not collect any logs, of any kind. Instead, all your data simply flows through this VPN's infrastructure, which means that it's not saved at any point. And most importantly, PIA has already proven that they don't collect data.
We do have to highlight once again that PIA comes from the United States. Even though there are no problematic events from the past, keep in mind that this company still needs to respect the laws of this country. It looks like they've been able to use legal loopholes to stay afloat, and we sincerely hope to see this situation remain the same in the future.
DNS Leak Test
Doing a DNS leak test is important since it shows the ability of the VPN to preserve your data. In other words, we're going to see if PIA is capable of hiding our true IP, and we'll see if it can fool the websites that we visit.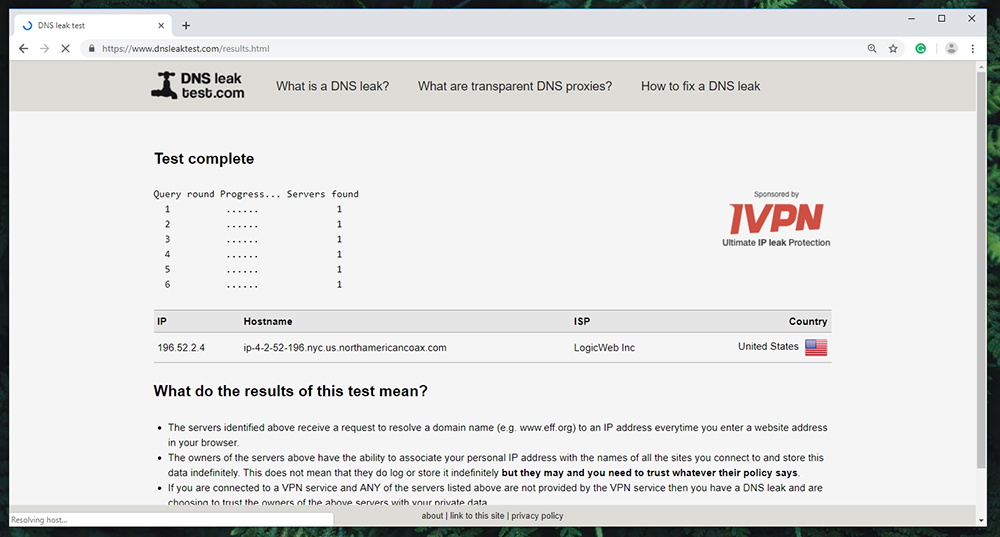 As you can see from the image above, Private Internet Access has passed the test in the best possible way. After enabling the VPN, our true IP along with our true location remains hidden. Instead, third-parties can only see what PIA is showing them.
Speed & Performance
PIA slowed us down by 8% on average, which is an astonishing result. In fact, this is the best result we got after testing dozens of VPNs. Our Score: 10/10.
Now, it's time to check the performance of Private Internet Access. For this purpose, we'll connect to both nearby and remote servers, and we'll do speed tests along the way.
First, we test the speed of our Web connection, without the VPN involved. We got 145.18 Mbps for downloads and 9.63 Mbps for uploads. We're going to use these numbers to calculate by how much this VPN slows us down.

We have allowed PIA to pick the best server, which for our location turned out to be in Frankfurt, Germany. After doing a speed test, we got 140.26 Mbps for downloads and 9.27 Mbps for uploads. So far, we're surprised by how well this VPN performs, as there's only a slight speed downgrade.

Finally, we also connected to a remote server, based in the USA. Servers in this country are usually under a lot of pressure since VPN users rely on these for media streaming. PIA gave us 126.58 Mbps for downloads and 7.95 for uploads. Once again, an amazing result.
| | | | |
| --- | --- | --- | --- |
| | Download Speed | Upload Speed | Speed Reduction |
| Baseline Speed | 145.18 Mbps | 9.63 Mbps | 0% |
| Nearby Server | 140.26 Mbps | 9.27 Mbps | 3.39% |
| Remote Server | 126.58 Mbps | 7.95 Mbps | 12.81% |
We conclude that PIA performs admirably. It slowed by us down by around 8% on average, which is perhaps the best result we got (after testing dozens of VPNs). Truly remarkable.
Customer Support
Even though there are several support channels, live chat is missing. In addition, you will be forced to wait up to 72 hours if you contact the company via email. Our Score: 3/10.
It's crucial for VPN services to offer reliable customer support channels. These are technical solutions, and something can easily go wrong – which is why you need to know if help is on the way. Here are all the ways that PIA helps its customers.
Knowledgebase: PIA has prepared around 200 articles on solving different technical problems. However, the issue is that you need to search for these manually or really try to target certain keywords to get viable results.
Setup Guides: No matter what's your platform of choice, you'll find a nice range of setup guides. These come with clearly explained steps accompanied by screenshots, making it easy to install Private Internet Access on any of its supported platforms.
Email Support: In case you can't find a solution to your problem, all there's left is to contact the company via email. Actually, you can contact them via a contact form, but you'll receive a response via email.
As you can see, live-chat support is missing – which is a major downside. If you fail to find an answer to your problem, you can only rely on submitting a support ticket. And according to PIA's current users, it can take up to 72 hours to hear from this company. In other words, you should really hope that everything will work fine since facing a technical problem will force you to stop using this VPN for a while.
Pricing
Private Internet Access VPN is one of the most affordable VPNs on the market. It doesn't come problem-free, but the price seems more than fair, nonetheless. Our Score: 9/10.
Private Internet Access is offering several pricing plans, which you can easily review by taking a look at the following table. Let's see how much you need to pay for this VPN, and more importantly – how to save some money.
| | | | |
| --- | --- | --- | --- |
| | Total Price | Per Month | Savings |
| 1 Month | $11.95 | $11.95 | 0% |
| 6 Months | $35.95 | $5.99 | 50% |
| 1 Year | $39.95 | $3.33 | 72% |
When it comes to its monthly plan, we can't say that PIA is the most affordable option out there. However, we strongly recommend subscribing to this VPN by getting one of the long-term plans as this gives you a chance to save quite a lot of money. For example, you get to use this VPN for up to 6 months for $35.95. And you can also get PIA's 1-year plan and save 72%, which comes down to only $3.33 per month – and you'll hardly find a more affordable offer.
All in all, it's clear that you'll get plenty of value for the price of PIA. We wished to see some aspects of this VPN being improved, but we can hardly say that it's overpriced. It's also good to know that PIA offers a 30-day money-back guarantee. Until recently, this VPN offered a 7-day money-back guarantee, so we're more happy to see this improvement – as now you have plenty of time to test-drive Private Internet Access without any risks.
Do We Recommend Private Internet Access VPN?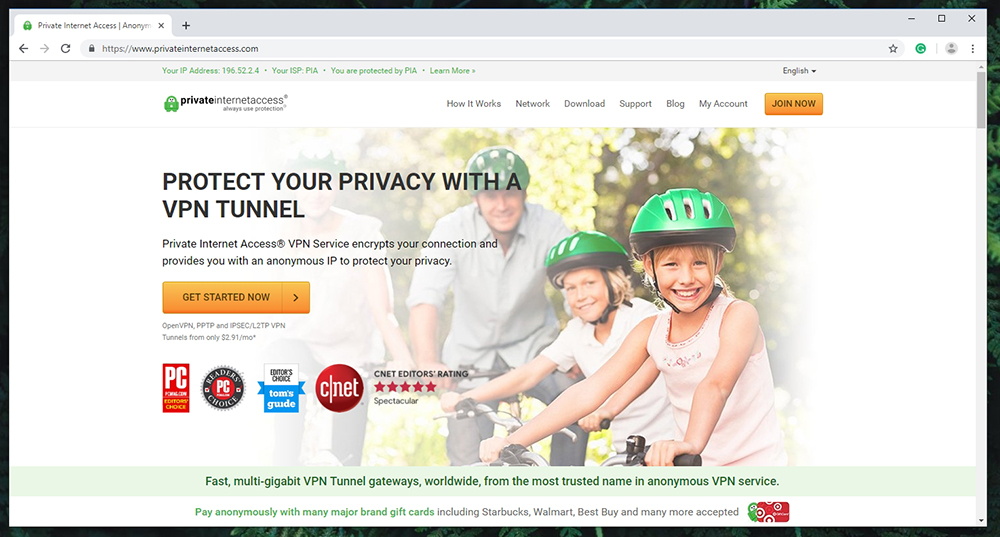 There's plenty to like when it comes to PIA, especially after reviewing its latest version (with a greatly improved UI). It comes with plenty of servers, protects your privacy online, unblocks Netflix, and offers the best possible performance. With all of this said, yes – we can strongly recommend using PIA to keep yourself safe on the Web.
PROS: Effortless installation; Nicely designed UI; Plenty of servers; Unblocks Netflix; Speedy performance.
CONS: Based in the USA; Not the best customer support; Can't unblock some popular media streaming websites.
OUR SCORE: 8.0 out of 10!
We believe that many of you will be perfectly happy with PIA. You can make sure that your private data is completely invisible online, reap the benefits of unblocking Netflix, and easily switch between thousands of servers. All of this is done while maintaining the best possible performance. If this sounds good, go ahead and subscribe to Private Internet Access now!