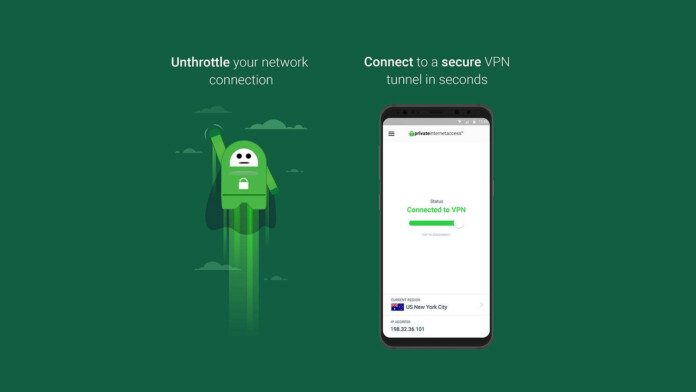 If there's one piece of software that's rapidly gained a strong user base in the recent years, it has to be the VPN – the Virtual Private Network tool. These are software that enables users to conceal their online activity, hiding their IP addresses from prying eyes. The help secure users' right to privacy. This article reviews the Private Internet Access VPN.
Private Internet Access VPN is one of the most popular VPN tools in the security space and once on, directs all of the users' data through a secure tunnel. It thus performs two fundamental functions: first, it encrypts your data as you browse the web, and secondly, it hides your IP address and thus your geo-location. Together, these functions protect the user online, keeping his device and data safe and untraceable in the course of his internet usage.
The table below summarises the basics of the Private Internet Access VPN and lists its important features and functionalities at a glance.
| Criteria | Details |
| --- | --- |
| Prominent Features | Fast connection; Data encryption; IP hiding; Network Kill Switch; Unlimited bandwidth; Easy to use; No traffic logs |
| Number of Servers | 3382+ servers in 33 countries |
| Logging Policy | No traffic logs maintained |
| Encryption Standards | 256-bit AES encryption, OpenVPN, IPsec/L2TP, PPTP, SOCKS5 |
| Privacy | DNS Leak Protection |
| Speed | 4.01 Mbps (baseline: 5.63 Mbps); 3.37 Mbps with US server |
| Device Support | Windows 10/8/7, MacOS, iPad, iPhone, Linux/UNIX, Android, Tomato, DD-WRT, PfSense |
| Number of Devices | 5 |
| Price | $6.95 per month (1-month) | $3.33 per month (1-year) | $2.91 per month (2-years) |
| Our Score | 8.9/10 |
| Visit | Private Internet Access VPN |
One of the most common reasons people opt for a VPN tool is to access geo-restricted content, for instance, US original Netflix content that might not be available for streaming elsewhere. We test Private Internet Access VPN for these streaming services and bring you the results in the table below. Of course, with Kodi, there's nothing to unblock but using a VPN can help prevent data leak to your ISP. Overall, we feel that Private Internet Access VPN ranks moderately when it comes to working with the streaming services. Many of its peers provide a more seamless experience working with Netflix, Hulu, and Kodi.
| Streaming Service | Result |
| --- | --- |
| Netflix | YES – W/ some very specific servers only |
| Hulu | YES – W/some very specific servers only |
| Kodi | YES |
Private Internet Access VPN has multiple servers across the world, which is great when it comes to getting access to geo-restricted content in some parts of the world. With Private Internet Access VPN, however, we found that finding the ideal server that works with Netflix or Hulu takes some time- most servers will be detected by the websites and won't allow you to proceed ahead. You'll need to sign out, close the session, reconnect to a different server and then sign in again to see if it works. It will take some time initially, but once you know which server works with which particular streaming service, you can take a note of it for future viewing purpose with additional time consumption.
It is also important to note that this is a particularly sensitive zone when it comes to VPN- servers are continually blocked by Netflix and Hulu so you might suddenly find, one day, that your VPN service might be rendered useless in accessing content.
That said, let's now see the most important strengths and weaknesses of the Private Internet Access VPN before we proceed further with our in-depth review.
Criteria
Private Internet Access VPN
Pros

Easy to use
Inexpensive in comparison to
other competitors
256-key AES Encryption
Unlocks geo-restricted content
No log keeping
Fast connection

Cons

Limited server connection options
Netflix and Hulu might not work on
certain US servers- they function with
difficulty
Lack of deep customization and
additional features
So, there you have it – the basics of the Private Internet Access VPN. It's time now to proceed further with our view, which is based on our extensive tests of this software.
Private Internet Access VPN – Review
Private Internet Access VPN is one of the most popular VPN tools in the market today. However, the question is whether this is indeed the right VPN tool for you. Follow our detailed review of this software, where we test its performance, features, speed, and security to help you make the final decision.
Supported Devices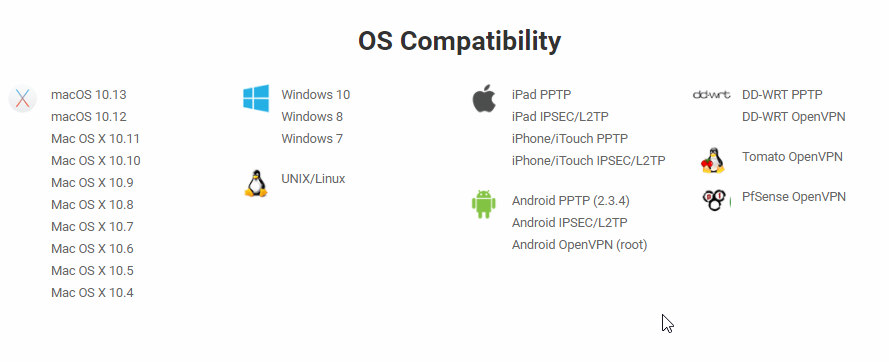 Private Internet Access VPN is supported on multiple OS platforms out there. You'll find one for your favorite device. Our Score: 9/10.
Private Internet Access VPN supports not just your Mac, iPhone, iPad, Android smartphone, Linux system or Windows computer but also support router firmware. This feature allows you to encrypt your entire network, which is then within the secure framework of the VPN, instead of having to run VPN software on each individual device.
The Private Internet Access VPN allows you to connect 5 devices simultaneously. You can easily use the Private Internet Access VPN to secure all devices and surf the web without worrying if someone is spying on your activity.
Installation & Setup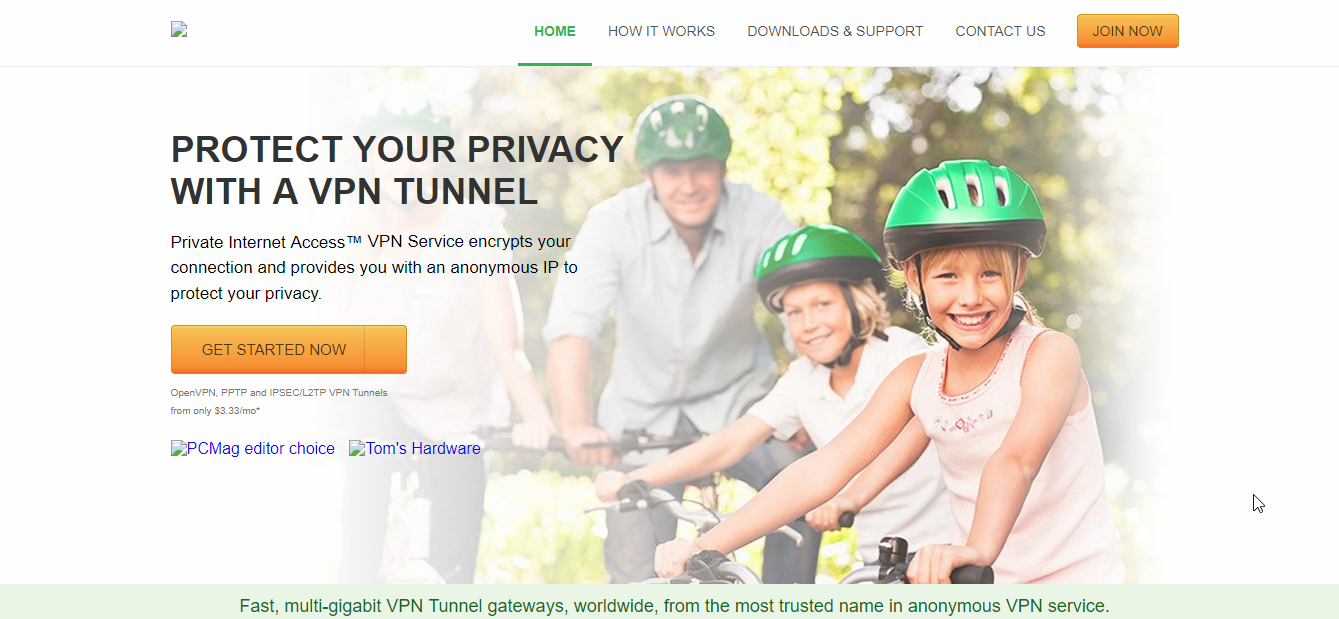 Private Internet Access VPN is conveniently installed without any hassles. The process is easy enough to follow for beginners. Our Score: 10/10.
Let's see what the installation process is. Proceed first to the official Private Internet Access VPN website and click on 'Get Started Now'.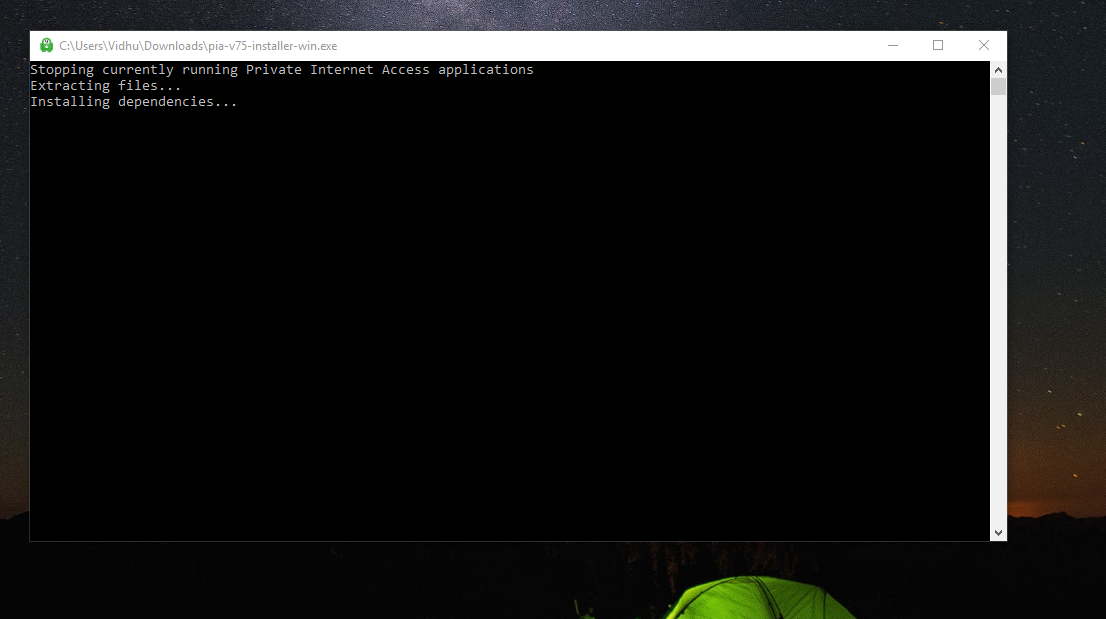 Double-click the installer file once it's finished downloading (takes a couple of minutes depending on the speed of your connection). We recommend running the installer file with administrator privileges to ensure all files are installed for the software to run properly without problems later.
The software would install now and you'll be able to see the progress in the command prompt window that remains open throughout the installation. The installer would first extract essential files and then fulfill dependencies before proceeding further with the installation. It is important to note that you might be prompted to install a certain TAP network driver during the installation, which is essential for the software to function. While all VPN tools do not require this driver to be installed, Private Internet Access VPN requires you to do so.
Prominent Features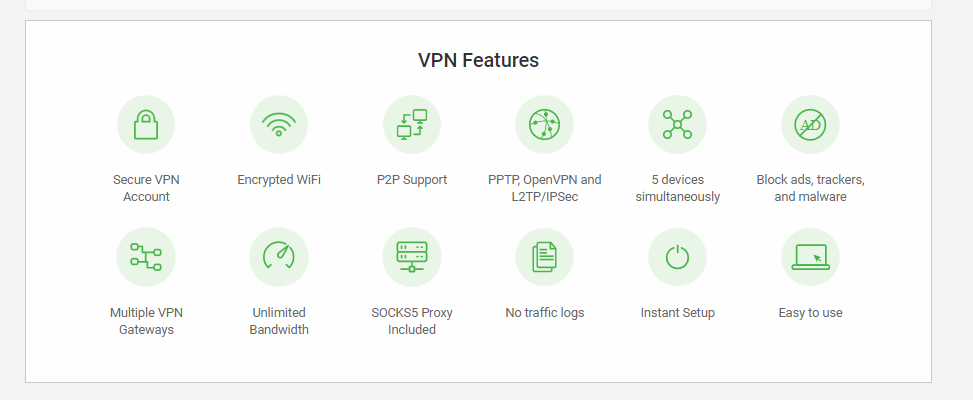 Private Internet Access VPN is rich in features and you'll be delighted with its security functions. Our Score: 8/10.
Private Internet Access VPN has a moderately rich feature set. First and foremost, the secure VPN account enables you to set up a secure VPN connection, so you can stay safe online.
The P2P support ensures you can benefit from peer-to-peer services such as torrents and the like without a problem, unlike with many VPNs that block peer to peer connections and services to keep network lag to a minimum.
The Private Internet Access VPN will also block ads, trackers, and malware with its inner shields, which is a feature not commonly found in other software.
The software features multiple VPN gateways, which is ideal for those accessing streaming servers for geo-restricted information. Users can choose which country (VPN server) they wish to connect with.
There is unlimited bandwidth provided with every connection, which means you need not worry about exhausting a certain pre-determined quota.
Ease of Use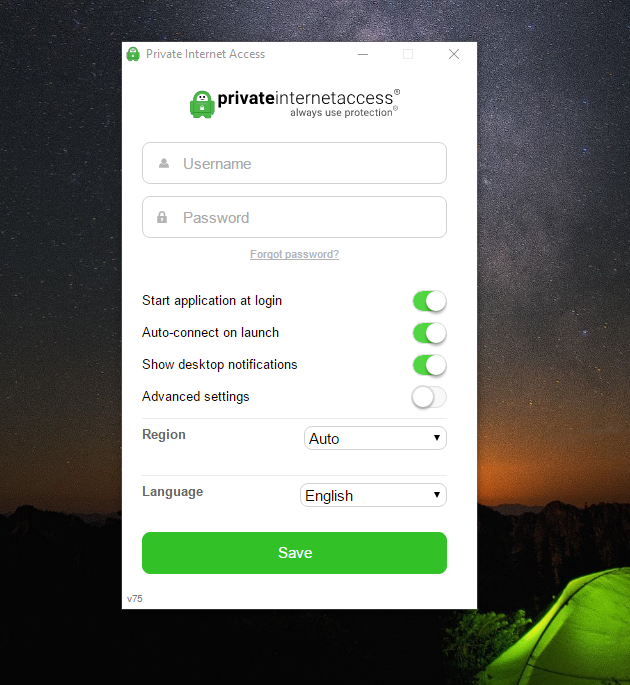 Private Internet Access VPN features an easy to use interface, which is convenient to navigate around. Our Score: 10/10.
When it comes to the user interface, the Private Internet Access VPN stands a class apart. There's nothing fancy about the UI though – it's very ordinary, without glittery graphics and needless advertisements. While we certainly feel the UI could have been more graphical, enhancing its visual appeal, we are all praises for the minimalistic design, which incorporates the bare basic functionality on just one single screen without requiring the user to browse an endless number of options and screens just to be able to change to a different server, for instance.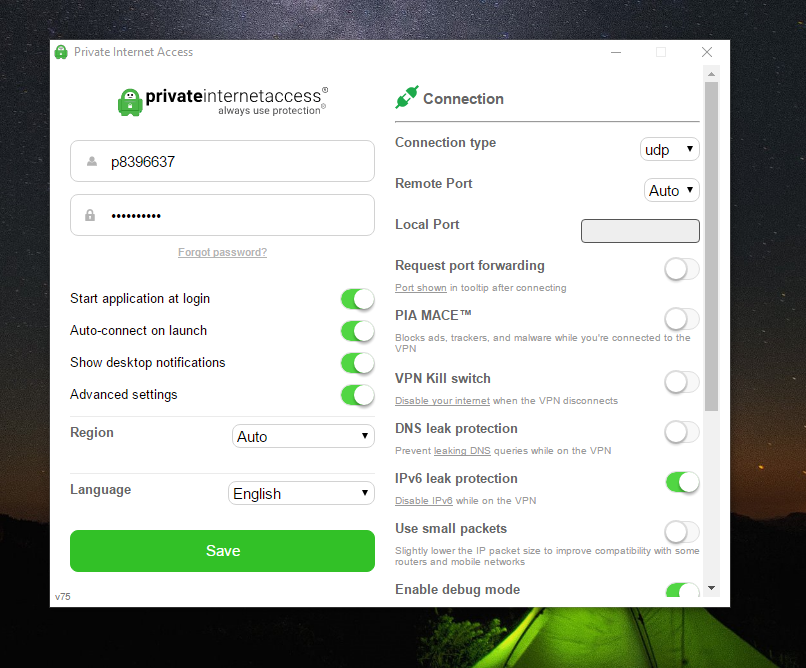 Click on the 'Advanced Settings' tab to bring up the additional settings. This is where you'll be able to specify the connection type (UDP/TCP), the choice of remote port, and port forward settings. There's also a MACE setting for users to stay away from malware, rackers, and ads when the VPN is operational. You might want to keep this enabled, especially if you do not have an active antivirus shield installed on your device. The other important setting to pay heed to is the 'VPN kill switch'. While seasoned VPN users would already know what it does, it is an extremely important feature to keep enabled for both beginners and professionals alike. What the kill switch does is that it drops off your internet connection if there's an issue with the VPN tunnel so as to prevent accidental data leaks.
Similar is the case with DNS leak protection. We recommend keeping this setting turned on for maximal protection, along with the IPv6 leak protection control, which is enabled by default.
Head over to the encryption section, where you will be able to change the 'Data Encryption' setting. We found that it is set to AES-128 by default for fast performance. However, we strongly recommend changing it to AES-256 for maximal security online.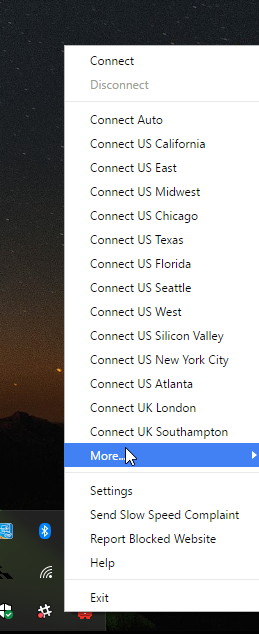 Changing servers to connect to is simple too. You can choose the country you wish to connect too, but not the individual server, which certain users might find off-putting, since many VPN services in the market allow users greater control when choosing specific country servers based on their experiences and personal preferences.
Server Locations
Private Internet Access VPN has a vast network of servers throughout the world. However, the geo-distribution is somewhat limited when compared to its competitors. Our Score: 7/10.
Private Internet Access VPN has as many as 3382+ servers in 33 countries across the world. While the network is pretty extensive and impressive in scale, users cannot really pick up individual servers of their choice. They can only choose the country and in some cases, the location they wish to pick servers from. Had this latter feature of location availability been extended to all countries, the software would have become much more powerful.
It is important to note that the choice of the right server is an important one since it plays a vital role in determining the network speed.
Speed

Private Internet Access VPN performs moderately when it comes to speed tests. Our Score: 8/10.
Private Internet Access VPN prides itself in its unmetered bandwidth, which is indeed an important feature, for you wouldn't want to have your VPN create a fuss when binging upon your favorite Netflix shows.
When testing Private Internet Access VPN, we adopted the following strategy. We first ran speed tests on a naked connection without the VPN and then ran the tests with the VPN turned on, with the optimal server being chosen automatically during the speed test. Finally, we took the tests with the US server selected. So, how did the tests go? Let's see.
As described above, we first run a baseline test on the system.

We got a decent speed of 5.63 Mbps. Now let's turn the VPN on and run the tests again with the test server automatically chosen.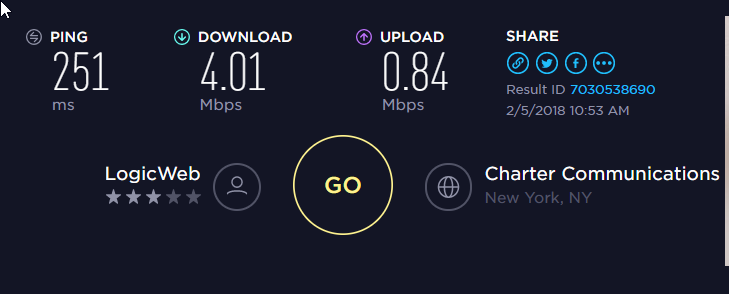 We get an increased ping time and a reduced speed of 4.01 Mbps. The upload speed, however, seems increased a bit. It's time for the speed test again with a US test server.

The speed is lower than the one with optimal server chosen by the system. While the download speed falls further to 3.37 Mbps, the upload speed falls to 0.57 Mbps.
It is important to note that the results above are only indicative of a random testing sample, for network conditions can fluctuate widely, causing wide variations in speed values.
Security & Privacy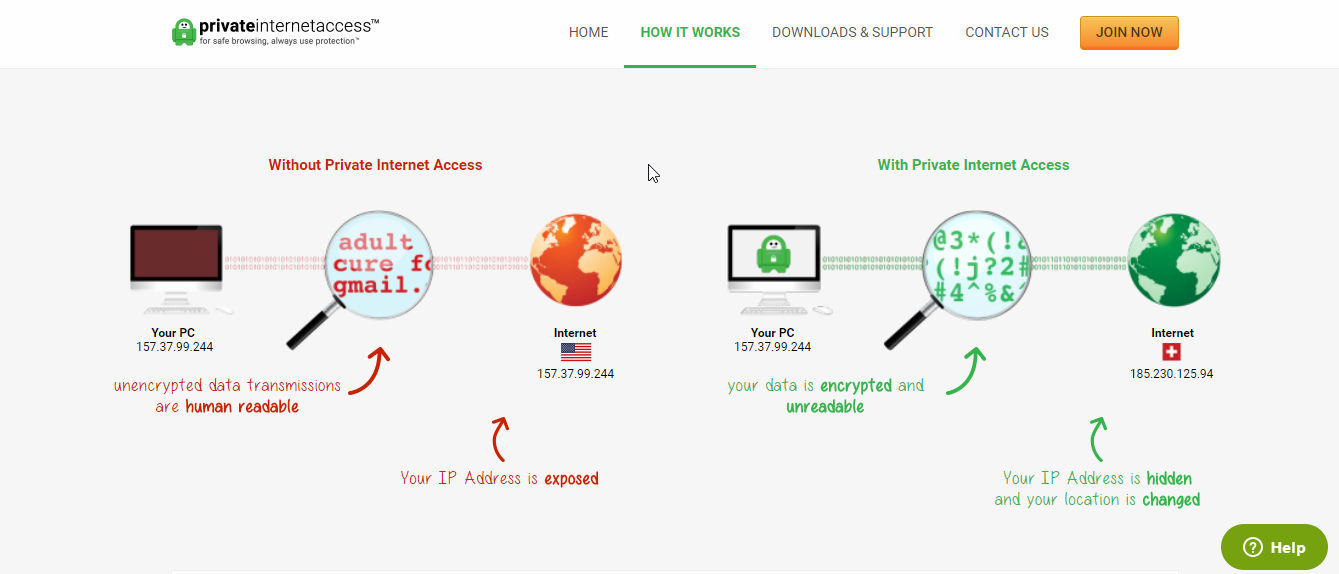 Private Internet Access VPN has a no-traffic logs policy and does not track user data traffic. The connection is encrypted and the IP hidden. Our Score: 9/10.
Private Internet Access VPN combines IP hiding and data encryption with a network kill switch and other powerful features. The software basically hides the user's IP address and renders all network traffic unreadable.
Encryption
Private Internet Access VPN uses AES-256 encryption, which is amongst the strongest encryption protocols used by the US Government themselves. The encryption, however, is set to 128-bit AES by default, so make sure you change it to AES-256 before you actually use the software.
When it comes to the supported VPN protocols, Private Internet Access VPN supports OpenVPN, L2TP, IPSec, and SOCKS5.
Logging
Private Internet Access VPN has a no-logging policy when it comes to logging user internet traffic. This is a very important feature to look out for when purchasing VPN software- make sure the VPN tool you use does not log any data. The company states how user privacy is the very 'soul' of the software- and how they never log any data.
The company even goes on to say that it cannot supply authorities with user data when demanded, since it does not store any logs of any kind, at all.
DNS Leaks
DNS leaking is a phenomenon wherein the DNS information of the client is leaked or revealed to third-parties due to loopholes in the system. Let's see if Private Internet Access VPN leaks user DNS information by checking if our IP can be tracked by a third-party.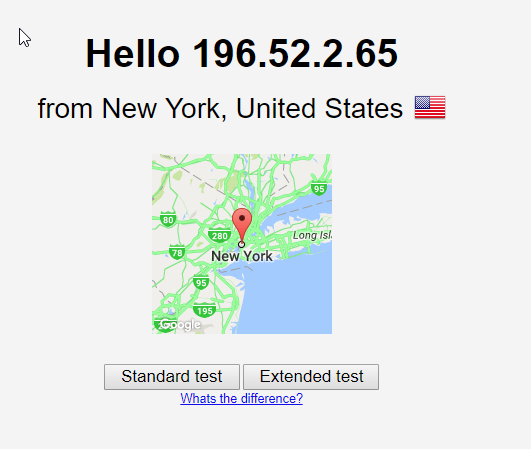 As is clearly evident, Private Internet Access VPN is doing a phenomenal job of hiding our IP information, which stays completely private.
Customer Service
Private Internet Access VPN offers a very responsive customer care with multiple support channels for users. Our Score: 9/10.
Private Internet Access VPN offers multiple channels for customer support. Users can find important resources online on the software help center. The FAQ section too is incredibly useful and answers the most common queries of the users.
To evaluate the customer service, we sent them an email and received their revert with a clarification. We couldn't find a chat support on the website at the moment, though, a feature commonly found on other VPN software websites.
Pricing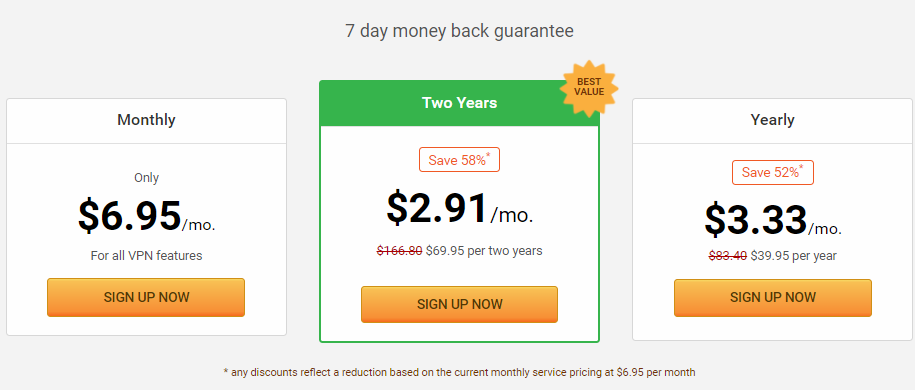 Private Internet Access VPN is quite affordable as compared to its peers. Our Score: 10/10.
Consider the pricing model of the Private Internet Access VPN and you'll be surprised. The software packs in a powerful punch and still delivers them all at a very reasonable cost. Without a doubt, this is one of the most affordable VPN tools out there.
Although, as is clearly evident, the yearly and two-yearly subscription plans offer greater discounts to the end users, we highly recommend choosing a monthly subscription since VPN software, by their very nature, involve lots of uncertainties. This is particularly true if your only reason for using a VPN service is to be able to stream geo-restricted content.
The Verdict
Private Internet Access VPN is a very powerful tool, which is great for protecting user identity online through its data encryption and IP hiding features.
Who Should Use This VPN? – Those who need a pretty basic VPN tool can benefit from this service. Users who wish to have a VPN with a commitment to user privacy and one that does not log user traffic.
Who Should Not Use This VPN? – Those who wish to use a VPN service to unblock geo-restricted content on all popular streaming services without having to resort to a cumbersome process. Advanced users might also dislike the lack of greater features.
Pros: Inexpensive; Very easy to use; Does not log user traffic; Hides IP and encrypts data; very minimalistic UI
Cons: Lack of split tunneling and other advanced features; Lack of deeper customization levels; Netflix and Hulu work with some problems and might not work on many servers
Final Verdict: 8.9 out of 10!
Buy Private Internet Access VPN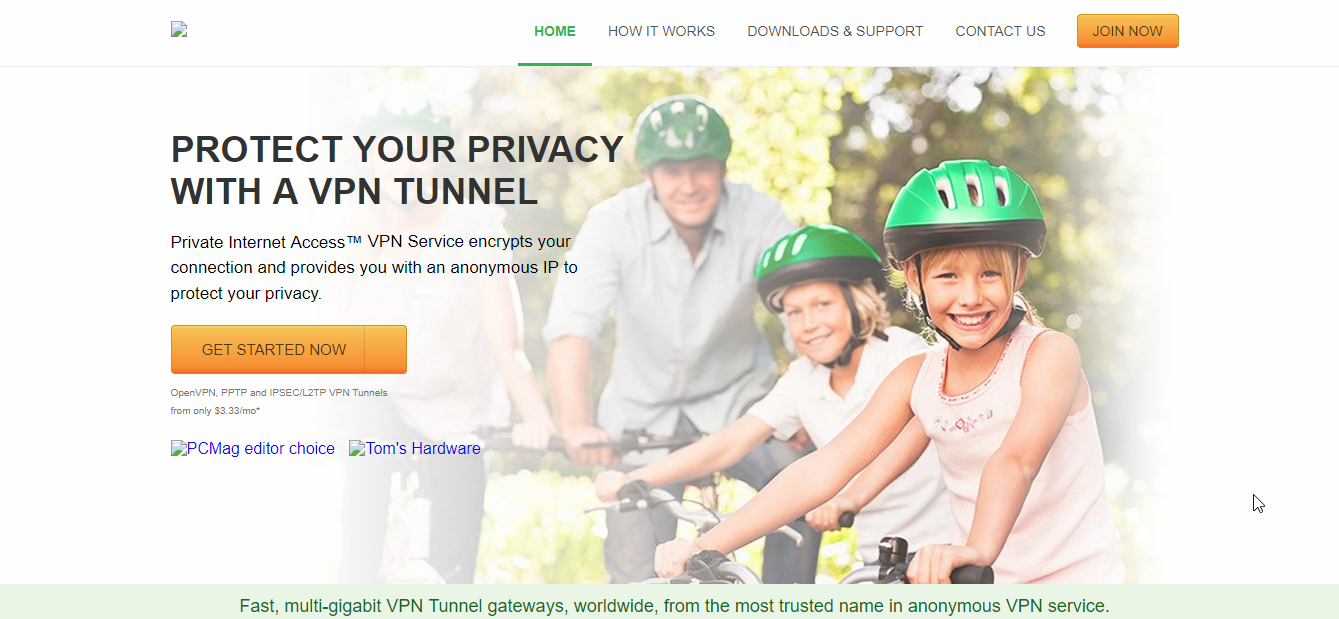 If you've decided to purchase the Private Internet Access VPN, go for it! It's a great piece of software and will ensure your data and browsing stay safe online without getting to prying eyes.
Final Thoughts
Private Internet Access VPN is a great choice for individuals who wish to use an affordable VPN with all basic features.
The app provides a moderately fast VPN connection and does not leak user DNS information. The software has a very minimalistic UI, which is easy to navigate around without being layered with options upon options on several different screens. There's no hamburger button at all, in fact- all essential information is displayed on the main user interface.
A great feature is that the Private Internet Access VPN maintains no logs of user internet traffic at all, which is essential to safeguard users' privacy.
Those purchasing a VPN only for the sake of unblocking geo-restricted content, however, need to be wary. While in our tests, we found that the software currently works with certain specific servers, the casual user might not want to take an alternate route when other VPN tools offer direct one-click access to their favorite content.
With this, we conclude our review of the Private Internet Access VPN. Our reviews are based on our in-depth tests and analysis of software and we hope you liked them. Please feel free to leave us a comment should you wish to ask anything.
We also request you to spread the word in your social media circles- let's make online access a secure experience for everyone.