In all honesty, we're not that surprised to see you reading this article. After all, both IPVanish and NordVPN are hugely popular VPN providers that have a lot to offer. Therefore, choosing one of these two is far from a simple task. We will do our best to compare these two VPN products and help you decide which one should be your best pick. So, welcome to our IPVanish vs NordVPN comparison.
As noted in our IPVanish review, this is a hugely popular provider with numerous advanced tools. Covering all popular platforms and beyond, this VPN keeps your sensitive data safe and sound, and away from prying third-parties. However, NordVPN isn't a single step behind. Our NordVPN review can tell you about its shiny interface, ease of use, and unique features such as double encryption. It isn't surprising to see both of these VPNs in our grand overview of the best VPNs on the market right now.
Before we go any deeper, we will provide a handy overview of the most important features of IPVanish and NordVPN. So, take a look at the following table to learn more.
| | | |
| --- | --- | --- |
| | IPVanish | NordVPN |
| Jurisdiction | The USA (5-Eyes Alliance) | Panama |
| Logs | No activity/connection logs. | No activity/connection logs. |
| Number of Servers | 1,300 servers in 60 countries. | 5,700+ servers in 60 countries. |
| Parallel Connections | 10 | 6 |
| Encryption Standards | AES-256; OpenVPN, IKEv2, L2TP, SSTP, PPTP. | AES-256; OpenVPN, IKEv2, IPsec. |
| Speed Reduction | 35% on average. | 38%, on average. |
| P2P Support | YES | YES |
| Supported Platforms | Windows, macOS, Linux, Chrome OS, iOS, Android, Fire OS, routers, and more. | Windows, macOS, Linux, Android, iOS, Web browsers, routers. |
| Visit | IPVanish | NordVPN |
Next, we have also included scores of these VPNs' individual reviews so you can see their strengths and weaknesses. To dive deeper, keep on reading.
| | | |
| --- | --- | --- |
| | IPVanish | NordVPN |
| Jurisdiction, Reputation | 7/10 | 10/10 |
| Supported Platforms | 10/10 | 10/10 |
| Installation Process | 10/10 | 10/10 |
| Prominent Features | 8.5/10 | 10/10 |
| Server Count | 6/10 | 10/10 |
| Ease of Use | 9/10 | 9/10 |
| Media Streaming/P2P Support | 2/10 | 7/10 |
| Security & Privacy | 10/10 | 10/10 |
| Speed & Performance | 7.5/10 | 7.5/10 |
| Customer Support | 10/10 | 10/10 |
| Pricing | 8/10 | 8/10 |
| Overall Score | 8.0/10 | 9.2/10 |
The only thing that remains is to take a good look at what IPVanish and NordVPN have to offer. So, keep on reading our IPVanish vs NordVPN direct comparison.
IPVanish vs NordVPN (2019) - Which One is Better?
It's safe to say that we're facing a battle of VPN titans. No matter which one of these you pick, you can rest assured that you'll be safe online. However, taking your time to really know their features can pay off in the long term. So, here's our direct comparison of the two VPNs that will help you reach the final decision with ease.
Background, Jurisdiction & Reputation
You might not be aware of this - but it's crucial to know where your VPN comes from. Every county has its own set of laws that dictate the way your private data is handled. So, let's see where IPVanish and NordVPN come from, as well as what that means for their users.
IPVanish: You might be surprised to know that IPVanish is based in the USA. In addition, it comes with a turbulent past, as this VPN has been accused of collecting personal data. However, this was before IPVanish became part of Highwinds Network Group, with the new owners promising to take better care of private data. As you can imagine, another case of exposing their users would bring this company down - and we're sure that IPVanish no longer collects any activity or connection logs. However, it's true that it comes with a somewhat problematic past.
NordVPN: This VPN comes from Panama, which means that it's outside of the 14-Eyes Alliance. Even though it was plagued by accusations of acting strangely and being affected by software bugs, NordVPN was always quick to respond. It's important to be noted that NordVPN has completed an independent audit of its services, making it a certified no-logs VPN service. In addition, it won numerous prestigious awards, and there's a reason why it's used by millions around the world.
Winner: It's true that both of these VPNs have had certain problematic situations in the past. However, the winner of this IPVanish vs NordVPN round is clear. NordVPN comes with a reputation of protecting its users and comes with a proof of its no-logs practices.
Supported Platforms & Devices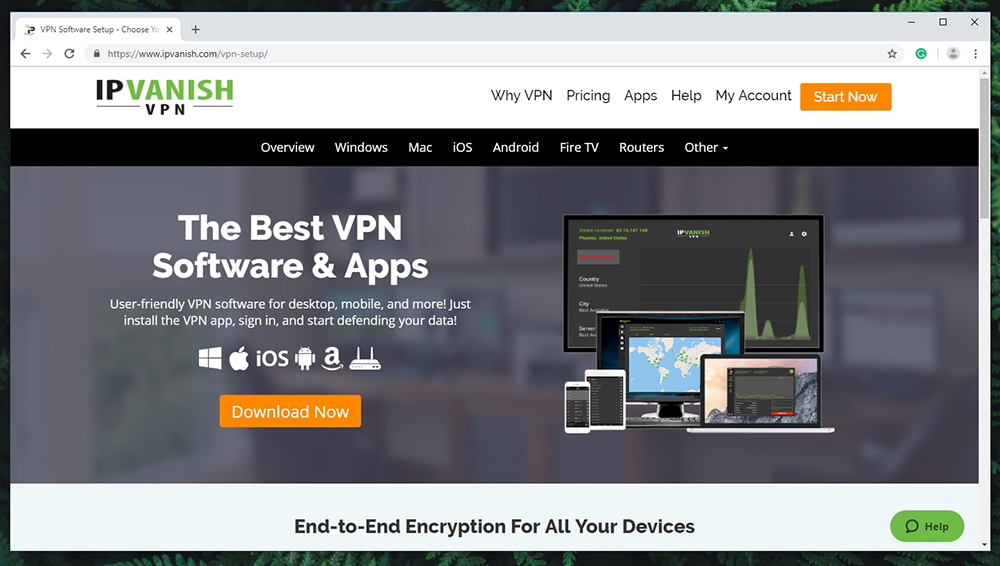 The second category of our comparison is related to cross-platform support. After all, you want a VPN that offers a slate of native apps for all your devices. So, let's see what kinds of platforms these two support.
IPVanish: In terms of cross-platform support, IPVanish is perhaps the most powerful VPN out there. It brings native apps for Windows, macOS, iOS, Android, and more. However, it also covers Linux and even Windows Phone (which is a rare thing). And if that's not enough, you can install IPVanish on a range of compatible VPN routers. Once you have an active subscription, you can install and use this VPN on up to 10 devices at the same time, which means that IPVanish comes with a very generous offer.
NordVPN: Being hugely popular across the world doesn't happen overnight. NordVPN has done that by providing native apps for Windows, macOS, iOS, Android, Linux, and more. And since this VPN supports the OpenVPN standard, it means that you can install it on VPN routers. Also, media streaming devices powered by Android TV and Fire OS are on the list. And finally, you can use NordVPN on up to 6 devices at the same time.
Winner: Both of these VPN providers bring astonishing compatibility with all currently popular platforms. However, we do have to say that IPVanish comes as the winner of this round since it supports even some rarely used platforms, and you can use it on up to 10 devices at the same time.
Installation & Initial Configuration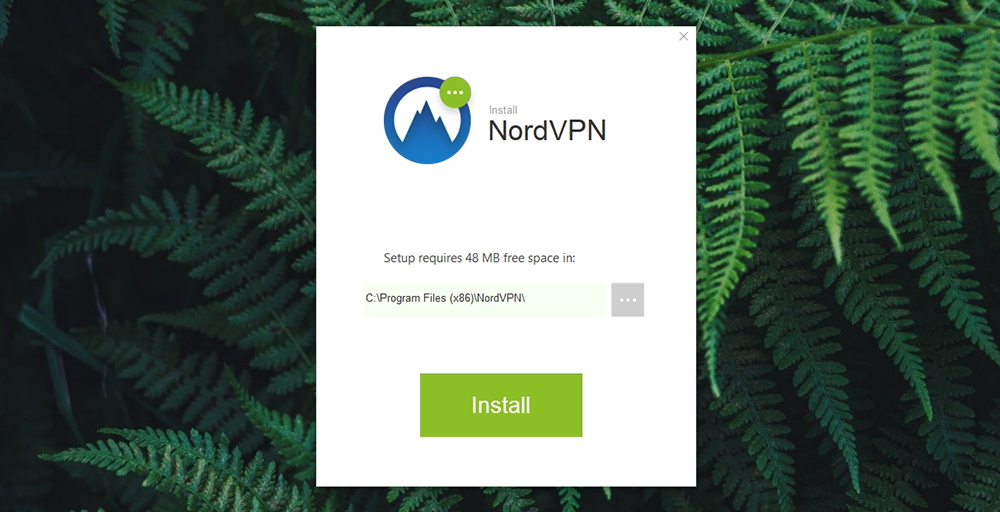 VPNs have come a long way since their early beginnings. Today, all reputable VPN services offer native apps across all popular platforms. This means easy installation and effortless setup.
IPVanish: As you've seen in the previous category, IPVanish has done a wonderful job of covering a whole slate of platforms. The same applies to its installation. Speaking of desktop platforms, you need to download the installation file and go through this procedure as you would with any Windows/macOS application. The same applies to mobile apps. There are no bundled applications here or anything like that.
NordVPN: Similarly to how IPVanish is doing things, NordVPN also brings a highly polished installation method. In case you ever get stuck, you can read manuals found on its official website. However, the problem is that installing NordVPN on a router might take some time since this kind of VPN usage isn't covered well in the company's tutorials. So, we do see some space for improvement.
Winner: Even though you won't encounter any significant problems with either of these apps, we really like the tutorial section that IPVanish offers. Still, it's important to note that even complete beginners shouldn't have any problems installing and configuring either of these two VPN services.
Prominent Features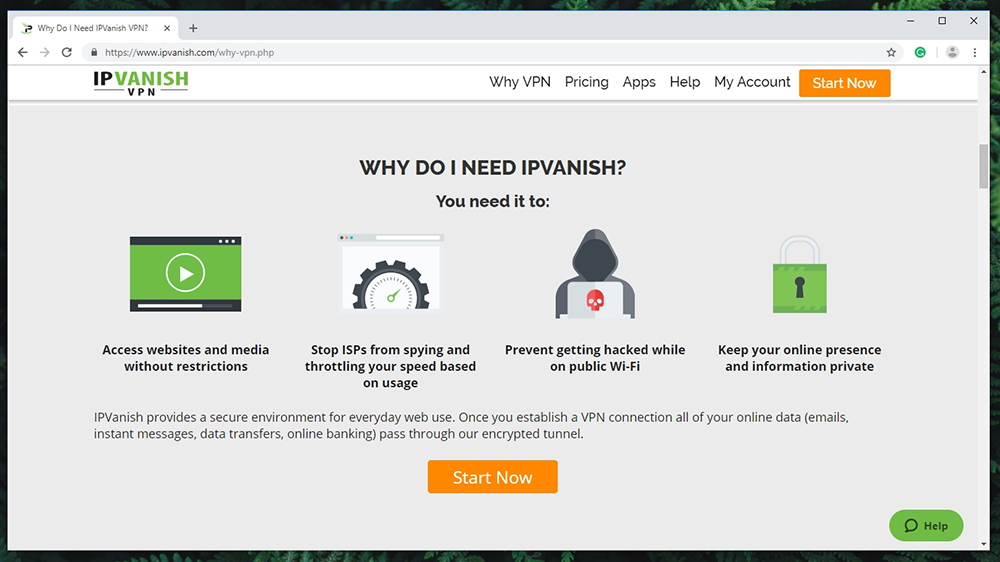 Every VPN trying to compete for your money has a distinct set of features that are intended to give it the upper hand over the competition. Let's take a look at how NordVPN and IPVanish score in that area.
IPVanish: This VPN comes with the basic set of features required to keep your private data safe and sound. This means that there are DNS and IPv4/6 data leak protections in place. In addition, IPVanish also comes with a kill-switch, but this feature is not available on all of its supported platforms. Also, split-tunneling is available only on Android as well. Therefore, there are some high-end features here, but you'll need to jump through several hoops to use them.
NordVPN: NordVPN really knows how to sell their most important features clearly and quickly. They also offer 256-bit AES and strong protocols, but on top of this, they offer something called CyberSec. This service intelligently blocks malware and suspicious activity. On top of this, they offer double VPN encryption, where your already-encrypted data is encrypted again. Another great feature that caught our eye is the automatic kill switch. If for some reason the VPN connection drops, the client kills the data flow. So you can't be exposed through technical failures either.
Winner: It's clear that NordVPN wins this round. It comes packed with both basic and high-end features, all of which are incredibly easy to use. So, no matter if you're a newbie or an experienced user, you're going to love what NordVPN offers.
Server Count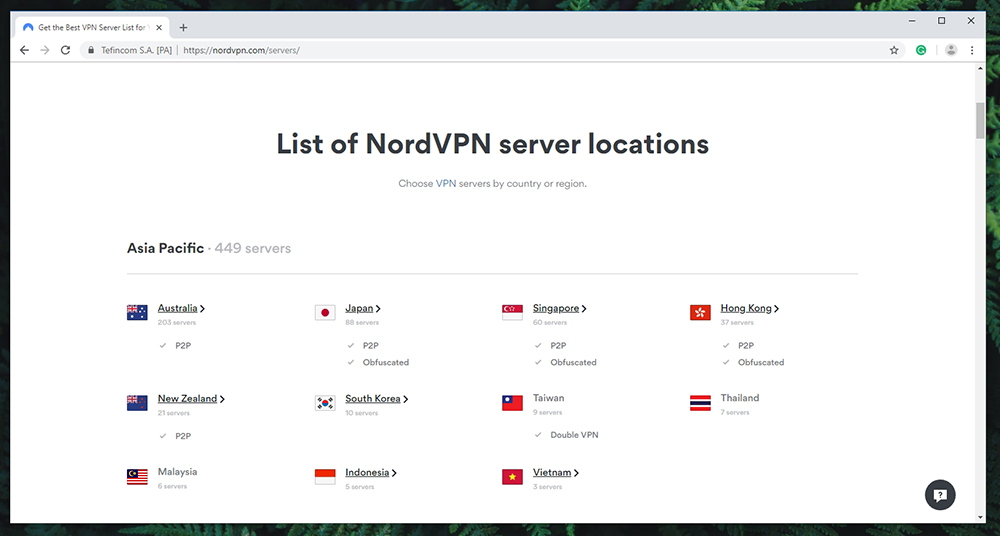 So, how important it is to have thousands of servers at your disposal? Well, it depends on what you plan on doing online. However, a bigger number of servers usually means a lower chance of performance issues.
IPVanish: At the moment, IPVanish brings more than 1,300 servers in more than 60 countries. Almost every 'attractive' location is covered, with hundreds of servers located in the USA alone. It's also worth mentioning that IPVanish gives you a nice overview of the available servers and you can see real-time stats as you connect to individual ones.
NordVPN: At the moment, NordVPN has more than 5,700 servers in around 60 countries. As you can see, there's a drastic difference here. Needless to say, NordVPN will take you to every corner of the world, allowing you to easily connect to different kinds of servers. Many of those provide double encryption, support for P2P traffic, dedicated IPs, and more. This means that aside from using 'regular' servers, you'll find an army of specialized servers for different Web-related activities.
Winner: Even though IPVanish has created an interesting offer, it's not even close to what NordVPN offers. With 5,700 servers under your fingertips, you won't find a better deal today.
Ease of Use
What's the point of having a great VPN that's too hard to use? The technology under the hood isn't the only thing that matters. Your VPN service should be user-friendly too.
IPVanish: The IPVanish client feels pretty old-school. There isn't much in the way of guidance and if you aren't too technical, you may have to read up a little on the IPVanish site to get to grips with everything. It looks good in a sort of 'Matrix' hacker way, but we wouldn't go as far as calling it user-friendly. Once you get the hang of it, however, you'll be flipping options around and be connecting to servers all over the world. There aren't any pure functionality problems, is what we're saying.
NordVPN: Once the program is up and running, you are greeted with a very modern-looking application. There's a connection wizard right on the main screen along with a map showing where you're currently broadcasting your location from. We really like the connection wizard, which asks you to tick the things you want to use NordVPN for. It then suggests the best server based on your needs. Then it's just a matter of hitting the 'ON' switch and you're in business. It really is very simple and friendly.
Winner: Once again, NordVPN seems like a better. We also have to say that beneath the simple interface, there is a lot of intelligence and sophistication. Switching to a new server is easy and seamless, and the program automatically warned us when it detected connection problems and suggested another server.
Media Streaming & Torrenting Support
So, the big question here is - which VPN can help you unblock Netflix and other popular media streaming services? Well, we've done a round of tests, and here are the results.
IPVanish: Unfortunately, IPVanish isn't a perfect pick for media streaming. As per our tests, this VPN can't help you unblock services like Netflix, Hulu, BBC iPlayer, and Prime Video. However, it does support torrenting. Still, considering that it comes from the United States, our strong recommendation would be to stick to legal torrents only.
NordVPN: As you know, NordVPN comes with an army of servers. However, you won't get to see servers specialized in particular media streaming services. Still, this doesn't mean that you can't unblock those. After talking to NordVPN's customer support team, you'll get instructions on which servers to use for different purposes. So, you'll manage to unblock Netflix, Hulu, BBC iPlayer, and more. And finally, there are specialized P2P servers as well.
Winner: The winner of this round is NordVPN. However, please note that you'll find some better options out there, so we recommend checking our article on the best VPNs for streaming.
Security & Privacy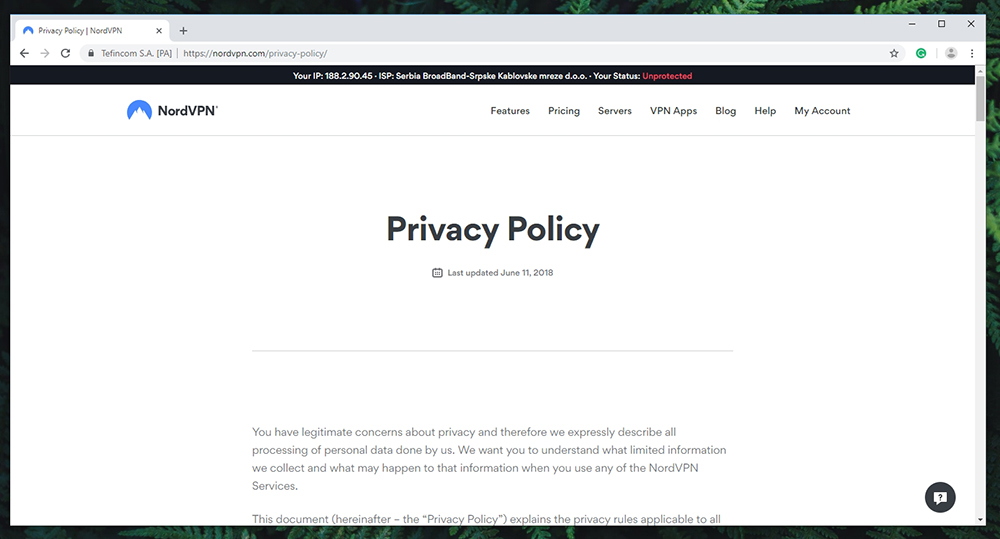 Most of the customers who opt to use a VPN service care mainly about making sure they stay anonymous on the Web and don't get targeted for all sorts of nasty net-related crimes. However, let's not forget that each VPN offers a different way to encrypt your data and hide it from anyone else online.
IPVanish: As we expect from any half-decent VPN service, no location info or the nature of our true IP address made it through. This is possible because IPVanish uses 256-bit AES encryption, which is known as one of the most secure ones. Also, you should know that this VPN doesn't keep any identifiable logs. Still, it can collect some anonymous logs which help the company maintain its server network.
NordVPN: The same story repeats in the case of NordVPN. Not a slip or a peep, and your identity is safe. However, it should also be noted that this VPN takes your security to a whole new level. The most powerful feature of NordVPN that you can use is called 'Onion over VPN'. It combines the power of a VPN with another highly secure network. In practice, this makes you truly anonymous online. Not to mention, you'll be guarded against adware and malware as well.
Winner: Due to offering highly advanced security-oriented features, NordVPN is the clear winner here. If you truly care about your privacy, this is the company that you can trust.
Speed & Performance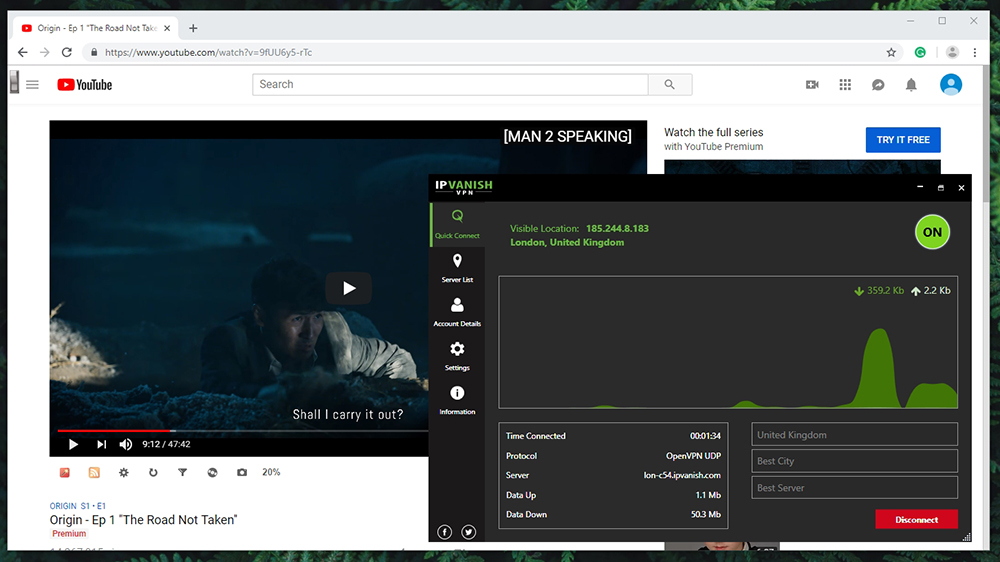 Aside from having numerous servers in front of you, it's important to see who well they actually perform. So, keep on reading our comparison to learn what our tests have shown.
IPVanish: In the past, IPVanish run advertisements saying it's the world's fastest VPN. Even though we really like how this VPN performs, it certainly isn't the fastest on the market. During our tests, this VPN slowed us down by 35%, on average. In all fairness, this isn't a bad result - as the majority of VPNs will slow you down, after all.
NordVPN: When using NordVPN, you need to pay attention to which server you're connecting. For example, using double encryption will most definitely bring some overhead and your Web connection might struggle. Of course, this isn't a concern for those having incredibly fast connections. If you need some concrete numbers, know that NordVPN slowed us down by 38%, on average.
Winner: These two VPNs come with similar Web connection speeds. Both of them will slow you down up to a certain extent, depending on if you use a nearby or remote server. However, NordVPN comes with some additional overhead due to its high-end features.
Customer Service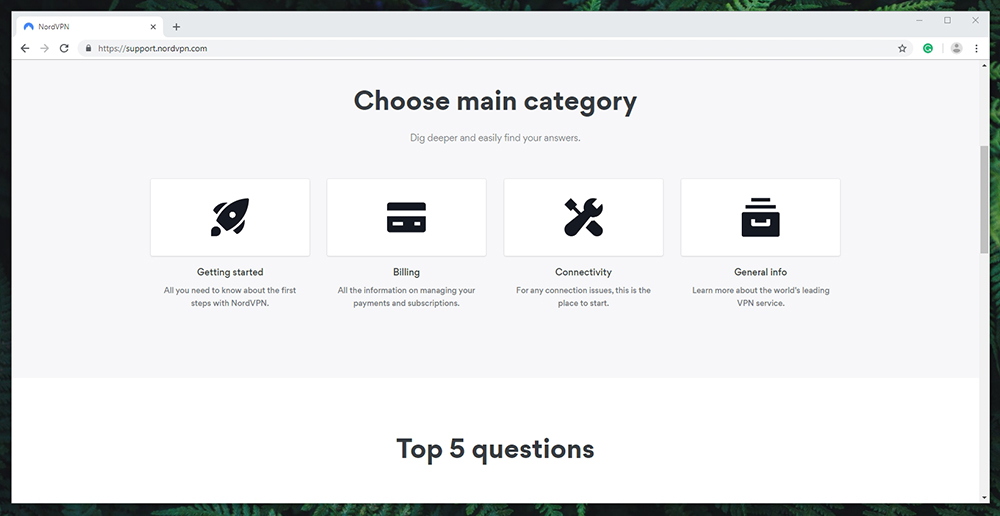 VPNs are great when everything is working right, but when things go wrong is when it really counts, so let's see who provides a better helping hand.
IPVanish: During the last couple of years, IPVanish has done plenty to come up with user-friendly material. You'll find setup guides, frequently asked questions, and there are different ways to contact this VPN service. You can call them by phone, email, or simply open its website and activate the live-chat option.
NordVPN: We have barely typed our question into the live chat window and a nice fellow named Owen was already on hand to help us. He didn't even seem annoyed that we didn't actually have a real question. This is the best support experience we've had so far with any VPN service.
Winner: You can be sure that both of these VPNs can provide timely assistance. However, NordVPN wins this round as it comes with incredibly helpful customer support whose core is this VPN's live-chat functionality.
Pricing
No one likes to talk about money, but when it comes to how much of your hard-earned cash needs to be forked out for a good VPN service, every penny counts. Let's take a closer look at this category of our comparison.
IPVanish: IPVanish usually charges $10.00 a month, if you pay month-to-month. And if you'd like to save some money in the long run, you can buy this VPN's annual plan. This one comes down to $6.49 per month. There's no free trial available, and you get a 7-day money-back guarantee.
NordVPN: The month-to-month pricing for NordVPN comes out to $11.99. However, its annual plan, on the other hand, comes down to $6.99 per month. NordVPN also does not have a free trial, but they offer you up to 30 days to make up your mind.
Winner: As you can see, the pricing plans offered by IPVanish and NordVPN are comparable. However, IPVanish is a bit more affordable if you pay annually. Therefore, IPVanish takes this round but not by much.
IPVanish vs NordVPN - Which One Should You Pick?
So, we've reached the end of our IPVanish vs NordVPN comparison, and we're facing the real question here. Which VPN is better, and which one should be your pick? Well, after everything said in this article - the winner is clear.
NordVPN is one of the most popular VPNs right now - and it comes with many interesting features. It keeps your private data secure, encrypts your Web connection in a proper way, and it even helps you unblock websites and media streaming services. And even though it's not the most affordable VPN out there, we think it's well worth the money. So, go ahead and feel free to sign-up for NordVPN today!
Dear readers, that would be all we've prepared for this IPVanish vs NordVPN comparison. In case there's something else you'd like to know, make sure to post a comment below. Finally, we'd like to ask you to share this article online. Also, don't forget to follow us on Facebook and Twitter. Thanks!