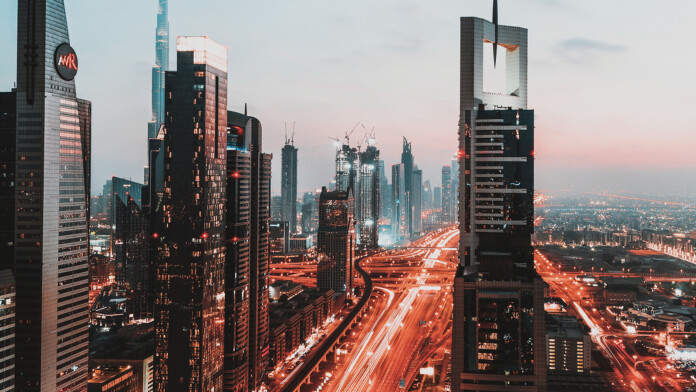 You have probably heard that the United Arab Emirates (UAE) can be a very restrictive country when it comes to online censorship. Numerous websites like Facebook, Discord, Flickr, and services like Skype are blocked in the UAE. So, no matter if you live in this country or you're just visiting, you will most certainly be frustrated by a number of limitations. This is why we'll talk about the best VPN for UAE in 2019.
In case you didn't know, VPN services are the only reliable way to overcome roadblocks and safeguard your privacy online. However, it should be said that there are some countries where VPNs are illegal. There's plenty of misconception whether VPNs are illegal in the UAE – but it all comes down to why you need to use a VPN. The UAE is pretty restrictive and adamant about blocking access to pornographic and gambling websites, as well as anything else that the officials of this country find to be 'morally unacceptable'. With this said, we strongly advise you to avoid those problematic types of online content. However, using Skype via VPN application should not get you into trouble.
So, here's what you need to know. These are the 5 best VPNs for the UAE in 2019.
We have decided to place ExpressVPN in the first place when it comes to the best VPN for UAE. Based on our tests, it ranked the highest – making us believe that you'll be more than satisfied with what it has to offer.
No matter if you're a new or experienced user, you will learn to use this software the first time you open it. All it takes is to install and open it, and then connect to a remote and secure server. From there on, you will get to enjoy the Web without any boundaries. It's also worth noting that ExpressVPN works great for unblocking websites and Web services, including media streaming services as well. You can also count on the company's 24/7 support and there's a 30-day money-back guarantee.
We are sure you want to learn more about this interesting option, so here's our ExpressVPN review.
The majority of popular VPNs cover the basics in a good way – which is the case with NordVPN. Being registered in Panama, it's out of reach of authorities. This is a helpful piece of information that should take some worries off your mind.
One of the standouts of NordVPN is the fact that it provides double routing. This is an advanced 'stealth mode' that makes sure no one can track you on the Web. Instead of rerouting your traffic to one secure server, this VPN adds another server to this equation. Still, there is one downside to this setup. You might encounter some throttling. This is the reason why we recommend NordVPN to those using a fast Web connection, to begin with.
A lot could be said about this amazing VPN application, so we strongly advise you to read our NordVPN review.
PrivateVPN is a new player in this field, which can be seen as a good thing. The UAE blocks certain VPNs over time but it seems like PrivateVPN is still working without any issues.
The most prominent feature of this VPN is its transparency. The company clearly states that it does not collect any data and doesn't work with ISPs on uncovering your private details. You get to use strong encryption, present on all servers. More than 55 countries are covered, which gives you a lot of freedom when it comes to Web browsing. And finally, this VPN can help you to maintain a fast Web connection. This makes it a great choice if you want to stream high-resolution video files.
Make sure to do your research before making the final decision. A good place to start is our PrivateVPN review.
Being one of the oldest VPNs on the market, TorGuard has a rich history of helping users overcome Web roadblocks. We have to say that it's not surprising to see this VPN still working in the UAE.
In general, it could be said that TorGuard is designed for more advanced users. That is because it brings a huge amount of modifications. You can set it up in dozens of different ways, based on if you want to stream media, download torrents, do VoIP calls, and similar. Still, it works great even without diving deep into its options. TorGuard is powered by the 256-bit encryption, making sure your Web data is completely hidden. It also works well with the majority of popular media streaming and messaging services.
You should definitely take a peek at what this VPN brings, and that's where our TorGuard review comes in handy.
Do you know which country is the most restrictive when it comes to the Web? No, it's not the UAE – it's China. Next, you should know that PureVPN comes from this country, helping users jump over the Great Firewall for a very long time now.
The biggest testimony to the success of this VPN is the fact that it comes from China. There are some strong limitations involved in this country, and it takes a lot of power to overcome them. When it comes to PureVPN, this isn't a difficult task. That's why we believe that this is also the best VPN for UAE. This VPN's encryption makes sure no data leaks can happen, and it can take you to 140+ countries. As an extra, you will get antivirus protection as well. This is a really nice addition that makes sure no malware can find its way to your device.
All there's left is to read our PureVPN review, where you'll find all the additional information you need.
FAQ
We want to make this article as useful as possible, which is why we'll provide additional information. Keep on reading to discover more about using a VPN in the UAE.
Why Do You Need a VPN in UAE?
You need a reliable VPN for the UAE if you want to unblock some of the Web services that are inaccessible from this country. By connecting to a remote server, you get a new IP address – and therefore unblock new types of websites and online services. There's no better tool for this than a VPN.
Are VPNs Illegal in the UAE?
It's interesting to mention that VPNs are broadly used across the UAE. This means that VPNs are not illegal and you should have no worries about using this software solution to overcome certain digital limitations. However, you should keep in mind that you shouldn't access something that has been prohibited by the government.
Are There Any Banned VPNs for UAE in 2019?
Sadly, numerous popular VPNs are officially banned in the United Arab Emirates. Some of these are CyberGhost VPN and IPVanish – both of which are hugely powerful and used by millions across the world. In case you decide to use any of these, you'll see that they simply don't work.
What Websites Are Blocked in the UAE?
It is said that any content that 'contradicts with the ethics and morality of the UAE' is blocked. This includes pornographic and online gambling websites, websites that promote anti-religious hate speech, services that promote copyright infringement, Israeli websites, and more.
Should You Download a VPN Before Entering the UAE?
It's advisable to download and install a VPN on your computer before you enter Dubai or the UAE. That's because it's believed that the government is tracking users who visit VPN websites and download this software. You might be flagged even if you want to use a VPN legally.
Does ExpressVPN Work in the UAE?
Yes – ExpressVPN works in the UAE without any issues. If you contact this VPN's customer support team, you'll learn about which servers are recommended at the moment. Right now, it's recommended to use this VPN's dedicated servers located in the Netherlands, France, and the UK.
What's the Best VPN for Skype in UAE?
Any of our recommendations for the best VPN for UAE will unblock Skype. However, you should be very careful when using this application since it's officially banned. This is where stealth VPNs come into play, like NordVPN and ExpressVPN for example. In case your ISP detects that you're using Skype, you might be in a lot of trouble.
What's the Best VPN for Android in UAE?
Some VPN Android apps are more capable than others, while some are more intuitive when comes to their user interface. Our advice is to take a look at Android apps offered by VPNs found in this article and make your final decision based on that.
What About Online Streaming in Dubai and the UAE?
Netflix is present in the UAE and this service isn't blocked in any way. However, we are talking about a local version of Netflix that currently has around 1,000 movies. Therefore, many Internet users in the UAE use VPNs to access the American version of Netflix.
What's the Best Free VPN for UAE?
Lastly, we should not forget about free-of-charge VPN applications. You can find a huge number of those online. In general, they say that they offer full protection without you having to pay for anything. We don't have to tell you how sketchy this sounds. Make sure to stick to proven services, like ExpressVPN.
In case you found this article to be useful, why not share it online and spread the knowledge? Also, make sure to follow us on Facebook and Twitter. Thanks!