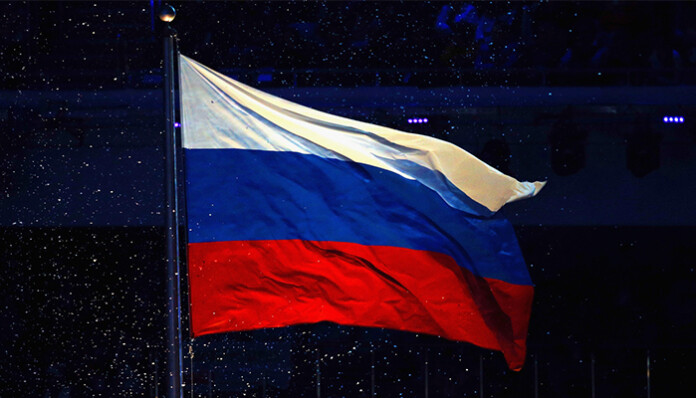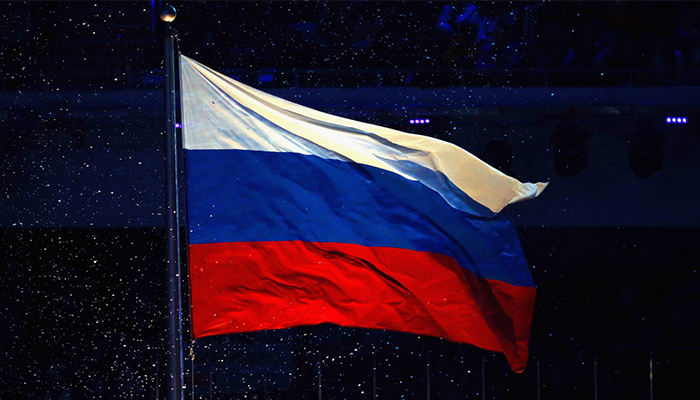 During the last couple of years, the Russian government has been imposing a number of restrictions to the Internet realm. Even VPNs were under attack recently, which is seen as a strong signal of the government's will to stop Internet users in Russia to access information freely. Don't worry, VPNs are still doing their job just fine. Continue reading and learn more about the best VPN for Russia in 2018.
Why Do You Need a VPN in Russia?
We could produce a very lengthy article on why using a VPN in Russia is a necessity but we'll keep this short. It is a known fact that Web traffic is tightly controlled and regulated in this country. As written by The Moscow Times, there were 115,000 cases of censorship in 2017. Out of those, 110,000 were related to blocked websites which means that 224 web pages are removed each day. Sounds scary, doesn't it?
The situation becomes even more serious when we mention that in the last decade, there were more than 200 cases of physical attacks against activists, journalists, and bloggers – including five murders. These are frightening stats, and this is why using a VPN to hide your Web traffic is imperative – and not an option.
5 Best VPN for Russia – Based on Our Tests!
You are reading this article because you what to know more about the best VPN for Russia, so let's jump to the matter. We are going to list our recommendations based on our tests. You can proceed reading full reviews for more information.
Option #1: ExpressVPN
Overview
Supported Platforms
Windows, MacOS, Android, iOS, Web Browsers, Routers.
Pros
Highly polished software; Tough and reliable encryption; Great performance; Easy to use.
Cons
On the pricier side.
Visit
ExpressVPN
Based on TechNadu's extensive testing of VPNs, we believe that ExpressVPN is the best VPN for Russia. This application is based on a very strong and reliable OpenVPN protocol that extends to thousands of servers across 94 countries.
Even though ExpressVPN has a large server network, it's well-maintained. No matter where you connect to, you can count on fast speeds. This is especially useful for those who download torrents or stream media from the Web. In case you ever get lost, you can count on the company's helpful 24/7 live chat that will help you to resolve any issues. And finally, there's a 30-day money-back guarantee if you change your mind (which is unlikely to happen).
Don't miss out on our review of ExpressVPN, where we dive deep into this VPN's tools and features.
Option #2: VyprVPN
Overview
Supported Platforms
Windows, MacOS, Linux, Android, iOS.
Pros
No usage logs; Easy to use; Helpful customer care; A large server network.
Cons
Some connection logs (for 30 days).
Visit
VyprVPN
Next, on our list of the best VPN for Russia, we have VyprVPN. Based in Switzerland, you can be sure that you have another layer of protection in case Russian authorities request your data. Thanks to the country's natural diplomatic stance, you'll have many things on your side.
VyprVPN runs on a proprietary server network, which is allowing you to browse the Web as fast as your connection allows. This means that you'll get to stream media in high definition formats. However, you should know that P2P file transfer might be slow on some servers. Aside from that, VyprVPN uses its own cloaking technology called Chameleon to encrypt your Web traffic and make it unusable to your Internet service provider.
TechNadu's review of VyprVPN explores this VPN in depth. Make sure to read if you want the specifics.
Option #3: CyberGhost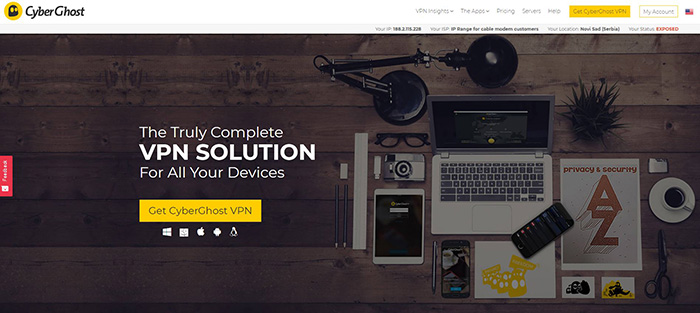 Overview
Supported Platforms
Windows, MacOS, Linux, iOS, Android.
Pros
Doesn't collect logs; Very easy to use; Excellent customer care; Powerful encryption.
Cons
Customer support lacks live chat.
Visit
CyberGhost
Even though CyberGhost is one of newer VPNs, you can be 100% sure that it will keep you protected by all means possible. This application is already used all across the world, helping a large user base of overcome Web roadblocks.
With servers located in 60+ countries, you'll have a lot of locations to choose from. Regardless of the server, you select, you will benefit from a military-grade OpenVPN encryption protocol. All you need is to open the application, connect to a server, and that's pretty much it. From there on, you will have a new IP address pointing to a location outside of Russia, and your Web traffic will be tightly encrypted. Finally, this is a fully featured VPN that also brings DNS leak protection and kill-switch.
There are many more useful features that this VPN brings. Make sure to learn more about CyberGhost.
Option #4: Buffered VPN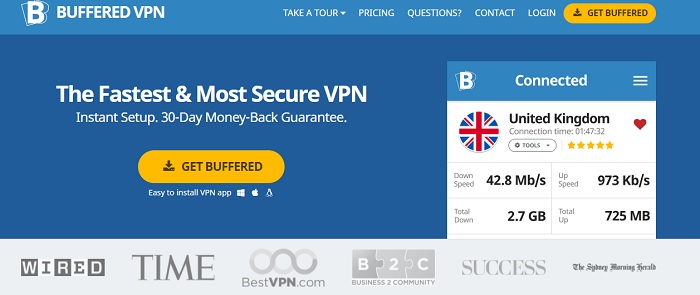 Overview
Supported Platforms
Windows, MacOS, Linux, Android.
Pros
Complete privacy protection; Servers in 40+ countries; Fast connections; Strong encryption.
Cons
Some connection logs (for internal use).
Visit
Buffered VPN
Registered in Gibraltar and operated from Hungary, this VPN provider is a highly impressive one. Aside from the standard set of features, you'll find some extra perks as well.
First and foremost, Buffered VPN has servers in 40+ countries. That's not the biggest network out there but should be more than enough for average Web users. This means that you won't have any problems unblocking anything on the Web. Aside from that, you'll benefit from unnoticeable throttling, so you'll get to stream media and download large files with ease. And finally, Buffered VPN can scan ports and log you into public Wi-Fi connections without the need for a password.
To see what makes this VPN one of the best VPN for Russia, take a look at our Buffered VPN review.
Option #5: PrivateVPN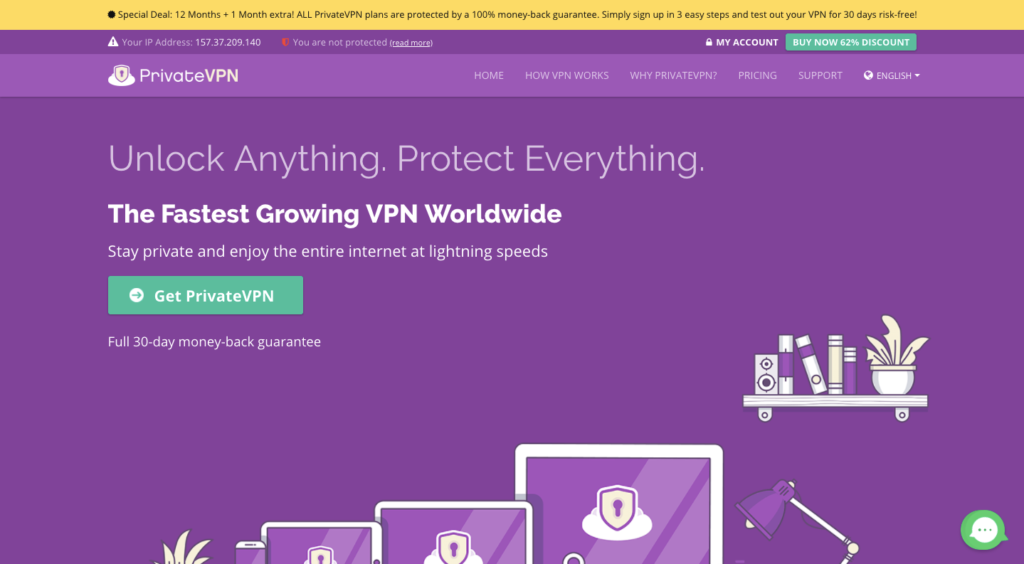 Overview
Supported Platforms
Windows, MacOS, Linux, Android, iOS, Routers.
Pros
Very fast connections; No logs, whatsoever; Amazing customer support.
Cons
Not the most polished UI.
Visit
PrivateVPN
PrivateVPN is one of the best VPN for Russia – especially if you're an inexperienced user in need of great customer support. The company is very transparent about its services, which is always a huge plus.
Aside from military-grade encryption protocols, this VPN can get you into any of 50+ countries currently supported. Just select a server and you'll get a new IP address in an instant. It should be also noted that this VPN brings one of the best speeds with close to non-existing throttling. So, if you want to stream movies in HD – this just might be the pick for you. Finally, know that PrivateVPN is very affordable and offers a 30-day money-back guarantee.
If you want to scratch more than the surface, take a look at our review of PrivateVPN.
Best VPN for Russia – Additional Considerations
We want you to make the best decision possible, based on your needs. Choosing a VPN can be a difficult job if you don't have the right information in front of you. So, keep on reading to learn more about using VPNs in this country.
Are VPNs Banned in Russia?
You might have heard that VPNs are banned in Russia. This is true but you should also know that this is a very complicated gray area. At the moment, this new law (that came into effect last November) doesn't ban the operation of VPNs and anonymizers. VPNs are fully legal for personal purposes and you get to use pretty much any solution currently available.
Just like in China, Russia might impose biggest restrictions to VPNs who will need to be registered with authorities. However, this won't happen soon.
How to Change a VPN to Russia?
VPNs are not only used to go beyond Russia and to unblock previously restricted websites. As an Internet user in this country, your data is collected and stored for 3 years. This means that you can use a VPN to connect to a Russian server and prevent your personal data from being collected. Since VPNs encrypt your connection, your ISP (Internet service provider) won't be able to make sense of it nor to associate your Web browsing data with you.
You can take another look at our list of the best VPN for Russia and go for those who have multiple Russian servers if you don't want to go beyond this country.
Are There Free-Trial VPNs for Russia?
As you can see, VPNs are premium-priced services and they require you to pay right from the start. In all honesty, you will have a hard time finding a non-paid trial. Still, there's something equally useful. All of our recommendations come with money-back guarantees. In case you feel disappointed by a VPN service, you can have your money back – with no questions asked.
Can You Use a PayPal VPN in Russia?
Financial and payment information are among the most sensitive types of personal data. Using a VPN in combination with PayPal can be a good way to make highly encrypted transactions. Actually, you can extend a VPN's coverage to messaging platforms as well, if you need to discuss private financial information. Just make sure to delete those messages as soon as you can.
All of our suggestions bring coverage for PayPal as well as other Web payment methods. By running a VPN natively on your computer, your entire Web traffic will be encrypted. This also applies to Android VPNs for Russia that brings native Android apps.
What's the Best Free VPN in Russia?
The truth is that you will find some free VPNs in Russia. These services are promising to bring you all the benefits of using a VPN but without you having to pay a single dollar. This sounds like a scam, right? If you're not paying for a service that is usually premium-priced, there must be a catch.
You want to use the best VPN for Russia to keep all your data to yourself without having it exposed to third parties. Don't make a mistake by signing up for a free service. Instead, take another look at our suggestions and we're sure you'll find an affordable solution.
Final Thoughts
Dear readers, this is where we end our article on the best VPN for Russia. We gave our best to answer all your questions. Still, if you're having any doubts, don't hesitate to leave us a comment.
Finally, we'd like to ask you to share this article online and help us to reach those looking for amazing VPN solutions. Thank you!