ProtonVPN's website is filled with enticing promises, with marketing messages promoting this VPN's high-end security. Still, even though ProtonVPN is one of the most recognizable VPN brands out there, we're sure you know better than to trust any company's claims. With that said, we wish you a warm welcome to our hands-on ProtonVPN review, guiding you through everything this VPN offers.
We'll start this review by first introducing you to this VPN. We've prepared three tables with overviews of ProtonVPN's most prominent features, so let's jump right in.
Quick Facts
| | |
| --- | --- |
| Jurisdiction | Switzerland |
| Logs | No personal data collected |
| Number of Servers | 60+ countries / 1,400+ servers |
| Parallel Connections | Up to 10 |
| Encryption Standards | Up to AES-256 / WireGuard, OpenVPN, IKEv2 |
| Speed Reduction | 61.6% (on average) |
| P2P Support | YES (via some servers) |
| Live Chat Support | NO |
| Supported Platforms | Windows, macOS, Linux, Android (TV), iOS, Chrome OS, routers |
| Price | Starting at $3.29/month |
Save 34% on ProtonVPN's 2-year plan – now priced at $6.63/month ($159 in total). 30-day money-back guarantees available!
We have also tested ProtonVPN's media streaming capabilities. With that said, here's a handy table showing which streaming platforms work with this VPN service.
Media Streaming Support
| | |
| --- | --- |
| American Netflix | YES |
| Hulu | YES/NO (Unpredictable) |
| Disney Plus | YES |
| BBC iPlayer | YES/NO (Unpredictable) |
| Amazon Prime Video | YES |
| Kodi | YES |
And we have one more table. We've created this one for those who are in a rush. Check out some of the most prominent pros and cons of using ProtonVPN, along with our final verdict.
The Bottom Line
| | |
| --- | --- |
| Pros | Easy to install; Polished interface; Strong encryption; High-end protocols; Supports P2P; Plenty of advanced features. |
| Cons | Not the fastest VPN out there; Relatively small server network; Works with a limited number of streaming services. |
| The Final Verdict | Despite a few drawbacks, ProtonVPN is a highly capable VPN that has the means to keep you safe and protected online. However, it's not for everyone. |
| Our Score | 8.3/10 |
That would be all for our introductory segment. We'll now continue with our full and hands-on review of ProtonVPN, so make sure to join us.
Note
We have been following ProtonVPN's development for many years now. With that said, if you want to learn what's new in ProtonVPN, make sure to use the provided link. You'll be taken to our often-updated guide to this VPN's latest updates, new features, and other developments.
ProtonVPN Review (2021) – Everything You Need to Know Before You Subscribe!
Just like we do in our every VPN review, we'll take a very deep look at ProtonVPN's features and capabilities, testing the VPN from the inside out. With that said, you might want to check our article that explains TechNadu's process of reviewing VPNs.
Table of Contents
Background, Jurisdiction & Reputation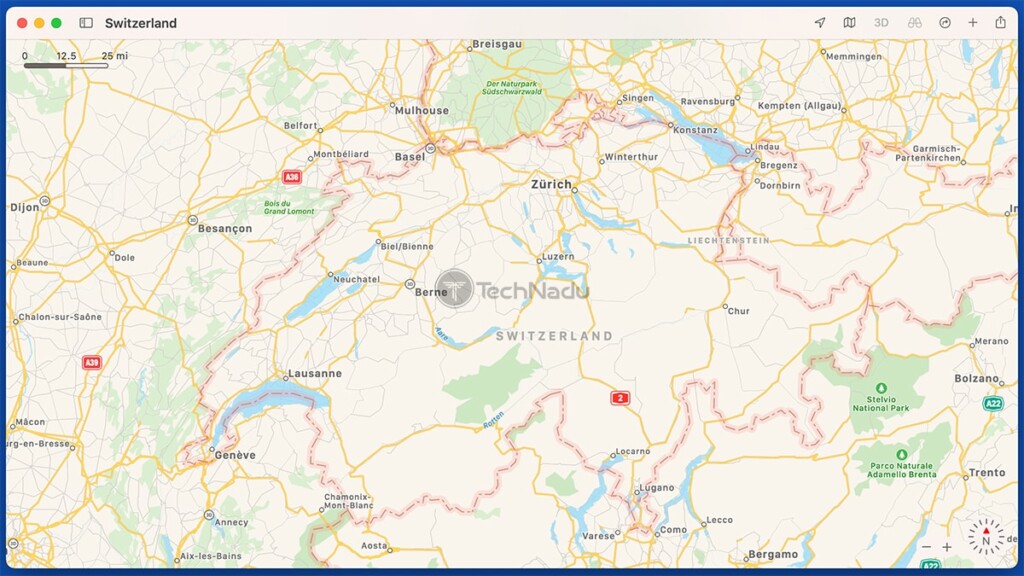 ProtonVPN seems to be a reliable and trustworthy VPN service. Being based in Switzerland, it has proactive security measures regarding your privacy protection. Our Score: 10/10 
Knowing where your chosen VPN comes from is more important than you might think. That's because VPNs handle plenty of personal data, so you need to make sure that no one collects it. With that said, here's what you need to know about ProtonVPN and its country of origin.
Where Does ProtonVPN Come From? Is It Part of the 5/9/14-Eyes Alliance? 
As proudly stated on its website, ProtonVPN comes from Switzerland. This country is known for its neutral diplomatic stance and its efforts to protect its citizens' privacy.
In fact, the right to privacy is guaranteed in 'Article 13' of the Swiss Federal Constitution. So, let's go over some of the most interesting highlights regarding this country's privacy-protecting laws. This will make it clear why ProtonVPN has chosen to base its operation in Switzerland.
Any individual has the right to have his/her data corrected or deleted. This means that if you ask any data processing company to delete your personal data (in writing), the company must respond within 30 days. Of course, ProtonVPN is considered a data processing company.
Your IP address is considered to be your personal information. As ruled by the Federal Supreme Court of Switzerland, your IP can't be used for tracing your online whereabouts.
There's also the Swiss Federal Data Protection Act (DPA). This is a comprehensive set of laws dictating how personal data is processed by individuals, companies, organizations, and federal authorities. Companies based in the Switzerland are forbidden to disclose your private data to third parties without your explicit consent.
We should also highlight the fact that Switzerland isn't a member country of the European Union. Furthermore, this country isn't a member of the 5/9/14 Eyes Alliance, which certainly sounds reassuring.
Also, keep in mind that ProtonVPN is a product of Proton Technologies AG. They also own ProtonMail, a highly popular encrypted emailing service, alongside other services that allow their users to store and share files securely. Therefore, Proton Technologies certainly has the required knowledge when it comes to handling confidential data.
Did ProtonVPN Leak Private Data in the Past? 
Back in September 2018, a privilege escalation bug was discovered in ProtonVPN's code. However, the VPN acted before the bug was revealed publicly and patched this vulnerability.
In other words, no users were affected, and this vulnerability didn't lead to any malicious code being sent through its secure network. Other than this report, we didn't find anything that could be troubling regarding ProtonVPN's practices.
When it comes to ProtonVPN's sibling services, know that there was a somewhat troubling event that happened in September 2021. An arrest of a climate activist in France happened after ProtonMail was forced to provide the IP address of the individual in question.
As explained by ProtonMail's CEO (Andy Yen), Proton Technologies AG is forced to comply with Swiss law when a crime happens, which is when privacy protections are suspended. That doesn't come as a surprise, as criminal activities are against any VPN's policies and terms of use. Still, ProtonMail proved that it uses end-to-end encryption as it wasn't able to provide any information about the accused individual's email messages.
Of course, the above said applies to ProtonMail, not ProtonVPN. Still, that situation acts as a reminder that when a crime happens, even the most secure VPN won't be able to give you total online anonymity.
And lastly, we'll also note that Proton Technologies AG recently won a case against the Swiss Post and Telecommunications Surveillance Service (PTSS), allowing the company to avoid logging their users' personal data. That's yet another example of Proton's dedication to protecting its subscribers.
Supported Platforms & Devices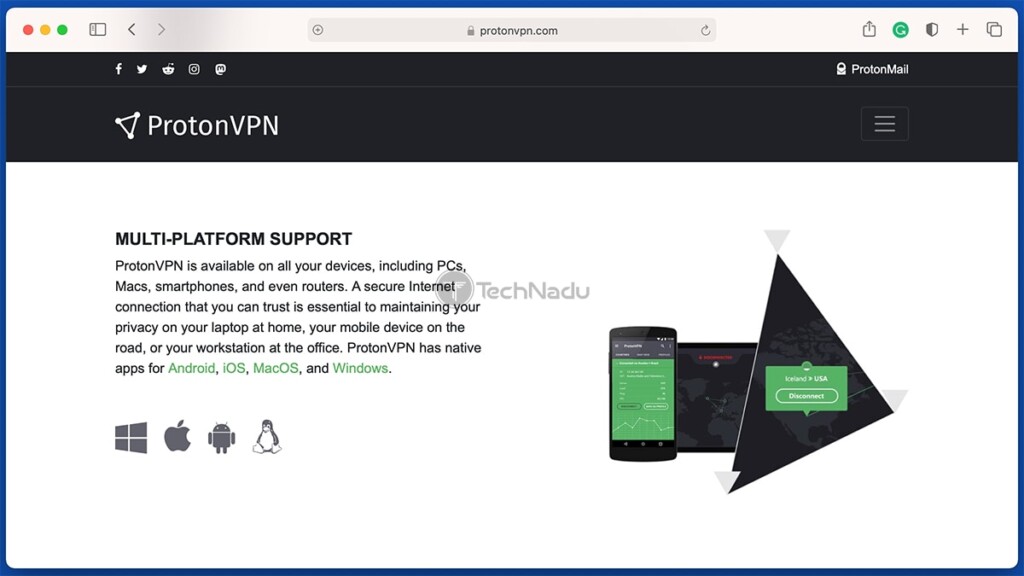 ProtonVPN can be used on many popular platforms, with routers included. It's also expanding the list of supported platforms, with Android TV being the latest addition. Our Score: 8/10
In this segment of our hands-on ProtonVPN review, we'll check this VPN's supported platforms and its ability to be configured manually. So, take a look at the following table and then keep on reading.
Platform Compatibility
| | |
| --- | --- |
| Desktop Platforms | Windows, macOS, Linux, Chrome OS. |
| Mobile Platforms | Android, iOS. |
| Web Browsers | N/A. |
| Routers | DD-WRT, Tomato, AsusWRT, and more. |
| Other Devices | Android TV. |
In terms of desktop platforms, you'll find native apps for Windows and macOS. In 2020, ProtonVPN also brought a Linux app. When it comes to mobile platforms, Android and iOS are supported. This was previously a major drawback as ProtonVPN wasn't available on Apple's mobile operating system. However, that changed in November 2018, when ProtonVPN finally reached the iOS App Store.
Additionally, ProtonVPN can be installed on a range of routers (if you have a compatible router, that is). Since it uses the OpenVPN protocol, there's a nice array of compatible routers based on DD-WRT, Tomato, and AsusWRT firmware versions (and other types of routers as well).
We also need to note what's missing here. As you can see from the table above, ProtonVPN doesn't offer Web browser extensions. However, since it offers a range of native apps for pretty much any platform available, the lack of Web browser extensions isn't a drawback. However, you also won't find an app for Fire OS, even though you can sideload ProtonVPN on a Fire TV Stick manually (by using its Android TV app).
Installation & Initial Configuration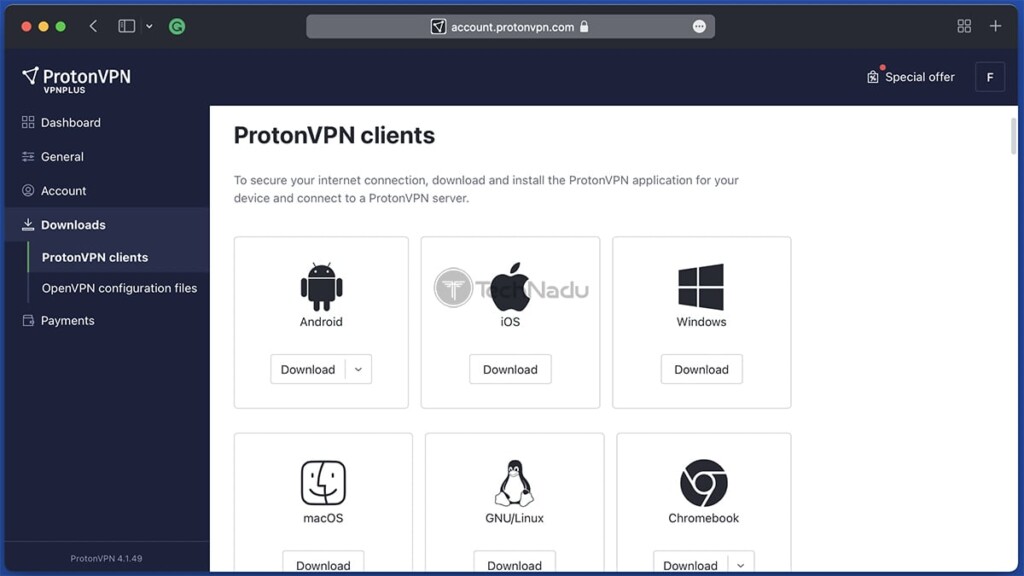 You shouldn't have a problem installing ProtonVPN, even if you're a complete beginner. The entire process can be done within minutes of your time. Our Score: 10/10
Before getting to use this application, you first need to subscribe to ProtonVPN. Once you sign-up via the official website of this VPN, you can proceed to download its apps. You can do this by logging into your account (on the website) or even without logging in.
Once you log in to your account on ProtonVPN's site, click on the left-placed menu item called 'Downloads.' You can see the available platforms there, as well as OpenVPN configuration files if you want to avoid installing ProtonVPN's applications.
When it comes to the actual process of installation, it should go pretty smoothly. In case you have ever installed any software before, you'll know what needs to be done. You won't find any bundled software here or any other annoyances.
Once installed, you will see ProtonVPN's log-in screen. Make sure to enter your username and password, and you'll finally get to access all of this VPN's capabilities. We'll explain its UI and what you can expect later on in this ProtonVPN review.
Prominent Features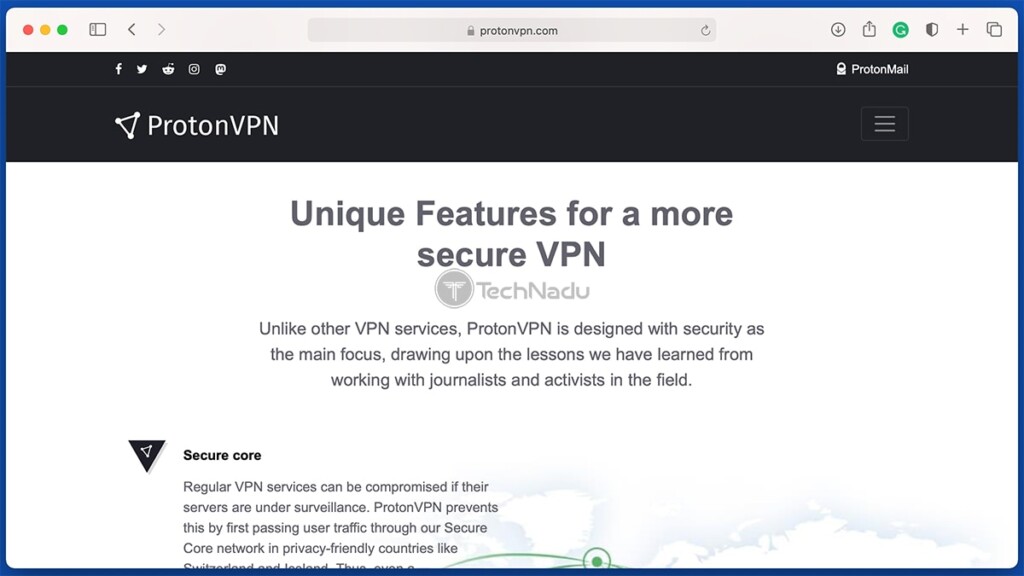 ProtonVPN comes with plenty of unique features, adding a lot of value to its offer. On top of that, ProtonVPN innovates quite aggressively, which means that you can expect new tools to arrive several times a year. Our Score: 9/10
VPNs may look the same on the outside. However, make sure to take a look 'behind the scenes' and inspect their features before buying a subscription. That'll show you how much value you're getting for your money, So, here's what kinds of features you can expect out of ProtonVPN.
VPN Features Checklist
| | |
| --- | --- |
| DNS Leak Protection | YES |
| IPv6 Leak Protection | YES |
| Kill Switch | YES (Windows, macOS, Linux, iOS) |
| Split Tunneling | YES (Windows, Android) |
| Dedicated/Static IPs | NO |
| Ad-Blocker, Anti-Malware | YES |
| Unlimited Server Switches | YES |
| Unlimited Bandwidth | YES |
| Unlimited Data | YES |
In terms of protecting your online data and preventing leaks, we have to say that ProtonVPN has done a great job. You get both IP and DNS leak protection, which, combined with other technologies, allows ProtonVPN to create an incredibly powerful VPN tunnel. With that said, it's clear that ProtonVPN is doing a great job when it comes to the basics.
It's also interesting to note that this VPN comes with a whole series of advanced features. You get a built-in kill-switch (available on Windows, macOS, Linux, as well as on iOS/iPadOS in beta), whose role is to stop your Web traffic in case of an unexpected connection drop.
Then, there's also split tunneling (on Windows and Android), allowing you to select which applications use VPN traffic and which ones don't. That's how you can use the full speed of your Web connection for your non-sensitive activities while being protected when it matters.
ProtonVPN has also developed technologies you won't find elsewhere. For example, 'Secure Core' is a system of servers in privacy-friendly countries, giving you another layer of security. In other words, this system routes your data through an additional server before leaving ProtonVPN's network. Doing so protects your online data in the best possible way, leaving no trace of your online whereabouts. However, since your data will go through two servers, its speed will drop as a result.
Then, we should also mention a couple of freshly-introduced features. There's something called 'NetShield,' which is a set of features designed to prevent all kinds of trackers. It also acts as a system-wide ad-blocker that goes well beyond Web browsers. Using this feature, you can pick from different levels of protection (from allowing all trackers to blocking malware, ads, and trackers).
Lastly, ProtonVPN's VPN Accelerator uses an advanced set of technologies to improve Web connection speeds when using highly remote servers. We have to add that ProtonVPN has never been known as one of the fastest VPNs, so this recent improvement is nice to see. Of course, we made sure to re-test ProtonVPN's performance, so make sure to rest of this review very carefully.
Server Count & Infrastructure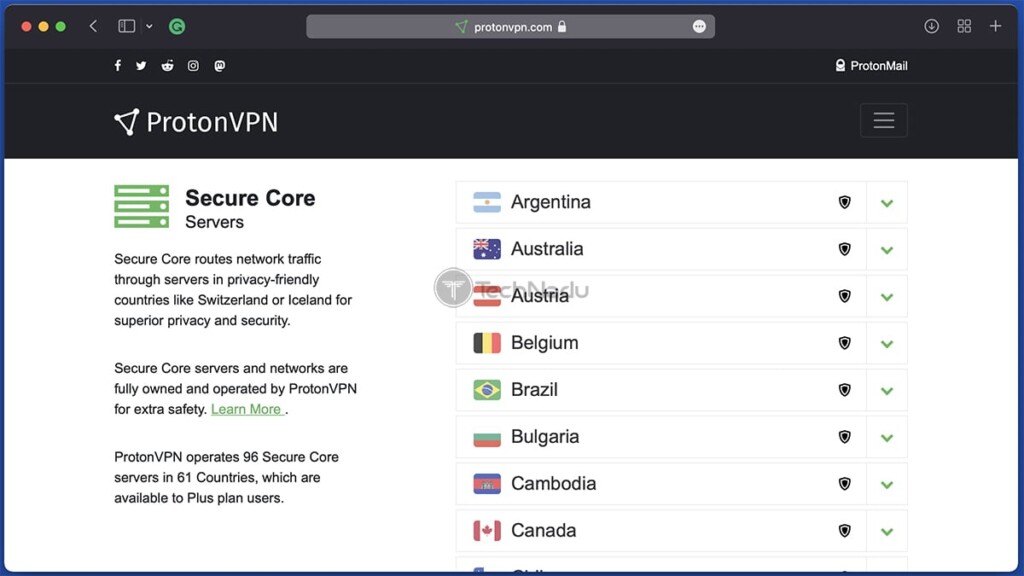 ProtonVPN comes with a small network of servers. Even though this VPN owns its entire server network, we hope to see it expand in the near future. Our Score: 6/10
Now, we'll check how many servers ProtonVPN offers, as well as in how many countries and locations - so you can compare it to its competitors. Check out the following table.
Server Count Info
| | |
| --- | --- |
| Number of Servers | 1,400+ |
| Number of Locations | 65+ |
| Number of Countries | 60+ |
| Specific Cities Selection | YES |
| Unlimited Switching | YES |
Tip
ProtonVPN offers several subscription tiers, so you can decide which one to buy based on how many servers you plan to use. The 'Basic' plan gives you access to 350+ servers in 40+ countries. The 'Plus' and 'Visionary' plans give you access to ProtonVPN's entire server network (1,400+ servers in 60+ countries).
As you can see, ProtonVPN currently offers more than 1,400 servers in 60+ countries across the world. That's not exactly the biggest server network you'll find out there, as many VPNs offer more than 5,000 servers (while charging less than ProtonVPN). Still, there's something very interesting about ProtonVPN's network that you won't find elsewhere.
All of ProtonVPN's servers are owned by Proton Technologies AG. That means that those aren't rented from data centers, which translates to giving you the best possible protection for your sensitive data. On top of that, ProtonVPN's servers are available in 60+ countries, which tells us that your needs will most probably be met just fine.
Then, we'd also like to mention that ProtonVPN offers specialized servers. For example, some of them are optimized for streaming, blocking digital ads, downloading torrent files, accessing the Tor network, and similar. There are also 10 Gbps servers - if getting the fastest possible speed is what you want.
Keep in mind that some of ProtonVPN's servers aren't located in their "end" countries. In other words, we're talking about virtual server locations, clearly indicated via the VPN's interface. ProtonVPN offers virtual servers for the following countries: Cambodia, Egypt, Nigeria, the Philippines, and Vietnam.
UI/UX Design & Ease of Use
ProtonVPN comes with a clean and modern UI design, and it's one of the most polished VPN applications in terms of its appearance and ease of use. Our Score: 10/10
Unlike the majority of VPNs, ProtonVPN isn't forcing a mobile-like UI. Instead, this is a fully-featured VPN application that you can freely resize and reposition as you want. Therefore, it certainly leaves a positive first impression.
The home screen of ProtonVPN provides everything you need to get started, with the biggest portion taking an interactive map of the world. You can use the map to connect to different countries, but it doesn't really give you an option to fine-tune your user experience (which is where the left-placed sidebar enters the game).
To select a server, take a look at the left side of the screen, where you'll see a sizeable list of servers with icons that indicate their intended use (streaming, torrenting, ad blocking, speed, and more). You can click on any of these to connect automatically, or you can select an individual location.
Underneath the 'Countries' and 'Profiles' tabs (on the left-hand side), you will see three useful buttons. The first one on the left lets you connect to 'Secure Core' servers (routing your traffic through two servers at once). Then, you can use ProtonVPN's 'NetShield,' eliminating malware, ads, and trackers. And on the right, you can easily enable or disable ProtonVPN's kill switch.
ProtonVPN also allows you to fine-tune your VPN connection by visiting the app's settings. This is where you'll encounter three tabs, so let's give you a quick overview of what to expect to find here.
General: To keep yourself protected at all times, you can set ProtonVPN to launch on system startup. This tab also allows you to test new features early, and you can fine-tune the application's behavior as well (enable/disable notifications, get messages about unprotected networks, and similar).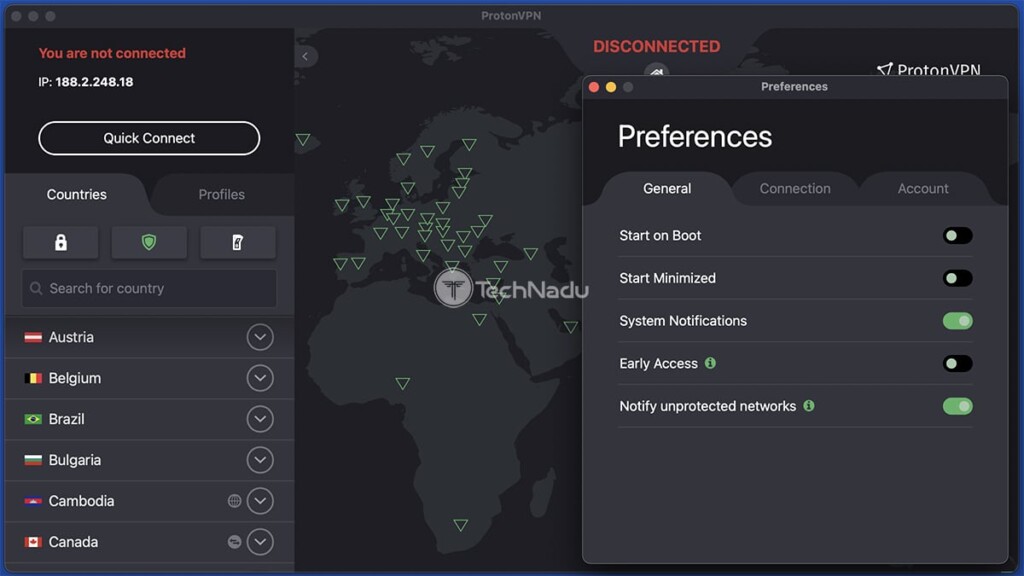 Connection: Here, you can choose from different protocols, and you can decide whether ProtonVPN can automatically connect to a server once you launch it. This goes hand-in-hand with the previous tab, allowing you to employ VPN protection at all times. Also, you can use this tab to control this VPN's 'Accelerator' feature (speeding up your Web connection), which comes enabled by default.
Account: And lastly, this is where you can check your account information, such as your username, account type, and account plan. To dive deeper into your subscription, you will see a link at the bottom of this window, taking you to ProtonVPN's Web dashboard.
When it comes to ProtonVPN's mobile apps, they come with a uniform design. That means that you can expect a highly polished interface, suitable even for complete beginners. Everything you could possibly need is accessed using the apps' bottom-placed menu, letting you connect to servers, use an interactive map, set up profiles, and fine-tune your user experience.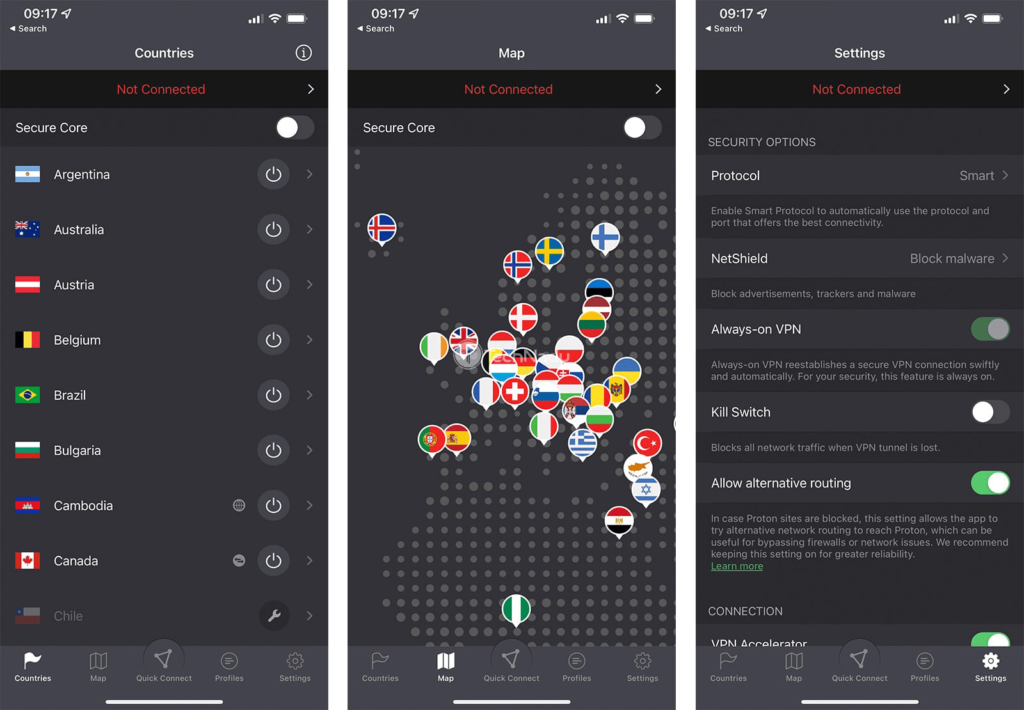 The only downside regarding ProtonVPN's mobile apps is a certain level of discrepancy between Android and iOS. For example, the Android app doesn't have a kill switch, but it offers split tunneling. And on iOS, you'll find ProtonVPN's kill switch, but split tunneling isn't on offer.
All in all, ProtonVPN is one of the rare VPNs with a highly polished UI design. It's suitable both for beginners and advanced users, as it allows plenty of customization. Every option and feature is explained nicely, and there are helpful tooltips around the application's UI.
Media Streaming & Torrenting Support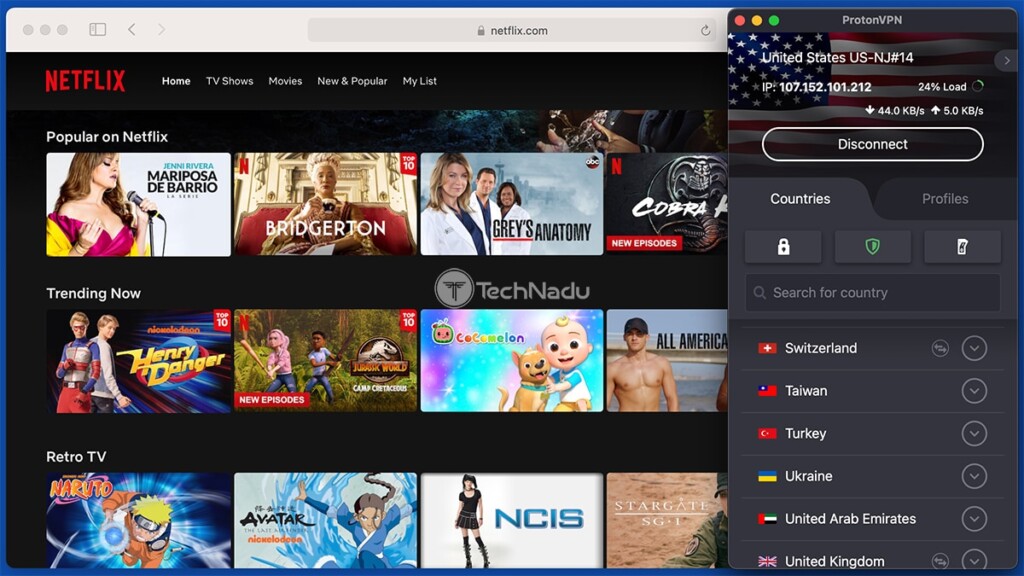 ProtonVPN works with digital services like Netflix, Disney+, and Prime Video just fine. However, your mileage might vary when it comes to other streaming services. Our Score: 7.5/10
One of the most popular uses of VPNs is their website-unblocking capability. That is especially useful when it comes to streaming platforms, so let's see which services can be unblocked and used via ProtonVPN.
Media Streaming and Torrenting Support
| | |
| --- | --- |
| Netflix US | YES |
| Hulu | YES/NO (Unstable) |
| Disney Plus | YES |
| BBC iPlayer | YES/NO (Unstable) |
| Amazon Prime Video | YES |
| Torrenting (P2P) | YES |
When it comes to accessing the US version of Netflix, you're covered well. Plenty of servers offered by ProtonVPN can make that happen. However, we recommend going for US-based servers optimized for streaming, which should bring you the best possible experience.
We also had plenty of luck with unblocking Disney Plus and Amazon Prime Video. Both of those were easy to unblock, and they performed without any throttling. However, when it comes to Hulu and BBC iPlayer, your mileage might vary. In the past, those two streaming services worked just fine, but it looks like ProtonVPN is having an issue keeping those unblocked.
Finally, let's also not forget about torrenting. ProtonVPN comes with a range of servers that support this kind of Web traffic. More importantly, this VPN has been expanding its network of P2P servers rapidly, so you should be able to find a nearby server relatively easily (which helps you achieve a fast Web connection speed, crucial when torrenting).
Security & Privacy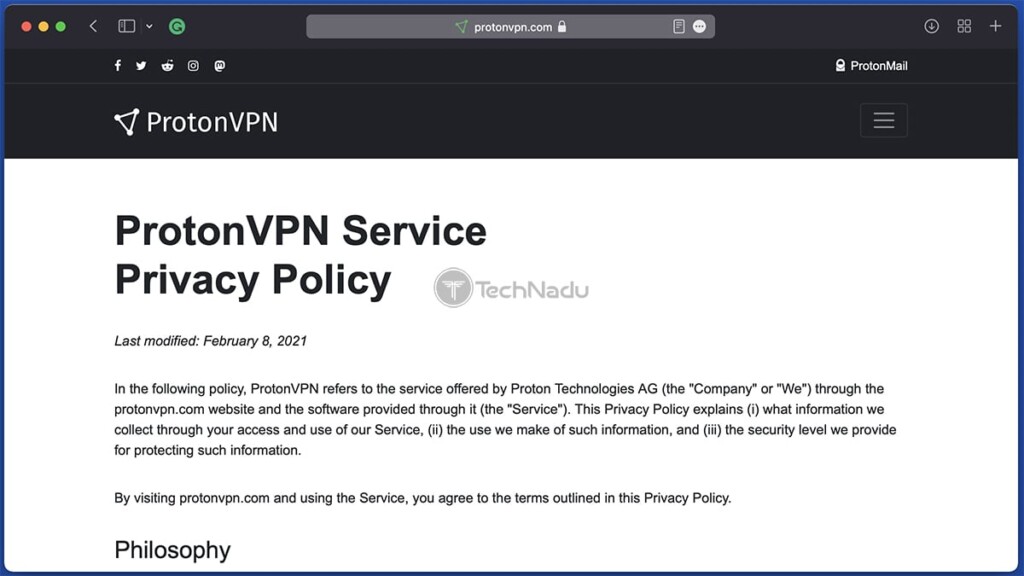 It's clear that ProtonVPN safeguards your private data in the best way possible. It also doesn't log your personal information, as proven by a recent independent audit. Our Score: 10/10
Let's not forget that the primary use of any VPN is to protect your online privacy. With that said, let's check ProtonVPN's protocols, encryption, as well as whether it's capable of creating a secure VPN tunnel. Keep on reading to learn more.
Which Protocols Does ProtonVPN Support?
This VPN comes with the strongest type of encryption that's commercially available. We're talking about AES-256, with the key exchange method being 4,096-bit RSA, while SHA384 is used for message authorization. You don't have to worry about all those numbers and names – all you need to know is that AES-256 should keep your data encrypted in the best way possible.
This VPN has decided to drop less secure protocols and focus on OpenVPN and IKEv2/IPsec. Both of these are known as strong protocols with no known vulnerabilities. Depending on your platform of choice, you'll either get to use OpenVPN or IKEv2/IPsec – and it really doesn't matter which one you'll end up with, as both of these provide reliable performance as well.
Just recently, ProtonVPN added another protocol to its offer. We're talking about WireGuard, which comes with plenty of attractive promises. WireGuard is incredibly fast, suitable for mobile devices as it doesn't require a lot of power to run, and it also uses high-end privacy-protecting technologies. On top of that, ProtonVPN's WireGuard integration is available across all of its apps, and it's compatible with technologies like NetShield and VPN Accelerator.
Does ProtonVPN Log Private & Sensitive Data?
When signing up for a new account, ProtonVPN collects information like your username, email address, and password – as this is needed for you to log in and use the service itself. Then, once you start using the application, your timestamps will be collected.
That seems a bit strange, but the explanation here is that ProtonVPN protects you against password brute-force attacks. Besides, this information is overwritten each time you log in to the application, so there's nothing to be worried about.
There are also two interesting points to keep in mind. As noted in ProtonVPN's Privacy Policy, this VPN retains essential data (username, email, billing information), which is deleted from their servers once you decide to no longer use this service.
In terms of data sharing, ProtonVPN works with its parent company (Proton Technologies AG - Switzerland) to share data and provide customer support. That's because ProtonVPN and ProtonMail use the same user database, letting you manage your subscriptions more easily.
Let's also not forget to mention that all of ProtonVPN's apps are open-source, which means that they're available for inspection by just about anyone out there. And finally, ProtonVPN's claims of not collecting any PII (personally identifiable information) are backed by an independent audit done by SEC Consult in January 2020.
Does ProtonVPN Leak/Expose Private Data?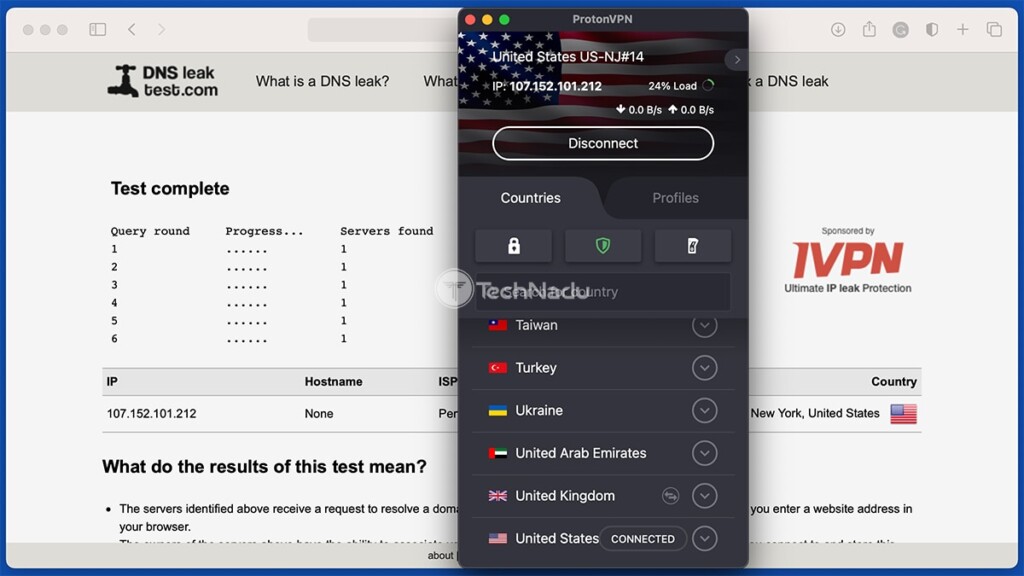 We have also done DNS and IP leak tests to ensure that there are no active data leaks. As you can see from the image above, ProtonVPN employs effective DNS leak protection measures. Third-parties on the Web can only see what ProtonVPN is showing them, and this includes your virtual IP address, hostname, country of origin, and more.
Speed & Performance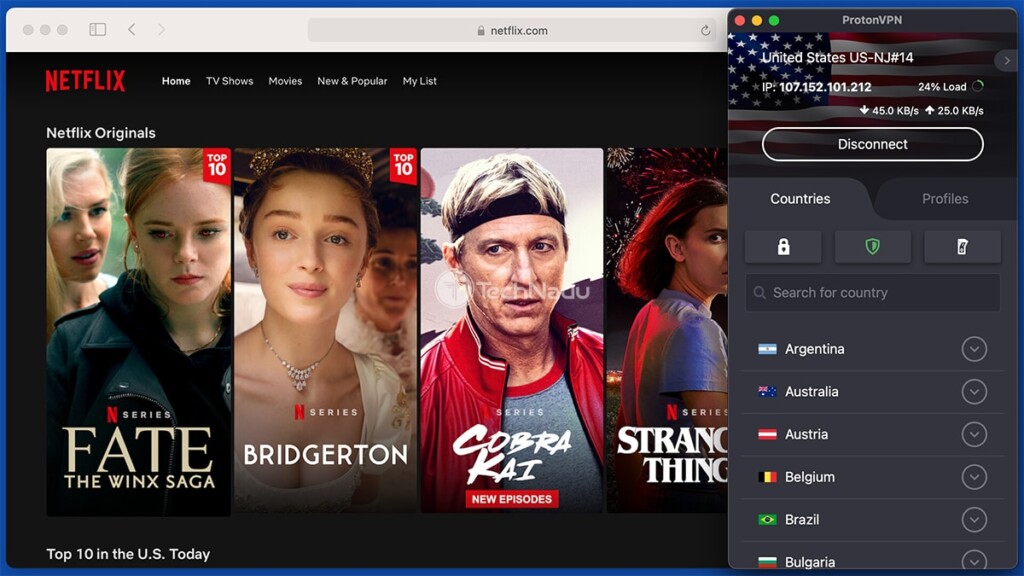 ProtonVPN isn't the fastest VPN out there. When compared to top-rated VPNs, it trails behind in a noticeable way. Still, since it comes with WireGuard on board, you can do plenty to maximize its speed and performance. Our Score: 6/10
Using this segment of our ProtonVPN review, we will tell you what kind of performance you can expect from this VPN. In other words, what follows is our report of ProtonVPN's performance after having used and tested both nearby and remote servers.
Before we connected to a ProtonVPN server, we checked the speed of our (barebones) Web connection to establish our baseline data. As you can see just below, we managed to get 487.51 Mbps for downloads and 48.53 Mbps for uploads.

Then, we tested a nearby connection. Since we're located in Europe, we decided to connect to a ProtonVPN server in Italy. After doing a speed test, we ended up with 377.25 Mbps for downloads and 44.07 Mbps for uploads.
We checked another nearby connection, this time to a server in the United Kingdom. As you can see just below, we got 355.51 Mbps for downloads and 44.16 Mbps for uploads.

You'll also want to know how ProtonVPN's remote connections work, especially since this VPN advertises its long-distance speeds. However, they didn't leave us impressed. While testing a server in the USA, we managed to get 140.75 Mbps for downloads and 17.53 Mbps for uploads.

A server in Canada brought similar slowdowns. More precisely, we never went above 133.15 Mbps for downloads and 25.61 Mbps for uploads.

For some reason, a server in India performed quite poorly. We did a round of speed tests with varying results. However, we never went beyond 53.48 Mbps for downloads and 1.95 Mbps for uploads.

And lastly, we also tested a server in Australia, on the opposite side of the planet in relation to our physical location. During this final round of speed testing, we managed to get 60.82 Mbps for downloads and 16.82 Mbps for uploads.

So far, we have given you a bunch of server locations and numbers. We'll help you make sense of that data, so make sure to check the following table first.
| | | | |
| --- | --- | --- | --- |
|   | Download Speed | Upload Speed | Speed Reduction |
| Baseline Data | 487.51 Mbps | 48.53 Mbps | 0% |
| Italy | 377.25 Mbps | 44.07 Mbps | 22.6% |
| UK | 355.51 Mbps | 44.16 Mbps | 27.0% |
| USA | 140.75 Mbps | 17.53 Mbps | 71.1% |
| Canada | 133.15 Mbps | 25.51 Mbps | 72.6% |
| India | 53.48 Mbps | 1.95 Mbps | 89.0% |
| Australia | 60.82 Mbps | 16.82 Mbps | 87.5% |
Based on the information found in the table above, we conclude that ProtonVPN made our Web connection slower by 61.6%, on average. This is below what you can expect out of today's VPN services. However, let's not forget that ProtonVPN now offers WireGuard as well, which should get you much faster speeds, in general.
Customer Support
Since live chat is missing, all you can do is open a support ticket – and hope that someone will contact you back within 24 hours. Our Score: 6.5/10
VPNs are incredibly complex applications that depend on a large network of servers. Therefore, you should not be surprised if something goes wrong from time to time. That's why you should always go for a VPN that offers reliable customer support, ready to resolve your issues in a timely manner. So, here are all the ways that ProtonVPN will be able to assist you.
Installation Guides: Installing ProtonVPN is simple. However, more advanced users will want to install this VPN on a router, which certainly requires some technical knowledge. Luckily, ProtonVPN can help you by offering nicely written step-by-step guides.
Frequently Asked Questions: There's a whole range of frequently asked questions on ProtonVPN's site. These are related to using the VPN, accessing different types of content, and troubleshooting technical problems. This can be helpful in some situations, even though this customer support section isn't the most comprehensive.
Support Tickets: Finally, you can contact the company by filling out a form on its website. Explain your problem in detail and expect to receive a response within 24 hours.
Unfortunately, ProtonVPN doesn't offer live chat on its website, which is a downside. That means you'll lose some time waiting on ProtonVPN's response to your email. We have to say that we've expected something better from such a reputable VPN service.
Pricing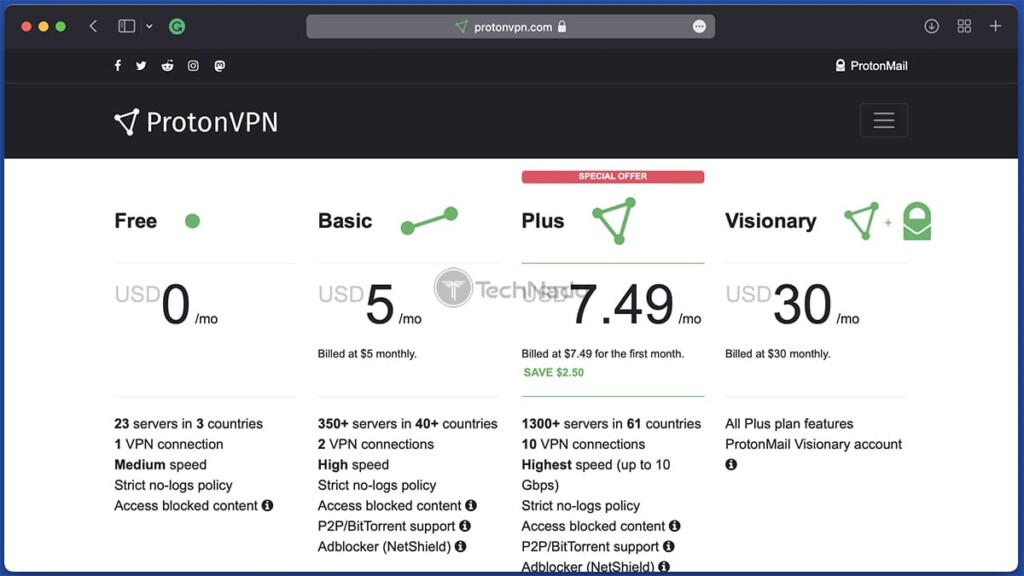 ProtonVPN's prices have recently been lowered, increasing the VPN's overall value. It's now much more competitive, giving you plenty of subscription options. Our Score: 8.5/10
In this segment, we'll talk about ProtonVPN's subscription plans, including their prices, what they bring, and more. With that said, let's begin by explaining the VPN's 'Basic' plan.
BASIC Plan
| | | | |
| --- | --- | --- | --- |
| | Total Price | Per Month | Savings |
| 1 Month | $5.00 | $5.00 | 0% |
| 12 Months | $48.00 | $4.00 | 20% |
| 24 Months | $79.00 | $3.29 | 34% |
ProtonVPN's 'Basic' plans provide the lowest prices you'll find for this VPN. If you want to save in the long term, we recommend getting the 24-month plan, priced at $79.00. However, keep in mind that you'll get access to 350+ servers and 2 simultaneous connections.
PLUS Plan
| | | | |
| --- | --- | --- | --- |
| | Total Price | Per Month | Savings |
| 1 Month | $7.49 | $7.49 | 0% |
| 12 Months | $71.88 | $5.99 | 20% |
| 24 Months | $119.76 | $4.99 | 33% |
ProtonVPN's 'Plus' plans come at a higher cost. They give you access to all of this VPN's servers alongside 10 simultaneous connections. On top of that, they let you access servers optimized for streaming, 'Secure Core' servers, and more. You can subscribe for $4.99 per month if you pick the 24-month PLUS plan.
Tip
Aside from the previously mentioned plans, ProtonVPN also offers a 'Visionary' plan that comes with a ProtonMail subscription included.
To help you make up your mind, we've created a comparison table between ProtonVPN's Basic, Plus, and Visionary plans. Check them out just below.
| | | | |
| --- | --- | --- | --- |
| | 'BASIC' Plan | 'PLUS' Plan | 'VISIONARY' Plan |
| VPN Connections | 2 | 10 | 10 |
| Servers/Countries | 350+/40+ | 1,400+/60+ | 1,400+/60+ |
| Performance/ Speed | High | Highest (10 Gbps) | Highest (10 Gbps) |
| Secure Core Servers | NO | YES | YES |
| P2P Support | YES | YES | YES |
| Media Streaming | NO | YES | YES |
| NetShield | YES | YES | YES |
| VPN Accelerator | YES | YES | YES |
| ProtonMail | NO | NO | YES |
Finally, know that you can pay via PayPal, credit cards, cash, and Bitcoin. Therefore, it's good to know that ProtonVPN supports anonymous payment methods as well. And also, keep in mind that you'll get a 30-day money-back guarantee.
ProtonVPN - Comparing Free vs. Paid Accounts
You should also know that ProtonVPN offers a free-of-charge account. And if you check our article on the best free VPNs in 2021, you'll see ProtonVPN's free tier at the top of that list. However, as you can already imagine, having a free account gives you access to only a tiny portion of what this VPN offers.
Keep in mind that our ProtonVPN review is done while using the VPN's 'Plus' plan. Therefore, it doesn't address the free version of ProtonVPN, which comes with many limitations. Speaking of those, here's a quick overview of what to expect.
| | | |
| --- | --- | --- |
| | ProtonVPN FREE | ProtonVPN PREMIUM |
| VPN Connections | 1 | Up to 10 |
| Servers/Countries | 23/3 | 1,400+/55+ |
| Performance/Speed | Limited | Unlimited |
| No-Logs Policy | YES | YES |
| P2P Support | NO | YES |
| Media Streaming | NO | YES |
| NetShield | NO | YES |
| ProtonMail | NO | YES |
If you're hesitant about getting a premium ProtonVPN subscription, getting a free account looks like a viable option. However, keep in mind that ProtonVPN's free plan isn't an indicator of what to expect if you decide to pay, as it comes with limited performance.
Do We Recommend ProtonVPN?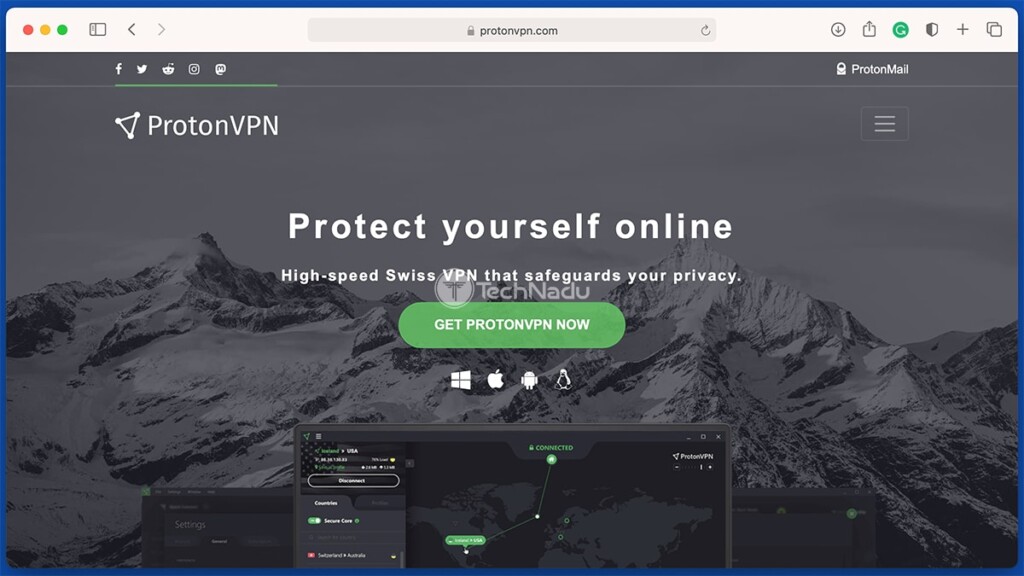 It's easy to recommend ProtonVPN to a broad group of users. It protects your private data in a reliable way, and it seems that it doesn't log any of your data. Besides having your privacy protected, this VPN lets you download torrents, stream media (in a limited way), and more. Therefore, there is plenty to like about ProtonVPN.
PROS: Polished UI design; Easy to install; Strong encryption; Capable VPN protocols; Suitable for P2P Web traffic; No data logging.
CONS: Semi-helpful customer support; Not the best option for media streaming; Not the biggest server network out there.
OUR SCORE: 8.3 out of 10!
Are you intrigued by what ProtonVPN offers? Well, we're sure you are! If you need additional information or want to subscribe to ProtonVPN straight away, make sure to use the provided link. We're sure that many of you are going to be perfectly happy with your choice.