When you think of Australia, you probably imagine massive beaches, vast deserts, and pretty laid-back style of life. However, that's not the case – at least not in the digital world. The truth is that Australia has got strict digital privacy laws that dictate how your personal data is collected, stored, and handled. In fact, ISPs (Internet Service Providers) are required to store your Web browsing history for two years. Sounds frightening, right? Don't worry, we are here to help. Here's TechNadu's list of the best VPN for Australia in 2018.
Why Do You Need a VPN in Australia?
Even though Australia was one of the leading countries when it comes to the freedom of the Web, this is no longer the case. During the last couple of years, this country's officials have tried to regulate the Web but not in a good way. One of the latest events in this timeline happened last year. This is when the Attorney-General's Department announced that it's considering opening up people's personal telecommunications metadata in civil proceedings. Still, this wasn't a surprising move since this is a continuation of something that has happened two years ago. This is when a set of mandatory laws were introduced, forcing ISPs to collect and keep plenty of incredibly revealing metadata of its customers.
If you want to put an end to this, the only way to do that is by using a VPN. This kind of application makes sure you're invisible on the Web and comes with some other perks as well. We are going to tell you more about this later in the article. First, let's take a look at the best options you have in front of you.
5 Best VPN for Australia – Best Picks
Let's jump to what you really want to know. Before that, we'd like to say that TechNadu has tested each of the following options. This is why we'll include links to individual reviews, where you can get all the information you need.
Option #1: ExpressVPN
We start our list of the best VPN for Australia with ExpressVPN and this is not a coincidence. This is a hugely capable VPN service that covers pretty much every important aspect of keeping you and your data safe. On top of that, you can use it to unblock websites.
First and foremost, ExpressVPN brings the industry standard 256-bit encryption. The same one is used by financial institutions, which tells you a lot. With your data being rerouted through a VPN tunnel such as this one, you can be 100% sure that it will remain hidden from your ISP. Then, there's the added bonus of accessing previously unavailable services. For example, you can sign up and use Hulu or access the American version of Netflix.
We know you want more information about this VPN, so make sure to read our review of ExpressVPN.
Option #2: NordVPN

Next up on our list of the best VPN for Australia is NordVPN. This is a very interesting (and hugely popular) VPN that hits just the right balance between simplicity and complexity. Let's take a deeper look.
NordVPN brings a very polished UI where very little user interaction is needed. You open the application, connect to a remote server of your choosing, and that's about it. In the background, NordVPN will encrypt your data and make sure your personal information stays within this VPN tunnel. However, this application encrypts your data twice – which is a unique feature. This makes us recommend this VPN to those who truly want to be invisible on the Web. Still, this means that you'll feel some throttling since your Web traffic will need to pass through two secure servers.
Interested in how double encryption keeps you safe on the Web? You can learn more by reading our NordVPN review.
Option #3: VyprVPN
We know that many of you are looking for a way to use media streaming services in Australia. This is why we want to recommend a service that performs with minimal throttling – and this is where we come across VyprVPN.
For several years now, VyprVPN has been known for providing fast and reliable speeds. This company is making that possible due to one interesting fact. A huge network of servers operated by VyprVPN is this company's property, which isn't the case with every VPN. Therefore, they can guarantee fast speeds and reliable performance. In other words, this is a great choice if you plan on downloading torrenting or using media streaming services. On top of all this, VyprVPN brings its own proprietary cloaking technology with enhanced encryption.
Before making the final decision, make sure to do your research. Take a look at our review of VyprVPN.
Option #4: IPVanish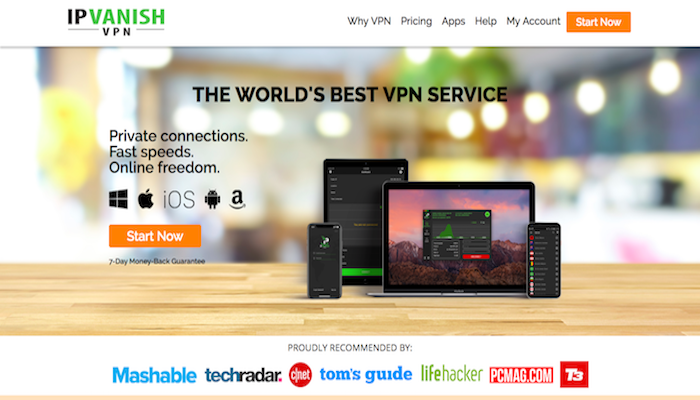 Those looking for a VPN service with a vast number of servers located all around the world will be intrigued by IPVanish. This is another well-known name in the world of VPN applications, and this one comes with an amazing reputation.
At the moment, IPVanish has servers in around 60 countries and brings more than 1,000 servers in total. This gives you a lot of freedom when switching between different IP address and making sure you're using the fastest possible server. Then, there's the standard 256-bit encryption that gives you a piece of mind when browsing the Web. And finally, you get to use IPVanish on pretty much every available platform, including Windows Phone – which is a unique trait for this VPN.
Want to dig a bit deeper into what this VPN has on offer? Go ahead and read our IPVanish review.
Option #5: CyberGhost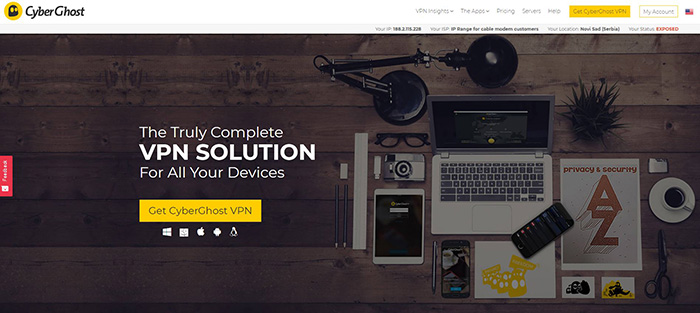 Last but far from being the least, we have CyberGhost. This is a relatively new VPN application that has already managed to attract a huge crowd of passionate users. Based in Europe, you can count on CyberGhost to take care of your Web browsing, the right way.
What's notable about CyberGhost is that it doesn't keep a single file about your Web browsing. The company is using an incredibly strong protection, and it doesn't store any logs on the server you use. Aside from that, there's a big network of servers strategically scattered around the world. If you want to get an IP address in the US, you will have numerous options in front of you.
To learn why this VPN is part of our list of the best VPN for Australia, take a look at TechNadu's comprehensive review of CyberGhost.
Best VPN for Australia: Additional Considerations
Choosing the best possible VPN also depends on your needs. So, we are going to provide additional information that will help you make a well-informed decision. Keep on reading to learn more.
Internet Privacy Protection in Australia
Internet users in Australia shouldn't count on their ISPs to keep their personal data safe. More than three years ago, a new set of rules came into action. Today, ISPs are required to keep your data stored and available up to two years. In case there's need for government agencies to access this data, they can do that with ease. There is also a problem with how 'personal information' is defined by Australia's information privacy laws. By reasoning that data is only 'personal information' if a person is the actual subject matter of that information, this leaves a lot of gray area. In other words, data held by ISPs are not protected by privacy laws and they are not subject to any restrictions.
The only way to end this is by not letting your ISPs collect usable information about your Web browsing. As you can imagine, any option on our list of the best VPN for Australia will help you to achieve that.
The Best Netflix VPN for Australia
Next, let's address Australians to watch Netflix and want to use a VPN as well. There are two things that need to be discussed here. First and foremost, you should be careful when picking a VPN to watch Netflix in Australia. Some of those might throttle your Web connection, making it hard to stream in high-definition resolutions.
Another important thing to consider is choosing a VPN that lets you watch American Netflix. Since you're already paying for the service, why not take full advantage of it. All of our recommended VPNs will get you there.
The Best Torrenting VPN for Australia
What about those who use torrent files in Australia? Well, this type of users could benefit the most from a reliable VPN can help you to download torrents in secrecy. Since your ISPs won't be able to see your Web traffic, it won't be able to detect what kinds of files you download. Therefore, you won't have to research on the Web every single time you want to download something to see if you'll be accused of copyright infringement.
Are VPNs Legal in Australia?
To provide an answer to this question, we have to take a look at a recently released draft report of the Productivity Commission in Australia. The report of this Commission found that the use of VPNs or similar software to circumvent geographic restrictions is not an infringement. In addition, it was recommended that Australia should seek to avoid entering any agreements that would prevent consumers from using VPN application. In simple terms, VPNs are legal in Australia and you're free to use them.
Should You Use a Free VPN in Australia?
We understand that you're looking for the cheapest VPN for Australia and that you're wondering if free VPNs are worth your time. We'll keep this short – you should avoid free VPNs at all costs. In the long run, they may harm you more than not using them at all.
Free VPNs come with two major problems. First, they throttle your Internet speed, which can fluctuate quite a bit. This means that using media streaming services or downloading files could become a nightmare. Then, there's no way of knowing what happens to your data. Are those free VPN companies going to sell it to advertisers? Are they even keeping your data safe? Probably not.
Take another look at our list of the best VPN for Australia and you'll see some very affordable options. It's always better to be safe than sorry, right?
Final Thoughts
This is where we conclude our article on the best VPN for Australia. We gave our best to answer all your questions. However, feel free to post a comment if you're still having doubts about using a VPN in Australia. We promise to respond in a timely manner.
You can help us spread the word about numerous benefits of VPN applications by sharing this article online. Thank you!