NordVPN now protects against malicious ads, trackers, and malware. 
It's capable of "deep scanning" executable files for malware.
Called 'Threat Protection,' the new feature is available on Windows and macOS.
NordVPN, one of the best VPN services you can find today, has announced that its CyberSec feature has now evolved into 'Threat Protection.' By working independently from your VPN connection, the new feature protects you against Web trackers, harmful websites, infected files, as well as intrusive and malicious ads. 
Previously, NordVPN's CyberSec feature focused on blocking ads, trackers, and helping you avoid malicious websites. With that said, NordVPN users can now count on true malware protection as well, which is a system with two layers. 
First, NordVPN's Threat Protection guards you against malware by helping you avoid visiting problematic websites. In that case, the VPN will show a warning message instead. However, you can also allow the new feature to scan your downloaded files for malware, removing them before they cause any damage.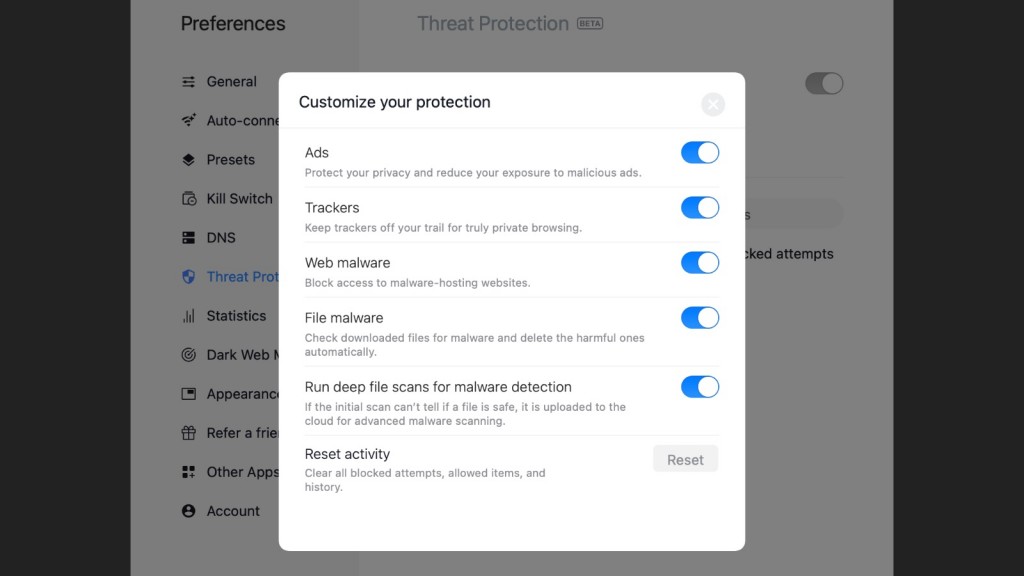 NordVPN users are also free to enable "deep scans," which cover executable files downloaded from the Internet of up to 20MB in size. In that case, executable files will be uploaded to the cloud and inspected for malware. Even though your private information is never collected that way, NordVPN won't deep scan any other data type that might contain your sensitive information (such as images, videos, or PDFs, for example). 
It's important to mention that Threat Protection isn't tied to your VPN connection, as it works independently. In other words, to get NordVPN's protection against cyber threats as offered by Threat Protection, you don't have to be connected to its servers. Of course, don't forget that using NordVPN's servers, you get high-end encryption for your data, which means the newly introduced feature doesn't replace the VPN functionality in any way. 
To get started with Threat Protection, you need to be an existing subscriber (if you're not, make sure to subscribe to NordVPN today). Then, download and install NordVPN for Windows or Mac (macOS users must download the NordVPN app from its website and not from the Mac App Store!). Navigate to NordVPN's settings and select 'Threat Protection.' And finally, enable the feature from there. 
Lastly, we'll mention that other VPNs have also started expanding into the cyber-sec territory by introducing malware- and tracking-related features. Just recently, ExpressVPN introduced a 'Threat Manager' feature/tool on iOS and iPadOS. And last year, VPNs such as Private Internet Access and CyberGhost VPN have added antivirus applications to their offers.