It's not uncommon for ISPs (Internet Service Providers) to limit your Internet speed during bandwidth-heavy activities like streaming and torrenting - a practice called throttling. This prevents you from enjoying the full speed of the data plan you initially signed up for.
Your ISP may also secretly be throttling individual apps like Netflix to discourage users from accessing them. Fortunately, using a VPN is a foolproof way to stop Internet throttling. 
Now, you may ask, how does ISP throttling work in the first place, and how to check if your connection is being limited? In this article, we'll answer those questions and teach you how to bypass throttling with a VPN. 
What Is ISP Throttling?
ISP throttling occurs when your Internet Service Provider limits the rate at which your data can be transferred over the Web. When that happens, your connection speeds can become much slower than what you initially signed up for.
Your ISP may throttle your connection for various reasons, such as:
To reduce network congestion; 
To control bandwidth-heavy activities;
To deprioritize different services.
But most commonly, you can experience throttling if you consume a lot of bandwidth in a short period. For instance, when downloading torrents and streaming in Full HD resolution (1920 x 1080 pixels) and above.
Internet providers also employ throttling during peak times to manage network congestion and to ensure that all users can get a stable connection. That is because Internet servers can only handle a set amount of bandwidth at a time. 
How to Bypass ISP Throttling?
You can bypass ISP throttling by connecting to a VPN. For that, we suggest you look for the best VPN providers that offer a way to secure your connection and anonymize your traffic.
To get around ISP throttling, follow the steps below: 
Sign up for a VPN that let you stop ISP throttling (we recommend ExpressVPN).
Download the VPN app/client on your device and install it. 
Open the application and sign into your account.
Connect to a VPN server in your preferred location. 
Now, you can freely use the Internet without throttling.
How Does ISP Throttling Work?
ISP throttling works by affecting two components of your connection - speed and data limit. 
The speed determines the rate of data transfer between your device and the Internet. On the other hand, the data limit is the maximum amount of data you can receive through the Internet in a given time period. 
There are various ways in which ISPs can throttle your connection. Let's look at some of the most common methods. 
Based on the data plans: Internet service providers sometimes classify customers as either belonging to the 'fast' speed lane or the 'slow' speed lane. Customers with the highest-paying subscriptions are allocated to the fast lane, where they get higher speeds, while those with cheaper plans get slower speeds.
Based on data usage: Your ISP can also have a soft monthly data limit. Consuming more data and exceeding that limit can massively slow down your Internet speeds. In comparison, exceeding a hard data limit would prevent you from browsing the Internet until your subscription plan resets in the next billing cycle. 
Based on IP addresses of certain websites: Sometimes, ISPs track and limit speeds during certain activities like streaming and P2P file sharing that require a lot of data. For example, they can blacklist Netflix's IP, which means that you will experience slower speeds when streaming. 
Based on the protocol you're using: The communication channel between your device and the server you are accessing is made up of small bits of data called "packets." Using deep packet inspection, your ISP can analyze the content inside these packets. Based on that, it can identify peer-to-peer protocols that are designed for torrenting and use more bandwidth.
Why Do ISPs Throttle Your Internet Connection?
ISPs may throttle your Internet connection to manage traffic and reduce network congestion. In some cases, they may limit your speed if you exceed their data limit in a given time period. 
There can be many reasons why ISPs may resort to throttling, such as: 
Reducing network congestion: An ISP sometimes needs to manage data traffic to ensure smooth operation for all its users. When there's too much data being sent and received at once, it can slow down speeds for all users on the network. To avoid this, ISPs might throttle certain connections to free up the bandwidth.
Controlling bandwidth-heavy activities: Some online activities require a lot more data, or bandwidth, than others. Streaming 4K video, downloading large files, or playing online games, for instance, can consume huge amounts of bandwidth. Therefore, ISPs might throttle such activities during peak times to prevent them from hogging all the bandwidth, ensuring a more balanced distribution for all users.
Deprioritizing different services: ISPs can also choose to throttle, or slow down, specific types of services based on their policies or agreements. For instance, an ISP might have a deal with a particular streaming service to prioritize its traffic over others, meaning that other streaming services may get throttled to ensure the prioritized service runs smoothly. However, it's a controversial practice as it directly influences user habits.
Signs That Your ISP Is Throttling Your Internet Speeds
If your Internet speed is slower than what you subscribed for, it might mean that your ISP is throttling your connection. But that's not the only sign of throttling.
Let's take a look at common signs that your ISP is throttling your internet.
Slow download speeds;
Lag and buffering during streaming;
Frequent disconnections;
Blocked websites;
Certain websites load slowly.
How to Test If Your ISP Is Throttling Your Internet Connection?
The most reliable method of testing ISP throttling is to compare your base connection speeds with your VPN speed. 
If you are suspecting that your ISP is throttling a specific service, such as Netflix, you can also do a Netflix speed test on Fast.com. Alternatively, you can check Google's video quality report if you live in the US or Canada. 
Let's take a look at each of these methods in detail. 
Option #1: Using an Internet Speed Test
To perform a VPN speed test, you have to get a capable VPN first. Then, run an Internet speed test on a website such as Speedtest by Ookla. Make sure to compare your speed with what your ISP has advertised in its plans.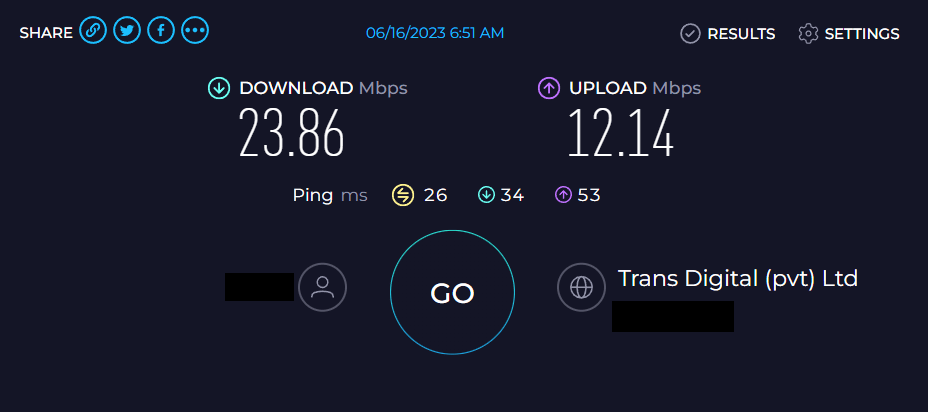 Now, connect to a VPN server. We suggest connecting to a server close to your physical location to maintain the accuracy of this test.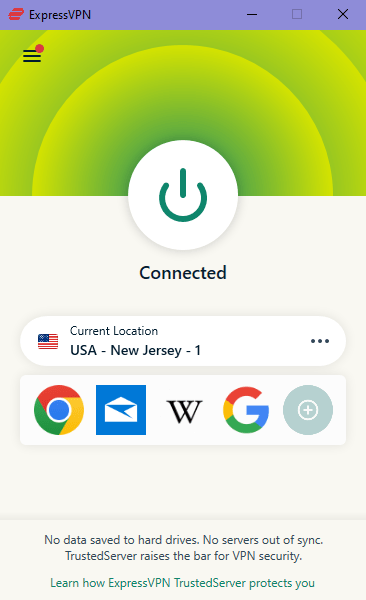 Perform a second speed test while staying connected to the VPN. If the speeds while connected to a VPN turn out to be higher than your base connection speed, it means that your ISP is throttling your speed. 
In our case, the Internet speed while with VPN was slightly lower than the base connection speed, as it should be. This suggests that the ISP is not throttling the connection.
Option #2: Using Netflix Throttling Test on Fast.com
Sometimes, ISPs can throttle specific streaming services such as Netflix. Since Netflix is aware of this controversial practice, it created its own speed test service called Fast.com. 
To check if your ISP is throttling Netflix, follow the steps below: 
Open Fast.com and wait until it automatically analyses your connection speed. It will take a couple of seconds to load.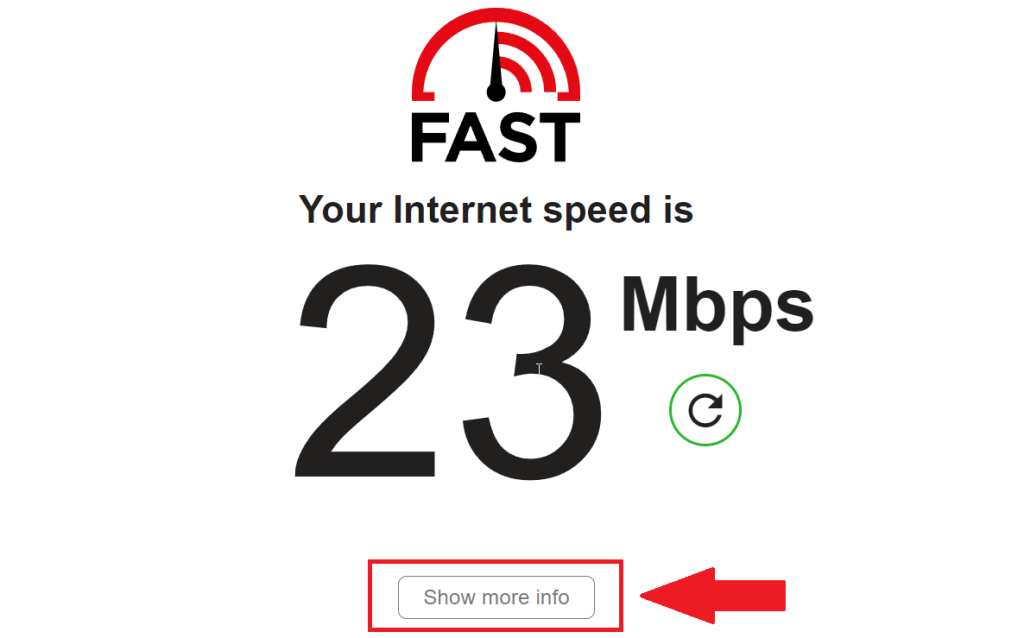 Click on "Show more info" to get detailed information. 
Compare the results with the speed that your ISP has promised as part of your Internet plan. If this speed is noticeably lower than your ISP's offering, it means that your connection to Netflix is getting throttled.
Option #3: Using Google's Video Quality Report Tool
Google's Video Quality Report is a tool that compares your ISP's performance to other ISPs in your area. It runs speed tests by connecting to YouTube servers and comparing your results to your ISP's typical performance as well as other ISPs nearby. 
Based on the test results, Google gives your ISP one of the following ratings: 
HD Verified: You can enjoy videos on YouTube with little to no buffering in 720p resolution and above. 
Standard Definition: You will experience buffering on HD videos in 720p resolution and higher, but standard definitions, such as 480p and 360p, will work smoothly. 
Lower Definition: You will have trouble playing videos above 360p resolution due to frequent buffering delays. 
This tool shows you a graph based on which you can check the performance of your ISP over a 24-hours time frame. You may notice that the video quality on streams is lower at certain times of the day based on network congestion.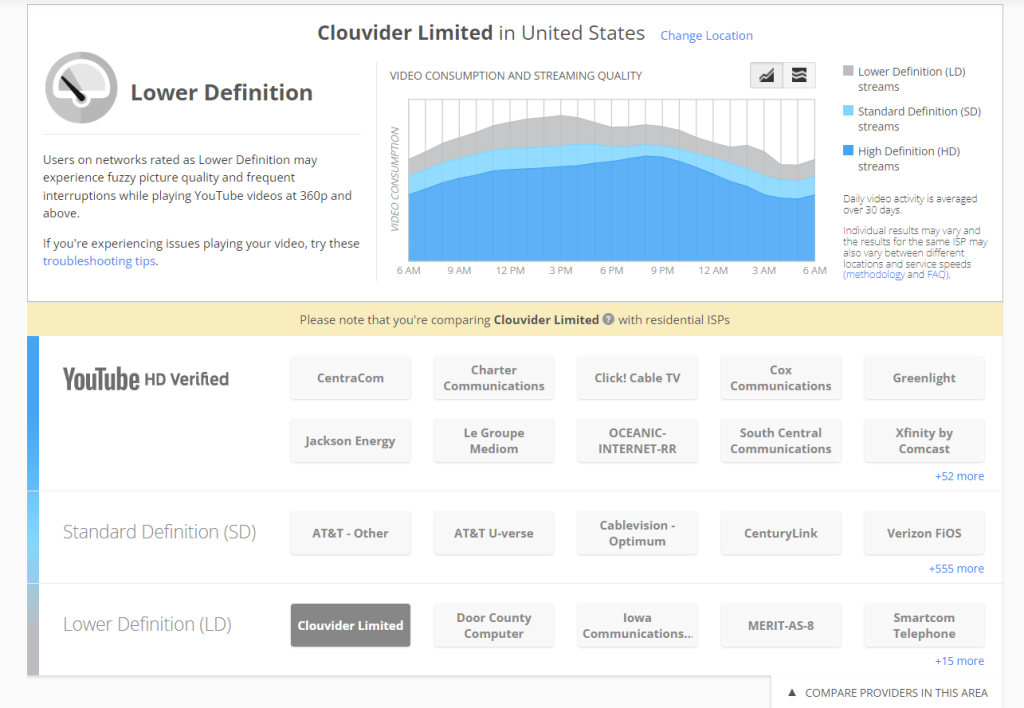 You can compare the data with other ISPs in your area and check their performance. If your ISP's video streaming rating is lower than other providers' in your area, it suggests that your connection might be getting throttled.
Best VPNs to Bypass ISP Throttling 
To find a capable VPN to stop data throttling, you should look for features such as obfuscation and strong 256-bit encryption. This prevents your ISP from detecting that you're using a VPN and tracking the websites that you are visiting. 
Similarly, secure VPN protocols like WireGuard, OpenVPN UDP, and OpenVPN TCP are important for maximum security. In addition to that, look for a service that advocates for net neutrality, which means that it encourages equal Internet for all users.
After testing several dozen VPN servers, our team has found the following three options to be the best anti-ISP throttling VPN services. Let's take a look at each of these. 
ExpressVPN: If you are looking for a service that supports Internet freedom and offers the best security features in the industry, ExpressVPN is your best choice. This VPN comes with military-grade 256-bit encryption and secure protocols like WireGuard, OpenVPN, and Lightway. Furthermore, all its servers are obfuscated, which means that your ISP can never tell that you are using a VPN. This allows you to get around speed caps set by your Internet provider and enjoy throttle-free downloads and streaming.
NordVPN: NordVPN comes with specialized obfuscated servers that use additional SSL/SSH encryption to mask the metadata. This hides specific parts of your data packets that contain information about your VPN usage. So your ISP cannot find out that you're bypassing the throttling using a VPN. It also comes with advanced AES 256-bit encryption and secure protocols like OpenVPN, Nordlynx, and IKEv2/IPsec. This allows you to easily unblock all content on the Web, such as torrenting and streaming services.
Surfshark: This VPN is known for its performance, which has always been ahead most of its competitors. It uses a range of modern protocols like WireGuard and OpenVPN, pairing them with AES-256 and ChaCha20 encryption. On top of that, it has obfuscation, so it can hide your VPN data packets, eliminate digital trackers, and stop Internet throttling in an instant. You also get extra features to speed up your Web browsing by eliminating ads and annoying pop-ups.
How to Stop Mobile Data Throttling?
You can stop mobile data throttling by installing and connecting to a VPN on your smartphone. We suggest using a premium and secure VPN service because free VPNs tend to be very slow, which breaks the purpose of bypassing Internet throttling.
When it comes to mobile throttling, data providers tend to place different types of caps. For instance, they may set a soft speed cap, which will limit your speed during bandwidth-heavy activities after you've consumed a set amount of data. 
Similarly, they can also have a hard data limit, which means you will receive a set amount of data volume, let's say, 20 GB per month. After reaching the data limit, you will not be able to browse the Internet.
Note that a VPN will not help you to get around a hard data limit. However, you can easily bypass data caps on bandwidth or speeds using a VPN, if those are soft data caps.
How to Stop ISP Throttling Without a VPN? 
To stop ISP from throttling without a VPN, you can use a proxy service that encrypts your Internet traffic. On its own, all that a proxy will do is spoof your location. However, your ISP will still be able to track your activities and throttle your connection during specific activities. 
However, it is difficult to find a proxy service that also offers reliable encryption. Overall, there are various cons to using proxy services, such as:
Free or cheap proxies can sell your data to third parties;
Improperly configured proxies can expose your real IP address;
Most proxies do not encrypt your data, so hackers can misuse your information;
Some websites can flag you for suspicious behavior and block access.
Hence, your best bet to stop ISP throttling would still be to use a capable VPN that has advanced AES 256-bit encryption in combination with secure protocols like WireGuard and OpenVPN.
Final Thoughts
ISP throttling can hinder bandwidth-heavy Web activities like torrenting, gaming, and streaming. It's put in place to regulate data consumption on the network. As such, it's seen as a controversial practice, especially if the ISP influences user behavior by throttling specific Web services.
However, you can bypass ISP bandwidth limits and stop your ISP from throttling with a VPN - if it comes with unbreakable encryption, tested protocols with high security, and obfuscation. We recommend ExpressVPN because it checks all these boxes and easily lets you stop Internet throttling.
FAQ
Is Internet Throttling Illegal?
Internet throttling itself is not illegal as long as your ISP stays transparent about it. However, net neutrality in the US prevents ISPs from regulating specific content services.
Will a VPN Stop Throttling?
Yes, a VPN will stop throttling if it has unbreakable AES-256-bit encryption and uses a secure protocol like OpenVPN.
Which VPN Is Best to Avoid Throttling?
ExpressVPN is our top recommendation to avoid throttling because it fully masks your Internet activities by using AES 256-bit encryption, which is also practically impossible to break. 
How to Bypass Data Throttling on Android?
You can bypass data throttling on Android by connecting to a VPN after installing it from the Play Store or by directly loading its APK on your device. 
Can You Use a Free VPN to Bypass Throttling?
No, you cannot use free VPNs to bypass throttling because their speeds are very slow, which breaks the purpose of bypassing throttling in the first place. 
Is There a Device to Stop Internet Throttling?
There is no specific device to stop Internet throttling. However, you can install a VPN on your router, which will let you stop Internet throttling on all your devices.
We hope that you enjoyed reading this article and learned how to stop ISP throttling. If you have any experiences to share, feel free to comment below.