China's myriad censorship restrictions, also known as the Great Firewall of China, blocks citizens and travelers from accessing many popular platforms and sites. Some of those blockages include Twitter, Facebook, Twitch, Google, YouTube, and more. However, this issue can be circumnavigated by using NordVPN in China.
NordVPN will allow you to connect to a secure server outside of China and access all the sites blocked by the government. When you use the best VPN for China, you can change your virtual location to another country where there aren't so many restrictions. Your connection will also be encrypted, so your ISP won't be able to see what you're doing online.
In this article, we'll teach you how to use NordVPN in China and explain how it bypasses the Great Firewall. We'll also answer common questions about the legalities of using NordVPN in China, offer troubleshooting tips for connection issues, and much more.
So, without further ado, let's dive right in!
How to Use NordVPN in China
To use NordVPN in China, you'll need to subscribe to a NordVPN plan and connect to an obfuscated server near you. Obfuscated servers are specialized VPN servers that conceal the fact that you're using a VPN. Here's everything you'll need to do to use NordVPN in China:
Subscribe to a powerful VPN provider (we recommend NordVPN).
Download and install the NordVPN app on your device(s).

Launch the NordVPN app and sign into your account.
Connect to an obfuscated server near you by clicking the "Expand" button, then "Specialty Servers," and then "Obfuscated Servers."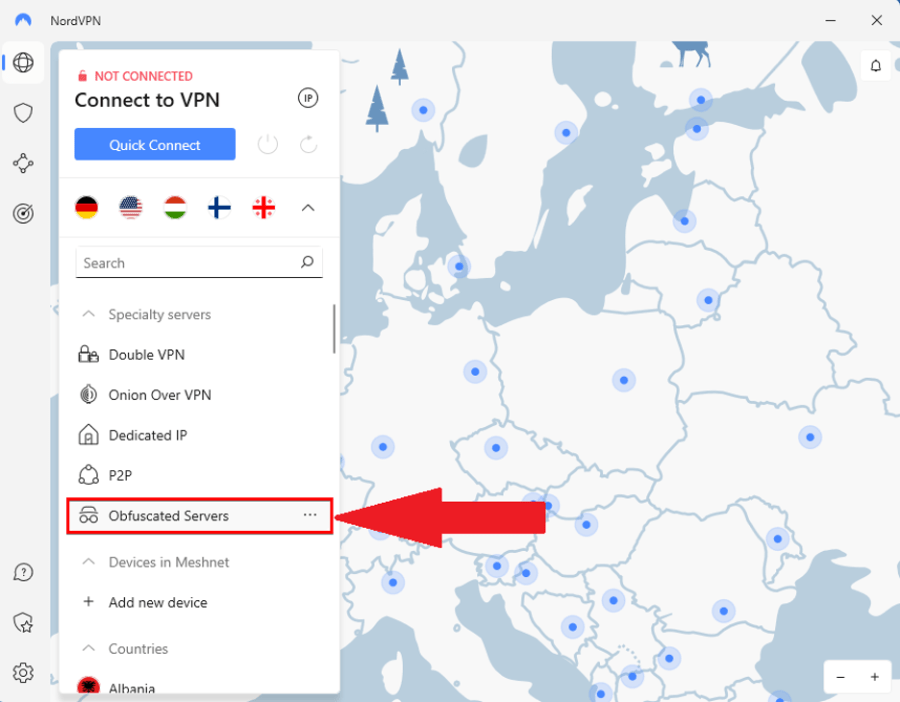 5. Once you click on "Obfuscated Servers," your VPN protocol will be changed and you'll be able to pick the location of your server. NordVPN will first inform you that it will change your protocol, and you'll need to click "Connect" to continue.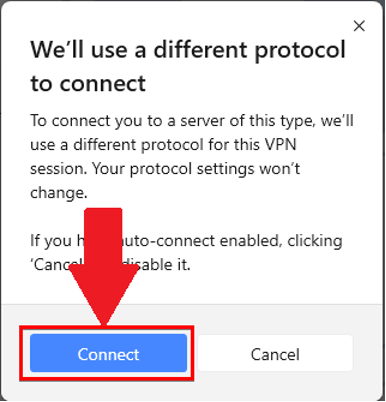 6. Now, you'll be able to use NordVPN in China and have unrestricted Internet access.
Since VPNs are highly regulated in China, you can expect to experience some issues while trying to acquire one. Here are 7 things you can try to successfully download a VPN in China. 
Is NordVPN Legal in China?
Yes, NordVPN is legal in China. Even though China has strict regulations concerning which media Chinese citizens can consume and which apps they can use, VPNs are still legal in the country.
However, not many VPNs actually work in China. Few are powerful enough to bypass the Great Firewall undetected. So, while you can legally use a VPN in China, you need to find one that works first. 
The Chinese government compiled a list of VPNs that citizens are allowed to use. Only the VPNs that have granted the government backdoor access are approved and readily available to residents and tourists. 
Does NordVPN Work in China?
Yes, NordVPN works in China. The provider works extra hard to stay off the government's radar and doesn't have any servers in China. 
NordVPN isn't on the "Approved VPN Providers" list made by the Chinese government, meaning it didn't grant backdoor access, but it still works in China very well. More importantly, it can keep its users hidden and safe from the eyes of the government. 
If you connect to a server outside of China with NordVPN, you'll be able to freely use all the apps and visit all the sites you want. However, it's crucial to connect to an obfuscated server, which will mask your OpenVPN traffic as regular HTTPS traffic and hide the fact that you're using a VPN.
Does NordVPN Have Servers in China?
No, NordVPN doesn't have servers in China, which is why the provider is able to fly under China's radar undetected. Since NordVPN is based in Panama, it also doesn't collect any data or information about its users. Thus, NordVPN users can surf the web safely at all times and in all locations, including China.
But which servers should you use if there are no Chinese ones? Well, as mentioned previously, if you want to remain undetected while using NordVPN in China, you should use obfuscated servers. They are your best and safest bet that you won't be discovered using a VPN in China that isn't on the government's approved list.
Other than that, NordVPN has more than 5,300 servers across 60 countries worldwide that you can use.
How Does NordVPN Bypass the Great Firewall of China?
NordVPN bypasses the Great Firewall of China by using obfuscated servers, also called "stealth servers" in the VPN industry. As we already mentioned, obfuscated servers can mask the OpenVPN protocol that VPNs use to route your traffic so you fly past undetected. 
Obfuscated servers make your traffic look like regular HTTPS traffic to your ISP. This is important because ISPs can detect when someone is using a VPN even when the connection is encrypted.
Not all VPNs have obfuscated servers, which is why very few of them actually work in China. Fortunately, NordVPN's obfuscated servers can be used on nearly all devices, including your PC, laptop, phone, and tablet.
Is NordVPN's Website Blocked in China?
Yes, NordVPN's website is blocked in China. Since the provider is not on the government's list of approved VPN providers, it can't be accessed inside the country. However, there are methods you can use to access NordVPN's website in China so you can download the app.
For example, NordVPN's customer support can direct you to a mirror site, which is a copy of the main NordVPN site. However, mirror sites can be taken down quickly and might be unavailable to you.
Another method you can use to access NordVPN's site is to subscribe and install NordVPN before you go to China or, if you're a Chinese resident, while you're traveling to another country. This is the most successful way to ensure that you can use NordVPN in China and unblock all the content that is otherwise restricted in the country. 
NordVPN Not Working in China – How to Fix
NordVPN might not be working in China because it could be experiencing technical difficulties such as downtime or server failure. You can resolve this by connecting to another NordVPN server that is online. Other things you can try to fix NordVPN when it's not working include the following:
Restart the VPN – When your VPN isn't working, you can always try the oldest trick in the book: restarting the VPN. Simply shut down the app, wait a few seconds, and then boot it up again. You can also try disconnecting and then reconnecting to your WiFi. 
Delete Your Cache and Cookies ­– Your browser cache can reveal your real location. If this happens, your VPN won't work because it won't be able to override the cache to mask your IP. You can fix this by deleting your browser cache and cookies before you connect to your VPN. 
Use the NordLynx Protocol – Before you browse the web, ensure that your NordVPN app's chosen protocol is set to NordLynx. You can do that by opening the "Settings" menu and selecting NordLynx from the protocol section.
Final Thoughts
Using NordVPN in China will allow you to browse the Internet freely and avoid all the restrictions the country's government has in place. However, you might have to wait until you're out of the country to download and install NordVPN since their site is blocked. 
We recommend NordVPN because it can bypass the Great Firewall and protect you while you conduct your online activities. If you are traveling to or live in China, this powerful VPN will allow you to access all the platforms and sites that are otherwise blocked in the country.
FAQ
Is NordVPN Owned by China?
No, NordVPN is not owned by China. It is owned by Tesonet, a company based in Lithuania. It is a separate entity with headquarters in Panama, a country where it doesn't have to collect or share its users' data or online activity. 
Is NordVPN Banned in China?
Yes, NordVPN is banned in China. The provider isn't on the government's list of approved VPN providers.
That's it for our guide to using NordVPN in China. Feel free to ask any additional questions or leave remarks if you have them via the comments section below. Thanks for reading!