Urban VPN is a free VPN service based in New York, USA, a country that's a member of the 5 Eyes Alliance. It's also a P2P (peer-to-peer) network, which means you're piggybacking off the extra bandwidth of other Urban VPN users, which is an approach not widely used in the global VPN industry.
The website of Urban VPN is light on details about its features. Its apps are also barebones, with nothing more than a list of locations. You won't find any fancy bells and whistles like different protocol options, custom DNS, split tunneling, or a double VPN. The apps, surprisingly, don't even have a decent "settings" page.
We thoroughly tested Urban VPN and discovered that it only offers basic security and privacy features. And while Urban VPN might be functional for torrenting purposes, it's not the best for streaming or gaming due to its limited capabilities for unblocking streaming platforms and its potential for slower speeds.
Before we dive deeper into this Urban VPN review, let's take a look at some of the basic facts about this VPN provider below.
Paid
Free
Jurisdiction
USA (5-Eyes Alliance).
Logs
Confirmed data logging.
Servers
4,500+ in 60+ countries  (with premium locations).
4,500+ in 60+ countries
Simultaneous Connections
Unlimited.
Supported Devices
Windows, Mac, iOS, Android, and Web browsers.
Features
DNS leak protection, ad-blocker, anti-mining, and high-speed traffic.
DNS leak protection, ad-blocker, and anti-mining.
Protocols
Unspecified.
Supports
Prime Video, torrenting, and browsing.
Customer Support
N/A.
Price
From $4.99/month. 
Free.
Live Deal
N/A. 
Our Score
4 out of 10.
In this review, we'll take a closer look at all its features and assess how well they perform in real-world scenarios. You can expect a comprehensive analysis of Urban VPN's performance in terms of reputation, security, ease of use, value, and more. Additionally, you can explore our guide on how we review VPNs for insights into our evaluation methods.
If you want to shop around, you can check out our guide to the best VPN services, where you'll have plenty of options to choose from. However, if you're looking for one of the most powerful VPNs on the global market, we highly recommend NordVPN.
Background, Jurisdiction & Reputation
Urban Cyber Security Inc. is located in Manhattan (New York), under the jurisdiction of the United States. As the US is a member of the 5-Eyes Alliance, it's considered an undesirable location for VPN service providers. Our Score: 5/10
Knowing the origin of your chosen VPN is essential because VPNs handle sensitive personal data. It's vital to ensure that your data remains protected and isn't collected by anyone. With that in mind, let's explore the details of Urban VPN and its country of origin.
Where Does Urban VPN Come From?
Urban VPN is based in New York, specifically on Fifth Avenue in Manhattan. This VPN provider claims on its website that it follows a strict no-logs policy and doesn't monitor user activity. 
However, it's worth noting that the USA's participation in the 5-Eyes Alliance may result in increased susceptibility of user data to government surveillance. If you put privacy and security first, this may be a red flag, and you might want to use a VPN that operates outside of the jurisdiction of international intelligence alliances.
Urban VPN's selling point is being free. While it's pushing the "free" angle, it's crystal clear what users are giving up in return. When it comes down to it, Urban VPN seems to do the trick for everyday tasks, but it's not a home run for serious users.
Is Urban VPN Safe?
No, Urban VPN isn't safe, primarily because it's based in the US. The US is a member of the 5-Eyes Alliance, which is a group of countries that share intelligence data. 
This means the US government could potentially get access to sensitive data, even though Urban VPN claims they don't keep any logs of user activity and have a strict no-logs policy. The fact that it falls under the jurisdiction of the US government makes it a suspect for data breaches and cyberattacks.
On the other hand, the company states that its services are powered by a P2P network, which is an old networking system that's vulnerable to basic cyberattacks. We also found out that Urban VPN's extensions aren't reliable at encrypting your connection. To truly hide your IP, desktop apps are a better option.
The only silver lining for Urban VPN is that you don't have to sign up or give out any personal information when downloading it. In short, Urban VPN is only good for basic needs, but for those who are looking for a more secure VPN service provider, it's better to look for other options.
Does Urban VPN Keep Logs?
Yes, Urban VPN does keep logs of its user's data. According to Urban VPN's privacy policy page, they may collect basic personal information such as name, email address, and payment information when users buy the premium benefits or voluntarily contact them. 
They also collect usage data, including the websites and apps you access while connected to the VPN. It's safe to assume that they also keep connection logs, such as the user's IP address and the duration of their VPN session.
Urban VPN states that it uses this information to improve the service, troubleshoot issues, and prevent fraudulent activity, which is just a fancy way of saying they keep track of what you're doing on its service. They use this information for marketing and advertising purposes and share it with third-party partners for analytics and research.
On top of that, Urban VPN is based in the United States, which means the government can potentially request user data if necessary. Additionally, the fact that Urban VPN has never agreed to undergo a third-party infrastructure audit is always a bad sign
Now, this might not be a big deal for some folks, but for those who value their privacy and want to keep their online activities under wraps, it's definitely something to keep in mind.
Supported Platforms & Devices
Urban VPN is supported on most major platforms but doesn't make it clear if it works on routers or other types of devices (like media streaming devices). Our Score: 5/10
When selecting a VPN, it's crucial to ensure compatibility across all your devices. Let's take a look at this aspect of Urban VPN in the table below. 
| | |
| --- | --- |
| Desktop Platforms | macOS and Windows. |
| Mobile Platforms | iOS and Android. |
| Web Browsers | Chrome, Edge, Firefox.  |
| Routers | N/A. |
| Other Devices | N/A. |
Urban VPN has apps for the most popular desktop and mobile platforms. Besides this, they also have a Chrome extension and Web browser extensions for Firefox and Edge. But keep in mind that the browser extensions act as a proxy - they'll hide your IP address but won't encrypt your traffic (unfortunately, we can't guarantee the provider's VPN service will do that either).
What's more, Urban VPN doesn't mention if it works on routers or other devices, as the support reps didn't answer our questions about this. However, since free VPN services typically don't support routers, we believe Urban VPN doesn't work on those devices.
Installation & Initial Configuration
Despite its cluttered website, this VPN service has developed an incredibly user-friendly installation process. Even newbies will have no trouble installing and setting up Urban VPN. Our Score: 10/10
In this segment, we'll guide you through installing and configuring Urban VPN. The process is remarkably smooth and doesn't require any technical experience. 
In terms of installing Urban VPN, you'll get an installation file for Windows only. If you use a platform like macOS, iOS, or Android, you'll need to turn to your device's app store. That means the application will download and install on its own. 
To install the software on Windows, follow the steps outlined below:
Visit Urban VPN on any Web browser.
Choose your operating system from the various OS icons at the top of the page. 
Click on "Get for Free" and download the installation file. 
Find the file and double-click to start the installation process. 
Go through the installation procedure and launch the VPN. 
Urban VPN is now ready for use. That's it!
No registration is required with Urban VPN. With minimal formalities, in just about five minutes, you can complete the entire process and install the VPN. After a successful installation, you can start enjoying its features. 
Thanks to its user-friendly interface, Urban VPN guarantees a smooth and hassle-free initial user experience. This VPN service is accessible across multiple operating systems, including Windows, macOS, Android, and iOS.
Prominent Features
Urban VPN lacks both essential and extra security features. It's perhaps the least capable VPN service available on the global market. Our Score: 3.5/10
Since Urban VPN is a free service, it not only lacks security features but also doesn't offer advanced functionality like split tunneling, kill switch, and dedicated IPs. This VPN provider even struggles to fulfill all the basic requirements and lacks transparency in its operations.
Here's what you can expect from Urban VPN.
DNS Leak Protection: As stated on its website, Urban VPN claims that it can protect you from IPv6 leaks. This means that there won't be any DNS leaks stemming from dual-stack tunnels. We also ran leak tests on servers in 5 countries and didn't see any leaks. 
Data Encryption: Urban VPN keeps its data encryption and security practices undisclosed. It doesn't specifically say if it has industry-standard features like 256-bit AES encryption. We asked the support reps about this, but sadly, they didn't reply.
Safe Browsing: This feature notifies you when you're visiting malicious sites. However, it doesn't block malicious websites, so you're still at risk when you're surfing the Internet. This feature is accessible on Android devices.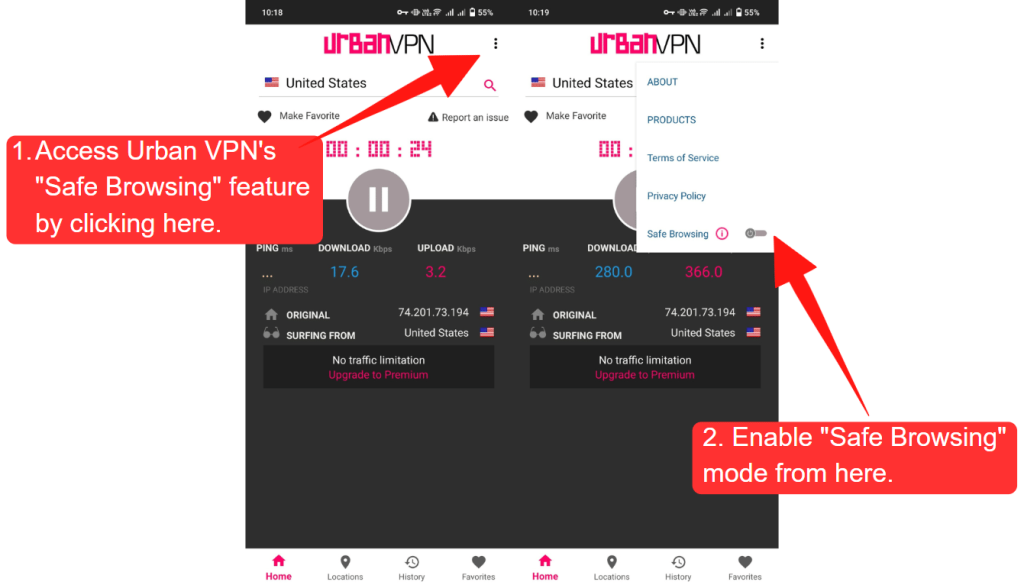 Anti-Mining: Urban VPN safeguards you against crypto-mining and enhances online security by replacing your IP address with one from their secure servers. This prevents unauthorized mining activities on your device.
Ad-Blocker: You can get this particular feature by installing a browser extension. This feature blocks ads and distractions while you browse the Internet. It works seamlessly across major browsers, such as Chrome, Safari, and Firefox.
As you can see, Urban VPN is an incredibly limited VPN service. So, talking about more advanced or unique features can be somewhat pointless. 
Server Count & Infrastructure
Urban VPN has a relatively large network (with different numbers of locations on Windows and macOS), but it doesn't show the server ping or load or say whether its servers are P2P-friendly. Our Score: 8.5/10
In general, it's important to choose a VPN that has many servers. This allows you to connect to various countries and access a wide range of IP addresses. Additionally, VPNs with plenty of servers can offer faster performance for all their users.
| | |
| --- | --- |
| Number of Servers | 4,600+ |
| Number of Locations | N/A |
| Number of Countries | 60+ |
| Specific Cities Selection | N/A |
| Unlimited Switching | YES |
Urban VPN has 4,600+ servers in 60+ countries. But it's annoying how the Windows and macOS apps have different server locations - on Windows, you only get 50+ countries, and on Mac, you get 60+ countries.
Also, there are big differences between Urban VPN's Android and iOS apps. While many locations are unlocked on Android (even for free users), you only get a handful of locations on iOS (Australia, Poland, Spain, Thailand, and the UK).
The VPN also doesn't show the server ping (how long it takes for your Internet signal to travel from your device to the VPN server) or server load (how many people are actively connected to a VPN server) inside its apps. That's a shame because those metrics make it easier to find VPN servers with fast speeds.
UI/UX Design & Ease of Use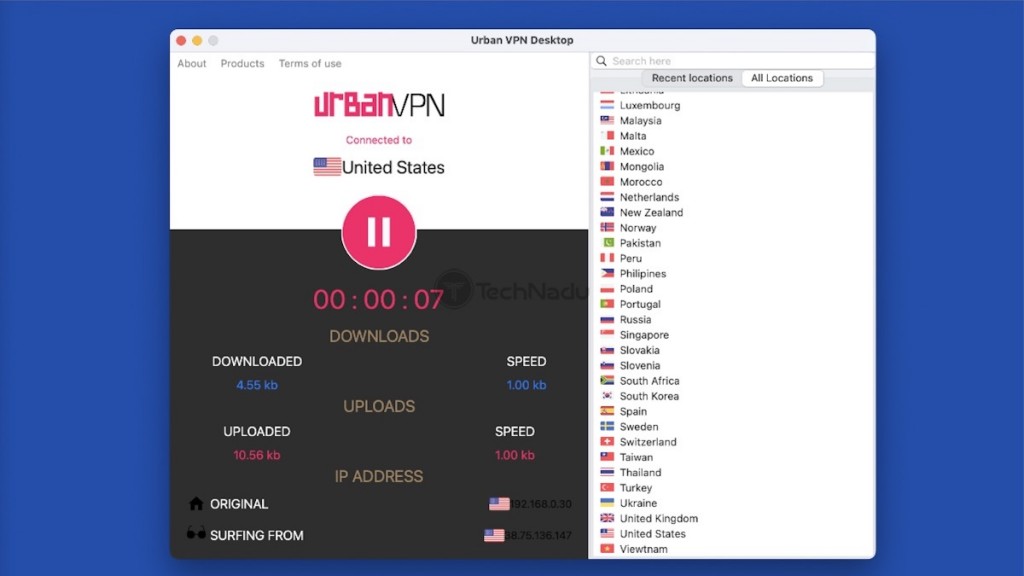 Urban VPN's mobile and desktop apps are easy to navigate, but they don't have many features. Also, the desktop apps aren't as good as the mobile apps, and the Web browser extensions are subpar in terms of reliability. Our Score: 3/10
In this part of our Urban VPN review, we'll examine the VPN's applications designed for desktop and mobile platforms. We'll also discuss Urban VPN's offerings in terms of Web browser extensions and provide insights into what you can expect from them.
How Well Does Urban VPN Work on Desktop Platforms?
Urban VPN's desktop apps are buggy and not very well optimized - you can't minimize the app or switch to full screen on Windows, only on macOS. And you don't have any in-app options that let you fine-tune your VPN connection. The images shown below are from a Windows app.
On the bright side, there's an option to enable the VPN on startup. However, the apps don't have any features, and you can't choose specific server locations for popular countries (like the US and the UK).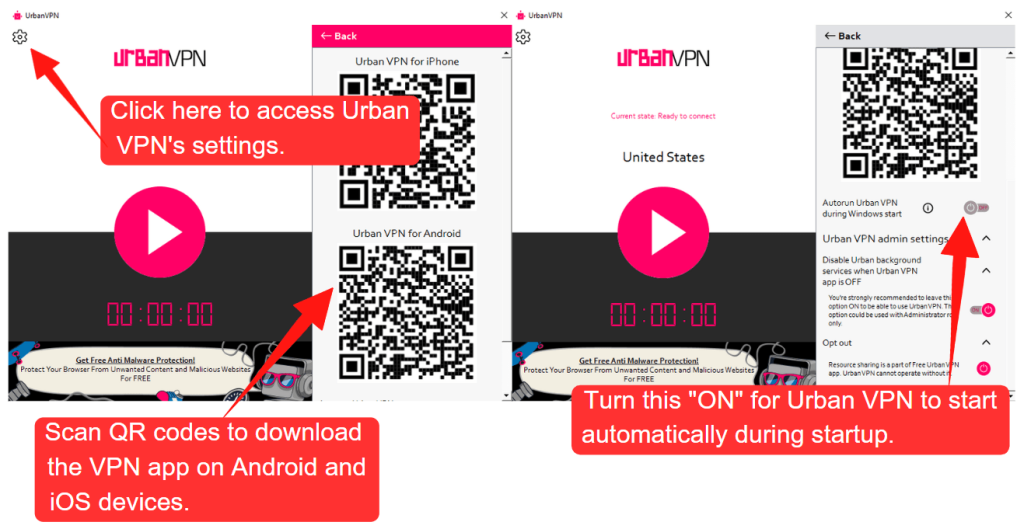 The gear icon in the upper left corner of the app serves as the "Settings" menu. When you click on it, two QR codes appear on the right side of the app. You can scan these codes to conveniently download the app to iOS and Android devices. Below are other settings that you can access here:
Autorun: You can enable this option to automatically launch Urban VPN when Windows starts up. This ensures that the VPN is running without manual intervention every time your computer starts.
Urban VPN Admin Settings: This option deactivates Urban's background services and resource sharing when the VPN app is not in use. However, disabling this option requires administrative rights. Also, you need to keep this option turned "ON" to be able to use Urban VPN.
How Well Does Urban VPN Work on Mobile Platforms?
Urban VPN's mobile apps are easy to use, and they save your recent locations, so you don't have to look for those in the country list. But we don't like that only the mobile apps come with a quick-connect feature, which automatically connects you to the fastest server for your location. The images shown below are from an Android app.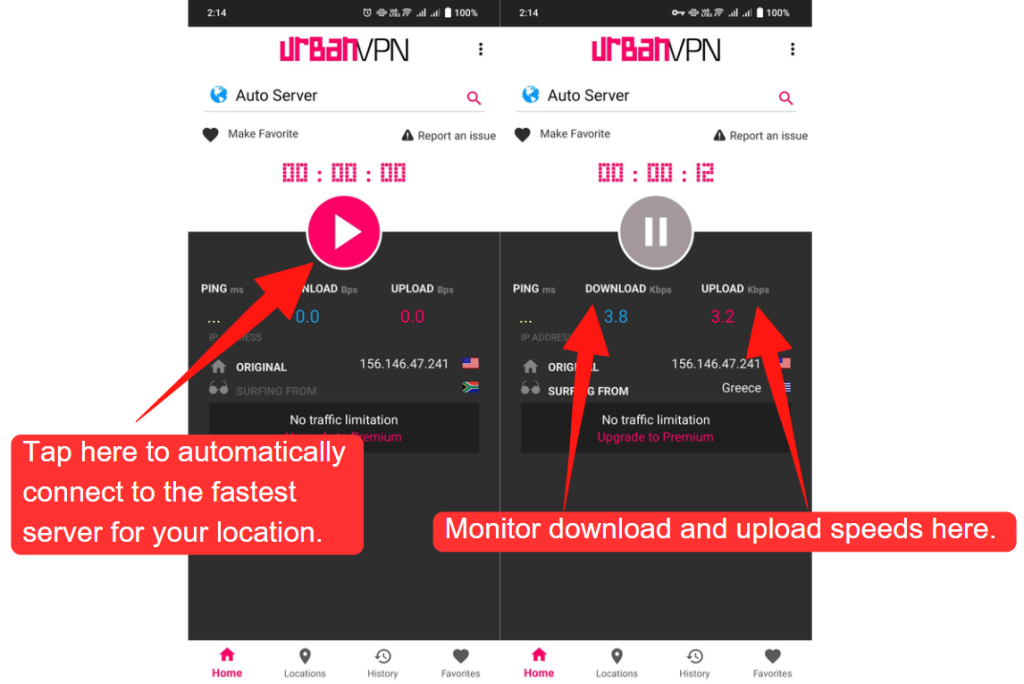 On top of that, the server list is simple and looks like it was made in a hurry. Urban VPN wants to seem like a hip unblocker, but it just looks outdated and unappealing, as you can see below.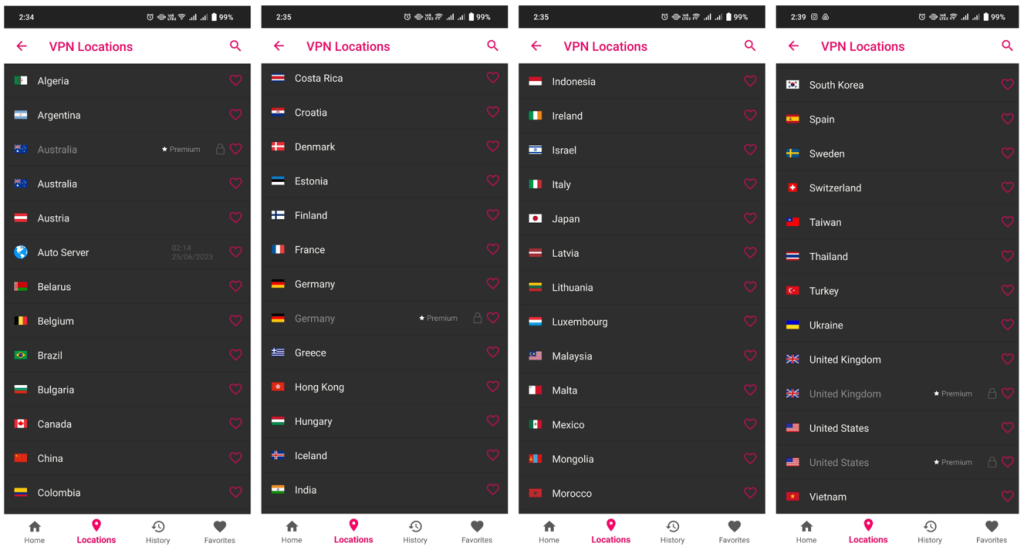 Regarding its mobile settings, the app offers very limited features, allowing you to only connect to or disconnect from a server and turn on the "Safe Browsing" feature.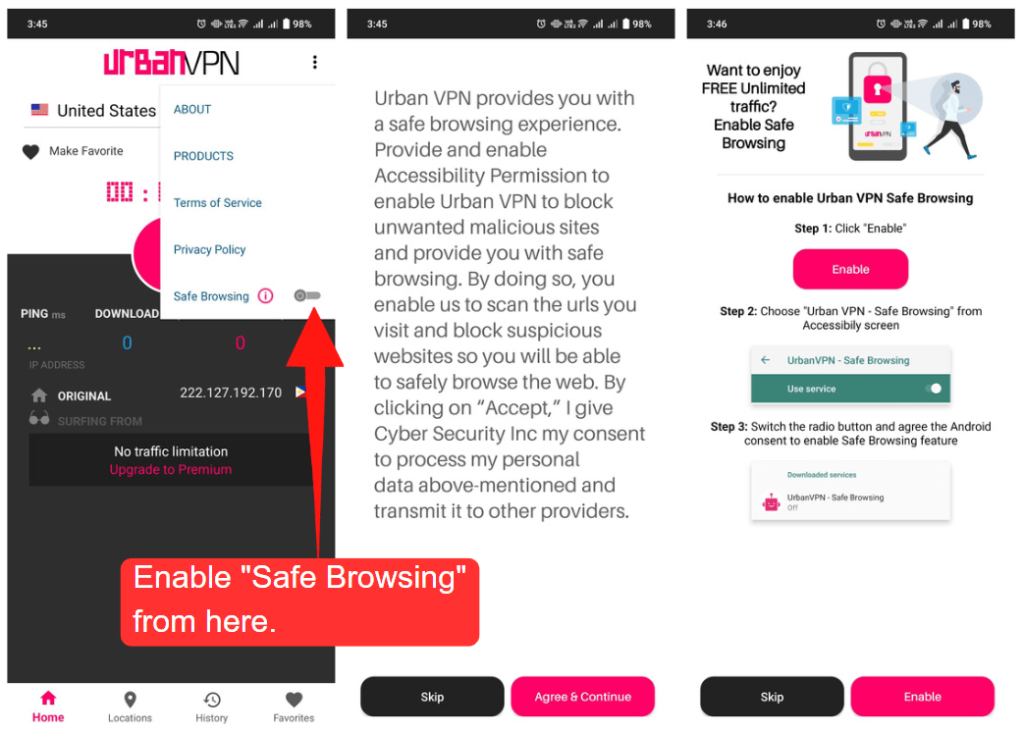 Based on the image above, the only option in the app's settings menu that you can toggle "on" or "off" is Safe Browsing. Tapping on options such as About, Products, Terms of Service, and Privacy Policy will redirect you to the corresponding website pages of Urban VPN.
Overall, Urban VPN has a friendly user interface and a straightforward UX design that beginners will appreciate. However, its lack of features and customization options means it falls short in terms of functionality despite being easy to use.
How Well Do Urban VPN's Web Browser Extensions Work?
Urban VPN's Web browser extensions have limited functionality and aren't particularly effective in terms of performance and reliability. It offers Web browser extensions for Chrome, Firefox, and Edge. 
But keep in mind that the browser extensions are proxies - they'll hide your IP address but won't encrypt your traffic (unfortunately, we can't guarantee the provider's VPN service will do that either). In this review, we used the Chrome browser extension. The extension offers limited customization options, as there are no settings that you can fine-tune.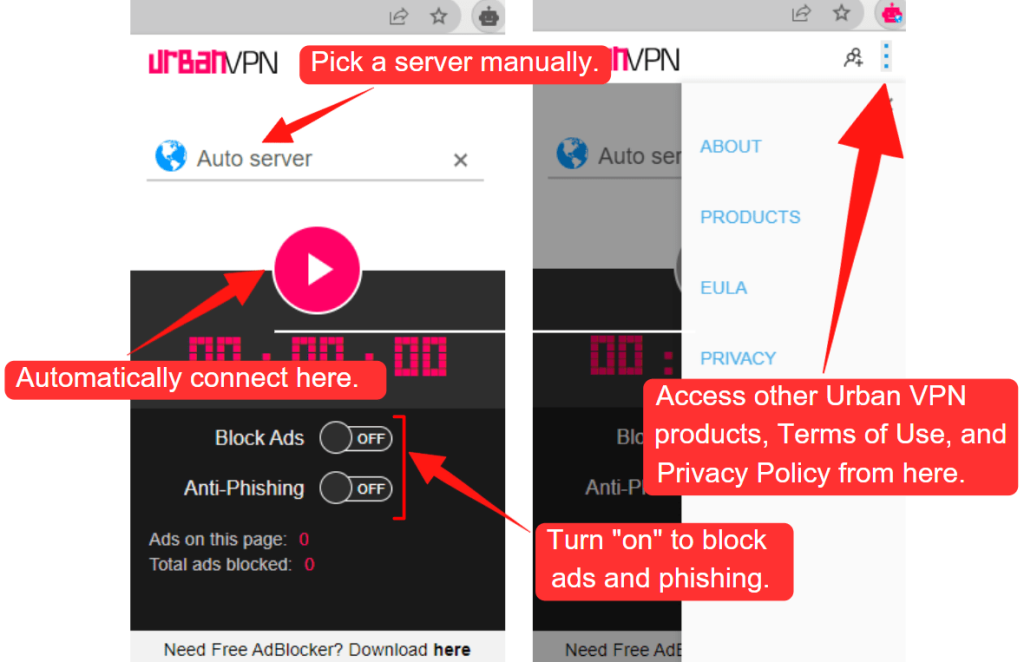 Moreover, clicking on the three dots menu located at the upper right corner of the extension simply displays a list of Urban VPN's additional information. These will redirect you to their corresponding pages on the VPN's website. 
Nonetheless, you do have the option to enable the ad blocker and anti-phishing features within the extension. 
Media Streaming, Torrenting, and Gaming Support
Urban VPN's ability to unblock media streaming sites is limited. Its support for torrenting and gaming is also quite restricted. Our Score: 2/10
Urban VPN isn't the most suitable choice for media streaming, torrenting, or gaming support. The VPN provider lacks the necessary features and infrastructure to handle the specific requirements of these activities.
Is Urban VPN Good for Streaming?
No, Urban VPN isn't suitable for streaming. It can't unblock the most popular streaming platforms. If you want to stream on a VPN, check out our guide to the best streaming VPNs. 
| | |
| --- | --- |
| Netflix US | NO |
| Hulu | NO |
| Disney+ | NO |
| Max | NO |
| BBC iPlayer | NO |
| Amazon Prime Video | YES/NO |
| Paramount+  | NO |
We couldn't connect to Netflix US and could only access our local library. Urban VPN was unable to unblock other major streaming services like Disney+, Prime Video, Max, and BBC iPlayer. Although the VPN provider occasionally worked with Prime Video, it only managed to connect successfully about half the time. Other times, Prime Video asked us to turn off our VPN. 
Is Urban VPN Good for Torrenting?
No, Urban VPN isn't good for torrenting. During our tests, we were able to initiate torrent downloads using Urban VPN. However, it doesn't clarify whether they offer P2P support or provide additional features for torrenting, such as port forwarding or SOCKS5 servers. 
We would assume it doesn't have these features, as they're not mentioned on the website or in the app settings.
Is Urban VPN Good for Gaming?
No, Urban VPN isn't great for gaming. Online gaming demands low latency, stable connections, and optimized servers for gaming traffic. Urban VPN doesn't prioritize these factors, leading to lag, latency issues, and subpar performance during gaming sessions.
In other words, you might want to lower your expectations when it comes to gaming. While it offers a variety of servers, poor optimization and unpredictable speeds mean you can't play games at a competitive level. 
To have a seamless and optimized experience in media streaming, torrenting, and gaming, we suggest exploring VPN services that specifically cater to these activities. These services often have a larger server network, optimized infrastructure, and additional features to enhance performance and security for these specific use cases.
Security & Privacy
Urban VPN logs user data and shares it with affiliates and partners. It also operates on a P2P network, which is dangerous for your privacy. Our Score: 1/10
To assess Urban VPN's trustworthiness with your data, we'll examine three factors in this segment: VPN protocols, logging, and IP/DNS leaks. These will provide valuable insights into how your information is handled.
Urban VPN Protocols
There's no mention of what protocols this VPN uses. We saw some users saying Urban VPN might use the OpenVPN protocol, but there's no way to verify that. Any reliable VPN should be transparent enough to say which protocols it uses. The fact that Urban VPN doesn't do that is quite alarming.
Does Urban VPN Log Private Data?
Yes, Urban VPN does log private data, as it doesn't have a true no-logs policy. It logs your IP address and browsing data, which includes search engine results, the websites you visit, and more. Urban VPN claims they use that data for their 'Safe Browsing' feature, but their privacy policy also says Urban VPN will share user data with third parties.
On its website, Urban VPN claims it won't keep logs of premium users, but that's not true. The privacy policy doesn't say anything about paid users, so it's likely that Urban VPN will still log and share your information with affiliate companies and trusted partners.
There's also no independent audit of the no-logs policy to prove the VPN doesn't collect the user data of paid users.
Urban VPN's free plan also operates on a P2P network. That means you use other users' IP addresses to surf the Web, and they use your IP address to do the same. That's dangerous for your privacy because a malicious actor could use your IP to engage in shady activities.
Will Urban VPN Leak/Expose Your Private Data?
Yes, Urban VPN may leak or expose your private data. This VPN doesn't use a kill switch. As a consequence, if your VPN connection drops, your real IP address and unencrypted data could be exposed. This could put you at risk of identity theft, hacking, or other online threats.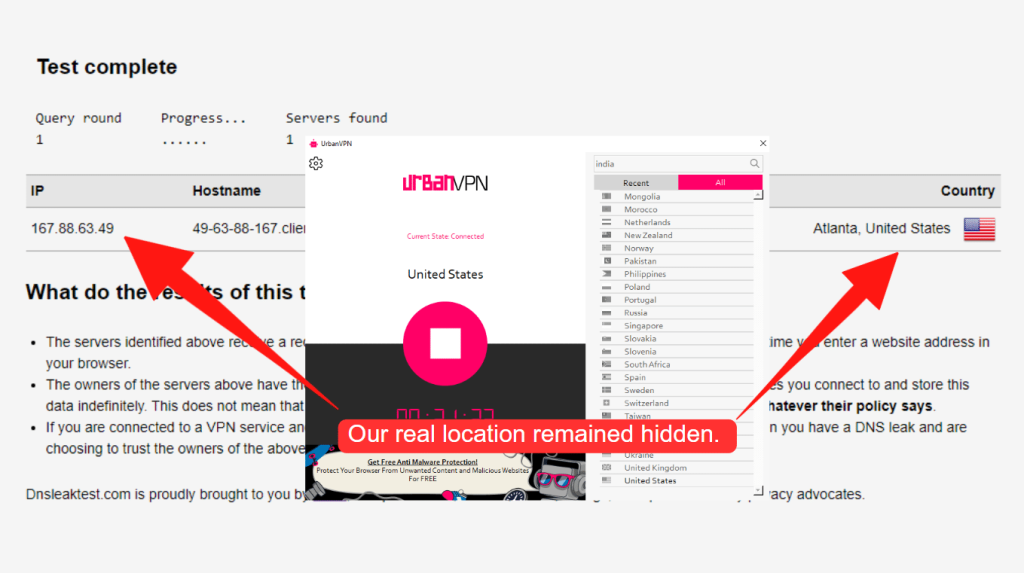 We tested multiple VPN connections using Urban VPN to check for data leaks. Fortunately, the results, as shown in the image above, revealed no leaks. Our real IP address remained hidden and replaced by Urban VPN's virtual information.
While no leaks were discovered, there's no guarantee that Urban VPN will never expose your private data, considering the factors mentioned above. It's a free service, after all. If safeguarding your data is a priority, we recommend exploring more reliable and trustworthy VPN options.
Speed & Performance
On average, we experienced a 77% average slowdown when using Urban VPN. We suggest considering an alternative option that performs better. Our Score: 3/10
In this Urban VPN review, we conducted a speed test by comparing our Web connection speeds with and without the VPN active in the background. Without an active VPN session, our baseline speed test recorded a download speed of 48.9 Mbps and an upload speed of 32.6 Mbps. 
Before we check Urban VPN's results, we have an important note. We typically use Ookla's Speed Test, the most reliable tool for testing download/upload speeds. However, this tool didn't work with Urban VPN. So, we used Google's speed testing tool instead.
Here are the results:
USA Server: We experienced a 65% speed reduction at 17.3 Mbps and an upload speed of 1.89 Mbps with this server. Although it proved to be the fastest server we tested for downloads, its upload speed was one of the slowest.
UK Server: This server's speed was comparable to that of the US server. We recorded a 69% decline in speed, with a download speed of 15.0 Mbps and an upload speed of 6.56 Mbps. These results are sufficient for basic Internet activities.
Canada Server: We connected to this server via Toronto, and it delivered a 72% download speed reduction at 13.6 Mbps. Unfortunately, it had one of the poorest upload speeds at 0.08 Mbps, making it challenging to share files efficiently from our location.
Singapore Server: This server delivered a download speed of 9.44 Mbps, or an 81% reduction from the baseline. Moreover, its upload speed was 2.30 Mbps, which was better than the result from the US server. Singapore is far from our testing location, but we've seen better results on many other VPNs. 
Australia Server: This one exhibited a substantial 84% reduction in download speed, reaching 7.90 Mbps, while the upload speed stood at 3.16 Mbps. Given the geographical distance between Australia and our physical location, we expected the results.
Italy Server: Despite being the closest server to our location, Urban VPN failed to meet our expectations. Our download speed plummeted to a mere 5.03 Mbps, representing a 90% reduction. To add to the disappointment, the upload speed crawled at an abysmal 0.07 Mbps.
| | | | |
| --- | --- | --- | --- |
| | Download Speed | Upload Speed | Speed Reduction |
| Baseline Speed | 48.9 Mbps | 32.6 Mbps | 0% |
| USA (New York) | 17.3 Mbps | 1.89 Mbps | 65% |
| UK (London) | 15.0 Mbps | 6.56 Mbps | 69% |
| Canada (Toronto) | 13.6 Mbps | 0.08 Mbps | 72% |
| Singapore  | 9.44 Mbps | 2.30 Mbps | 81% |
| Australia (Melbourne) | 7.90 Mbps | 3.16 Mbps | 84% |
| Italy (Milan) | 5.03 Mbps | 0.07 Mbps | 90% |
Based on our speed tests, Urban VPN made our Web connection slower by 77%. That means Urban VPN is one of the slowest VPN services around. Hence, we wouldn't recommend this provider. 
If you prioritize reliable and fast Internet connections, we suggest exploring superior VPN options like NordVPN to better meet your needs. 
Customer Support
Urban VPN doesn't provide any customer support whatsoever. Even their email support failed to respond to our inquiries, leaving us without assistance or guidance. Our Score: 1/10
Urban VPN's customer support is practically non-existent. There's no live chat on their site. Interestingly, there's a "Contact Us" option that you can access when you click on "Urban VPN for Business" located at the lower left corner of the homepage. We contacted them multiple times through this option, but they didn't respond.
Also, Urban VPN doesn't have any support articles or installation guides. At most, they have a 'Glossary' page that explains a few VPN terms (in a very crude manner). But those are just generic articles and don't offer any specific information about the service.
So, if you're experiencing problems with their VPN, you'll be left to deal with them alone.
Pricing
This VPN changes its pricing plans quite often. On top of that, its desktop apps are free at the moment, while its mobile apps use a freemium model. Our Score: 2/10
Urban VPN's desktop apps are free, with no cap on how much data you can use. Just set it up on as many devices as you want, and you're good to go. Interestingly, aside from its free mobile app, it also offers premium plans for iOS and Android devices. Here's what you need to know. 
How Much Is Urban VPN?
Urban VPN starts at $4.49 on Android devices. However, if you're interested in testing out Urban VPN's premium plan, they offer a complimentary 7-day free trial. This allows you to experience the benefits and features of the premium plan at no cost for a full week.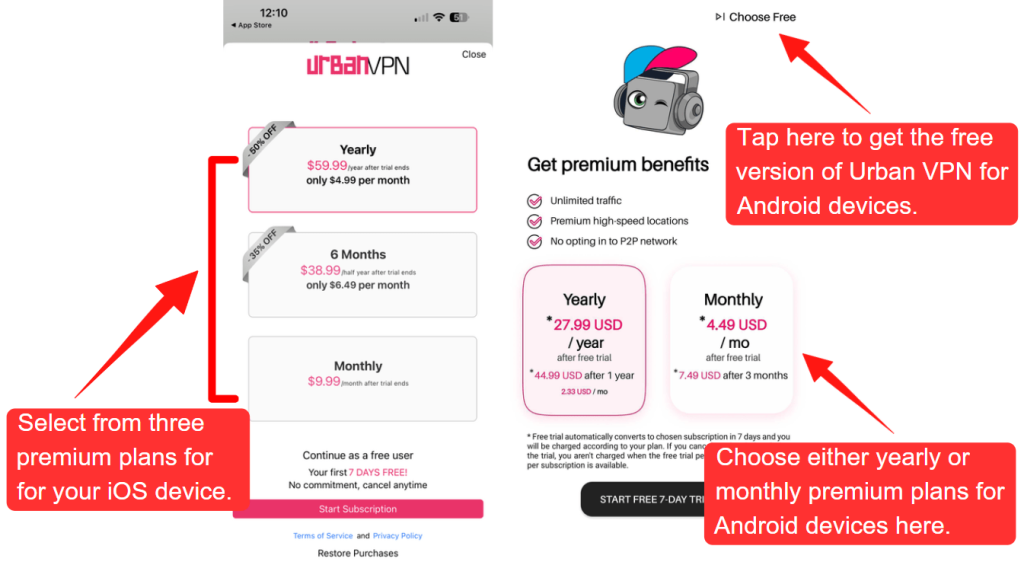 As you can see, Urban VPN has different pricing options in their mobile apps. This VPN also changes its pricing structure very often. So, for now, let's take a look at three premium plans available for iOS devices:
1-Month Plan: For those who prefer a month-to-month arrangement, it costs $9.99 per month, with no savings associated with this option.
6-Month Plan: If you're considering a longer commitment, the six-month plan is available at a total price of $38.99, which breaks down to $6.49 per month, offering you a savings of 35% compared to the monthly plan.
1-Year Plan: This is the most cost-effective option. Priced at $59.99 for the year, it brings the monthly cost down to $4.99, equating to a substantial savings of 50% relative to the standard monthly rate.
Choosing the yearly plan with Urban VPN offers significant value. It will save you a substantial 50% compared to the regular monthly rate. For payment, you'll be redirected to your respective app store to complete the payment process.
However, there's no mention of a 30-day money-back guarantee. Instead, you're given a 7-day free trial to test out the service. If you decide to cancel within the trial period, you won't incur any charges whatsoever. But if you fail to cancel, you won't be able to ask Urban VPN for a refund, as payments are processed by Apple and Google. 
You'll need to turn to Apple or Google, which are usually very strict when it comes to issuing refunds (you'll need to prove you made a purchase by accident). 
Is Urban VPN Free?
Urban VPN is a completely free service that requires no registration on the surface. 
On Android, you get all the server locations, but you're limited to 500 MB of data per day. On iOS, you have no data limitations, but you're limited to a handful of locations. There's also no customer support, and the barebones features are vulnerable to attacks. It's as reliable as a used car, and the connection speeds are slower than dial-up connections. 
Hitting the scene in 2018, it's a fresh fish in the sea of free VPNs. A lot of VPN companies use their free version as a hook to reel in customers to pay for a subscription. Urban VPN is playing the same game with its mobile users, but they're not being very consistent with their paid plans.
Final Thoughts - Do We Recommend Urban VPN?
No, we don't recommend Urban VPN at all. For free users, it uses a P2P network, which is very unsafe. Basically, people around the world can do illegal things on the Internet with your IP address.
The service isn't transparent about having industry-standard features like a kill switch, 256-bit AES encryption, and leak protection (and the support reps didn't answer our questions about that). What's more, they admit in their privacy policy that Urban VPN keeps logs of your IP address and browsing history as well as shares user data with their affiliates - even if you're a paid user.
Since their claims are also contradictory, we consider Urban VPN a shady service that puts your personal information at risk. Therefore, we strongly recommend avoiding this VPN.
For safety, privacy, and unblocking capabilities, you'd be better off subscribing to NordVPN. The provider is based outside the reach of government surveillance, doesn't leak data, and is transparent about its protocols and features. 
PROS
Completely free with lifetime access. 
Freemium pricing model.
Cross-platform availability.
Anti-mining and ad-blocker tools.
DNS/IPv6 leak protection.
Unlimited server switching.
Anti-ISP throttling.
Unlimited simultaneous connections. 
Free trial on premium subscriptions.
CONS
No live chat support.
Confirmed data logging.
No kill switch.
Unclear encryption and protocols.
Limited data on Android devices.
Slow and unreliable performance. 
Can't unblock streaming platforms.
Outdated interface. 
No fine-tuning at all.
FAQ
Does Urban VPN Work on Roblox?
Yes, Urban VPN works on Roblox. However, since it comes with unpredictable speeds, it's not the best option for gaming. To get the best bang for your buck, we recommend checking out our guide on the best VPN for Roblox.
Is Urban VPN Extension Safe?
No, Urban VPN extensions aren't safe. During our tests, we discovered that its extensions aren't the most reliable for hiding IP addresses. If you want to keep your IP hidden, its desktop app is your best bet.
Is There a Limit on Urban VPN Free?
Yes, there's a 500 MB data usage limit for Urban VPN Free on Android devices. However, no data limit applies when using Urban VPN on other mobile and desktop platforms.
Does Urban VPN Work for Netflix?
No, Urban VPN doesn't work for Netflix. It can't unblock content libraries of other countries, including the US. However, you can still access the Netflix library in your own country.