There are numerous reasons why Kodi is one of the favorite applications for millions of users around the world. This home theater software can be used as the ultimate source of entertainment. Just imagine having your entire collection of movies, TV shows, music, and photos stored in one place. Beyond that, you can use Kodi to stream online content and access a vast library of third-party data. Now imagine streaming those movies to your computer, smartphone, tablet, and even on your large-screen TV. All of those things are possible with Kodi, without a lot of tinkering. To help you get the most out of this amazing application, TechNadu has decided to bring you the Ultimate Kodi Guide.
The truth is that Kodi is a straightforward application. That might be visible as soon as you launch it since it brings an easy-to-use interface. However, you can find 'hidden treasures' behind every button and icon. You can learn these tricks only by reading an in-depth guide like this one. Don't worry, we will take you through the entire application, step-by-step.
Before we start with explanations of different features, let's take a moment to let you know what to expect. So, here's a series of quick jump links allowing to check various aspects of this application.
Disclaimer: The following software comes from official and unofficial sources. As such, it is publicly available and built for Kodi, which is based on open source software on its own. However, TechNadu doesn't take responsibility for how our users decide to utilize the following software. Furthermore, please note that we don't condone actions such as piracy or copyright infringement. Finally, TechNadu is in no way associated with the software mentioned on this page. Please read the above-said disclaimer carefully and make sure to use this software properly.
Without further ado, we're proud to present you our Ultimate Kodi Guide. Make sure to stay with us until the end of this article, and we're sure you'll become an expert user of Kodi!
First Things First - What is Kodi?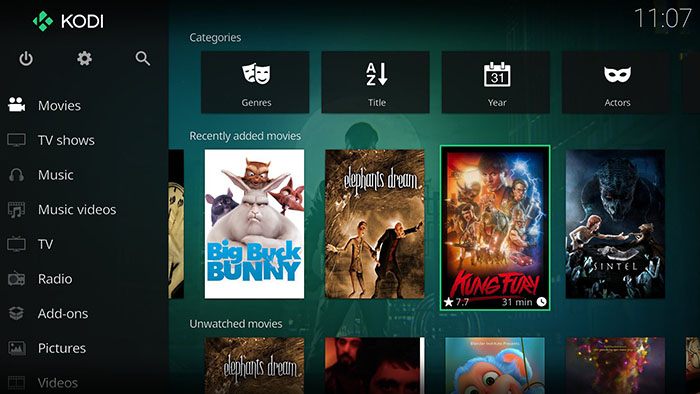 Kodi is one of the most popular home theater applications. It has been around close to 15 years now and went through a lengthy development process. It was initially conceived as an application that extended Xbox's capabilities. However, it didn't take long for Kodi (known as XBMC back then) to go beyond Microsoft's gaming console.
It's interesting to note that Kodi managed to fight other popular applications that already come preloaded with different operating systems. For example, OS X users had their iLife software until several years ago. Microsoft users can currently rely on different Windows 10 apps to play media. However, none of those applications are as powerful as Kodi. In fact, this is the only application that combines numerous different functions and allows users to play their entire collection of media files.
If you'd like to learn more about the basic features of Kodi, make sure to click on the provided link. This is where you'll learn about the basic terms you need to be aware of when using this application.
A Brief History of Kodi
The truth is that we could write a lengthy e-book on the development history of Kodi. However, we don't want to bother you that much. This is why we'll highlight some of the important dates related to this software.
October 2002: After working hard on building a brand-new media player, a team of two developers released the source code of their creation. These developers are Phil Burr and Albert Griscti-Soler. As soon as this happened, a large community of developers started experimenting with this code.
December 2003: The application was renamed from Xbox Media Player to Xbox Media Center. This change was needed because the original application outgrew Xbox and was transformed into an incredibly capable multimedia center. The first version of the Xbox Media Center was released in April 2004.
November 2008: A new name arrived – XBMC 'Atlantis'. By now, this was the eight-major version of this application. Soon after that, the XBMC Foundation was established. This organization exists even today with its primary purpose of collecting funds for the continued development efforts.
December 2010: Version 10.0 was released and brought one major change – third-party addons. Users were suddenly able to use add-ons from different developers around the world, expanding this software's capabilities.
December 2014: XBMC was renamed to Kodi, as we know this application today. One of the reasons for this change were legal troubles as a result of its previous name and its Xbox origins.
2014 - 2019: Kodi has been receiving regular updates via both major and incremental updates. More precisely, six major Kodi versions were released in this time frame. The latest version is Kodi v18 Leia, released not the long ago. And there are already signs of Kodi v19, which is currently under development.
Possible Uses of Kodi
You can use Kodi to store and organize your media library. We're talking about video files, music, photos, and more. Here's a quick overview of different file types supported by Kodi, including how to create your own media library.
Movies and TV Shows: You can use Kodi to store and organize your library of movies and TV shows. These files are presented via large artwork images along with detailed information about each entry.
Music: Kodi is a fully-functional music player. Once you get into this category, you will see that there are different ways to filter and sort music files. Album artworks are visible, along with information about artists, albums, and songs. Here's how to add music to Kodi.
Pictures: This is often one of Kodi's underutilized features. Instead of keeping your library of photos in a separate application, you can use Kodi to store libraries and create photo albums.
Live TV and PVR: Kodi is capable of acting as a TV box. You can watch live TV and even record movies and TV shows.
uPnP is a feature that connects two computers running Kodi so each computer can use another computer's content library. If you're willing to do some tinkering, this can be an amazing solution to double your content library.
Web Interfaces can be used within Kodi to connect to different services. For example, you can use them to install add-ons, connect to your home's media HUB that uses Wi-Fi, or connect a remote controller.
Addons, Skins, and Builds are third-party components. You can easily change how your Kodi looks like, as well as add different kinds of features and options not found in Kodi by default.
Is it Legal & Safe to Use Kodi?
During the last couple of years, we all have heard about numerous legal threats made against third-party Kodi developers and users of this application. In addition, numerous add-ons were forced to shut down due to legal reasons and some third-party Kodi developers got arrested. This is why numerous individuals are wondering if Kodi is legal and safe for use.
Let's break down this segment into two sections. This is because Kodi is comprised of two large components: its own code and third-party code.
Is Using Kodi Legal?
On its own, Kodi is legal and perfectly safe for use. Just like any application, you can download its installer, install the application, and use it without any restrictions. We assume you're interested in Kodi because you have a large library of media files on your computer. Many of us buy and download movies, TV shows, and music from different online marketplaces and keep those files stored. Kodi is simply a tool used to store those files, organize them, and play them.
Is It Legal to Use Kodi for Streaming?
This is a legal gray area of Kodi. You've probably heard that numerous add-ons for Kodi offer the latest movies and TV shows. In this manner, using Kodi to stream the latest movies is the same as using a torrent client to download those files. Still, it's important to understand that the law isn't clear about this and can be different in various countries.
Some countries strictly prohibit using pirated content. In this way, using Kodi to stream pirated content is considered illegal. However, other countries don't have clear laws regarding this. This is why streaming via Kodi is in the legal gray area.
As an important precautionary measure, a certain portion of Kodi users utilizes VPN applications. Continue reading to learn more about this type of software.
Should You Use a VPN While Using Kodi?
Virtual Private Networks have been in use for several decades now. Initially, they were used in large business organizations to connect remote workers to private servers. Different computers were able to communicate within one network and share files. However, this technology has evolved during the last decade.
When it comes to Kodi, VPNs are used to mask your Internet activity. This is how Kodi users can avoid legal troubles that come with streaming. Since VPNs are encrypted networks and connections, Internet Service Providers aren't able to see your Internet activity. Instead, they can only see how much data you have transferred, which isn't of special interest to anyone.
You should also know that this type of software has other benefits. First of all, it can protect you against malicious attacks. This is especially true for those who use open Wi-Fi networks or connect to the Web using Wi-Fis found in hotels. VPNs are also helpful when it comes to watching region-restricted content, which is of high value in countries with tightly controlled websites.
To make this Ultimate Kodi Guide more helpful, we'd like to give you several pieces of advice on how to choose a VPN:
No-Log Policies: It's in your best interest that your Web browsing data isn't stored on any server. After all, you are using a VPN to hide your online activities. Still, this shouldn't be a concern since VPNs typically guarantee the safety of your privacy.
Unlimited Bandwidth: Numerous VPNs that come free of charge don't offer unlimited bandwidth. This means that you can't use them freely without being afraid you'll go over the previously defined limit.
Fast Servers: Some VPNs can throttle your Internet connection by up to 50%. This is why it's imperative to know if a chosen VPN can guarantee that you'll maintain the speed of your Internet connection.
Encryption Standards: Make sure to know if your Web browsing will be encrypted. This is the basic function of every VPN, so go beyond that and learn what kinds of encryption standards will be employed.
TechNadu's preferred VPN application is ExpressVPN. We have been using it for a while now to keep our Internet connections safe and secure. However, there are other choices out there (like Torguard, NordVPN, and IPVanish). Feel free to check out some of the available options and decide for yourself. For a more in-depth approach, here's our article about the best VPNs for Kodi.
How to Install Kodi on Different Devices/Platforms?
As you are about to see in our Ultimate Kodi Guide, this software is compatible with every popular desktop and mobile platform. However, not every installation of Kodi is the same. This is why we have published a series of in-depth guides. Still, you don't need to be tech-savvy to install Kodi. Perhaps the most complicated method applies to Apple's iOS platform. Nonetheless, we are sure you'll manage to handle it if you use our guide.
What is important to know is that Kodi is being simultaneously developed for all supported platforms. This means that no matter what operating system you use, you will get the same Kodi version as any other user. So, here are TechNadu's guides to Kodi installations on different platforms:
When it comes to updating Kodi, you should know that this application doesn't have an automatic update tool. Instead, you'll have to download a new version and install it over your existing Kodi installation. In other words, make sure to come back to our installation guide once you're ready to update.
What Are Kodi Boxes?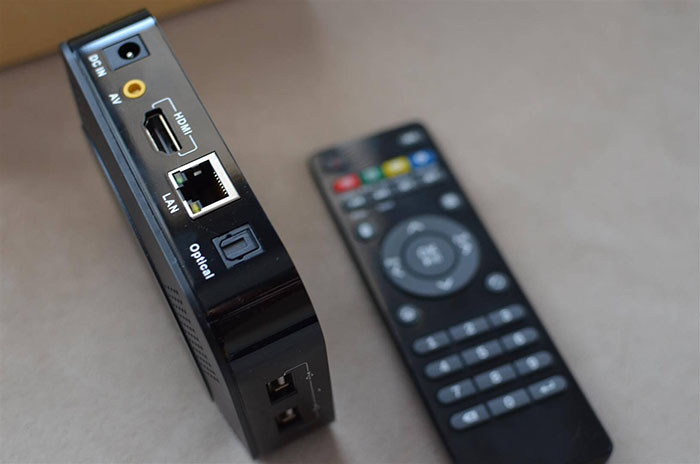 Another way to use Kodi is via Kodi hardware boxes. These are different kinds of devices that connect to your TV. A Kodi Box is a viable alternative to running this software on your computer if you want a dedicated home media device. What you also need to know is that they typically come with different kinds of remotes and controllers. This kind of input can enhance your user experience.
To check out the currently available Kodi Boxes, go to our in-depth guide on the best Kodi boxes. This is where you'll get to know currently popular devices that are capable of running Kodi.
How to Use Kodi (A Beginner's Guide)?
As we hope you'll realize by the end of this Ultimate Kodi Guide, this application is incredibly intuitive and easy to use. However, we believe you need some guidance to take advantage of every feature Kodi has to offer.
In general, there are several steps you need to make once you download Kodi. These can help you turn barebones Kodi into a powerful media center. Here's how to do that:
The first step consists of downloading and installing Kodi on your operating system;
Then, you need to import your local library of content to Kodi. This will allow you to use this application to organize and play different kinds of media files;
Next, don't forget to take advantage of third-party addons, skins, and builds. These can be used to enhance your user experience and optimize Kodi for differently sized screens and input methods.
Finally, make sure to check this application's settings. This is where you can fine-tune Kodi and adjust it to your needs. Some options can be disabled, while others can be utilized to gain better performance.
We won't go over those steps here but we'll explain them using additional resources found on TechNadu. This is because we will advise you to read our Beginner's Guide to Kodi. This comprehensive article will help you learn the basic terms and functions of Kodi. On top of that, this is where you'll learn some tips and tricks that can be used to optimize Kodi's performance.
What Are Kodi Repositories and Addons?
You've probably heard a lot about repositories and addons for Kodi. For many of you, we are sure this is the main reason for being interested in this application. You'll be happy to know that our editorial team at TechNadu has a lot of experience when it comes to this aspect of Kodi. This is why we'll include numerous helpful links in the segment of your Ultimate Kodi Guide.
First, let's take a look at what are repositories and what are add-ons:
Repositories, as their name says, are collections of different add-ons. First, you first need to install an online-based repository to your Kodi. Then, you need to access that repository within Kodi to install specific add-ons. For more information, here's our overview of the currently popular repositories.
Add-ons can be seen as applications for Kodi. Some of them provide access to different types of content, while others can be used as maintenance tools.
When it comes to trustworthy and fully-working add-ons, these are hard to find. This is why our Ultimate Kodi Guide will contain resources to our favorite collections of addons.
For more information, we recommend checking out the very best addons for Kodi. We try to keep this article updated at all times - so that's you'll find the most up to date information.
What are Kodi Skins and Builds?
Aside from using add-ons, you can customize Kodi in different ways. This is why we mustn't forget to mention skins and builds for this amazing application.
Skins are able to transform your Kodi's interface. They don't bring any new features but instead change the overall layout. However, it's impressive what some of the best Kodi skins can do. Note that some are more suitable for large screens, while others are great for smartphones and tablets.
Builds also change how your Kodi looks like. However, you can think of them as combinations of skins and builds. When you install a build, Kodi's interface will completely change. In addition, you will be granted access to different addons. And to explore the best options out there, we have a dedicated article to the best Kodi builds.
Troubleshooting: How to Fix Common Issues with Kodi?
Even though Kodi is a stable and reliable software, issues may arise at some point. The good news is that the majority of those can be fixed in under one minute.
Some of the most frequent issues are connected to streaming. For example, when a stream doesn't start playing or when it has problems with buffering. This is why you need a helpful guide that can be used to help you to troubleshoot. We are proud to include our own Kodi Troubleshooting Guide as part of TechNadu's Ultimate Kodi Guide. This guide is trying to explain the causes of different issues, as well as to provide a number of different solutions.
We'd also like to add that you need to take proper care of your Kodi. This includes running maintenance scripts and clearing out junk files. One of the most useful maintenance add-ons is Indigo. Use the provided link to learn how to add Indigo as well as what kinds of features it brings.
We also know that many of you have encountered a 'Failed to Install a Dependency' issue. In case you're one of those Kodi users, don't forget to check out the recommended link.
How to Find & Reach Other Kodi Users?
Hundreds of thousands of individuals use Kodi on a daily basis. This is why you can find active online communities of Kodi users. It's interesting to note that these communities can be quite helpful. This is where you can learn about the latest Kodi addons. Furthermore, your fellow Kodi users are more than happy to help you with any technical difficulties.
Here are some of the most active communities:
Official Community Forum: With over 300,000 registered users, there's always something interesting to check out. This is the official forum of Kodi, where people share ideas about possible uses of Kodi. In addition, this is where you can see the latest announcement from the development team behind this software.
Reddit – Kodi: If you are a regular Reddit user, this option might seem like the best idea to get involved. However, this community is about the official Kodi add-ons. If you're looking to connect with developers of third-party addons, check out our next suggestion.
Reddit – Kodi Addons: This is where you can discuss third-party addons. Around 40,000 users participate on a monthly basis, which means there's always something new to learn.
This is where we'd like to conclude our Ultimate Kodi Guide. We sincerely hope that we managed to cover everything you want to know about this home theater software. We also hope that you used links placed throughout this article for additional resources found on TechNadu.
Is there anything you'd like to add? If there's something unclear or if you're having issues with Kodi, don't hesitate to let us know. Post a comment, and you'll receive an answer from our editorial team. And finally, make sure to follow us via our social media profiles, so make sure to like us on Facebook and Twitter.