As said in our expert guide to Kodi, this application can easily become your family's entertainment hub. And we don't have to tell you that Netflix is one of the world's most popular streaming platforms. Therefore, it's not surprising to know that you can combine these two ultra-powerful platforms in a very seamless very. So, how to get such a huge video library on your device? Or better said – how to install Netflix on Kodi in 2020? Don't worry, we'll tell you all you need to know!
First of all, we have a few important pointers for you. The following Netflix addon for Kodi is completely legal – considering that it uses your existing Netflix subscription. And also, you need to have the latest version of Kodi to make this addon work. In case you didn't know, we're talking about Kodi 18 Leia. So, make sure to learn how to update Kodi (the safe way) – and we strongly recommend installing Kodi 18.6 Leia, which is the latest available version of this application.
And finally, one more note. The following addon works on all Kodi-compatible systems – except on AppleTV (tvOS) devices. That's because Kodi 18 isn't yet fully supported by tvOS, and we have no information about whether this will happen in the future. So finally, let's start talking about installing and using Netflix on Kodi.
Before we proceed further, we have a word of caution for you. Our strong advice is to make sure you're using Kodi safely and legally. With this said, we want you to read our In this article, we are talking about Kodi and this application's official and unofficial addons – all of which are based on open-source code. Addons for Kodi can come from the official source (you can install them via Kodi itself), or they can be hosted by third-party sources (such as GitHub, for example). In addition, Kodi and its addons are publicly available and free of charge.

TechNadu doesn't claim any responsibility for how our readers decide to utilize the following software. Please note that we don't condone sharing pirated content and copyright infringement. TechNadu is not affiliated with the software mentioned in this article in no way.

Make sure to carefully read everything said in this disclaimer and ensure the proper use of the software.
disclaimer as well as the following warning message.
WARNING: When Using Kodi, Make Sure to Always Use a VPN!
Without a VPN, you will be facing many obstacles when using Kodi. Aside from encountering blocked content, you're also putting your privacy at risk. With this said, here's why you MUST use a VPN while using Kodi:
Kodi Imposes Geo-Restrictions: Numerous Kodi addons are restricted to certain countries only. By checking your IP address, these addons can block access to their content, which means that you're missing out on a vast media library. A VPN resolves this problem by giving you a virtual IP address associated with a different country. For this purpose, we recommend getting a US IP or a UK IP address – as the majority of Kodi addons are restricted to these two countries.
Your ISP is Watching Your Every Move: Without a VPN, your ISP collects all your Web data. This includes your Web search history, any websites you visit, and any media streaming services you use. Kodi is a media streaming application, which means that many of you will face ISP-imposed throttling, as a result. By hiding your Web traffic via a VPN service, you can make sure that your ISP doesn't know what you're doing online – and enjoy the full speed of your Web connection.
You're Putting Your Device's Safety at Risk: Be very careful about which Kodi addons you install. Third-party sources can often lead to malware and cryptocurrency trojans, exploiting your private data and your device's resources. With this said, know that VPNs reduce the risk of you getting infected with malware by implementing website blacklists. They don't completely stop malware, but they can block access to malicious websites by using often-updated lists of dangerous websites (supplied by antivirus vendors). This is especially handy in the world of unofficial Kodi addons.
Once again, be very careful while using Kodi – and think about your privacy and digital security. A reliable VPN helps you secure and improve your Web connection, unblocks everything that Kodi offers, and takes care of your privacy. And per our extensive hands-on tests, we highly recommend you use ExpressVPN – the best VPN for Kodi at the moment.
LIMITED TIME OFFER: For our readers, we've prepared an exceptional deal. You can now save 49% on ExpressVPN – and get three additional months for free!
6 Steps to Install Netflix on Kodi in 2020
Let's talk about what you want to know. The following guide will teach you how to install Netflix on Kodi in 6 simple steps.
First and foremost, make sure to enable 'Unknown Sources' on your Kodi. Click on the provided link for our easy step-by-step guide. Then, return to this article and go through the following steps.
Now, visit this GitHub page. Scroll down until you see a segment called 'Installation & Updates'. From there, download the CastagnaIT repository (it comes as a ZIP file).
Launch Kodi and click on 'Add-ons' using the main menu. Then, click on the 'Open Box' icon in the top-left corner, just below the logo of this application.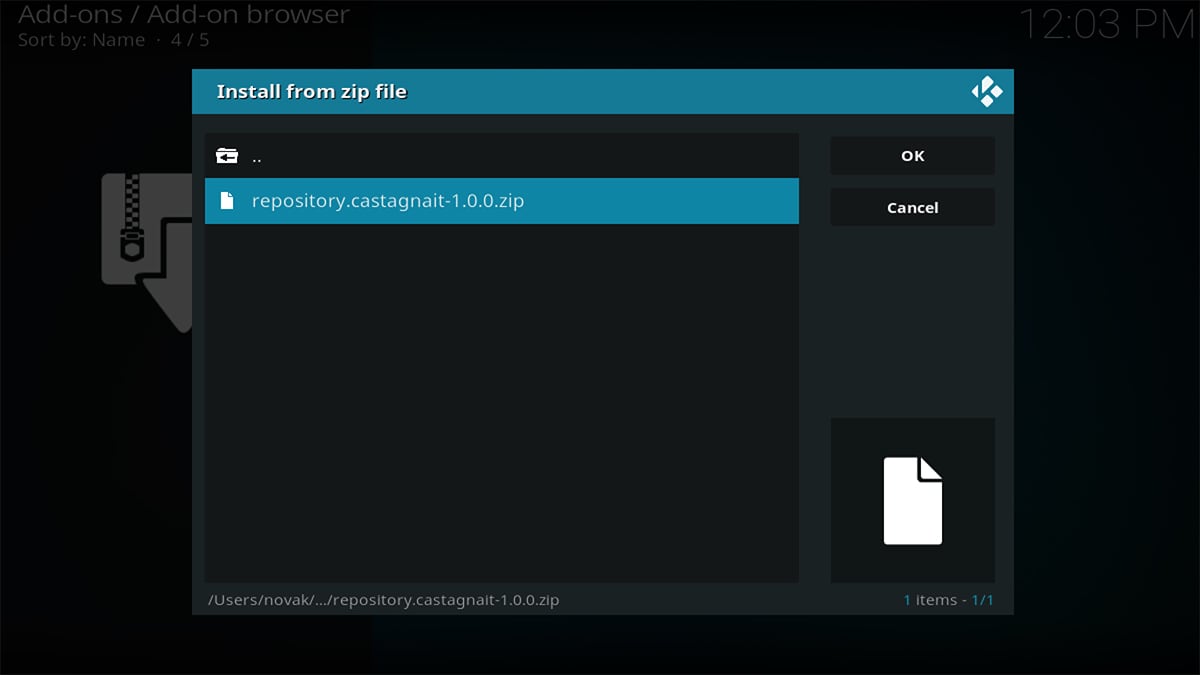 Select 'Install from ZIP file' and then navigate to the file you've downloaded moments ago (the ZIP file). Once you find it, click on the file to install the addon. We understand that some of you aren't using Kodi on a computer. So, if you use it on a media streaming device, make sure to read this entire article, as we'll explain how to transfer the ZIP file to your media streamer (like the Amazon Fire TV, for example).
Then, select 'Install from Repository' and navigate to CastagnaIT Repository > Video Add-ons > Netflix. Click on the 'Install' button to finalize the process.
Go ahead and open the Netflix addon on your Kodi. Input your email and your password, and you'll get to see your Netflix library. The first time you start playing a video file, you might be asked to install two additional repositories. Make sure to install both of these (this will happen automatically, without much input needed) and agree to the terms of use you'll see on your screen. That's it!
Important Note (Fire TV / Android TV): As you can see, the previously explained method requires downloading a ZIP file. However, that can be a problem on devices such as Amazon Fire TV and Fire TV Stick. That's because these don't have a USB port that would let you easily transfer the Netflix Kodi addon to your device. However, there's a solution:
First, make sure to download the ES File Explorer on your media streaming device.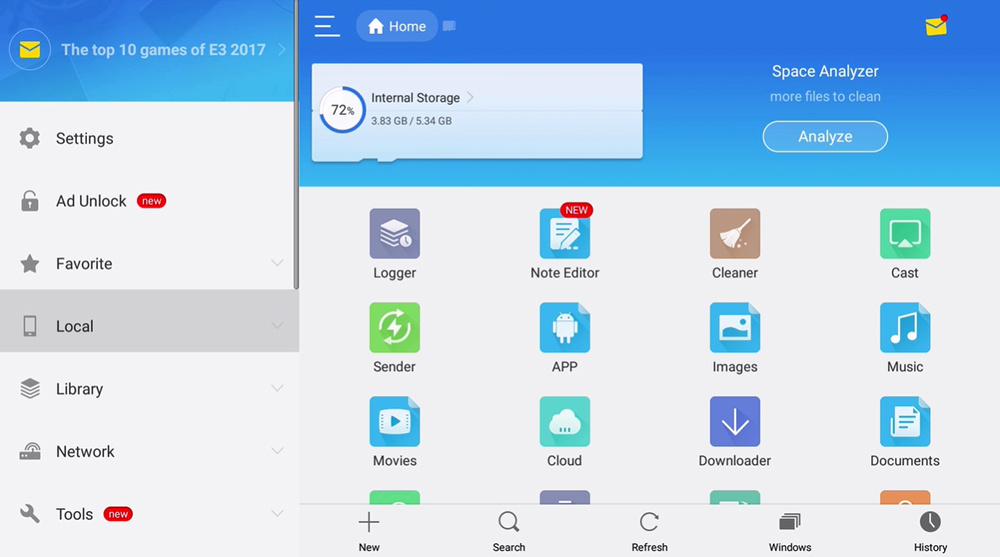 Then, open the app and activate the 'Remote Manager' using the 'Network' tab.
Click on the prominent 'Turn ON' button to enable the Wi-Fi transfer method. Also, make sure that your computer and your media streaming device are both connected to the same Wi-Fi network (such as your home Wi-Fi network).
Make sure to write down the IP address that you'll see here;
Now, download FileZilla to your Windows PC or macOS computer (you'll use this application to send the required ZIP file).
Finally, create a new connection via FileZilla by typing the IP address that you've previously seen (in the 'Host' field – top-left corner). This will connect your computer and your media streaming device, so you can easily transfer any file.
Dear readers, this is where we conclude our article on how to install Netflix on Kodi in 2020. In case of any questions or technical difficulties, feel free to post a comment below. And finally, enjoy using Kodi!