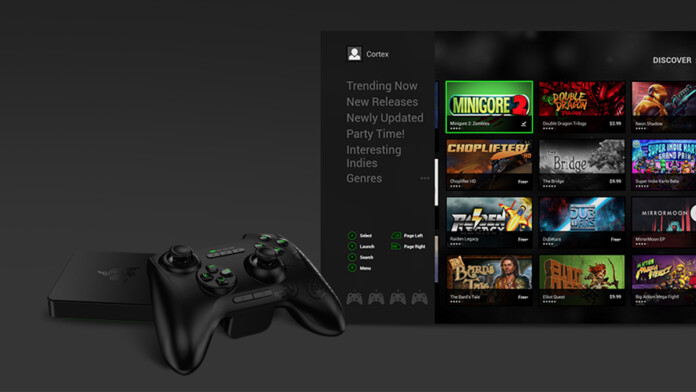 In case you've ever browsed high-quality gaming equipment on the Web, you've probably encountered products made by Razer. This company is a well-known manufacturer of high-performing keyboards, headsets, equipment for gaming consoles, and everything else in between. On top of that, Razer offers its own laptops designed for those who want speedy performance and high build quality. Among the currently offered products, you can find the Forge TV. This is Razer's media streaming device that is powered by Android. Naturally, this is the reason why many of you want to know if Kodi runs on this device. We wanted to answer this question by providing an in-depth guide on how to install Kodi on Razer Forge TV.
First, we'll talk about the differences and similarities between Kodi and Razer's media streamer. In case you're not sure what they can do, this is the place to start. Then, we'll provide an installation method that will allow you to use this home theater software with the Forge TV. Finally, we'll conclude this guide by providing valuable resources on how to get the most out of Kodi on your Razer Forge TV. Without further ado, let's jump right in.
Before getting started, we strictly recommend you to be safe while using Kodi. Therefore, we want you to read the We will be talking about software developed for Kodi – which is based on open-source code. However, the following software comes from unofficial third-parties. In addition, it is publicly available and free of charge. TechNadu doesn't claim any responsibility for how our readers decide to utilize the following software. Please note that we don't condone sharing pirated content and copyright infringement. TechNadu is not affiliated with the software mentioned in this article in no way. Make sure to carefully read the above-said disclaimer and ensure the proper use of the software.
disclaimer and WARNING notice found below.
Warning: Why you must NOT USE Kodi without VPN?
Here are the reasons that you should consider looking at it without SKIPPING.
Using ILLEGAL Kodi Addons are Dangerous without a VPN: Most of the Kodi users are installing the ILLEGAL Kodi addons on their system to access all the latest movies, TV shows, sports, music, and much more for FREE, than a legal Kodi addons where it has the least content in it. But do you know what? The video content on illegal addons are a scraped and copyrighted material. If you are accessing them on Kodi, then your activities will be monitored by your ISP by tracking your IP and gives all the information to the government or companies if they request for it. This will land you in trouble. To stay away from this, you will have to connect to a VPN where it hides your identity by rotating your IP address while streaming Kodi content. This is how you will be safe from the prying eyes.
Bypass Geo-Restriction: As you probably know, some official addons like BBC iPlayer, NBC Sports, Hulu, IceFilms have geo-location restrictions. This also applies to other addons like Acestream which fetches the data from torrents. To unblock these restrictions, you will have to DEFINITELY use a VPN no matter what.
The above are the 2 reasons that forcing us to recommend a VPN to the Kodi users for safer streaming. In fact, after testing several VPNs for Kodi, we finally came up with a one non-stop solution and that is ExpressVPN, the top rated Kodi VPN so far.
Limited Time Offer: For our TechNadu readers, there is a 49% OFF on ExpressVPN which includes 3 FREE Months in it.
Kodi on Razer Forge TV: Overview
First of all, it's important to know what is Kodi and how is it different from Razer Forge TV. If you plan on investing in this device, it's a good idea to read this first couple of paragraphs. If you're looking for viable alternatives, we also recommend reading our articles about Kodi on Apple TV, or about running Kodi on Nvidia Shield TV. Lastly, maybe you don't need to invest in Razer's streamer if you have a Smart TV capable of running Kodi. If you want to know more about Kodi and Razer Forge TV, keep on reading.
What is Kodi?
Kodi is being advertised as a home theater software. You might be wondering what this term exactly means? Well, it means that Kodi is capable of storing, organizing, and playing almost every kind of media files. This includes movies, TV shows, music, photos, and anything in between.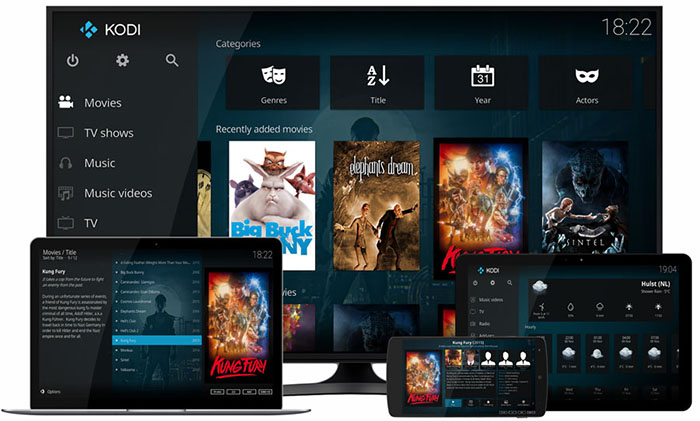 The biggest benefit of using Kodi is that it replaces (or combines) many different apps. If you're using Windows 10, for example, you might be using the Photos app to store images and videos. In addition, you might be using an application like VLC Player to play movies and DVDs. What this means is that you're probably keeping your media files scattered across your computer. If you switch to Kodi, you'll be able of keeping those files within this application. This makes it easy to organize your content library. On top of that, you can use Kodi on your smartphone, tablet, computer, or your TV.
Finally, it's important to remember that Kodi has always been free-of-charge. As its developers often say, this application will keep its status as a free application in the future as well. What this also means is that you shouldn't pay for Kodi – even if you find it on different App Stores as a premium-priced app. Those are different distributions of Kodi – not the official application.
Kodi: Supported Platforms
Kodi's team of developers is hard at work on building different versions for different operating systems. As we said earlier, Kodi can be run on smartphones, tablets, computers, and TVs. These devices are powered by operating systems like Windows, MacOS, Android, iOS, and Linux – which means that Kodi is compatible with all of those platforms. Let's take a closer look at this aspect of Kodi:
What is Razer Forge TV?
Razer Forge TV is a micro-console powered by Android. When it comes to its design, this is a simple black box measuring 4.1 x 4×1 x 0.7 inches. This means that you probably won't notice it when you see it. However, it comes with capable internals powerful enough to run even the most demanding Android games. Let's take a look at this device's specification:
Processor: 2.7 GHz Snapdragon 805;
RAM: 2GB;
Storage: 16GB;
Connectivity: Bluetooth, Wi-Fi, Gigabit Ethernet;
Ports: One HMDI output, USB 3.0, DC Power;
Operating System: Android 5.1 Lollipop.
In case you're acquainted with the recently released flagship smartphones, you know that they bring even better specs than the Razer Forge TV. However, this isn't a smartphone – but instead a capable media streamer.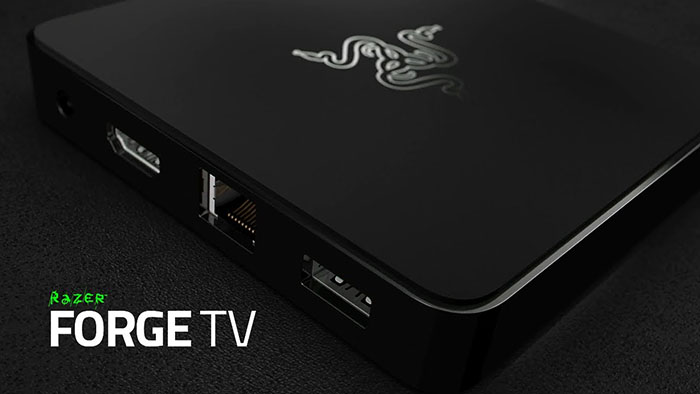 Another important side to Razer Forge TV is its Bluetooth controller named Serval. This controller is what makes this device stand out since it's built upon Razer's Sabretooth controller. In addition, you can also use a wireless keyboard and mouse to control this device. This translates to effortless navigation when it comes to Kodi and its numerous input methods.
What is also important to be said is that you can count on a Razer Cortex. This service allows you to stream games from your PC – which means you don't have to count on Android games. If you have a library of PC games, you can revive them on your large-screen TV.
Interested in Buying The Razer Forge TV?
This device is approximately 18 months old and comes in a single version. The truth is that Razer's fans expected more from Forge TV – at least in terms of gaming. This is why we're unsure if we'll see a second-generation device anytime soon.
You can buy the Razer Forge TV for $124.99. However, do yourself a favor and search the Web. You can occasionally find amazing discounts. Just a few months ago, this device was discounted 50% – which is an amazing price if you just want to install Kodi on Razer Forge TV.
How to Install Kodi on Razer Forge TV?
If you continue reading, you'll get to learn about possible ways to use Kodi on Razer's streamer. However, there's something important you need to know. Sadly, there's no way to install Kodi from the Play Store on this device. Continue reading to learn more.
Important Note
Maybe you've heard rumors about Kodi not being available on Razer Forge TV. We are sad to inform you that those rumors are true. However, this might be even more confusing if you know that you can use Google's Play Store on this device. Let's clarify this.
Android TV devices and set-top boxes typically use a different version of the Google Play Store. This action is needed to make sure that the offered applications are fully-functional. Just imagine having an Android TV device with millions of applications available – but you need to search for those that are compatible with your device. You can see how tedious and time-consuming this could be? This is why there are different versions of the Play Store. For some unknown reasons, Kodi isn't a part of Razer's App Store.
Nonetheless, there is a solution! If you continue reading, you will learn how to install Kodi on Razer Forge TV manually. Let's proceed.
Installation Method
Finally, we'll tell you how to install Kodi on Razer Forge TV. We'll be using a tool that developers usually use. This tool will help us to 'sideload' Kodi on this device and use it just like on any other platforms.
Step #1: Install Android ADB
In case you like to tinker with Android devices, you've probably heard about Android ADB. Android Debug Bridge is used to send a wide range of terminal controls to your phone, tablet, or any other device. However, you will need to have debugging enabled on your device. Don't worry, we'll tell you how to do this.
First, you need to install Android ADB based on what operating system you're using:
If you click on any of the above-placed links, you'll start a new download automatically. We have included Google's links that are frequently updated with new features and capabilities.
Step #2: Enable Developer Options
Next, we need to enable developer options on your Razer Forge TV device. Use the following steps:
Power your device on and you'll see its Home Screen. From there, go to Settings;
Now scroll down until you see 'About'. Click on this option;
Once again, scroll down until you see an entry named 'Build Number'. Click on it – and you'll need to click several times. Finally, you'll see a message that says 'Developer Mode Has Been Unlocked'.
Step #3: Enable ADB Debugging
As we told you previously, we need to enable ADB debugging on Razer Forge TV. Then, we'll use the ADB Tool on a computer to execute certain commands.
On your Forge TV, go to Settings from the Home Screen;
Under 'Preferences', scroll all the way down until you see 'Developer Options';
Now select 'Debugging';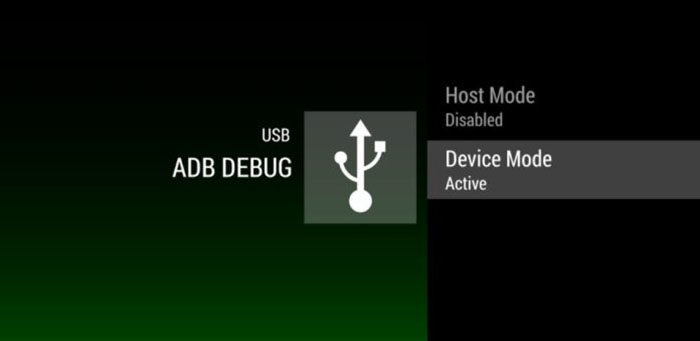 Finally, pick 'USB/ADB Debugging;'
Now you'll need to connect your Razer Forge TV to your computer using a USB cable. Launch the ADB Tool and ensure that the connection is working.
Step #4: Unknown Sources
Before we install Kodi on Razer Forge TV, we need to make sure your device recognizes unknown sources. This is an important prerequisite since Forge TV won't allow you to install Kodi if you missed doing this.
Go back to the Home Screen on your Razer Forge TV, and then go to Settings;
Select 'Security';
Finally, make sure that the option 'Unknown Sources' is enabled (on);
Step #5: Download Kodi to Your Computer
To download the latest version of Kodi, do the following:
Go to Kodi's official website from here;
Find a blue button that says 'Download' on the left side of the screen. Click on it;
Scroll down until you see the Android logo. Click on this logo;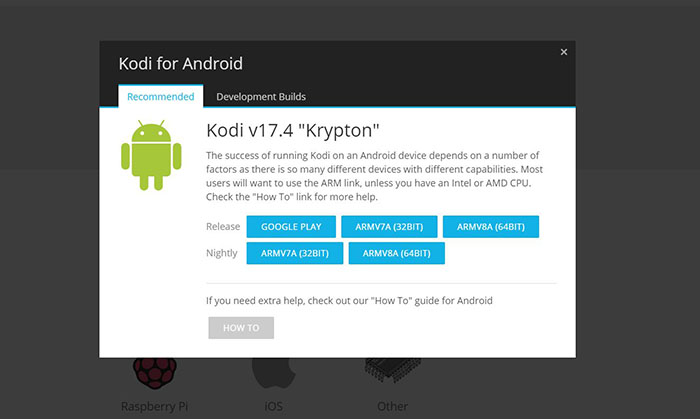 Now, make sure to download the 'ARMV7A (32BIT)' file. In case you fail to install Kodi, you can try a development build – use the top-placed tab and download 'ARMV7A (32BIT)' file;
Wait until Kodi's APK file downloads to your computer and then proceed.
Step #6: Install Kodi on Razer Forge TV
Finally, we can proceed with installing Kodi. Here's in-depth guide:
Make sure your Razer Forge TV is connected to your computer via USB port;
Use the ADB tool to make a connection to your Forge TV. Run 'adb usb' from the command line on your computer;
If you see a message that your device is unauthorized, run 'adb devices' command;
To finalize the procedure, run 'adb install <path to Kodi's file>' on the command line. Make sure to use the correct path to where Kodi's file is downloaded.
Step #7: Troubleshooting
In some cases, you will see that Kodi is missing – even though it's installed on your Forge TV. If this happens, you'll need to use the Sideload Launcher.
First, go to the Google Play Store and search for 'Sideload Launcher';
Once the app is downloaded, reboot your Forge TV device;
Finally, launch this application and you should see Kodi as one of the available applications.
Kodi on Razer Forge TV: What's Next?
We hope that you managed to install Kodi. Now, we'd like to show you what's next. We recommend checking out different fully-working add-ons, builds, and skins to enhance your user experience. All three of these links will let you visit our frequently updated articles where you can find fully-working options.
You know how they say – never stop learning! This is why we recommend reading our guides about Kodi where you can learn all you need to know.
If you're an inexperienced user, head over to A Beginner's Guide to Kodi. Learn all you need to know about setting up this application and installing add-ons, skins, and builds;
To expand your knowledge with helpful tips and tricks, we recommend reading the Ultimate Kodi Guide. This is where we talk about advanced topics and hidden features of Kodi.
Finally, TechNadu's Troubleshooting Guide to Kodi can be of help if you're facing technical issues.
Final Thoughts
We're sad to say that you can't install Kodi from the Play Store. Instead, you'll need to use a more complicated method described in this article. Still, this is the only way to run Kodi on Razer Forge TV. In case you have to say, use the comments section below. We'd love to hear your opinion on using Kodi on Razer Forge TV. What are your experiences? Have you encountered any difficulties?
Before we let you go, we'd like to ask you to share this article online. Also, don't forget to follow us on Facebook and Twitter. Let's stay in touch!