The reason why many add-ons no longer work on Kodi (v19.0 'Matrix') is due to Python 3 (replacing support for Python 2). 
Kodi's transition to Python 3 was unveiled back in 2018, giving developers plenty of time to update their software creations.
If you've already upgraded to Kodi v19, downgrading to an earlier version is still possible – but in very few cases.
Close to a month ago, Kodi v19.0 'Matrix' was released after an extensive development period. However, even though the release of the latest Kodi version didn't exactly come out of the blue, it didn't go smooth either. The reason for that was a significant shift in Kodi's code, making the latest version incompatible with the majority of third-party add-ons.
As one could expect, that shift caused massive confusion among Kodi users, who were suddenly left without their favorite add-ons. Naturally, this led to an outrage causing Kodi users to leave negative reviews across different App Stores, prompting Kodi's developers to now respond.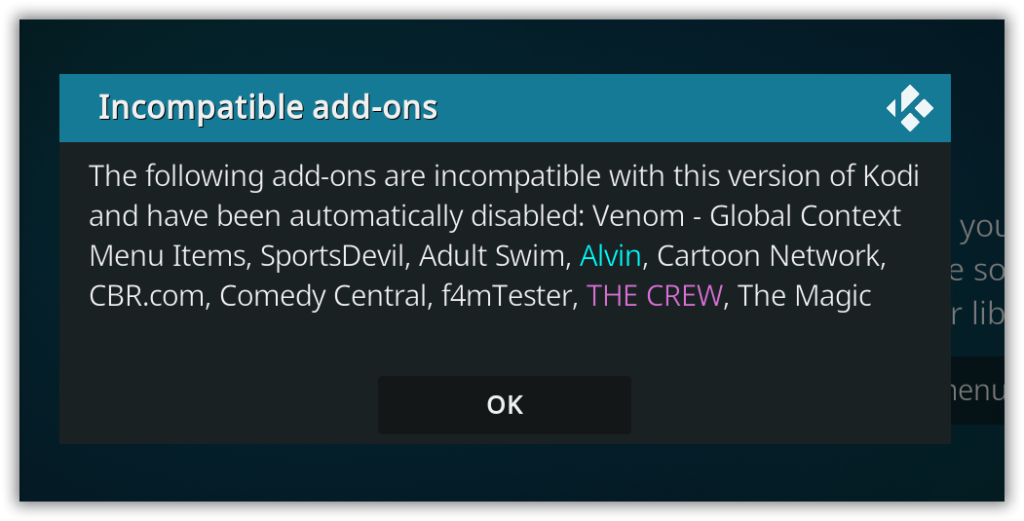 Using a freshly published blog post, Kodi's development team has tried to explain this situation, providing some background information on the development process behind Kodi 19.0 'Matrix.' And as already noted in the past, the main reason why v19.0 is incompatible with many add-ons is due to its support for Python 3 (replacing Kodi's support for Python 2). 
It's interesting to note that we saw the first signs of Kodi 19 back in 2018, even before Kodi 18 was officially released. That same year, it was also announced that Kodi 19 would support Python 3, replacing the previous version's support for Python 2. Numerous reasons were listed back then, and they're valid even today, as explained below. 
Python 2 has reached its end-of-life, which means that it's no longer under active development. That makes Python 2 vulnerable to exploits, causing operating systems and other software infrastructure types to adopt Python 3 instead.
When it comes to Python 3, this programming language isn't exactly new. It has been in development for many years now, and it receives regular updates.
Since Kodi's support for Python 3 was announced in 2018, that means that third-party developers have had three years to update their software creations. Some Kodi 18 builds came with a Python 3 interpreter, providing third-party developers with tools to build and test their add-ons. 
Therefore, it can't be said that Kodi v19.0 'Matrix' came out of nowhere. This version of Kodi was in developers for years, which is why the claims that Kodi's developers are making today seem justifiable. Of course, that doesn't mean much if you've already upgraded to Kodi v19.0, so the general resentment on the part of Kodi's users will be noticeable for a while longer.
As per Kodi's developers, you should not update to Kodi v19.0 if you rely on add-ons heavily. With that said, you should check your operating system's settings and see if you can disable auto-updates. However, if you've already updated (willingly or not), there's a chance you might downgrade to Kodi 18.9 without losing your media library. However, that path is available in a very limited range of cases. 
In the end, if you already use Kodi v19.0 'Matrix,' it might be best to build your library of add-ons from scratch. We can help you with that, and we recommend our overview of the best Kodi addons in 2021. You can also find freshly updated overviews of the best Kodi addons for movies, TV shows, live TV, live sports, documentaries, gaming, music, and plenty more. All of those articles bring nothing but legal and safe-to-use add-ons, many of which are compatible with Kodi 19 as well.