Do you want to secure your complete web activity on your iOS devices? Well, your iPhone may have strong security by default, but the data on your iPad, iPod Touch, or Apple watch is not secured from snoopers. That's why you must install CyberGhost VPN on your iOS device to enjoy impenetrable security whenever you're online. So, without further ado, let's have a look at our guide on how to download, install, and use CyberGhost VPN on iOS.
To download CyberGhost native client for iOS, you need a device running iOS 13 or newer versions. 
1. First, tap here to visit the CyberGhost VPN subscription page.
2. Next, tap the Get CyberGhost VPN button.
3. Now, choose your preferred subscription and fill in the required details to complete your purchase.
4. You'll receive a confirmation email next, comprising your login credentials.
5. Once done, go to the App Store and type CyberGhost VPN in the search bar.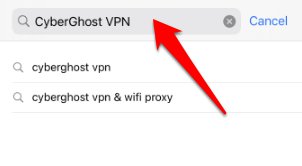 6. Next, choose "VPN by CyberGhost - WiFi Proxy" from the search results and tap on the GET button.
7. When the installation ends, tap OPEN and launch the CyberGhost VPN app.
8. Upon launching, its privacy policy will come up; tap on the Agree & continue button.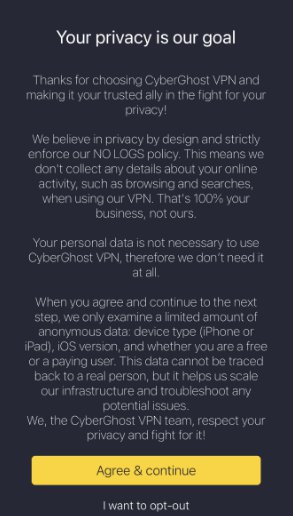 9. On the next screen, tap on 'I already have an account' to continue further.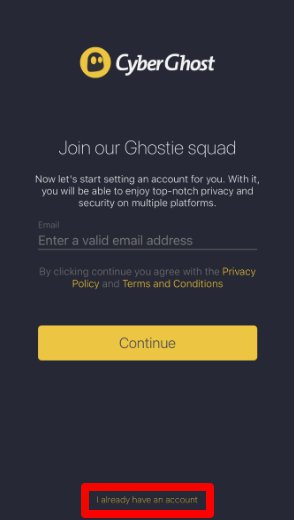 10. Now, put your Username and Password in the given place and hit the Login button to access your dashboard.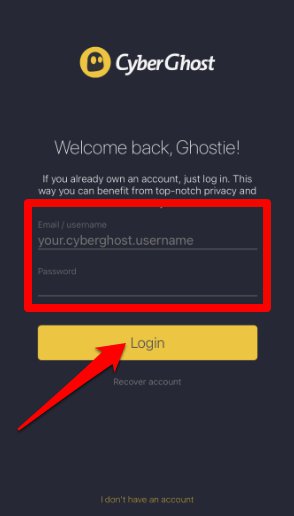 11. CyberGhost will ask you to turn on the push notification for better protection; tap the Enable notifications button.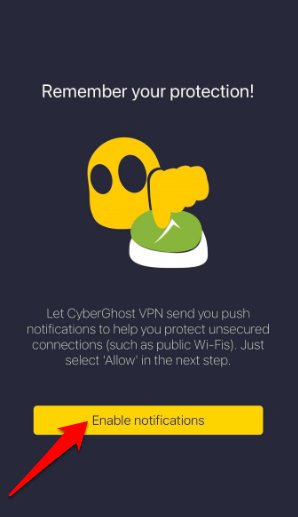 12. Now, on the control screen, tap the Power button to initiate a connection.
13. At this point, you'll receive a notification for confirmation since you're setting up the VPN connection for the first time; tap the Allow button.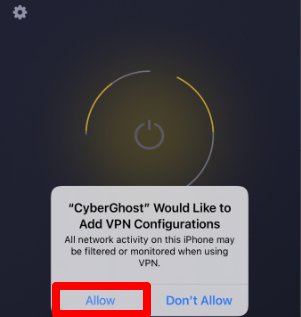 14. When the Power button turns yellow, your status will be connected.
CyberGhost VPN will connect you automatically to the best location. So, if you prefer to connect to another country, follow the below steps.
15. To return from an already connected country server, tap the 'X' sign right after the country name.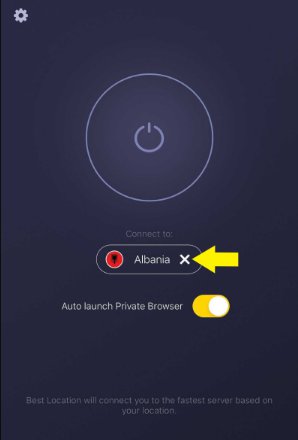 16. Now, click the Best location button to preview the list of all countries where CyberGhost VPN servers are available. 
17. Next, tap on the country name where you want to connect and tap the Power button.
18. Finally, the Power button will turn yellow, and your status will be connected.  
If you want the CyberGhost VPN app for iOS to launch a private browser automatically whenever you search something on the web, toggle on the bar next to 'Auto launch Private Browser'. Doing so will keep your search records, browsing history, and cookies from getting stored. 
That's all! Now you've learned how to download, install, and use CyberGhost VPN on iOS. If you own multiple devices running on different platforms, check out our complete CyberGhost VPN setup guide and enjoy VPN security on all supported devices. Thanks for reading! For further queries, use the below comment button.