In spite of stringent country laws, downloading games or movies via P2P networks is quite popular worldwide. Nevertheless, it's important to have a secured connection while sharing or downloading any torrent file, and that's where a P2P VPN comes into play. Among all the best VPNs for torrenting, CyberGhost is such a provider that offers state-of-the-art security measures at a comparatively low price. But is CyberGhost VPN good for torrenting? 
Well, we've tested this VPN for downloading torrent files in different locations and learned how CyberGhost functions as a torrent VPN, and now we're ready to present to you our findings. So scroll down to know whether or not you can use this VPN for the maximum security and anonymity you need while torrenting.
Technadu doesn't condone the use of a VPN for illegal torrenting. This guide has been prepared with the sole intention of assisting legitimate torrent usage with added security.
Does CyberGhost VPN Support Torrenting?
Yes, CyberGhost VPN does support torrenting. In fact, it offers dedicated P2P servers in multiple locations to help you with fast and safe torrent downloads. All CyberGhost native applications come with a separate section where you can easily find the list of suitable server locations for downloading any file or content. These servers are fully optimized to render high speed and unblock any torrent website (e.g., Pirate Bay, RARBG, 1337x) you want, no matter what torrent client you're using.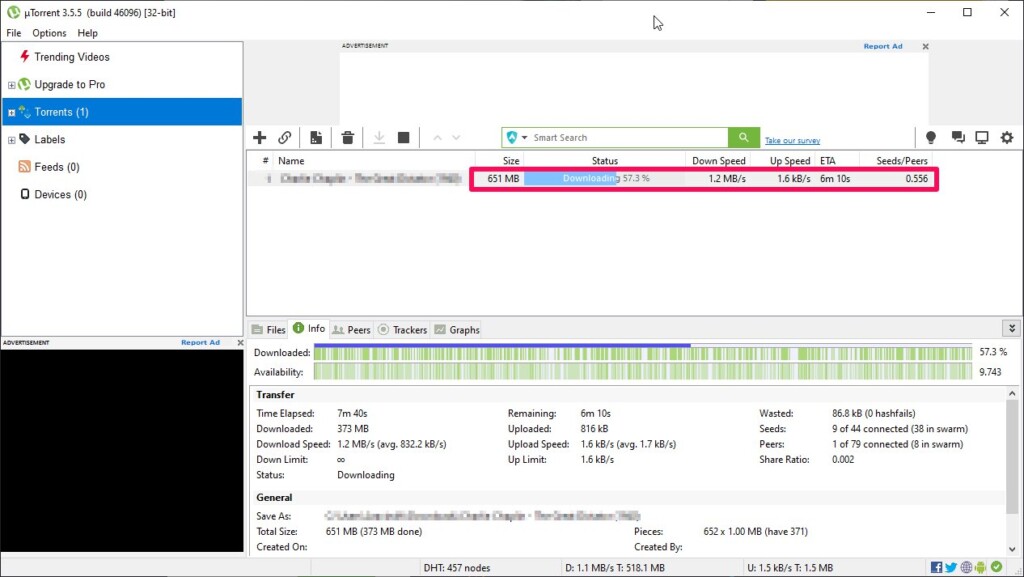 With CyberGhost VPN, you can download location-restricted music, videos, movies, games, and more by hiding your real IP and location while using a virtual one. Moreover, you get blazing fast connections while using one of these servers that help you download large files in minutes. And, the CyberGhost applications show if a server is full and the distance of its location to help you easily choose the less-crowded and nearest server as per your requirements.
Since it's established that CyberGhost VPN supports torrenting, it's time to know whether or not you should use this VPN for the same.
Is CyberGhost VPN Good for Torrenting?
Yes, CyberGhost VPN is definitely a good choice for torrenting. And, here we have listed 5 reasons why CyberGhost VPN is the best service to use on Windows, iOS, Mac, Android, and Linux for downloading torrents anonymously. Take a look. 
1. Keeps Absolutely Zero Logs
Based out of Romania, CyberGhost VPN doesn't come under any data retention laws. This means none of your browsing activity will ever be stored on their RAM-only servers. Yes, this VPN is designed to save the best privacy interest of the users so that you stay entirely anonymous while torrenting. 
As per the privacy policy published on CyberGhost official website, your browsing details, online activity, traffic data, nothing will be ever logged or stored. Even, no matter what payment method you choose, CyberGhost won't save your details and link it to your IP address or connect it with any of your online activity. Hence, no third-party, not even CyberGhost itself can track you back to your original identity, irrespective of your region from where you're torrenting.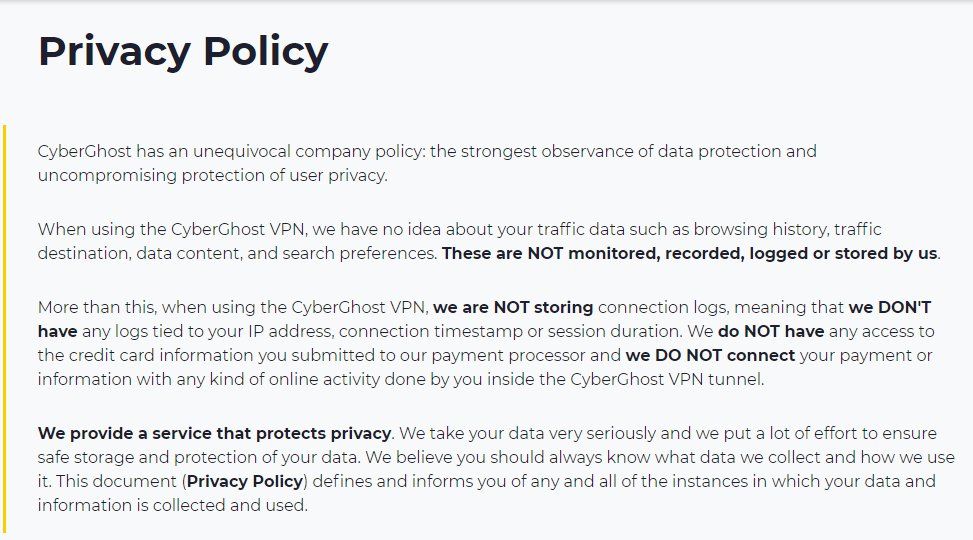 However, CyberGhost's country of origin helps it in abiding by their privacy policy. Since, Romania is not a part of any surveillance alliance, CyberGhost is not legally bound to share any user data with foreign intelligence agencies. That's why, while using CyberGhost VPN, your ISP or the government can't track what you're downloading now or ever. 
Yes, CyberGhost doesn't know when you're accessing a website and what content you're watching, downloading, or sharing. This remains true for whatever VPN server and location you choose to connect. Here we've highlighted the most important parts of CyberGhost privacy policy. If you want to learn more, click here.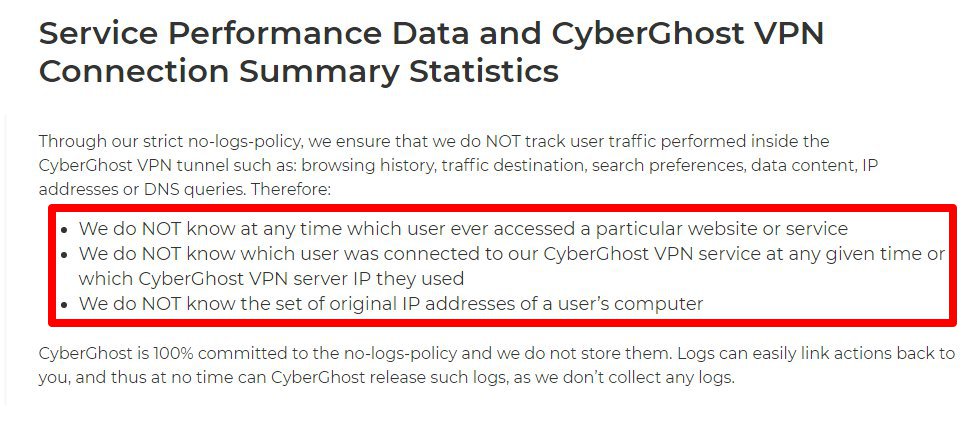 CyberGhost also releases transparency reports periodically to help their users understand how they function and keep up with the no-log policies. You can check its latest transparency report before you decide whether or not to invest in this VPN. 
2. Offers Blazing-Fast Servers
You probably know most VPNs are infamous for reducing the connection speed. But, being a technologically advanced VPN, none of the CyberGhost VPN servers decreases your connection to that extent while torrenting. 
The speed of all the VPN servers depends on how advanced the corresponding data center is. CyberGhost keeps scaling the server fleet to enhance its baseline performance. Furthermore, they publish fleet reports to share more information with the users on how much capacity they incorporate per physical server. 
However, this VPN is fully compatible with the fastest tunneling protocols like WireGuard. Hence you get a minimum of 52 Mbps to speed no matter what P2P server you're connecting to. 
We've tested the speed of its P2P servers in different countries to find out which one renders the best performance while torrenting. 
Switzerland
Piracy is legal in Switzerland, opening a gigantic door to the casual downloaders to access any content they want. As per a test conducted by our team, its Switzerland server delivers 64.80 Mbps download speed on a 100 Mbps line that makes it a cakewalk for torrent users. 
The US
Since CyberGhost has multiple servers in different locations of the US, several users connect to these P2P servers to avoid overcrowded ones. However, you can expect a download speed above 57.91 Mbps while downloading a torrent, no matter which one you choose.
The UK
Some of the CyberGhost UK servers also provide dedicated P2P support. With a comparatively lower ping and around 52.37 Mbps download speed, the UK servers are ideal for torrenting, as well as gaming.
3. Provides Unlimited Bandwidth
Many VPN services claim to provide unlimited bandwidth but cap the usage in other ways. For instance, if you're using a server that can accommodate up to 5 Mbps usage, you won't get more speed than that, no matter how fast your internet connection is. 
But, CyberGhost VPN doesn't come with any such hidden intention. Instead, you get virtually unlimited bandwidth on all of their P2P servers. Alongside, CyberGhost constantly monitors each servers' performance and increases the average bandwidth periodically to offer you maximum usage and an enhanced torrenting experience.
Not only that, but you will also get the same speed and unlimited bandwidth while connecting to their dedicated servers for streaming. So, alongside torrenting, you can stream 4K quality shows or movies from a single subscription. 
4. Prevents DNS Leaks 
DNS leaks may expose your torrenting activity to your service provider. DNS is similar to a public ledger that allows you to access the websites of your choice. The ISPs have their own DNS servers, and while torrenting your DNS requests route through your ISP's server. 
So, if you access a torrent site without a VPN or a private DNS, your ISP will have complete knowledge of that. But a VPN or a private DNS hides your real IP, geolocation, and browsing data from prying eyes on the web. However, free torrent VPNs can't effectively protect you against VPN leaks. 
Thankfully, Cyberghost VPN offers complete protection against DNS leaks. By using Cyberghost VPN while torrenting, you can route your DNS requests through their servers. Also, Cyberghost blocks the IPv6 requests to ensure zero DNS leaks.
Moreover, CyberGhost native applications on iOS, macOS, and Android come with automatic DNS leak protection, which is fully taken care by the DNS IPs on each VPN server. And, the CyberGhost client for Windows come with an option to enable or disable DNS leak protection as per your preference. Yes, you can find this option from Privacy Settings of your client application. When you're connected to home network, you can turn it off by toggling off the bar under Prevent DNS leaks.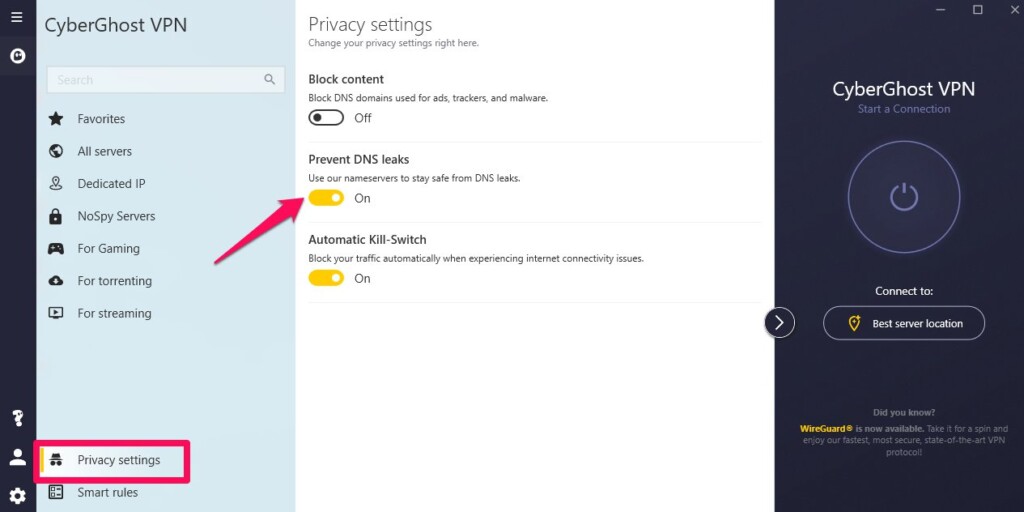 5. Incorporates a Kill Switch
A VPN kill switch is such an important factor that can void your whole purpose of using a VPN if not present. And, the fact remains true even if you're using the most stable internet connection.
Thankfully, CyberGhost offers the VPN kill switch on macOS and Windows. The native application for macOS incorporates an automatic kill switch, which reacts promptly whenever the connection drops - it stops your traffic flow to safeguard your real IP or online activity from accidental exposure to your ISP when the secure tunnel drops. 
Hence, if you're traveling internationally and downloading torrents from a region where piracy of copyrighted materials is not allowed, the kill switch will omit sudden vulnerabilities while using the CyberGhost VPN.
However, this automatic network kill switch comes with an added option to enable or disable it on Windows. To access this option, expand the control screen of your CyberGhost app on Windows, locate Privacy Settings and you'll find a bar under Automatic Kill Switch. Toggle the bar on or off as per your requirements.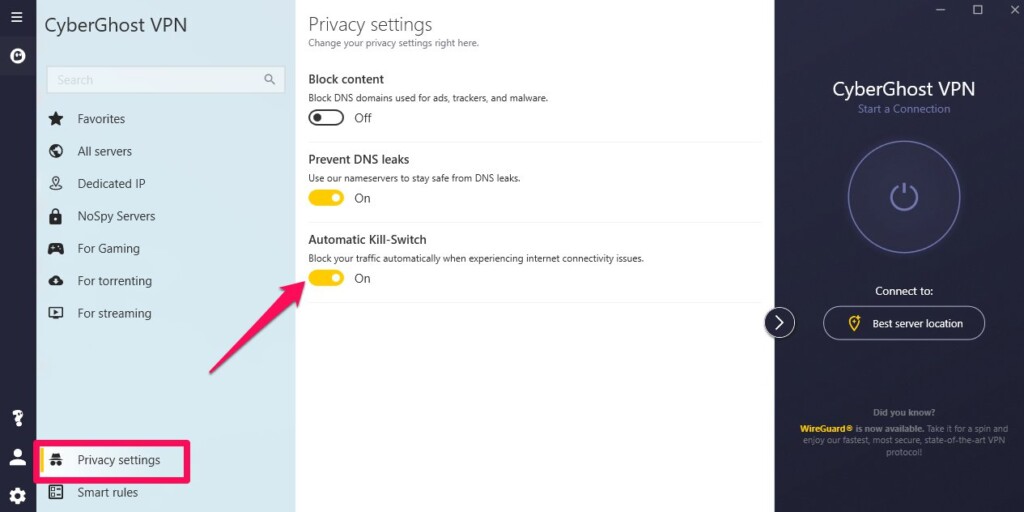 In addition to this list, there are other reasons why CyberGhost is the best VPN for torrenting. Its military-grade encryption protocol, most generous money-back guarantee, and more are there. You can check our CyberGhost VPN review to know everything about their services.
How to Use CyberGhost for Torrenting?
Step 1: First, get CyberGhost VPN.
Step 2: Next, install and launch the native application on your device.
Step 3: Log in to your account with the right credentials.
Step 4: Now, click on the arrow button to expand the interface and access all options.
Step 5: Under the 'Select Server' section, Windows users can find the 'For torrenting' option.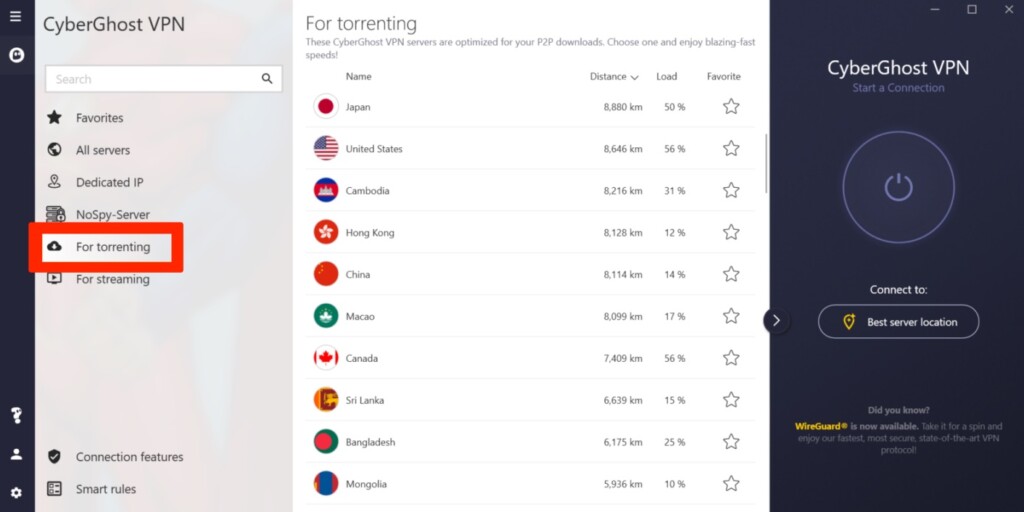 Mac users will find the 'For downloading' option here: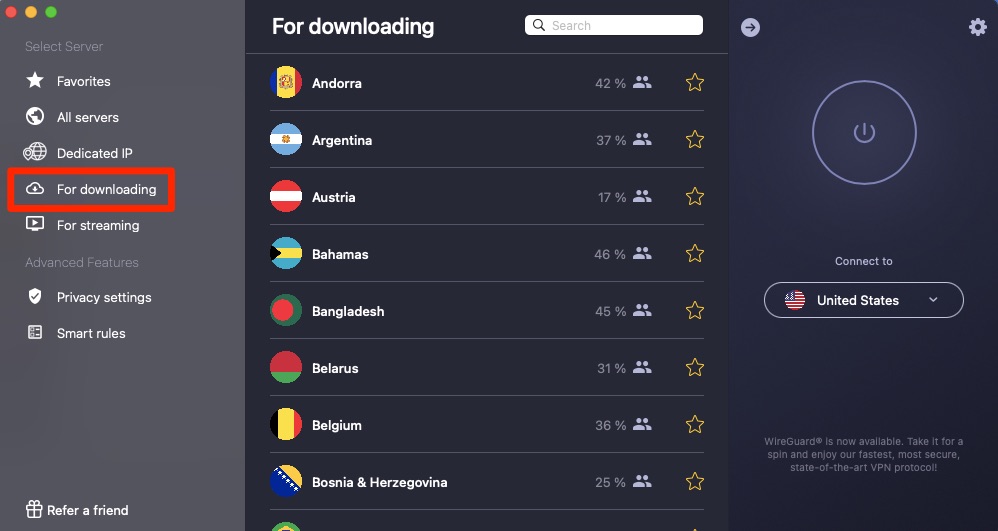 Step 6: Click this option to get all the locations where dedicated P2P VPN servers are available.
Step 7: Finally, choose your preferred country, double-click on it, and click the power button from the control screen to connect.
Now, you know the complete process of connecting to a P2P server for anonymous downloads. So, it's time to grab the best deal on CyberGhost VPN subscription. 
Is VPN Necessary for Torrenting?
Yes, a VPN is mandatory while torrenting. It's because P2P sharing opens you up to unknown files from anonymous sources, so you can't actually ever be sure of whether or not your online identity will be jeopardized. In addition, if your country doesn't support torrenting, you may have to pay a fine or get a notice if your ISP finds out you're downloading torrents. A VPN will protect you from all of these unexpected problems by spoofing your real IP, location, and browsing details. Undoubtedly, CyberGhost VPN does the job best.
You can learn more about the benefits of using a VPN while torrenting from here.
We hope our guide has answered your queries, and now you can understand if CyberGhost VPN is good for torrenting or not. If you still have any doubt, drop a message using the comment button. And, if you want to know about the latest inclusions of CyberGhost, check our recently published article, what's new in CyberGhost VPN. Thanks for reading!