Adding CyberGhost VPN to Chrome means filtering your complete web traffic and leaving no trace of your browsing activity. This way, you always stay safe from snoopers on the internet. Follow the step-by-step process mentioned here to download, install, and use the CyberGhost extension on Chrome. 
1. First, click here to visit the CyberGhost VPN subscription page.
2. Next, click the Get CyberGhost VPN button to choose your preferred plan.
3. Now, provide the required details to complete your purchase.
4. After that, you'll receive an email to confirm your VPN subscription status. 
5. Next, visit the CyberGhost official website and choose the My Account option from the top-right corner.
6. Put your Username and Password to Log in. 
7. Once you can access your dashboard, find and click 'CyberGhost VPN for Chrome' from Download Hub.
8. Now, you'll be redirected to the chrome web store; click the Add to Chrome button right next to the CyberGhost VPN Proxy extension.
9. A confirmation notification will pop up next; click the Add extension button.
10. Once the extension gets added, again a confirmation notification will appear.
11. Now, click the Extensions icon on your address bar and click 'Stay secure with CyberGhost...'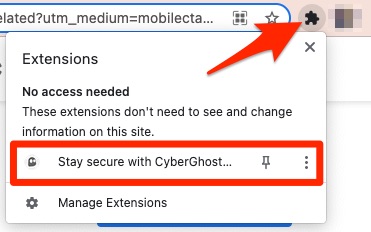 12. Next, the CyberGhost control screen will appear; click the ON/OFF button to set up a VPN connection.
13. Once you see 'CyberGhost is enabled,' your status will be connected.
14. If you don't choose a specific country, the VPN will automatically pick the best location. 
15. You can click the drop-down icon right beside the country name to view the complete list of countries and choose your preferred one.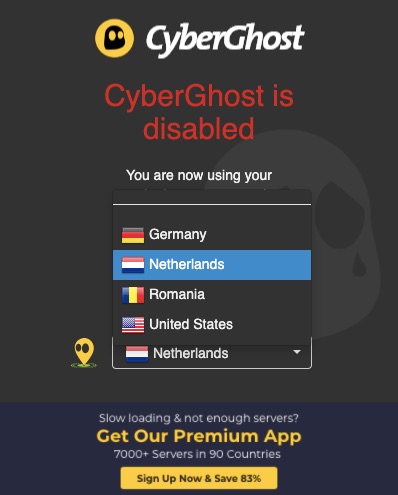 16. Once done, click the ON/OFF button to connect to your selected location. 
You've successfully added the CyberGhost Chrome extension to your device. Whether you're using a smartphone, PC, or Mac, these steps will be the same. And if you want to enhance the level of security, install CyberGhost cookie cleaner on Chrome. If you want to install this VPN on other devices, take a look at our complete CyberGhost VPN setup guide. Thanks for reading!