Installing CyberGhost VPN on the router means keeping all of your devices secured with this VPN. Starting from your Smart TV to gaming consoles, every device gets impenetrable security when the VPN connection is shared from your router. So, learn how to download, install, and use CyberGhost VPN on a DD-WRT router to make the most of your VPN subscription.
DD-WRT is a custom firmware that you can set up on your router. DD-WRT supports the OpenVPN protocol and can be installed on a wide range of routers. Click here to know whether your router supports DD-WRT or not. However, this guide is made using the below configuration:
Hardware: Linksys WRT32x
Firmware: DD-WRT v3.0-r40900 std (09/04/19)
1. First, open your web browser and enter this IP, 192.168.1.1, in the address bar.
2. Next, enter your Username and Password to log in. 
3. Once done, navigate to the Setup tab in the top-left corner.
4. Choose Basic Setup from there and set the Connection Type to Automatic Configuration - DHCP.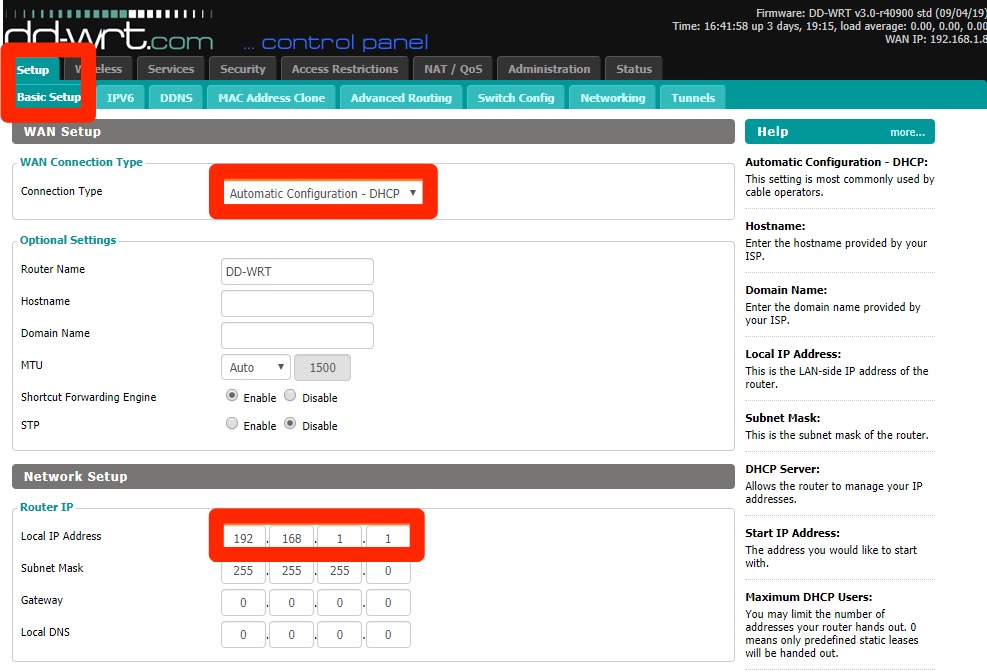 5. Now, navigate to the IPV6 tab and check the circle before Disable.
6. Next, click Save, and then Apply Settings to save the changes. [This step is done to ensure zero IP leaks.]
7. Once done, click here to visit the CyberGhost VPN subscription page.
8. Then, hit the Get CyberGhost VPN button and choose your preferred subscription plan on the next page.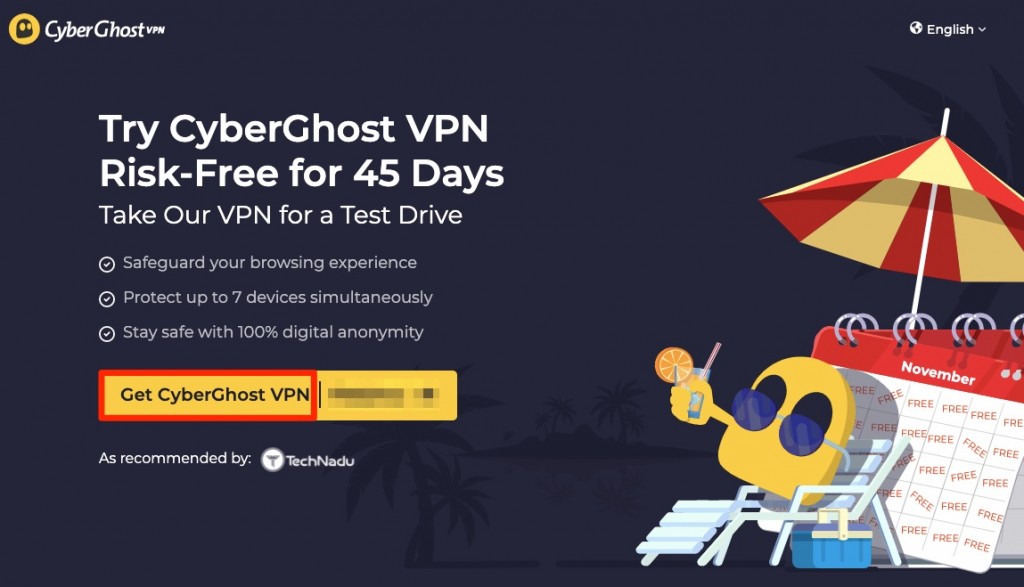 9. Now, submit the required details and complete your purchase.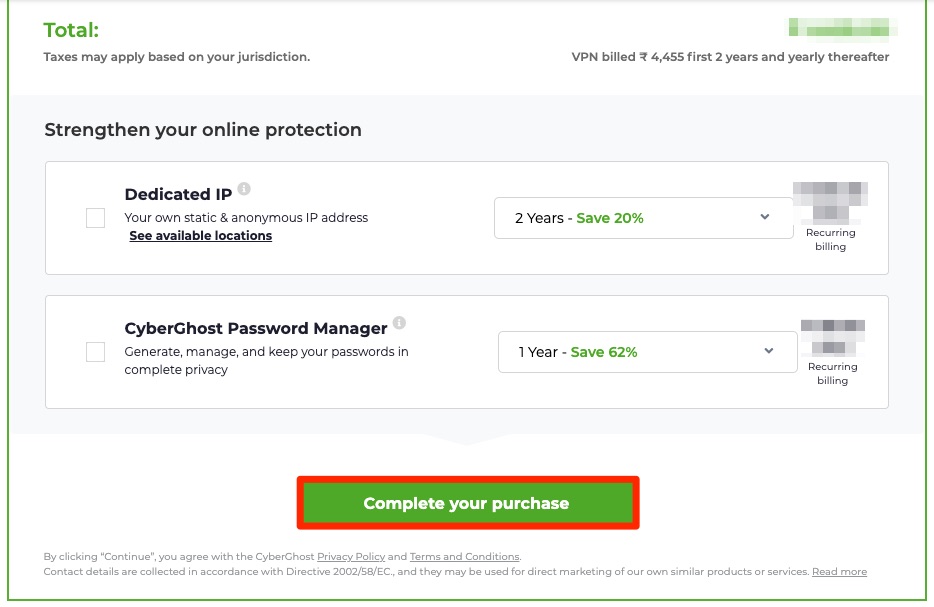 10. You'll receive a confirmation email now comprising your login code.
11. Visit CyberGhost official website now and click the My Account button.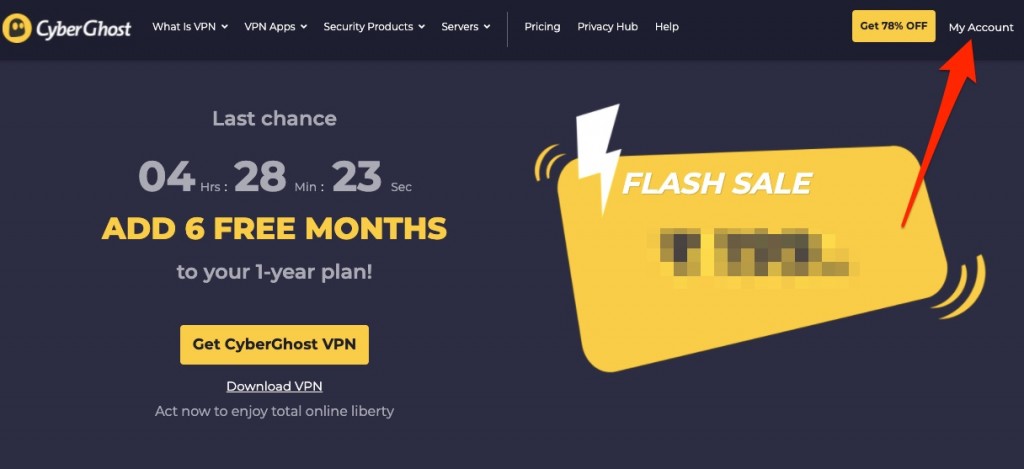 12. Now, enter your Username and Password to Log in and access your dashboard.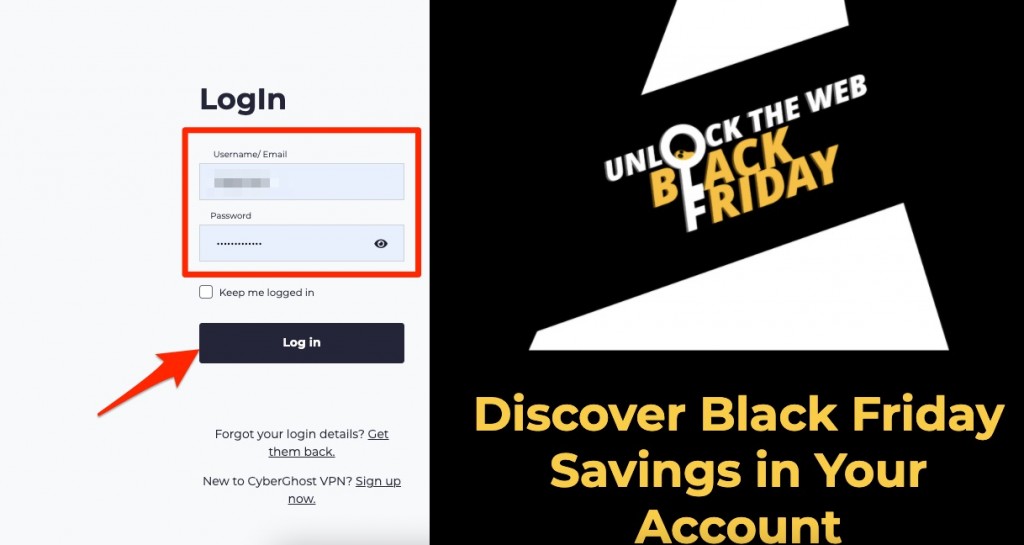 13. Navigate to Routers or other devices next, and click the Configure button.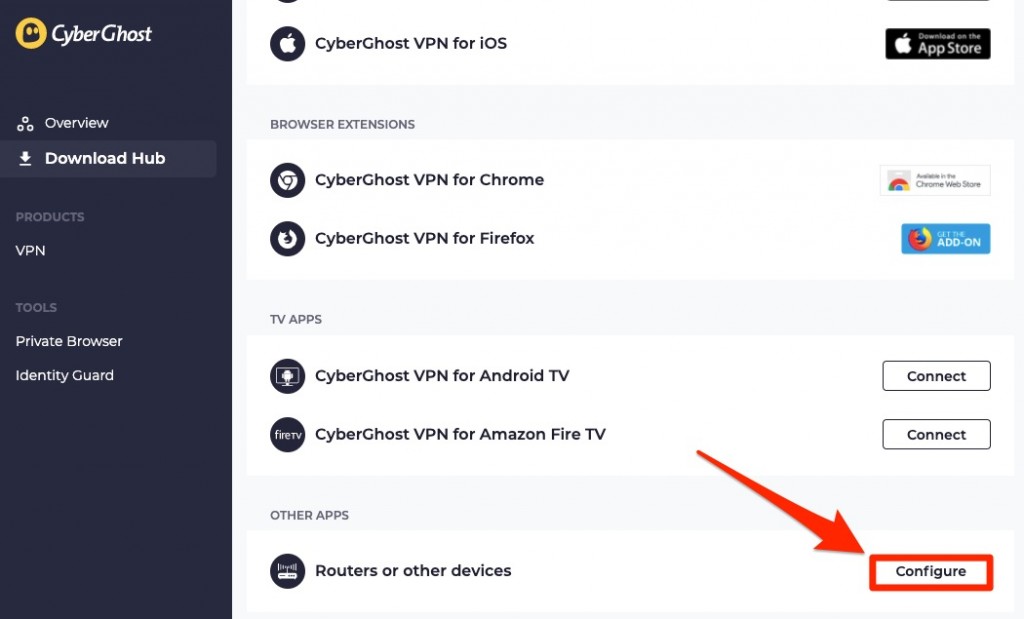 14. Now, fill in the details as mentioned below:
PROTOCOL- OpenVPN
COUNTRY- Select the country where you want to connect to. [Each time you change the country name, you have to install a new set of configurations on your router.]
SERVER GROUP- Choose OpenVPN via UDP or TCP.
DEVICE NAME- Enter as per your wish.
EXTRA FEATURES- Tick all the boxes.
15. Once done, click the Save Configuration button.
16. Now, you'll be redirected to the Manage Devices page; here, you need to locate Routers or other devices and hit the View button.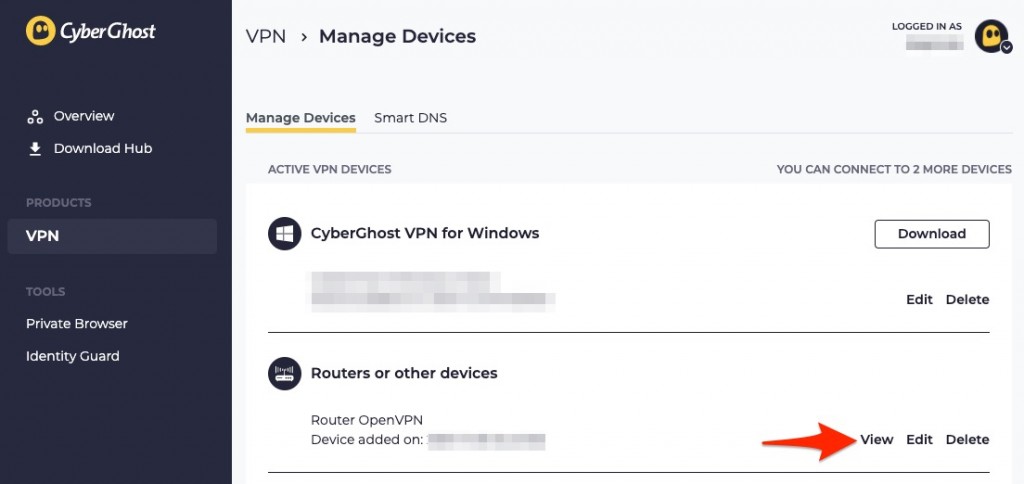 17. The complete configuration will be previewed now; take a note of your Username, Password and Server Group; then click the Download Configuration button.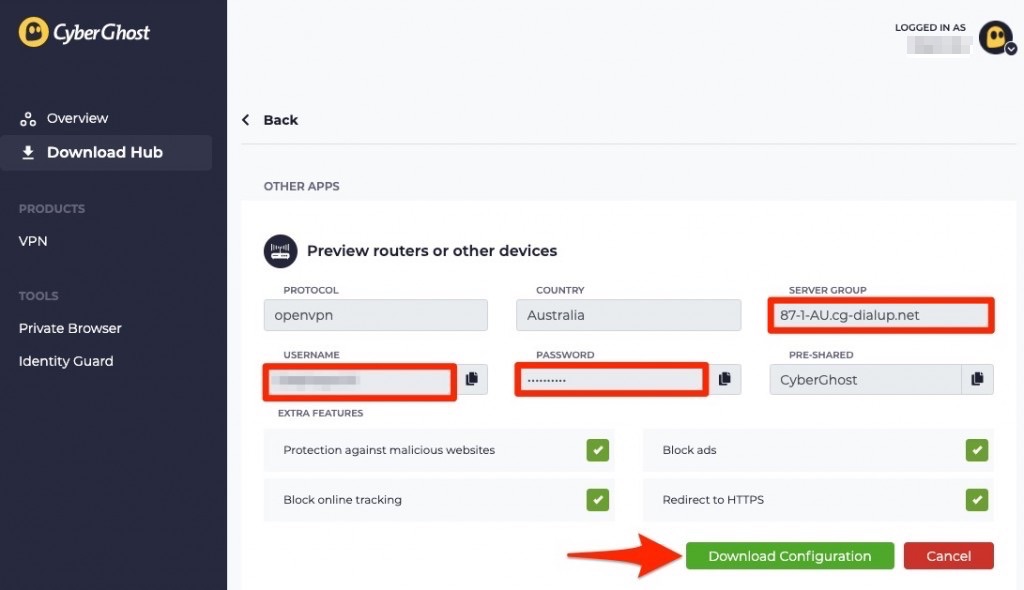 18. Once the .zip file gets downloaded, extract it; you'll find the below-mentioned files:
client.key- Private key file.
ca.crt- Certificate of the certification authority.
client.crt- User certification file.
openvpn.ovpn- OpenVPN configuration.
19. Now, visit this IP, 192.168.1.1, and go to the Services tab.
20. Next, click VPN and scroll down to OpenVPN Client.
21. Find the Start OpenVPN Client option, and Enable it.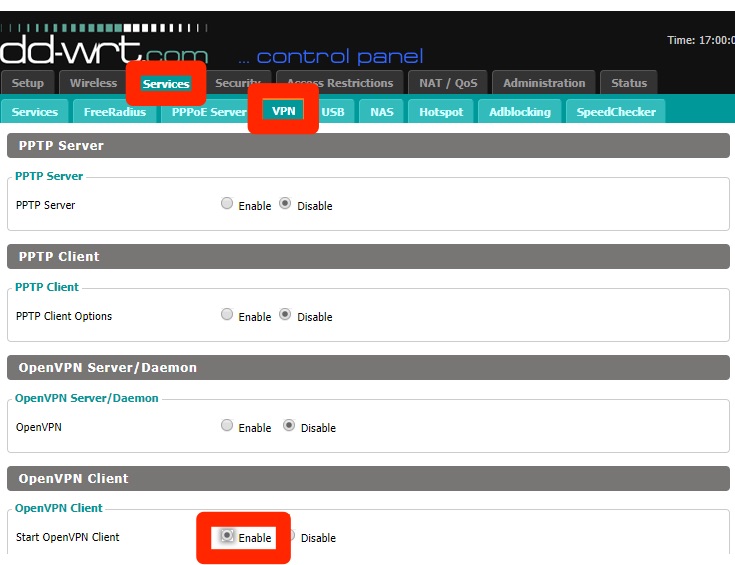 22. You have to fill the client settings with the below details.
Server IP / Name: Enter the server group that you've picked earlier.
Port: 443
Tunnel Device: TUN
Tunnel Protocol: TCP or UDP
Encryption Cipher: AES-256-CBC
Hash Algorithm: SHA256
User Pass Authentication: Enable
USERNAME: Put the username that was previewed in the router configuration (Step 17). 
PASSWORD: Enter the password previewed in the router configuration (Step 17).
Advanced Options: Enabled
TLS Cipher: None
LZO Compression: Disabled
NAT: Enable
Firewall Protection: Enable
IP Address: Blank
Subnet Mask: Blank 
Tunnel MTU setting: 1500
Tunnel UDP Fragment: Blank
Tunnel UDP MSS-Fix: Disable
nsCertType verification: Unchecked
TLS Auth Key: Blank
23. After TLS Auth Key, you need to enter Additional Config.
24. Now move on to the folder where you've extracted the .zip file earlier, right-click the openvpn.ovpn file and choose Open with WordPad/Notepad or another TEXT editor.
25. Once opened, copy the passage from 'resolv-retry infinite' to 'verb 4'.
26. Next, right-click in the Additional Config field and choose Paste.
27. Once done, fill the rest of the field with the below details:
Policy based Routing: Blank
PKCS12 Key: Blank
Static Key: Blank
CA Cert: Here, copy-paste the text found in the ca.crt file.
Public Client Cert: Here, copy-paste the text found in client.crt file.
Private Client Key: Here, copy-paste the test found in client.key file.
28. Hit the Save and Apply Settings button to save the changes.
29. Now, move onto the Administration tab and hit Commands.
30. Enter the below command in the corresponding field.
iptables -I FORWARD -i br0 -o tun1 -j ACCEPT
iptables -I FORWARD -i tun1 -o br0 -j ACCEPT
iptables -I INPUT -i tun1 -j REJECT
iptables -t nat -A POSTROUTING -o tun1 -j MASQUERADE
31. Click the Save Firewall button next.
32. Once done, move on to the Management tab and scroll down to find and click Reboot Router.

33. Finally, test your VPN connection by following this path, Status>OpenVPN, and under the State section, you must see the CONNECTED SUCCESS message.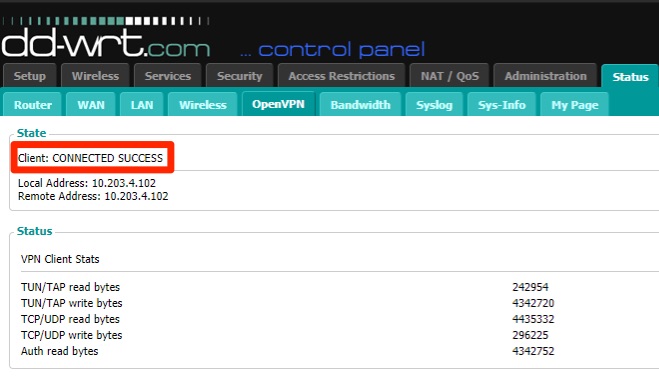 That's all! Now you've learned how to download, install, and use CyberGhost VPN on a DD-WRT router. If you want a FlashRouter with DD-WRT firmware and pre-configured CyberGhost VPN, click here. And, if you want to install this VPN on other devices, check our complete installation guide. Thanks for reading!