Installing CyberGhost VPN on the router means ensuring 24X7 VPN support along with complete security coverage for all of your gadgets. Yes, instead of setting up the VPN on individual devices, configuring it on a router and sharing the connection seems convenient. Alongside that, you get to enjoy privacy and anonymity on your VPN client app non-supported devices. But, if you're going to do it for the very first time, you need proper guidance. That's why we've created this step-by-step guide on how to download, install and use CyberGhost VPN on Router. Have a look. 
There are two ways to set up CyberGhost VPN on a router. 
You can purchase a FlashRouter with CyberGhost VPN pre-installed on it to avoid manual configuration. 
Or, you can install DD-WRT/TomatoUSB firmware on your existing router to configure CyberGhost VPN on it.
Use CyberGhost VPN through FlashRouters Privacy App:
As we've already mentioned, CyberGhost Wi-Fi routers dismiss the requirement of manual configuration. You just need to install and use the FR Privacy App to protect all of your devices simultaneously. 
However, for FlashRouters Privacy App installation, at least 16MB of flash memory and minimum DD-WRT build version 02-12-2018-r3492 is required. And, CyberGhost VPN officially supports these below-mentioned VPN routers: 
Netgear R6400v2
Netgear R6300v2
Netgear R7000
Netgear R7800
Netgear R7000P
Netgear R8000
Netgear R9000
Asus RT-AC56U
Asus RT-AC5300
Asus RT-AC66U
Asus RT-AC87U
Asus RT-AC68U
Asus RT-AC3100
Linksys WRT1200AC
Linksys WRT1900ACv2
Linksys WRT1900ACv1
Linksys WRT3200ACM
Linksys WRT1900ACS
Linksys WRT32X
If your VPN router fulfills all the requirements mentioned here, it will work with the FR Privacy App.
Further Read: How to Choose a VPN Router?
Once you confirm the eligibility of your router, get started with the below-mentioned step-by-step guide to use CyberGhost VPN through FR Privacy App.
1. First, make sure your FlashRouter is connected to the internet.
2. Then, move to Administration and hit Commands.
3. Now, copy-paste the following line and click Run Commands.
curl --silent --retry 3 https://api.flashroutersapp.com/api/v1.0/ddwrt/group/default/provider/CGG4/install | sh
4. You'll receive a message when the installation is successful.
5. Next, visit the CyberGhost VPN subscription page.
6. Then, click the Get CyberGhost VPN button and choose a subscription plan on the next page.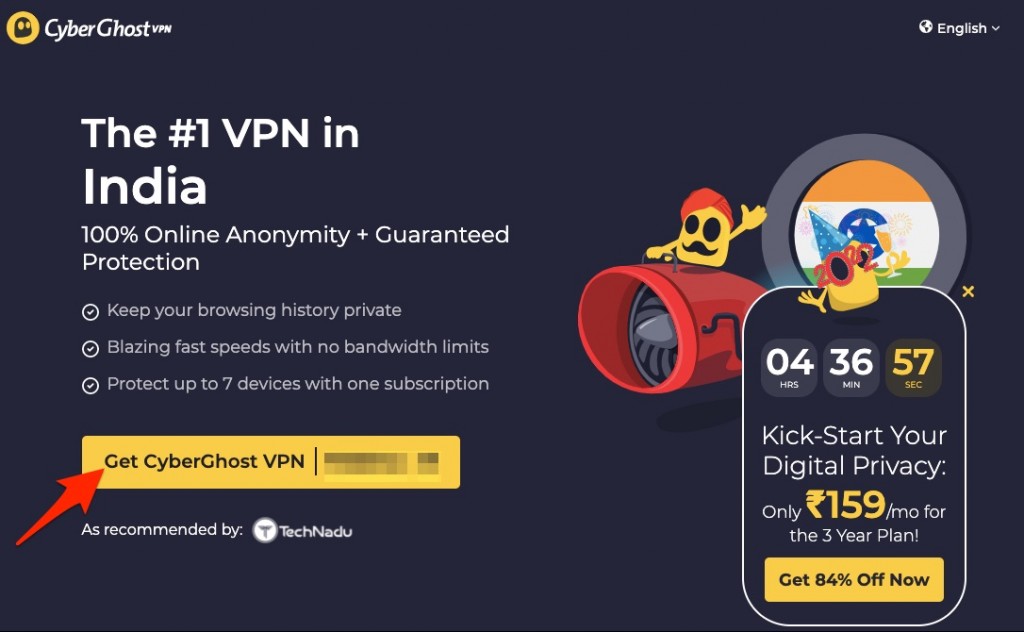 7. Submit the required details and complete your purchase after that.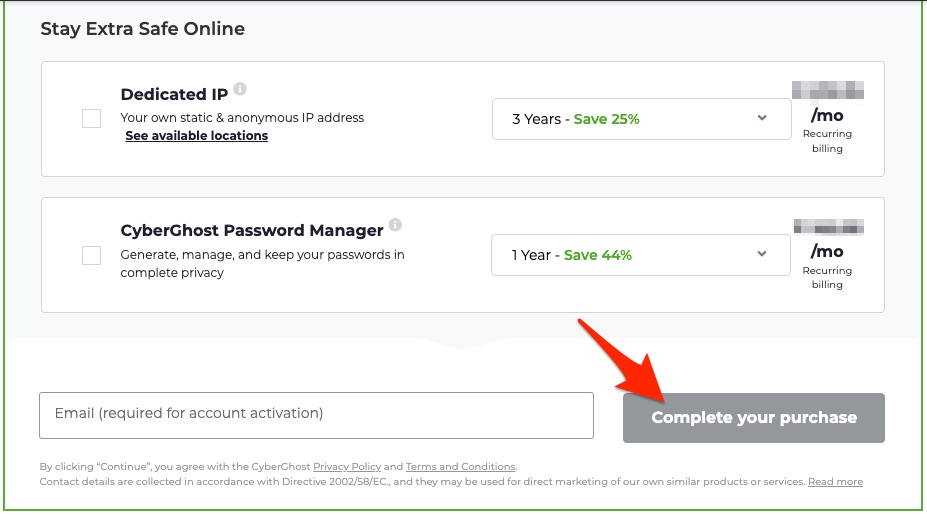 8. You'll receive a confirmation email now. 
9. Once done, visit the CyberGhost official website and hit My Account at the top right corner.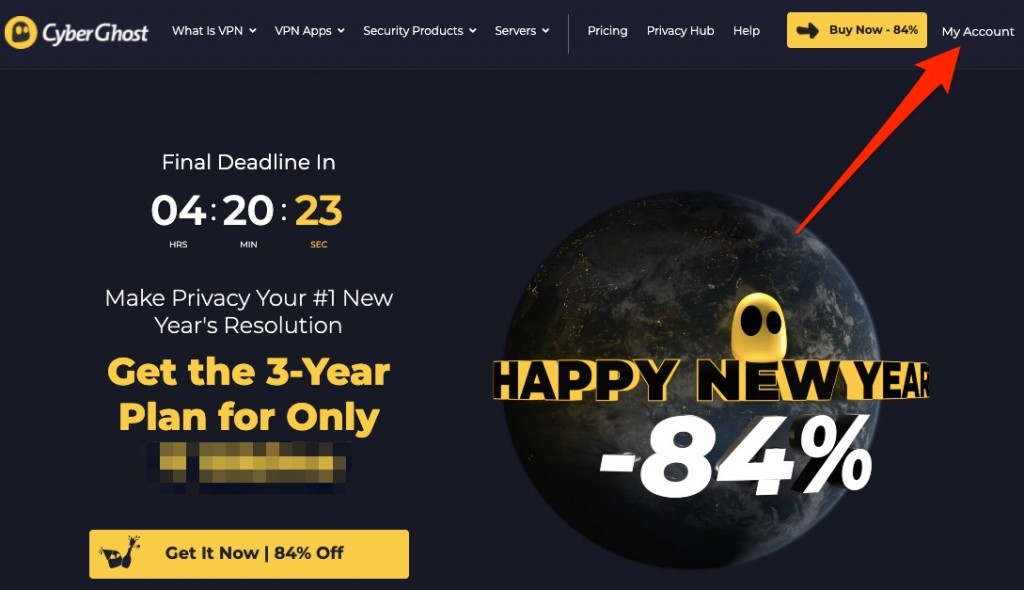 10. Enter your Username and Password on the next screen, and hit the Log in button.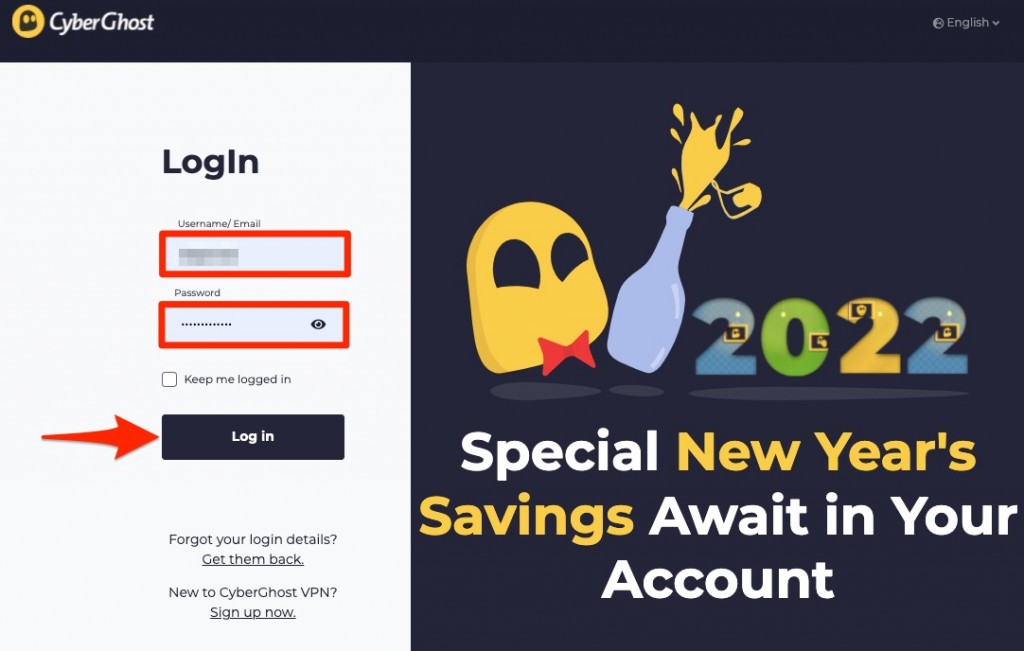 11. When you enter your dashboard, locate Routers or other devices and hit the Configure button next to it.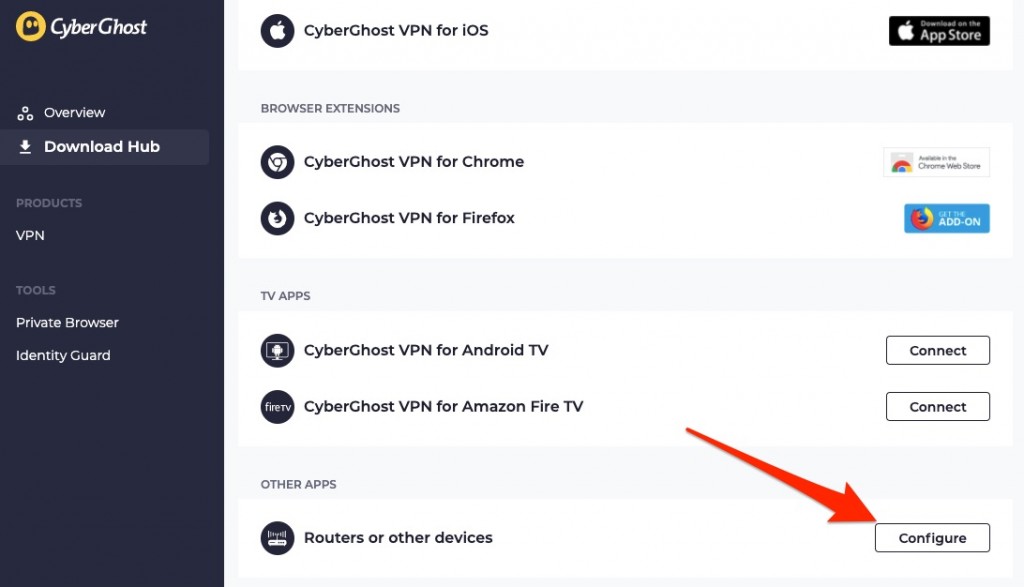 12. On the next screen, fill in the details as mentioned below-
PROTOCOL- OpenVPN
COUNTRY- Any country you wish
SERVER GROUP- OpenVPN via UDP or TCP
DEVICE NAME- Router
EXTRA FEATURES- Tick all the boxes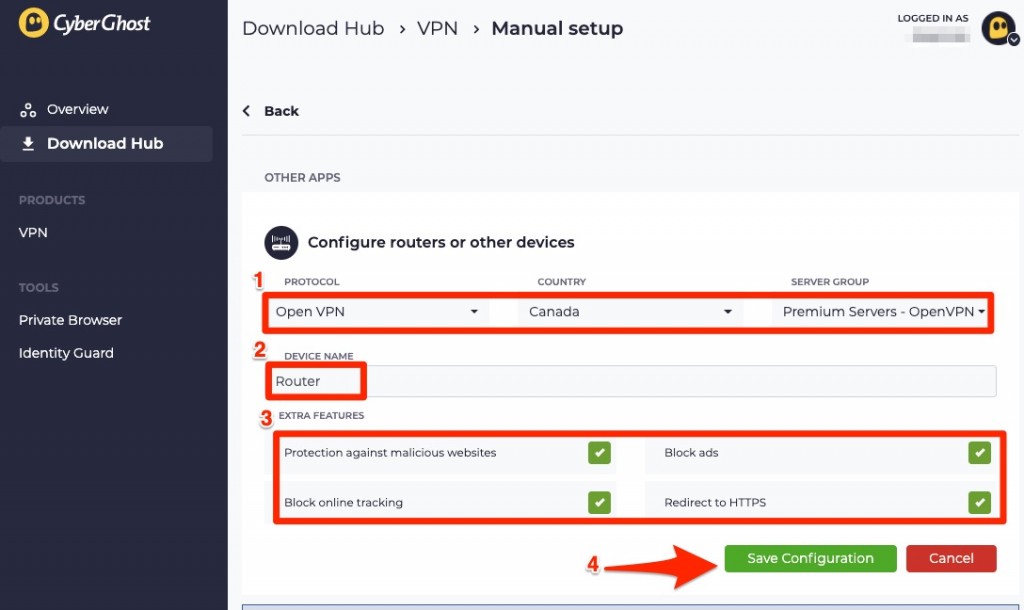 13. Once done, hit the Save Configuration button, and you'll be redirected to the Manage Devices page.
14. Find Routers or other devices from this page and hit the View button associated with Router.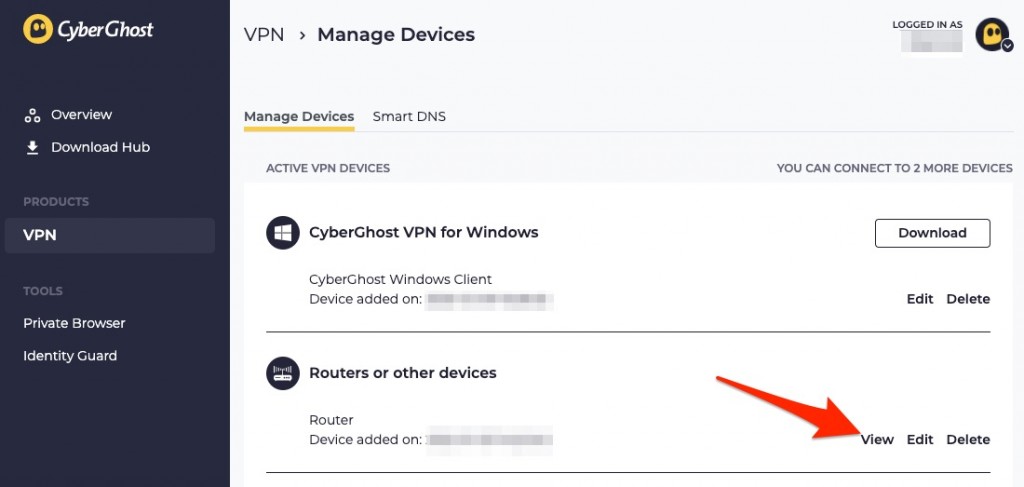 15. From the preview, note your Username, Password, and Server Group.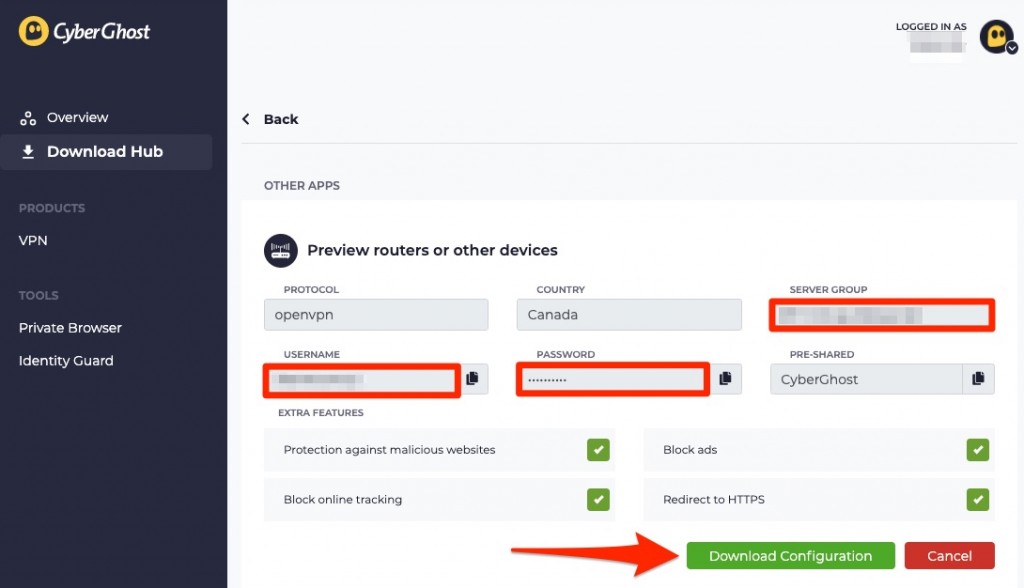 16. Once done, click the Download Configuration button. 
17. A .zip file will get downloaded now; it will contain the below-mentioned files:
client.key- Private key file.
ca.crt- Certificate of the certification authority.
client.crt- User certification file.
openvpn.ovpn- OpenVPN configuration.
18. Once done, you need to visit the web portal of your DD-WRT router. (Default Router IP Address List)
19. Then, navigate to Status and choose MyPage.
20. Select CyberGhost from the drop-down under the VPN provider's name.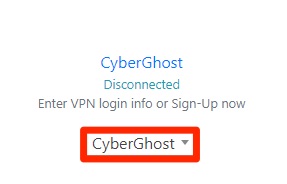 21. Now, you have to enter your Username and Password that you took note of earlier.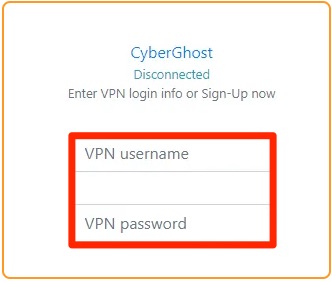 22. Move to the User Certificate field next, and copy the content of the client.crt file and paste it there.
23. Now, in the User private key section, paste the content of the client.key file.
24. Once done, click the Server location drop-down and choose the one that you've picked while saving the OpenVPN configuration. 
25. Finally, hit the Connect button to use CyberGhost VPN through FR Privacy App.
Configure CyberGhost VPN Manually on a Router:
If you're not using any pre-flashed router, manual configuration is the only way to install CyberGhost VPN on your router. CyberGhost can be installed on DD-WRT and TomatoUSB firmware-based routers. We've created separate guides for both of them. Have a look. 
That's all! Now you know how to download, install and use CyberGhost VPN on a router. In case neither you're using a VPN router nor you're planning to purchase one, you've to install CyberGhost on individual devices. For that, check our complete CyberGhost VPN setup guide. If you have further queries, drop us a comment through the below button. Thanks for reading!