Update March 2023: ZenMate VPN has announced that it is joining forces with CyberGhost VPN, another top VPN provider under the same parent company, Kape Technologies. From March 16, 2023, onwards, users can use their existing ZenMate VPN subscription to access the CyberGhost VPN service. The ZenMate apps will be discontinued after May 1, 2023. ZenMate users will keep all their benefits after the merger.
ZenMate VPN is a Berlin-based company founded in 2013 that claims to provide ultimate online privacy and security through its platform. However, it operates within 14-Eyes Alliance jurisdiction, which is a group of countries that share citizens' information among members. This raises legitimate questions about its ability to keep user data truly private. 
While ZenMate offers basic security features such as strong encryption and a no-logs policy, its app carelessly lacks split-tunneling and ad-blocking. Its speeds and unblocking capabilities are unreliable for both streaming and gaming. It does have P2P-friendly servers for downloading large torrent files, but slow speeds can be an issue.

Data leaks are considered serious and can be a deal-breaker for many users—and yes, Zenmate has a history of data leaks, although there haven't been any major incidents.
If you are considering ZenMate VPN, it is important to evaluate its features and privacy policies carefully to ensure that it meets your needs. So let's kick off this ZenMate review by taking a brief look at the most important aspects of the service.
| | |
| --- | --- |
| Jurisdiction | Germany (the EU/14-Eyes Alliance) |
| Logs | Strict no-logs policy |
| Servers | 4,600 servers in 81 countries |
| Simultaneous Connections | Unlimited |
| Supported Devices | Windows, macOS, Android (including Android TV), iOS, Web browsers, and compatible routers |
| Features | Strong encryption, kill switch, DNS and IPv6 leak protection, and more |
| Protocols | OpenVPN, IKEv2, WireGuard |
| Supports | Streaming (intermittently) and torrenting |
| Customer Support | Live chat, email, and online resources |
| Price | Starting at $1.51/month |
| Live Deal | Save 86% OFF the monthly plan + get 3 months FREE |
| Our Score | 6.5 |
For this ZenMate VPN review, we'll test and evaluate the provider on many different criteria, including its reputation, speed, security, privacy, pricing, and customer support. If you want to learn more about our review process, here's a helpful guide on how we review VPNs. 
Our reviews are fair and consistently updated, so you can always check back to see the latest news in the world of ZenMate. 
Without further ado, let's dig in. 
Background, Jurisdiction & Reputation
ZenMate VPN originates from Germany and has experienced privacy-related issues in the past. However, some improvements have been made since then. Our Score: 5/10
It's important to consider a VPN's country of origin when selecting a provider since each country has laws regarding data privacy that could impact the user. ZenMate's jurisdiction and history of data protection leave much to be desired.
Where Is ZenMate VPN Based?
ZenMate VPN is a German service operated by ZenGuard GmbH in Übach-Palenberg. As one of the leading members of the European Union, Germany has two contrasting sides that need to be considered. On the positive side, Germany has strict laws that ensure the protection of private data. However, on the flip side, it also actively gathers various forms of data and is willing to share this information with other countries.
The European Union's GDPR (General Data Protection Regulation) legislation regulates the way private data can be collected in EU countries. The effect of those laws has already become visible, with Germany coming into conflict with Facebook and actively trying to restrict Facebook's data collection policies. 
In October of 2018, Kape Technologies acquired ZenMate along with CyberGhost VPN and Private Internet Access. Kape Technologies' ownership of these services, which are known for user-friendliness and protecting privacy, is a positive sign for ZenMate. But on the other side, it is also worth noting that the European Union has invested in ZenMate VPN, which may raise some concerns among users.
With all of this said, the question is, can you trust ZenMate? We can't say for sure. We can only hope that ZenMate will follow those laws that prevent it from collecting data.
Did ZenMate VPN Leak Personal Data in the Past?
Yes, ZenMate VPN has had a few incidents where personal data has been leaked in the past. During our research, we found some noteworthy events related to ZenMate security issues. 
In 2017, there was confusion when ZenMate failed to explain the strange behavior of its macOS client, which was the first indication of something strange happening. 
In March of 2018, an independent research team discovered minor data leaks within the VPN. Soon after, a severe vulnerability was found in ZenMate's extensions, affecting an estimated 3.5 million users.
These events suggest that ZenMate's security protocols may not be up to par. Keep reading to make a more informed decision on whether to use this VPN.
Is ZenMate VPN Safe?
No, ZenMate VPN cannot be considered entirely safe. The service claims to have a strong no-logs policy, but its privacy policy is unclear about the data it collects and stores when users connect to its servers. On top of that, data leaks in the past only make it harder to trust them.
We spoke to their support team about ZenMate's safety. Although the representative assured us that they do not keep any records of user activity, we would like to see this information clearly stated on their privacy policy page. 
We are still waiting for an independent audit to verify existing policies. Until then, we cannot fully trust ZenMate VPN as a safe and private service.
Supported Platforms & Devices
ZenMate VPN can be installed on both computers and mobile devices. Additionally, it comes with Web browser extensions and is compatible with routers. Our Score: 9/10
ZenMate provides extensive platform coverage, including native apps for popular operating systems like macOS and Windows. However, Linux users will need to configure the service manually. The VPN also offers native apps for Android and iOS, along with Web extensions for all the major browsers including Microsoft Edge.
For a quick overview, refer to the table below.
| | |
| --- | --- |
| Desktop Platforms | Windows, macOS, Linux |
| Mobile Platforms | Android, iOS |
| Web Browsers | Chrome, Firefox, Opera, Edge |
| Routers | OpenVPN- and DD-WRT-compatible routers |
| Other Devices | Android TV |
ZenMate offers two types of browser extensions: a free version and a more complete Pro extension. The latter includes tracking blockers, malware blockers, and WebRTC leak protection, although it uses less secure AES 128-bit encryption. 
While users can employ ZenMate at no cost through the free extension, they will have access to a limited number of servers in only a few countries. They also won't get any of the optimized servers for streaming and torrenting.
ZenMate also supports routers, although you need to have a compatible unit for it to work. On top of that, the installation process for DD-WRT routers could be a bit of a hassle for a novice user. Using the VPN with gaming consoles and streaming devices like the Amazon Fire Stick is equally challenging.
To make up for the difficult manual installation process, ZenMate offers support for unlimited devices on a single account, which is a rarity among VPN providers and worth noting.
Installation & Initial Configuration
The installation process for ZenMate VPN is incredibly simple and straightforward, taking only a few moments of your time. Even if you are using a VPN for the first time, you won't face any difficulties. Our Score: 10/10
To begin using ZenMate VPN, you first need to subscribe to the service. Once you receive your login details, you can download the app installer from the website. To do that, you need to go to the "My Devices" tab and click on the "Download" button next to your chosen platform. 
You will be redirected to a page where you can choose between different versions of the app, depending on your operating system and preferences. For example, if you are using Windows 11, you can download either the ZenMate Desktop Client or the ZenMate Browser Extension. 
Once you select an option, the download will start automatically. You simply need to run the installation file—installing the software is as easy as clicking a button.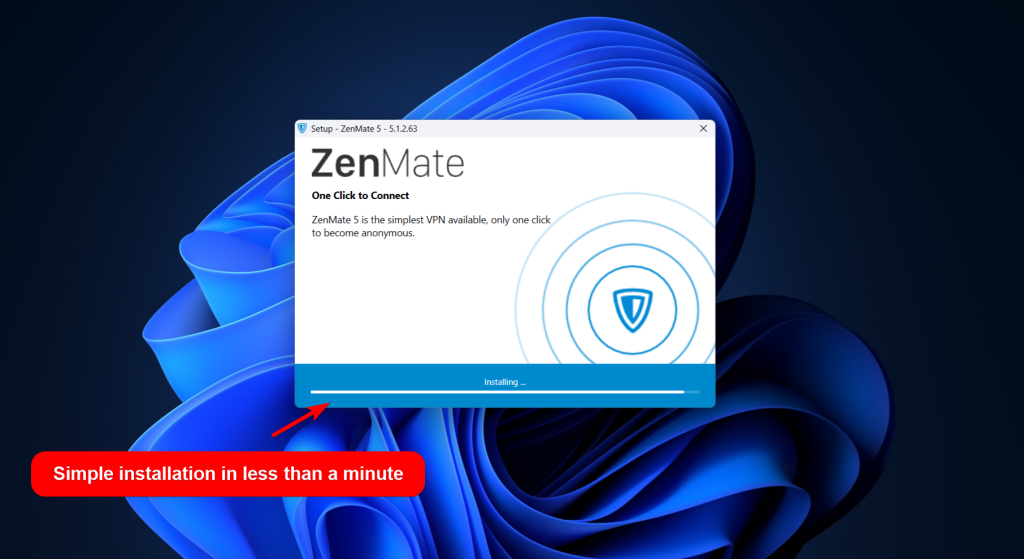 During the installation process, ZenMate will prompt you to select a location to save the files. The installation will proceed automatically, and in less than a minute, you will be ready to use the VPN. Just log in with your credentials, and you're good to go.
You can also find a link to the installation guide on the same Web page you downloaded the installer from, in case you need more help.
Prominent Features
Compared to the most advanced VPNs on the market, ZenMate is not as strong in terms of security, although it does not compromise on the basics. Our Score: 6/10
We have tested many VPNs, and we know what features make them strong and reliable. ZenMate does cover the basic necessities when it comes to security and privacy features, but we wish it had more advanced options. 
That said, here is an overview of the features ZenMate offers:
DNS and IPv6 Leak Protection – ZenMate protects your DNS requests from leaking to your ISP or other third parties. This prevents them from seeing what websites you visit or the content you access. ZenMate also protects your IPv6 traffic, which is a newer version of the Internet protocol that allows more devices to connect online. 
AES-256 Encryption – ZenMate uses the same level of AES-256 encryption for all its apps (excluding its browser extension, which uses 128-bit). This is the strongest encryption cipher available today, and it's used by governments and militaries around the world. Your data is encrypted with a 256-bit key that is virtually impossible to crack. 
Kill Switch – ZenMate VPN's kill switch is a vital feature that helps to keep your online privacy intact even if your VPN connection drops unexpectedly. The kill switch automatically cuts off your Internet if the VPN connection fails. This way, you won't leak any sensitive information.
VPN Protocols – ZenMate VPN supports three VPN protocols (OpenVPN, WireGuard, and IKEv2) that let you customize your online security and speed according to your preferences. These protocols are different methods of establishing a secure connection between your device and the VPN server. You can choose the protocol that works best for you depending on what you want to do online. 
Unlimited Server Switches and Bandwidth – ZenMate VPN gives you unlimited access to its network of over 4,600 servers in 81 countries. You can switch between servers as many times as you want without any restrictions or extra fees. ZenMate VPN also offers unlimited bandwidth for all its users. This means that you can download, stream, browse, and game online without any speed throttling or limits on your data usage.
ZenMate definitely lacks some of the more advanced features that other VPNs offer. For example, it doesn't have split tunneling, which lets you choose the apps that use the VPN and assign the rest to your normal Internet connection. It also doesn't block ads within the VPN itself. Instead, it has a separate browser extension called ZenMate Web Firewall for that purpose. 
ZenMate provides a decent level of security. However, it could improve by adding features like a malware blocker, Double VPN, or obfuscation tools. Without them, ZenMate remains a basic service compared to the other providers on the market.
Server Count & Infrastructure
ZenMate has a large server network with more than 4,600 servers in 81 countries, which is above average. However, you can't choose servers in specific cities. Our Score: 9/10
Ideally, you'll want your VPN to have a lot of servers in different countries around the world. The more servers in more locations, the more geo-restricted content you can access, among many other benefits. So, let's see what kind of server network ZenMate offers. 
| | |
| --- | --- |
| Number of Servers | 4,600 |
| Number of Locations  | 93 |
| Number of Countries  | 81 |
| Specific Cities Selection  | NO |
| Unlimited Switching | YES |
ZenMate boasts a whopping 4,600 VPN servers in 81 countries, making it one of the most extensive networks available. With such a large number of servers, even the most demanding users will surely be satisfied. On top of that, the service has been consistently improving over the last year and frequently adding new server options to its arsenal.
Although the exact number of physical and virtual servers among the 4,600 offered by ZenMate is unclear, the company assures users that it owns all of them. This is a significant advantage as it guarantees that ZenMate's servers are reliable and trustworthy.
However, one downside is that ZenMate doesn't allow users to select specific cities or locations. Instead, users can only choose a country, and the VPN will connect them to the "best" server available within it. This limitation may cause issues when accessing Web services that only work in specific regions within a country. In large countries, this could result in suboptimal location selection.
On the bright side, ZenMate has no usage restrictions, allowing for easy switching between servers at any time. The server locations are distributed worldwide, including countries in North Africa, which is rare among VPN providers. It's worth noting that the VPN may not work in countries with strict regulations, such as China. 
UI/UX Design & Ease of Use
ZenMate is pretty simple and user-friendly, but this convenience comes with a tradeoff of fewer features and customization options. Our Score: 8/10
ZenMate's VPN applications prioritize basic functionality over advanced features. While this approach is ideal for beginners, more experienced users may prefer a VPN provider with more extensive options.
It's worth noting that the performance of ZenMate's apps varies depending on the device used. In our tests, the Windows client performed the best.
The latest ZenMate interface is a breath of fresh air compared to its previous design. It now features a free-floating window that enhances the user experience. 
Let's dive deeper into the details of ZenMate's interface:
Home Screen (Minimized) – The home screen of ZenMate's interface is designed for easy navigation. On the left side of the window, you'll see an arrow icon that can unfold the UI. The small version of the home screen also features a large connect button and an option to change server location. 
Home Screen (Expanded) – When fully expanded, the UI bears a resemblance to CyberGhost. On the left side of the expanded UI, you'll find servers optimized for streaming, torrenting, and regular use. To connect to a server, simply double-click on any country's name.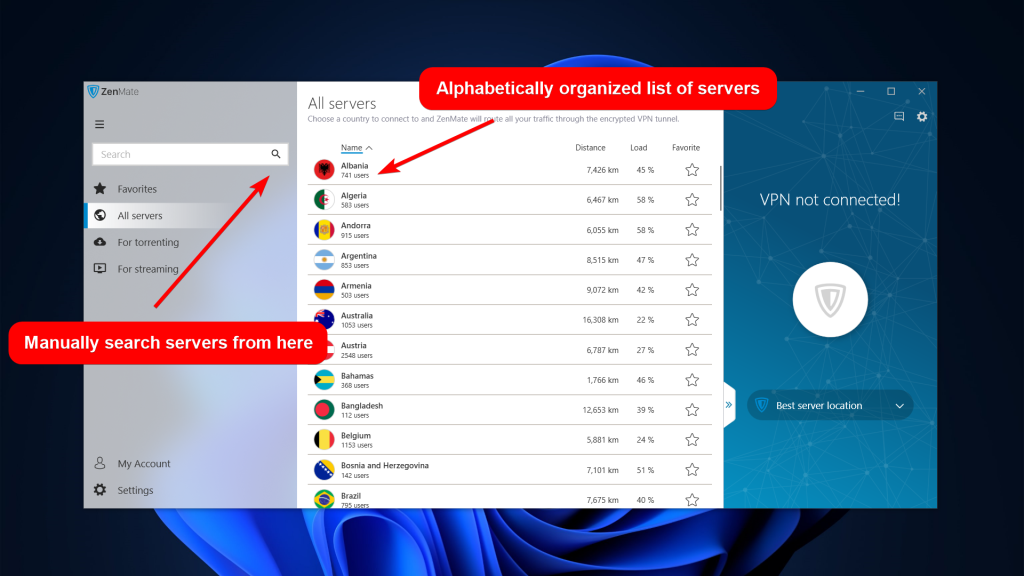 My Account – The My Account menu provides an overview of your membership and allows you to manage your account. Here you can view details such as your registered email and username. You can check your current subscription status and see when it is due to expire. You can also log out from this menu.
For more options, select Settings from the bottom-left of the expanded interface (or click on the cogwheel icon in the top-right corner of ZenMate's smaller interface). The Settings menu is broadly divided into two sections:
General – The General tab within ZenMate's Settings pane allows you to adjust basic options such as running ZenMate on system startup and automatically checking for updates. You can also reset VPN settings or change language preferences. The Kill Switch toggle is present but cannot be deactivated. Additionally, there is an option to opt out of submitting anonymous data.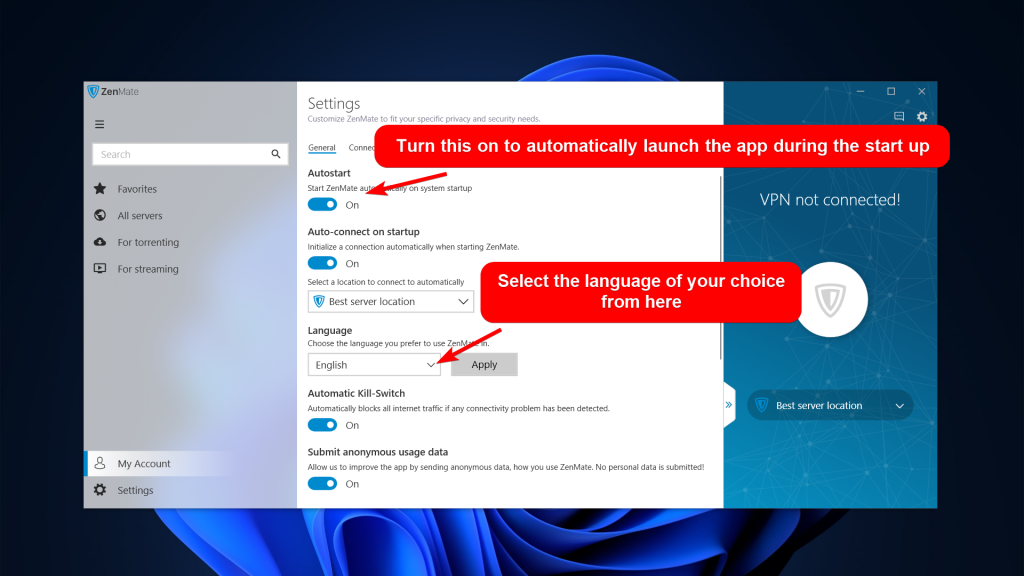 Connection – The Connection tab provides tools related to ZenMate's connectivity. You can manually change protocols or let the app decide the best one for you. There are also toggle buttons for enabling DNS leak protection and random port selection, as well as disabling IPv6 connections. Additionally, there is a "Repair Virtual Network Card" button that resolves conflicts between ZenMate and other software on your device.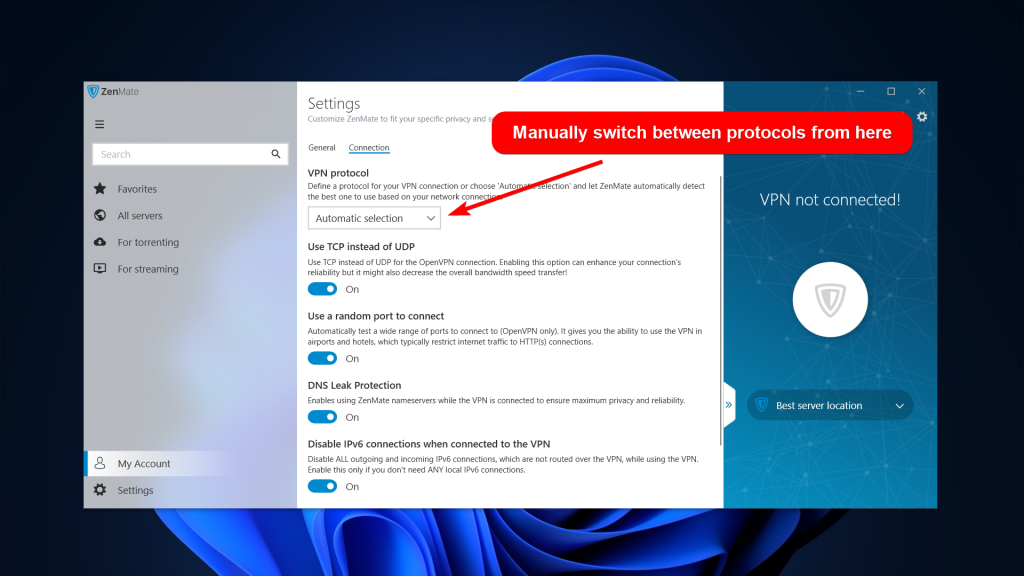 ZenMate VPN offers a well-designed and easy-to-use interface. However, its simplicity comes at the cost of expanded features. While this straightforward approach may appeal to beginners, advanced users may find themselves wanting more.
Media Streaming, Torrenting, and Gaming Support 
ZenMate VPN can intermittently unblock streaming platforms and supports P2P file sharing, but it has poor gaming performance and no DNS support. Our Score: 5/10
We put ZenMate's ability to stream, torrent, and game to the test. With ZenMate VPN running in the background, we attempted to access popular streaming platforms, download torrents, and even kill opponents on Counter-Strike. The performance was mixed.
MEDIA STREAMING, TORRENTING, & GAMING SUPPORT
| | |
| --- | --- |
| Netflix US  | YES (occasionally) |
| ESPN+  | YES (occasionally) |
| BBC iPlayer  | YES (occasionally) |
| Amazon Prime Video  | YES (occasionally) |
| Disney Plus | YES (occasionally) |
| HBO Max | YES (occasionally) |
| Peacock US | YES (occasionally) |
| Torrenting (P2P)  | YES (legal P2P files only) |
| Gaming | No |
ZenMate VPN has occasional success with bypassing restrictions on streaming services but doesn't match other top providers. The VPN has many optimized servers for streaming, but they don't always work. We faced numerous problems during our testing. ZenMate often failed to unblock the streaming platforms, and even when it bypassed restrictions, the connection was too slow.
That said, if you have fast Internet, you should be able to intermittently unblock Netflix, Hulu, HBO Max, Amazon Prime Video, Disney Plus, ESPN+, and many other streaming platforms. 
Although ZenMate allows P2P traffic on all servers, it's not an ideal VPN for torrenting. While some servers are optimized for torrenting, the speeds were often too slow. Additionally, the VPN's privacy policy is somewhat vague, which raises concerns about using ZenMate for sensitive file-sharing. 
It's important to note that ZenMate's Terms of Use strictly prohibit downloading copyrighted files, which suggests that the VPN may monitor users' torrent usage. Regardless, the main issue with using ZenMate for torrenting is the slow speeds.
ZenMate lacks Smart DNS functionality, which makes it difficult to use it with gaming consoles. The only way to use ZenMate on such devices is to set up the VPN on your router. 
However, even after the setup, the gaming experience with ZenMate was disappointing due to its slow speeds and high latency. It lags even on nearby servers and is considerably slower than other services that charge the same price. ZenMate is simply not a good choice for gamers who need low ping.
Security & Privacy
ZenMate's basic security measures are good, but it lacks advanced features like split tunneling, putting it behind other VPNs on the market. Our Score: 5/10
The most attractive features of a VPN are meaningless if you can't trust it with your data. That's why it's important to evaluate ZenMate VPN on its security protocols, logging policy, and data leak history to determine its trustworthiness. Here's what you need to know.
ZenMate VPN Protocols
VPNs use different protocols depending on the device and whether you want to prioritize speed or privacy. ZenMate offers three of the best protocol options, but the devices that support said protocols are unfortunately limited unless you're comfortable configuring them manually. 
| | | | |
| --- | --- | --- | --- |
| | OpenVPN | IKEv2 | WireGuard |
| Windows | Yes | Yes | No |
| macOS | No | Yes | No |
| iOS | No | Yes | No |
| Android | Yes | No | Yes |
| Linux | Yes | No | No |
OpenVPN – This is one of the most widely used protocols for VPNs and is offered as a standard option on Windows, Android, and Linux devices by ZenMate VPN. It provides excellent security using AES 256-bit encryption to ensure data shared via the Internet remains private.
IKEv2 – The IKEv2 protocol provides fast and stable connections and is considered very secure. Both OpenVPN and IKEv2 support leading encryption algorithms and 256-bit keys. IKEv2 is used by ZenMate VPN for its excellent performance on Windows, macOS, and iOS devices.
WireGuard – WireGuard is an open-source protocol that offers good data transfer speeds on low-power devices. It only supports UDP, which uses no handshake protocols, allowing it to skip the checks that OpenVPN TCP has to perform. This makes it faster than other protocols. However, ZenMate VPN only offers this protocol on Android devices. 
By default, the Windows and Android apps employ the secure OpenVPN protocol, while the macOS and iOS apps utilize the less secure IKEv2. In order to use OpenVPN or WireGuard on Mac or Windows, you will need to configure them manually. WireGuard is only accessible through the Android app.
Overall, ZenMate provides all the necessary protocols for secure browsing. Nonetheless, we conducted a DNS leak test to verify how effective its protocols are, which we will share the results of shortly.
Does ZenMate VPN Keep Logs?
Yes, ZenMate VPN keeps logs. They claim on its website that they do not collect user data, but upon reviewing their privacy policy, it appears they collect information such as browser type, operating system, IP address, and more. This information is also shared with third parties, and the VPN does not offer any protection against it.
While it may seem concerning that ZenMate collects data related to users' operating systems, Internet browsers, ISPs, and access times, this information is not tied to the user's username and is only used for diagnostic and fraud-prevention purposes.
Upon further investigation, we found that ZenMate also records users' IP addresses at the time of account registration to prevent misuse of their services. In fact, they reserve the right to use IP addresses to investigate any offenses.
If a VPN service has a verified no-logs privacy policy, a European jurisdiction is not a concern. However, ZenMate's logging practices fall short of being a true no-logs VPN, and they do not have an independent audit to verify their claims. While there have been no reports of ZenMate misusing personal data, we cannot recommend it to those seeking the highest level of online privacy.
It will be interesting to see what changes come from their upcoming merger with CyberGhost, and we will keep a watchful eye on any developments.
Does ZenMate VPN Leak/Expose Your Private Data? 
No, ZenMate does not leak your data. We also conducted a thorough test to determine if ZenMate VPN would leak any sensitive information, such as IP addresses or DNS requests. After seeing the results, we can confidently say that it is a safe option to use and did not leak any data.
We have included a screenshot above that clearly shows the lack of DNS leaks. Throughout our testing, our IP address remained hidden and only presented the information that ZenMate provided to third parties.
Speed & Performance
ZenMate is not the fastest VPN on the market. During our testing, we found that our Web connection speed was reduced by an average of 70.9%, which is pretty terrible. Our Score: 4/10

To test ZenMate's performance, we began by checking our Web connection speed without using the VPN. We established a baseline download speed of 104.04 Mbps and an upload speed of 114.12 Mbps. Then we connected to servers located nearby and far away to see if any throttling occurred. 
Since VPNs utilize encryption and security protocols, we expected that activating the service would result in a reduction in both download and upload speeds. 
And now, for the moment of truth, the results of our server tests: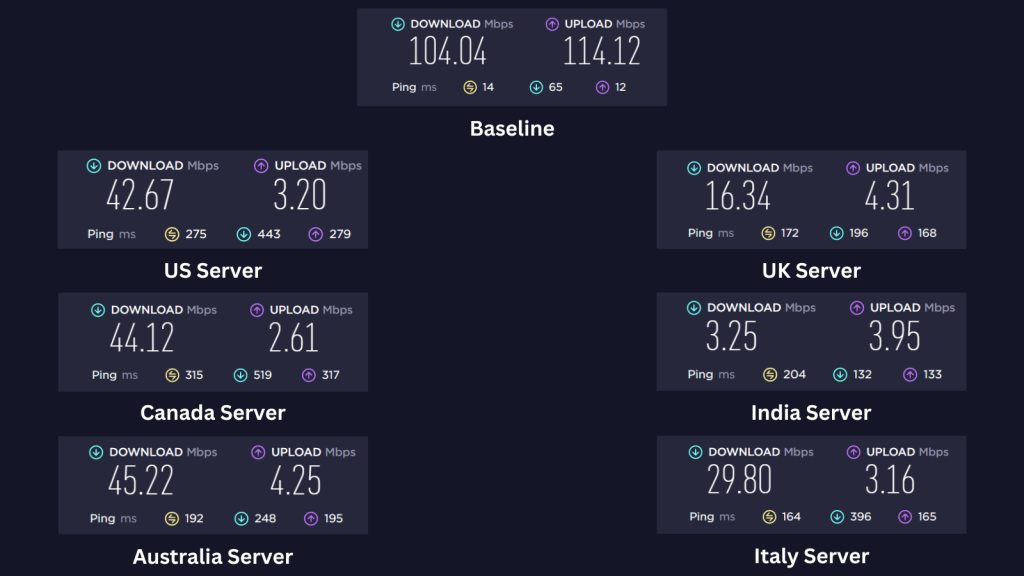 Italy Server – During testing, the Milan server of ZenMate VPN resulted in a significant speed drop of 71.2% compared to the baseline speed. The download speed was only 29.80 Mbps, which is very low compared to the best VPNs available in the market. The slowdown in speed will likely affect the quality of streaming, gaming, and browsing activities on this server.
UK Server – The performance of the London server was well below average during testing, with a download speed of 16.34 Mbps and an upload speed of 4.31 Mbps, resulting in an unacceptable drop in speed of around 84.3%. Unfortunately, this wasn't even the worst server.
US Server – The New York server performed comparatively well during testing, achieving download speeds of 42.67 Mbps. The drop in speed was around 59%, which isn't very good, but during the test, it was one of the best speeds we could get.
Canada Server – The performance of the Vancouver server was notably slow too, with a speed drop of 57.6% compared to the baseline speed. However, at 44.12 Mbps, it is one of the fastest servers among the tested locations.
India Server – During testing, the Mumbai server resulted in a significant speed drop of 96.9%, making it the worst-performing server of the bunch. The slow performance could be due to various factors like network congestion, server location, or the specific protocol employed.
Australia Server – The Sydney server achieved the best results of all the servers tested, with a download speed of 45.22 Mbps and an upload speed of 4.25 Mbps. The drop in speed was around 56.5%.
| | | | |
| --- | --- | --- | --- |
|   | Download Speed | Upload Speed | Speed Reduction |
| Baseline | 104.04 Mbps | 114.12 Mbps | 0% |
| Italy (Milan) | 29.80 Mbps | 3.16 Mbps | 71.2% |
| UK (London) | 16.34 Mbps | 4.31 Mbps | 84.3% |
| US (New York) | 42.67 Mbps | 3.20 Mbps | 59% |
| Canada (Vancouver) | 44.12 Mbps | 2.61 Mbps | 57.6% |
| India (Mumbai) | 3.25 Mbps | 3.95 Mbps | 96.9% |
| Australia (Sydney) | 45.22 Mbps | 4.25 Mbps | 56.5% |
In our review, we found that ZenMate VPN's performance was subpar. Its speed was merely passable at best, making it unsuitable for streaming or gaming. Even if you have a fast Internet connection, you may still experience buffering and image quality loss when streaming content from overseas. 
Overall, we were disappointed by ZenMate's speeds, which were below average on both short- and long-distance connections.
Customer Support
ZenMate offers 24/7 live chat support and online resources, but the website lacks detail. For complex issues, email support is the only option. Our Score: 5/10
Being a complex piece of software, VPNs can face certain issues from time to time. That's why you'll want to know what kind of customer support you'll have access to in the event of any troubles.

Here's what you can expect from ZenMate's support:
Live Chat – ZenMate's 24/7 live chat support system is staffed by friendly agents who are polite and responsive. Although response times occasionally lag, it's nothing unreasonable. However, we found that the agents' answers lacked technical expertise and seemed to be mostly canned responses. In addition, our experience was that the agents are incentivized for ending the conversations as quickly as possible.
Online Resources – The service provides a helpful set of installation guides that cover virtually every version of ZenMate. While they're not the most detailed guides we've come across, they're sufficient for getting you up and running with ZenMate. Furthermore, ZenMate's website has dozens of FAQs that address specific questions ranging from troubleshooting to payment issues. Unfortunately, these FAQs are scattered throughout the site and not well-organized.
Email Support – If you need additional help, especially with more technical issues, ZenMate offers an official inquiry form that you can fill out in the support section of their website. Expect to receive a response within 48 hours.
When it comes to customer support, ZenMate has a decent setup, including a website live chat that operates around the clock and multiple online resources. 
However, compared to other major VPN services, ZenMate's customer support falls short by a yard. While it can provide basic assistance and help with troubleshooting, it may not be able to resolve complex technical issues.
Pricing
While ZenMate offers competitive long-term plans with significant discounts, the monthly plan is quite expensive in comparison. Our Score: 5/10
ZenMate VPN, like many other VPN services, offers a number of subscription plans, all of which have the same set of features. The only difference is their duration and cost.
How Much Is ZenMate VPN?
ZenMate VPN has multiple options to fit various budgets, and they're all protected by a 30-day refund policy. Let's take a closer look at each one:
1-Month Plan – This plan costs $10.99 per month and is a great option if you want to try out the service before committing to a longer-term plan. ZenMate VPN also offers a 30-day money-back guarantee, so you can test the service without any risk.
1-Year Plan – If you're looking for a more affordable option, the yearly plan costs $53.88, which works out to just $4.49 per month. This plan offers the same features as the monthly plan but at a significantly lower price. With this plan, you could save up to 59% compared to the monthly plan.
3-Year Plan – While the 3-year plan is the most affordable at $59, it may not be the best option for most users. It would take at least two years of using the service before it starts saving you money. Additionally, there's no guarantee that ZenMate VPN will continue to be the best service for you in the future.
ZenMate VPN follows a clear approach of luring customers with its discounted long-term plans that stand out compared to its monthly plan. However, even with these discounts, ZenMate VPN may not provide the best value for money as it lacks some advanced features that other top-rated VPNs have. While ZenMate is affordable, there are other VPN services with similar prices that offer better features.
Moreover, the monthly subscription costs significantly more than the industry average. Another issue is that ZenMate only accepts PayPal and credit cards as payment methods, which may not be ideal for users who prioritize anonymity.
On the bright side, ZenMate VPN offers a 30-day money-back guarantee, giving users an opportunity to try the service and decide if it suits their needs.
Is ZenMate VPN Free?
Yes, ZenMate VPN does offer a free version of the app with certain limitations. While you can use the ZenMate VPN service for free, the free version comes with speed, platform, and location restrictions. 
Additionally, the service offers a seven-day free trial across all major platforms, which means you can test the full version of the service without having to pay upfront or use the 30-day money-back guarantee.
To activate the trial, simply create a ZenMate account and follow the provided instructions. Luckily, the trial won't automatically upgrade you to a paid subscription after the seven days expire.
Final Thoughts
ZenMate is designed for users who are new to the world of VPNs. It provides a decent level of security, occasionally unblocks streaming platforms, and allows P2P file-sharing. However, there are many downsides to this service. 
First, ZenMate's speed can be quite slow, which might not be ideal for streaming or downloading. Second, its policies are unclear on many privacy-related issues, and its customer support could use an upgrade, too.
Another downside to ZenMate is that it doesn't treat all platforms the same. It performs well on Windows, but other platforms, like Android, are intentionally ignored. It also lacks advanced options that other VPNs in its price range offer, like split tunneling.
Despite these drawbacks, ZenMate offers a 30-day money-back guarantee, allowing users to subscribe to the service and try it without risk. This can be a redeeming factor for the provider, but it may not be enough to outweigh the poor overall quality.
PROS
Decent protection
Reasonable pricing options 
Unblocks popular streaming platforms 
Prevents WebRTC/IP/DNS leaks
Free proxy browser extension
30-day money back guarantee
4,600 servers across 81 countries
CONS
Vague privacy policy 
Slow performance across servers
Unreliable streaming servers 
Lacks a Smart DNS feature
Limited customization for advanced users
IKEv2 for Mac/iOS only
FAQ
What Is ZenMate VPN?
Zenmate VPN is a VPN service designed to keep your online activities private and secure. However, the service falls short in terms of speed, and its cost is a bit too expensive for what it offers.
Does ZenMate Work with Netflix?
ZenMate claims to work with Netflix, but our experience suggests otherwise. While the service can sometimes access Netflix content, it's not reliable at all. Additionally, ZenMate's slow speeds can result in buffering and poor-quality streaming.
How Many Servers Does ZenMate Have?
ZenMate VPN has a network of over 4,600+ servers in 81 countries, but the actual number of servers available can vary by location. While this seems impressive on paper, the service's poor reliability and slow speed outweigh the benefits of its large server network.