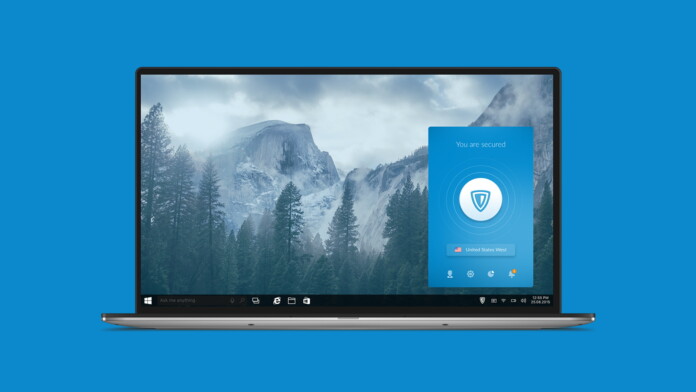 Zenmate VPN has been on the market since 2013, which is plenty of time in today's fast-paced world. It comes with numerous promises and claims to be the ultimate VPN for any type of user. Therefore, it's no wonder why it's used by 45 million users, as this VPN claims. However, we know better than to trust any marketing messages, and we'll take this VPN for a test-ride ourselves.
First of all, let's take a brief look at the most important aspects of Zenmate VPN. We're sure you'll find the following table to be helpful if you're comparing this VPN to its alternatives. With this said, here are some of the basic things that you need to know.
Quick Facts
Jurisdiction
Germany (the EU).
Logs
Collects some logs (vague privacy policy).
Number of Servers
30 countries; 300 servers.
Parallel Connections
5
Encryption Standards
AES 256-bit; OpenVPN, IKEv2, L2TP, IPSec.
Speed Reduction
68%, on average.
P2P Support
YES (copyrighted content is forbidden).
Live Chat Support
NO
Supported Platforms
Windows, MacOS, Android, iOS, Web browsers, Routers.
Price
$1.75/month
With the basic information out of our way, we'll continue with our next segment. We test each VPN for their website unblocking abilities, especially with media streaming websites. The following table will tell you how Zenmate ranks in terms of unblocking such websites.
Media Streaming Support
American Netflix
YES
Hulu
NO
BBC iPlayer
NO
Amazon Prime Video
NO
Kodi
NO
And lastly, we have just one more table for you. We've created the following one for those readers who just want the highlights. Therefore, here's our opinion after having tested Zenmate VPN for ourselves.
The Bottom Line
Pros
Easy to install and use; Fully automated; Unblocks Netflix; Affordable long-term plans.
Cons
Vague privacy policy; Collects some data; Limited server network; Semi-helpful customer support.
The Final Verdict
Right now, we can recommend Zenmate to casual users who want to unblock Netflix and a few other websites. Those who need the best possible data protection should look for another solution.
Our Score
5.7/10
We are now finally ready to dive deep into everything this VPN offers. So, keep on reading this review if you want to get to know Zenmate VPN in-depth.
Zenmate VPN – TechNadu's Hands-On Review
We'll begin by taking a look at Zenmate's background and jurisdiction. Then, we'll jump to showing the software hands-on. If you'd like to know more about this procedure, here's how we review VPN services.
Background, Jurisdiction & Reputation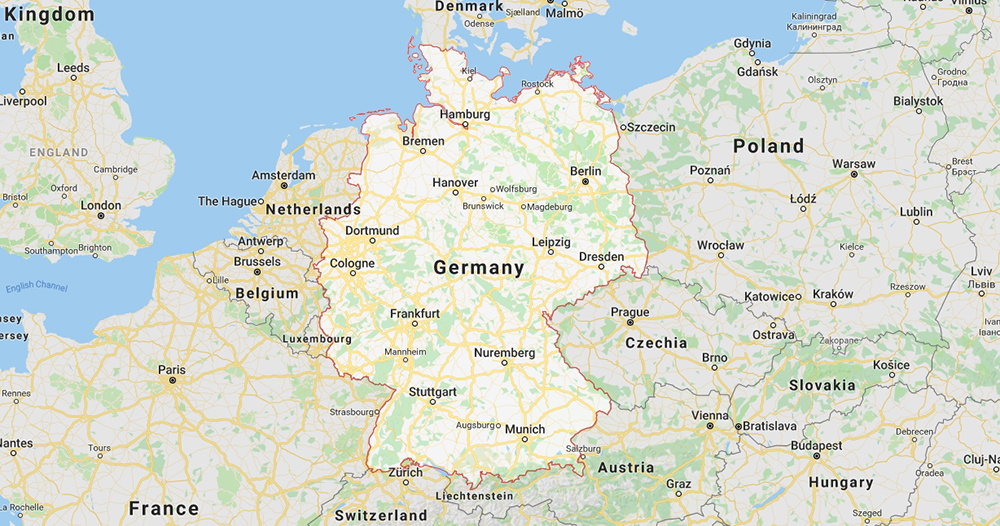 Zenmate VPN comes from Germany and it was often accused of operating in a grey area. It's definitely still haunted by ghosts from the past. Our Score: 6/10.
When choosing a VPN, you want to know where it comes from. That's because every country has its laws regarding data privacy that affect you, as a VPN user.
Jurisdiction & Applicable Laws
Zenmate VPN comes from Germany, which has become one of the leading members of the European Union. With this said, this country has two polarizing (yet equally important) sides. On the one hand, it offers strong laws surrounding the protection of private data. On the other hand, it actively collects different kinds of data and is ready to exchange that data with other countries.
You've probably heard about GDPR until now. This is a set of laws that apply to the European Union, dictating the way your private data can be collected. Just recently, Germany has entered into a conflict with Facebook and is now actively trying to restrict Facebook's data collection policies. This tells us that there are ruling individuals who care about protecting your online safety while working within the GDPR limits.
Let's also not forget to mention some less-than-stellar developments. A while back, Germany's Vodafone has blocked a series of domains without a court order. And since this country is a member of the 14-Eyes Alliance, it actively collaborates with the USA. Right now, there's a strong influence from the USA that will most likely prevent Germany from using Huawei's equipment on a larger scale.
With all of this said, the question is – can you trust Zenmate? Well, this is definitely a grey area. You can only hope that this VPN will oblige to those laws that prevent it from collecting data, and not otherwise. And finally, let's not forget to mention that Zenmate was acquired by Kape Technologies in October 2018. This company owns CyberGhost VPN, known for its user-friendly policies.
Previous Data Leaks
Upon doing background research on Zenmate, we've discovered plenty of interesting information. For example, there was a bit of confusion back in 2017 when Zenmate failed to explain the strange behavior of its MacOS client. This was the first sign that something odd might be happening.
Then, in March 2018, a team of independent researchers found that Zenmate VPN has minor data leaks. And not long after, a serious vulnerability was found in Zenmate's extensions. At the time, it was estimated that around 3.5 million users were affected.
As you can see, Zenmate does have some ghosts from the past. To decide whether using this VPN is the right thing to do, make sure to read this entire review.
Supported Platforms & Devices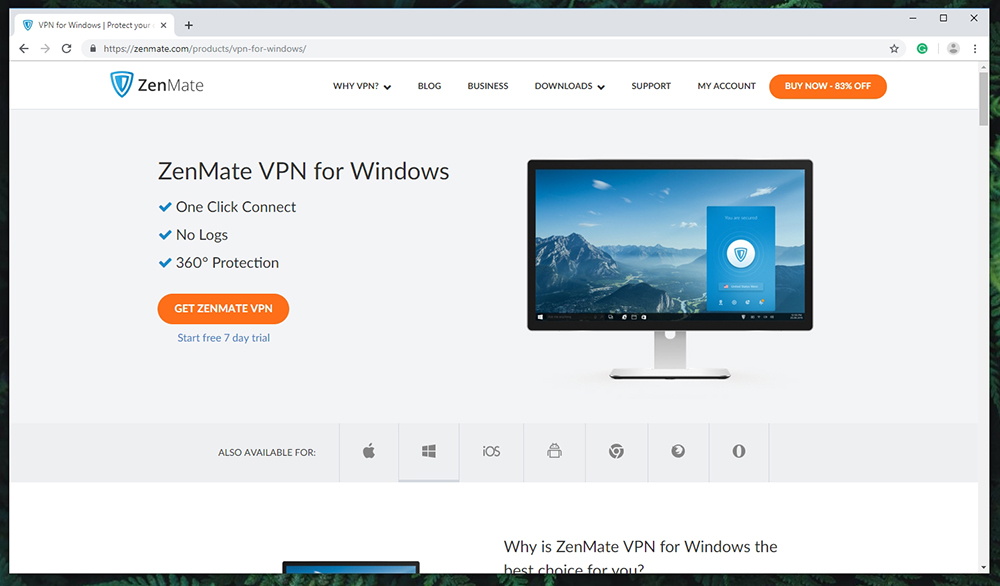 This VPN can be installed on computers and mobile devices. Also, Web browsers and routers on the list as well. Our Score: 8/10.
Now, let's check out what kinds of platforms and devices this VPN supports. To get a brief overview, take a look at the table found below.
Platform Compatibility
Desktop Platforms
Windows, MacOS, Linux.
Mobile Platforms
Android, iOS.
Web Browsers
Chrome, Firefox, Opera.
Routers
OpenVPN-compatible routers.
Other Devices
N/A.
As you can see, Zenmate covers plenty of popular platforms. In terms of computers, you can use it on MacOS and Windows – when it comes to its native apps. You can also install it on Linux computers, but you'll have to rely on a manual configuration for this purpose.
Next, we have Android and iOS, which are covered with native apps. And it's also interesting to note that a number of Web browser extensions are present. However, these work as proxies. This means that you should avoid them if you can, as these are somewhat limited. Therefore, going for a native app should always be the top priority.
Another important thing – you can install Zenmate on a range of routers. You'll get OpenVPN configuration files for this purpose, which means that you need a compatible unit. By installing this VPN on your router, you'll use only one free slot – no matter how many devices you connect. This means that you'll have four additional slots, so you can use the VPN on-the-go as well.
Installation & Initial Configuration
Zenmate VPN comes with an unbelievably simple installation method. It takes only a few seconds of your time – so even first-timers won't have any trouble. Our Score: 10/10.
As you can guess, getting started with Zenmate first includes getting a subscription. After selecting a subscription plan and paying for it, you'll get your username and password. This is when you can download Zenmate's official app from its website. For this purpose, you can log-in to your account on the official website, and download the correct software version from the 'Account Summary' tab.
Zenmate's installation file comes in at around 8MB (on Windows), which means it's pretty lightweight. To get started, double-click on the file you've just downloaded. Depending on your user privileges, you might be asked to authenticate this procedure. Once you do so, you'll see the log-in screen of Zenmate VPN. Supply your user credentials and you're ready to go.
As you can see, this VPN doesn't have a traditional installation method. In fact, it completely eliminates it. From the moment you double-click on the installation file, it will take a few seconds until everything is sorted out. This is when you'll see the log-in screen. Therefore, we believe this to be one of the simplest installation methods we've encountered so far.
Prominent Features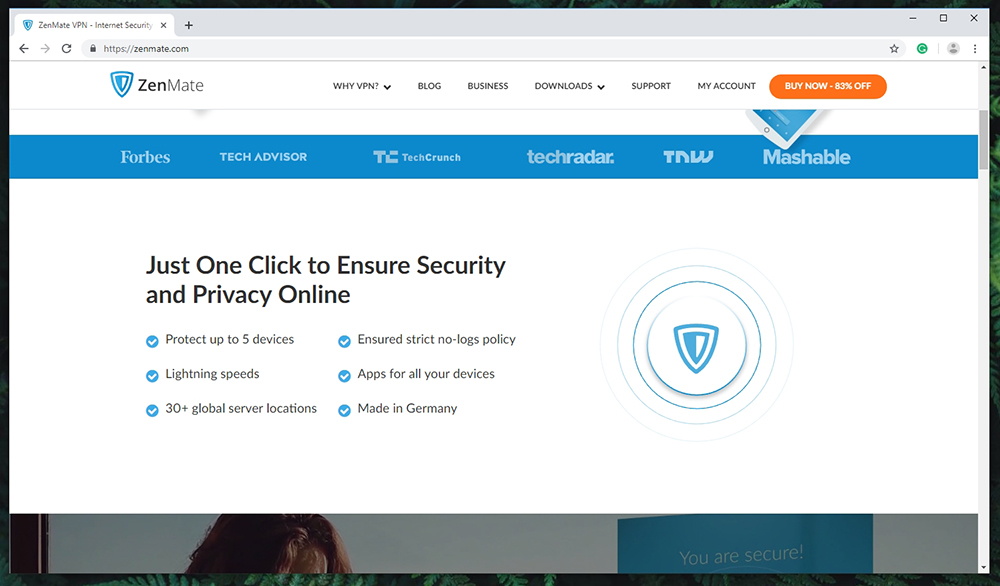 Zenmate brings a nice set of basic features and even some extras. However, it can't be compared to more comprehensive alternatives. Our Score: 6/10.
After going through dozens of VPNs, we know a thing or two about what kinds of features to expect. Therefore, we've come up with a list of features that every powerful VPN needs to have. Let's see if Zenmate meets our criteria.
VPN Features Checklist
DNS Leak Protection
YES
IPv6 Leak Protection
NO
Kill-Switch
YES
Ad-Blocker, Anti-Malware
NO
Unlimited Server Switches
YES
Unlimited Bandwidth
YES
Unlimited Data
YES
When it comes to data leak protection, Zenmate includes a DNS protection. And your IPv6 traffic will be protected but note that this type of traffic is disabled by default. This is something that many VPNs do, and it has become increasingly hard to find a solution with full IPv6 support.
Among more advanced features, you will find a kill-switch. This feature disables your Web connection if a secure connection becomes compromised. Also, you need to know that Zenmate doesn't offer split-tunneling support. Therefore, it does go into the territory of advanced VPN features, but not by much.
We also need to tell you that Zenmate offers powerful ad-blockers and similar types of software. However, these tools are not built into this VPN. Instead, these are Web browser extensions that you can install and use, without having to pay extra.
All in all, Zenmate should meet the needs of average VPN users. However, we feel that more advanced users will be left wanting for additional options, including a higher level of fine-tuning.
Server Count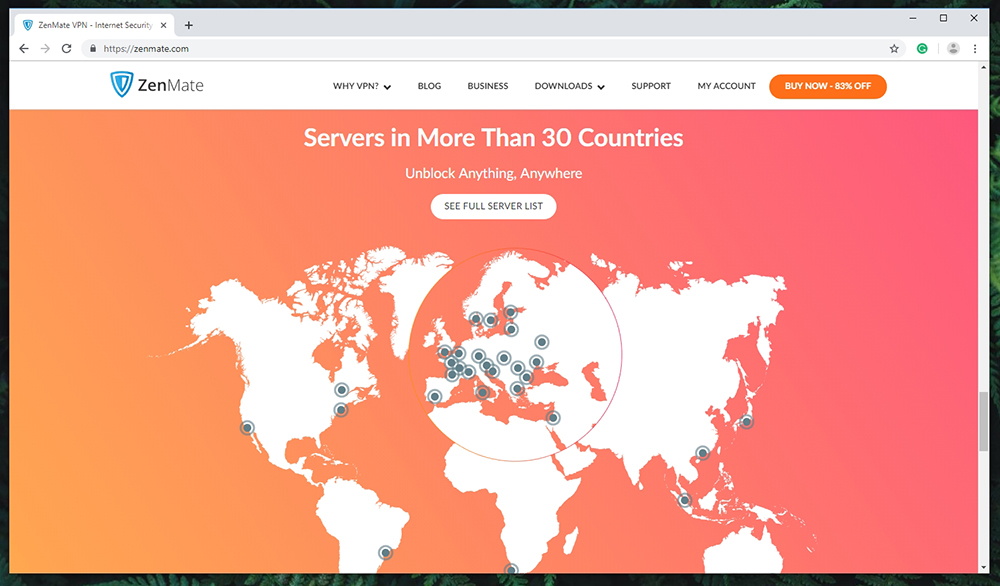 With only 300 servers on offer, Zenmate doesn't leave us impressed. You can't connect to specific servers either, which is a major downside. Our Score: 3/10.
Next, we're going to check what kind of server network you can expect. In general, you want a huge number of servers spread across the entire globe – which is what top-rated VPNs offer.
Server Count Info
Number of Servers
300
Number of Locations
30+
Number of Countries
30
Specific Cities Selection
NO
Unlimited Switching
YES
As you can see, Zenmate VPN currently offers 300 servers. In comparison, top-rated VPNs come with 5,000+ servers – which means that the difference is drastic. However, we have to note that this VPN is working hard on expanding its server network, having added more than 250 servers in the previous year alone. We can only hope for this trend to continue in the future.
What's problematic is that Zenmate doesn't offer specific locations or cities. This means that you can only click on a specific country, and this VPN will connect to an 'optimal' server. Since some Web services support only specific regions (within a single country), you can't count on accessing those. This is certainly a major downside.
To end this segment on a positive note, Zenmate comes with no restrictions. You can switch between different servers with ease and at any moment. And you should also know that you can't use this VPN from China, but it's available in the UAE and Turkey.
Ease of Use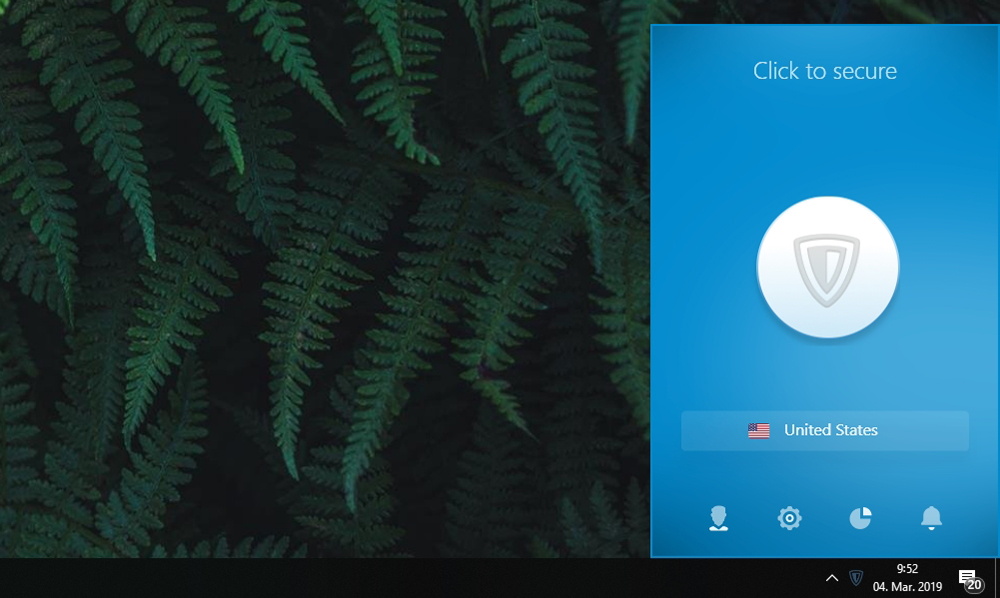 Zenmate is characterized by a simple UI design. Depending on your needs, this might or might not work (if you want something simple or not). Our Score: 7/10.
This application is stationed in your taskbar, which means that it doesn't offer a free-floating window. To active it, simply click on its icon. This will reveal a very simple UI that lets you pick a server and connect to it.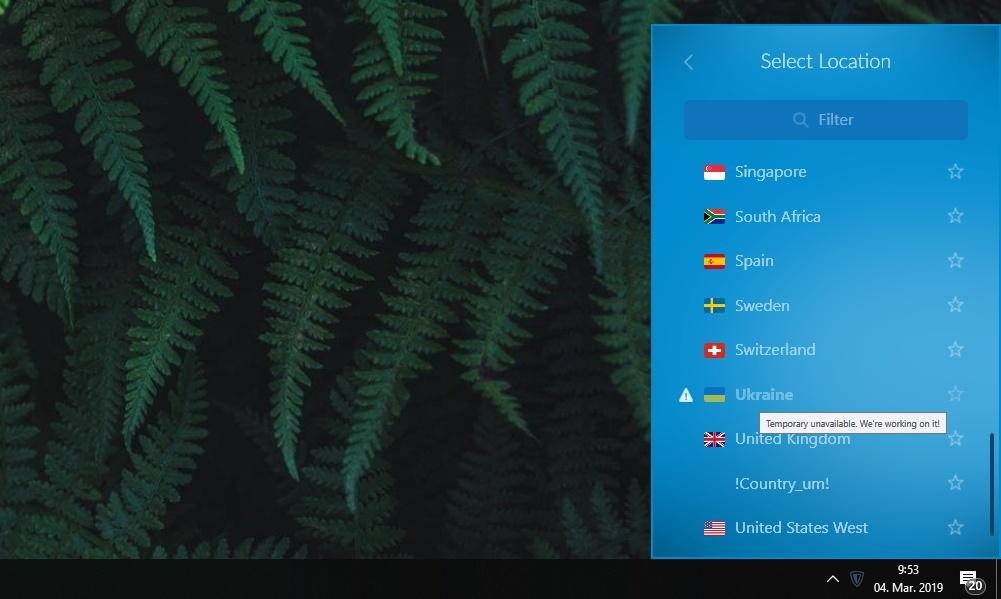 The most prominent element on the home screen of Zenmate is a large button used to connect and disconnect. Underneath, you can select a server. As noted earlier, this VPN doesn't offer a way to connect to specific cities. Therefore, you'll see a list of countries. Click on any of those and Zenmate will make a secure connection. It's simple as that.
To dive a bit deeper, you'll find four icons at the bottom of the home screen. To explain what to expect for each of those, we'll give you a brief overview:
Account: The first button allows you to check your account information. You can see which plan you're using as well as when it's due to expire, and you can also upgrade to more comprehensive plans. Also, this is where you can log out of this application.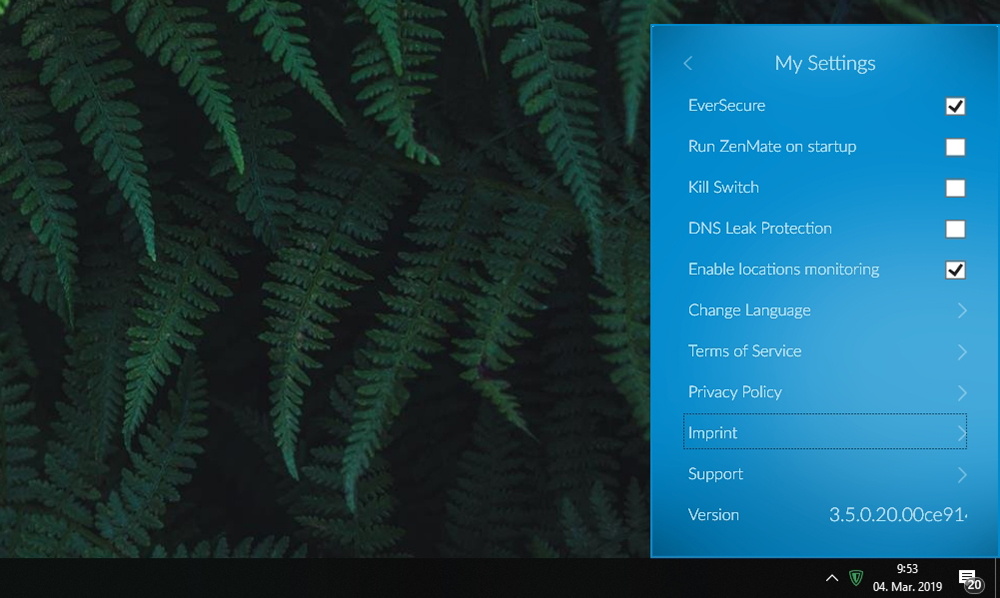 Settings: Zenmate comes with a fairly simple settings panel. You can enable the application's kill switch and the 'EverSecure' feature (which prevents your computer from disconnecting), allow the application to run of start-up, and enable DNS leak protection. You also use Zenmate in English, German, Spanish, Turkish, Russian, and Korean.
Statistics: This button allows you to check real-time stats about your current session. You can see how much data you've transferred, the duration of your session, and similar stuff.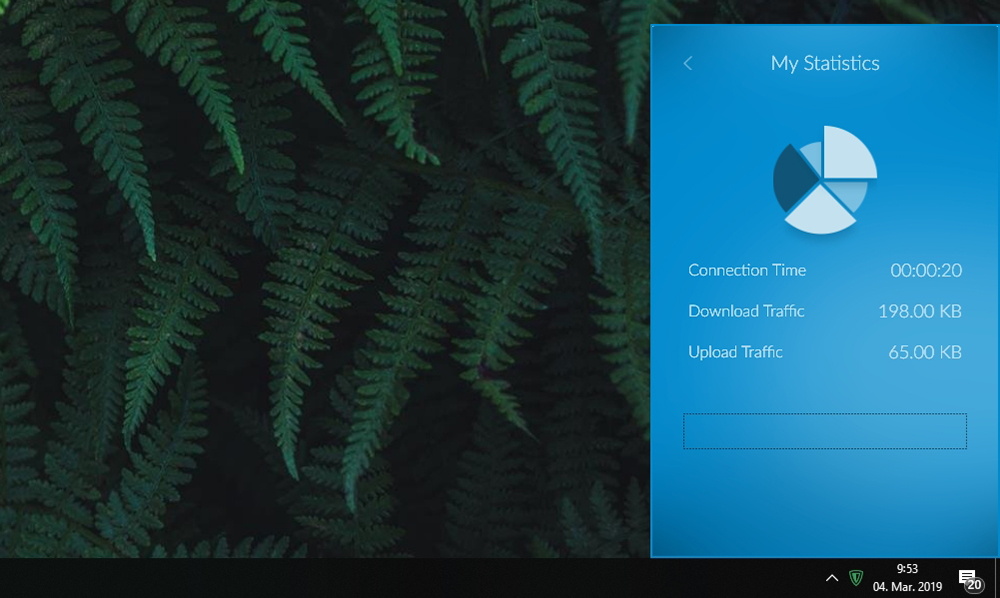 Notifications: Finally, this is where you can review notifications. We're not sure what is supported to be presented here, as we didn't receive any notifications during our time with this VPN.
We conclude that Zenmate comes with a user-friendly UI design. As such, it's suitable for beginners who want a hassle-free experience. If you're looking for something more powerful, you won't find it here.
Media Streaming & Torrenting Support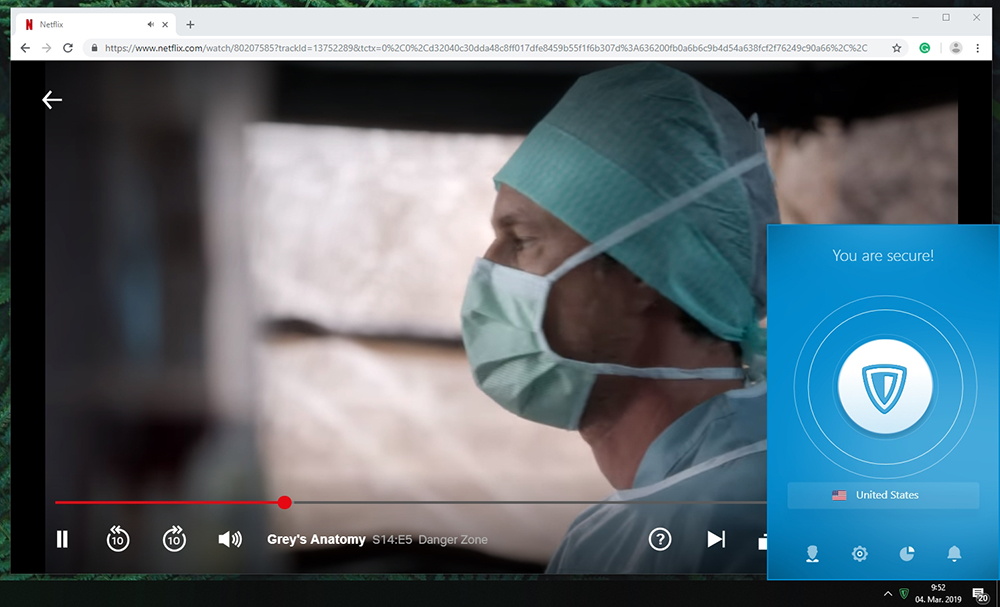 Zenmate is currently able to unblock Netflix and iPlayer. Torrenting is also supported, but note that your file transfers are monitored, so avoid copyrighted files. Our Score: 5/10.
VPNs have become popular solutions for unblocking media streaming services. We've tested Zenmate VPN with four of the world's most popular websites of this kind, so here are the results.
Media Streaming & Torrenting Support
Netflix US
YES
Hulu
NO
BBC iPlayer
YES
Amazon Prime Video
NO
Torrenting (P2P)
YES
Among the media streaming services we've checked, Zenmate VPN works with Netflix and BBC iPlayer. By connecting to its US-based server, you will be able to access the American version of Netflix and stream without any issues. The same applies to BBC iPlayer after connecting to one of the servers found in the UK. However, don't count on using services like Hulu and Amazon Prime Video.
When it comes to torrenting, Zenmate can also be of help. However, we must underline the fact that this VPN's Terms of Use strictly forbid downloading copyrighted files. In other words, you are free to download legal torrents. What this implies is that some kind of monitoring is done by Zenmate. In case it detects you downloading copyrighted files, your account may be suspended or deleted. Therefore, we strongly recommend sticking to the safe side of the law.
Security & Privacy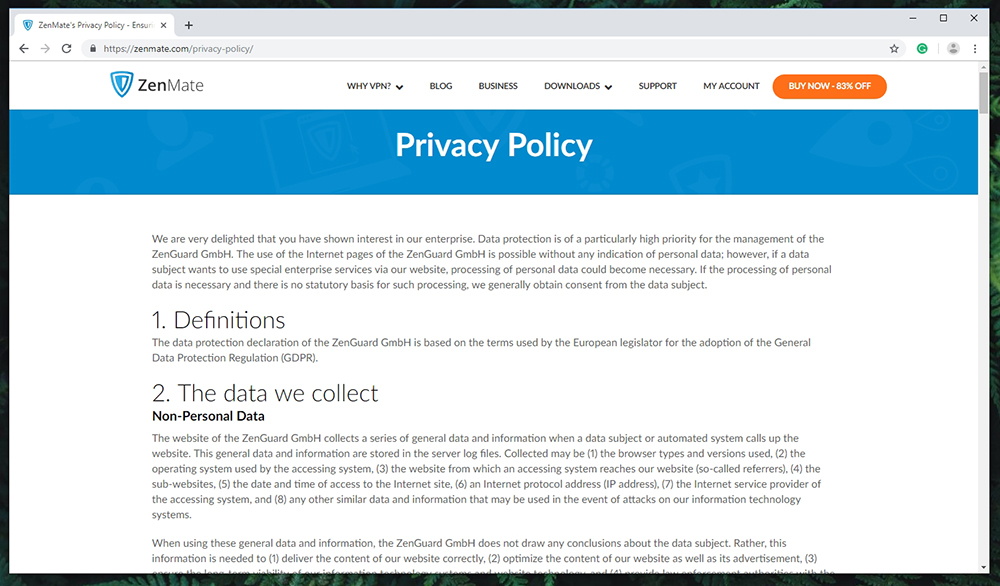 This VPN is backed by powerful VPN protocols. However, all of this is undermined by its vague and sometimes alarming Privacy Policy. Our Score: 5/10.
Even the most attractive of features mean very little if you can't trust a VPN with your data. This is why we'll inspect Zenmate VPN from three different perspectives. Here's what you need to know.
Supported Encryption Protocols
In terms of encryption, Zenmate is using 128-bit AES for their Web browser extensions. However, its native apps come with a higher level of encryption – AES-256 bit. This is considered to be the industry standard these days.
Depending on your platform, Zenmate also comes with an array of VPN protocols. For its Windows client, it offers IPSec (IKEv2) and L2TP/IPSec. And on MacOS, it comes with IPSec (IKEv2). There's also OpenVPN involved as well, which is perhaps the strongest VPN protocol at the moment.
All in all, Zenmate is truly equipped with everything you'll need in terms of security. Of course, we'll do a DNS leak test soon, to see if all those protocols are watertight.
Logging Policy
When you visit this VPN's website, you'll see claims saying that they don't collect your data. However, we know better than to trust those claims, which is why we've taken a close look at its privacy policy. And this is where we've discovered plenty of interesting information.
Zenmate is capable of collecting data related to your operating system, Web browser, dates and times of access to every Web site, information about your ISP, and 'similar data and information'. This might sound alarming, but none of this information is tied to your username. In other words, this information is anonymous, and it's used for diagnostic purposes.
Upon further research, we've seen that Zenmate records your IP address the moment you register for a new account. The reason or this is to prevent any misuse of this VPN's services. Also, their privacy policy says that they'll use your IP address to 'investigate committed offenses'.
As you can see, Zenmate isn't really a no-logs VPN. And what's more alarming, it comes with a very vague privacy policy which leaves plenty to be desired. Even though there aren't any reports of Zenmate using personal data for malicious purposes, we can't recommend it to those looking for the highest level of online anonymity.
DNS Leak Test
Finally, let's see if Zenmate's VPN tunnel is as strong as this VPN claims. We'll do a DNS leak test, which should show us if any data leaks are happening while the session is in progress.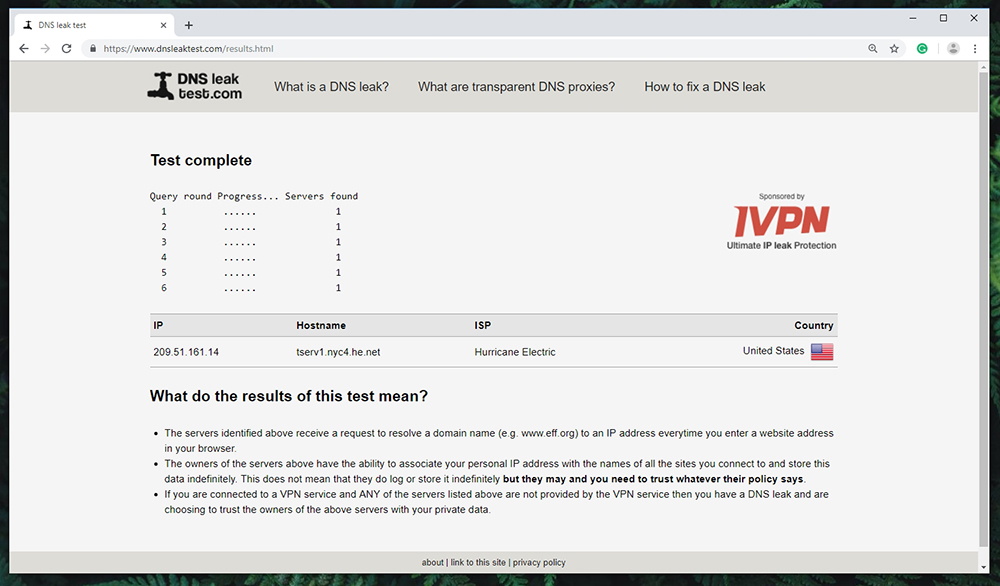 As you can see from the screenshot above, no DNS leaks were detected. Our IP address stayed hidden at all times, and third-parties could only see what Zenmate was presenting them.
Speed & Performance
Zenmate VPN slowed us down by 68%. As you can see, this can be a big problem for those without broadband speeds, to start with. Our Score: 3.5/10.
Next, we're going to test Zenmate's performance. For this purpose, we'll first test the speed of our Web connection, without using this VPN. Then, we're going to connect to both nearby and remote servers – which, as a result, will show us if there's any throttling.

We've started with our 'naked' Web connection, to establish the baseline data. Upon doing a speed test, we got 147.80 Mbps for downloads and 9.31 for uploads. Now, let's launch Zenmate and see what kind of performance it brings.

As we do in our every review, we'll start with connecting to a nearby server. We're located in Europe, and Zenmate decided to connect us to a nearby server. After doing a speed test, we got 19.17 Mbps for downloads and 7.99 Mbps for uploads. As you can see, there's plenty of throttling going on. In fact, we were surprised by this VPN's slow performance.

The situation somewhat improved once we connected to a remote server, found in the USA. This time around, we got 75.54 Mbps for 3.01 Mbps.
| | | | |
| --- | --- | --- | --- |
| | Download Speed | Upload Speed | Speed Reduction |
| Baseline Speed | 147.80 Mbps | 9.31 Mbps | 0% |
| Nearby Server | 19.17 Mbps | 7.99 Mbps | 87.0% |
| Remote Server | 75.54 Mbps | 3.01 Mbps | 48.8% |
In conclusion, we can say that Zenmate throttled the speed of our Web connection by 68% on average. There's nothing impressive about this as it can make your Web connection useless if you don't have a broadband connection to start with.
Customer Support
There are ways to get help, but all of those support channels are half-baked. You really need to be determined to have your issue resolved in a timely manner. Our Score: 3/10.
When paying for a service, you expect it to be fully accessible 100% of the time. However, being highly technical solutions, VPNs can face certain issues from time to time. That's why you'll want to know what kind of support you'll be getting.
Installation Guides: There's a set of helpful installation guides covering pretty much any version of Zenmate. These aren't the most in-depth guides we've seen, but they should do the job of letting you know all the ins and outs of installing Zenmate.
FAQ: There are several dozens of questions answered on Zenmate's website. They range from specific troubleshooting question, up to payment-related ones. However, they seem to be scattered across the website, without a clear categorization.
Support Tickets: Finally, there's a way to send an official inquiry. You can open a support ticket by filling out a form (on the website's support page), where you can explain your problem. Prepare to wait up to 72 hours before a response arrives.
Pricing
Zenmate comes with highly affordable long-term plans that certain undermine their competition. However, its monthly plan is far from affordable. Our Score: 6.5/10.
Just like other VPNs on the market, Zenmate VPN is offering several subscription plans. All of those come with the same feature set – the only difference is in their duration and price.
| | | | |
| --- | --- | --- | --- |
| | Total Price | Per Month | Savings |
| 1 Month | $9.99 | $9.99 | 0% |
| 6 Months | $20.94 | $3.49 | 65% |
| 12 Months | $21.00 | $1.75 | 82% |
We can see that Zenmate is doing its best to steer you towards its long-term plans. The monthly subscription costs $9.99, and we can say that it's far from being affordable. In comparison, top-rated VPNs are usually priced at around $10 per month, but these bring a powerful set of advanced features (which is something that Zenmate VPN lacks). However, the situation changes dramatically upon taking a look at this VPN's 6-month and 12-month plans.
You can save up to 65% if you buy Zenmate's 6-month plan. Or even better, save up to 82% on Zenmate by getting its 12-month plan. However, please note that you'll be charged $21.00 for the first year only (which then goes up to $42.00 per year).
Before you decide to get a subscription, keep in mind that there's a 30-day money-back period, which seems generous enough. If you change your mind, you can ask for your money to be returned. And finally, you can pay for the subscription via PayPal, credit cards, and numerous other third-party payment processors. As you can see, there's no support for cryptocurrencies.
Do We Recommend Zenmate VPN?
After everything said in this article, it's clear that Zenmate is a mixed bag. It has proven that it can protect your data and can even unblock Netflix. However, we can't recommend it to those who want to download torrents or stream media files in HD/4K video resolution. And lastly, there's that questionable privacy policy which prevents us from recommending it to privacy-conscious users.
PROS: Very easy installation; Fully automated VPN solution; Unblocks Netflix & BBC iPlayer; No DNS leaks; Strong encryption; Capable VPN protocols.
CONS: Slow performance; Collects some data; Limited server network; No advanced features; High-priced monthly plan.
OUR SCORE: 5.7 out of 10!
In case you believe this VPN could be a good pick for you, don't hesitate to check out Zenmate VPN in greater detail. The provided link will take you to the VPN's official website, where you can review its features, check its pricing, and more.
Finally, we'd like to ask you to share this article online. And to stay on top of the latest VPN-related news, you can follow us on Facebook and Twitter. Thanks!