Do you use the digital HDTV satellite receiver VU+Solo²? If yes, secure your web connection with CyberGhost's premium-quality VPN security. You can do that with OpenVPN installation on this Linux-based device. Wondering how? Check our complete step-by-step process to download, install and use CyberGhost VPN on VU+Solo².
System requirements:
Most recent firmware
Installed OpenVPN plug-in for the receiver
Linux operating system (PC)
1. First, visit the CyberGhost VPN subscription page.
2. Next, hit the Get CyberGhost VPN button.
3. Select your preferred subscription plan and submit the required details to complete your purchase.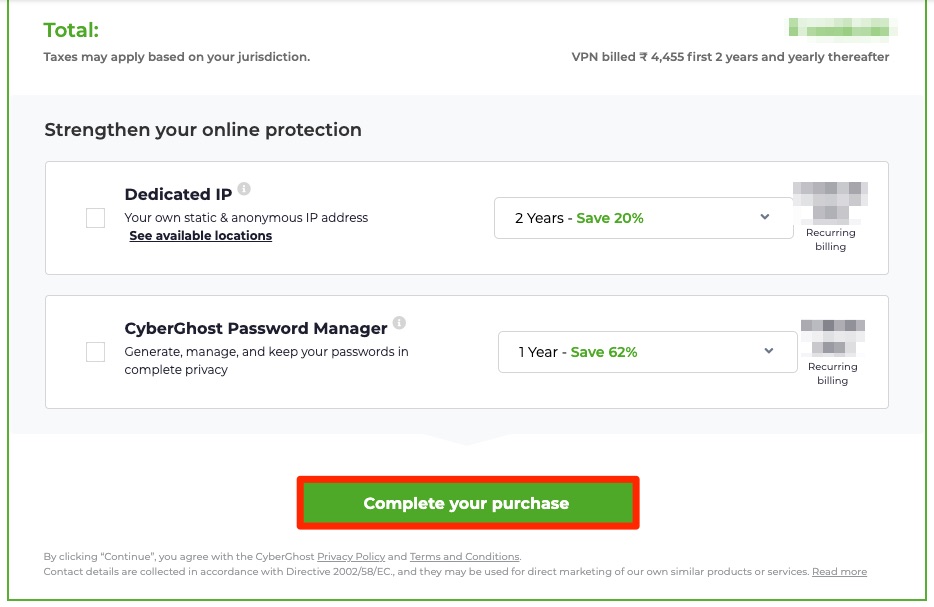 4. Once done, you'll receive a confirmation email. 
5. Now, visit CyberGhost official website and click the My Account button. 
6. Enter your Username and Password on the next screen and hit the Log in button to proceed.
7. When you can access your dashboard, navigate to Router or other devices and hit the Configure button. 
8. Next, fill in the details as mentioned below:
PROTOCOL- OpenVPN
COUNTRY- Any location
SERVER GROUP- Select one from the available options(UDP/TCP)
DEVICE NAME- Sat Receiver OpenVPN
EXTRA FEATURES- Tick all the boxes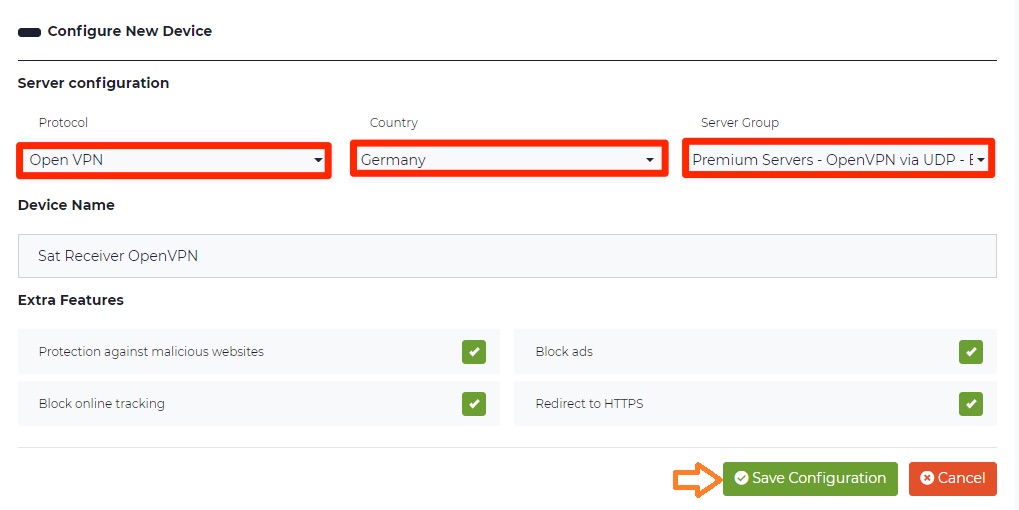 9. When done, hit the Save Configuration button.
10. You'll be redirected to the Manage Devices page, find Routers or other devices from there and click the View option.
11. The OpenVPN configuration will be previewed; take a note of Server Group, Username, and Password.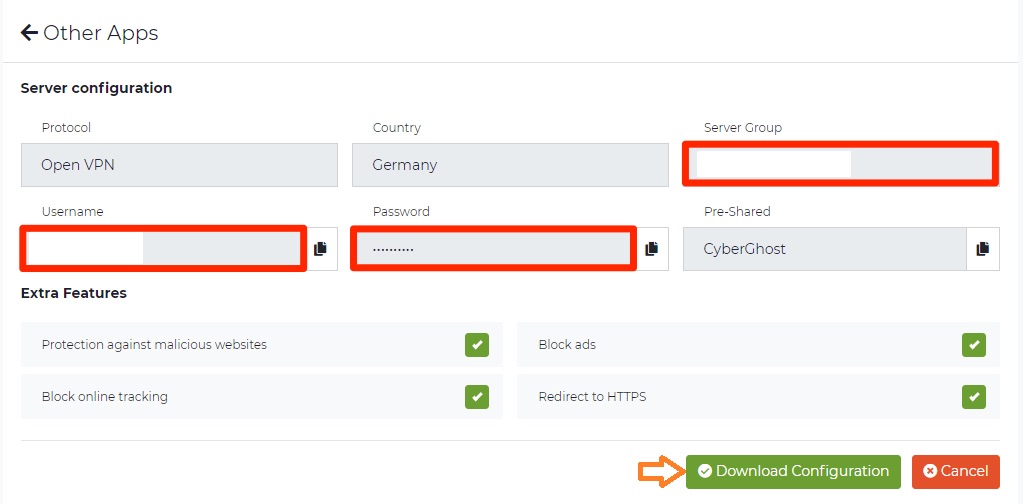 12. Once done, click the Download Configuration file.
13. A .zip file will get downloaded now on your system; extract that to get the below entries:
ca.crt- Certificate from the certification authority
client.key- Your private key
client.crt- User certification file
openvpn.ovpn- OpenVPN configuration
14. Once done, rename the openvpn.ovpn file and save it as CyberGhost.conf. 
15. Now, save your username and password in the pas.key file to log in automatically. Type the below commands in a terminal window to do so.
sudo nano pas.key
Username
Password
[Replace Username and Password with your credentials]
16. Next, press CTRL+O to save the changes and exit the nano editor with CTRL+X.
17. Open the configuration file now with the below command:
sudo nano CyberGhost.conf
18. You've to extend the line 'auth-user-pass' with the path to your credentials file:
[...]
auth-user-pass /etc/openvpn/pas.key
[...]
19. Now, connect your device through Telnet and type the following command:
20. Once the setup gets finished, reboot your device.
21. Now, you've to connect your device through FTP or SSH and create a new folder named openvpn within the /etc/ path. 
22. Next, you've to copy 'CyberGhost.conf' and 'pas.key' along with all other certificates and the key files from the .zip file into the OpenVPN folder on your VU+. 
23. Finally, you're all set to start your OpenVPN connection. Do that by following the below path:
Menu > Setup > System > Network > OpenVPN Setup >Press the Green button. 
That's all! Now you know how to install and use the CyberGhost VPN on VU+Solo². If you want to set up this VPN on other devices also, check our complete installation guide. And, if you face any issue while performing these steps, connect with us through the comment button below. Thanks for reading!