Now that Paramount Plus is finally here, you have yet another library of high-quality movies, TV shows, documentaries, sports content, and exclusive originals. However, the problem is that Paramount Plus is available in select countries only. Still, that's not exactly a big obstacle, and we'll show you how to watch Paramount Plus outside the US.
This article will answer all your questions regarding accessing Paramount Plus from abroad, creating a new account from anywhere, choosing a VPN for this job, and more. So, let's jump right in, shall we?
Where Is Paramount Plus Available?
At the moment, Paramount Plus is available across North America (USA, Canada, Mexico), South America (Argentina, Bolivia, Brazil, Chile, Colombia, Costa Rica, Dominican Republic, Ecuador, El Salvador, Guatemala, Honduras, Nicaragua, Panama, Paraguay, Peru, Uruguay, Venezuela), Europe (Norway, Sweden, Denmark, Finland), and Australia.
Currently, we don't have any information on when to expect Paramount Plus in more countries. However, some reports say that the UK, Ireland, Italy, Germany, Switzerland, Austria, France, Hungary, and South Korea will be in the next round of countries for this streaming service to reach, which will happen later this year.
How to Watch Paramount Plus Outside the US (While Traveling / If You're Subscribed)
The instructions found below apply to those who already have a Paramount Plus subscription. With that said, we'll help you unblock and watch Paramount Plus outside the US - using a VPN service. Here's what you need to do.
1. First and foremost, make sure to subscribe to ExpressVPN.
2. Once you get to ExpressVPN's website, select 'Try It Risk-Free' or "Get ExpressVPN" button.
3. Pick a subscription. Keep in mind that long-term ones come with big savings.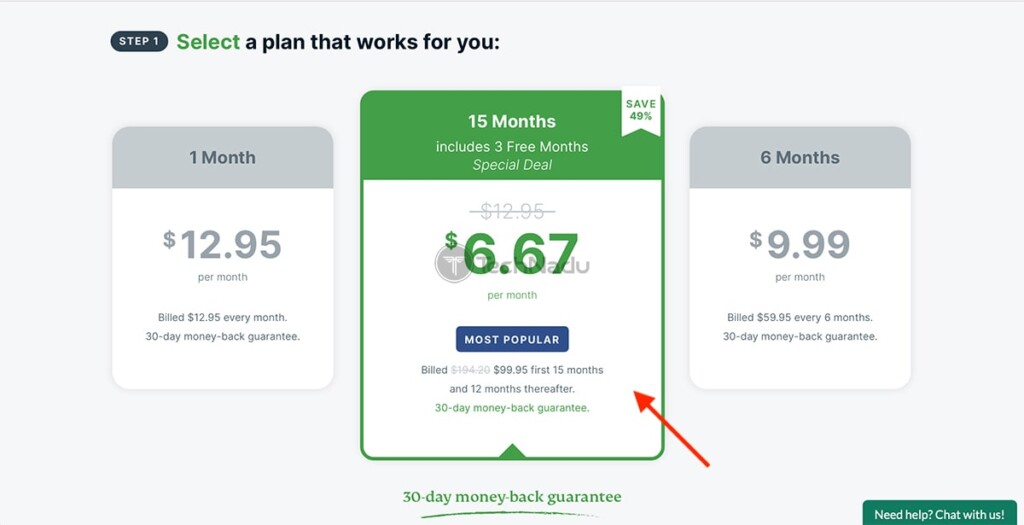 4. Provide your email address, pick a payment method, and finalize the procedure.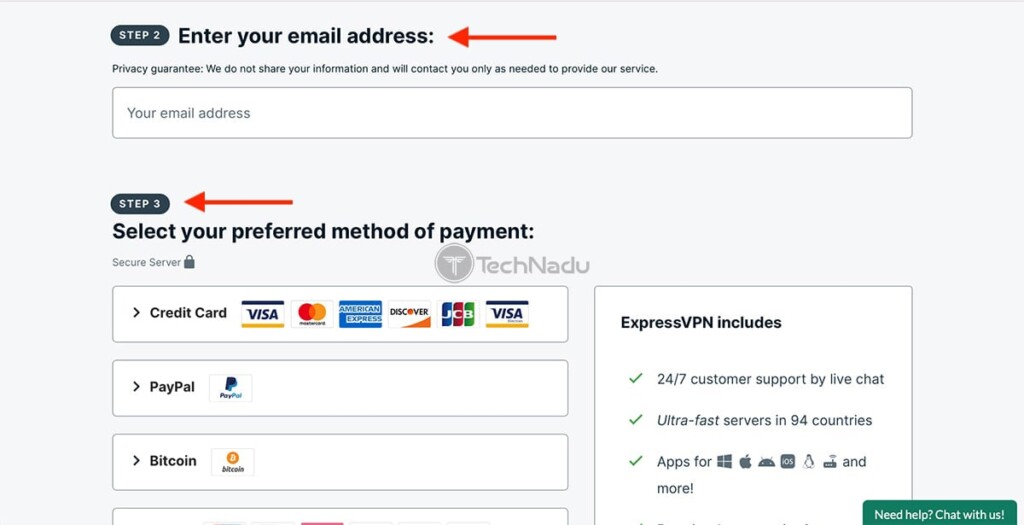 5. Once done, you'll see a confirmation email from ExpressVPN. Check your inbox.
6. Now, you need to set up ExpressVPN on your device(s).
To watch Paramount Plus outside the US, know that you need to have ExpressVPN active in the background at all times. So, feel free to set up the VPN on any device you'll use to access Paramount Plus. Also, know that ExpressVPN gives you five simultaneous VPN connections.
7. Launch ExpressVPN. Make sure that you see its home screen at this point.
8. Select the button below the ON/OFF switch, found on ExpressVPN's home screen.
9. Then, pick 'United States,' and select any server found in the US.
10. As you can you connect, ExpressVPN's interface will turn green.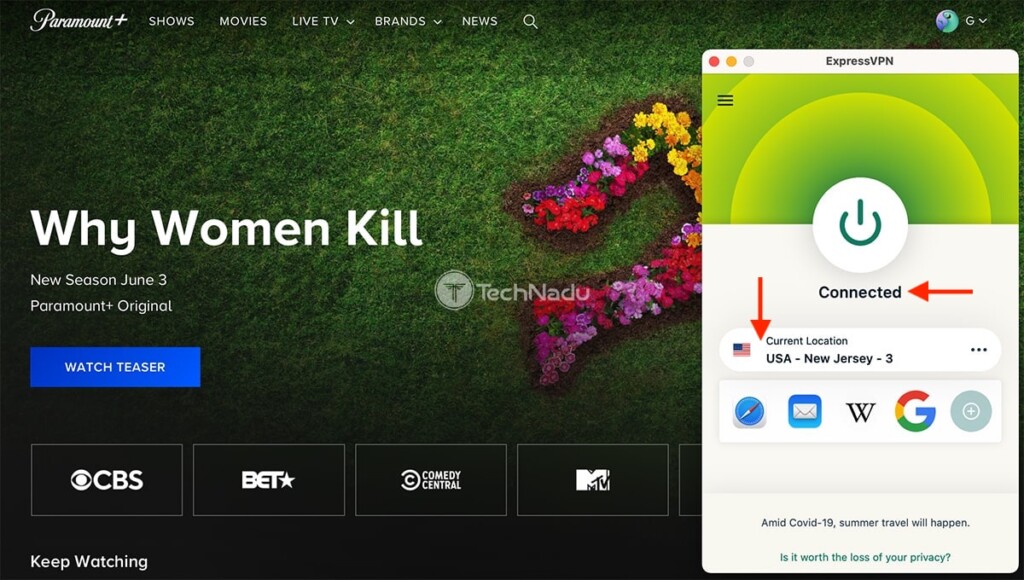 11. This is when you can proceed to access Paramount Plus. That's it!
How to Watch Paramount Plus Outside the US (If You're Not Subscribed)
If you're outside the United States, there's still a way to access and watch Paramount Plus. So, we'll show you a workaround to subscribe and then access this streaming service from anywhere. Here's what you need to do. 
We'll focus on a workaround that works on Android and iOS/iPadOS devices. That's because you can't subscribe directly via Paramount's website unless you have a payment method associated with a US financial institution. 
1. You need a VPN for this procedure. So, proceed to sign up for ExpressVPN. 
2. Select 'Try It Risk-Free' or 'Get ExpressVPN,' once you find yourself on this VPN's website. 
3. Then, pick a subscription (you can save by choosing a long-term one). 
4. Input your email address and your payment information.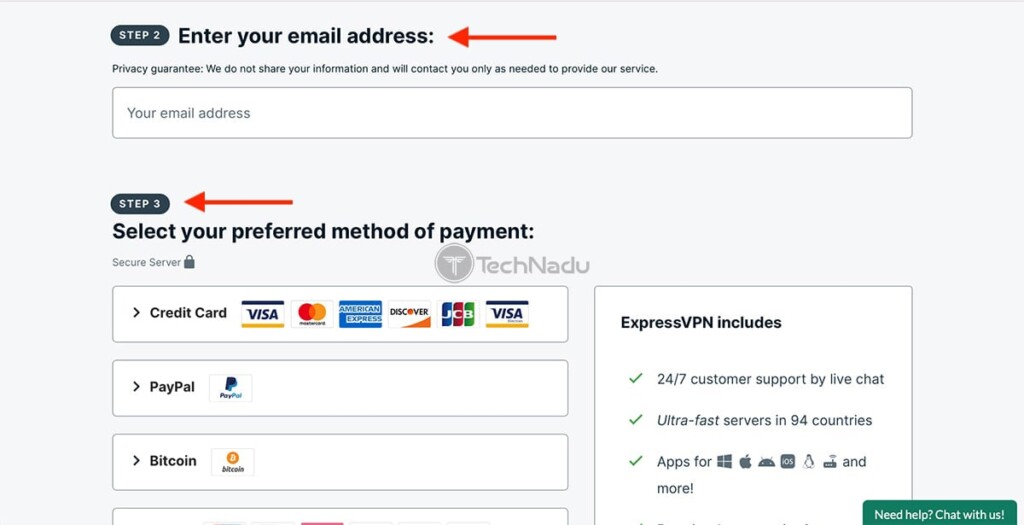 5. Once done, a confirmation email about your new account will reach your inbox. 
6. Now, proceed to download and install ExpressVPN on your device. 
At this moment, you should have ExpressVPN running on your device. This is also a good time to connect to a server in the US by clicking on the button just below the ON/OFF switch on ExpressVPN's home screen. Make sure the VPN is active as you proceed with the following steps. 
7. Make sure that your Google or Apple ID is set to 'United States.'
8. Otherwise, feel free to create a new Google account, or get a new Apple ID. 
9. Then, make sure that you're logged in to your new account on your device.
Remember that you need a Google or Apple ID that's associated with a US-based address. That's why you had to use a VPN to sign up for a new account.
10. Next, you need to add funds to your Google or Apple account.
11. Proceed to buy a Google Play or Apple/iTunes gift card (via Amazon).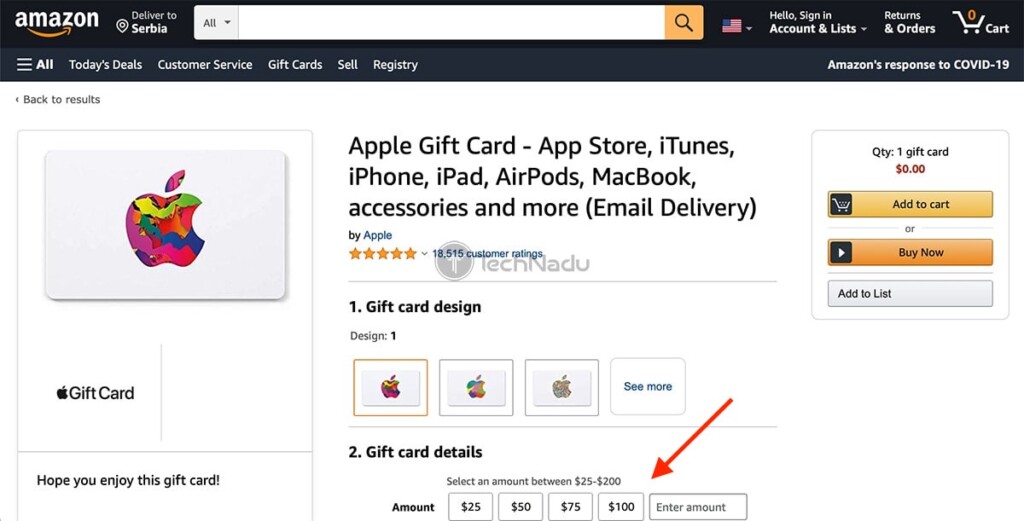 To subscribe to Paramount Plus via your Android or iOS/iPadOS device, you need to have enough funds to pay for your chosen subscription. At the moment, you can pick from two plans. There's a 'Limited Commercials' plan, priced at $5.99/month, and there's a 'Commercial Free' plan, priced at $9.99/month (or $99.99/year). 
12. Once done, you will get a redeemable code to your email inbox. 
13. Learn how to redeem your gift card on Android and iOS/iPadOS devices.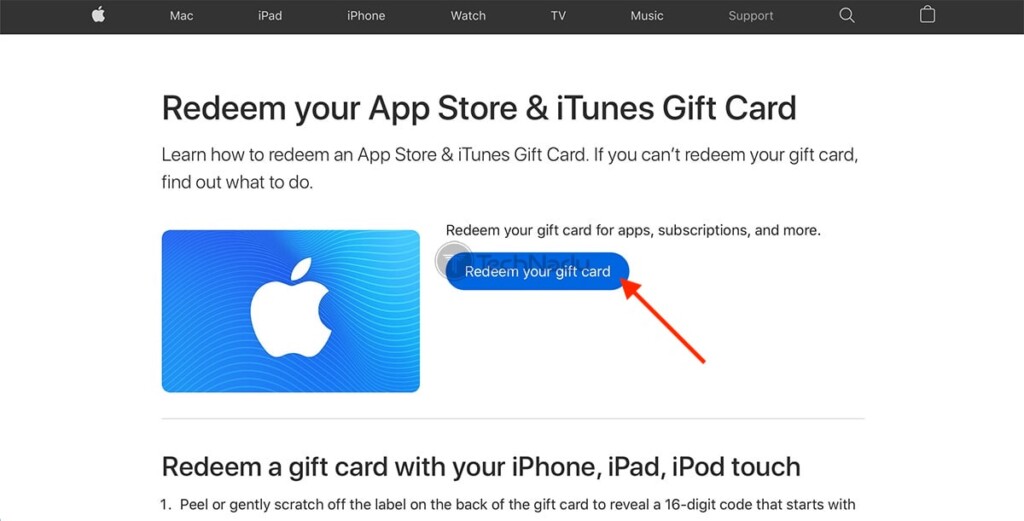 14. You should now have enough funds for at least a month of Paramount Plus. 
Once again, make sure that you're signed in to your newly created Google or Apple account – the one associated with an address from the US. You need to add funds to that account, which is also how you'll get to access the US version of the Play Store or iOS' App Store. Also, you need to have ExpressVPN running in the background.
15. Proceed to download Paramount Plus for Android or iOS/iPadOS. 
16. Open the app, and then tap on 'Sign Up for Paramount+.'
17. Pick a subscription and create an account (fill out the required info).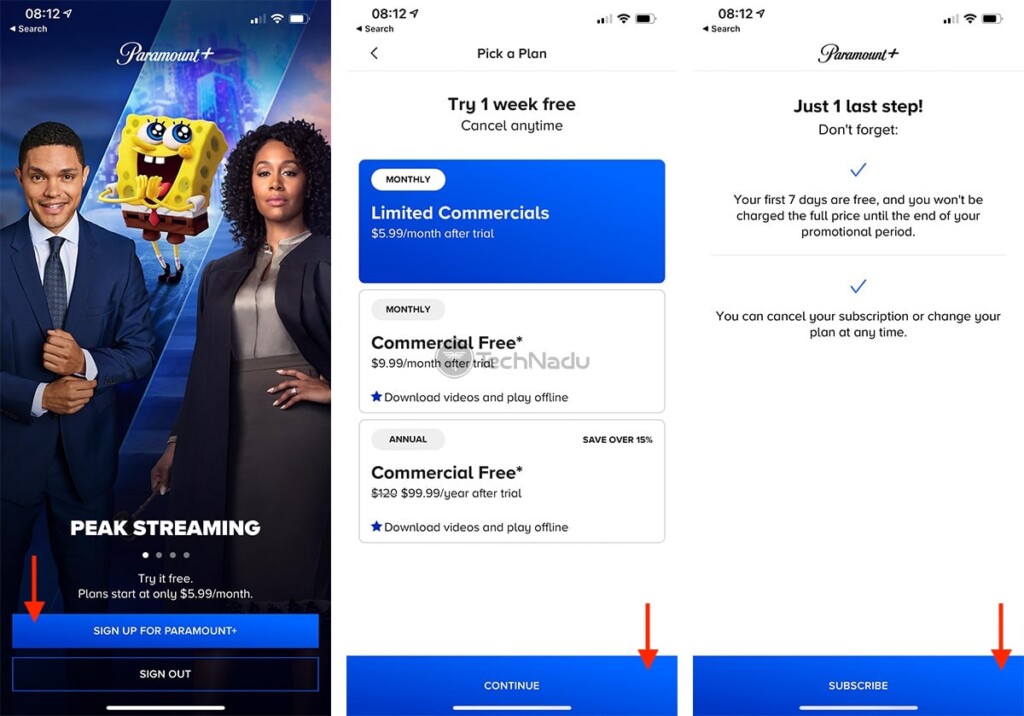 18. The last step will let you review your details. Then, confirm your payment. 
19. That's it! You now have access to Paramount Plus – without any limitations.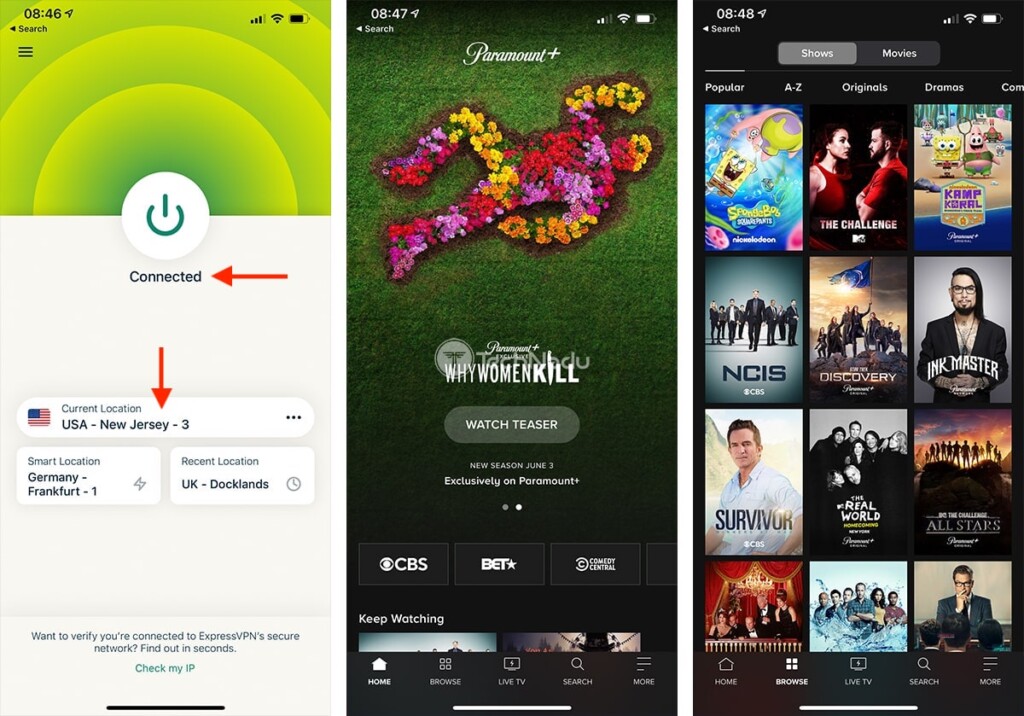 Best VPN for Paramount Plus
Know that we've tested dozens of VPNs hands-on. After plenty of research, we found the following 5 VPNs that unblock Paramount Plus outside the US with ease – from any country in the world. Take a look.
1. ExpressVPN – Best VPN Speed & Performance
If you want the best VPN, you have only one option in front of you. Yes, we're talking about ExpressVPN, which meets the needs of both complete beginners and highly advanced users. And also, it unblocks Paramount Plus in seconds and works every single time.
We often recommend ExpressVPN for media streaming, as it comes with a non-intrusive interface and gets out of your way. Just open its app, click on the country of your choice, and your VPN connection will be established in a couple of seconds. After that, you're free to stream any type of media, unblock websites, and browse the Web – in a private and secure way.
ExpressVPN comes with a range of VPN protocols (with Lightway being the newest one). It works on up to five devices simultaneously and supports advanced features such as split-tunneling (there's a kill-switch as well). To learn more, here's our ExpressVPN review.
2. NordVPN – Best for More Advanced VPN Users
NordVPN is yet another highly reputable VPN, being present on the global market for many years now. This one comes with incredibly polished and modern apps (very easy to use) that span across any popular device or platform. 
What's interesting about NordVPN is that it looks simple (just like ExpressVPN). You pick a country - which could be the US in this case - and Paramount+ becomes accessible. However, if you take a more in-depth look at this VPN, you'll see many advanced features. For example, it brings double-VPN servers, lets you access Tor traffic, and has a range of obfuscated servers.
NordVPN is also known for its speed, which is crucial when streaming online media. Thanks to its collocated server network that spans the entire planet, no media streaming website is inaccessible for this VPN. There's plenty more to say about this VPN, so we recommend checking our hands-on NordVPN review.
3. CyberGhost VPN – Best for Wide Server Coverage
This ultra-powerful VPN is known for its vast server network, with more than 6,000 servers scattered across the planet. However, what's interesting is what you can do with those servers.
CyberGhost VPN brings general and specialized servers. When it comes to specialized ones, you can use them to access individual streaming services, including Paramount Plus. On top of that, CyberGhost VPN comes with an array of protocols and plenty of fine-tuning. This makes it suitable for even the most demanding VPN users. 
We also need to highlight this VPN's level of transparency. CyberGhost VPN collects no user data, and it's open about data requests it receives. It's also one of the few VPNs to offer truly anonymous dedicated IP addresses. In case you'd like a more in-depth look at this VPN, your next destination would be our CyberGhost VPN review.
4. Ivacy – Best for Effortless Streaming
Ivacy is well-aware of the competition in today's VPN market. That is why you'll find a unique combination of features in this VPN, available at an affordable price. And yes, it works incredibly well with Paramount Plus, letting you access and stream videos instantly.
What interesting about Ivacy is its selection of servers. Instead of offering servers for general purposes (like ExpressVPN and Surfshark, for example), this VPN has servers for media streaming, downloading files, unblocking websites, and similar. In terms of media streaming, there are practically no streaming services out of this VPN's reach.
We'd also like to add that Ivacy offers an incredible value for its (really affordable) price. You get advanced features like split tunneling and support for up to ten parallel connections. The only downside is that its speeds are somewhat limited, as our Ivacy review explains.
5. Surfshark – Best for First-Time VPN Users
Surfshark doesn't have the same age as other VPNs on this list. However, this is one of our favorite VPNs, and there are many good reasons for that. Surfshark brings a combination of powerful features wrapped up in a very intuitive interface.
This VPN works across any of the currently popular platforms, which is perfectly aligned with Paramount Plus apps' availability. As soon as you connect to its server, you will get to watch Paramount Plus outside the US on any of its supported platforms. And most importantly, all of that will happen instantly, with no Internet speed throttling.
We would also like to know that Surfshark has been investing heavily in developing new features and tools. This VPN now supports WireGuard, a high-speed VPN protocol. And it also offers real-time identity theft protection. To get to know more about those features, here's our Surfshark review.
How Do VPNs Let You Access & Watch Paramount Plus Outside the US?
Even though incredibly complex and sophisticated technologies back up VPNs, their primary concept can be easily explained. So, here's how exactly VPNs unblock Paramount Plus and similar media streaming services. 
You open a VPN application and connect to a server. From that moment on, your Web traffic flows through the chosen VPN server, encapsulated within a secure tunnel. 
Your VPN also gives you a new IP address, replacing your existing IP given to you by your Internet provider. Since all your data is encapsulated, it remains hidden from anyone.
Then, you access Paramount Plus. This streaming service first checks your IP and other geo-located data. However, it reads the information sent from your VPN server.
Therefore, Paramount Plus will think that you're in the US. Since your VPN hides your "true" data (without any leaks), you will get to use the streaming service without any issues. That's it!
In case you'd like to learn more about VPNs, we have some useful sources for you. First, read more about what are VPN applications. And then check how VPNs work.
What Devices Are Compatible With Paramount Plus?
Paramount Plus is available on many devices and platforms, as you can see just below. You can use it on phones, tablets, computers, streaming devices, and on the Web. 
You should know that VPNs are also available on all of the devices listed above (we especially recommend ExpressVPN from that aspect). That's how you can watch Paramount Plus outside of the US, no matter which device you use.
FAQ
What Can You Watch on Paramount Plus?
Paramount Plus brings CBS originals, movies, live TV, documentaries, and sports content. Some of the most popular titles at the moment are NCIS, The Real World, Star Trek, Big Brother, Frasier, RuPaul's Drag Race, and more.
How Many Simultaneous Streams Does Paramount+ Offer?
Each Paramount Plus subscription offers up to three simultaneous streams. Even though you can install Paramount Plus on as many devices as you want, you can stream its content on three devices at the same time.
How to Pay for Paramount Plus From Outside the US?
The best way to best for Paramount Plus from outside the US is via gift cards. However, we are talking about Play Store and iOS App Store gift cards, using which you add funds to your Google or Apple account. That's how you can pay for Paramount Plus from anywhere on your Android phone or iPhone.
Can You Unblock Paramount+ via a Free VPN?
No, it isn't possible to use a free VPN to watch Paramount Plus outside the US. None of those allow unlimited bandwidth, which is what you need for media streaming. Instead, we recommend going for ExpressVPN – the VPN that works every single time.
How to Improve VPN Speeds for Steaming Paramount+?
If you're experiencing slow VPN speeds, there's plenty you can do to resolve that. For example, you can use a different server, a different VPN protocol, fine-tune your VPN's preferences, and plenty more. Use the provided link to learn more.
So, that would be all on how to watch Paramount Plus from anywhere. In case you have any questions or doubts, feel free to post your comment below. And lastly, thanks for reading!