NOW TV is Sky's over-the-top Internet and TV service, which comes as one of the most popular options in the United Kingdom (especially when it comes to streaming sports). With that said, now that the UK is no longer a part of the EU, the situation surrounding accessing this streaming service from abroad has gotten quite complex. So, let's answer the question of how to watch NOW TV outside the UK in 2021.
Where Is NOW TV Available? 
NOW TV is available only within the borders of the United Kingdom. So, you need to be in the UK to both subscribe and access NOW TV's on-demand library.
This wasn't always the case, though. However, since the United Kingdom is no longer a part of the European Union (as of December 29, 2020), NOW TV is no longer obliged to offer its services outside the UK's borders. That applies not only to NOW TV but to any other paid online content service.
Of course, that doesn't stop you from using a VPN to bypass NOW TV's content restrictions. So, if you plan on traveling abroad, we'll show you how to watch NOW TV from anywhere in the world. Just keep on reading this guide.
How to Watch NOW TV Outside the UK
Finally, here are the 6 steps to watch NOW TV outside the UK in 2021:
Step #1: Find the Best-Working VPN to Unblock NOW TV
Know that you need to be picky when choosing a VPN to unblock NOW TV outside the UK. That's because you need a VPN capable of unblocking this streaming service while also securing a pleasurable streaming experience. With that said, know that the best VPN you'll find right now would be ExpressVPN.
3,000+ VPN servers in 160 VPN server locations in 94 countries, 5 Simultaneous connections, Fast and stable connection, No activity logs or connection logs, No bandwidth limits, Strong encryption, 24/7 live chat support, and 30-day money-back guarantee.
We have been using ExpressVPN to unblock NOW TV for a while now, without any issues. This VPN works amazingly well, providing plenty of servers in the UK and fast streaming speeds. Still, you do have other options available as well, so you'll want to check our guide to the best VPNs for streaming.
Step #2: Get Your VPN Subscription
Before we go any further, you'll need an active VPN subscription. Go, go ahead and subscribe to ExpressVPN. Once you land on the VPN's website, pick 'Get ExpressVPN' and pick a subscription plan (long-term ones come with steep discounts, by the way).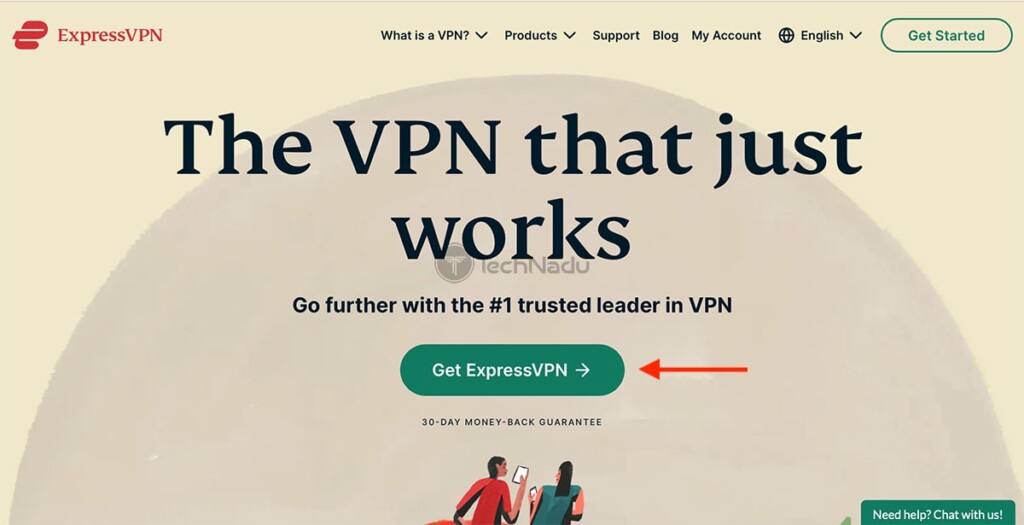 Provide your email address and pick a payment method. Once done, you'll receive a confirmation email from ExpressVPN, so don't forget to check your inbox. After that, feel free to proceed to the next step, to activate your new VPN subscription.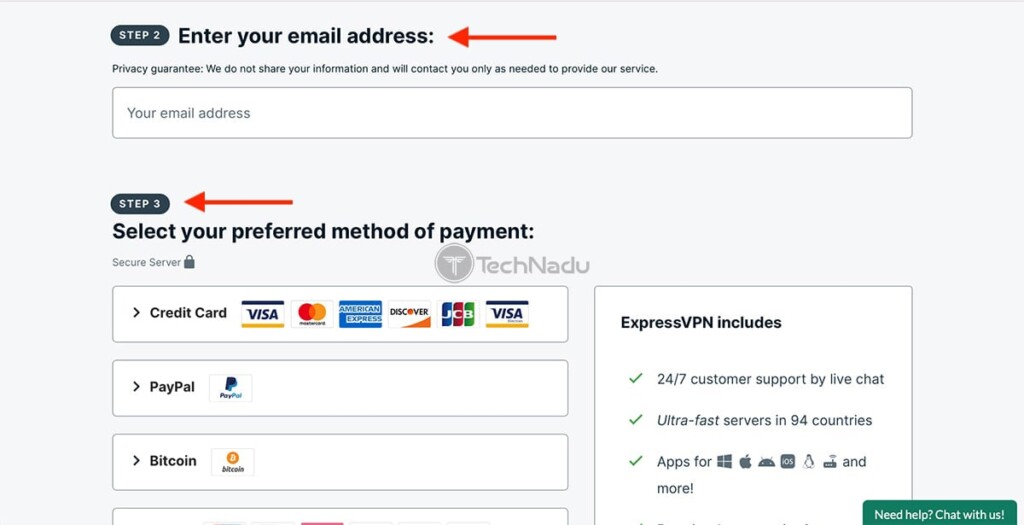 Step #3: Download & Install the VPN on Your Device(s)
There are many reasons why we recommend using ExpressVPN to unblock and watch NOW TV outside the UK. However, one of the most important reasons is the VPN's compatibility with many platforms. With that said, learn how to download, install, and use ExpressVPN across 60+ of its supported platforms and devices.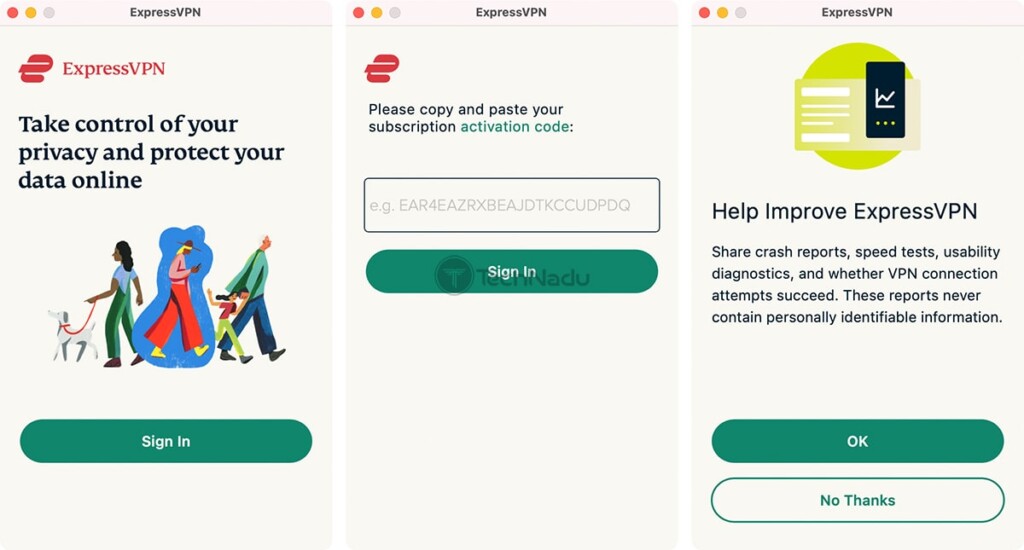 After you install ExpressVPN, launch the app for the first time. You will need to log in, for which you can use your ExpressVPN activation code. Complete the initial setup and proceed to the next step once you reach ExpressVPN's home screen. 
Step #4: Connect to a VPN Server in the United Kingdom
Now, it's time to get a British IP address, which is how you'll trick NOW TV into thinking you're in the United Kingdom. To do that, click on the button just below the ON/OFF switch on ExpressVPN's home screen. A new window will appear, showing you a list of servers offered by this VPN.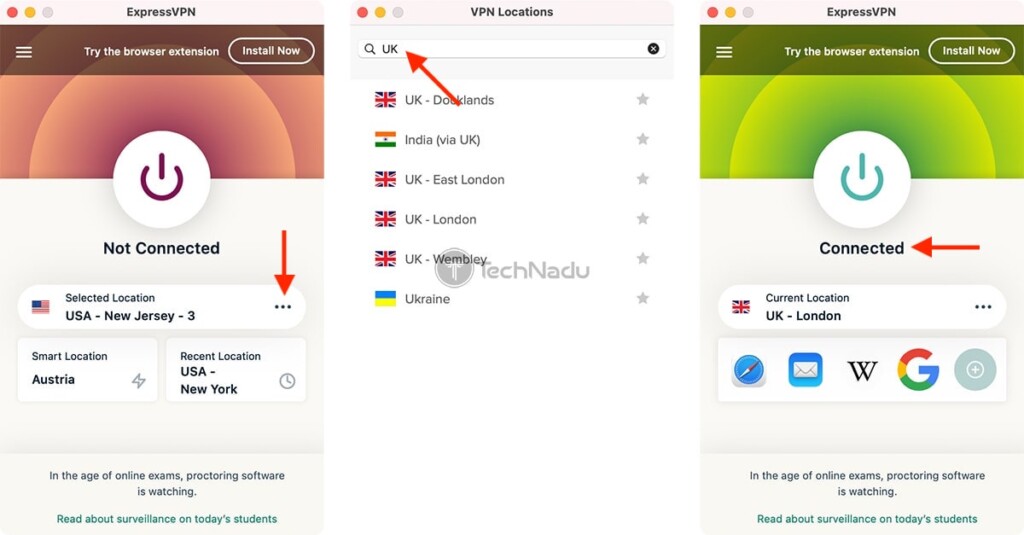 Use the top-placed search bar to find 'United Kingdom' and then double-click on any server located in that country. The VPN will take a couple of moments to connect you. Its home screen will turn green when that happens, indicating that your VPN session is now active. 
Step #5: Unblock & Access NOW TV from Anywhere
You can now use any Web browser to access NOW TV. Once you reach its home page, select 'My Account' in the top-right corner. Then, use the 'Log In' button. Provide the required information, and you'll get to access and watch NOW TV outside the UK, just as if you were in the country.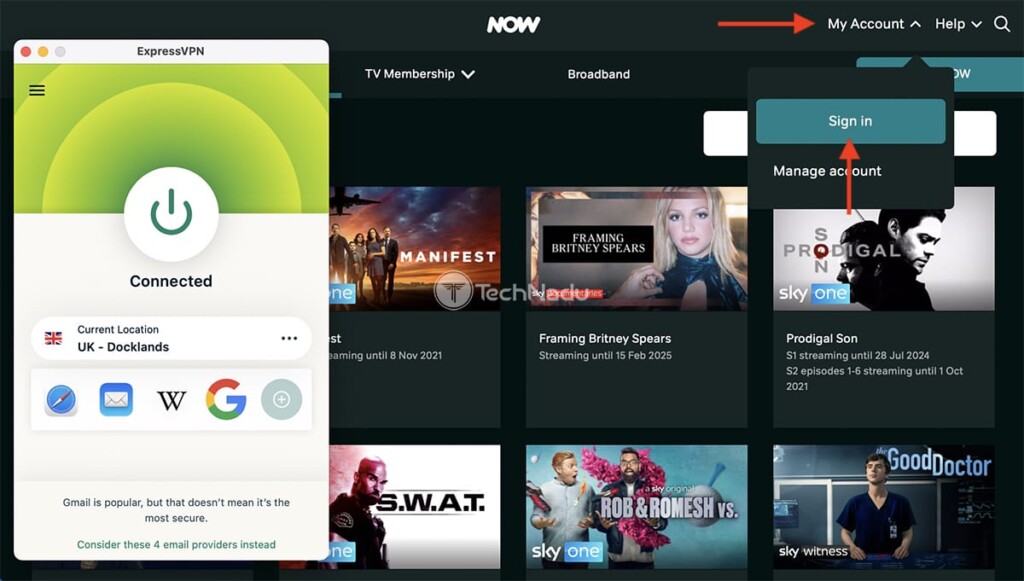 Remember that you'll get to watch NOW TV as long as your VPN session is active. ExpressVPN comes with unlimited bandwidth, so there's no reason to deactivate it. However, once you decide to do that, your regular IP will return, and you'll get to browse the Web without being protected by the VPN.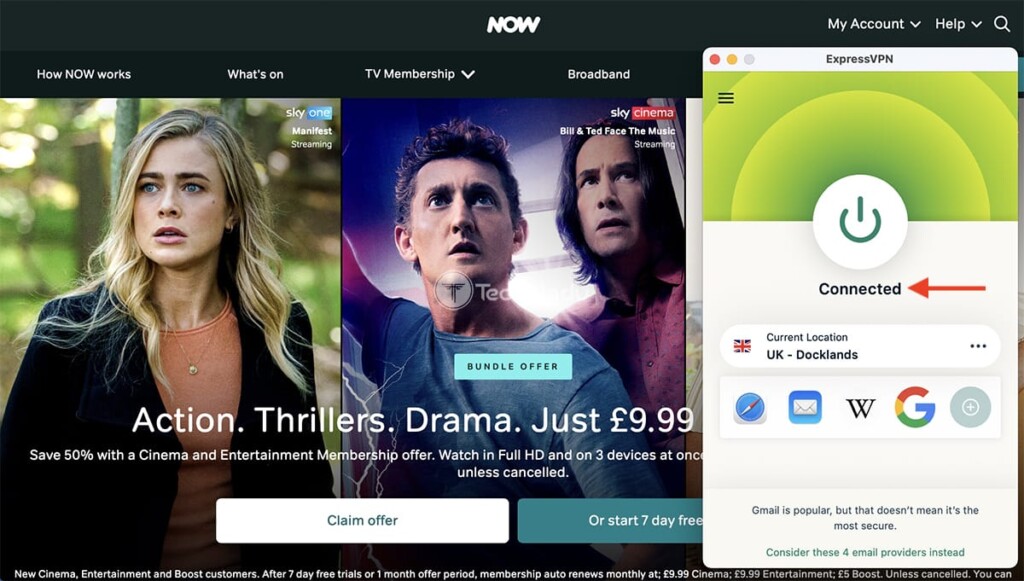 Step #6 (Optional): Get NOW TV on Other Devices
We'd also like to note that NOW TV is available on a broad range of devices, and that includes apps for iOS/iPadOS and Android. With that said, you can use those apps to unblock and watch NOW TV outside the UK on your smartphone, tablet, and more. 
Keep in mind that the NOW TV app is available on the UK version of the iOS App Store and Google Play Store. At any moment, you're free to create a new Google account or get a new Apple ID – but make sure to use ExpressVPN while signing up. 
Google won't ask you for your country, but Apple will. So, make sure to pick 'United Kingdom,' and then supply any UK address. Once done, log in to your account on your iPhone, iPad, or Android device (using the Settings app). Keep in mind that you'll need to log out of your old account first, as you can have only one account active at any given moment.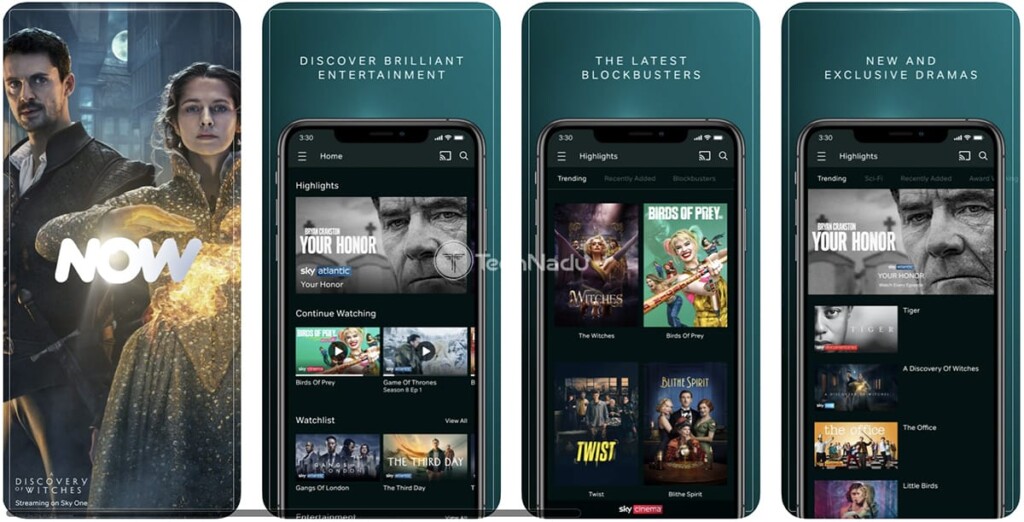 Finally, access the App Store or Play Store and download NOW TV from there. Then, connect to a server in the UK and launch NOW TV. And that's it – as long as you have an active VPN session, NOW TV will be within your reach. 
FAQ
What Is NOW TV?
NOW TV is a subscription streaming service that gives you access to movies, TV shows, and sports content from content providers such as Sky, HBO, FOX, and more.
What Can I Watch on NOW TV?
Aside from getting access to 8,000+ episodes of US TV shows, NOW TV gives you access to movies and sports content (Sky Sports Premier League, Sky Sports F1, and more).
Can I Watch NOW TV Outside the UK in 2021?
If you don't have a VPN, you can no longer watch NOW TV outside the UK. That's why we recommend ExpressVPN, which is capable of unblocking NOW TV from anywhere.
Can I Watch NOW TV in the EU in 2021?
Since the UK is no longer a member of the EU, you can't watch NOW TV abroad anymore (unless you have a capable VPN to unblock the service, such as ExpressVPN).
Can I Use a Free VPN to Watch NOW TV Outside the UK?
No, there is no free VPN that unblocks NOW TV in a reliable way. The only option you have is to use a paid VPN, for which you can pay monthly, quarterly, or annually. 
What's the Best VPN to Access NOW TV From Abroad?
As per our hands-on tests, the best VPN to access NOW TV from abroad is ExpressVPN (as it unblocks NOW TV easily and has many servers across the UK). 
That would be all on how to watch NOW TV outside the UK in 2021. If you have any questions for us, make sure to post your comment just below. And finally, thank you for reading!